Three new cities moved into the most affordable places to call home in Maine according to our HomeSnacks 2021 report although the Pine Tree State has some of the highest rent in the country.
So, if you're going to move to Maine, we suggest you already have employment and that you buy a home. Maine's unemployment rate does come in slightly under the national average, but its residents say that jobs are difficult to come by and wages are low Now, don't get it twisted; just because these Maine places are affordable, doesn't mean they're unsafe. It's actually quite the opposite. Honestly, many of Maine's top ten most affordable places to live are also some of their safest.
The upside to living in this New England state, it has a 5% sales tax and there's a bunch of cool, local stuff to do. Heck, you don't have to leave the state to take a vacation–no matter the time of year! You can ski Bridgton's Shawnee Peak in the winter or head to Bar Harbor for a summer beach day. Want to know more? We suggest you take a ferry from North Haven to Owls Head, grab a lobstah' roll at Rockland's Lobster Festival, and read on.
How did we determine Maine's most affordable places for 2021? We consulted Maine's most recent census data. We also looked at cost of living, home prices, and the recent crime statistics for places with 5,000 or more residents.
The competition was fierce to say the least. Many of the Maine's top ten most affordable places boast great home prices and safe neighborhoods. However, there can only be one number on most affordable place in Maine, and that would be Caribou.
So, if you care about home values and affordability, take a look at the list below to see where your Maine dollar will go the furthest. And if you don't find your favorite there, head to the bottom.
And if you already knew these places were cheap, check out some more reading about Maine and the cheapest places in the country:
The 10 Cheapest Places To Live In Maine For 2021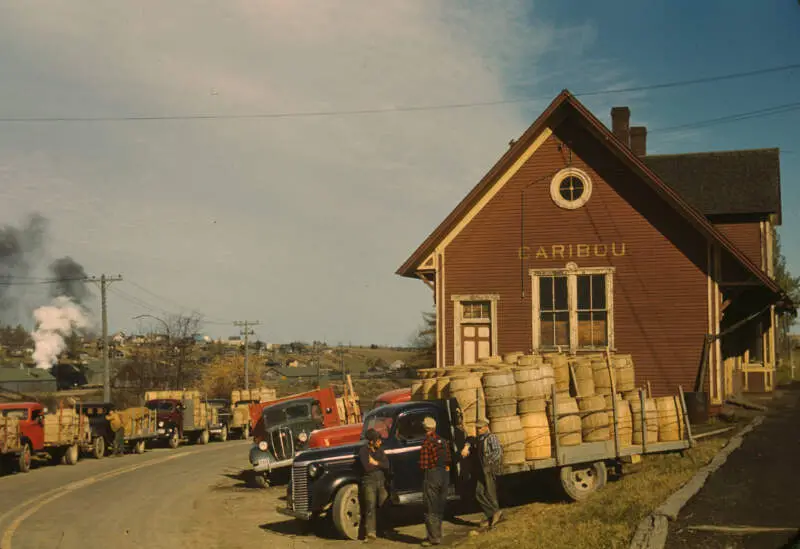 Source: Public domain
We kick our tour of the most affordable places to live in Maine with Caribou, the most northeastern city in America. In Caribou, you'll find the first least expensive homes in Maine, at a median price of $90,700. What's more, residents of Caribou spend the smallest percentage of their income on homes. If you just want to make sure you can brave the cold and snow before settling down here, rent in Caribou goes for about $598/month.
Thrill-seekers and beer-drinkers alike will find something to love in Caribou, because it's one of the best places for snowmobiling in Maine as well as the home of Northern Maine Brewing Company. Small heads up for those considering Caribou, though; it's the most conservative place in Maine.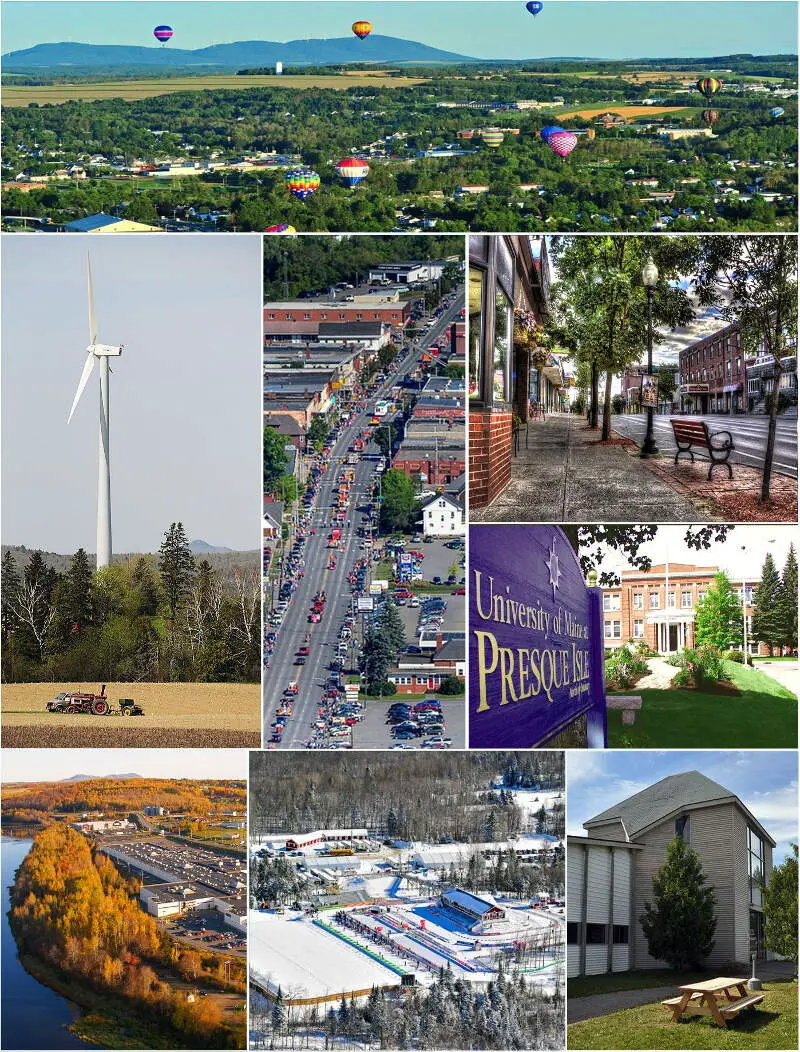 We're taking a short drive south from Caribou to arrive at the second cheapest place to call home in Maine, Presque Isle, the commercial center of Aroostook County. Buying a home in Presque Isle will set you back about $115,400, the third lowest price in Maine. As far as home price to income ratio goes, Presque Isle is the third best in the state. Presque Isle is home to Arastook State Park, so you'll never have to go far to get away from it all.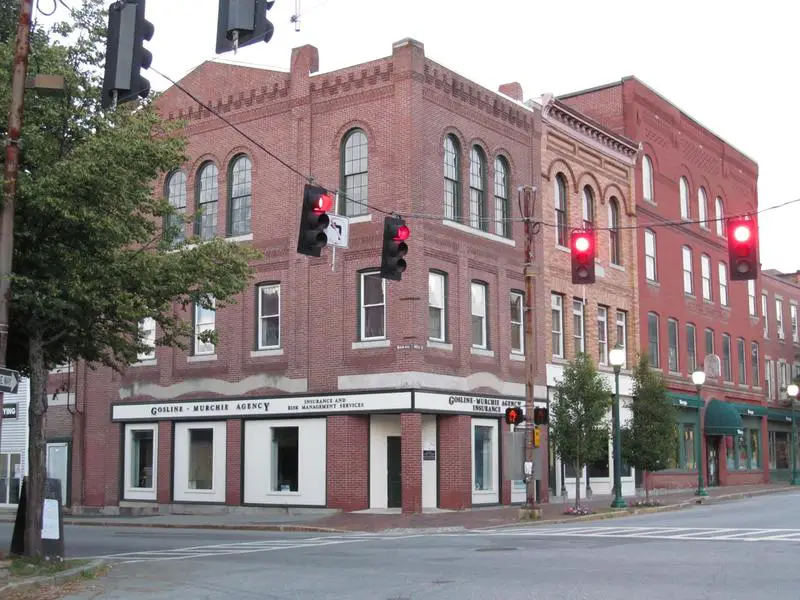 Gardiner is popular with tourists, and it's not hard to see why. This Augusta suburb is known for its old architecture and distinct culture. It doesn't matter what you're into — shopping in Gardiner's historic downtown, catching a show at Johnson Hall, or a fireworks display at Waterfront Park — Gardiner has something for everyone. If you come as a tourist and decide you want to try living in Gardiner for a bit, rent will set you back about $733/month. It probably won't take you long to fall in love with the city and decide to settle down here permanently. If you do decide to buy, the median home price in Gardiner is $140,700.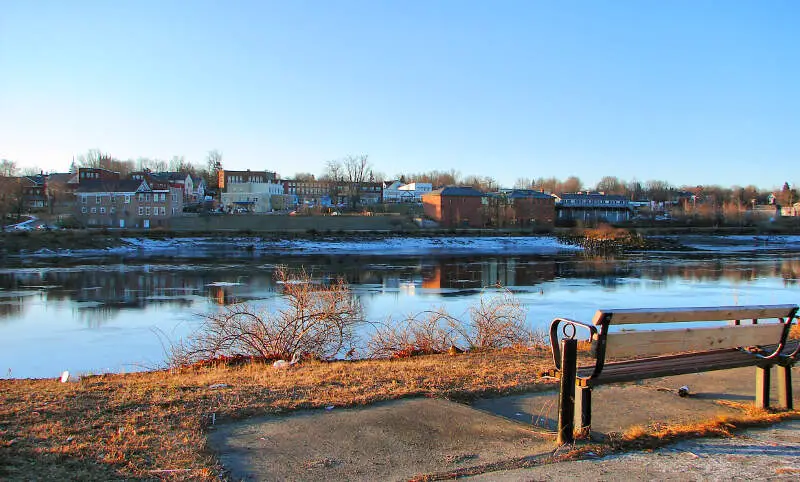 If you're looking for the absolute lowest home prices in Maine, look no further than Calais. Homes in Calais go for a measly $97,600, so if you're coming here with some savings, you'll have the mortgage paid off in no time flat. Calais residents spend the fourth smallest proportion of their income on homes statewide. On the downside, Calais ranks as the least affordable place to rent on this list. As for cheap entertainment options in Calais, taking a white-water canoe trip to St. Croix Island always makes for a good day out.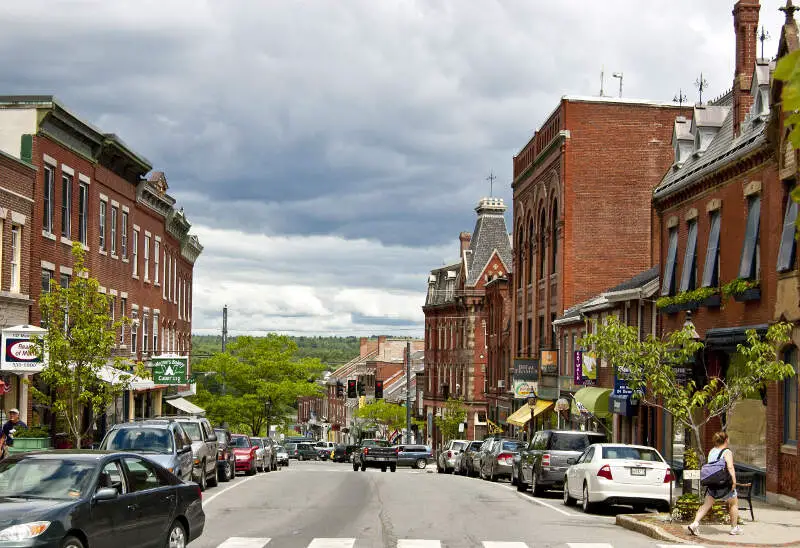 Located on the coast about 35 miles south of Bangor, Belfast ranks as the fifth most affordable place to live in Maine. Wandering the seaside villages of Belfast is a favorite among tourists, especially the Harborwalk that goes along Belfast's downtown coast. So is visiting some seriously impressive farmer's markets. All this activity is part of why we named Belfast one of the best family cities in Maine. While Belfast's median home price of $190,500 is the highest you'll see on this list, so is the city's median income of $62,857. Combining those stats gives Belfast the fifth best home price to income ratio in the state. The news is even better for renters, who pay $888/month and enjoy spending the second smallest percentage of their income on rent statewide.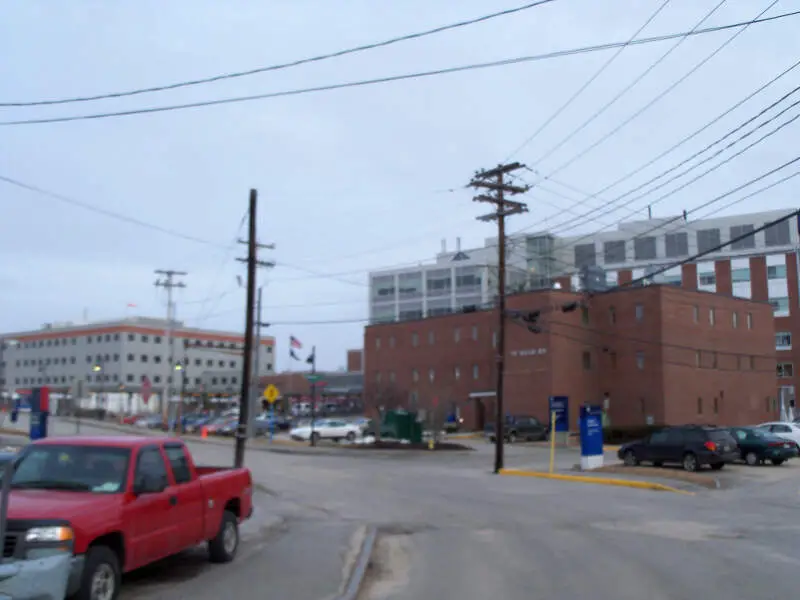 Source: Public domain
Life in a bustling area does not have to cost a pretty penny and Lewiston is a perfect example of that. The city, which is home to five higher education institutions, including Purdue Global, offers a high quality of life at a reasonable price.
The median household income of $44,523 goes a lot further in Lewiston than it would other places, especially when it comes to housing. There is no sticker shock here. Homes have a median value of only $140,600. Plus, the city's firm grip on crime means you can settle down in various parts of town without looking over your shoulder or constantly double-checking the lock on your door.
Don't let the affordability fool you, Lewiston is also rich in history and things to do, like watching a hockey game in the building where the famous Muhammad Ali vs. Sonny Liston fight occurred.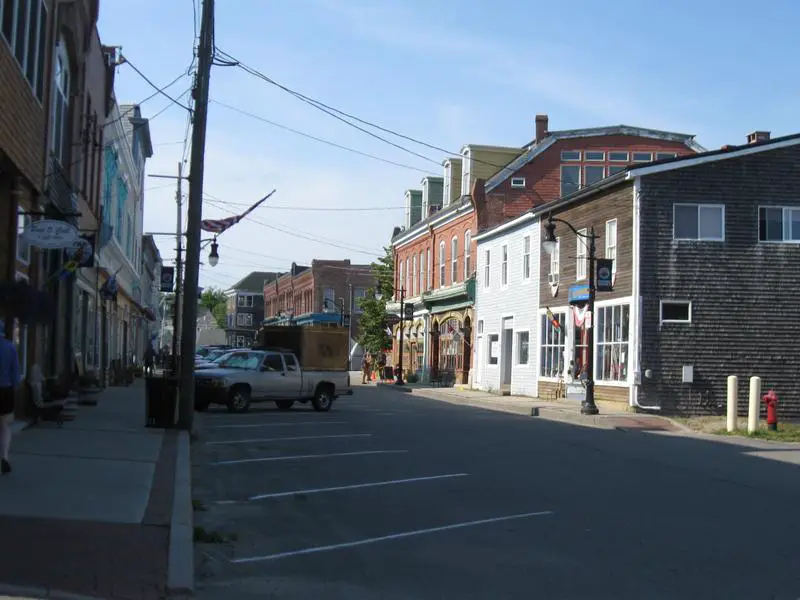 The easternmost city in America, Eastport, ranks as the seventh cheapest city to live in Maine. Eastport consists entirely of islands, so you if you want something different than fishing Maine's rivers and lakes, the deep-sea fishing on offer in Eastport is sure to be a nice change of pace. Speaking of the sea, Eastport celebrates both the Salmon and Seafood Festival and the Pirate Festival every year, so we hope you're ready to party before moving here. Eastport has the fourth least expensive homes for sale in Maine, with a median price of $116,500. For both renters and buyers, Eastport is in the top ten statewide for housing to income ratio.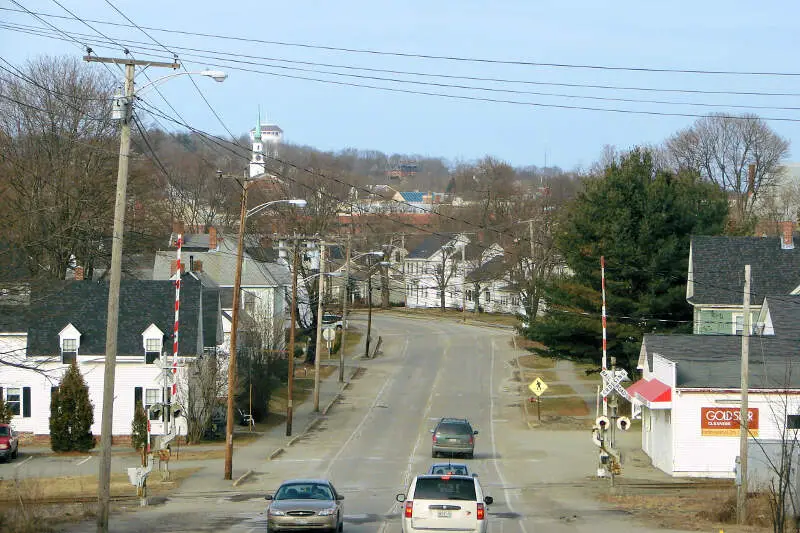 The sister city of Bangor, Brewer, ranks as the eighth most affordable place in Maine. The price of housing in Brewer is a bit more expensive than other cities in the top five, but that's not really a problem when you're one of the richest places in Maine, with a median income of $52,174. The median home price in Brewer is $162,100 and the median rent is $865. For both renters and buyers, Brewer offers the sixth best housing cost to income ratio statewide. Being able to cross the Penobscot River into Bangor is a nice perk, giving you access to all the amenities Bangor has to offer for a fraction of the price.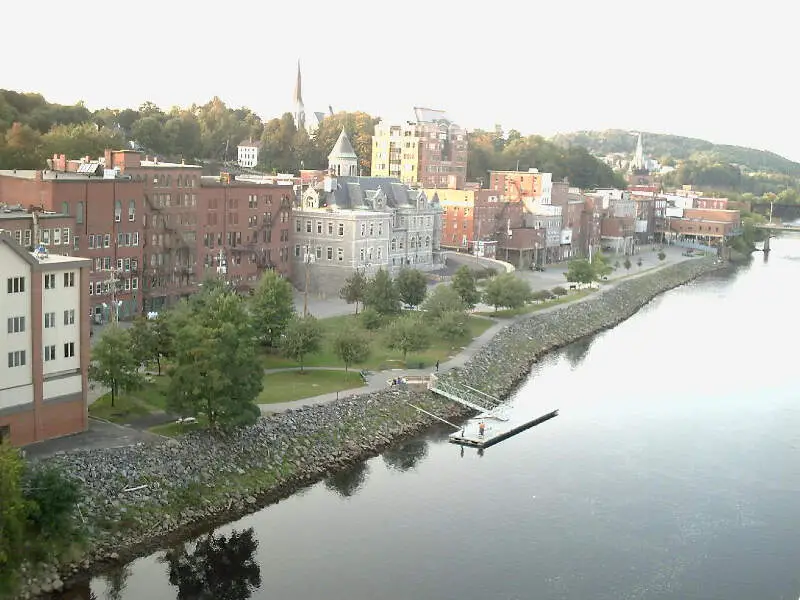 The state capital is ninth on our list of the most affordable places to live in Maine. While things certainly are not free in Augusta, besides taking in views of the Kennebec River, to penny-pinchers it must feel like everything almost is.
If you happen to be one of the thousands of students at University of Maine at Augusta or someone who is not quite ready to jump into homeownership yet, covering the area's median rent of $721 is more than feasible, especially when you throw a few roommates into the mix. Plus, for those who earn the city's median household income of $43,796, the rate should leave enough room for happy hour with the gang.
In fact, Augusta has the fifth best median rent rate in the state. And when it is time to take the homeownership plunge, the monthly payments of a mortgage associated with the area's $144,800 median home value should still be manageable.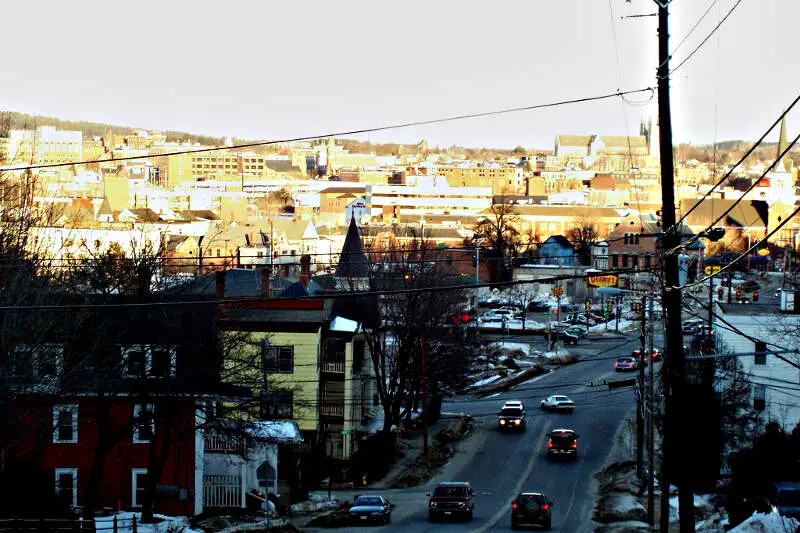 Located across the Androscoggin River from Lewiston, Auburn comes in as the tenth cheapest place in Maine. Winter sportsmen and women will be happy to have the Lost Valley in their backyard, while everyone can enjoy the Auburn Riverwalk. The median rent in Auburn is $789/month and the median home price is $165,200. For both categories, Auburn is safely in the top ten for housing to income ratios.
How We Determined The Most Affordable Places To Live In The Pine Tree State For 2021

The two most important things to think about when it comes to being able to afford if you can live comes down to:
How much do money do I make?
How much do I have spend to live there?
You need to understand your costs in the context of how much money you make.
For example, if the median household earns $100,000 and spends $40,000 on housing it's actually cheaper to live there than a place with a median income of $50,000 and housing costs of $21,000. You might spend more on housing, but you have more money overall to play with.
With that example in mind, we derived several statistics from the latest Census American Community Survey 2015-2019 around incomes and costs. They are:
Median Home Price / Median Income (lower is better)
Median Income / Median Rent (Higher is better)
Median Home Price
We added simply median home price because high home prices generally correlate with higher expenses for all costs related to homes (heating, electricity, etc).
You can then compare these metrics in each of the places in Maine to figure out which is the least expensive.
What you are left with is a "Cost of Living Index" by taking the average rank of each of these metrics for each city.
So we used that cost of living index in order to rank all of the 22 places in Maine that have more than 1,000 people.
The place with the lowest cost of living in Maine according to the data is Caribou. You can download the data here.

There You Have It Mr. Or Mrs. Maine Cheapskate
If you're looking at the cost of living numbers in Maine, this is an accurate list of the most affordable places to live in Maine for 2021.
Here's a look at the most expensive cities in Maine according to the data:
Portland
South Portland
Biddeford
For more Maine reading, check out:
The Most Affordable Places To Live In Maine
Editor's Note: We updated this article for 2021. This is our seventh time ranking the cheapest places to live in Maine.