Editor's Note: We updated this article for 2021. This is our seventh time ranking the best places to live in Maine.
Article Table Of Contents   
(Skip to section)
If you've never kayaked Kennebunkport's Tidal River, watched a moose cross the road in Portage Lake, or had a 'lobstah' roll in Bar Harbor, then you've not witnessed what the good people of Maine already know; they have some of the best places in America to call home.
Lucky for you, HomeSnacks is handing you the ultimate Maine life hack: we've created a list of the top ten best places to live in Maine for 2021. You should definitely take a look below, there might be some places on this list that surprise you.
But what is not surprising is the gold star quality of life in Maine; and that folks, comes with a price. If you want to live in one of Maine's best places, you're going to have to find a good job. This shouldn't be too hard considering Maine's unemployment rate is 3.1%. Coincidentally, Maine is super safe. It's one of the least dangerous states in the country. Heck, the state averages close to 100 inches of snow per year. We're pretty sure Mainers don't leave their homes for most of the year; thus, less time to be naughty.
So, want to know where the best places in Maine are to find a good job, the best neighborhood, affordable housing, and Blue Ribbon schools?
Grab a Moxie, tie up your L.L. Bean duck boots, find a quiet spot by the bay, and read on.
Notables like Stephen King, Martha Stewart, and the Bush family, and have been singing The Pine Tree State's praises for years. And rightfully so. This New England state has some of the best landscapes, amazing seafood, and friendly people.
However, there can be only one number one best place to live in Maine. What's the best place to live in Maine? According to the most recent data, that would be Saco.
To see Maine's other best places to live, take a look below. And if you don't find your favorite there, head to the bottom.
If you're looking for something more national, check out the best states in America or the best places to live in America.
For more Maine reading, check out:
The 10 Best Places To Live In Maine For 2021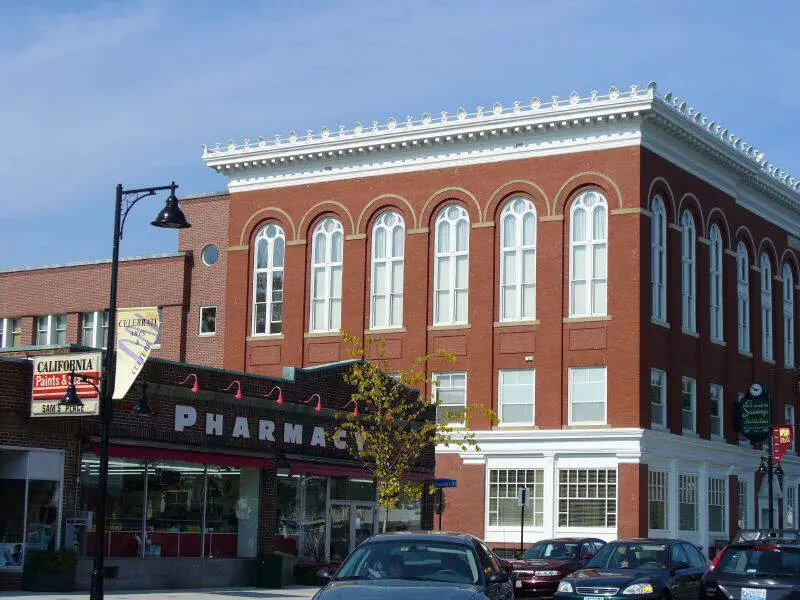 Saco is located between Biddeford to the west and seven miles of sandy ocean beaches to the east. Ferry Beach State Park is the most popular of those beaches for locals and visitors alike. If the kids find beaches too boring, you can crank the entertainment levels up to 11 at Funtown Splashtown USA, Maine's largest water and amusement park. Following that with some ice cream and a movie at the historic Saco Drive-In is sure to make for one of the most wholesome days of your life.
Saco has an unemployment rate of 2.3% and a poverty rate of 7.3%, both of which rank as the 2nd best in Maine. The crime rate in Saco is the 5th lowest in Maine, so you won't have to worry about criminal activity nearly as much as your neighbors in Biddeford. We just hope you're ready to rub elbows with the 1%, because Saco has the distinction of being the richest city in Maine. Residents of Saco enjoy a median household income of $70,517/year, the highest in Maine. Word to the wise, though; these great amenities and big paychecks come with housing costs that outstrip your average city in Maine by about 30%.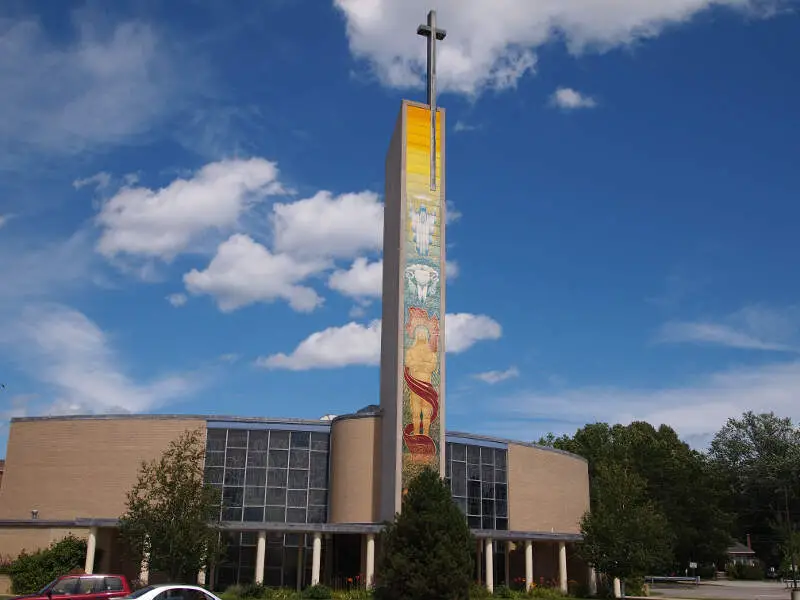 If you want the best of the best that Maine has to offer, look no further than South Portland. The gorgeous coastal walk along the Spring Point Shoreway, the classic New England lighthouse at Bug Light Park, and the small sand and pebble Willard Beach all scream quintessential Maine. And that's not even getting into the awesomeness of a year-round farmer's market and easy access to Maine's most popular mall.
As for the statistical side of things, South Portland shines in every aspect. The 2nd lowest poverty level in Maine, a crime rate a quarter of the national average, and one of the greatest rates of health insurance coverage statewide all signal a city that's got everything under control. The title of 2nd most densely populated city in Maine also means you'll never be bored in South Portland. If the political affiliation of your neighbors is important to you, you might also make a note that South Portland is the most liberal city in Maine
There is a small hitch here, though. South Portland is one of the pricier cities that Maine has to offer, so be sure to move with some savings or ensure that your household will be able to bring around $69,290/year. When you're paying the 3rd most for homes in Maine, every penny counts. Rent in South Portland goes for a median price of $1,305/month, which is also the most expensive of anywhere on this list. The good news is that while the cost of living in South Portland is slightly higher than Maine, it's almost entirely due to the higher housing costs.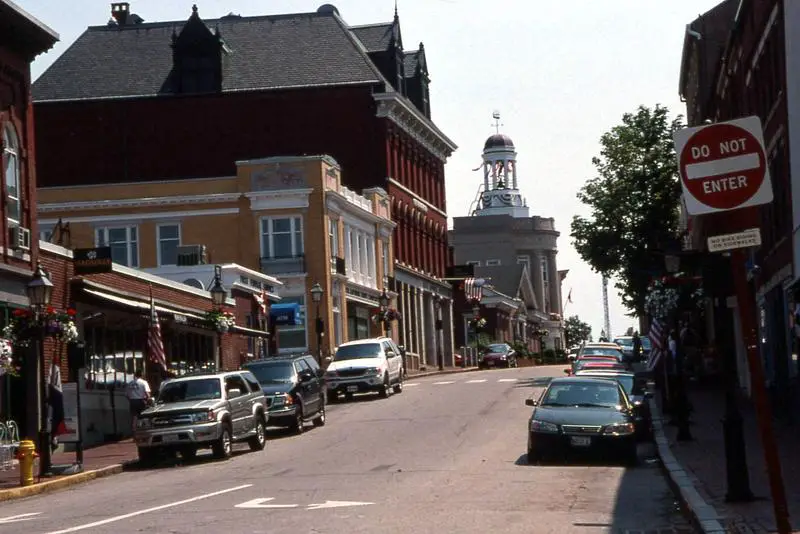 Located about 40 minutes northeast of Portland, Bath comes in as the 3rd best place to call home in Maine. If you're new in town, we recommend visiting the Maine Maritime Museum to learn more about Maine's heritage and culture. Tourists flock from all over to admire the 19th century architecture and local shops in downtown Bath. And if you're looking for reasons why we named Bath one of Maine's best family cities, look no further than the constant events going on at the Chocolate Church Art Center. A bonus reason would be the strong 8.5/10 education score we gave Bath on our SnackAbility scale.
Housing costs in Bath are roughly 5% lower than the statewide average, with rent costing about $862/month, about half the average rent in Maine and homes going for a median price of $175,700. You won't have to worry about getting the bills paid in Bath, because the unemployment rate is just 1.9%, the lowest in Maine. Of course, that helps cut down on crime and poverty, both of which rank in the top ten statewide.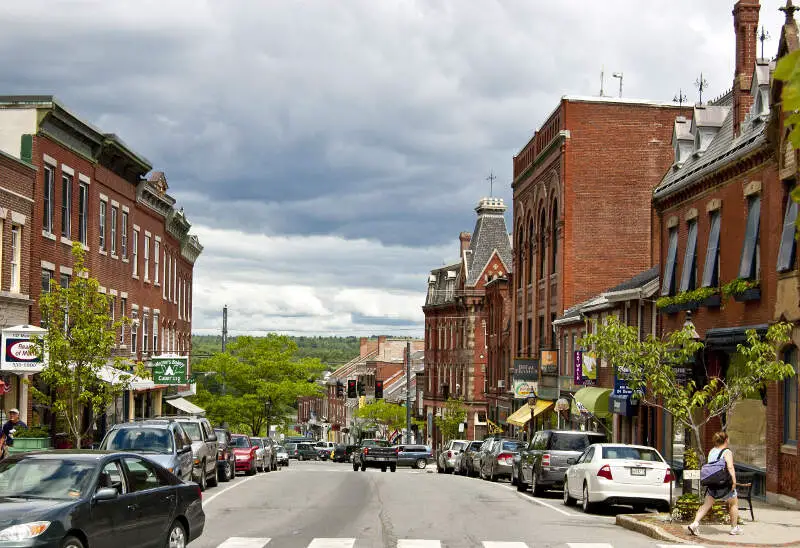 Located about an hour south of Bangor at the mouth of the Passagassawakeag River estuary on Belfast Bay, Belfast ranks as the 4th best place to live in Maine. While Portland is the place to be for young folks, Belfast's slow-paced, relaxed atmosphere reflects its higher median age of 46.
Belfast's busiest downtown block ends at picturesque Belfast Harborwalk, recently-renovated for easier pedestrian access. The Belfast City Park is another point of pride for residents. And just because winter lasts longer in Maine, doesn't mean you have to go without fresh fruit and veg; not with a local farmer's market that operates year-round.
Belfast residents enjoy the 3rd highest median household income in Maine at $62,857/year. If you're older and have plenty of money, there's no point in committing a crime. That plays out in Belfast, where the crime rate is the lowest in the state and is about 45% less frequent than the national average. Belfast's only downside is a relatively high unemployment rate of 7.9%, but that's easily remedied by locking down a job before you make the move.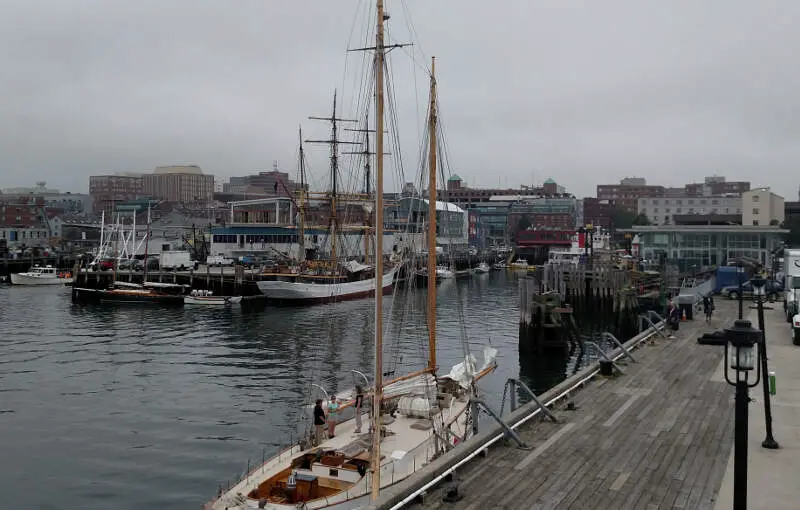 Augusta may be Maine's capital, but Maine's biggest city, Portland, is the real economic and cultural hub of the state. With a heady mix of artistic expression and outdoor adventures, Portland is the perfect balance of style, sophistication, and sincerity. Just be sure to stock up on flannels if you want to fit in here. Downtown Portland is a vibrant and dynamic place that's just as much fun after 10 years as it is when you first move. Beer-lovers will enjoy seeing how the magic happens at Allagash, while the artsy crowd will be delighted by the ever-changing exhibits at the Portland Museum of Art. The cobblestone streets lined with locally-owned shops and restaurants in the historic Old Port neighborhood are downright delightful, both aesthetically and economically. The walking trails and pristine outdoor spaces of Back Cove neighborhood are probably more tempting for you joggers and cyclists out there. Or if you prefer a quieter neighborhood rich in grandeur, the stately West End ought to suit you just fine.
Portland is the youngest city to make this list, with a median age of just 36. That and all the above-mentioned amenities work together to make Portland the best city for singles in Maine. It's also a smart city, where about half the population has a college degree and one-fifth of residents have a master's, PhD, or professional degree to boot. That explains why the city also has the 4th best-paid residents, with your average household bringing in about $60,467/year. And everyone gets in on the good times in Portland because the unemployment rate is the 3rd lowest in the state at 2.8%.
There are a few negatives that keep Portland from a higher position on this list. The crime rate is slightly higher than the national average, but if you stick to the right neighborhoods, you should be able to avoid that hassle. Of course, sticking to the right neighborhoods isn't cheap; home prices in Portland are the most expensive statewide, with a median price of $289,000. That and a high median rent of $1,124/month work to make Portland the most expensive place in Maine, with a cost of living 15% higher than the national average.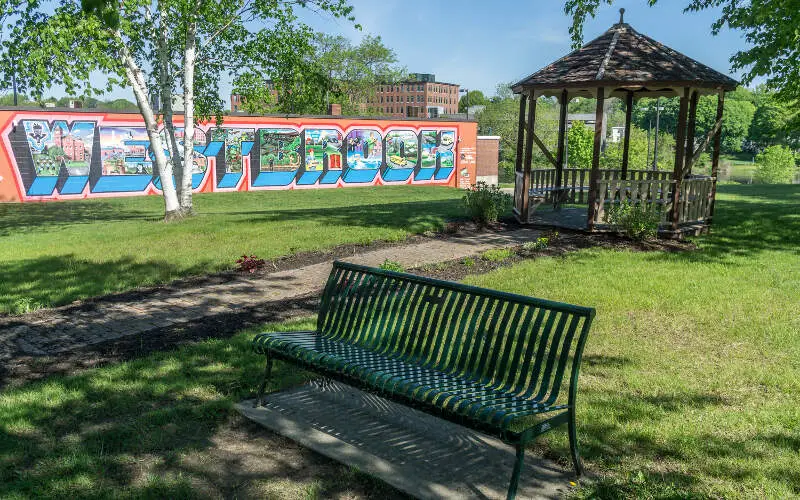 Westbrook is a top-notch suburb of Portland whose growing business base is making it more and more a distinct city in its own right. As a designated Main Street community, you won't find many big-name corporations in Westbrook; shopping locally is definitely part of the ethos here. Catching a concert at the Waterfront Rock Row venue is a great thing to do on weekends, without the hassle of finding parking at venues in Portland. If your goal is just getting out in nature, the Westbrook Riverwalk along the Presumpscot River is easily accessible. Mill Brook Preserve's five miles of trails is another good option if you don't mind driving a few miles to get there.
Housing in Westbrook is about 15% more expensive than the Maine average, with the 5th priciest homes statewide at around $232,900 and rentals going for around $1,030/month. But those higher prices reflect the demand for what Westbrook offers: safe streets, stellar schools, and a solid job market.
If you are making the move to Westbrook, we recommend doing it fast; the secret is out and Westbrook is now Maine's fastest-growing city, adding roughly 6% to its ranks since 2010.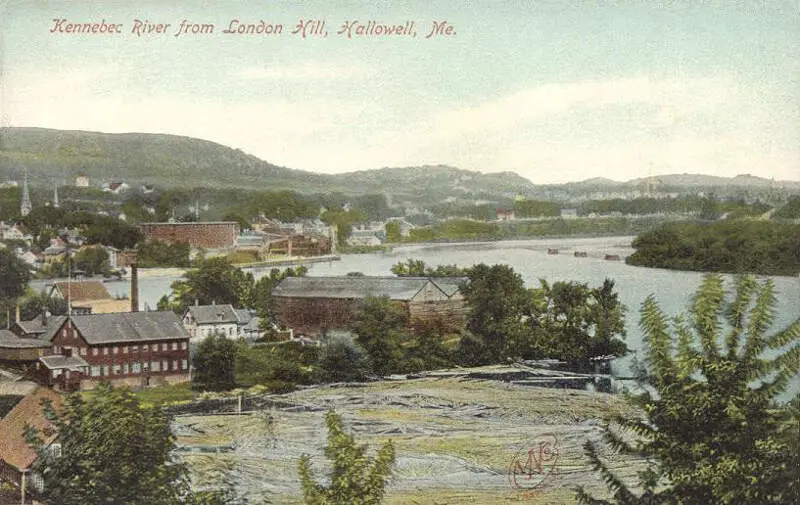 Source: Public domain
Hallowell is a small city of 2,445 situated south of Augusta on the banks of the Kennebeck River. Though small in size, Hallowell is big on charm, as anyone who spends some time admiring the city's 19th-century architecture will quickly learn. Water Street is the city's main hub of restaurants, shopping, antiques, and old-fashioned candy shops. It's also home to a lot of artistic activity, between local productions at the Gaslight Theater, art events at the Harlow Gallery, and even clayworks classes for the aspiring novice. And if you'd rather enjoy Maine's natural beauty, just head over to Vaughan Woods, affectionately nicknamed Hobbit Land.
Hallowell's home to some great schools that have achieved the 2nd lowest high school dropout rate in the state. That love of learning seems to carry over later in life because over half of Hallowell's adult population has a college degree, and about 20% have a master's degree or higher. This helps explain Hallowell's status of the 6th best-paid place in Maine, with a median household income of $57,635/year. And it's not like Hallowell's elites are leaving their neighbors in the dust either; the city has a poverty rate of just 14.5%, the 10th lowest in the state. Smart, cultured individuals without financial troubles rarely see the need to go around committing crimes, so it makes sense that Hallowell also had the 2nd lowest crime rate in all of Maine.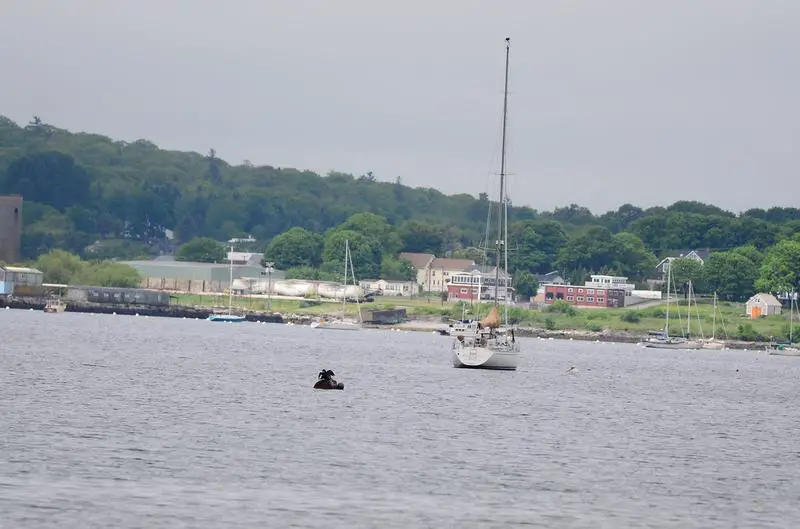 The last stop on our tour of the best places to live in Maine is Rockland, a city of 7,178 located along the southern part of West Penobscot Bay. Fans of New England history will certainly want to pay a visit to the Maine Lighthouse Museum, while the rotating exhibitions at the Farnsworth Art Museum will keep art-lovers happy year-round. We just hope you like to party because Rockland hosts the North Atlantic Blues Festival every year. And, of course, the world-famous Maine Lobster Festival is held in Rockland, so expect thousands of out-of-towners to come pouring in come August.
During the festival off-season, Rockland residents enjoy the 2nd shortest commute time in Maine, with drives to and from work taking an average of 14 minutes. Chances are you won't get attacked walking to your car, either, because Rockland also had the 4th lowest violent crime rate in Maine. The last perk of Rockland is its affordability. Housing costs roughly 10% less than the statewide average, with homes going for $172,800 and rent for just $782/month.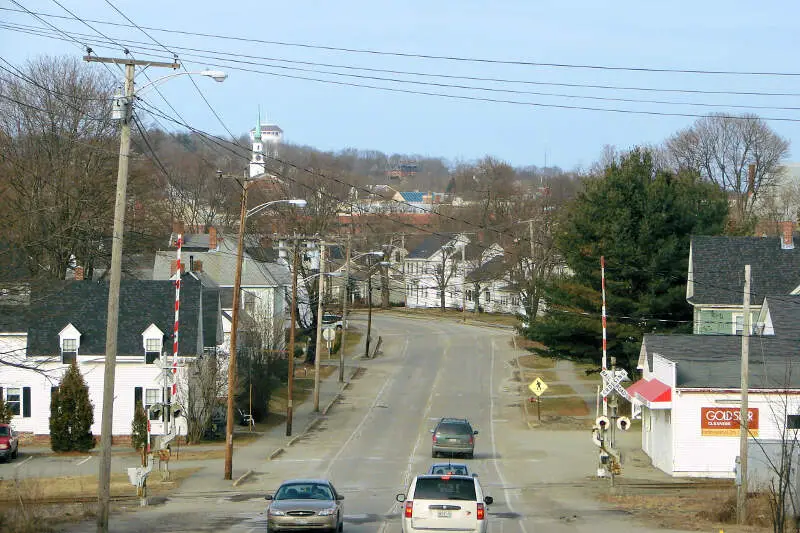 Brewer is a city of 9,090 located across the Penobscot River from Bangor. We named Brewer one of the most affordable places in Maine, so if you're looking for quality on a budget, Brewer might be your best bet. The median rent in Brewer is just $865/month and homes go for around $162,100, the cheapest you'll find anywhere on this list. And with folks earning the 9th highest median household income in the state, there's plenty left in your bank account after housing's been paid for.
You should find it quite easy to get situated in Brewer because the poverty and unemployment rate both rank as the 9th lowest in Maine at 12.5% and 4.2% respectively. If you're part of the mega-majority of employed residents, you also get the nice perk of having the 7th shortest commute time in the state at just 17 minutes.
There's no shortage of activity in Brewer either. As the name might suggest, it's home to a very popular local craft brewery, Geaghan's, which has a tasting room in Brewer and a full pub in next-door Bangor. If you walk along the Penobscot River Walkway and decide to cross over into Bangor, Stephen King's House is a must-visit; it's just as eerily off-putting as the settings of his stories. There are even tours that will bring you to about 30 nearby locations that inspired King's work.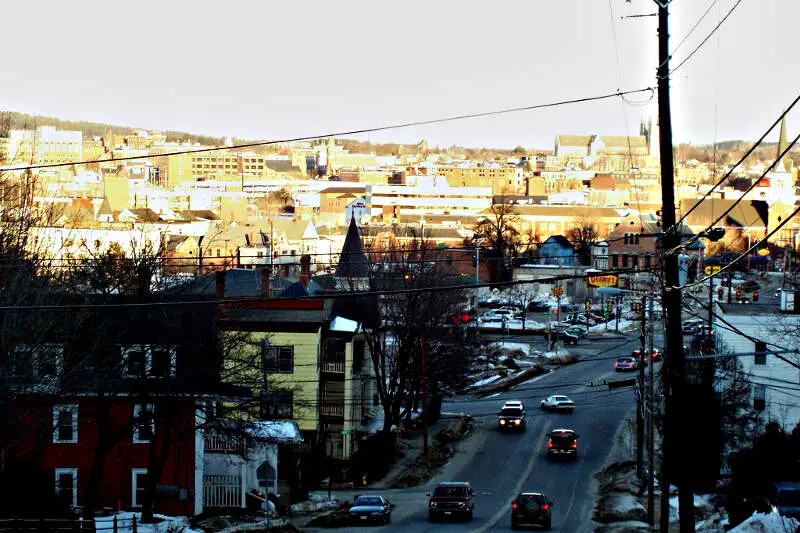 Auburn was the site of one of Maine's most famous labor disputes. The Lewiston-Auburn Shoe Strike took place in 1937, with up to 5,000 workers walking off the job and forcing a confrontation with the National Guard. Don't let this contentious history fool you, though. These days, Auburn represents one of the most peaceful, pleasant communities in all of Maine.
Auburn has low crime and solid schools. It also sports a healthy economy. The unemployment rate sits at 3.2%, the 4th healthiest pace in the state. The median income is $49,719 in the area and the median home value comes in at $165,200.
Auburn is built along the Androscoggin River, with its sister city of Lewiston sitting on the opposite bank. The community stands in the southern part of the state, an important population center between Portland (Maine's biggest city, located about 45 minutes to the south) and Augusta (the state's capital, about the same distance to the north).
Not only does Auburn provide great access to two of Maine's key cities. You can also enjoy the state's abundant natural beauty. For example, the Androscoggin Riverlands State Park sits just up the road.
Mapping The Best And Worst Places To Live in Maine
The Pressing Question: Size
Before we even started to collect data, we had to answer a tough question: Is it fair to pit Augusta with a population of 18,605 against places with a population of 18?
We firmly decided no, that just isn't fair.
So to create our ranking, we broke places to live into three tiers:
Cities -- Populations over 2,000
Towns -- Populations between 1,000 and 2,000
Small Towns -- Populations below 1,000
This left us with 20 cities, 72 towns, and 26 small towns.
We then decided, no matter how much anyone loves their town, the best cities to live in Maine have more of everything and therefore you need to have over 2,000 people to truly be 'the best'.
Now we also realize that city living might not be your cup of tea, so we ran the following analysis on towns and then again for small towns.
You can see those two top tens at the bottom of the post.
How We Calculated The Best Cities To Live In Maine
Now that we had our set of cities, it was time to rank them.
We ranked each place in Maine across a number of criteria from one to 20, with one being the best.
We then took the average rank across all criteria, with the city posting the lowest overall score being crowned the winner of the title "Best Place To Live In Maine".
The criteria we looked at were:
Median Home Values
Median Income
Population Density (Higher better)
Unemployment Rate
Commute Time
Crime
Education Levels
Health Insurance Coverage
Poverty rates
Sources of criteria include the New Census Data and FBI Crime Data. You can download the data here.
After the dust settled, what was the best place to live in Maine? That would be Saco.
If your city or town isn't among the top 10, jump down to the bottom of the post to see a detailed chart of the best places in Maine.
Otherwise, buckle up for a ride down good living lane with Saco at the end of the cul-de-sac.

Wrapping Up The Best Places When It Comes To Living In Maine
If you're looking at areas in Maine with the best economic situations, where there's lower than average crime, and a lot to do, this is an accurate list.
Saco made a strong showing to take in the overall number one spot for the best place to live in Maine for 2021.
Best Towns To Live In Maine
Falmouth Foreside (Pop. 1,637)
Cumberland Center (Pop. 2,475)
Falmouth (Pop. 2,018)
Hampden (Pop. 3,727)
Berwick (Pop. 2,329)
York Harbor (Pop. 2,885)
Boothbay Harbor (Pop. 1,000)
Kittery Point (Pop. 1,078)
Freeport (Pop. 1,527)
Kennebunkport (Pop. 1,089)
Best Small Towns To Live In Maine
Littlejohn Island (Pop. 95)
Cousins Island (Pop. 659)
Newcastle (Pop. 625)
Castine (Pop. 899)
Standish (Pop. 457)
Southwest Harbor (Pop. 850)
Naples (Pop. 532)
Alfred (Pop. 755)
Woodland (Pop. 939)
Bowdoinham (Pop. 604)
If you're curious enough, here are the worst places to live in Maine according to the data:
Calais (Pop. 2,993)
Augusta (Pop. 18,605)
Lewiston (Pop. 36,095)
For more Maine reading, check out: