Today we wanted to highlight the states with the highest rent in the United States.
We've previously taken a look at the Cheapest States and Most Expensive States, and to no one's surprise, California was the most expensive.
But that analysis was done based on the total cost of living for food, daycare, transportation, and, of course, housing.
In one of the few analyzes we do that does not rely on Census data, our data for this particular excercise comes from Zillow which releases the most timely and accurate data available on rents across the country. We specifically looked the Rental Listings –> Median Rent List Price ($), SFR, Condo/Co-op –> State data set.
After we extracted the rental data and ranked them from highest lowest, California came in a distant second to New York.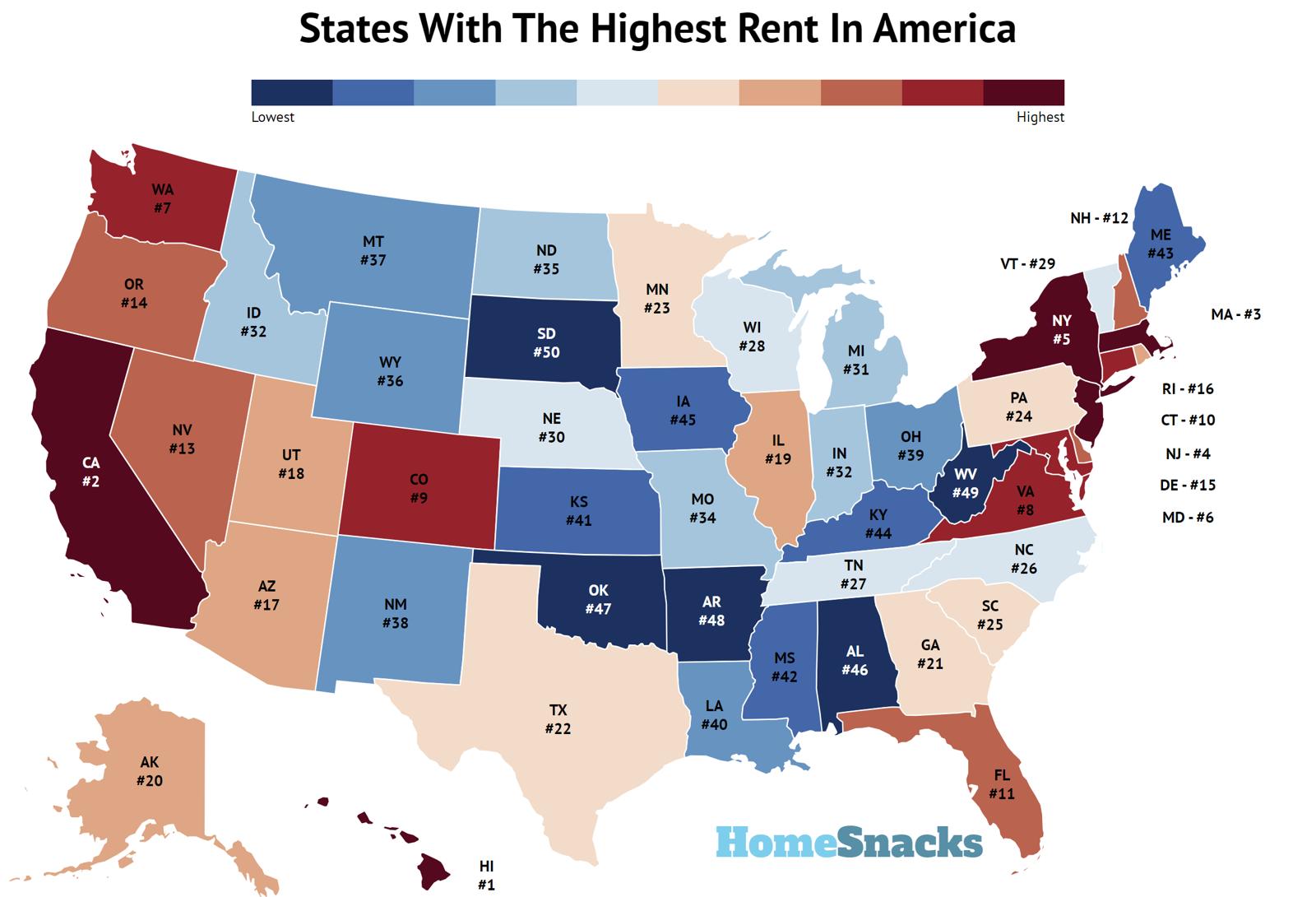 Click to enlarge
Here's a look at the ten states in America with the highest rent:
What state has the highest rent in America?
According to the most recent data from Zillow, New York has the highest rent in America with a median rent of $3,200 a month.
Our take on the result is that New York data is heavily influenced by New York City's data.
Based on our list of the most expensive states, we expected to see California in the top spot, but that didn't happen. Instead, it flip flopped with our winner for the state with the highest rent.
Here's a look at the ten states in America with the lowest rent:
What state has the lowest rent in America?
Turns out to be a tie between Missouri and West Virginia with median rents of $1,000.
Rent is generally cheaper in the Midwestern states and the South compare to the coasts. More land and less demands means lower rent.
And for reference, the median rent in America currently sits at $1,700 according to Zillow.
Read on for a more detailed methodology and data on each state or feel free to check out some of other research:
How We Calculated The States With The Highest And Lowest Rent For January 2023
We've been ranking states and cities for over four years now and we always start our quests for data in the same manner — as stroll through the American Community Survey.
But, as we mentioned above, we've made a rate exception to that rule as there is another source we trust and that has way more timely data — Zillow.
Zillow provides monthly data on rents across America by state, select counties, and select cities. The current data runs through April 2019 even though it was released in June — there's a bit of a lag in reporting.
That compares to the Census last release of data in November 2018 that only goes through 2017, so Zillow is way more up-to-date.
With all that in mind, we took the median rent for Rental Listings –> Median Rent List Price ($), SFR, Condo/Co-op –> State from Zillow's data.
We then ranked each state from the highest median rent to the lowest.
The state with the most expensive rent ended up being New York.
The best deal? Missouri and West Virginia.
Continue on for a look at the top ten or scroll to the bottom for a detailed, state-by-state table. We also broke down every state's data into specific charts and graphs.
So There Are Your States With The Highest Rents In America
With the median rent in America only $1,700, you can expect to pay almost twice that in California or New York.
If you're thinking of trying to move to somewhere cheap, then stick to the heartland where you can expect to pay closer to $1,000.
For more reading, check out:
Rent By State In America For January 2023
Rank
State
Median Rent
1
Hawaii
$1,755
2
California
$1,698
3
Maryland
$1,485
4
Washington
$1,439
5
Colorado
$1,437
6
New Jersey
$1,436
7
Massachusetts
$1,429
8
New York
$1,390
9
Virginia
$1,326
10
Florida
$1,301
11
Alaska
$1,279
12
Connecticut
$1,260
13
Oregon
$1,250
14
Nevada
$1,238
15
New Hampshire
$1,212
16
Delaware
$1,199
17
Arizona
$1,172
18
Utah
$1,171
19
Texas
$1,146
20
Georgia
$1,110
21
Rhode Island
$1,097
22
Illinois
$1,097
23
Minnesota
$1,081
24
Vermont
$1,070
25
Pennsylvania
$1,013
26
North Carolina
$988
27
South Carolina
$970
28
Idaho
$952
29
Tennessee
$951
30
Michigan
$946
31
Maine
$927
32
Louisiana
$923
33
Wisconsin
$916
34
Kansas
$912
35
Nebraska
$909
36
New Mexico
$897
37
Indiana
$891
38
Montana
$886
39
Missouri
$886
40
Wyoming
$878
41
Ohio
$870
42
Oklahoma
$862
43
North Dakota
$853
44
Alabama
$852
45
Iowa
$845
46
Mississippi
$830
47
Kentucky
$826
48
South Dakota
$809
49
Arkansas
$803
50
West Virginia
$770