You don't get named the fastest growing state in the country if you don't have super affordable places to live; and folks, there are plenty of affordable places in the Peace Garden State awaiting your arrival.
The experts say that the cost of living is on the rise, so HomeSnacks thought it would be a great idea to give North Dakotans one of the best life hacks: we compiled a list of the most affordable places to live in North Dakota for 2022. How did we determine the most affordable places to live in North Dakota for 2022? We consulted the latest US Census data and cost of living statistics for the Roughrider State.
We discovered that North Dakota has all kinds of affordable places for every walk of life. Hip, millennial cities like Fargo have multiple opportunities for young professionals just starting out. Cities like Bismark provide inexpensive staycations. And if you're looking for a city to offset your grocery bill with a little hunting, we hear that Grand Forks is a great place to fill that elk and/or deer tag.
More importantly, if you choose to live in one of North Dakota's most affordable places, you will save money for the fun things that this flyover state has to offer. Like, a day trip to Hankinson's Dakota Magic Casino or a weekend at Devils Lake. So, want to know where you can get the most bang for your buck in North Dakota? Keep reading.
If you ask any North Dakotan, they will say, hands down, that their city is the best. But if you're the good people in our most affordable place in North Dakota for 2022, you know you live in North Dakota's best of the best.
What's the cheapest place to live in North Dakota? Without further adieu, the most affordable place in North Dakota for 2022 is Rolla.
To see how your city compared, take a look at the list below. And if you don't see you're favorite there, head to the bottom.
And if you already knew these places were cheap, check out some more reading about North Dakota and the cheapest places in the country:
The 10 Cheapest Places To Live In North Dakota For 2022
We're driving almost into Canada to reach our cheapest city in North Dakota, Rolla. Rolla is a family friendly city where you can lead the good life without breaking the bank. Homes in Rolla go for about $97,900, the ninth least expensive in the state. Rolla is also in the top ten for home price to income ratio, so you get to keep most of the rougly $59,125/year salary you'll earn here.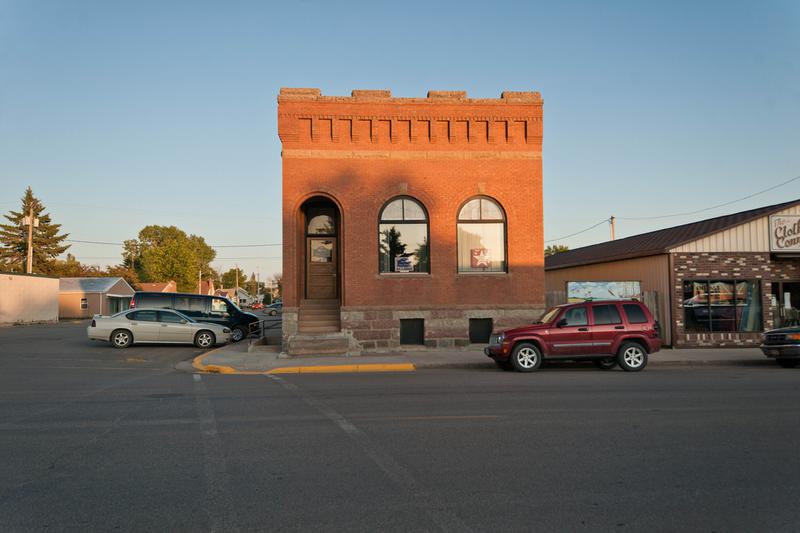 Next up on our list of super-affordable places to live in North Dakota is Cooperstown. Folks in Cooperstown get some of the best deals on rent statewide, paying a median price of $552/month. That's nearly one third the average cost of rent in North Dakota. What's more, the rent to income ratio in Cooperstown is the 12th best in the state. Cooperstown played a big role during the Cold War as an ICBM site that was manned 24/7 between 1966 to 1997. To learn more, check out the Ronald Reagan Minutemen Missile Site – Cold War enthusiasts won't be disappointed.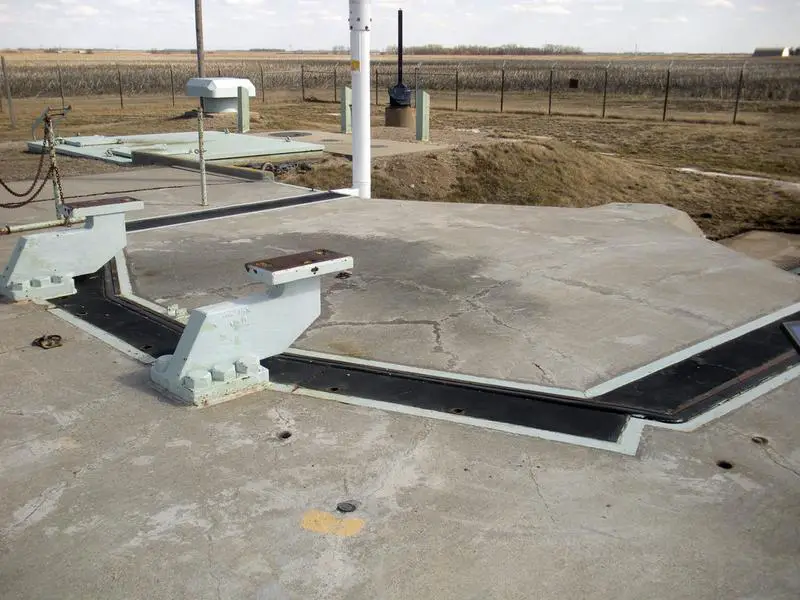 We've already given major kudos to Oakes for being one of the best places to live in North Dakota, with an emphasis on good schools, safe streets, easy commutes, low unemployment, and, of course, uber-affordability. With a median home price of $128,100 and a median rent of $614, Oakes has cheap housing options for everyone. And with a median income of $75,848, Oakes is just outside the top ten statewide for housing to income ratios. Oakes is primarily agricultural, but has a growing industrial sector that needs fresh talent !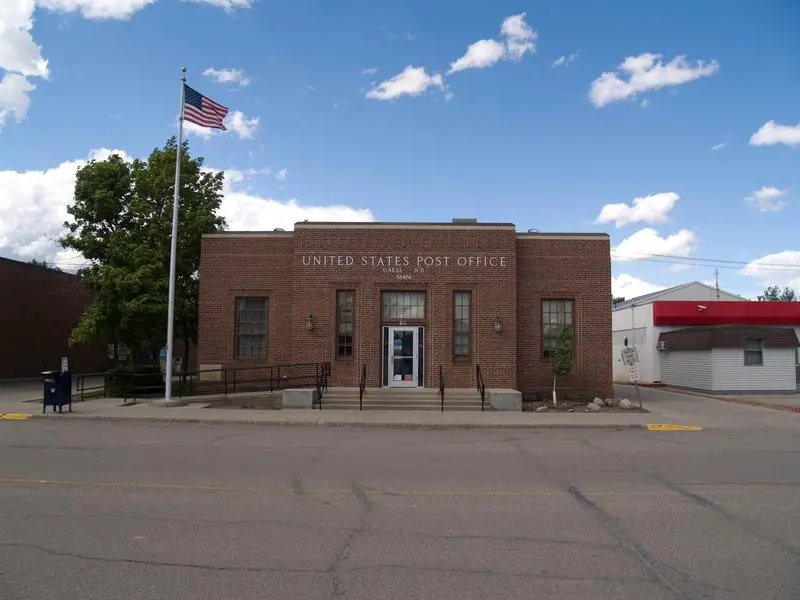 If you're just starting out as a new family, stressing about finances is no fun. That's where Ellendale comes in. As the best city for families and the fourth most affordable city in North Dakota, Ellendale is the best option for someone in the situation above. Especially if you're settling down in Ellendale for good, because this city has the cheapest homes in the whole state. Almost non-existent levels of povery and unemployment mean that financial security is a given in Ellendale. Once you lock down a job in Ellendale, you won't have to hand over half your paycheck to buy a home, because the home price to income ratio here is the fourth best in North Dakota.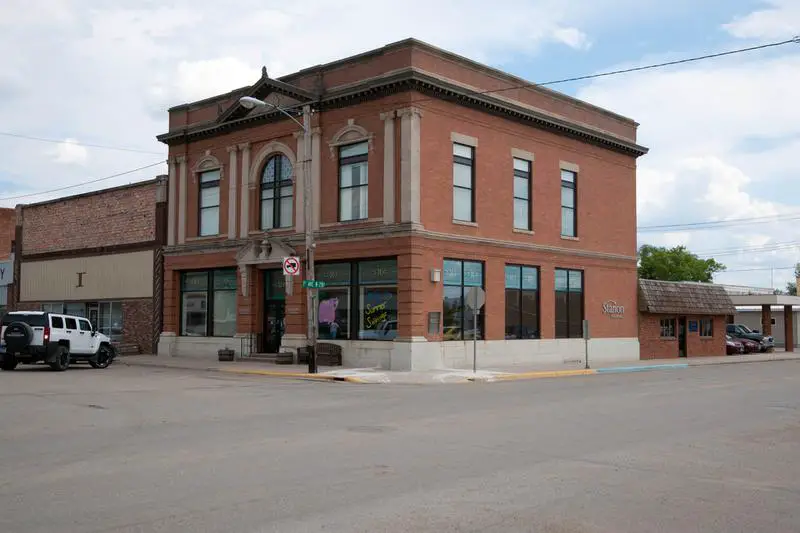 We're going to take a short drive southwest from Walhalla to reach our fifth least expensive city in North Dakota, Langdon. You can buy a home in Langdon for $109,900 or rent a place for $584/month, both of which are actually the priciest you'll see in the top five for this list. However, Langdon's residents also have a higher median income of $54,856. That means that, in terms of housing to income ratios, Langdon is in the top five statewide, regardless of if you're buying or renting. For things to do in Langdon, we recommend ATVing for outdoorsy folks and the downtown history museum for history buffs.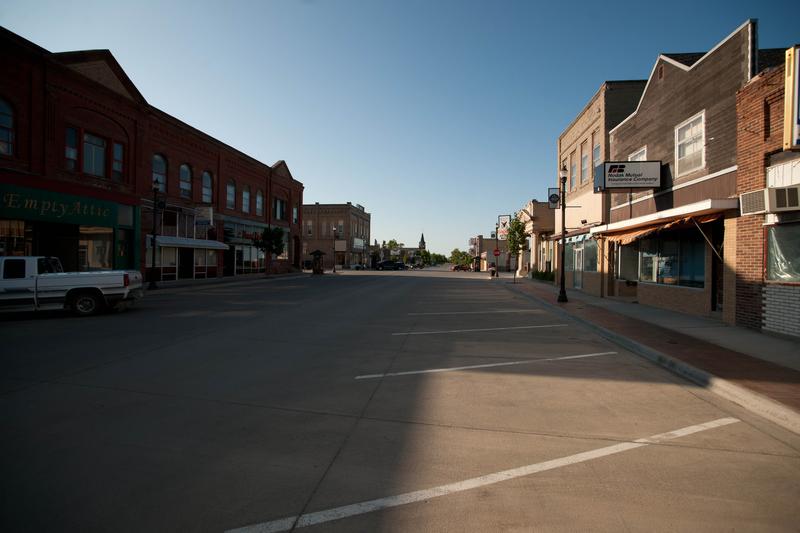 As you would expect, Beach is not, in fact, near any beaches. In fact, the 1.93 square mile town is all land, not even a bit of water. Instead, you'll find Beach located on the Montana border right of I-94. And, maybe because of the lack of beaches, it's one of the most affordable places to live in Montana. The town of around 1,5000 people has an overall cost of living about 25% lower than the national average. Beach has the 16th cheapest homes and 25th cheapest rent anywhere in north dakota. The median home price in Beach is $111,900, while you can find a place to rent for just $710.
Beach offers residents the Golden Valley County Museum along with a bunch of great mom and pop shops. In terms of jobs, Prairie Lumber is a big employer in town. And for entertainment, there's always the great outdoors of North Dakota to keep you busy – camping, hunting, and fishing.
Located in northern North Dakota, about 45 miles north of Grand Forks off of I-29 is Grafton, one of the cheap and best places to live in North Dakota.
What makes Grafton so affordable? Well, the overall cost of living is well below the state average and over 25% cheaper than the national average. Just about everything you might have in your monthly budget is cheaper in Grafton, but you'll save a pretty penny on housing costs.The town ranks eighth lowest in home values at $92,800 and rent is only $702 per month.
In terms of things to do, Grafton has an awesome campground at Leistikow Park with 5 cabins and 50 RV sites. In addition to several other parks, there is also the Centennial Center which offers indoor activities like skating when it's too cold to be camping outside.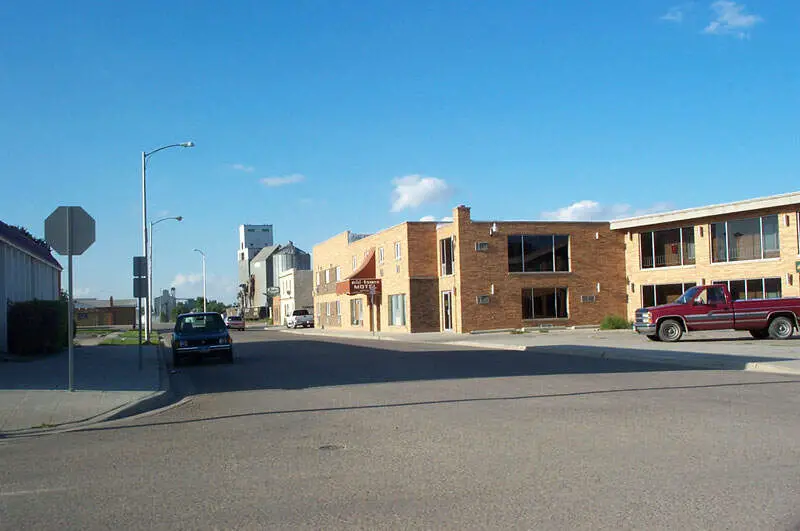 Everyone's a winner in Gwinner, our eighth most affordable place in North Dakota. Full disclosure: Gwinner does have the costliest homes on this list, with a median price of $108,500. Fear not, though, because Gwinner also has the highest median income on this list by a substantial margin. That means that folks in Gwinner spend the tenth least percentage of their income on homes statewide.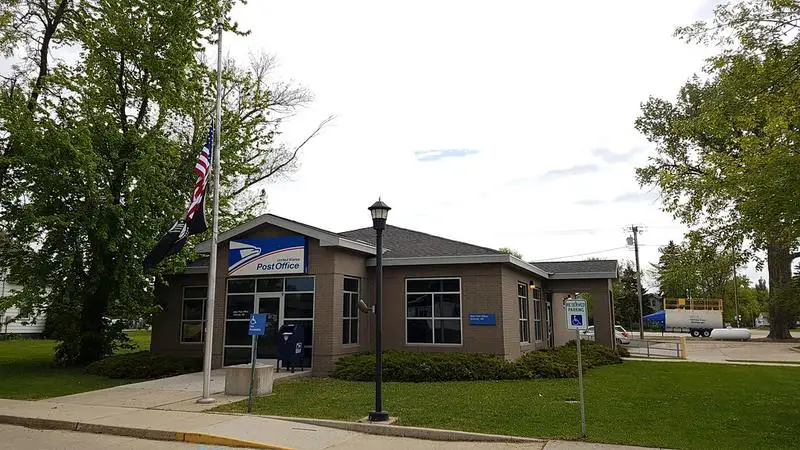 Hazen is located in the middle of North Dakota off Route 200 near the Knife River and Lake Sakakawea. While its affordability landed it on this list, it's also a great place to live. There are great affordable things to do like the Knife River Chorale concert around Christmas and "Music in the Park" during the summer. There are jobs to be had at local shops and bigger regional employers like the Sakakawea Medical Center. And for families there's always the outdoors full of hiking, hunting, and sailing.
When it comes down to affordability metrics, the town is considerably more affordable than the country as a whole. Where Hazen really shines is in housing affordability. The town has the seventh best rent rate to household income ratio in the state. Forgoing homeownership in favor of renting will only run you $968 here.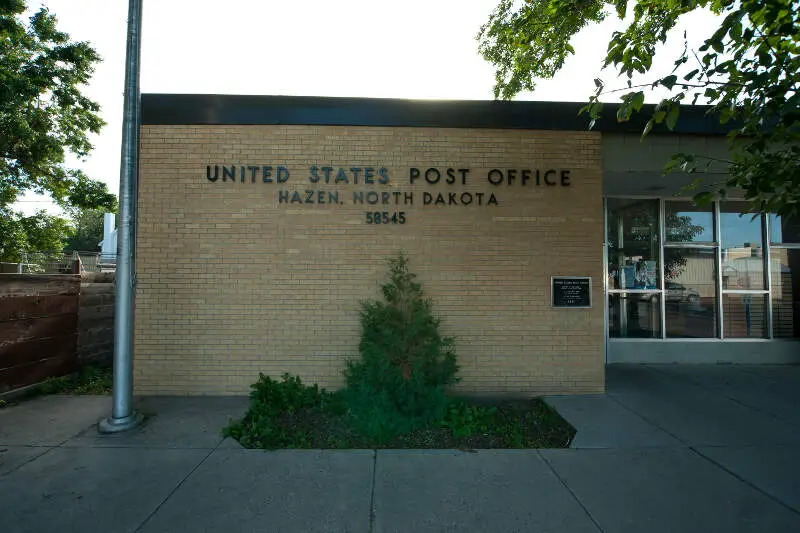 Located an hour's drive southeast of Bismarck, Linton ranks as the tenth most affordable place to call home in North Dakota. We don't think any of Linton's residents would argue with the fact that they're living in one of the cheapest states in America. Not when you can rent a place for the meager price of $418/month, the lowest you'll see on this list. Linton also has the second cheapest homes on the market in North Dakota, at a median price of $77,500. Linton is also one of the last few places in the country where you can see wild horses in their natural habitat.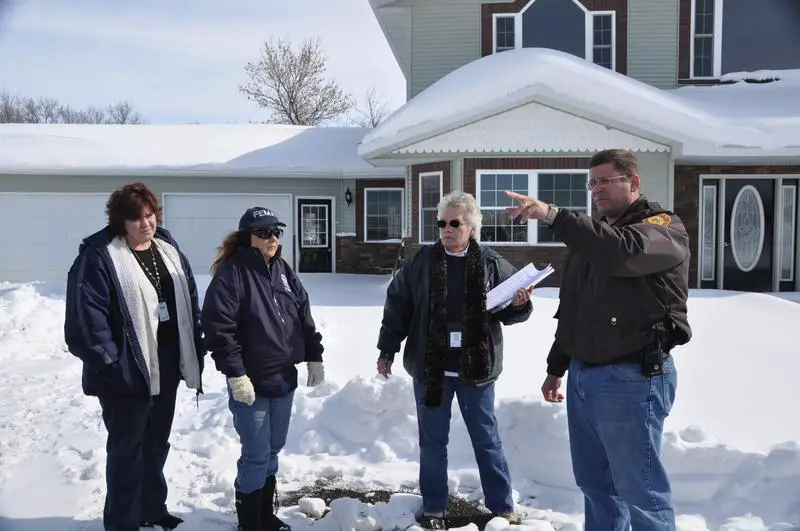 Source: Public domain
Cheapest Places To Live In North Dakota FAQs
The county in North Dakota with the lowest cost of living is McIntosh County. The average living wage in McIntosh County is $81,422 according to MIT data. McIntosh County has the lowest cost of living because it has relatively less expensive childcare and housing costs compared to North Dakota as a whole. Childcare costs $13,020 a year in McIntosh County for two children compared to the North Dakota average of $16,381. Housing costs, defined as a blend of the average rent and average mortgage payment, are $8,808 per year in McIntosh County compared to $10,230 on average in North Dakota.
The cost of living in North Dakota is 3.2% lower than the US average. According to MIT, the required living wage for a family of four with two working parents in North Dakota is $86,873 vs the national average for a family of four with two working parents of $89,744. The median income of a North Dakota household is $65,315.
The cheapest housing market in North Dakota is Ellendale. The average home value in Ellendale is $72,100, the lowest in the state. The average home value in North Dakota is $199,900, almost 2.8 times higher than Ellendale.
Methodology: How We Determined The Most Affordable Places To Live In The Peace Garden State For 2022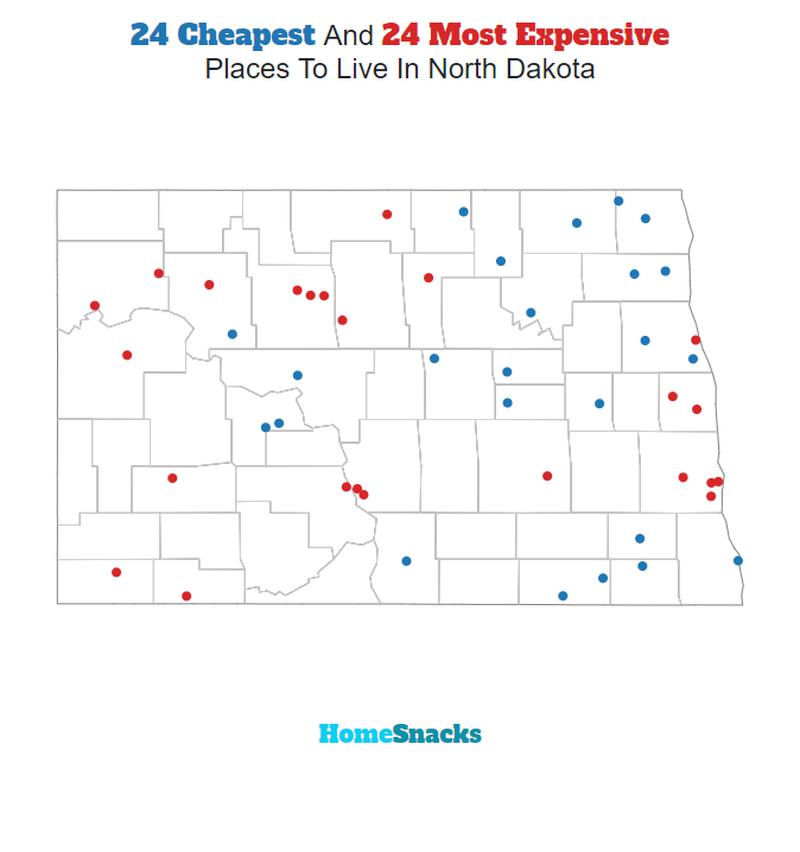 The two most important things to think about when it comes to being able to afford if you can live comes down to:
How much do money do I make?
How much do I have spend to live there?
You need to understand your costs in the context of how much money you make.
For example, if the median household earns $100,000 and spends $40,000 on housing it's actually cheaper to live there than a place with a median income of $50,000 and housing costs of $21,000. You might spend more on housing, but you have more money overall to play with.
With that example in mind, we derived several statistics from the latest Census American Community Survey 2016-2020 around incomes and costs. They are:
Median Home Price / Median Income (lower is better)
Median Income / Median Rent (Higher is better)
Median Home Price
We added simply median home price because high home prices generally correlate with higher expenses for all costs related to homes (heating, electricity, etc).
You can then compare these metrics in each of the places in North Dakota to figure out which is the least expensive.
What you are left with is a "Cost of Living Index" by taking the average rank of each of these metrics for each city.
So we used that cost of living index in order to rank all of the 53 places in North Dakota that have more than 1,000 people.
The place with the lowest cost of living in North Dakota according to the data is Rolla. You can download the data here.

Summary: There You Have It Mr. Or Mrs. North Dakota Cheapskate
If you're looking at the cost of living numbers in North Dakota, this is an accurate list of the most affordable places to live in North Dakota for 2022.
Here's a look at the most expensive cities in North Dakota according to the data:
Watford City
Surrey
Grand Forks
For more North Dakota reading, check out:
The Most Affordable Places To Live In North Dakota
Editor's Note: We updated this article for 2022. This is our ninth time ranking the cheapest places to live in North Dakota.