Editor's Note: We updated this article for 2021. This is our seventh time ranking the best places to live in North Dakota.
Article Table Of Contents   
(Skip to section)
Three new cities moved into the best places to call home in North Dakota according to our best places to live in North Dakota for 2021 report.
Each year we analyze what we feel are the best places to live in North Dakota. We take into account categories that we all agree make a place top ten worthy, like housing prices and median income. We also take into account places with low crime, great jobs, short commute times, and solid schools. According to the Happiness Research Institute, most people don't like where they live and wished they lived somewhere better. However, not the folks in our best places in North Dakota.
How did we determine the best places to live in North Dakota? We consulted the latest Census data on cost of living for places with 2,000 or more residents. We discovered that most North Dakotans have never really experienced unemployment. The Peace Garden State has managed to stay below the national unemployment rate; and coincidentally, have managed to be one of the least dangerous states in the country.
It's simple economics, folks. When a city's median income is above average, there is more money to spend on the things that matter. Like, the community and the programs and activities that keep the residents safe, healthy, and active. And that, North Dakotans, makes perfect sense.
Are you surprised by this year's results? Pull up a chair and put a smile on your face as we look at North Dakota's best places to live.
The 10 Best Places To Live In North Dakota For 2021
What's the best place to live in North Dakota for 2021? Drum roll... the number one best place to live in North Dakota is Lincoln based on the most recent Census data.
We are not at all surprised. Lincoln has homes that are affordable, plentiful jobs with competitive salaries, and its neighborhoods are safe.
To see how your city compared, take a look at the list below. And if you don't find your favorite there, head on down to the bottom.
If you're looking for something more national, check out the best states in America or the best places to live in America.
For more North Dakota reading, check out:
The 10 Best Places To Live In North Dakota For 2021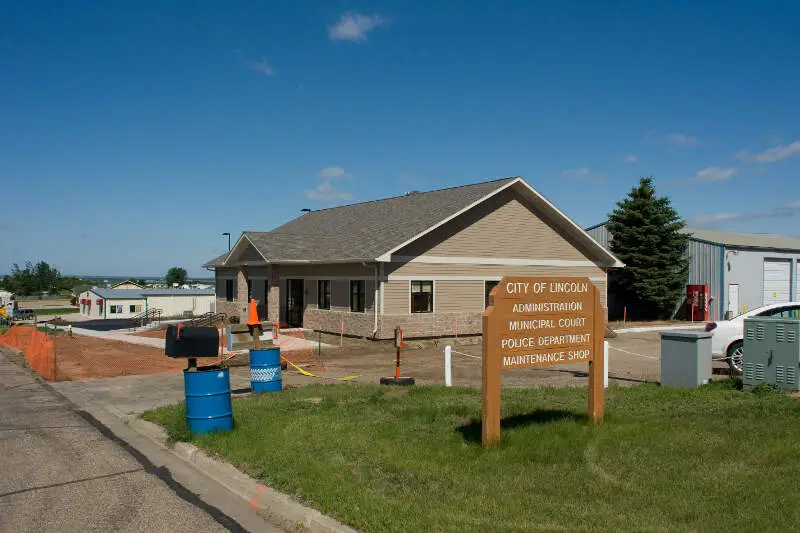 Kudos to Lincoln for holding onto the title of HomeSnacks best place to live in North Dakota for the second year running. Located just southeast of Bismarck, Lincoln has access to all the big-city amenities while retaining its small-town charm. A top spot for locals is nearby Fort Abraham Lincoln State Park, a diverse landscape where you can camp or fish beside the Missouri and Heart Rivers.
Don't let people tell you that Millennials don't know how to run a successful city, because Lincoln is the youngest city on this list with a median age of 30. The poverty rate is at its lowest level statewide, sitting at 0.5%. A whopping 98.0% of residents have health insurance, the 4th highest rate in North Dakota. It's unlikely you'll need help with medical bills because of criminal activity, though, seeing as Lincoln has the 3rd lowest crime rate statewide, a rate about 85% below the national average.
The increased demand to live in Lincoln has driven up property values by 10% over the last year. Home prices are already the 5th highest in the state at $238,200. Luckily, Lincoln locals also enjoy the 3rd highest median household income statewide at $90,231/year.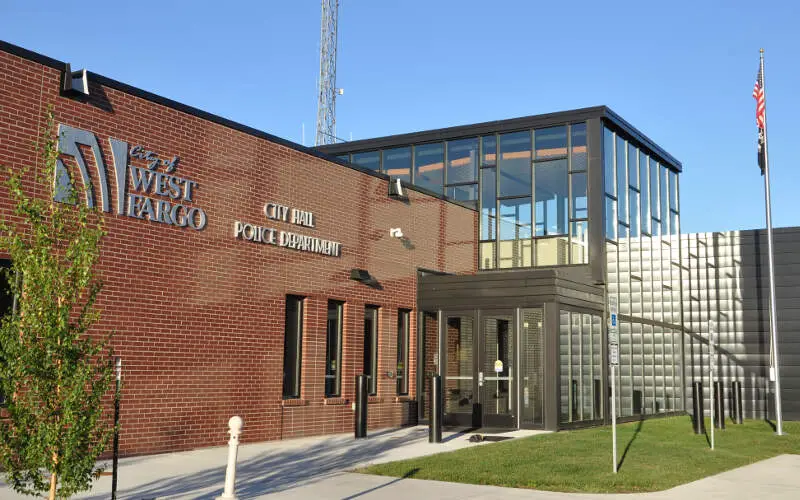 Will you find the 2nd best place to live in North Dakota in West Fargo? You betcha! More than just the movie and its (possibly) tired cliches, West Fargo is a city that encapsulates the can-do frontier spirit of the past while looking to the future. href="https://www.bonanzaville.org/">Bonanzaville, part pioneer village and part history museum, is dedicated to honoring the past, while the Red River Valley Fair celebrates the present with exhibitions, live entertainment, attractions, and the best food on a stick you've ever had.
The unemployment, poverty, and crime rates in West Fargo all rank within the top ten statewide, so you know the city has all the essentials for a good life sorted out. Schools here consistently outperform the statewide average in test scores and graduation rates. In fact, the city has the 5th lowest high school dropout rate in North Dakota.
It's not hard to see why West Fargo is one of North Dakota's fastest-growing cities. The city has the 4th highest median household income at $85,120/year and the 3rd priciest homes statewide at $241,000. All things considered, though, the cost of living in West Fargo is still pretty much on par with the rest of North Dakota.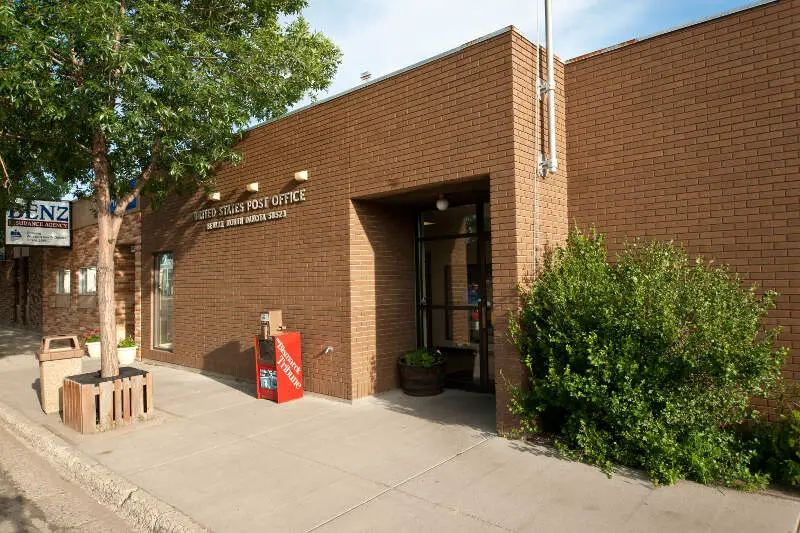 Beulah is a city of 3,235 located an hour and some change northwest of Bismarck. If you're looking for small-town appeal with big city looks, you've found it in Beulah. From museums, community events, and outdoor recreation like you can find at nearby Lake Sakakawea, there's always plenty to do in Beulah.
Beulah has the 6th lowest crime rate in North Dakota, so safety will never be a concern here. Neither will the local economy, seeing as the poverty rate in Beulah is the 3rd lowest statewide at 2.9% and unemployment sits at an incredibly low 0.9%. For all these super qualities, housing in Beulah is fairly affordable, with a typical home selling for $196,200 and your average rental costing about $728/month. That's especially low when you consider that Beulah's residents also enjoy the 2nd highest median household income in the state at $99,125/year. Even better, both income and property values went up by around 10% in the last year.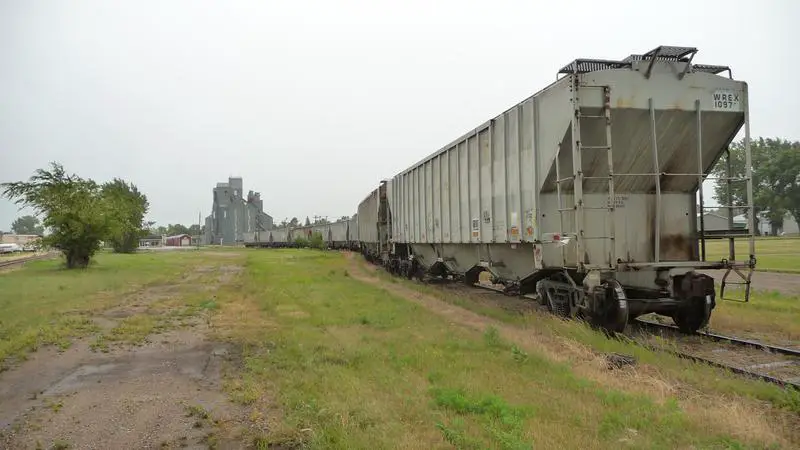 Carrington is a city of 2,133 and the county seat of Foster County in central North Dakota. Home to some of the best hunting, fishing, birding, hiking, and biking options in the state, Carrington is a non-stop thrill ride for outdoor enthusiasts. For those trying to stop and smell the roses while sipping on some fine wine, the Dakota Sun Gardens and Winery is a must-visit. If hitting the links is your idea of a good time, the local CrossRoads Golf Club won't disappoint.
With a median age of 45, Carrington is the oldest city we'll be covering here. The city has the 2nd highest rate of residents with health insurance in North Dakota. Older folks in Carrington haven't forgotten about the next generation, either; GreatSchools gave Carrington High a 9/10 rating with a College Success Award to boot.
The unemployment rate in Carrington is the lowest in the state at 0.0%. As a bonus, Carrington residents enjoy the 1st shortest commute time in North Dakota at just 11 minutes.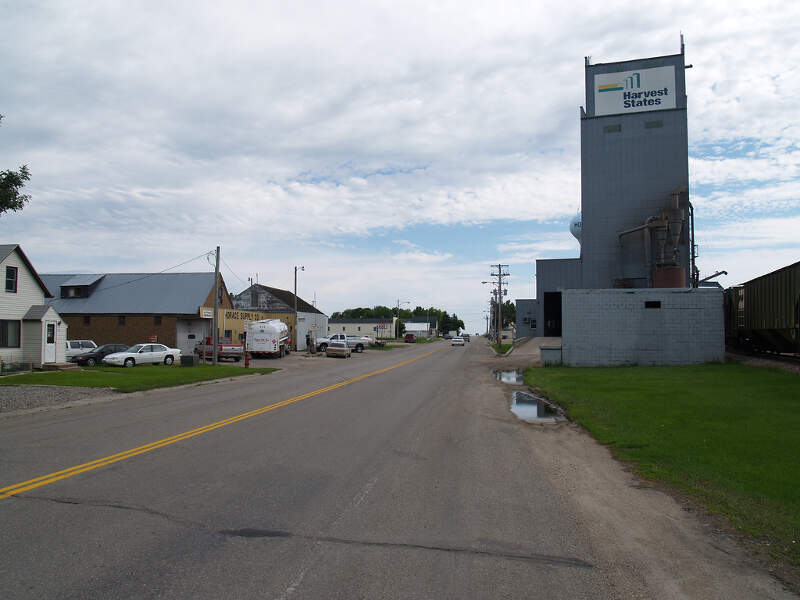 Life's pretty good in Horace, a southern suburb of Fargo and North Dakota's 5th best city. While Horace's population is pretty small at 2,741 people, having North Dakota's biggest city right up the road means you don't have to sacrifice key amenities to have a small-town vibe. In just twenty minutes, you can find yourself learning about the history of aviation at the Fargo Air Museum or be watching a pack of wolves frolic at the Red River Zoo.
We just hope you're comfortable rubbing shoulders with the state's elite because Horace ranks as the richest place in North Dakota. The median household income is the highest in the state by about 40%, with your typical home bringing in around $129,231/year. Homes in Horace are also the 1st costliest in North Dakota at $297,800, but rent here is only $597/month, which is actually less expensive than the statewide median. Poverty, unemployment, and health insurance rates all rank in the top five in North Dakota.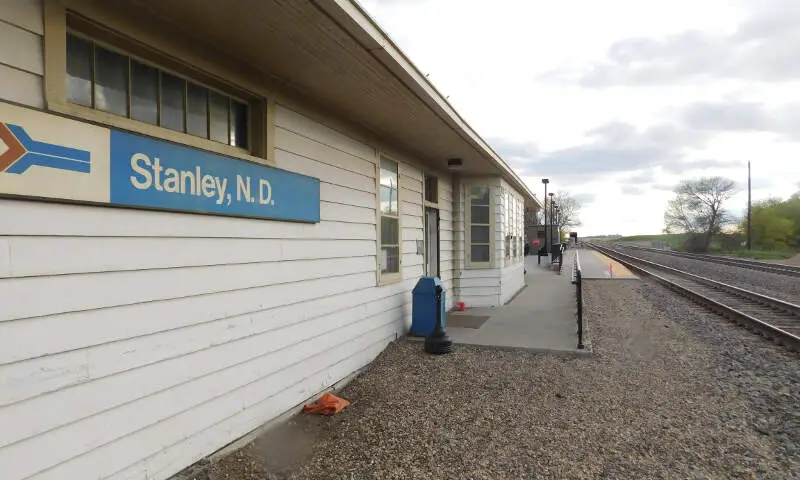 Located about an hour west of Minot in northwestern North Dakota, Stanley ranks as the 6th best place to live in North Dakota. Situated on massive oil reserves known as the Bakken Formation, Stanley's population has recently been swelling in a black gold rush. If that doesn't interest you, maybe some dill pickle ice cream from Dakota Drug or a show put on at the Regis Theater across the street will.
Stanley has a quiet, serene vibe without sacrificing on top-quality amenities and natural beauty. That's partly why we named it one of the best places to retire in North Dakota this year. That serenity has a lot to do with a crime rate 90% below the national average that ranks as the lowest in North Dakota. Stanley also has the 5th lowest poverty rate in the state at 5.7%. If you want to make Stanley your permanent residence, a home will set you back around $178,400, which is quite reasonable for a city that also enjoys the 8th highest median household income in North Dakota at $74,200/year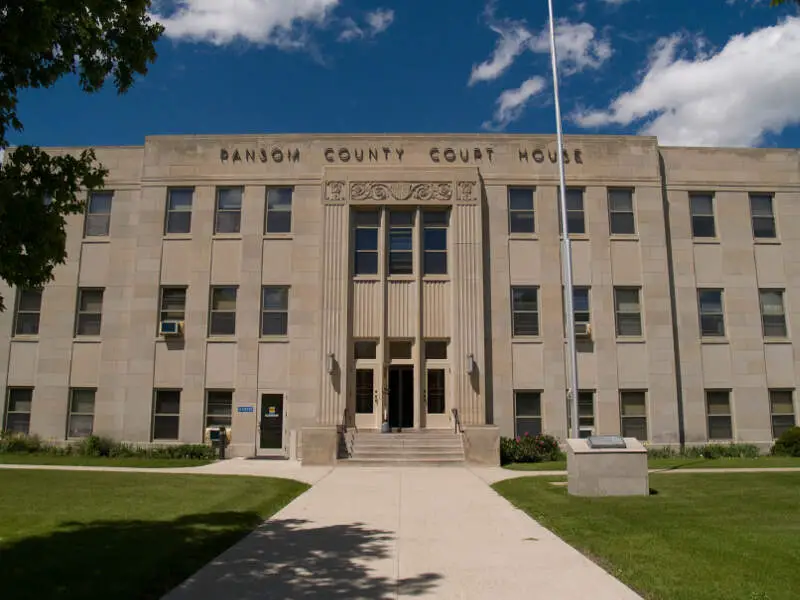 Located a little over an hour southwest of Fargo, Lisbon clocks in as the 7th best place to live in North Dakota. The motto here is "A Place to Call Home," and we think the data checks out on this claim. Outdoorsmen and women will never be bored in Lisbon because the Sheyenne National Grassland is basically your backyard here. And if angling is your sport of choice, it's tough to beat the bass and crappie fishing on offer at nearby Dead Colt Creek.
Now to the best part about Lisbon: it ranks among North Dakota's most affordable cities, which is a rare thing for places that also feature on "best in state" lists. Lisbon's median home price of $117,700 is 60% cheaper than the statewide median and a typical rent here is around $585/month, less than half the average rent in North Dakota. Unemployment is at a crazy low 0.4% and the violent crime rate ranks as the 6th lowest in the state.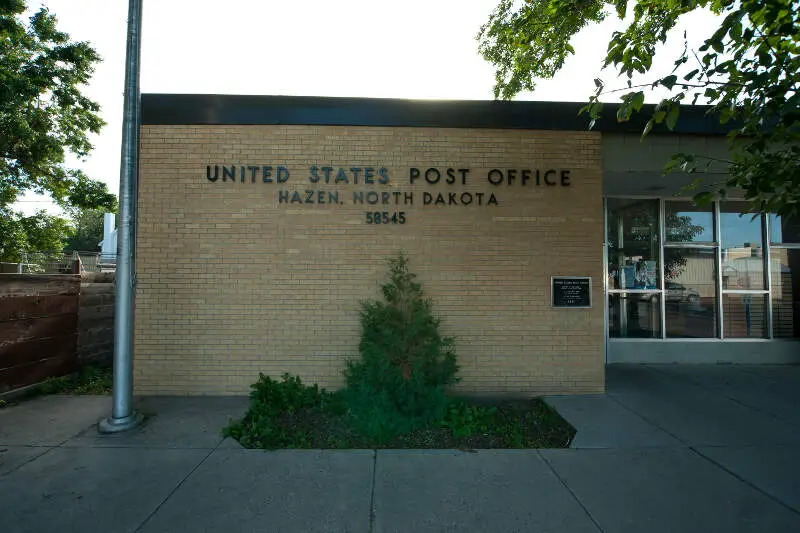 A flourishing city situated next to Beulah in what's known as the "power belt" of North Dakota, Hazen ranks as the 8th best place to live for 2021. With two camping areas, easy access to boating at Hazen Bay on Lake Sakakawea, and the Knife River Indian Villages nearby, there's no shortage of outdoor activities in Hazen.
Hazen isn't the sort of place where you have to constantly look over your shoulder late at night. We recently named Hazen North Dakota's safest city, with a total crime rate is roughly 95% lower than the national average.
Hazen High School scored a perfect 10/10 on GreatSchools, so you don't need to worry about shaping your kids up for college life here. You also won't have much concern about paying the bills, because the median household income in Hazen is $82,121/year, the 6th highest in North Dakota.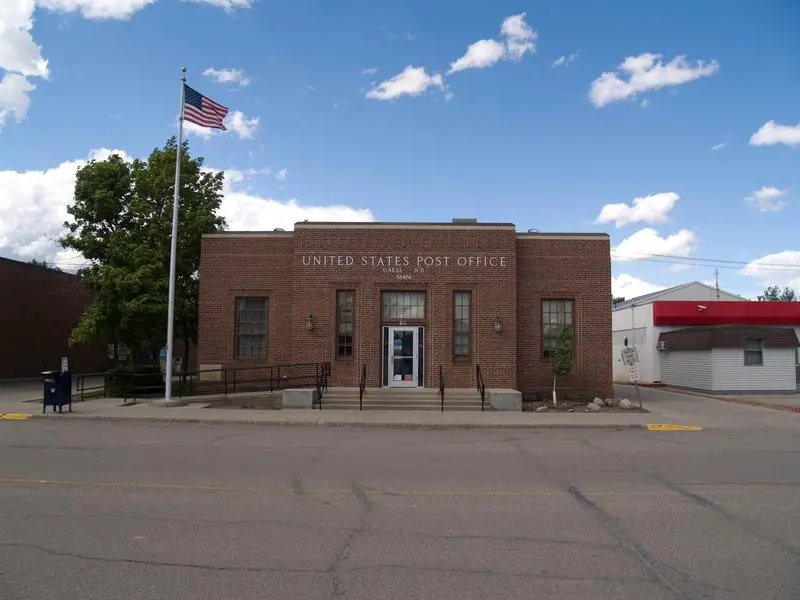 Wrapping up our list of the best places to call home in North Dakota is Oakes, a city of 2,129 that serves as the hub of southeastern North Dakota. Though primarily agricultural, Oakes has a large industrial sector and a progressive main street. We named it among North Dakota's best family cities thanks to its great schools, it's three gorgeous parks, and wholesome entertainment options like catching a show at Grand Theatre.
As for parents, Oakes boasts the 8th shortest average commute time in the state at 14 minutes. It also has the 5th lowest crime rate and 7th lowest poverty rate statewide. All this excellence won't break the bank, either. Oakes has the cheapest median home price on this list at $124,400 and rent typically costs around $664/month, about 25% less than the statewide median price.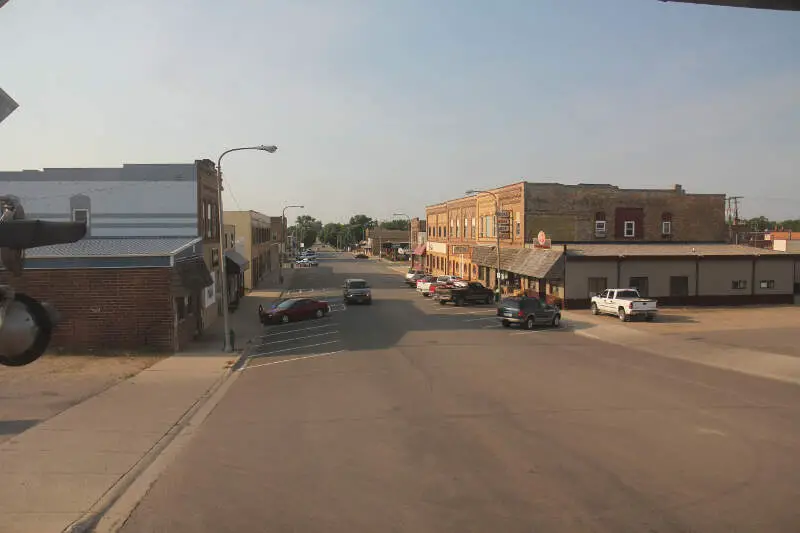 Rugby ranks as the 10th best place to call home in North Dakota. Often billed as the Geographical Center of North America, Rugby is truly smack dab in the middle of the American heartland.
A small city of 2,724, Rugby residents like to reminisce about its heritage and history at the Prairie Village Museum. Some of those wholesome qualities remain today.
For example, Rugby is among the safest places in North Dakota, with an overall crime rate about half the national average.
Additionally, Rugby has the 8th highest rate of residents with health insurance in the state. Unemployment ranks as the 6th lowest in North Dakota, and those with jobs enjoy the 2nd shortest average commute time statewide at just 11 minutes.
Homes in Rugby are quite affordable, with a median price of $131,300 (that's up 7% since last year). Residents of Rugby enjoy a median household income of $46,552.
Mapping The Best And Worst Places To Live in North Dakota
The Pressing Question: Size
Before we even started to collect data, we had to answer a tough question: Is it fair to pit Bismarck with a population of 72,777 against places with a population of 18?
We firmly decided no, that just isn't fair.
So to create our ranking, we broke places to live into three tiers:
Cities -- Populations over 2,000
Towns -- Populations between 1,000 and 2,000
Small Towns -- Populations below 1,000
This left us with 23 cities, 27 towns, and 261 small towns.
We then decided, no matter how much anyone loves their town, the best cities to live in North Dakota have more of everything and therefore you need to have over 2,000 people to truly be 'the best'.
Now we also realize that city living might not be your cup of tea, so we ran the following analysis on towns and then again for small towns.
You can see those two top tens at the bottom of the post.
How We Calculated The Best Cities To Live In North Dakota
Now that we had our set of cities, it was time to rank them.
We ranked each place in North Dakota across a number of criteria from one to 23, with one being the best.
We then took the average rank across all criteria, with the city posting the lowest overall score being crowned the winner of the title "Best Place To Live In North Dakota".
The criteria we looked at were:
Median Home Values
Median Income
Population Density (Higher better)
Unemployment Rate
Commute Time
Crime
Education Levels
Health Insurance Coverage
Poverty rates
Sources of criteria include the New Census Data and FBI Crime Data. You can download the data here.
After the dust settled, what was the best place to live in North Dakota? That would be Lincoln.
If your city or town isn't among the top 10, jump down to the bottom of the post to see a detailed chart of the best places in North Dakota.
Otherwise, buckle up for a ride down good living lane with Lincoln at the end of the cul-de-sac.

Wrapping Up The Best Places When It Comes To Living In North Dakota
If you're looking at areas in North Dakota with the best economic situations, where there's lower than average crime, and a lot to do, this is an accurate list.
Lincoln made a strong showing to take in the overall number one spot for the best place to live in North Dakota for 2021.
Best Towns To Live In North Dakota
Thompson (Pop. 1,196)
Surrey (Pop. 1,079)
Langdon (Pop. 1,929)
Hettinger (Pop. 1,140)
Burlington (Pop. 1,235)
Washburn (Pop. 1,464)
Carrington (Pop. 1,980)
Bowman (Pop. 1,717)
Hillsboro (Pop. 1,643)
Crosby (Pop. 1,000)
Best Small Towns To Live In North Dakota
Reile's Acres (Pop. 514)
Briarwood (Pop. 54)
Prairie Rose (Pop. 84)
North River (Pop. 60)
Newburg (Pop. 147)
Frontier (Pop. 192)
Oxbow (Pop. 395)
Pembina (Pop. 502)
Harwood (Pop. 767)
Buchanan (Pop. 63)
If you're curious enough, here are the worst places to live in North Dakota according to the data:
Jamestown (Pop. 15,289)
Devils Lake (Pop. 7,344)
Wahpeton (Pop. 7,802)
For more North Dakota reading, check out:
Where Are The Best Places To Live In North Dakota?
| Rank | City | Population |
| --- | --- | --- |
| 1 | Lincoln | 3,703 |
| 2 | West Fargo | 35,397 |
| 3 | Beulah | 3,235 |
| 4 | Carrington | 2,133 |
| 5 | Horace | 2,741 |
| 6 | Stanley | 2,655 |
| 7 | Lisbon | 2,009 |
| 8 | Hazen | 2,543 |
| 9 | Oakes | 2,129 |
| 10 | Rugby | 2,724 |