Article Table Of Contents   
(Skip to section)
If you're not taking advantage of fresh fish in Kenai all year, snow-cream for most of the year in Fairbanks, and skiing in Anchorage, you're missing out on some of the best things and places Alaska has to offer.
And, folks, these cities aren't even on the top ten best places to live in Alaska for 2022. That's because the places on HomeSnacks best places list house superstars like Santa Claus, the state's capital, and the Alaska Raptor Center.
How'd we determine the best places in Alaska? We consulted the numbers. In total, we analyzed 20 cities. We looked at important factors like cost of living, crime, unemployment rates, rent and median home values for every place with over 2,000 residents. We discovered that there are awesome places in Alaska for every type of person. There's Haines for really, really love the snow, Ketchikan for the outdoorsy type, and make sure to give Homer a second look if you're into that whole "sittin' by the dock of the bay" vibe.
Alaska is so great that the state gives its residents a check in September every year as part of the Alaska Permanent Fund. It's the trickle down effect: the more money Alaskans have in their pockets, the more money they are able to five back to their communities.
So where are these amazing places in Alaska where homes are affordable, jobs are plentiful, and neighborhoods are safe? Read on.
Ask any Alaskan and they will tell you that their corner of The Last Frontier is the best. And while that might be true for many, the Alaskan that live in our top ten best places for 2022 are truly the winners.
What's the best place to live in Alaska for 2022? The best place to live in Alaska is Cordova based on the most recent Census data.
To see how your city compared, take a look at the list below. And if you don't find your favorite there, head on down to the bottom.
If you're looking for something more national, check out the best states in America or the best places to live in America.
For more Alaska reading, check out:
The 10 Best Places To Live In Alaska For 2022
Welcome to Cordova, the best place to call home in Alaska for the second year running. You can forget about renting a U-Haul to move to Cordova because no roads link this city to other Alaskan towns; you'll need a place on a ferry to get there. While Cordova was damaged by the Exxon Valdez oil spill in 1989, the city has bounced back and is better than ever. We named it one of the safest places in Alaska with a crime rate roughly 70% lower than the national average and 80% lower than the Alaskan average.
When the economy is as solid as it is in Cordova, there's really not much reason for crime to happen. Cordova has the lowest poverty level and lowest unemployment rate in the state for 2022, sitting at 2.1% and 0.9% respectively. The median home price in Cordova is $341,100 and your average household pulls in about $91,442/year, the 2nd highest in Alaska. One thing to note is that, at 35, Cordova is the oldest city we'll be covering here, which can be good or bad depending on your preference.
One thing that's definitely good is having Mt. Eyak Ski Area right in your backyard, so you'll never have far to go for winter sports. And if you're trying to get a feel for your new city, definitely check out the Cordova Historical Museum.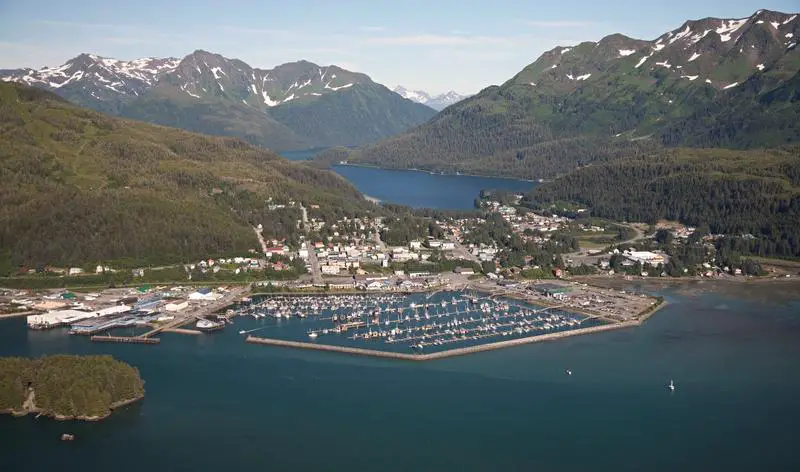 Unalaska is the chief economic hub of the Aleutian Islands well-known for its strong fishing industry thanks to being featured on Deadliest Catch. By volume of seafood caught, Unalaska typically ranks as the most productive port in America. This massive boon to the economy is one reason we named Unalaska the richest place in Alaska. The median household income in Unalaska is $90,938/year, which ranks as the 3rd highest in the state.
It's not like the 1% make out like bandits while regular folks struggle either, because Unalaska has the 5th lowest unemployment rate and 3rd lowest poverty level in Alaska at 4.2% and 5.5% respectively. If you're part of the mega-majority of employed residents, having the 3rd shortest commute in the state at 7 minutes is a nice perk. For those moving with a family, Unalaska has a low student-teacher ratio and GreatSchools gave the district an average score of 7.5/10. You won't have to worry about crime in Unalaska either, because the crime rate here is the 5th lowest in Alaska.
To discover more about the region's distant past and its impact on the present, the Museum of the Aleutians is a great place to start. World War II buffs will also want to pay a visit to the Aleutian Islands WWII National Historic Area.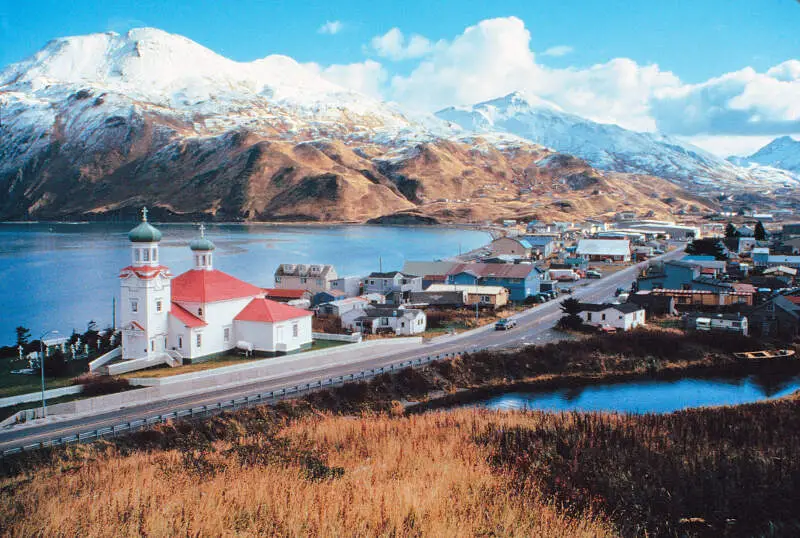 Source: Public domain
Valdez is a city of 3,865 located at the head of a fjord on the eastern side of Prince William Sound. We probably won't have to try very hard to convince an outdoorsman or woman that Valdez is an amazing place to settle down. From the moment you drive into town through Keystone Canyon, you know you're in for something special. Between five nearby glaciers to explore, all the epic kayaking and rafting adventures on Prince William Sound, and countless day-hikes, we can safely guarantee that you'll never be bored in Valdez.
you'll also have some pretty smart company, seeing as around 20% of the adult population has a master's degree or higher. Seeing as Valdez also has the 3rd lowest high school dropout rate as well, we think the love of learning here transcends generations. Having a 12:1 student-teacher ratio (40% better than the statewide average) also plays a big role in educational success.
But wait, there's more: Valdez is also one of the most affordable places in Alaska, thanks to a median household income of $93,281/year (the highest in Alaska and low home prices. And with the 8th highest rate of residents with health insurance in the state, 86.9%, unwelcome medical surprises won't break the bank here either.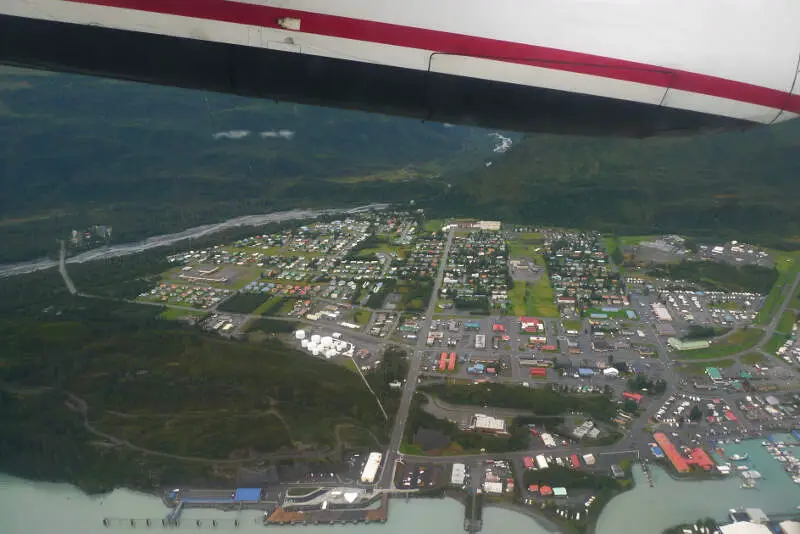 It turns out old Kris Kringle did his research before settling down in North Pole because it's the 4th best place in Alaska. Located just 15 minutes southeast of Fairbanks, North Pole has a lot going for it. It's the youngest city we'll be covering on this list, with a median age of 28. Evidently, kids are moving here in droves to make sure their letters to Santa don't get lost in the mail. Speaking of which, North Pole's Santa Clause House is a place you must visit even if you're just passing through.
you'll notice an abundance of Christmas decorations year-round in North Pole, so if you just can't get enough of the holiday spirit, you'll have no trouble falling in love with the city. Top-notch schools, safe streets, and low rates of poverty and unemployment will also help keep you happy in the long-term. You won't have to ask Santa for help with medical bills here anyway, because at 91.7%, North Pole has the 2nd highest rate of residents with health insurance in the state.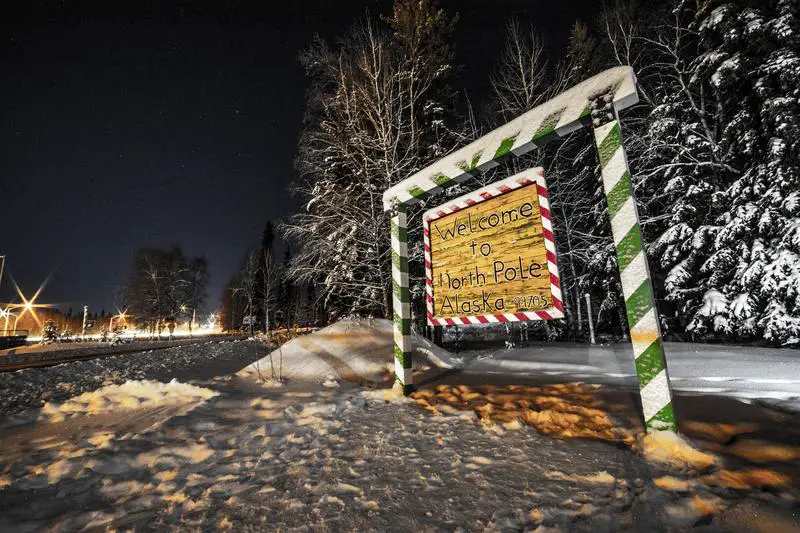 Alaska's capital city of Juneau also ranks as the 5th best place to live in the state. There are too many epic outdoors adventures in and around Juneau to cover them all here, but some highlights include exploring Mendenhall Glacier, taking a boat trip down Tracy Arm Fjord, and an easy trek to Nugget Falls.
Juneau is on the expensive side, with a cost of living about 5% higher than the Alaskan average and home prices around $355,100, the 3rd costliest in the state. But there's also big opportunities here, as evidenced by Juneau's median household income of $88,077/year, the 4th highest in Alaska.
While poverty and unemployment are somewhat low in Juneau, the city does suffer from a crime rate about twice as high as the national average, so be sure to do your research before choosing what neighborhood you'll reside in.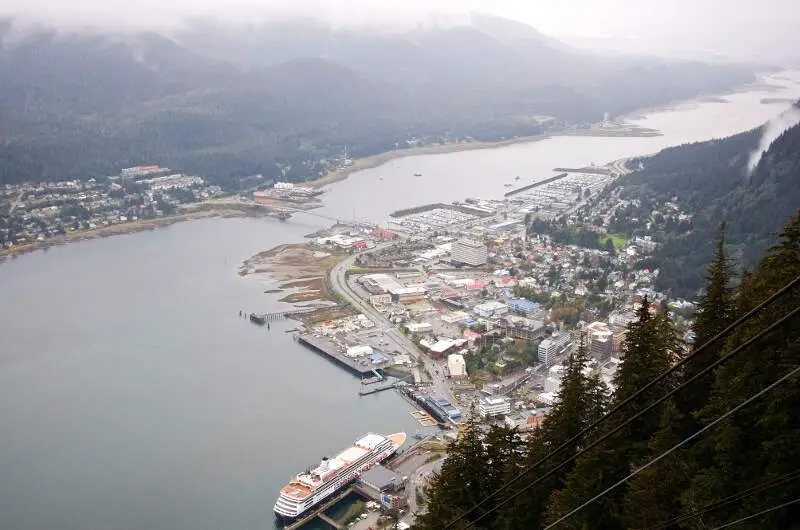 Our third and final representative of Kenai Peninsula Borough, Seward ranks as the 6th best place to call home in Alaska. Seward is a dream city for anyone who likes to spend most of their time outdoors, with plenty of adventures, both big and small, to keep you busy. One that you absolutely can't miss, though, is Kenai Fjords National Park. It's truly one of the most unique and spectacular destinations that America has to offer.
On top of being out-of-this-world gorgeous, Seward is also the best family city in Alaska thanks in part to all the family-friendly activities around. Compared to most places in Alaska, you don't have to travel far for work in Seward. The average commute time is around 8 minutes, the 4th shortest in the state. The housing and job market in Seward are also both solid, so you should have no trouble finding your feet here.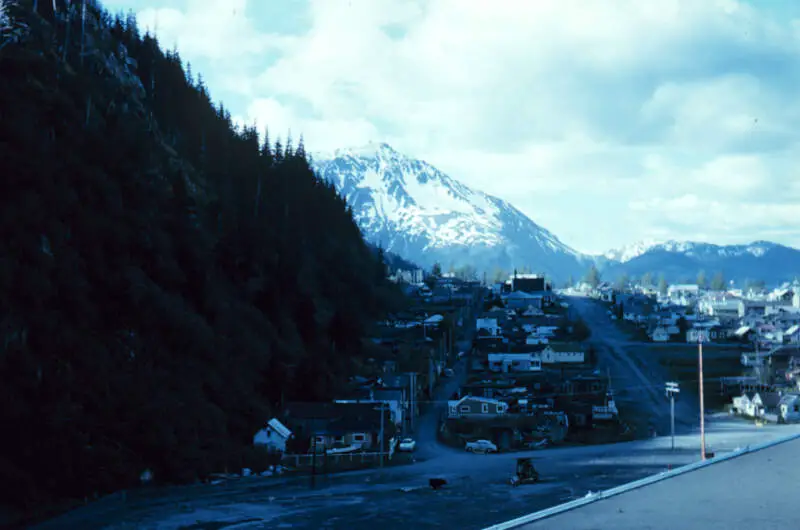 Source: Public domain
Kodiak, Alaska, has a long history as a fishing and trading center. Before becoming part of the U.S. in the 1860s, it was already an important regional commercial center for Russian settlers and, stretching even further back, a long-established home for the local Alutiiq tribe. Nowadays, it ranks as the number 7 best place to live in Alaska.
Kodiak provides the key population center for its namesake Kodiak Island, located off the southern coast of the mainland. With 5,983 inhabitants, the city still hosts a thriving commercial fishing industry. This helps keep the economic gears humming in the area. Kodiak has an unemployment rate of 5.2, the 7th in Alaska.
The median income stands at 69,259, while the median home value hovers at $260,800.
You can only access Kodiak Island by ferry or plane. That makes it difficult to travel to places like Anchorage, 400 miles away on the mainland. Still, being Alaska, there is plenty of outdoor activities on the island, including a visit to Fort Abercrombie State Historic Park. There's also a bridge to the aptly named Near Island, where you can visit the Kodiak Maritime Museum.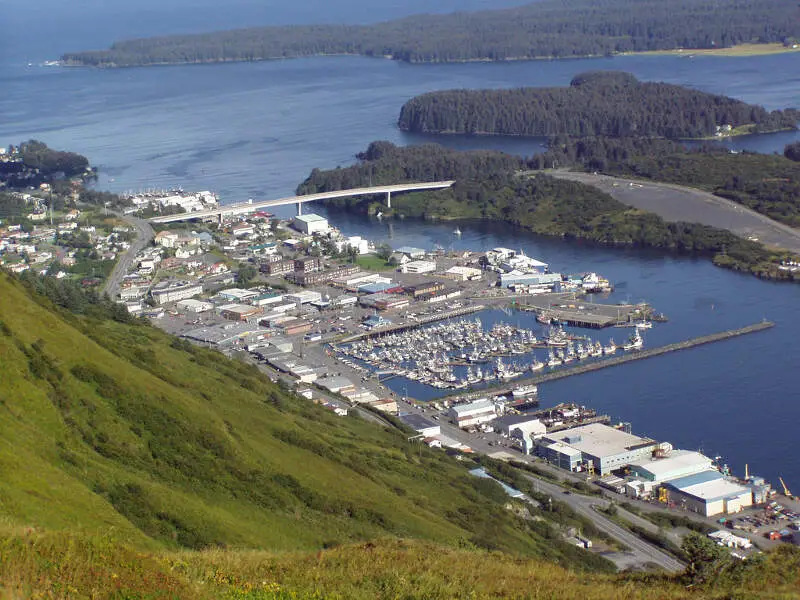 Located in the heart of the Kenai Peninsula, Soldotna ranks as the 8th best place to live in Alaska. The Kenai River, one of the premier fishing destinations in the country for salmon and trout, runs through Soldotna, so consider bumping Soldotna up a few spots on this list if access to world-class fishing is a priority for you. Or if spotting some rare wildlife is more your speed, the Kenai National Wildlife Refuge has you covered.
Soldotna enjoys the 17th lowest poverty level in Alaska at 14.5% and almost everyone here is employed, so you know the economy won't be a problem. It's also the 6th most densely populated city in Alaska, and the densest on this list, meaning you'll never have to travel far to be part of the action. Speaking of action, we named Soldotna one of the best places for singles in Alaska. We recommend the Kenai River Brewing Co. as a good first stop in town.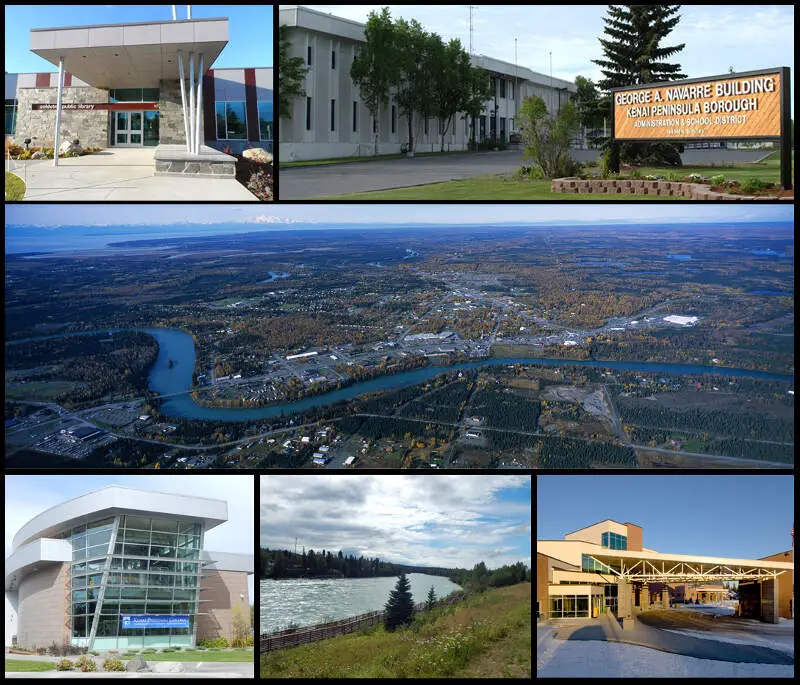 Known as the Halibut Fishing Capital of the World, Homer is a city located on southwestern Kenai Peninsula that's sure to delight fishers from every region. Shopping on the Homer Spit and spending the day in nature at Kachemak Bay State Park are just a couple of recreational options that make Homer a great place to call home.
GreatSchools gave Homer's public schools an average rating of 8.5/10, so you know you're giving your children the best possible start here. It's also the city with the 7th lowest rate of violent crime in Alaska. At $61,332/year, Homer has the lowest median household income of cities we're covering on this list. But that's alright, because the cost of living in Homer is also about 5% lower than the Alaskan average.
Homes in Homer go for the 5th highest prices in the state, with a median cost of $293,700. If you want to move to Homer, we recommend doing it quickly, because the word is out on how awesome it is and the city is one of
the fastest-growing spots in Alaska.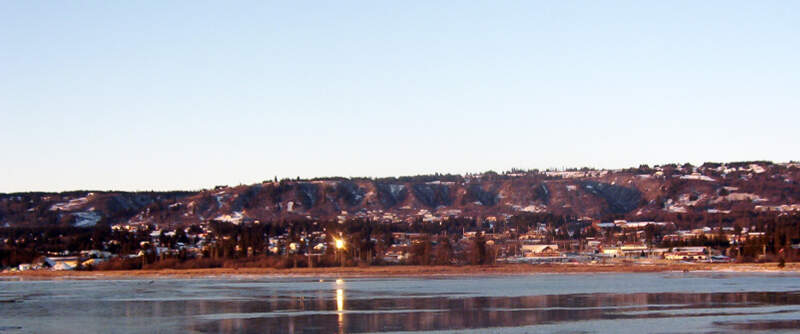 Last up on our tour of the best places to live in Alaska is Nome, a city of 3,869 in the western part of the state on the Bering Sea. Nome is known for being the final destination of the Iditarod Sled Dog Race, which considerably increases the population annually. The student-teacher ratio in Nome is 30% better than the statewide average, meaning every child gets the attention they need here.
You may want to have a job lined up before moving to Nome because at 11.6%, it has the highest unemployment rate of places featured on this list. If you do land a job in Nome, know that the median household income here is the 7th highest in Alaska at $85,268/year. And you won't have far to travel to work, because Nome residents have the 2nd shortest commute in the state at just 6 minutes.
There's lots of fun things to do year-round in Nome, but we recommend visiting the Bering Land Bridge National Preserve for a truly special outdoors experience.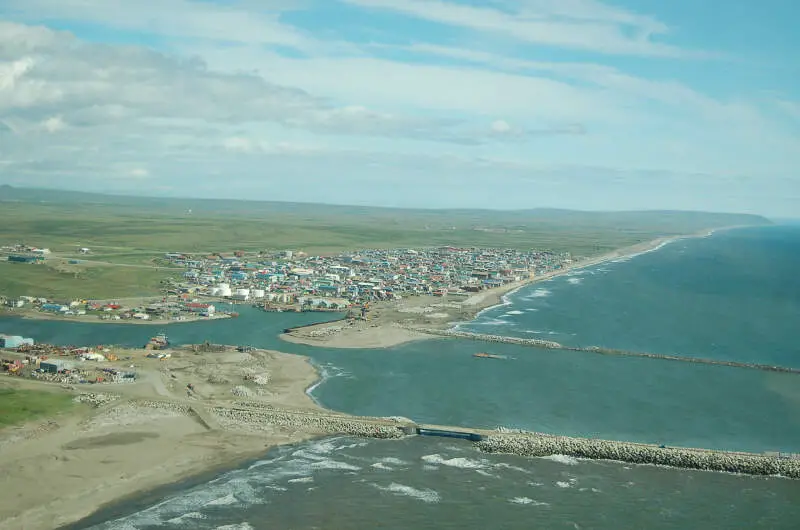 Mapping The Best And Worst Places To Live in Alaska
The Pressing Question: Size
Before we even started to collect data, we had to answer a tough question: Is it fair to pit Juneau with a population of 32,099 against places with a population of 18?
We firmly decided no, that just isn't fair.
So to create our ranking, we broke places to live into three tiers:
Cities — Populations over 2,000
Towns — Populations between 1,000 and 2,000
Small Towns — Populations below 1,000
This left us with 20 cities, 42 towns, and 192 small towns.
We then decided, no matter how much anyone loves their town, the best cities to live in Alaska have more of everything and therefore you need to have over 2,000 people to truly be 'the best'.
Now we also realize that city living might not be your cup of tea, so we ran the following analysis on towns and then again for small towns.
You can see those two top tens at the bottom of the post.
Methodology: How We Calculated The Best Cities To Live In Alaska
Now that we had our set of cities, it was time to rank them.
We ranked each place in Alaska across a number of criteria from one to 20, with one being the best.
We then took the average rank across all criteria, with the city posting the lowest overall score being crowned the winner of the title "Best Place To Live In Alaska".
The criteria we looked at were:
Median Home Values
Median Income
Population Density (Higher better)
Unemployment Rate
Commute Time
Crime
Education Levels
Health Insurance Coverage
Poverty rates
Sources of criteria include the New Census Data and FBI Crime Data. You can download the data here.
After the dust settled, what was the best place to live in Alaska? That would be Cordova.
If your city or town isn't among the top 10, jump down to the bottom of the post to see a detailed chart of the best places in Alaska.
Otherwise, buckle up for a ride down good living lane with Cordova at the end of the cul-de-sac.

Summary: The Best Places When It Comes To Living In Alaska
If you're looking at areas in Alaska with the best economic situations, where there's lower than average crime, and a lot to do, this is an accurate list.
Cordova made a strong showing to take in the overall number one spot for the best place to live in Alaska for 2022.
Best Towns To Live In Alaska
Farmers Loop (Pop. 4,517)
Haines (Pop. 1,838)
Goldstream (Pop. 3,960)
Cordova (Pop. 3,047)
Farm Loop (Pop. 1,119)
Unalaska (Pop. 4,710)
Diamond Ridge (Pop. 1,201)
Healy (Pop. 1,115)
Dillingham (Pop. 2,296)
Ridgeway (Pop. 2,338)
Best Small Towns To Live In Alaska
Skagway (Pop. 972)
Kachemak (Pop. 537)
Port Alsworth (Pop. 156)
Moose Creek (Pop. 739)
Elfin Cove (Pop. 26)
Chignik Lagoon (Pop. 59)
Tenakee Springs (Pop. 172)
Seldovia (Pop. 247)
Crown Point (Pop. 108)
Naknek (Pop. 544)
If you're curious enough, here are the worst places to live in Alaska according to the data:
Palmer (Pop. 7,359)
Kenai (Pop. 7,799)
Wasilla (Pop. 10,469)
For more Alaska reading, check out:
Where Are The Best Places To Live In Alaska?
| Rank | City | Population |
| --- | --- | --- |
| 1 | Cordova | 2,248 |
| 2 | Unalaska | 4,758 |
| 3 | Valdez | 3,865 |
| 4 | North Pole | 2,969 |
| 5 | Juneau | 32,099 |
| 6 | Seward | 2,812 |
| 7 | Kodiak | 5,983 |
| 8 | Soldotna | 4,705 |
| 9 | Homer | 5,830 |
| 10 | Nome | 3,869 |
| 11 | Ketchikan | 8,230 |
| 12 | Sitka | 8,569 |
| 13 | Kotzebue | 3,283 |
| 14 | Bethel | 6,548 |
| 15 | Wrangell | 2,510 |
| 16 | Dillingham | 2,065 |
| 17 | Fairbanks | 31,427 |
| 18 | Palmer | 7,359 |
| 19 | Kenai | 7,799 |
| 20 | Wasilla | 10,469 |
Editor's Note: We updated this article for 2022. This is our ninth time ranking the best places to live in Alaska.