The 10 Safest Cities In Alaska For 2023
The safest cities in Alaska are Cordova and Wrangell for 2023.

HomeSnacks is at it again: we've used concrete data and empirical evidence to bring you a list of the safest places to live in Alaska for 2023.
But, first things first, how did we determine the safest places in Alaska? We consulted the latest FBI data on places in The Last Frontier with more than 2,000 residents. We looked at two factors: violent and property crime rates per capita. We ended up looking through 24 Alaska places to determine the safest of the safe.
What is not surprising, however, is that Alaska has super-safe neighborhoods and schools, and the state also has super-safe activities. We recommend that you wear a helmet when you go skiing in Anchorage, that you wear a life jacket when you go kayaking in Kodiak, or that you wear hunter orange when your out hunting Elk in Fairbanks. We wouldn't want you to become a statistic.
So, where are these unique places in Alaska where crime is low, jobs are plentiful, and neighborhoods and schools are safe? Read on.
Here are the 10 safest cities to live in Alaska for 2023:
So, what is the number one safest place in Alaska? The safest place to live in Alaska is Cordova.
If you want to see how Alaska's other amazing cities faired, take a look at the list below. And if you don't see your favorite there, head to the bottom for a complete list.
For more reading on safe places to live in and around Alaska, check out:
Table Of Contents
The 10 Safest Cities In Alaska For 2023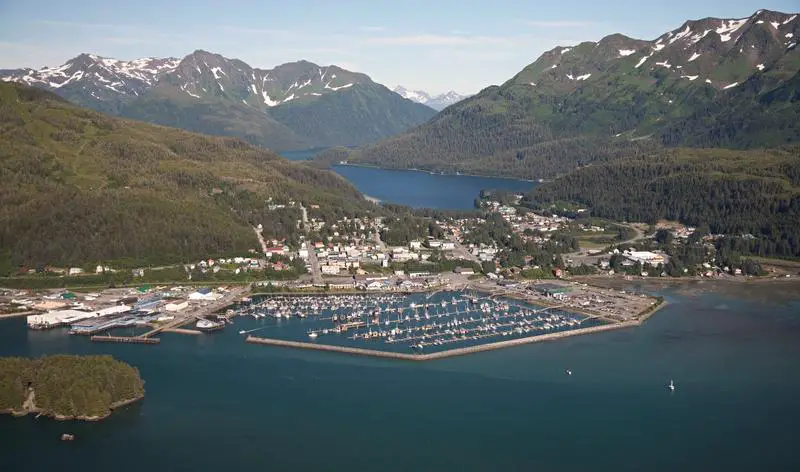 Welcome to Cordova, our safest city in Alaska. It's so safe in this little village at the head of the Orca Inlet, that the wolves, coyotes, and bears are always howling and growling at the residents reminding them to get home before dark. Thanks furry friends!
Nestled at the mouth of the Copper River in the Valdez-Cordova Census Area, Cordova offers a safe environment with small town charm that packs a big punch. Not literally, of course. No fighting happens here; that wouldn't be safe. Not to mention there are a lot of hunters, here, if ya know what we mean.
With a little over 2,000 residents, the superb quality of life in this little village in the Chugcah National Forest, formerly known as the "Razor Capital of the World, and currently known as "The Crossroads of Alaska," is the reason that it is our firstsafest city in Alaska for 2023.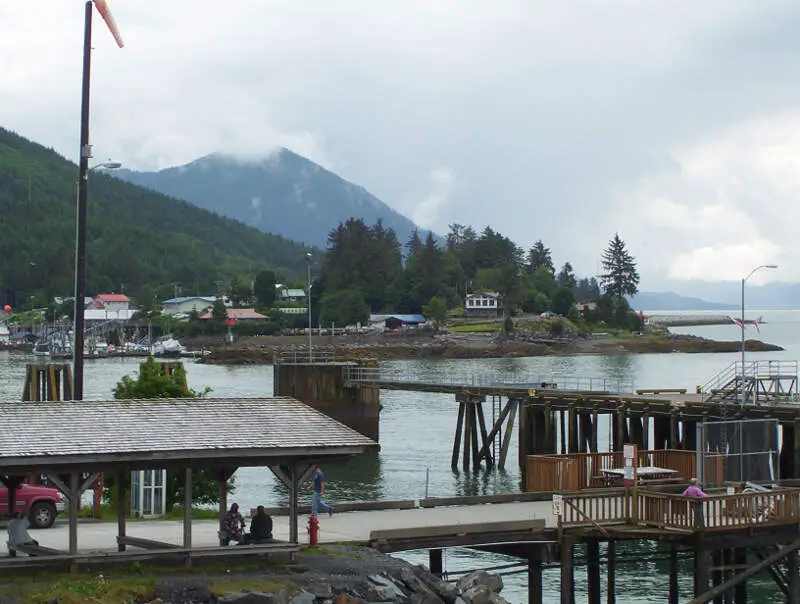 Source: Public domain
Wrangell, located on the northern tip of Wrangell Island, is our second safest city in Alaska. This little city in the middle of nowhere, Alaskan frontier, is super family friendly and virtually crime free.
Wrangell's overall HomeSnacks snackability score was an 8/10! Not surprising, considering their safety rating scored a 7/10 and percentage of educated residents scored 7/10. Busy people = less naughty people. If that doesn't say safe, we don't know what does. Wrangell's city motto should be "Where you want to be." The people in this corner of the U.S. are super nice, hardworking, individuals that strive to create a better corner of the world for its residents. This is probably why they have one of two major sawmills still operating in southeast Alaska to this day, as well as a strong fishing and tourism industry.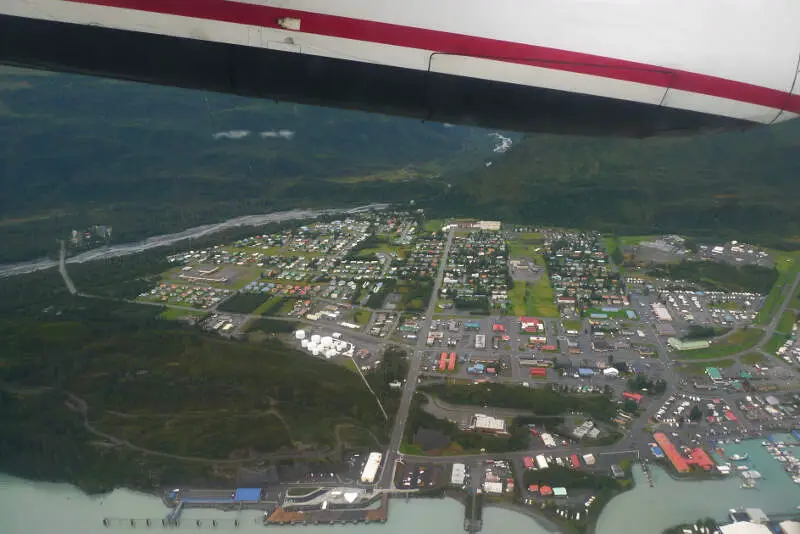 Welcome to our third safest city in Alaska: Valdez. This old gold rush town located in the pan of the Alaskan Panhandle is home to the most important fishing, oil, and freight terminal in Alaska. Hardworking Alaskan roots run deep in this corner of the country. So not surprising they scored an 8/10 for safe, accessible jobs based on our calculations.
Valdez is every outdoor enthusiasts dream with the Prince William Sound and Chugach Mountain glaciers at the tip of its border. Just don't try cruising down those glaciers without a sled, that wouldn't be safe and that would hurt. And if you don't like people peeping through your windows, you don't have to worry because there's plenty of room in Valdez. And if you love nature, it can be found as close as your backyard. Really. We're not joking. No tricks, it is one of the safest cities to call home on our list.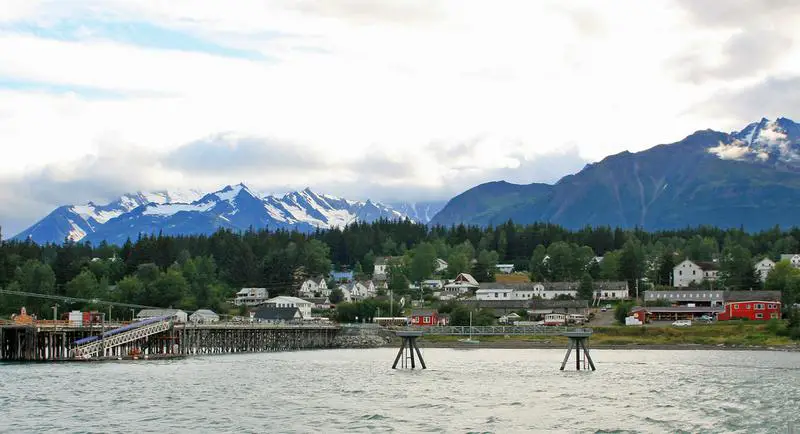 Where the Alaska Panhandle meets the Chilkat Inlet near Glacier Bay National Park and Preserve is Haines. This town, where the only crimes being committed might be a flannel or carhart fashion faux pas, is our fourthsafest city in Alaska.
Haines is also known for its safe, family friendly atmosphere. There is a ton of stuff to do in this little town with only 2,524 residents in the middle of The Adventure Capital of Alaska. They have a bald eagle festival in the Fall, they have the longest running beer festival; and for the adventurous type, you can raft the Chilkat River or hike the Takshanuk Mountains when frostbite is not an issue.
Haines is the kind of place where one can safely cruise the roads on snowmobiles, dog sleds, snowshoes, and x-country skis.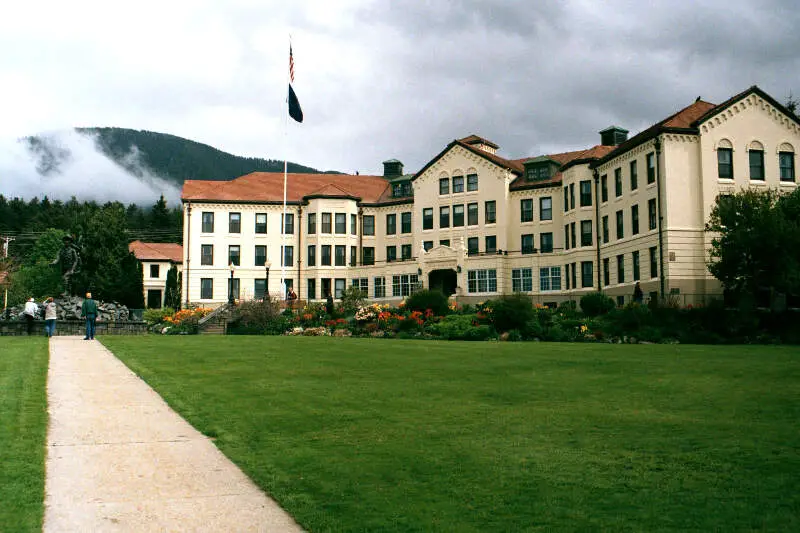 Flip on your snowmobile hazards, slap a fluorescent orange safety jacket on that gigantic grizzly bear, and call Sitka, Alaska safe: our sixth safest city to be exact. It might not be Juneau, but this little town with a vibrant downtown scene, unforgettable summer festivals, and year-round fun is just as notable and just as safe. Probably why it's one of the most populous towns on Baranof Island.
This little piece of heaven in the 907 is another one of our family friendly, safe cities nestled inside the Alaskan Panhandle. It boasts convenient restaurants and stores and an occasional ice fishing competition or two. It's a great place to raise a family. And word on the street is that young professionals are starting to take notice and move Sitka's direction to be a part of the strongest seafood industry in the USA. So don't wait, because the word is out.
And if you love winter, you can get snow here as early as July. To safely maneuver Sitka's wild frontier, make sure you get the best snow tires, winter boots, and fleece jacket, because you're gonna need 'em.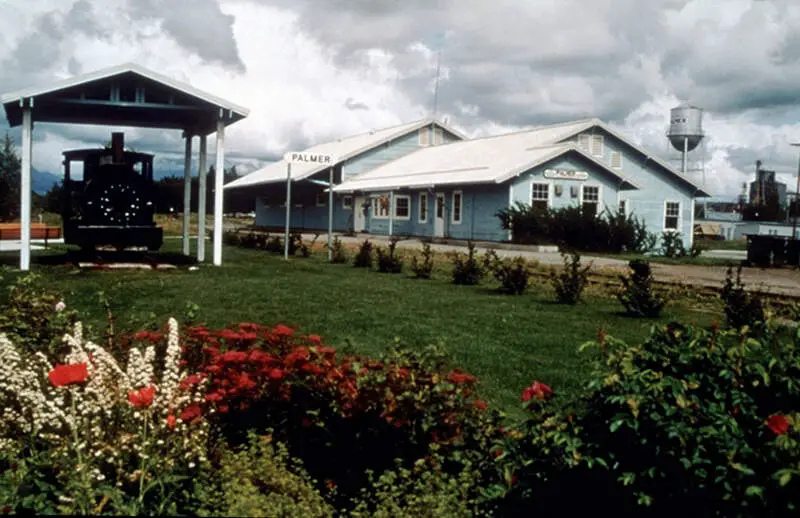 Source: Public domain
Palmer is a little fishing town located slightly northeast of Anchorage on the Matanuska River.
Palmer has been holding strong on our top 10 list for the last couple of years. So, it's no surprise that they are our sixth safest city in Alaska.
Home to the annual Alaska State Fair, the Talkeetna Mountains, and Hatcher Pass, Palmer is truly "Alaska at Its Best." Palmer also put its best foot forward when they scored an 8/10 affordable housing rating and an 8.5/10 for diversity. Affordable and welcoming!
Palmer is one of those snowy towns. They average close to 55" of snow/year. According to their residents, the only dangers lurking in the shadows of this city might be the occasional snowball fight. Keep that snow slingin' to a minimum Palmer, we wouldn't want you to tarnish that strong 5/10 safety rating.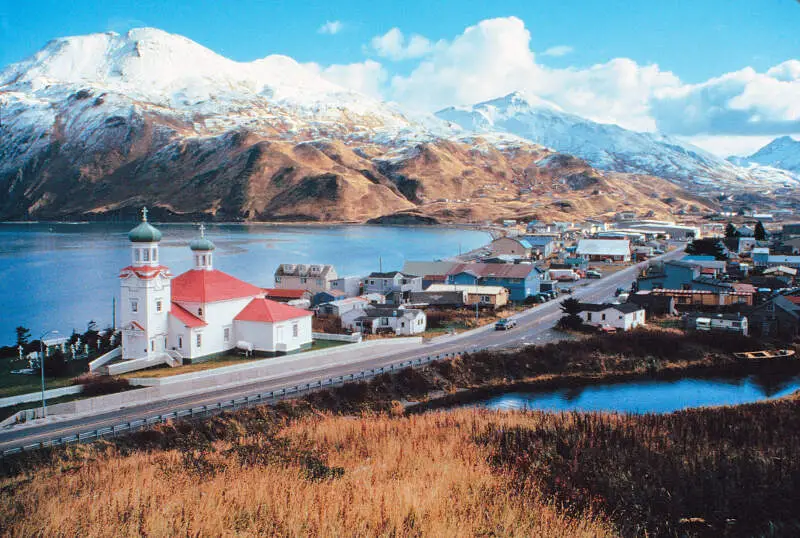 Source: Public domain
Unalaska is the ideal destination when you're trying find that true rugged frontier feel with small city vibes. We're not sure if it's where the polar bears roam, but we do know that it's safe enough to let your children roam. And this is definitely one of the reasons it's hanging strong as our seventh safest city in The Last Frontier.
There's a true sense of community in this quaint village in the Aleutian Islands. The residents, here, look out for each other. Unalaska's gold star qualities like the non-existent number of crimes, their large number of educated residents, and just their overall safety standards, speaks volumes. Yes, Unalaska, you truly offer a better life.
Unalaska is known for its strong housing market, unbreakable economy, and overall affordability. Do we think it has something to do with the abundance of fish in the waters? Probably. One thing we do know for sure, however, is that there is a true sense of safety and community in this little village in Aleutian Islands.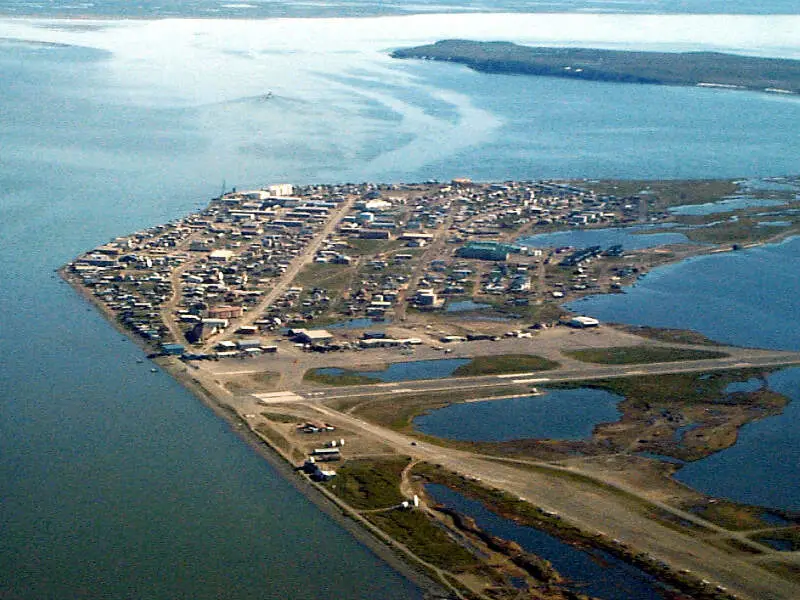 Source: Public domain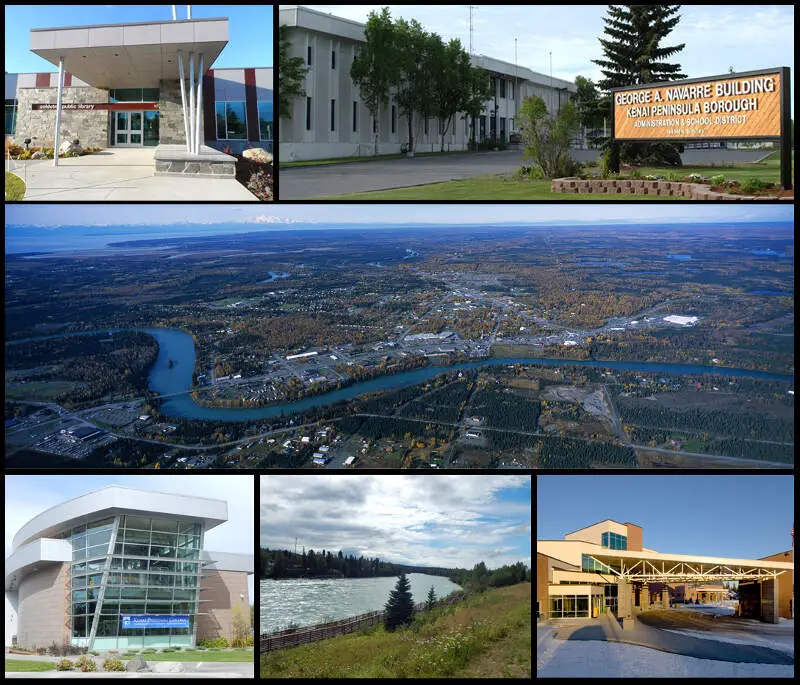 With 4,782 inhabitants, Soldotna might seem like your typical small town. But it provides a unique role in its part of Alaska.
Thanks to its position at the meeting place of two key highways, Soldotna acts as an important commercial center in the state's Central Peninsula region. At the same time, it sits along the border of the Kenai National Wildlife Refuge, with close access to world-renown fishing and hunting areas.
For some places, becoming a tourist draw leads to additional crime. Soldotna has avoided this trap. Instead, it ranks as the number 9 safest city in Alaska. Despite the influx of visitors, the area reported just 89 property crimes for the year. In addition, it saw a miniscule 7 violent crimes over that period.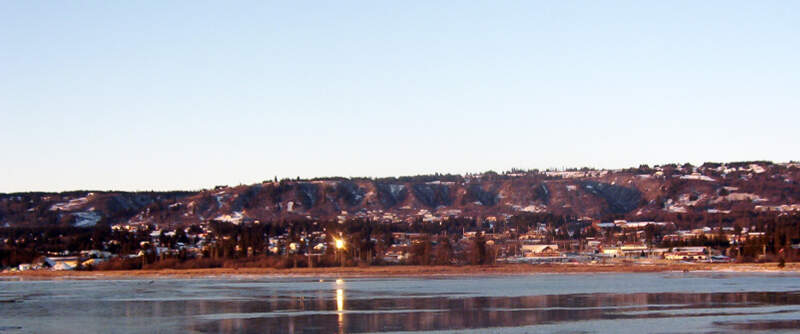 Homer ranks as the tenth safest cities in Alaska. They crushed our snackability scale with an 8/10 job ranking and an 8.5/10 housing score. What do you expect from "The Halibut Fishing Capital of the World?"
When Homer residents aren't busy putting up moose crossing signs or safely bear-proofing their surroundings, they can be found manning their other dominant industries like coal and tourism. It should be no surprise to Homer's residents that they scored an 8.5/10 education rating. Smart people know that working hard creates a safe, productive environment necessary for a city to survive. They are a safe, family friendly, town with a ton of respect for each other. Heck, crime is pretty much nonexistent in this town of about 6,000. Yep, you heard hear first, folks: Alaskans do get along.
Methodology: How we calculated the safest cities in Alaska for 2023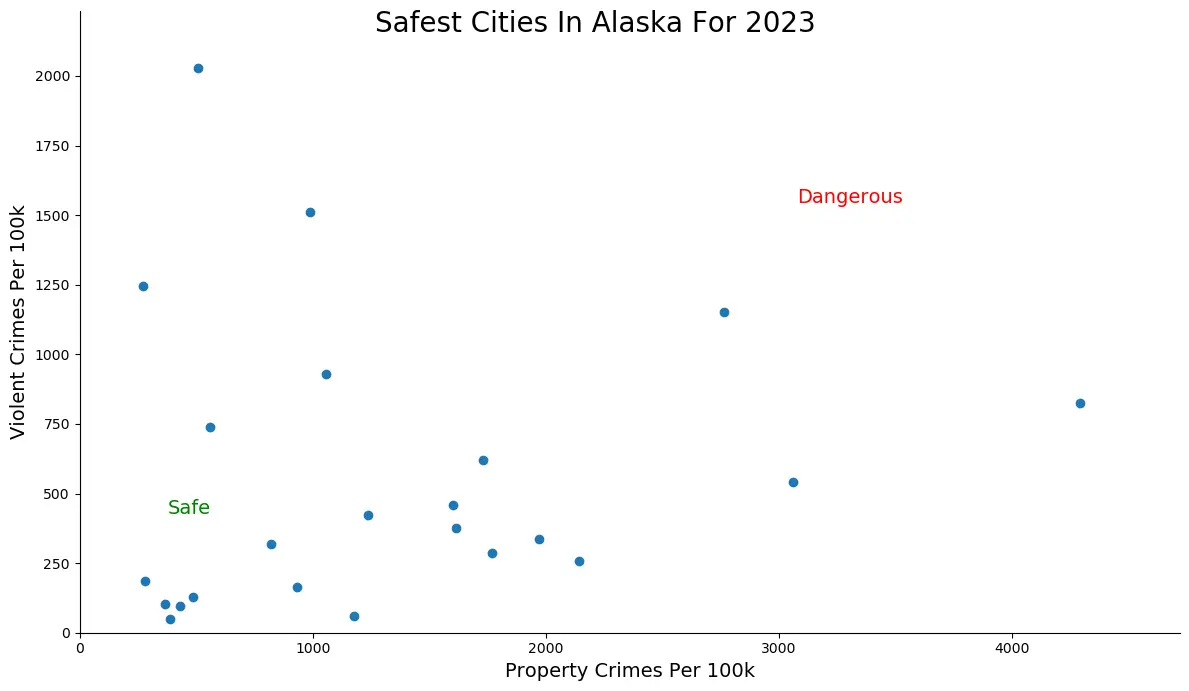 While there are surveys and public polls on what cities in Alaska are the safest, we wanted to rely on something other than speculation and opinion. Instead, we looked at the hard numbers from the FBI's most recent crime report in Alaska.
Specifically, we analyzed the FBI's Uniform Crime Report, which summarizes the number of property and violent crimes in each city annually. We used two criteria:
Violent crimes per capita (murders, assaults, rapes, armed robberies)
Property crimes per capita (thefts, burglaries, motor vehicle thefts)
For example, there were 6 crimes committed in Cordova, with a reported population of 2,161. That means the number of crimes per capita is 0.0028, which translates into a 1 in 360 chance of being the victim of a crime.
We only looked at Alaska cities that have populations of more than 2,000. This filter left us with 24 of the biggest cities in Alaska to rank.
We ranked each city for each criterion from 1 to 24 where 1 in any particular category is the safest.
Next, we averaged each place's two criteria to create a Safety Index. We crowned the place with the lowest overall Safety Score "The Safest Place In Alaska," with any ties going to the bigger city.
The safest city in Alaska, based on our criteria, is Cordova. The most dangerous city in Alaska? Anchorage, where residents had a 1 in 21 chance of being the victim of a crime.
This article has been update for 2023. This report marks our sixth time ranking the safest places to live in Alaska. All the data comes from the FBI's Crime In The USA 2021 report.
Summary: The Safest Cities In The Last Frontier
Looking at the data, you can tell that Cordova is as safe as they come in Alaska, according to science and data.
But as most Alaska residents would agree, almost every place here has its safe and not safe parts. So just make sure you're informed ahead of time.
Here's a look at the most dangerous cities in Alaska according to the data:
Anchorage
Fairbanks
Wasilla
For more reading, check out:
Breaking Down Crime In The Safest And Most Dangerous Cities In Alaska

Share on Facebook
Chris Kolmar has been in the real estate business for almost ten years now. He originally worked for Movoto Real Estate as the director of marketing before founding HomeSnacks.
He believes the key to finding the right place to live comes down to looking at the data, reading about things to do, and, most importantly, checking it out yourself before you move.
If you've been looking for a place to live in the past several years, you've probably stumbled upon his writing already.
You can find out more about him on LinkedIn.