The 10 Safest Cities In North Dakota For 2020
We used data and science to determine the places in North Dakota where everyone sleeps safe and sound.

Editor's Note: This article has been update for 2020. This is our sixth time rankings the safest places to live in North Dakota.
Swipe left for slideshow. Article continues below.
Article Table Of Contents   
(Skip to section)
Do we think there's a direct correlation between North Dakota's ranking as the fourth wealthiest state in the country and the fact that it is the 16th safest? Absolutely.
All that oil money helps the state fund the programs that are needed to keep its residents happy, healthy, and safe. And folks, people are starting to take notice at just how safe the Peace Garden State truly is and they are flocking to its cities, making it the fastest growing state in the country as well. We don't blame people for wanting to live the North Dakota dream; it's super safe.
But just how safe it North Dakota? More importantly, where, exactly, are the safest cities in Roughrider State? So, we consulted the numbers. In total, we analyzed 21 cities with over 2,000 residents. We looked at important factors like property crimes and violent crimes per capita for 21 places.
We discovered that both their violent and property crimes stayed well below the national average. North Dakota should throw the state's 760,000 residents a party for how low their violent and property crime numbers are this year. And we think that they should start the conga line at their number one safest place.
Have we piqued your interest? Want to know where the top ten safest places in North Dakota are for 2020? You're going to have to keep reading.
Here are the 10 safest cities to live in North Dakota for 2020:
They do tend to get a lot of snow in North Dakota. We're pretty sure this works for and against them. The plus side, people can't get out of their house in the winter due to the snow numbers, so they are less likely to be naughty; but, it's A LOT of snow.
All oil money and crazy snowfall numbers aside, North Dakota is definitely not for the weak. But, if you're looking to get your feet wet the country's northern region, we recommend you start with North Dakota's safest place for 2020.
So, what city is the safest place to live in North Dakota? Well, according to the most recent FBI data we crunched, Hazen is the safest place to live in the Flickertail State.
To see how your favorite city ranked, take a look below; and if you don't find your favorite there, head to the bottom.
For more reading on safe places to live in and around North Dakota, check out:
The 10 Safest Cities In North Dakota For 2020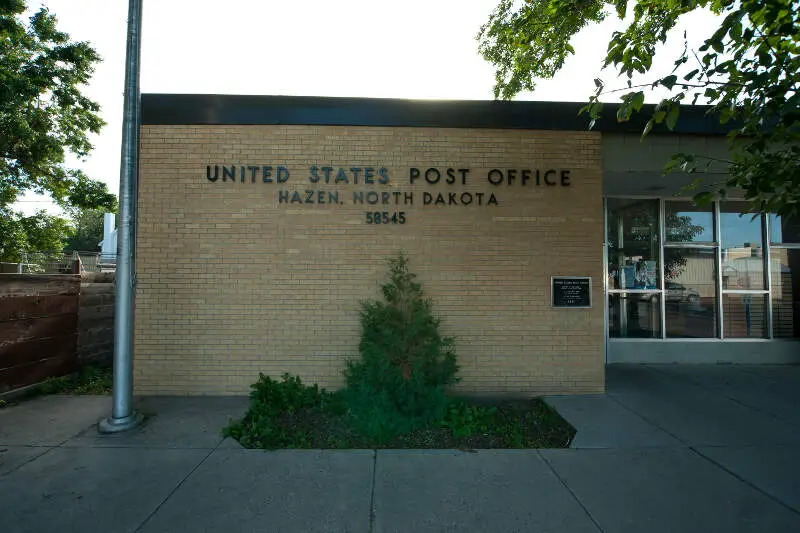 This wasn't even a contest; Hazen is the safest city in North Dakota by a wide margin. To give you an idea, the second safest city had three times as much crime as Hazen did. Hazen residents evidently get their violent impulses out by whacking balls at Hazen Golf Club, because the city didn't have a single violent crime in all of 2018. And with only three property crimes committed, Hazen's definitely a safe place to leave your packages out on the porch for the weekend.
Hazen is no stranger to the HomeSnacks spotlight either. The city ranked as the second richest and fourth best place to live in the state. With a good jobs market, affordable goods, and, now the title of safest city, Hazen has a heckuva lot going for it.
Hazen is located an hour northwest of Bismarck.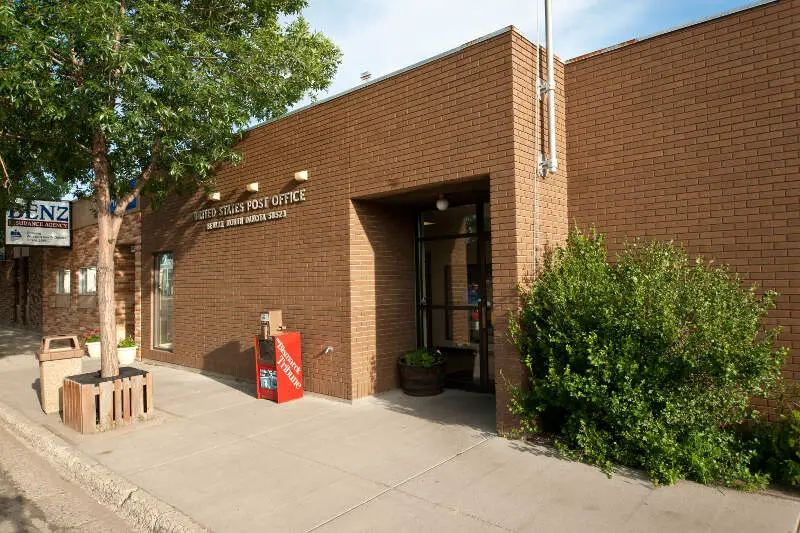 Located just 15 minutes west of Hazen, Beulah is the second safest city in North Dakota. Beulah had the second lowest rate of violence in the state, with only 1 violent crimes committed in 2018. Beulah also had the third lowest rate of property crime in North Dakota, with less than one property crime committed each month. So you'll be totally safe for your picnic or game of frisbee golf at Riverside Park.
Beulah also got top marks on our snackability scale in jobs, affordability, and commute time, so it's an all-around sweet place to call home.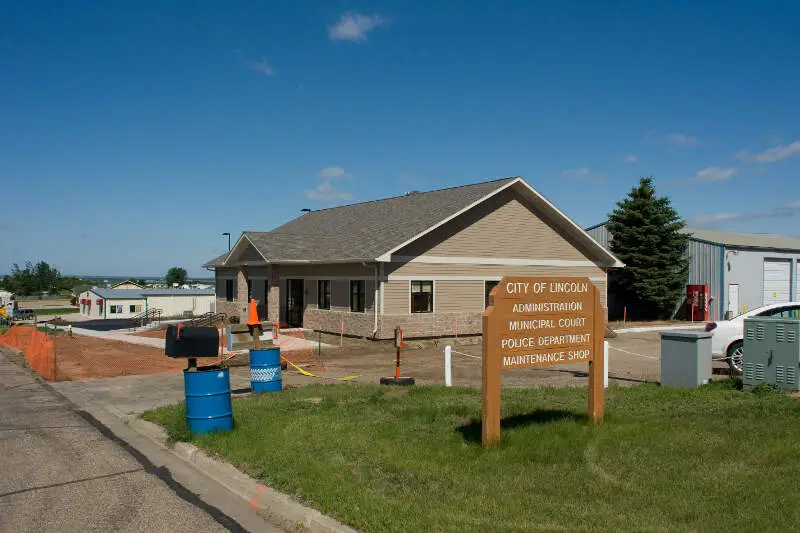 Last year we ranked Lincoln as the safest city in North Dakota, so this year's #3 ranking represents a small drop. But Lincoln is still nowhere near dangerous. In fact, the
Lincoln Police Department has worked hard to give Lincoln the fourth lowest rate of property and fourth lowest rate of violent crime in North Dakota. The violent crime rate in Lincoln is eight times lower than the national average, and the property crime rate is seven times lower. It's easy to see how low crime rates helped Lincoln get named the best place to live in North Dakota.
Lincoln is a southeastern suburb of Bismarck.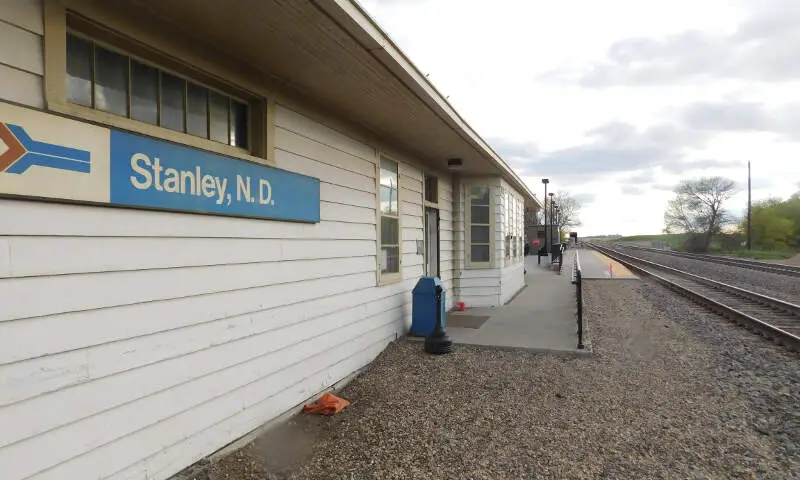 Located in the northwestern part of the state in Mountrail County, Stanley is the fourth safest city in North Dakota. Residents can enjoy a day out at Wilson Park without worrying about having their valuables taken, because Stanley has the second lowest rate of property crime in the state. In fact, Stanley averaged just one property crime a season in 2018. Stanley also had the sixth lowest rate of violent crime in the state. These low crime numbers contributed to Stanley being named the fourth best city to raise a family in North Dakota.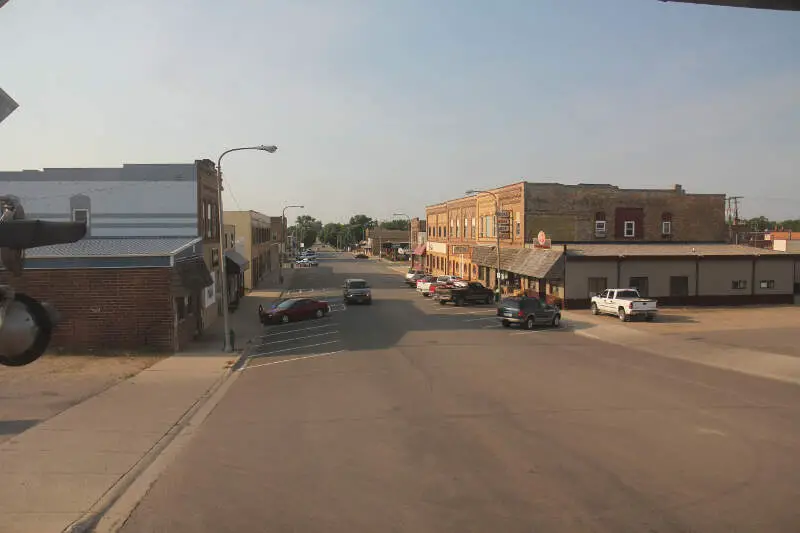 Rugby may get a bad rap for being a rough sport, but Rugby, North Dakota is about as peaceful a place as you can find.
Rugby had only two violent crimes in 2018, giving it the fifth lowest rate of violence in the state. Rugby was only slightly worse in terms of property crime, with the sixth lowest rate in North Dakota. And if you want to look back at an even more idyllic past, be sure to visit the Prairie Village Museum, a quaint village of more than 20 buildings. Not a bad place for a data in the fifth best city for singles in North Dakota.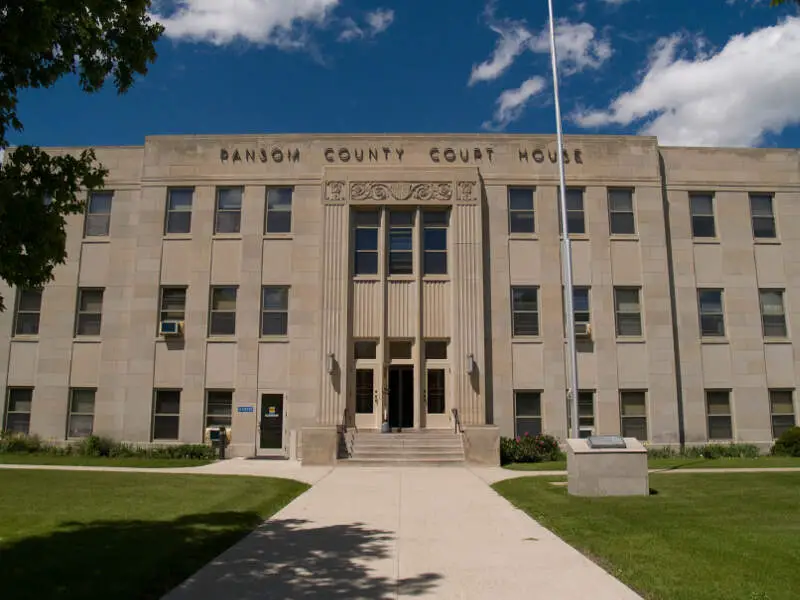 Located an hour and some change southeast of Fargo, Lisbon ranks as our sixth safest city in North Dakota. Lisbon had the third lowest rate of violent crime in the state, with about eight times less violence than the average American city.
And with the infrequency of property crime, you'll have a better chance of spotting an eagle at Sheyenne National Grasslands than of getting mugged.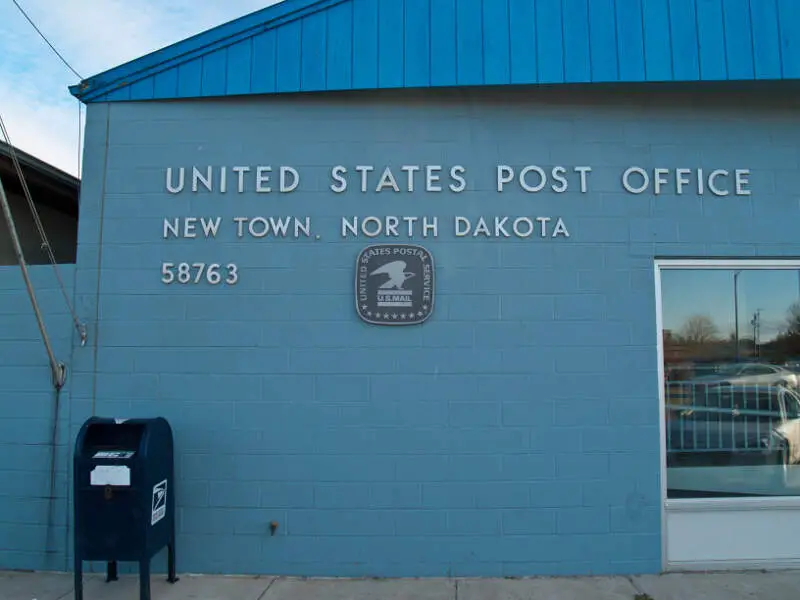 Located in southwestern Mountrail County, New Town is the seventh safest city in North Dakota. New Town had a property crime rate about 70% lower than the national average in 2018, the fifth lowest rate in the state. So it's more likely that a crow will take off with your valuables than a person if you go to check out the awesome vistas at Crow Flies High Butte. New Town doesn't have much of an issue with violent crime either, with only 4 cases reported in 2018.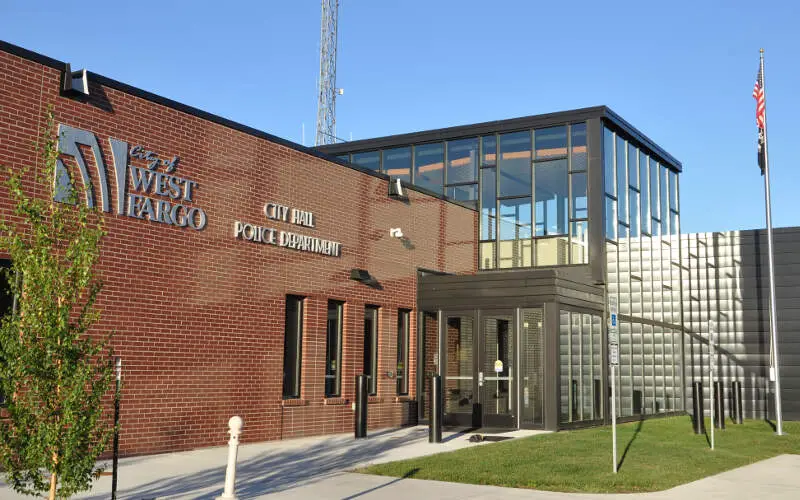 West Fargo's population has been growing at a rate of nearly 5% a year, and it's not hard to see why. We already named it the second bestplace to live in North Dakota , so its track record on safety is just icing on the cake. With all the amenities available at Rendezvous Park, who's got time to commit a crime?
But seriously, for the biggest city on this list, West Fargo posts some seriously impressive crime stats. With about half as much violence as the average American city, West Fargo has the ninth lowest rate of violence in North Dakota. Property crime in West Fargo is also the seventh lowest statewide.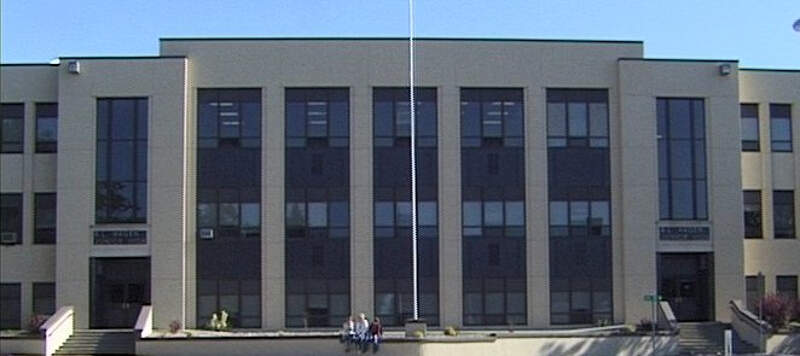 Since the North Dakota oil boom, Dickinson's population has been rapidly expanding. But that hasn't led to an equal growth of crime numbers.
Dickinson had the 12th lowest rate of violent crimes in the state, with about one instance a week on average. Dickinson also has the 11th lowest rate of property crime in North Dakota, so you don't need to freak out if you forget to lock your front door. And being on the dinosaur museum trail means the city has loads of sweet exhibits at the Dickinson Museum Center.

Located in the southeastern part of the state on the border of Minnesota, Wahpeton is the tenth safest city in North Dakota. Wahpeton averaged less than one violent crime a month in 2018, giving the city the seventh lowest rate in the state. Wahpeton's middle-of-the-pack property crime numbers hold it back from being higher on this list.
Wahpeton is home to the Chahinkapa Zoo, where visitors can also camp close to the animals. With amenities like this, and high marks in affordability, commute time, and jobs, it's no wonder Wahpeton scored a 8/10 on our overall snackability scale.
How we calculated the safest cities in North Dakota for 2020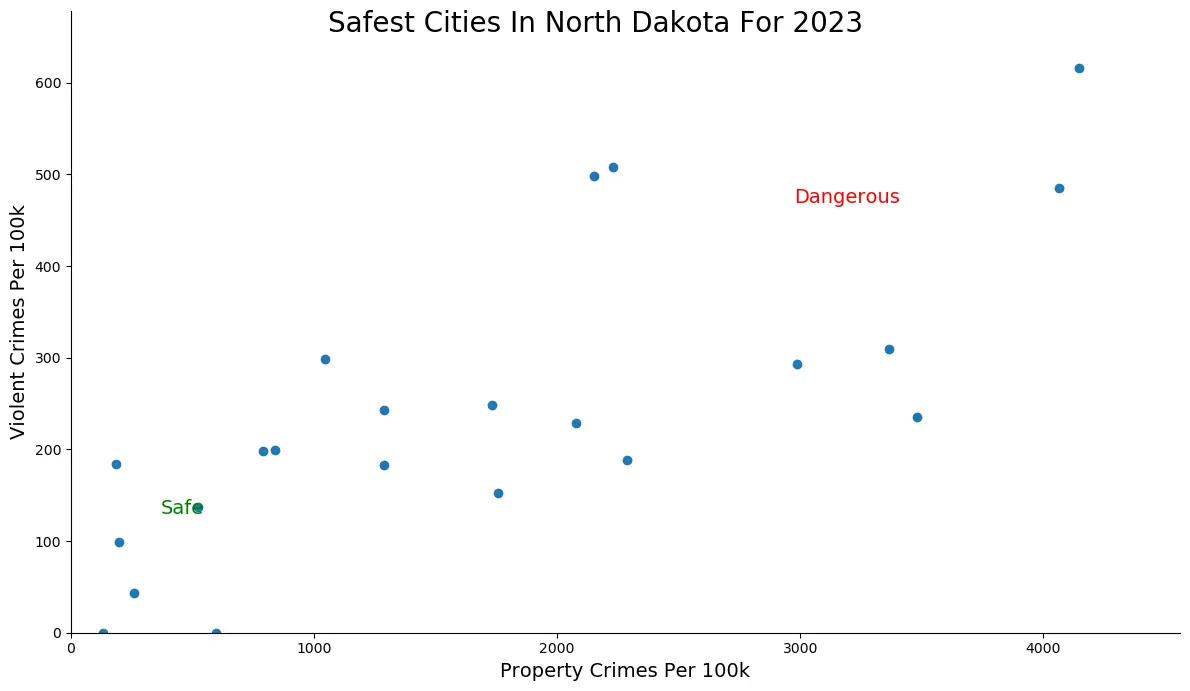 While there are surveys and public polls on what cities in a state are the safest, we didn't want to rely on speculation and opinion. Instead, we looked at the hard numbers from the FBI's most recent report of crime (Published Sept 2019) in North Dakota.
Specifically, we analyzed the
FBI's Uniform Crime Report
which summarizes the number of property crimes and violent crimes in each city per year. We used two criteria:
Violent crimes per capita (murders, assaults, rapes, armed robberies)
Property crimes per capita (thefts, burglaries, motor vehicle thefts)
For example, there were a total of 3 crimes committed in Hazen which had a reported population of 2,366. That means the number of crimes per capita is 0.0013 which translates into a 1 in 788 chance of being the victim of a crime.
We only looked at cities that have populations of more than 2,000 people reported to the FBI in 2018, the last reporting year. This left us with a total of 21 of the biggest cities in North Dakota to rank.
We ranked each city for each criteria from 1 to 21 where 1 in any particular category is the safest.
Next, we averaged each places two criteria to create a Safety Index. We crowned the place with the lowest overall Safety Score "The Safest Place In North Dakota" with any ties going to the bigger city. You can download the data here.
The safest city in North Dakota, based on our criteria, is Hazen. The most dangerous city in North Dakota? Williston, where residents had a 1 in 29 chance of being the victim of a crime.
Note: This report is not an analysis of the effectiveness of local police departments, nor does it reflect the fact that people from out of town may come into a community and cause a crime. It simply looks at where crimes occurred most frequently, based on a city's population.
There You Have It - The Safest Cities In The Peace Garden State
Looking at the data, you can tell that Hazen is as safe as they come, according to science and data.
But as most North Dakota residents would agree, almost every place here has its safe and not safe parts. So just make sure you're informed ahead of time.
Here's a look at the most dangerous cities in North Dakota according to the data:
Williston
Fargo
Mandan
For more reading, check out:
Breaking Down Crime In The Safest And Most Dangerous Cities In North Dakota

Share on Facebook
Chris Kolmar has been in the real estate business for almost ten years now. He originally worked for Movoto Real Estate as the director of marketing before founding HomeSnacks.
He believes the key to finding the right place to live comes down to looking at the data, reading about things to do, and, most importantly, checking it out yourself before you move.
If you've been looking for a place to live in the past several years, you've probably stumbled upon his writing already.
You can find out more about him on LinkedIn.