What do 626,000 Vermont residents know that we don't? Well, besides how cool it is that Burlington is home to Ben & Jerrys and how much fun can be had on the ski slopes in Stowe, Vermonters know that their state has some of the most affordable places to live in America.
Yes, there really are affordable places in the Vermont, but you're going to have to know how to navigate the state's slightly above average cost of living if you want to call it home. And that's where HomeSnacks comes in, folks. We took a look at the US Census data and cost of living data for Vermont and created a list of the cheapest places to live in The Green Mountain State for 2021.
Our research led us to multiple conclusions. One, there is currently a housing crisis in the sixth smallest state in the country. So, you better have a home locked in before you decide to move. Two, you're going to need a high paying job. Currently the median income for Vermont is not competitive enough to buy a home; but, owning a home is better than paying rent. And, third, you should probably take a look at our list of affordable places below before you make ANY decisions. There might be some on that list that surprise you.
So, want to know where your income will go the furthest in Vermont? Where you can beat Vermont at their 'cost of living' game? Keep reading.
The 10 Most Affordable Places To Live In Vermont
You won't have to sacrifice safety for affordability if you choose to live in one of Vermont's most affordable places. Many of Vermont's most affordable places are some of its safest.
And what's the most affordable place to live in Vermont? Orleans is the cheapest place to live in Vermont and you won't have to sacrifice anything: this place is the best of the best.
To see how your city compared, take a look at the list below.
And if you already knew these places were cheap, check out some more reading about Vermont and the cheapest places in the country:
The 10 Cheapest Places To Live In Vermont For 2021
Orleans is located in the northern part of Vermont, not far from the Canadian border. It grew up in the 1800s as an important waterway hub. In many ways, Orleans defines the typical New England small town. It has one extra distinction that most other quaint hamlets can't boast: it stands as the number 1 most affordable spot in Vermont.
Nowadays, the main employer in town is Ethan Allen Manufacturing, which helps support the local economy. The median income hovers at $47,188 and the unemployment rate sits at 4.59%.
The main value of living in Orleans comes from its affordable housing. The median home price comes in at $106,100, the number 1.0 lowest mark in the state. Rents are similarly cheap, with a median level of $763 per month. That equals Vermont's third lowest level.
If you want a big-city experience, Orleans is not the place for you. The closest metropolis is Montreal, Canada, a two-hour drive away. However, the town does give great access to plentiful outdoor activities. For example, the Willoughby Falls State Wildlife Management Area is on the outskirts of town.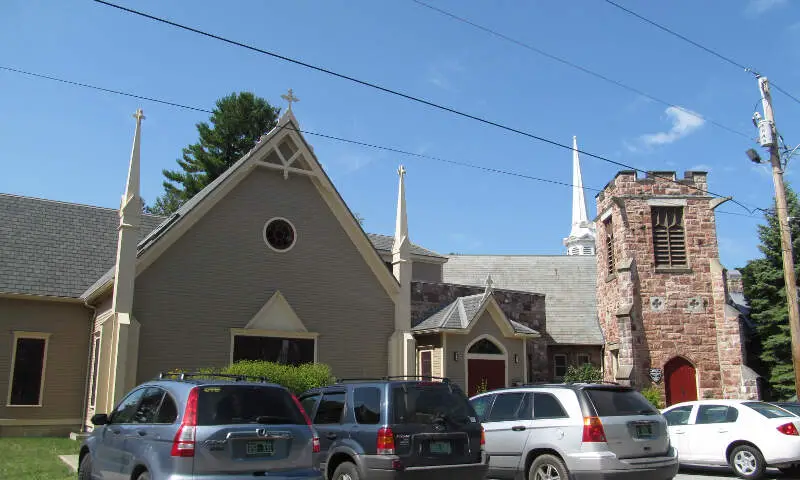 Swanton comes in as the second least expensive place in Vermont for 2021. Like Enosburg Falls, Swanton owes its high position on this list to its rock-bottom rent prices. You can snag an apartment in Swanton for just $769/month, which, combined with a median income of $55,868, gives Swanton the second best rent to income ratio in Vermont. Don't worry that you're swapping security for affordability either, because Swanton is one of the safest places in Vermont. And we guarantee that spending a day bird-watching at Missisquoi National Wildlife Refuge, monetary concerns will be the last thing on your mind.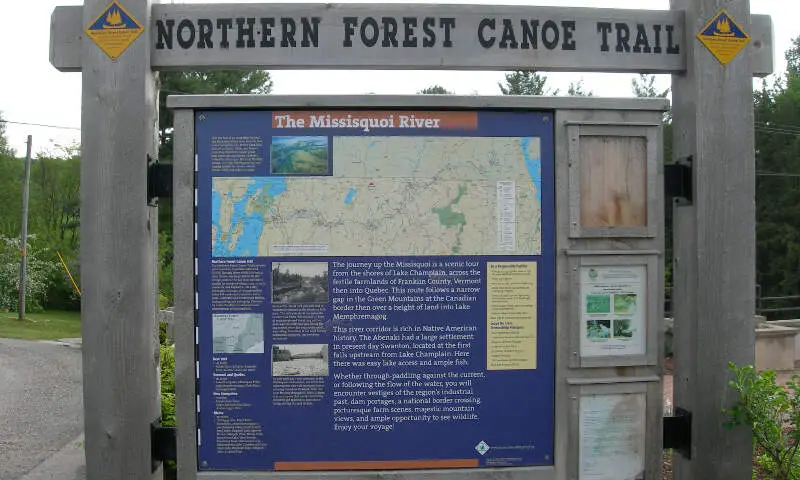 Source: Public domain
We're taking a long drive north to our third cheapest city in Vermont, Enosburg Falls. While Poultney takes the #1 spot due to its cheaper homes, Enosburg Falls takes the gold medal for renters in Vermont. With a median rent of $715/month, Enosburg Falls rental costs are less than half the the average rent in Vermont. Even better, thanks to low unemployment and a solid median income, residents of Enosburg Falls pay the lowest percentage of their salary on rent statewide. If you're looking for free things to do in Enosburg Falls, we recommend visiting Cold Hollow Sculpture Park. Even if you're not an art-lover, it's a top spot for picnickers.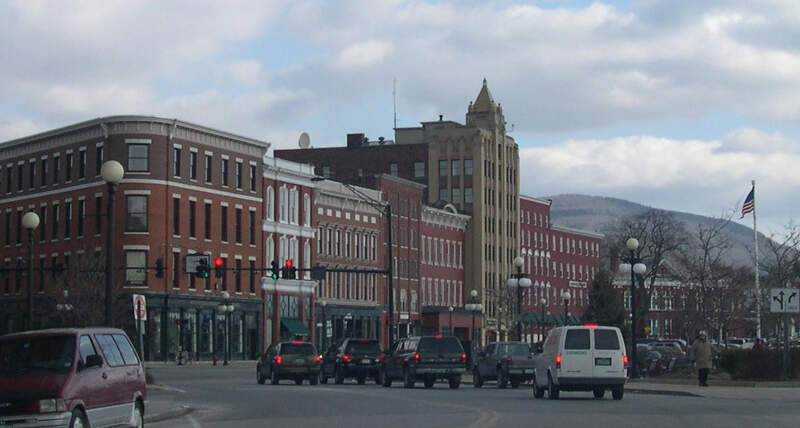 One of the biggest cities in Vermont, Rutland also scores quite high in terms of affordability. Rutland got an 8/10 on our overall SnackAbility scale, so you know it's got a good market for jobs and homes, solid schools, and awesome stuff to do. Those with a background in liberal arts will appreciate the Norman Rockwell Museum, while folks just trying to shred some sweet VT powder will be drawn more by nearby Pico Mountain. However you get your kicks, Rutland's got you covered with the sixth cheapest homes in Vermont at $153,300. Rutland is safely in the top ten for housing to income ratios statewide, for both renters and buyers.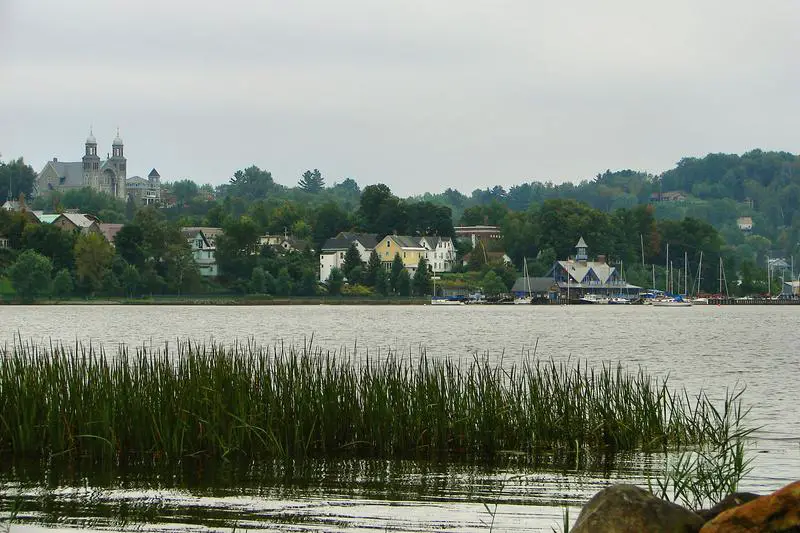 We're staying up near the Canadian border but driving east to arrive at our fifth cheapest city in Vermont, Newport. If you're looking for the absolute cheapest homes for sale in Vermont, Newport is the place for you. Homes in Newport go for $117,700, which is absurdly cheap for Vermont. But cheap homes are only half the story; Newport also has the fourth best home price to income ratio in the state, so you can get the mortgage paid off here before the new-house smell has time to fade. Just look out for aquatic monsters at Lake Memphremagog and everything should be hunky-dory.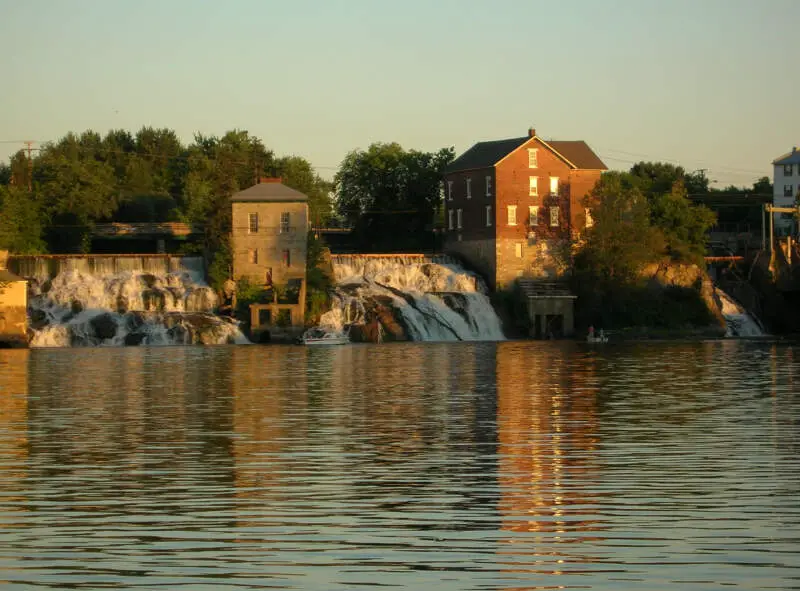 Source: Public domain
The story in Vergennes is very similar to the one in Jericho — pricier housing, but with commensurate pay. As one of the richest cities in Vermont, with a median income of $63,920, the residents of Vergennes have no trouble paying a bit more. Especially when they get top-quality trails and parks, like Button Bay, right in their backyard. Vergennes is the only city on this list to have a median rent over $1,000/month, but the city is still in the top ten for rent to income ratio. Getting a house in Vergennes will set you back about $216,000.
Vergennes is located between Rutland and Burlington.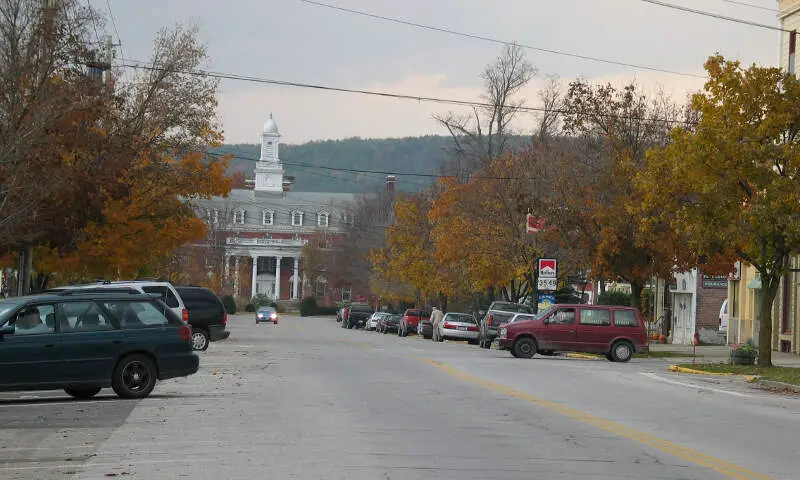 So you've decided to settle down in the Green Mountain State and you're looking for an affordable place to call home. Might we suggest Poultney, the overall cheapest place to live in Vermont. Poultney has the fifth least expensive homes on the Vermont market, with a median home price of $135,100. What's more, Poultney residents pay the tenth smallest percentage of their income on homes statewide. Not to mention that Poultney is one of the best cities for singles in Vermont thanks to awesome amenities like Lake St. Catherine State Park around. If you just want to get a feel for Vermont without committing to a mortgage, the rent to income ratio in Poultney is the 14th best in the state.
Poultney is located a half hour southwest of Rutland.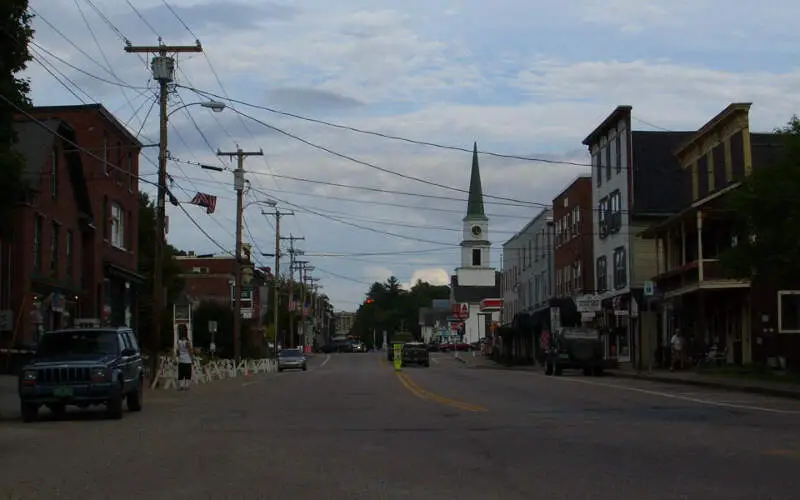 Source: Public domain
Morrisville briefly had a professional hockey franchise in 2011. The team, part of the Federal Hockey League, folded after just 10 games. But still, having a team at all isn't bad for a town of 2,216 people. These days, Morrisville is best known as the number 9 cheapest place to live in Vermont.
Situated in an out-of-the-way spot in the northern part of the state, Morrisville is built along the banks of the Lake Lamoille. The quaint community provides a median home value of $179,700. Rents in the area run a median price of $928.
Given the economy of the region, these figures offer excellent value. The median income stands at $52,500. Compared to the home price figure, then, Morrisville offers the number 9.0 best ratio of home price to income in all of Vermont.
Since the departure of the Vermont Wild hockey team, big-city entertainments are scarce in the vicinity of Morrisville. It's an hour drive to the state's largest city of Burlington.. If you like outdoor activities, though, Morrisville is the place for you. The Mt Mansfield State Forest just a half hour's drive away.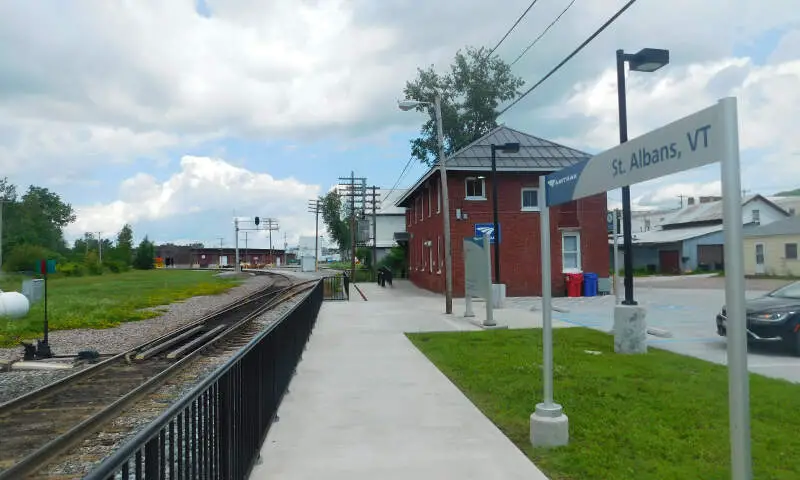 Located a half hour north of Burlington, St. Albans ranks as the tenth cheapest place to live in Vermont. For a city of just 6,804 people, St. Albans has some serious activity going on. Between the boating at Kamp Kill Kare and the shopping at the historic downtown area, you better believe you'll never be bored just because you're on a budget in St. Albans. With a median home price of $180,800 and a median income of $53,647, St. Albans enjoys the seventh best home price to income ratio in Vermont.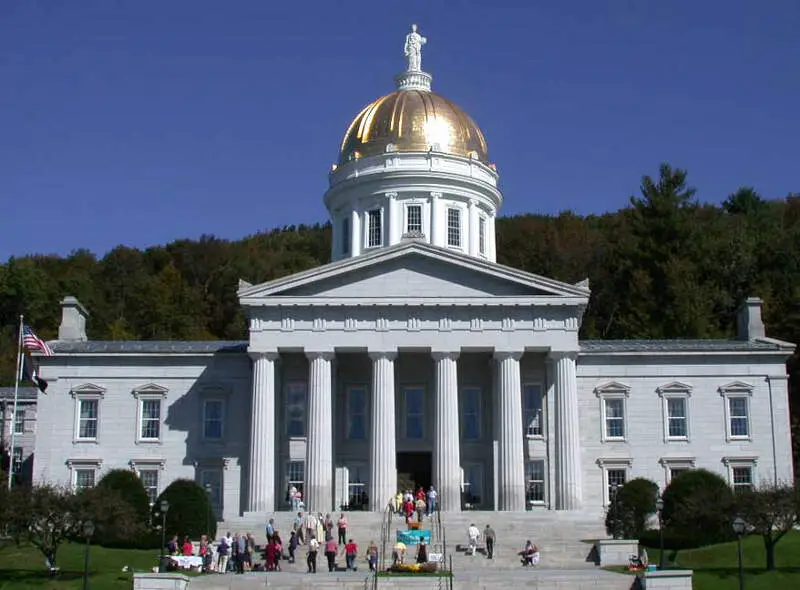 Next on our list of most affordable places to live in Vermont with a stop in the state's capital city, Montpelier. We've already given Montpelier an 8.5/10 on our overall SnackAbility scale and named it one of the best places to live in Vermont, so this new credential as the 11th cheapest place to live is just a nice bonus. While a median rent of $1,021 is the second highest on this list, folks in Montpelier earn a median income of $65,078, meaning that the city has the fifth best rent to income ratio in Vermont.
There's plenty to do in Montpelier, but my personal favorite is Morse Farm Maple Sugarworks. You might go in just to get a free taster, but I can guarantee you won't be able to walk out without buying some sort of divine maple treat.
How We Determined The Most Affordable Places To Live In The Green Mountain State For 2021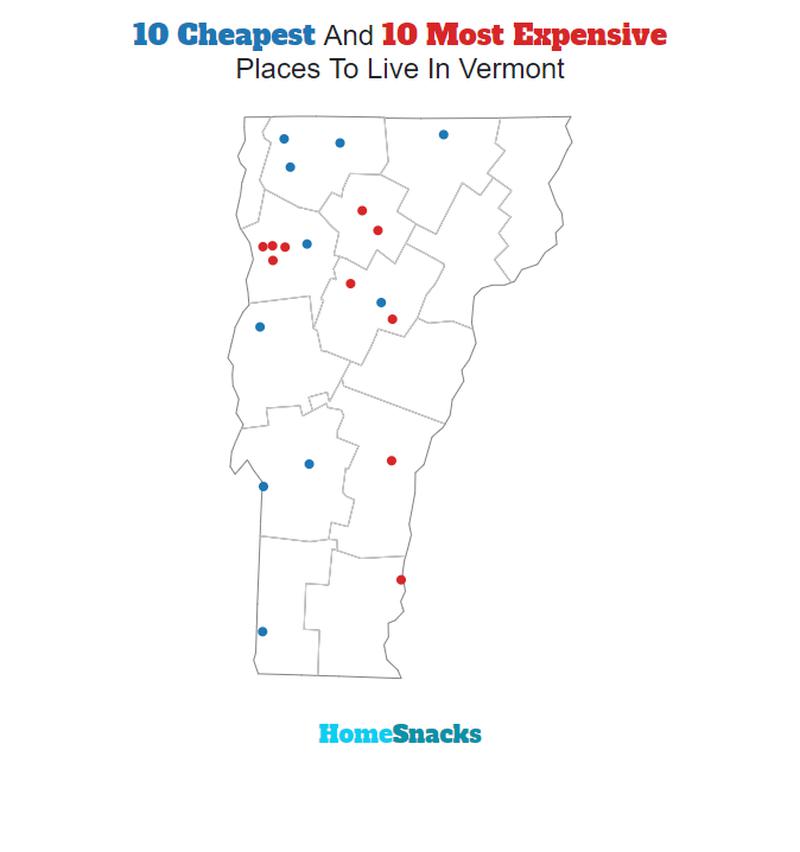 The two most important things to think about when it comes to being able to afford if you can live comes down to:
How much do money do I make?
How much do I have spend to live there?
You need to understand your costs in the context of how much money you make.
For example, if the median household earns $100,000 and spends $40,000 on housing it's actually cheaper to live there than a place with a median income of $50,000 and housing costs of $21,000. You might spend more on housing, but you have more money overall to play with.
With that example in mind, we derived several statistics from the latest Census American Community Survey 2015-2019 around incomes and costs. They are:
Median Home Price / Median Income (lower is better)
Median Income / Median Rent (Higher is better)
Median Home Price
We added simply median home price because high home prices generally correlate with higher expenses for all costs related to homes (heating, electricity, etc).
You can then compare these metrics in each of the places in Vermont to figure out which is the least expensive.
What you are left with is a "Cost of Living Index" by taking the average rank of each of these metrics for each city.
So we used that cost of living index in order to rank all of the 20 places in Vermont that have more than 1,000 people.
The place with the lowest cost of living in Vermont according to the data is Orleans. You can download the data here.

There You Have It Mr. Or Mrs. Vermont Cheapskate
If you're looking at the cost of living numbers in Vermont, this is an accurate list of the most affordable places to live in Vermont for 2021.
Here's a look at the most expensive cities in Vermont according to the data:
Burlington
South Burlington
Winooski
For more Vermont reading, check out:
The Most Affordable Places To Live In Vermont
Editor's Note: We updated this article for 2021. This is our seventh time ranking the cheapest places to live in Vermont.