The 10 Safest Cities In Vermont For 2021
We used data and science to determine the places in Vermont where everyone sleeps safe and sound.

Editor's Note: This article has been update for 2021. This is our sixth time rankings the
safest places to live in Vermont
. All the data comes from the
FBI's Crime In The USA 2019 report.
Article Table Of Contents   
(Skip to section)
The biggest safety hazard in Vermont is a full container of Ben & Jerry's Chubby Hubby in the freezer because The Green Mountain State is super safe.
That's right. Vermonters say that they never get tired of hearing that they are one of the best states in America or that they are one of the wealthiest; but they say the one that makes them most proud, is that they are the second safest state in the country. And we don't blame them.
We just want to be them. So, HomeSnacks set out to determine the safest places in Vermont for 2021. How'd we do it? We consulted the numbers. In total, we analyzed 22 cities. We looked at important factors like property crimes and violent crimes per capita for every place with over 5,000 residents.
We discovered that Vermont's violent crime numbers and property crime numbers speak volumes: they are virtually non-existent. It's so safe here, that they only need 170 police officers per 100,000 residents; and if you get injured, they have 34 hospitals to meet the needs of the 620,000 people that call this New England state home.
But, folks, the real cherry on top is that Vermont has super safe places to live for every stage of life and for every budget. For instance, Barre is safe and happenin' for singles, Middlebury is one of the safest places to raise a family, and if you don't have to worry about a budget, you should definitely give check Essex Junction a look.
Want to know more? We suggest you grab your favorite pint of Ben & Jerry's, head to a sunny spot on Lake Champlain, and read on.
It's by no means breaking news that Vermont has happy safe places to live. Many think it's because of the great people and good 'ol New England hospitality, and we would have to agree. But, we also think it's because of the hard working people of Vermont paying it forward to fund programs that keep their cities and communities safe.
So want to know where you can walk the streets safely, your kids can safely play outside until dark, and you don't have to worry about packages being stolen from your front porch? Look no further than Vermont's safest place to live for 2021, Barre Town.
If you want to see how Vermont's other amazing safe places faired, take a look at the list below. And if you don't see your favorite there, head to the bottom.
For more reading on safe places to live in and around Vermont, check out:
The 10 Safest Cities In Vermont For 2021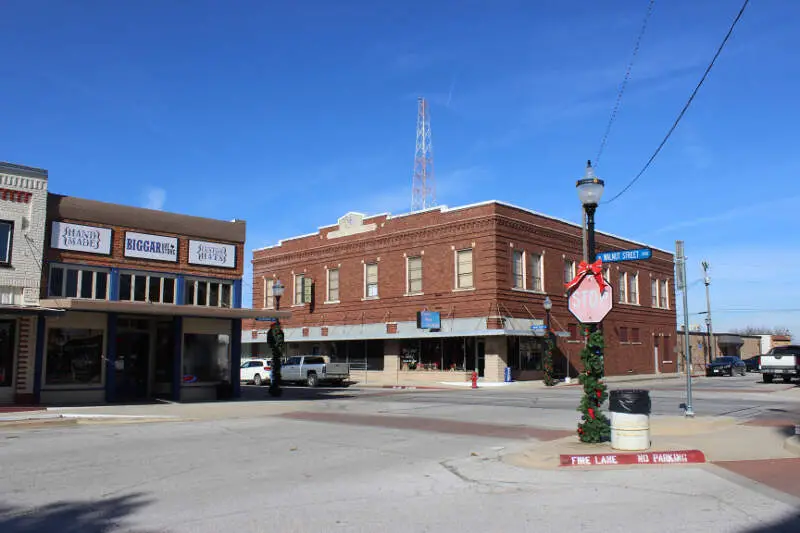 Source: Public Domain
In Barre Town they love their wide open spaces, their parks, their safe neighborhoods, and they take pride in the safe production of their maple syrup.
Home to large granite quarries, picturesque mountain views, outstanding schools, and safe neighborhoods, this city is our safest city. It's a place where work and play safely meet at the corner of Washington County and the foothills of the Green Mountains.
Barre Town is so safe, that the only crime, here, is a bad haircut or a terrible outfit. Its small town charm delivers big opportunities to all that are searching for a safe place to call home.
Barre Town's slogan should be: "Where It's Happening". They have modern recreation facilities, a progressive industrial park, and hard working, creative residents.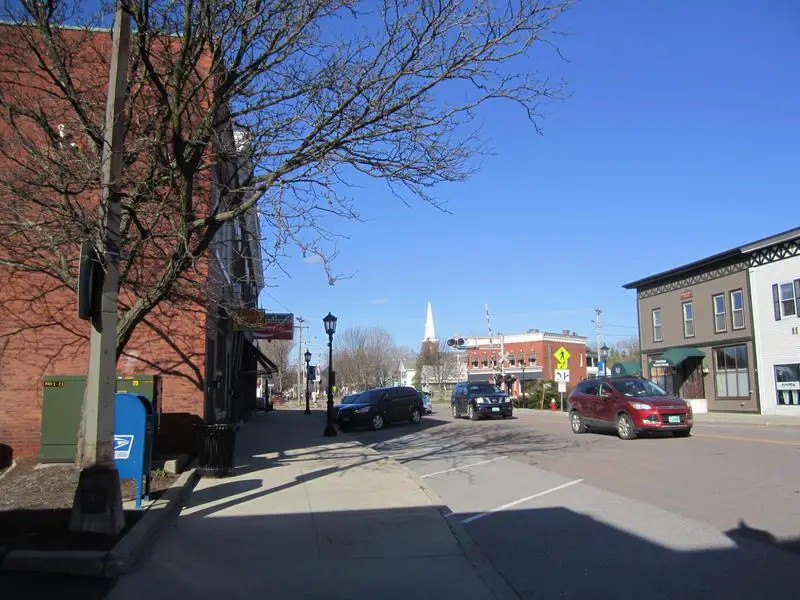 Shine up those orange crosswalk pylons and slap a fluorescent orange safety jacket on this little village in Chittenden County, and call it safe.
Nestled between the Green Mountains and Lake Champlain, the residents of our second safest city in Vermont, Essex, say their little village packs a big punch--not literally, though, because it's super safe.
Essex is known for its scenic location, low taxes, and job opportunities. It's no surprise that its motto is 'Crossroads of Chittenden County': everyone passes through here to get a taste of its amazing restaurants and to try out its convenient, walkable downtown, and they still manage to keep it safe. It truly is a great place to raise a family.
If you don't like people peeping through your windows, there is plenty of privacy in Essex. And if you love nature, it can be found as close as your backyard.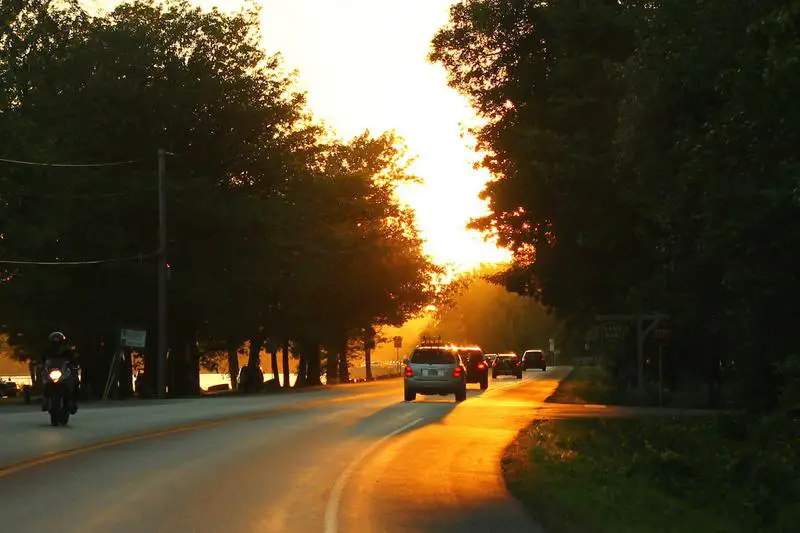 MIlton, situated in the northwest corner on the banks of Lake Champlain, is our third safest city in Vermont. This little New England town is super family friendly and virtually crime free. It is one of the safest places to call home on our list.
Milton's overall HomeSnacks snackability score was a whopping 4/10! Not surprising, considering their safety rating is an 8.5/10 and percentage of educated residents is 6/10. Busy people = less naughty people. If that doesn't say safe, we don't know what does.
When Milton residents aren't busy keeping their neighborhoods safe by fighting off mosquitoes the size of choppers, they can be found whipping up some of the best butter and cheese. Probably the reason the scored a 6/10 on our job scale. We're pretty sure cheese and butter will never go out of style, and that's a good thing!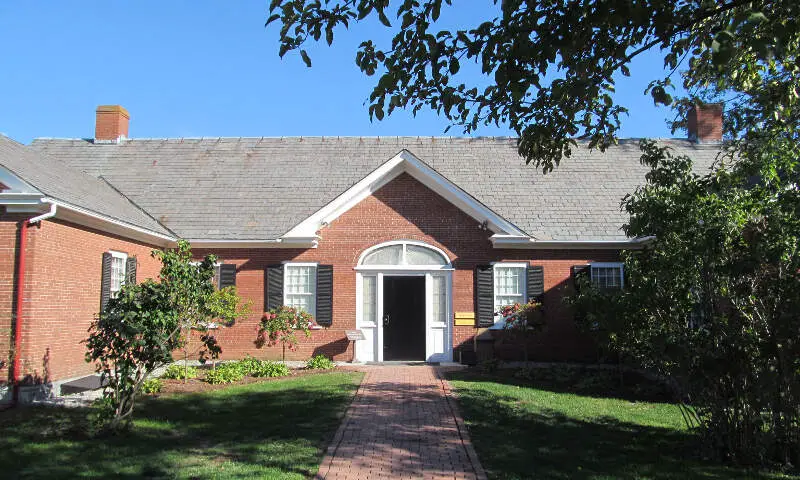 Located on the shores of Lake Champlain, this Burlington-burb has managed to safely keep Champ, the lake monster, at bay. Thank goodness! More importantly, however, Shelburne has managed to clench our number one safest city in Vermont spot.
There's a true sense of community in this quaint town in the northwest corner of The Green Mountain State. The residents, here, look out for each other. Shelburne's gold star qualities like the non-existent number of crimes per 100,000 residents, their large number of educated residents, and just their overall safety standards, speaks volumes.
With a little over 11,000 residents, the superb quality of life in this little village in Chittenden County is the reason that everyone wants to keep it nice and safe. It is also the reason it houses the state's largest retirement community. You wouldn't trust just anyone with granny and pappy, right?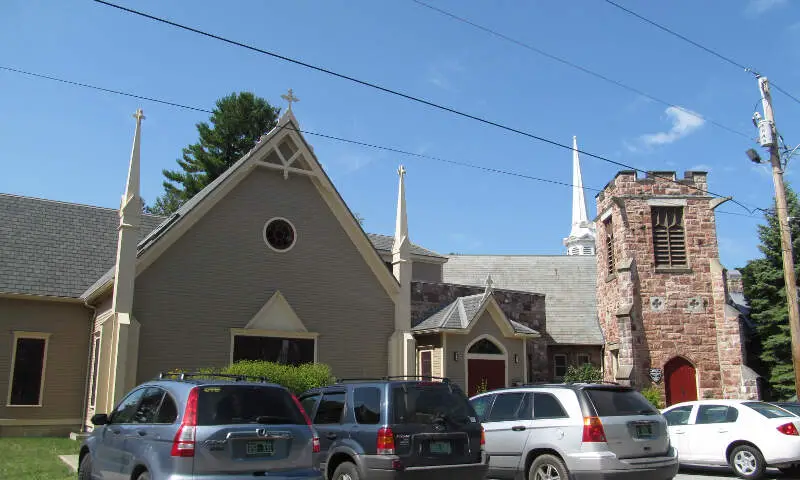 Where Vermont State Road 7 meets Vermont State Road 78 is Swanton. With a little over 6,000 residents, the superb quality of life in this little village in Franklin County is the reason that it is our fifth safest city in Vermont for 2021.
There is a ton of stuff to do in this little town at the base of the Missisquoi National Wildlife Refuge. They have a boat load of places to shop and dine, and their immaculate parks provide the backdrop for safe, friendly games of basketball, volleyball, and tennis for all ages. But, steer clear of their Royal Swans in Village Green Park. Swanton residents have been known to go to extreme measures to keep their swans safe, too. And, yes, we're pretty sure that's how the town got its name.
So grab the fam, pack the grocery getter, and get moving' soon so you don't miss out on any of their safe, family friendly activities scheduled for 2021.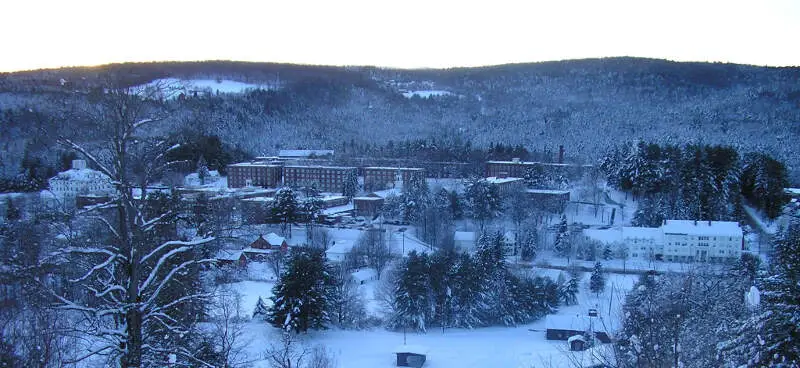 Whoa.. Safely look both ways at that Moose Crossing sign before you enter our sixth safest city in Vermont, because moose matter and so do you.
Northfield, is known for its stunning scenery, low taxes, and educational opportunities. after all, it is the home to Norwich University and the Cadets.
This is the quintessential Washington County town located in a valley within the Green Mountains. And not surprising, their snackability rating is off the charts. Their job market score is on point and their safety rating deserves a gold star! Northfield offers a city vibe with a laid back suburban feel. There is a real sense of community, here, and education is a top priority.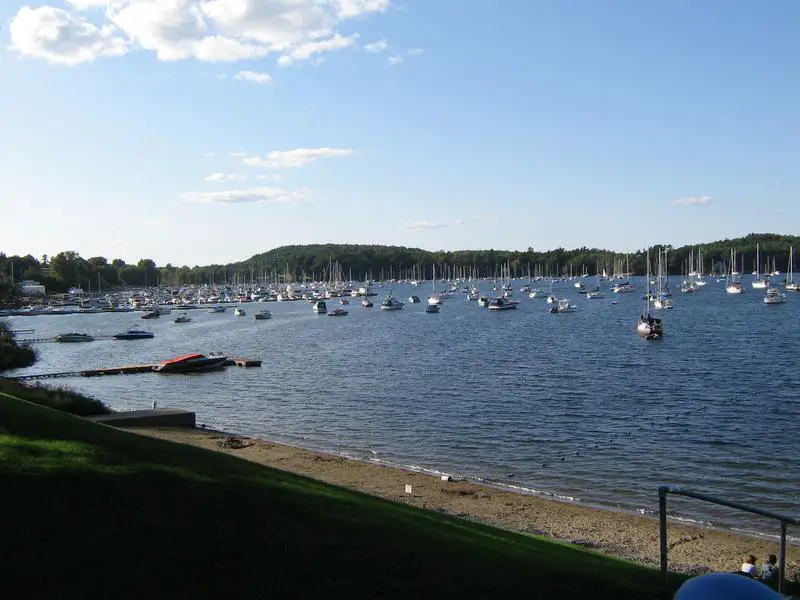 Source: Public domain
Colchester moved up from rounding out our safest cities in Vermont list last year to coming in at number 7 this year.
They crushed our snackability scale with a out-of-this-world safety ranking and a gold star education ranking. Safe and smart! Not surprising since it's the home of Saint Michael's College, Albany College of Pharmacy and Health Sciences, and Southern New Hampshire University. You're gonna go far Colchester.
More importantly, you won't hear 'hold my beer and watch me handle this" at their local Lake Champlain beach bar. And if you go out on the lake in this Chittenden County town, you can be pretty sure that no one is going to toss you overboard and steal your boat. This city is so friendly and safe that they only had 140 crimes to report last year. Holy guacamole that's safe.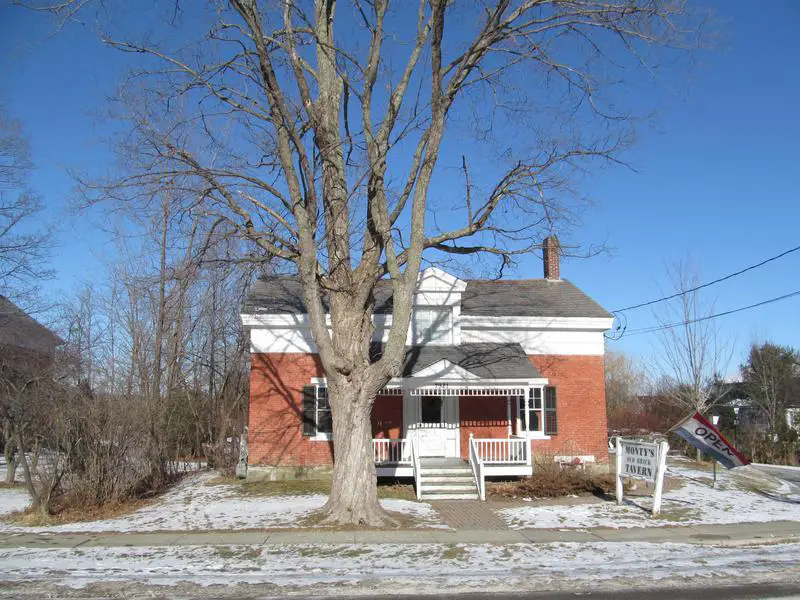 Welcome to Williston! Our eighth safest city in Vermont according to recent FBI crime data and home to THE Ben and THE Jerry.
The term SAFE takes on a new meaning in Williston. It's a family friendly village in Chittendon County where the treets re or veryone. The people here are super welcoming and there are a ton of safe, family friendly parks and activities. Heck, the worst crime committed in Williston is forgetting to pick up a pint of Ben & Jerry's Chubby Hubby on your way home from work.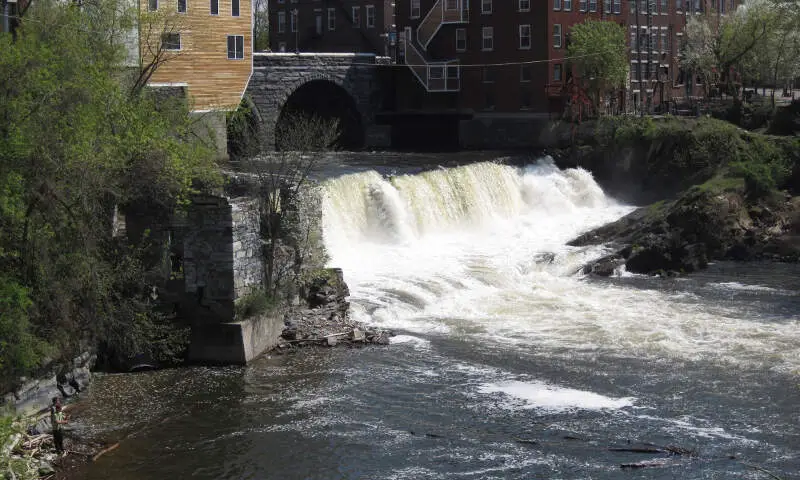 Middlebury is the ideal destination when you're trying find that true Vermontian feel with small city vibes in the middle of nowhere, New England.
This village of quaint rustic beauty is located in Addison County and provides the backdrop for our ninth safest city in Vermont. Life is looking up for Middlebury; they are up five from last year.
Middlebury residents not only look out for each other, they protect their quintessential New England lifestyle. But don't let the 'quaint' deter you. There's lots to do in MIddlebury. You can hike the trails at Middlebury Falls, cheer on Middlebury College's basketball team, and head to the spa all in the same day. And that, folks, is what we call safe, stress free living.
And don't worry about locking your doors, here. There were only 46 crimes committed in Middlebury last year. And for all you online shoppers, it's the kind of place where packages from Amazon won't get stolen from your front porch.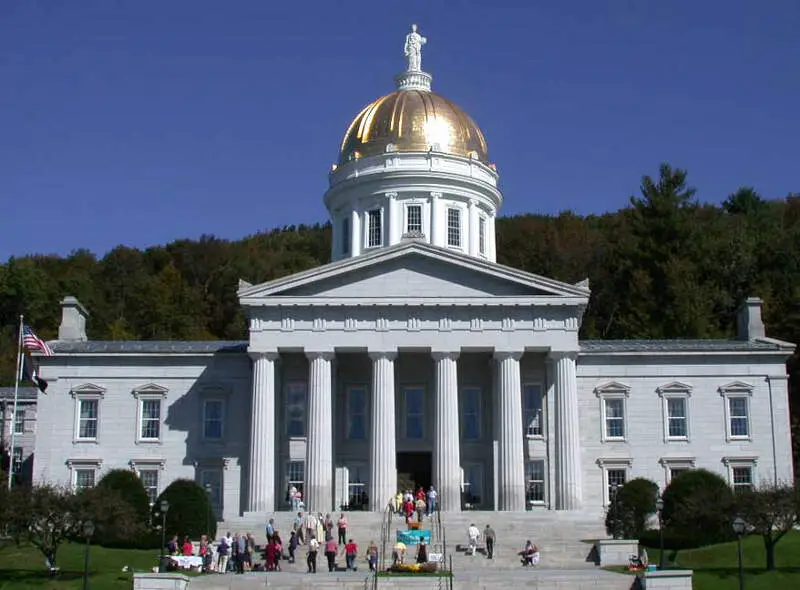 There are quite a few reasons why Montpelier is also on our 10 Best Places to Live in Vermont list. Its impeccable crime rates being one of them.
The data did not lie when it came to how good things were in the state capital in 2019. The Montpelier Police Department had a particular lock on violent crime that year. Community members reported just 11 of them. As if that number did not say enough about the department's efforts, maybe the fact that people here have a one in 671 chance of being the victim of murder, rape, robbery or aggravated assault will.
All in all, you could say life is sweet in Montpelier, and not just because it is home to Morse Farm Maple Sugarworks.
How we calculated the safest cities in Vermont for 2021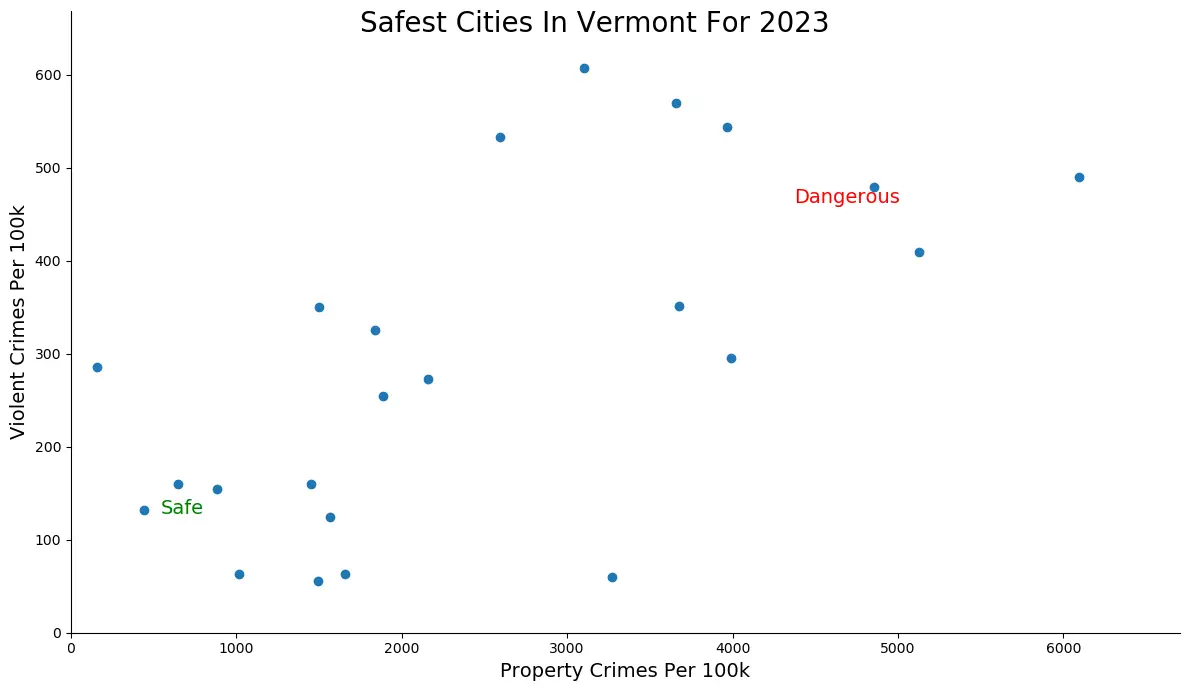 While there are surveys and public polls on what cities in a state are the safest, we didn't want to rely on speculation and opinion. Instead, we looked at the hard numbers from the FBI's most recent report of crime (Published Sept 2020) in Vermont.
Specifically, we analyzed the
FBI's Uniform Crime Report
which summarizes the number of property crimes and violent crimes in each city per year. We used two criteria:
Violent crimes per capita (murders, assaults, rapes, armed robberies)
Property crimes per capita (thefts, burglaries, motor vehicle thefts)
For example, there were a total of 73 crimes committed in Barre Town which had a reported population of 7,679. That means the number of crimes per capita is 0.0095 which translates into a 1 in 105 chance of being the victim of a crime.
We only looked at cities that have populations of more than 5,000 people reported to the FBI in 2019, the last reporting year. This left us with a total of 22 of the biggest cities in Vermont to rank.
We ranked each city for each criteria from 1 to 22 where 1 in any particular category is the safest.
Next, we averaged each places two criteria to create a Safety Index. We crowned the place with the lowest overall Safety Score "The Safest Place In Vermont" with any ties going to the bigger city. You can download the data here.
The safest city in Vermont, based on our criteria, is Barre Town. The most dangerous city in Vermont? St. Albans, where residents had a 1 in 17 chance of being the victim of a crime.
Note: This report is not an analysis of the effectiveness of local police departments, nor does it reflect the fact that people from out of town may come into a community and cause a crime. It simply looks at where crimes occurred most frequently, based on a city's population.
There You Have It - The Safest Cities In The Green Mountain State
Looking at the data, you can tell that Barre Town is as safe as they come, according to science and data.
But as most Vermont residents would agree, almost every place here has its safe and not safe parts. So just make sure you're informed ahead of time.
Here's a look at the most dangerous cities in Vermont according to the data:
St. Albans
Brattleboro
Bennington
For more reading, check out:
Breaking Down Crime In The Safest And Most Dangerous Cities In Vermont

Share on Facebook
Chris Kolmar has been in the real estate business for almost ten years now. He originally worked for Movoto Real Estate as the director of marketing before founding HomeSnacks.
He believes the key to finding the right place to live comes down to looking at the data, reading about things to do, and, most importantly, checking it out yourself before you move.
If you've been looking for a place to live in the past several years, you've probably stumbled upon his writing already.
You can find out more about him on LinkedIn.