Article Table Of Contents   
(Skip to section)
Vermont is the best at everything: they are the second best state for families and one of the top safest states in the country, so it's no surprise that they have some of the best places to call home.
Whether you're taking advantage of long summer nights by on the Winooski side of Lake Champlain, enjoying a nice walk through the natural landscape in Montpelier, or just hangin' with the good 'ol people of The Green Mountain State, Vermont is the best. Needless to say, it was very difficult to narrow down the top ten best places to live in this New England state.
But, HomeSnacks did it. How'd we do it? We consulted the numbers. In total, we analyzed 19 cities. We looked at important factors like cost of living, crime, unemployment rates, rent and median home values for every place with over 1,000 residents.
We discovered that there are awesome places in Vermont for every type of person. There's Burlington for those people who love ice cream, Wilder for the outdoorsy type, and make sure to give Barre a second look if you're into that whole idyllic-Norman Rockwell vibe.
So where are these amazing places in Vermont where homes are affordable, jobs are plentiful, and neighborhoods are safe? Read on.
The 10 Best Places To Live In Vermont For 2022
Ask any Vermonter and they will tell you that their side of New England is the best. And while that might be true for many, the Vermonters that live in our top ten best places for 2022 are truly the winners.
What's the best place to live in Vermont for 2022? Drum roll… the number one best place to live in Vermont is Woodstock based on the most recent Census data.
We are not at all surprised. Woodstock has homes that are affordable, plentiful jobs with competitive salaries, and its neighborhoods are safe.
To see how your city compared, take a look at the list below. And if you don't find your favorite there, head on down to the bottom.
If you're looking for something more national, check out the best states in America or the best places to live in America.
For more Vermont reading, check out:
The 10 Best Places To Live In Vermont For 2022
If you're looking for a place with quintessential New England charm, you've found it in Vermont's best town, Woodstock. An abundance of covered bridges, farms dedicated to sharing their agricultural heritage or just providing divine cheese and maple syrup, and Vermont's only national park: these are the features that make for a simple, pleasant life in Woodstock.
They also played a big role in Woodstock topping our list of the best places for families in Vermont. Not to mention a GreatSchools average rating of 9/10 for Woodstock's public schools, which have achieved the 3rd lowest high school dropout rate in the state. Woodstock also has the lowest crime rate and the highest rate of residents with health insurance in Vermont. Unemployment sits at a super low 1.4% and the median household income is $70,268/year, the 4th highest in the state. Which is good when you're also paying the highest price for homes in Vermont, $408,800.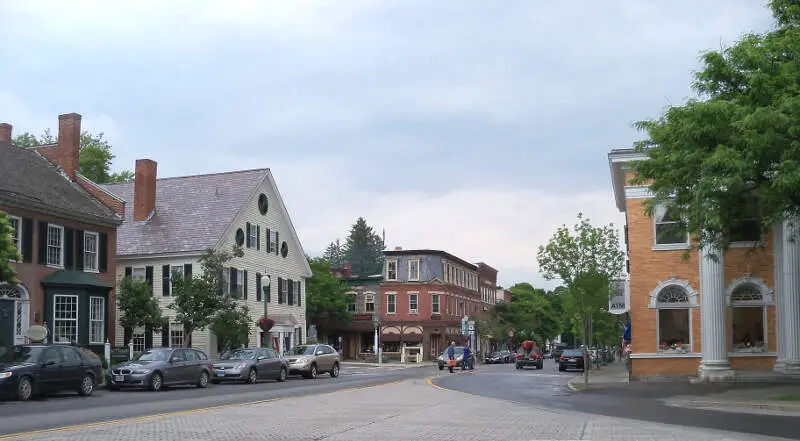 Burlington may be the biggest city in Vermont, but South Burlington has the slight edge when it comes to quality of life. You can get sweet views of Lake Champlain and the Adirondacks from Red Rocks Park, meet the local legends behind Vermont's top craft beer at the Magic Hat Brewery, and party all night long at the Higher Ground music venue. It's truly a vibrant city with an endless supply of entertainment and natural splendor.
Unfortunately, it also ranks among Vermont's most expensive cities, with the highest cost of living anywhere on this list. Rent in South Burlington goes for around $1,426/month, and buying a home here will set you back around $312,300. On the bright side, South Burlington also has the 3rd lowest poverty level in Vermont, workers enjoy the 5th shortest average commute time at 17 minutes, and public schools are among the best in Vermont. South Burlington's residents are also the 3rd best-paid in the state, with a typical household bringing home $76,227/year. South Burlington has grown by nearly 10% since 2010, as savvy movers catch on to how awesome life is here.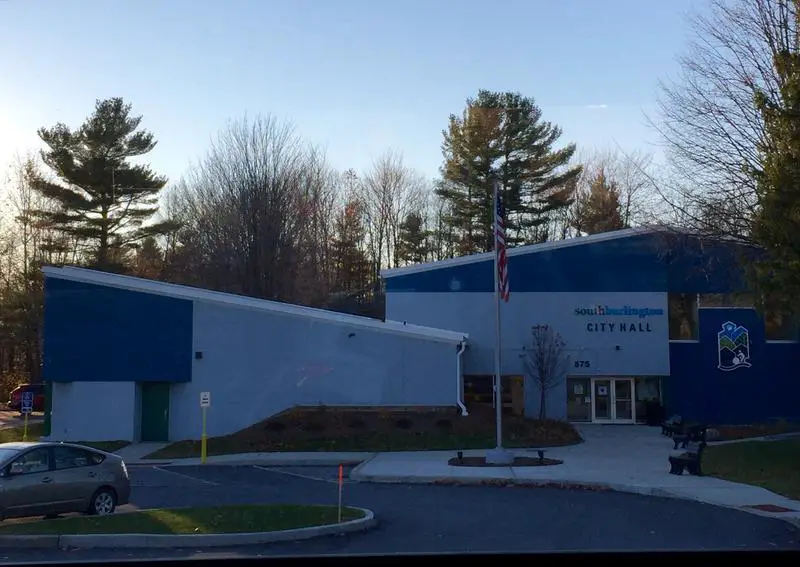 State capitals rarely make these lists, but Montpelier has always been a bit of an odd city out. It's the only capital city in America without a McDonald's, to give you an idea. While small, Montpelier has no shortage of things to do. A visit to the Vermont State House is always fun, Bragg Farm has you covered for all things maple-related, Lost Nation Theater is constantly fostering local artistry, and hiking Camel's Hump is a goal or source of pride for every local.
With a median age of 45, Montpelier is the oldest city on this list. It's also the best-educated, seeing as over 60% of residents have a college degree and nearly a third have a master's degree, PhD, or professional degree. All those fancy degrees pay off, as Montpelier residents enjoy the 5th highest median household income in the state at $65,668/year. Since smart, moneyed individuals rarely go in for crime, it makes sense that the violent crime rate in Montpelier ranks as the 8th lowest in the state.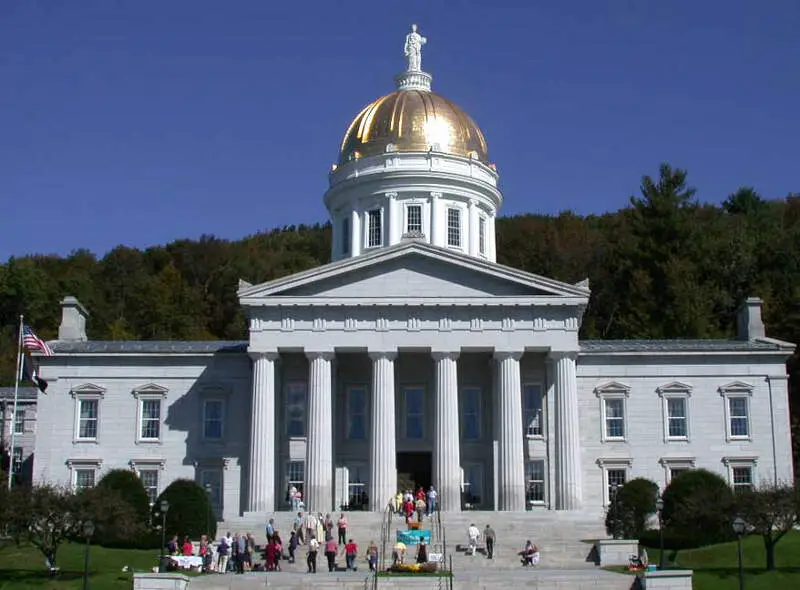 Located a half-hour east of Burlington, Jericho clocks in as the 4th best place to live in Vermont. Parents can rest easy about their children's education because GreatSchools gave Jericho's district a 9/10 average score. Jericho also has the 2nd lowest high school dropout rate in Vermont. Other impressive statistics include a poverty rate of 3.6% (the lowest in Vermont) and unemployment rate of 0.0%. Homes in Jericho are the 5th most expensive in Vermont at $268,800, but that's no sweat when you're also earning the highest median household income statewide at $92,188/year.
Fancy getting out in nature? Jericho's got you covered with Mills Riverside Park, a 216-acre park complete with a covered bridge, a pavilion for summer concerts and farmer's markets, and wonderful views of Mt. Mansfield. The Old Red Mill is an iconic 19th century structure with family-friendly trails around. It also houses the Snowflake Bentley Museum, which is definitely worth a trip.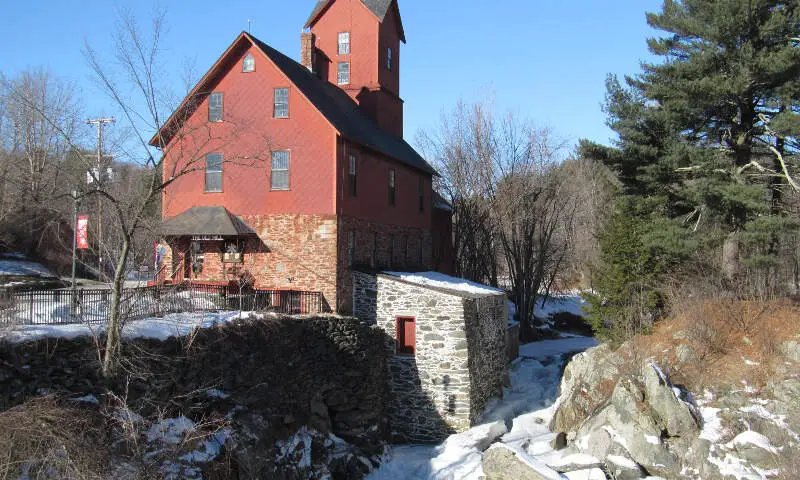 We're sticking around the greater Burlington area for our 5th best place in Vermont, Essex Junction. People clearly agree that Essex Junction is fantastic, seeing as it's Vermont's fastest growing city. Here you'll find outlet shopping, hot air ballooning, a wonderful golf course, and a culinary resort and spa Sound ritzy? Well, Essex Junction is the richest city in Vermont, after all.
That wealth comes in handy for making an equitable, booming economy. The poverty rate in Essex junction is 8.2% and the unemployment rate is 3.6%, the 4th and 6th lowest statewide, respectively. Essex Junction also has the 2nd highest median household income in Vermont, at $76,845/year, and homes here are the 4th priciest in the state. Safe streets and good schools round out the picture of a sweet place to call home.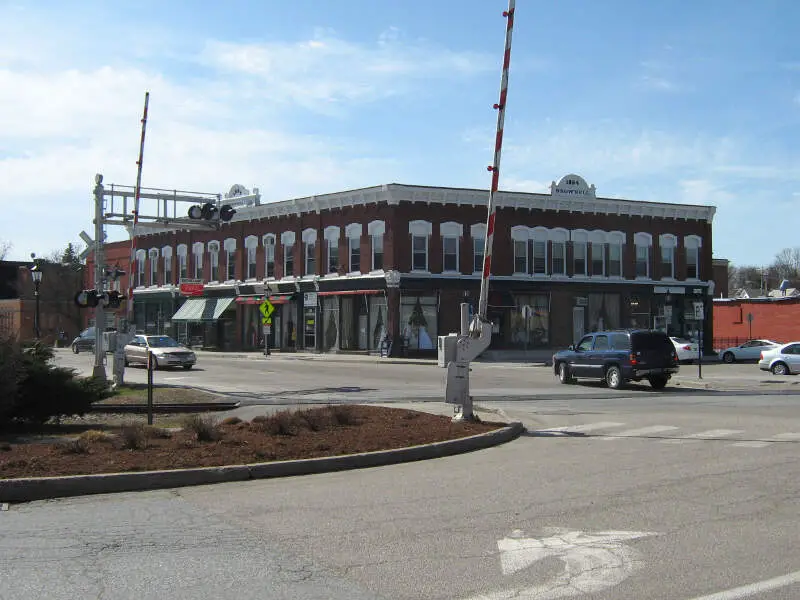 Vermont's oldest and smallest city, Vergennes, comes in as the state's 6th best place to call home. Vergennes featured on our coverage of the best places to retire in Vermont, and a lot of those same factors come into play here. There's Button Bay State Park on Lake Champlain for outdoor recreation, and Vergennes' historic downtown is chock full of quaint, local shops, gorgeous architecture, and some of the best restaurants in the state. And that's not even getting into the summer concerts and farmer's market.
All those great features wouldn't be worth much if you couldn't enjoy them in safety, so it's good that Vergennes has the 9th lowest crime rate in Vermont. Even if you do get banged up somehow, 95.4% of residents have health insurance, the 13th highest rate statewide. The poverty rate in Vergennes is the 6th lowest in Vermont, while a median household income of $63,859 ranks as the 6th highest statewide.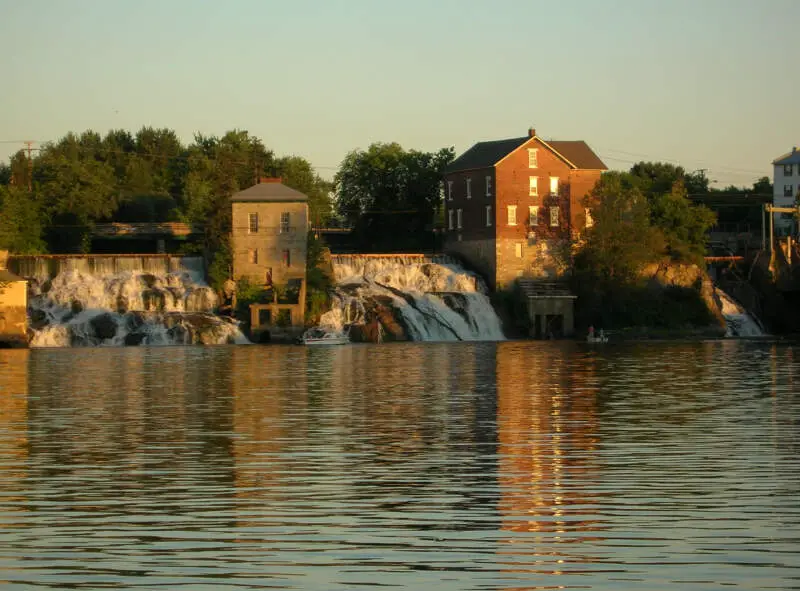 Source: Public domain
Ah, Burlington: the heart and soul of Vermont. Home to a thriving arts scene, entrepreneurship out the wazoo, the very best of Vermont's dining and shopping, and plenty of outdoor recreation, residents of Burlington can't imagine living anywhere else. It's the youngest city on this list, with a median age of just 27, easily explained by all the University of Vermont and Champlain College students around. Many students never leave, and they can't be blamed for that.
The heart of downtown Burlington is Church Street Marketplace, four blocks of shops, eateries, and street performers. There's also free WiFi all along Church Street, so your Instagram followers can envy you in real time. You can get almost anywhere following Burlington's bike path; all the way from downtown-adjacent Waterfront Park to any of the beautiful beaches on Lake Champlain. Is it any wonder Burlington topped our list of the best cities for singles in Vermont?
Sure, housing is a bit pricey in Burlington, where rent goes for around $1,279/month, but in general, the cost of living is in line with the Vermont average. For the state's biggest city, Burlington is also quite safe. Just know that your Burlington neighbors are going to pose a real challenge when pub quiz night rolls around; over half the population has a college degree, and over 20% have a master's or higher.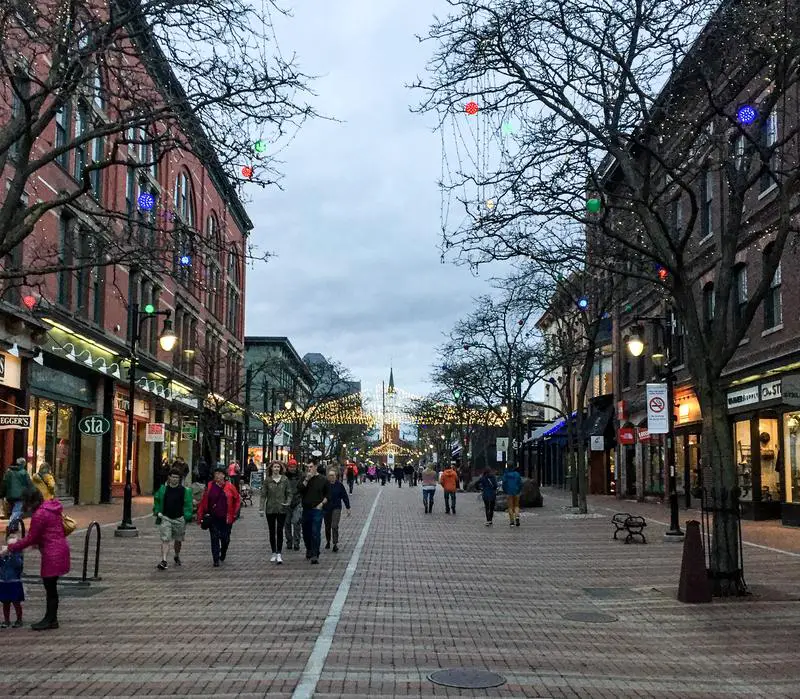 A village situated in the scenic Northeast Kingdom, Lyndonville ranks as the 8th best place to live in Vermont. If you're into extreme sports, we probably won't have to try very hard to convince you that Lyndonville is the bee's knees. There's nearby Burke Mountain for all the skiers and snowboarders, Kingdom Trails for the mountain bikers, and the VAST trails comprise some of the best snowmobiling New England has to offer.
If this all sounds too good to be true, just wait: housing in Lyndonville is the cheapest of anywhere on this list. Rent goes around $725/month, less than half Vermont's average rent, and you can snag a home for just $156,400. With a crime rate that ranks as the 3rd lowest in the state, you're much more likely to hurt yourself skiing than in a fight. If you do get injured here, it's no big deal, because Lyndonville has the 4th highest rate of residents with health insurance in Vermont. Lyndonville's final perk is having the 2nd shortest commute in the state, at an average time of just 13 minutes.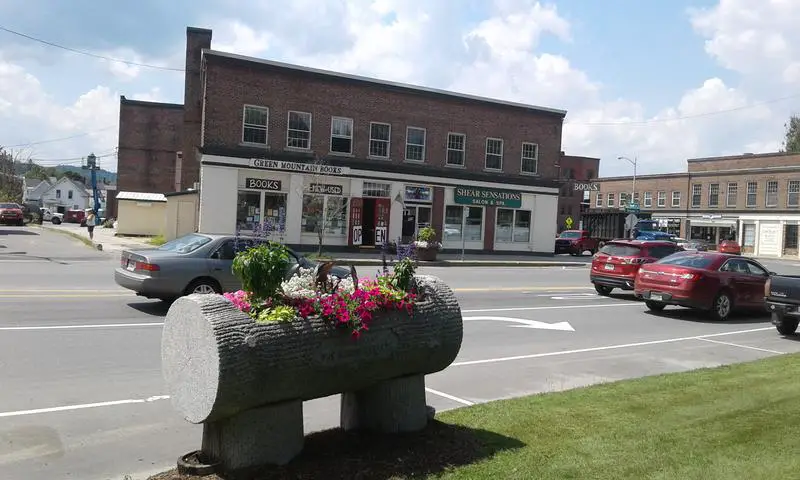 You will find Winooski, the 9th best place to live in Vermont, slightly northeast of Burlington. This city of 7,320 has been on the up and up for the past few decades. After the economic boom–and eventual bust–of the Winooski Falls mill era, which residents and visitors can learn more about at the Heritage Winooski Mill Museum, the area has rebounded nicely.
As far as earnings go, the median household income here of $56,236 may seem low compared to other places, but about 30% of households in Winooski actually bring in $50,000 to $74,999. An amount that pairs well with the median home value of $231,300.
A growing economy is not all Winooski has to offer its residents; a well-rounded quality of life can be found here too. Community members are not wasting precious time sitting in traffic thanks to a commute that is only 19 minutes or fretting about their safety since the city ranks 12th in the state for lowest levels of total crime.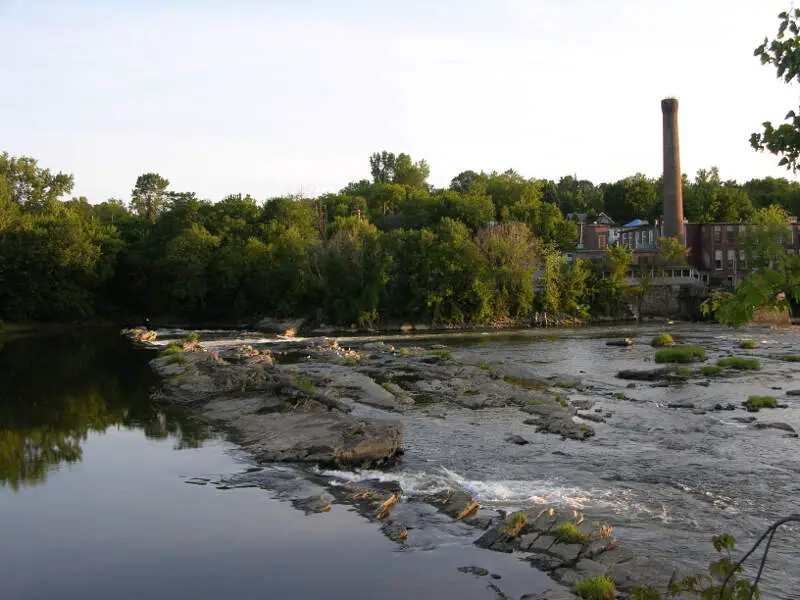 Rutland is no stranger to our lists as it regularly appears as one of the better, safer, and affordable places to live in Vermont. Located in western Vermont about two hours north of Albany, NY, it is economic center of the area. As such, it scores well on our proxies for things to do, home to income ratios, and short commutes.
The schools are strong in Rutland with GreatSchools giving the public high school a 6 out of 10. And the city is very safe as the city has the 5th lowest levels of property crime in the state – and Vermont is one of the safest states in the country, so this is no small feat.
For things to do, there's the standard Vermont fare of skiing at Pico Mountain or general wilderness fun in Green Mountain National Forest. After a long day on the slopes, you can check out local favorites Roots or Table 24 for a big dinner.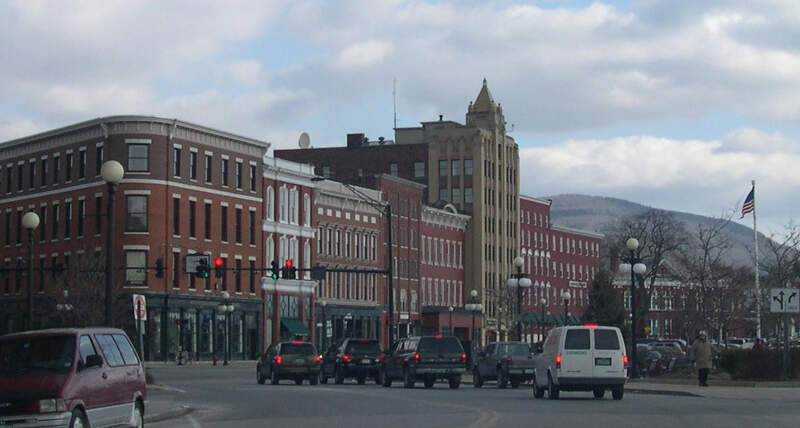 Mapping The Best And Worst Places To Live in Vermont
The Pressing Question: Size
Before we even started to collect data, we had to answer a tough question: Is it fair to pit Montpelier with a population of 7,434 against places with a population of 18?
We firmly decided no, that just isn't fair.
So to create our ranking, we broke places to live into three tiers:
Cities — Populations over 1,000
Towns — Populations between 1,000 and 1,000
Small Towns — Populations below 1,000
This left us with 19 cities, 18 towns, and 70 small towns.
We then decided, no matter how much anyone loves their town, the best cities to live in Vermont have more of everything and therefore you need to have over 1,000 people to truly be 'the best'.
Now we also realize that city living might not be your cup of tea, so we ran the following analysis on towns and then again for small towns.
You can see those two top tens at the bottom of the post.
Methodology: How We Calculated The Best Cities To Live In Vermont
Now that we had our set of cities, it was time to rank them.
We ranked each place in Vermont across a number of criteria from one to 19, with one being the best.
We then took the average rank across all criteria, with the city posting the lowest overall score being crowned the winner of the title "Best Place To Live In Vermont".
The criteria we looked at were:
Median Home Values
Median Income
Population Density (Higher better)
Unemployment Rate
Commute Time
Crime
Education Levels
Health Insurance Coverage
Poverty rates
Sources of criteria include the New Census Data and FBI Crime Data. You can download the data here.
After the dust settled, what was the best place to live in Vermont? That would be Woodstock.
If your city or town isn't among the top 10, jump down to the bottom of the post to see a detailed chart of the best places in Vermont.
Otherwise, buckle up for a ride down good living lane with Woodstock at the end of the cul-de-sac.

Summary: The Best Places When It Comes To Living In Vermont
If you're looking at areas in Vermont with the best economic situations, where there's lower than average crime, and a lot to do, this is an accurate list.
Woodstock made a strong showing to take in the overall number one spot for the best place to live in Vermont for 2022.
Best Towns To Live In Vermont
Wilder (Pop. 1,704)
Woodstock (Pop. 1,054)
Jericho (Pop. 1,387)
Bristol (Pop. 1,759)
Milton (Pop. 1,974)
Waterbury (Pop. 1,724)
Northfield (Pop. 1,978)
South Barre (Pop. 1,380)
Poultney (Pop. 1,459)
North Bennington (Pop. 1,688)
Best Small Towns To Live In Vermont
Norwich (Pop. 917)
Dorset (Pop. 255)
Old Bennington (Pop. 187)
East Middlebury (Pop. 255)
Greensboro (Pop. 108)
Shelburne (Pop. 564)
East Burke (Pop. 104)
Fairlee (Pop. 336)
Waitsfield (Pop. 163)
East Barre (Pop. 912)
If you're curious enough, here are the worst places to live in Vermont according to the data:
Barre (Pop. 8,590)
Morrisville (Pop. 2,017)
Enosburg Falls (Pop. 1,350)
For more Vermont reading, check out:
Where Are The Best Places To Live In Vermont?
| Rank | City | Population |
| --- | --- | --- |
| 1 | Woodstock | 1,091 |
| 2 | South Burlington | 19,359 |
| 3 | Montpelier | 7,434 |
| 4 | Jericho | 1,077 |
| 5 | Essex Junction | 10,761 |
| 6 | Vergennes | 2,607 |
| 7 | Burlington | 42,645 |
| 8 | Lyndonville | 1,407 |
| 9 | Winooski | 7,320 |
| 10 | Rutland | 15,207 |
| 11 | Bellows Falls | 2,908 |
| 12 | Swanton | 2,328 |
| 13 | North Bennington | 1,551 |
| 14 | Poultney | 1,474 |
| 15 | Newport | 4,244 |
| 16 | St. Albans | 6,796 |
| 17 | Barre | 8,590 |
| 18 | Morrisville | 2,017 |
| 19 | Enosburg Falls | 1,350 |
Editor's Note: We updated this article for 2022. This is our ninth time ranking the best places to live in Vermont.