Editor's Note: We updated this article for 2021. This is our seventh time ranking the best places to live in Delaware.
Article Table Of Contents   
(Skip to section)
What state has three counties when the tide is out and two when it's in? That's right, that would be Delaware.
Delaware might be considered The Small Wonder, but what it lacks in size, it definitely makes up for in Fortune 500 companies. Yes, Delaware has some pretty sweet tax breaks, and that's a good thing because more money in your pocket is always better for your community. And this is most evident in Delaware's best places to live for 2021. Needless to say, it was very difficult to narrow down the top ten best places to live in The First State
But, HomeSnacks did it. How'd we do it? We consulted the numbers. In total, we analyzed 29 cities. We looked at important factors like cost of living, crime, unemployment rates, rent and median home values for every place with over 1,000 residents.
Hip millennial cities like Wilmington, fun college cities like Dover, and environmentally conscious towns like Newark are not only some of Delaware's fastest growing cities, but they also lead the charge in making Delaware great. And surprisingly folks, they did not make the top ten best places in Delaware for 2021.
The best places in Delaware boast some of the best schools, best neighborhoods, best homes, and the best jobs. You could literally throw a dart at any one of these places and be super happy to live wherever it landed.
Want to know what places did make the top ten best places to live in Delaware for 2021? Keep reading.
The 10 Best Places To Live In Delaware For 2021
What's the best place to live in Delaware for 2021? Drum roll... .the number one best place to live in Delaware is Ocean View based on the most recent Census data.
We are not at all surprised. Ocean View has homes that are affordable, plentiful jobs with competitive salaries, and its neighborhoods are safe.
To see how your city compared, take a look at the list below. And if you don't find your favorite there, head on down to the bottom.
If you're looking for something more national, check out the best states in America or the best places to live in America.
For more Delaware reading, check out:
The 10 Best Places To Live In Delaware For 2021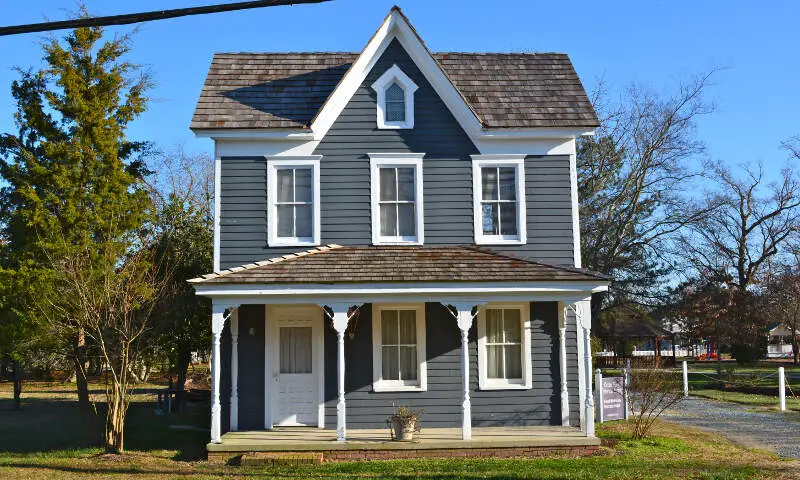 Source: Public domain
We're driving back down south along the coast to reach our best place in Delaware, Ocean View. A neighbor of Bethany Beach, Ocean View gets all the perks of having a seaside resort next-door with none (or at least fewer) of those pesky summertime tourists. Home to art studios, farm stands, and more historical buildings than you can shake a stick at, Ocean View is your quintessential Delawarean small town. Oh, and as the name implies, you get a pretty sweet view of the ocean here, perhaps nowhere better than the James Farm Preserve on Indian River Bay.
A place can have a charming veneer with a dark underbelly, but that's not the case in Ocean View, the safest place in Delaware with a crime rate less than half the national average. Poverty and unemployment rates in Ocean View both rank in the top ten statewide and only 3.1% of folks require food stamps to get by, the lowest rate of places covered on this list.
Nearly 90% of folks in Ocean View decide to buy rather than rent, and who can blame them for being 100% positive they scored an awesome "Place to Come Home To"; it is the town's motto after all. Homes in Ocean View are the 3rd costliest in the state at $346,400, but we're sure most residents would agree it's worth every penny.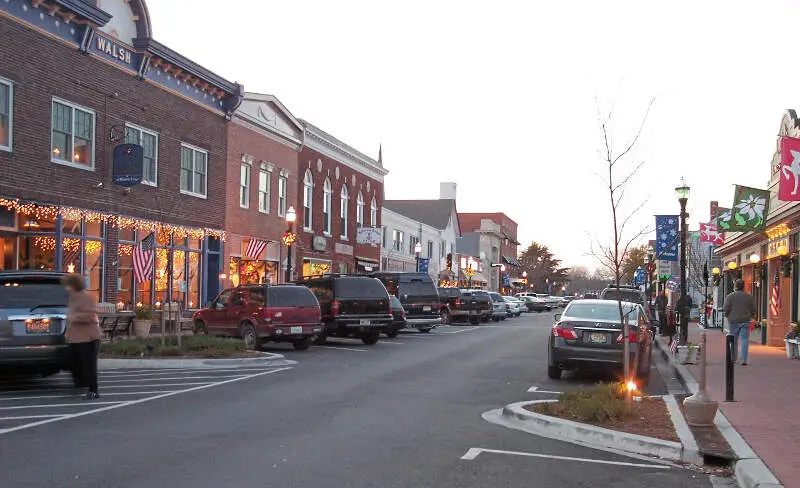 Lewes is used to coming in first; it brands itself as "The First Town in The First State" and it's now come first on our tally of best places to live in Delaware for the second year running. Situated where the Atlantic meets Cape Henlopen, Lewes is a walking town replete with historically-rich architecture, museums, boutique-lined streets, and waterfront dining. It's both a hidden treasure and perhaps the most beloved place in Delaware, for locals and tourists alike. Between taking a seabound adventure on the Cape May-Lewes ferry and staying closer to home at the gorgeous Cape Henlopen State Park, there's no shortage of activity in Lewes.
On the statistical side of things, Lewes shines in several ways. The city has the 2nd lowest unemployment rate and 8th lowest poverty rate in Delaware at 1.3% and 7.6% respectively. And it's not like people are just getting by in Lewes either; we did, after all, name it the richest place in Delaware. Folks here earn the 3rd highest median household income in the state at $88,984/year. Which is good when you're also paying the 2nd highest median price for homes at $558,200. On the bright side, property taxes in Lewes are relatively low and both income and property value have risen by roughly 8% in the last year.
With a median age of 66, Lewes's population is definitely on the older side. It's one of Delaware's best retirement cities after all. And with a whopping 98.6% of residents having health insurance, the highest rate statewide, you won't have to worry about being buried in medical bills here. Just because Lewes is on the older side, it doesn't mean they don't take care of the youth. Lewes spends more than twice as much per student as the Delaware average and it pays off with award-winning schools, higher test scores, and greater rates of graduation.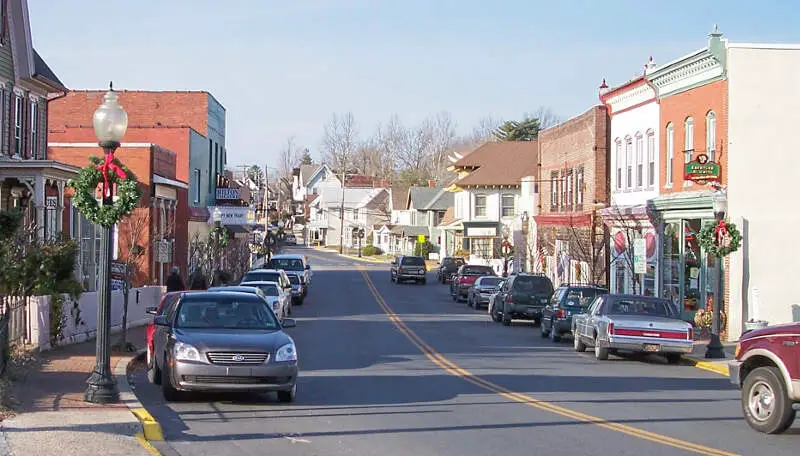 Located a short drive inland from Lewes, Milton is a town of 2,893 in the rapidly-expanding Cape Region. Just because Milton isn't right on the coast, it doesn't mean you'll be short on entertainment. Beer-lovers will want to check out the Dogfish Head Brewery, the local pride and joy of Milton, while those looking for an arts scene will find what they're looking for at the Milton Theatre. Outdoorsmen and women will love exploring the Prime Hook National Wildlife Refuge and the more romantic types will positively melt once they lay their eyes on Lavender Fields Farm. I won't even get into all the annual events that Milton puts on.
About a third of Milton's population chooses to rent instead of buy and it's easy to see why. The median rent in Milton is only $944/month, which is slightly lower than the statewide average. Homes, on the other hand, are the 6th priciest in Delaware, with a median price tag of $300,900. It shouldn't be hard to come up with the cash though, seeing as Milton's unemployment rate is the 5th lowest in the state at 2.5%. And you don't have to worry about getting carjacked on the way to work, seeing as Milton also has the 4th lowest total crime rate in Delaware, as well as the 3rd lowest amount of violent crime.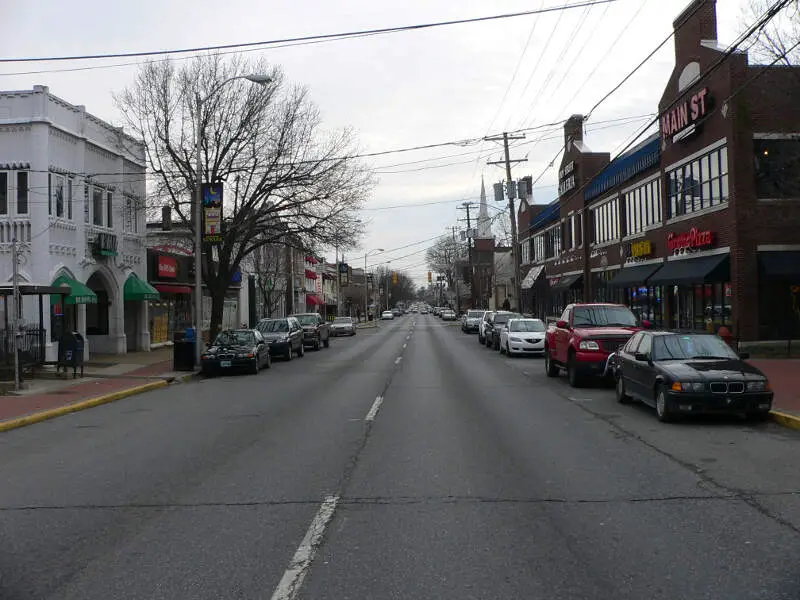 Delaware's third biggest and 4th most densely-populated city, Newark, comes in as the 4th best place to live. Being home to the University of Delaware helps explain Newark's status as the youngest place on this list, with a median age of 24. It also explains why about half the population has a college degree and a quarter have a master's degree or higher. The importance of education runs from top to bottom in Newark, because public schools here spend nearly twice as much per student as the statewide average and have the 5th lowest high school dropout rate in Delaware.
Being a college town comes with other perks, like being the Delaware's best city for singles. Evidently, people are copping on to the awesomeness that is Newark, because the city has grown by about 7% since 2010. While the median income in Newark is the lowest on this list at $58,434/year, the fact that students aren't usually known for being big-earners may account for the gap. In any case, you don't need to be loaded to enjoy the hiking, biking, and fishing at White Clay Creek Park.
The cost of living in Newark is slightly higher than your average city in Delaware, with housing costing about 15% more on average. A home in Newark will set you back around $277,800 while a typical rental will cost about $1,308/month.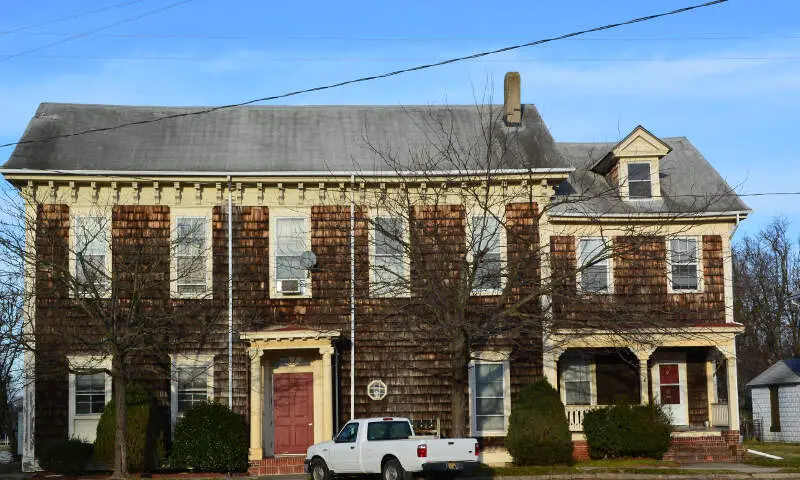 Wyoming is a laid-back Dover suburb of 1,381. The town already has the distinction of being among the most affordable places in Delaware, so you don't have to trade away your life-savings for quality in Wyoming. Homes in Wyoming go for about $186,200, while a typical rental will cost you about $1,015/month. That's about 40% less than the average rent in Delaware. With residents earning a median household income of $63,708/year, Wyoming has one of the best home price to income ratios in Delaware. Want more good news? The income of Wyoming's residents spiked by more than 10% last year, so you can expect that ratio to just keep getting better and better.
Just because it's cheap, doesn't mean Wyoming lacks in the essentials; far from it. Wyoming spends 50% more per student than the average Delaware school district, which shows in its award-winning schools and consistently higher rates of test proficiency and graduation. As a bonus for the kiddos, the Piccadilly Castle at Brecknock County Park is a one-of-kind playground that makes me wish I was a 7-year-old again.
Wyoming also has just 5.1% unemployment and a poverty rate that ranks as the 2nd lowest in Delaware at 3.6%. When times are good economically, people have little reason to commit crimes, so it makes sense that Wyoming also has the 6th lowest crime rate in the state as well.
Even if you're just passing through Wyoming, we recommend stopping at Fifer Orchards, a family-run, U-pick farm and country store that's the largest peach and apple producer in Delaware. If you want an extra treat, wait until the Peach Festival in August each year.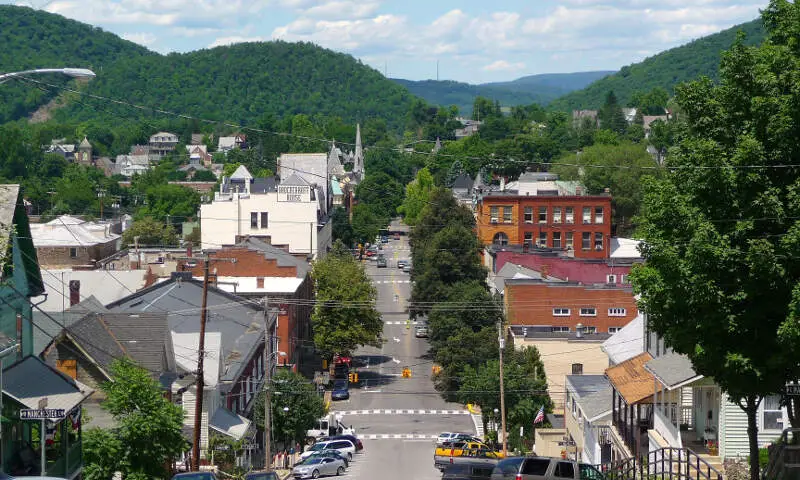 The last stop on our tour of the best places to call home in Delaware is Bellefonte, a town of 1,173 located just outside of Wilmington. Bellefonte's proximity to Delaware's biggest city comes with a lot of perks. In just ten minutes, you can find yourself ambling along the Wilmington Riverfront, stopping as you like at local brewpubs and fine dining establishments, or cheering on the minor league Wilmington Blue Rocks at Frawley Stadium. And in May, Wilmington residents might return the favor and come visit your neck of the woods for the Bellefonte Art Festival, complete with live music, a beer tent, and an absolute surfeit of food trucks.
For such a small town, you might not expect Bellefonte to also be the most densely-populated place in Delaware, but people don't mind squeezing in to live in such an incredible place. Clearly, Bellefonte has enough resources to keep everyone ticking over, because at 4.0%, the town has the 3rd lowest poverty rate in Delaware. Most residents do a good bit more than just getting by, seeing as the median household income in Bellefonte is the 6th highest statewide at $79,063/year. Housing in Bellefonte isn't crazy expensive, either; a typical home sells for about $226,300, while renters pay $1,078/month on average.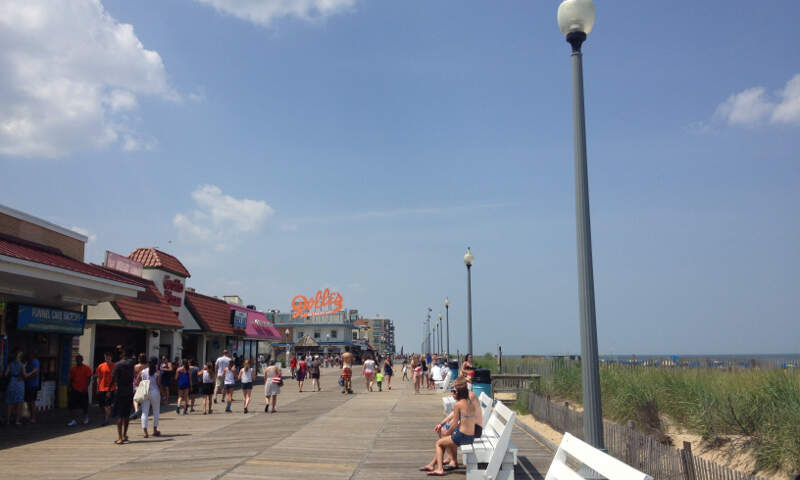 One of the principal cities of Delaware's Cape Region, Rehoboth Beach stands out in several ways. Rehoboth public beach received a 5-star water quality rating, even with some 25,000 visitors coming to the "Nation's Summer Capital" each year. Tons of top-quality parks, a charming boardwalk that is frequently mentioned as the best in the nation by a number of publications, and the Funland amusement park all make it one of the most family-friendly communities in the state. And that's not even getting into the first-class dining and live entertainment available downtown.
With a median age of 64, Rehoboth Beach's locals are among the oldest on this list, so keep that in mind if you need young people about (year-round) to feel content. If stimulating conversation is a must for you, then rest assured your Rehoboth Beach neighbors have you covered. The city has the 2nd lowest high school dropout rate in Delaware, 60% of residents have a college degree, and over a quarter have a master's degree or higher.
That level of education comes in handy when making an economy that works for everyone. The unemployment rate in Rehoboth Beach is 2.0% and the poverty rate is 5.1%, both of which rank in the top five statewide. 97.9% of residents also have health insurance, the 2nd highest rate in Delaware. Before moving to Rehoboth Beach, make sure you have some savings ready for a job paying around $114,583/year lined up because a typical home here goes for $1,017,100, the highest price in the state.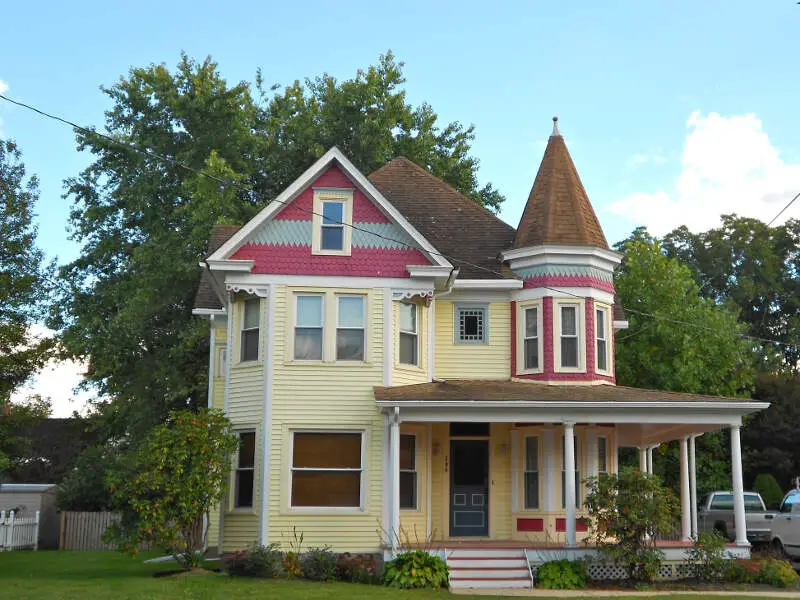 Townsend, Delaware, may seem like an unassuming town of 2,434 residents. But this quaint community isn't your average burb. It's the number 8 best place to live in the state.
With good schools and quick access to nearby commercial hubs, Townsend acts as a magnet for young professionals. The city has a median income of $119,417, putting it 1st in the state in that category. Home values are high as well, with a median home value of $331,500.
Townsend is situated in the northern part of the state. A quick trip down the road will take you to Wilmington, Delaware's biggest city. It also sits a little more than an hour outside of Philadelphia.
In terms of local amenities, you can tour the picturesque Townsend Historic District, with more than 200 charming buildings. Meanwhile, a 20-minute drive will take you to the Delaware River and access to robust outdoor activities at places like the Augustine Wildlife Area.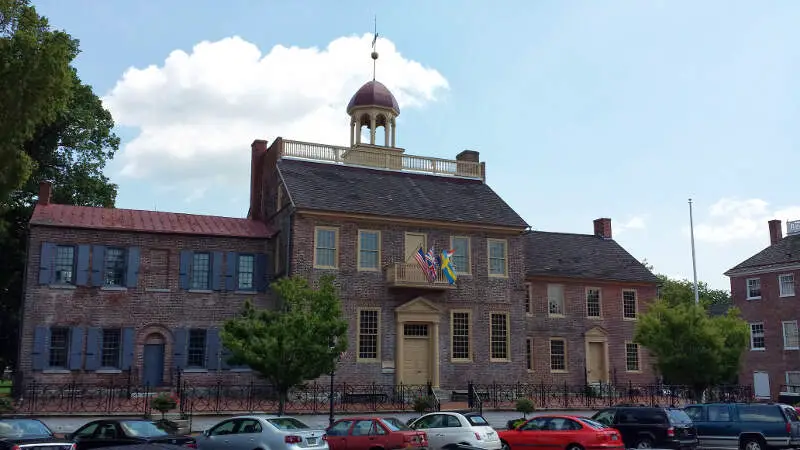 New Castle is a historic city located just 15 minutes south of Wilmington's downtown Rodney Square. A key part of Delaware's (and America's) past, New Castle's cobblestone streets and stately townhouses work to imbue the place with a Colonial charm that makes for a memorable day out strolling and shopping. Pay a visit to the First State National Historical Park to brush up on your history or just enjoy the lovely green spaces. And if you're around in May, make sure you've got some old-timey clothes so you can participate in A Day in Old New Castle, an exploration of the many homes, gardens, and historic public buildings, as well as a series of reenactments and period-appropriate children's games. It's things like this that landed New Castle at the top of our list of Delaware's best family cities.
As for statistics, New Castle has low unemployment and poverty rates, a high rate of residents with health insurance, and some great public schools. Additionally, the cost of living is actually slightly lower than your average city in Delaware, with housing costs about 10% cheaper. Rent is a bit pricier at $1,320/month, but homes are among the cheapest on this list at $194,300.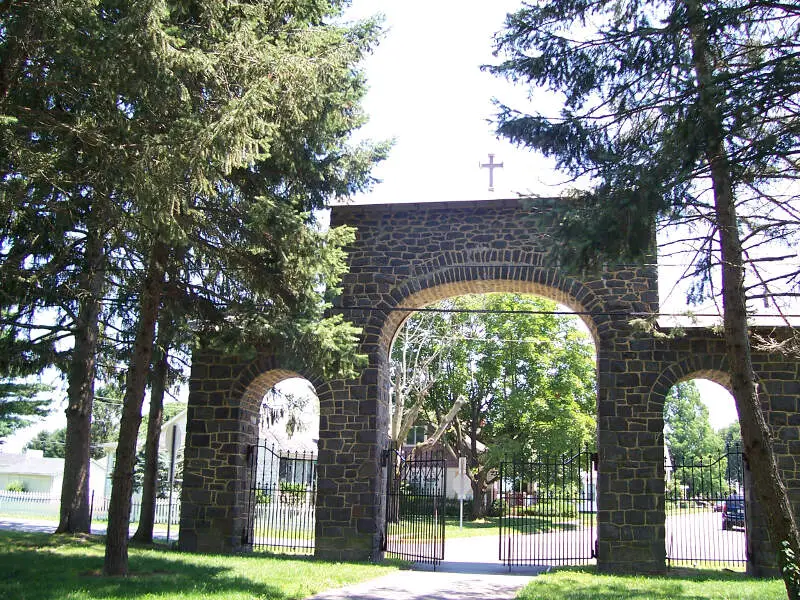 Clayton sits around the mid-point between two of Delaware's two most important cities. A 45-minute drive north will take you to Wilmington, the state's largest population center. Head a half hour south and you'll arrive at the state capital of Dover.
More than just a stopover between more famous locations, Clayton has a lot to offer on its own. For instance, the town's crime rate sits nearly 50% below the national average and it boasts an above-average school district.
The main draw, though, is economic. The 3,282 residents of Clayton enjoy a median income of $82,500, the 5th best level in Delaware. Homes in the area represent a good investment as well. Median home values sit at $242,900.
Clayton also provides easy access to some of the most beautiful spots in Delaware. The Bombay Hook National Wildlife Refuge sits a short drive to the east.
Mapping The Best And Worst Places To Live in Delaware
The Pressing Question: Size
Before we even started to collect data, we had to answer a tough question: Is it fair to pit Dover with a population of 37,523 against places with a population of 18?
We firmly decided no, that just isn't fair.
So to create our ranking, we broke places to live into three tiers:
Cities -- Populations over 1,000
Towns -- Populations between 1,000 and 1,000
Small Towns -- Populations below 1,000
This left us with 29 cities, 31 towns, and 25 small towns.
We then decided, no matter how much anyone loves their town, the best cities to live in Delaware have more of everything and therefore you need to have over 1,000 people to truly be 'the best'.
Now we also realize that city living might not be your cup of tea, so we ran the following analysis on towns and then again for small towns.
You can see those two top tens at the bottom of the post.
How We Calculated The Best Cities To Live In Delaware
Now that we had our set of cities, it was time to rank them.
We ranked each place in Delaware across a number of criteria from one to 29, with one being the best.
We then took the average rank across all criteria, with the city posting the lowest overall score being crowned the winner of the title "Best Place To Live In Delaware".
The criteria we looked at were:
Median Home Values
Median Income
Population Density (Higher better)
Unemployment Rate
Commute Time
Crime
Education Levels
Health Insurance Coverage
Poverty rates
Sources of criteria include the New Census Data and FBI Crime Data. You can download the data here.
After the dust settled, what was the best place to live in Delaware? That would be Ocean View.
If your city or town isn't among the top 10, jump down to the bottom of the post to see a detailed chart of the best places in Delaware.
Otherwise, buckle up for a ride down good living lane with Ocean View at the end of the cul-de-sac.

Wrapping Up The Best Places When It Comes To Living In Delaware
If you're looking at areas in Delaware with the best economic situations, where there's lower than average crime, and a lot to do, this is an accurate list.
Ocean View made a strong showing to take in the overall number one spot for the best place to live in Delaware for 2021.
Best Towns To Live In Delaware
Greenville (Pop. 2,265)
Highland Acres (Pop. 3,792)
Rehoboth Beach (Pop. 1,119)
Lewes (Pop. 2,955)
Bellefonte (Pop. 1,253)
Townsend (Pop. 2,320)
St. Georges (Pop. 1,097)
Riverview (Pop. 2,993)
Ocean View (Pop. 2,087)
Camden (Pop. 3,494)
Best Small Towns To Live In Delaware
Henlopen Acres (Pop. 159)
Arden (Pop. 485)
South Bethany (Pop. 424)
Bethany Beach (Pop. 871)
Ardencroft (Pop. 255)
Fenwick Island (Pop. 398)
Ardentown (Pop. 311)
Dewey Beach (Pop. 289)
Viola (Pop. 185)
Magnolia (Pop. 203)
If you're curious enough, here are the worst places to live in Delaware according to the data:
Seaford (Pop. 7,715)
Delmar (Pop. 1,808)
Laurel (Pop. 4,179)
For more Delaware reading, check out:
Where Are The Best Places To Live In Delaware?
| Rank | City | Population |
| --- | --- | --- |
| 1 | Ocean View | 2,272 |
| 2 | Lewes | 3,198 |
| 3 | Milton | 2,893 |
| 4 | Newark | 33,448 |
| 5 | Wyoming | 1,381 |
| 6 | Bellefonte | 1,173 |
| 7 | Rehoboth Beach | 1,400 |
| 8 | Townsend | 2,434 |
| 9 | New Castle | 5,242 |
| 10 | Clayton | 3,282 |