We're pretty sure that most people know that Delaware's state bird is the Blue Hen Chicken and that Dover is the state's capital, but did you know that the First State has some really cool, really affordable places to live in the country?
Yes, there are affordable places in Delaware, but you're going to have to know how to navigate the state's above average cost of living if you're going to call it home. And that's where HomeSnacks comes in, folks. We took a look at the US Census data and cost of living data for Delaware and created a list of the cheapest places to live in the Blue Hen State for 2021 .
And guess what? You don't have to sacrifice comfort for affordability if you choose to live in one of Delaware's most affordable places. The state has hip millennial cities like Smyrna, family friendly cities like Wyoming, and retirement cities like Seaford for every budget. With statistics like these, it's no wonder that many of Delaware's most affordable places are also some of the Delaware's fastest growing cities. Do we think there's a direct correlation between jobs, affordability, and people flocking to these affordable places to live the Delaware dream? Absolutely
So, want to know where you can your income will go the furthest in Delaware? Keep reading.
The 10 Most Affordable Places To Live In Delaware
It's not rocket science, people. When you live in one of Delaware's most affordable places, you'll save money on the fun things to do and see in the oldest state in the country. Like, scoring tickets to the Delaware Taco Festival in Wilmington or taking a road trip to Bethany Beach.
So, where is Delaware's most affordable place to live ? We suggest you take a look at Delaware's number one most affordable place for 2021, Cheswold.
To see how your city compared, take a look at the list below. And if you don't find your favorite there, head to the bottom.
And if you already knew these places were cheap, check out some more reading about Delaware and the cheapest places in the country:
The 10 Cheapest Places To Live In Delaware For 2021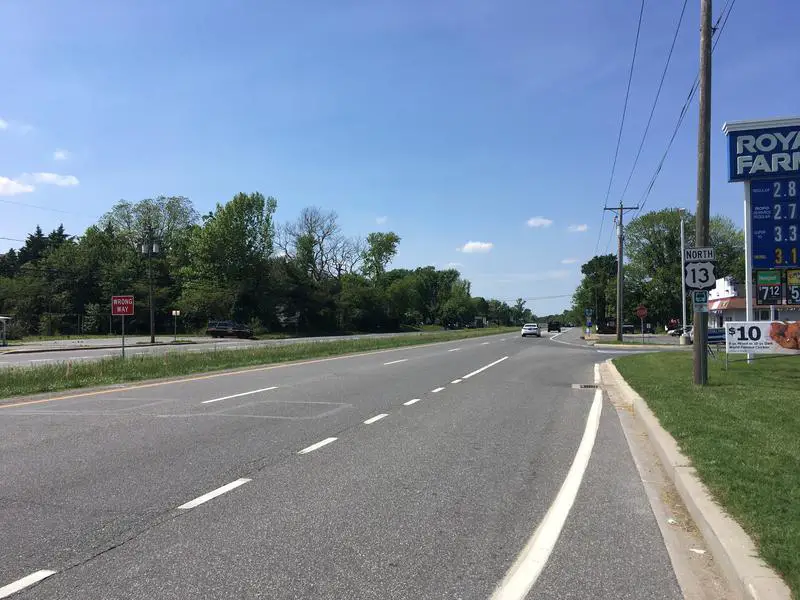 Cheswold, yet another suburb of Dover, ranks as the most affordable place to call home in Delaware. If you're just looking to see where the absolute cheapest homes in Delaware are, you can stop reading after this, because the answer is Cheswold. You can snag a house in Cheswold for just $78,500. Even more importantly, Cheswold's residents spend the smallest proportion of their income on homes. On the downside, Cheswold does have the least affordable rent on this list. And just because you're living in a super-cheap place, doesn't mean there isn't rich-person stuff to do around, like playing a round of golf at Garrison's Lake.
We're taking a short drive south to arrive at our second cheapest city in Delaware, Felton. Not many state parks can boast that they contain a water park, making Felton's Killens Pond pretty special. If you want to give Felton a try, rent will cost you around $859/month. Overall, folks in Felton spend the fourth smallest percentage of their income on rent statewide. It's even better for home-buyers, who get the seventh best deal in Delaware, based on home price to income ratio.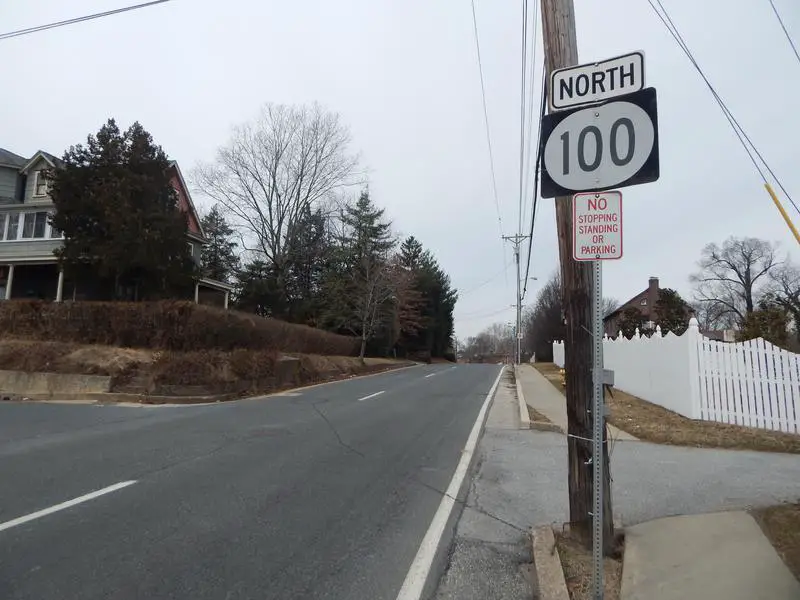 Elsmere, Delaware, is considered the first suburb in northern Delaware. It was conceived in the late 1800s as real-estate venture. Nowadays, it's still a haven for commuters, sitting 45 minutes from downtown Philadelphia, just over the border in Pennsylvania. More than that, Elsmere offers great cost-of-living value. It's the number 3 cheapest place in Delaware to call home.
The influence of Philly gives Elsmere an economic boost. The area sports a median income of $61,275 and an unemployment rate of 5.15%.
The 5,943 people living in the community also have access to affordable housing. The median home value sits at $174,700, the eighth cheapest figure in the state. Rents are low as well, with a median value of $1,035 per month.
Proximity to a major metropolitan area gives Elsmere's residents easy access to exciting activities. But if they want a break from big-city fun, they an also head down the Delaware River for something more outdoorsy. The Augustine Wildlife Area is one of a number of nature-focused attractions nearby.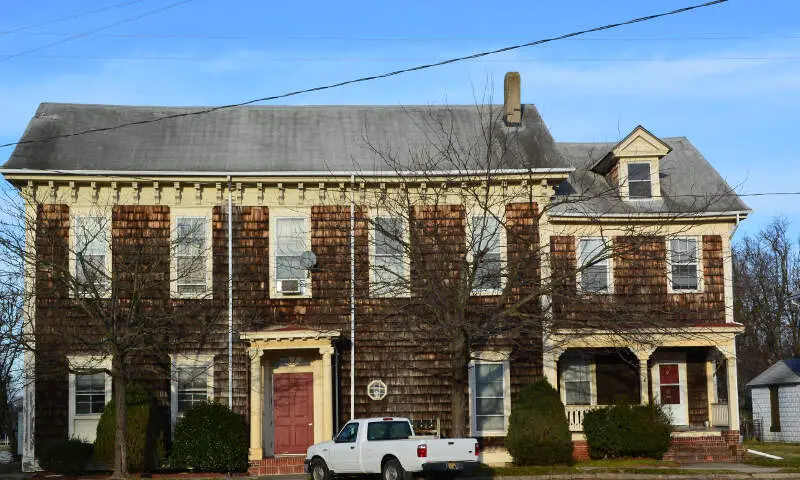 We begin our journey through the most affordable places to live in Delaware in Wyoming, a suburb of Dover. Homesnacks has already give Wyoming serious kudos by naming it one of the best places to live in Delaware, so this new distinction as the cheapest place to live is an excellent bonus. Wyoming has rock-bottom unemployment and poverty rates, so you know everyone gets a piece of the pie here. While Wyoming is far from having the cheapest homes for sale in the state, with a median price of $186,200, what it does have is a populace earning a median income of $63,708. That gives Wyoming the eighth best home price to income ratio in the state. Wyoming hosts a Peach Festival every year that brings in tourists from near and far.
Blades, Delaware, is a small town located in the southeastern part of the state, about 10 minutes from the Maryland border. Nestled into a bend in the Nanticoke River, it sits across the water from the larger town of Seaford. This quaint community of 1,374 people also counts as one of the most affordable places to live in Delaware.
Without a major metropolitan area nearby, the economy in Blades is relatively weak. The median income stands at $53,462 while the unemployment rate hovers at 7.21%. While the job market is tough in the region, residents do benefit from a saving grace. At least the area is cheap to live in.
The median home value comes in at $154,700. That represents the third lowest mark in the state. Not in the market to buy just yet? Well, you can find cheap rents as well. The median value there sits at $1,045 per month.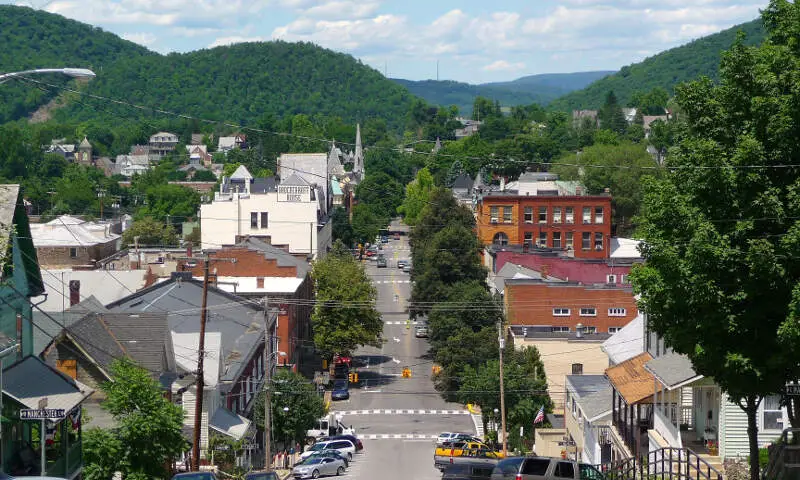 Our first representative of Wilmington's suburbs to make this list, Bellefonte ranks as the sixth least expensive place in the Diamond State. If you're looking for love, but don't have a big budget for such a venture, Bellefonte might just be the perfect place for you. Not only is Bellefonte super affordable, it's also one of the best cities for singles in Delaware. For a cheap date idea, pack a picnic and head on over to Fox Point Park. While the cost of Bellefonte's homes and rent are sort of high at $226,300 and $1,078/month respectively, folks here also earn a median income of $79,063. That means that Bellefonte has the fifth best home price to income ratio and sixth best rent to income ratio in Delaware.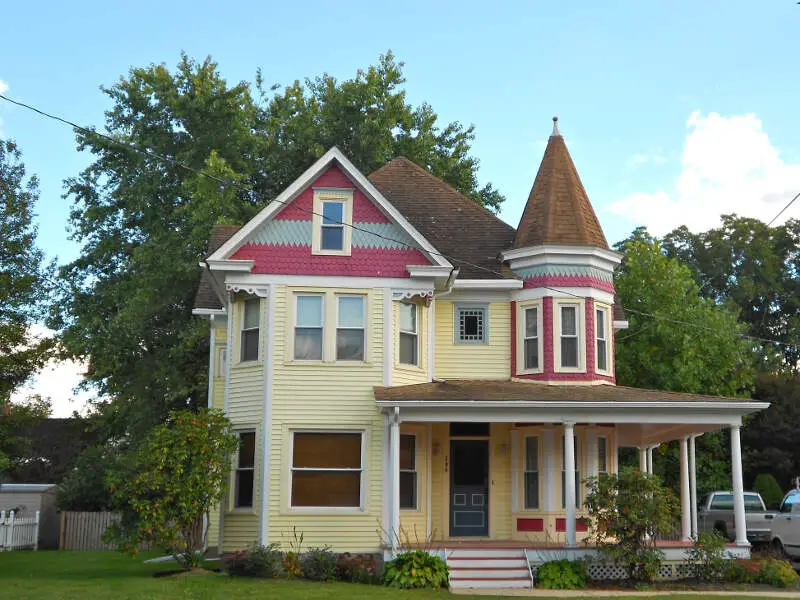 You might think we're crazy for including Townsend on this list. After all, with homes costing around $331,500 and rent going for $1,591/month, Townsend has the most expensive housing you'll see on this list by a substantial margin. However, Townsend is also one of the richest places in Delaware, so things even out nicely for residents. Townsend has an incredibly low rate of unemployment and a high median income of $119,417. Because of this, Townsend is in the top five statewide for housing to income ratios, both for renters and buyers. Just be sure you have a lucrative gig lined up before you make the move, or else Townsend's affordability might not be super apparent for you.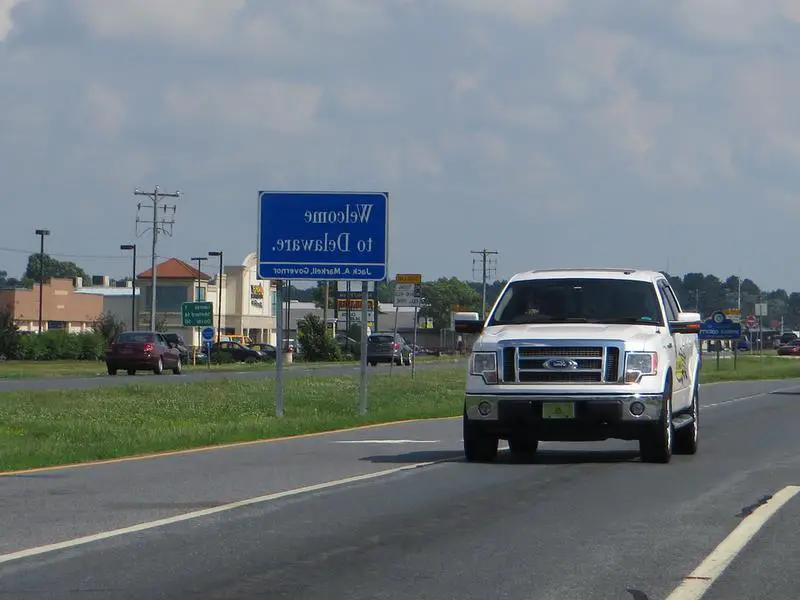 Next up on our list of uber-affordable spots in Delaware is Delmar, the southernmost place to make this list. It was in Delmar that the drawing of Mason-Dixon line began and we definitely recommend visiting the grounds that mark this historic event. Delmar has the second cheapest homes for sale in Delaware, with a median price of $148,100. If you'e looking to rent in Delmar, it'll cost you about $774/month. That's nearly half the average rent in Delaware.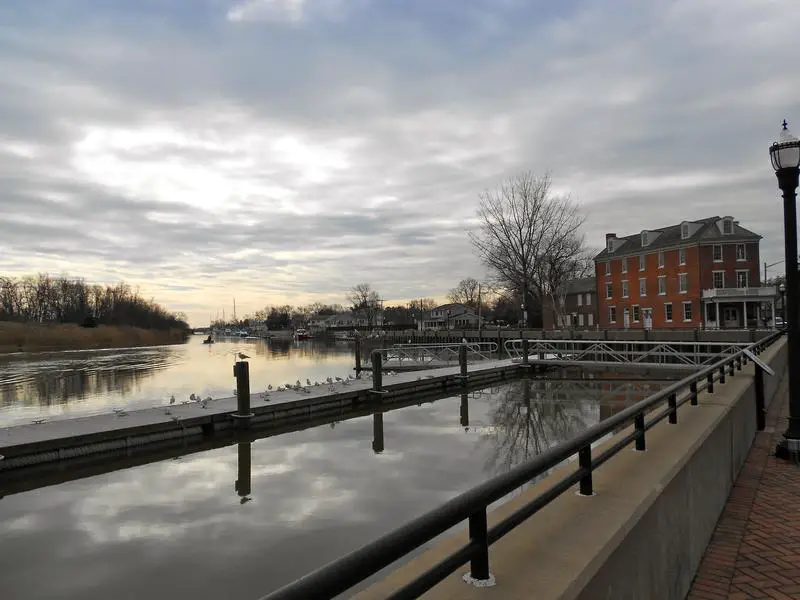 Source: Public domain
Wrapping up our list of most affordable places to live in Delaware is Delaware City, a teeny city just outside of Bear.
Delaware City's inclusion on this list is due to the fact that it's across-the-board affordable. It doesn't have the cheapest homes or lowest rent, but a solid housing cost to income ratio in both categories keep it pretty attractive for those on a budget. Whether you're just visiting or in it for the long haul, definitely take the ferry out to Pea Patch Island and have a look at Fort Delaware, an epic fortress within a state park that history and architecture buffs alike will enjoy.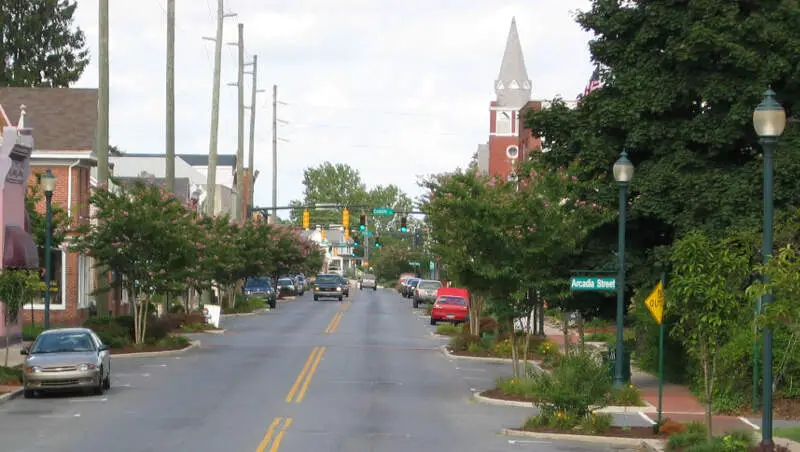 Seaford comes in as the tenth cheapest place to call home in Delaware thanks to the low cost of homes and being an equally affordable place to buy or rent. The median home price in Seaford is $170,300 and the median rent is $859/month. If you move here, be ready for a big party every summer, because the Nanticoke Riverfest draws visitors from all around. The one big negative of Seaford is that it has the unfortunate distinction of being one of the the most dangerous cities in Delaware.
How We Determined The Most Affordable Places To Live In The First State For 2021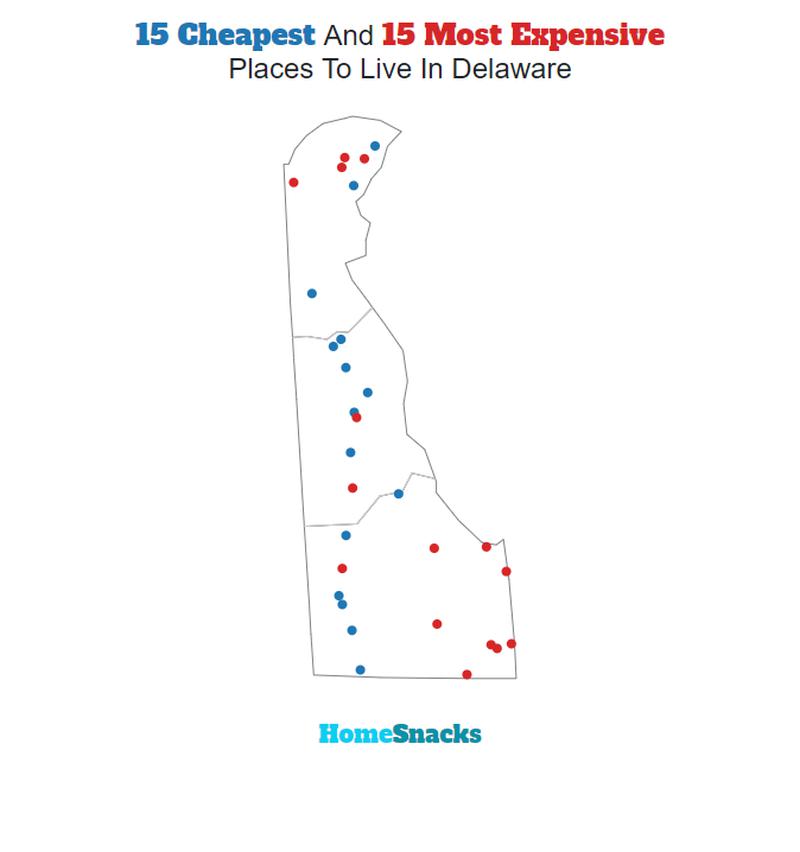 The two most important things to think about when it comes to being able to afford if you can live comes down to:
How much do money do I make?
How much do I have spend to live there?
You need to understand your costs in the context of how much money you make.
For example, if the median household earns $100,000 and spends $40,000 on housing it's actually cheaper to live there than a place with a median income of $50,000 and housing costs of $21,000. You might spend more on housing, but you have more money overall to play with.
With that example in mind, we derived several statistics from the latest Census American Community Survey 2015-2019 around incomes and costs. They are:
Median Home Price / Median Income (lower is better)
Median Income / Median Rent (Higher is better)
Median Home Price
We added simply median home price because high home prices generally correlate with higher expenses for all costs related to homes (heating, electricity, etc).
You can then compare these metrics in each of the places in Delaware to figure out which is the least expensive.
What you are left with is a "Cost of Living Index" by taking the average rank of each of these metrics for each city.
So we used that cost of living index in order to rank all of the 32 places in Delaware that have more than 1,000 people.
The place with the lowest cost of living in Delaware according to the data is Cheswold. You can download the data here.

There You Have It Mr. Or Mrs. Delaware Cheapskate
If you're looking at the cost of living numbers in Delaware, this is an accurate list of the most affordable places to live in Delaware for 2021.
Here's a look at the most expensive cities in Delaware according to the data:
Millville
Newark
Newport
For more Delaware reading, check out:
The Most Affordable Places To Live In Delaware
Editor's Note: We updated this article for 2021. This is our seventh time ranking the cheapest places to live in Delaware.