Article Table Of Contents   
(Skip to section)
If you want four seasons, down-to-earth, friendly people, and no state or personal tax, you can find it in New Hampshire. You can also find some of the best places to live in the country.
While the whole place is downright lovely, some spots in the Granite State deserve special attention for standing out as truly extraordinary. This is why HomeSnacks created a list of the top ten best places to live in New Hampshire for 2022. New Hampshire's best places all exude gold star qualities like affordable housing, jobs that provide a nice income, and excellent schools. And that, folks, is just the beginning.
The places on our list have some of the best farmers' markets, farm-to-table dining, and just an all around healthier outlook. It must be working because New Hampshirites have one of the highest life expectancy rates. Don't worry, New Hampshire has some great places to retire to as well. We can also thank some of New Hampshire's best places for Segway, Stonyfield Yogurt, and Badger Balm. Not only are these New Hampshire companies making products people love, they are helping to create jobs. And those jobs are keeping New Hampshire's economy strong with a 2.4 % unemployment rate.
To see the places that made our exclusive best of the best places to live in New Hampshire for 2022, take a look below.
The 10 Best Places To Live In New Hampshire For 2022
How did we determine the best place to live in New Hampshire for 2022. We looked at the most recent FBI and Census data. The competition was fierce to say the least, but there can be only one best place to live in New Hampshire. What's the best place to live in New Hampshire? That would be Hanover.
We are not at all surprised. Hanover has affordable homes, great jobs, Blue Ribbon schools, and super nice people.
To see what other places made our list, keep reading. And if you don't see your favorite there, head on down to the bottom.
If you're looking for something more national, check out the best states in America or the best places to live in America.
For more New Hampshire reading, check out:
The 10 Best Places To Live In New Hampshire For 2022
We begin our exploration of the best places in New Hampshire with Hanover, the home of Dartmouth. A young, progressive college town jam-packed with culture, life in Hanover is a dream come true for those who enjoy the intellectual side of things. Having the Appalachian Trail run through your town and the Connecticut River run beside it means there's plenty to love for outdoorsy folks as well.
It goes without saying that this Ivy League enclave is super-smart; over 70% of residents have a bachelor's degree, and 40% have a master's degree or higher. Hanover also enjoys the 3rd lowest crime rate in New Hampshire. Even if you do get banged up here, 97.6% of residents have health insurance, the 2nd highest rate statewide. And the drive to and from work shouldn't be too stressful in Hanover, because the city has the 1st shortest average commute time in New Hampshire at 16 minutes. Just know that housing in Hanover is 80% higher than the statewide average, with homes selling for around $503,300 and rent going for $1,657/month. That's alright, though, because Hanover also has the 3rd best-paid population in the state, with a typical household bringing in $79,844/year.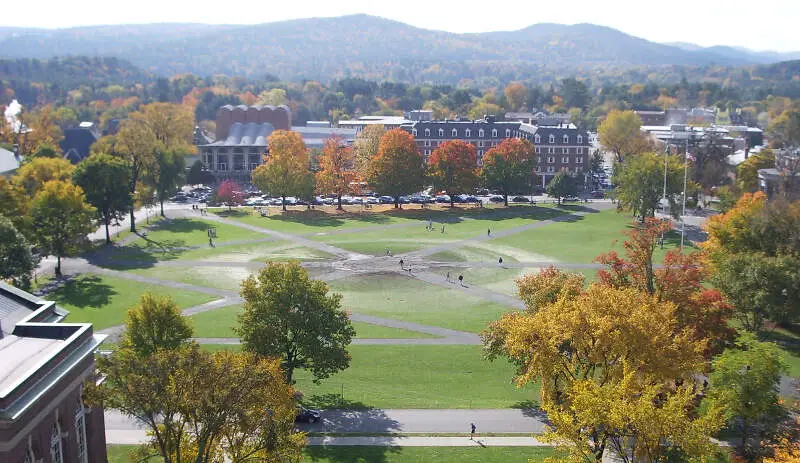 Source: Public domain
Located on the south bank of the Piscataqua River on the border of Maine, Portsmouth is a historic seaport and tourist destination with a population of 21,418. You'd find it hard to be bored in Portsmouth, from exploring the the Market Square's shops and surrounding restaurants, to visiting cultural hotspots like the Strawberry Banke Museum, catching a performance at the local theatre or music hall, or simply taking in the natural beauty at Prescott Park.
Public schools in Portsmouth consistently outperform the statewide average in test scores and graduation rates by a wide margin, so you know your kiddos are getting off to a great start here. Poverty and unemployment both rank in the top ten statewide, at 6.6% and 1.6% respectively. The only rub is that Portsmouth is one of New Hampshire's most expensive cities, with a cost of living roughly 30% higher than the national average. Homes here are the 2nd priciest in the state at $456,200/year, but median household income also ranks as the 5th highest in New Hampshire at $78,712/year, so it all evens out.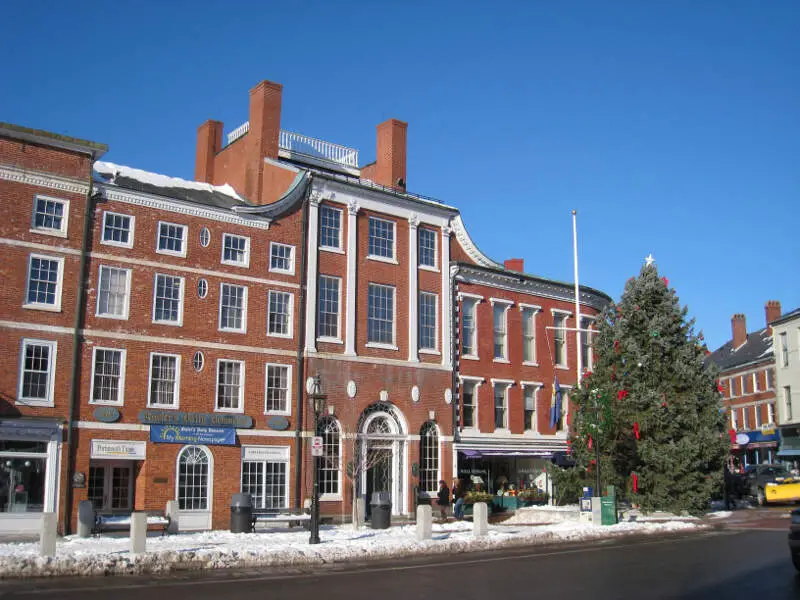 Source: Public domain
Home to the University of New Hampshire, Durham is a historic university town situated beside Great Bay near the Maine border. From Durham, a short drive is all it takes to find yourself hiking a mountain, strolling beside a lake or river, or spending the day at the beach. Or taking advantage of the many attendant amenities that come with having the largest state university in your backyard. No wonder we named Durham the best city for families in New Hampshire.
Nearly 80% of residents have a college degree, and a whopping 45% have a master's, PhD, or professional degree, so start studying up for pub quiz night in Durham. Unsurprisingly, it's also the youngest community on this list, with a median age of 20. These young whippersnappers know how to keep things civil, though, seeing as Durham's crime rate is 85% below the national average and ranks as the 3rd lowest statewide. A typical Durham home sells for around $373,100, the 4th priciest in the state, but the median rent here is $1,035/month, which is well below the average rent in New Hampshire.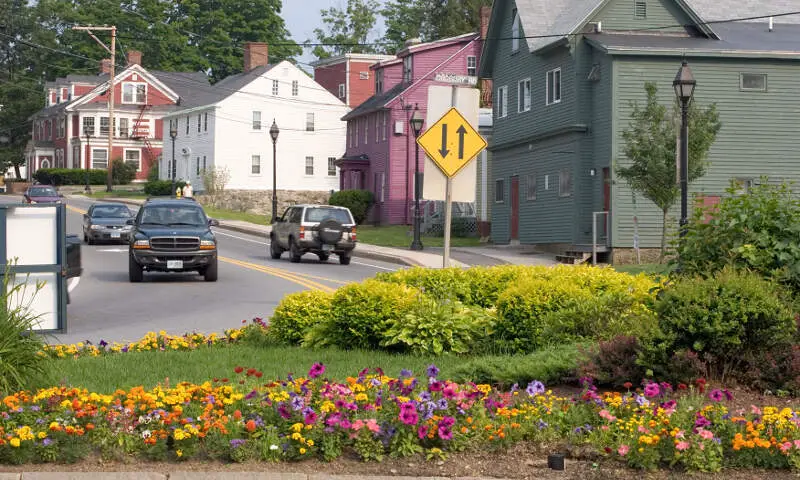 The last stop on our tour of New Hampshire's best places is Dover, the largest city in New Hampshire's Seacoast Region. Dover's tree-lined downtown is jam-packed with an eclectic array of shops, studios, galleries, and restaurants, so you'll never run out of new things to try. It's part of the reason we named Dover among the best cities for singles in New Hampshire. For those who already have a family, it's pretty great having the Children's Museum of New Hampshire in town. Older folks might prefer the Woodman Institute Museum, named the best small museum in New England by Yankee Magazine, where you'll find a nice mix of natural science, art, and history.
All these great features have increased demand to live in Dover, which is why it's grown so quickly in the past decade. Dover has the 5th lowest crime rate in the state, so you won't have to worry much about all these new neighbors. Homes in Dover are the 8th most expensive in the state at $274,100 and rent goes for around $1,184/month.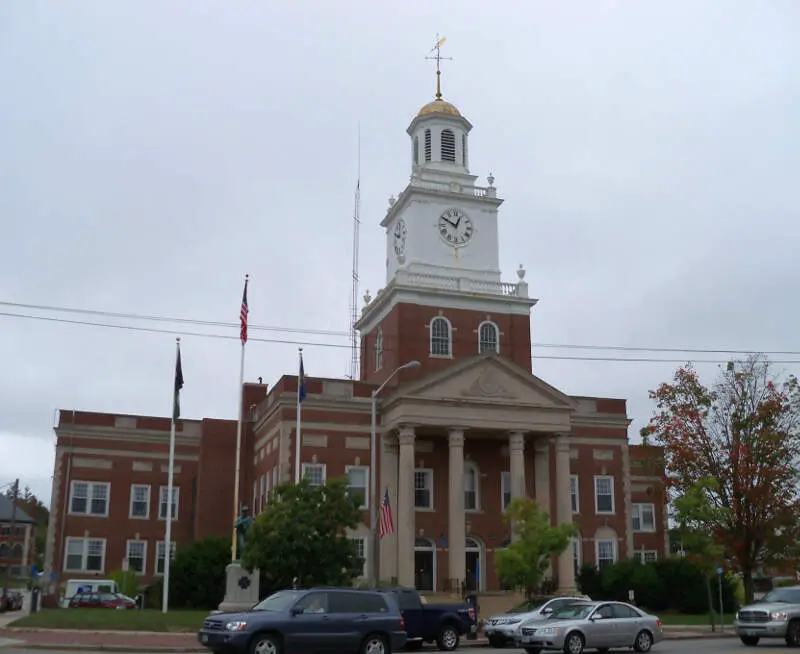 Situated between Manchester and Portsmouth, Newmarket comes in as New Hampshire's 5th finest place to call home. Whether you're a night owl who wants to sip local craft brews at Deciduous Brewing Company, an early worm who wants to enjoy "Newmarket's living room," Crackskull's Coffee & Books, or somewhere in between, Newmarket has you covered.
Newmarket has the 2nd lowest overall crime rate in New Hampshire, about 75% below the national average. Which makes sense when you also have the lowest unemployment rate statewide — folks with steady incomes typically steer clear of criminal activities.
Speaking of income, Newmarket residents enjoy a median household income of $69,259. Homes in Newmarket have a median value of $269,900, the 9th priciest in the New Hampshire.
Besides good schools, safe streets, and a low poverty rate, Newmarket is just plain energetic. The median age is a young 35, 49% of adults are highly educated, and it's the 4th most densely-populated spot in New Hampshire. Fun stuff happens in Newmarket because all the conditions are perfect for it.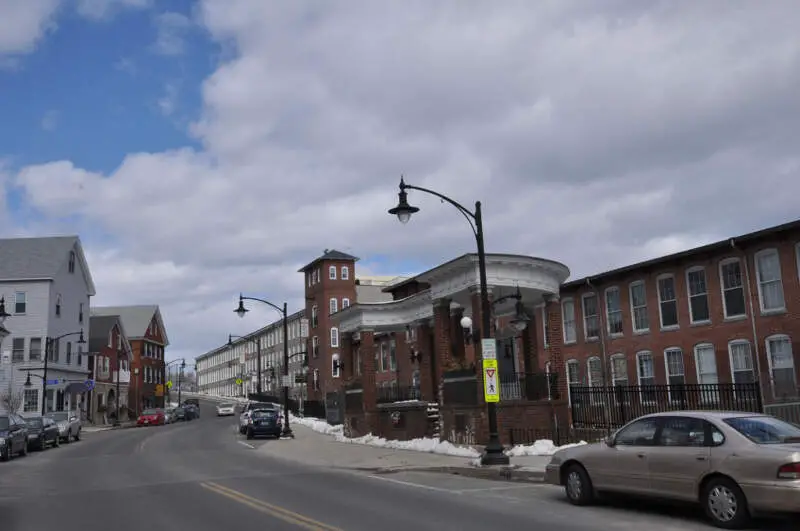 Exeter is a town of 9,349 located in the Seacoast Region of southeastern New Hampshire, smack dab in the middle of Boston and Portland. Tree-line streets, quaint boutique shops, historic homes, and museums work together to make Exeter a quintessential New England town. It's a short drive to Hampton's beaches, Portsmouth's fine restaurants, and Kittery's outlet shopping, but you don't need to leave town for natural beauty. You can get your fill of that at Swasey Parkway. It's no wonder we featured Exeter on our list of the best places to retire in New Hampshire.
Exeter is one of the least expensive places we'll be covering here, with a cost of living basically in line with the New Hampshire average. Homes here have a median price tag of $240,500 and you won't find cheaper homes any place on this list. The poverty rate crime rate in Exeter both rank as the 7th lowest in the state as well, so hardships are few and far between in Exeter.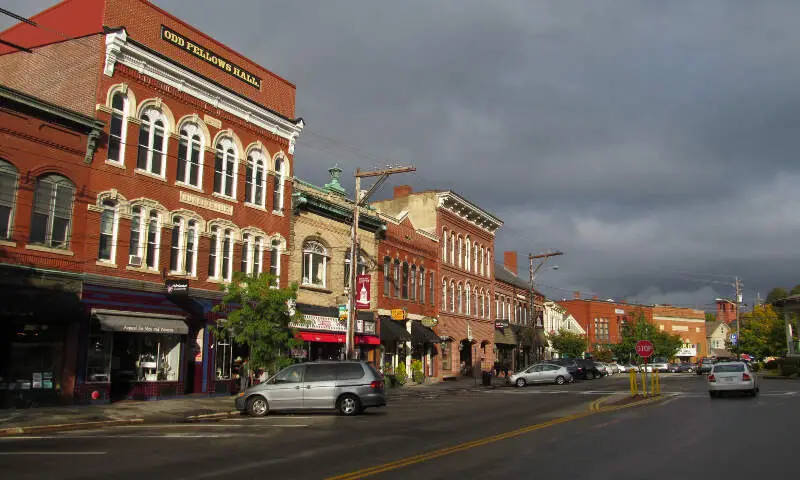 Located just south of Portsmouth, Hampton is another of New Hampshire's coastal destinations. A charming seaside resort, Hampton offers a relaxed small-town vibe without skimping on the entertainment. Folks come from near and far to visit Hampton Beach, so being a local who can drop in anytime is pretty special. Hampton is also home to one of New England's oldest craft breweries, Smuttynose, which also serves some top-notch pub grub.
Just come ready to wine and dine with the state's elite, because Hampton is among the richest places in New Hampshire. The median household income in Hampton is $82,092/year, the 2nd highest statewide. Homes have the 3rd steepest price tag in New Hampshire at $390,500 and rent goes for around $1,374/month. But it's not like the 1% are laughing it up while their neighbors struggle to get by; Hampton has the 2nd lowest poverty rate in New Hampshire at 3.1% and unemployment is safely sub-2%.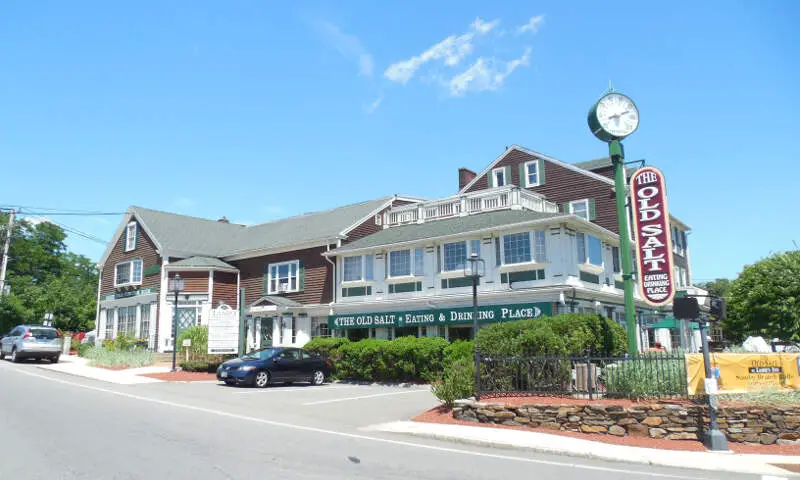 Located 20 minutes south of Manchester, Londonderry ranks as the 8th best place to call home in the Granite State. The headquarters of Stonyfield Farm is located in Londonderry, so the freshest organic food won't have far to travel to arrive in your home. The town has a strong farming heritage that's on display at several orchards where you can pick your own produce and enjoy goodies from the farm stands.
The poverty rate in Londonderry ranks as the lowest statewide at 2.6% and unemployment sits at a very low 4.5%. Londonderry also has the 7th highest rate of residents with health insurance in New Hampshire at 95.4%. Homes are the 5th priciest in the state at $331,800 and rentals go for around $1,491/month. Luckily, residents also enjoy the highest median household income in New Hampshire at $107,813/year. If the political affiliation of your community is an important factor for you, know that Londonderry also ranks among New Hampshire's most conservative cities.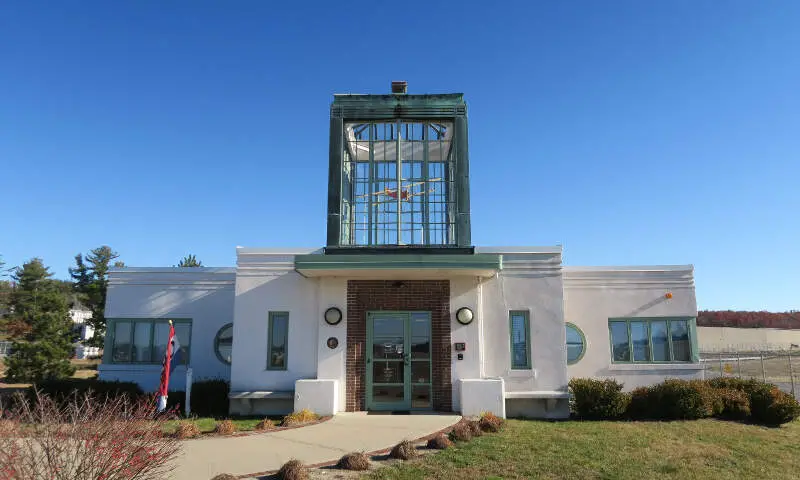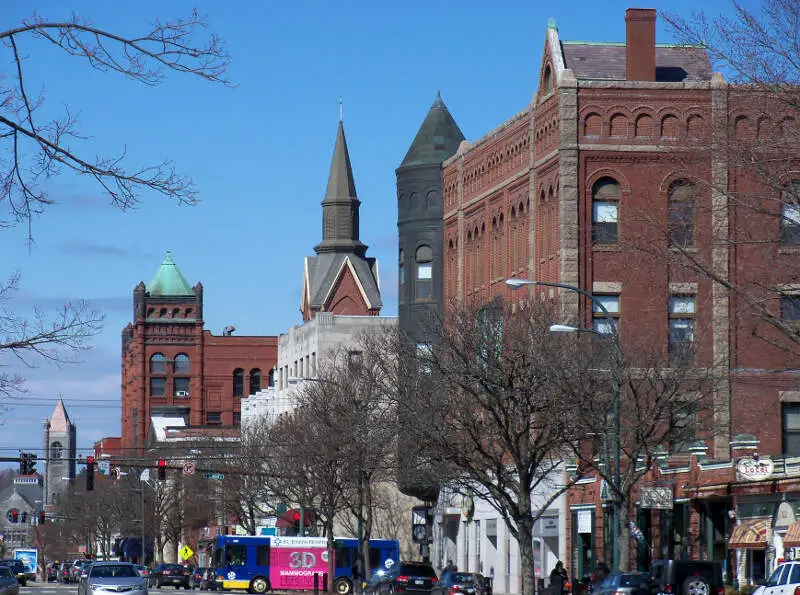 Mapping The Best And Worst Places To Live in New Hampshire
The Pressing Question: Size
Before we even started to collect data, we had to answer a tough question: Is it fair to pit Concord with a population of 43,503 against places with a population of 18?
We firmly decided no, that just isn't fair.
So to create our ranking, we broke places to live into three tiers:
Cities — Populations over 5,000
Towns — Populations between 1,000 and 5,000
Small Towns — Populations below 1,000
This left us with 25 cities, 38 towns, and 26 small towns.
We then decided, no matter how much anyone loves their town, the best cities to live in New Hampshire have more of everything and therefore you need to have over 5,000 people to truly be 'the best'.
Now we also realize that city living might not be your cup of tea, so we ran the following analysis on towns and then again for small towns.
You can see those two top tens at the bottom of the post.
Methodology: How We Calculated The Best Cities To Live In New Hampshire
Now that we had our set of cities, it was time to rank them.
We ranked each place in New Hampshire across a number of criteria from one to 25, with one being the best.
We then took the average rank across all criteria, with the city posting the lowest overall score being crowned the winner of the title "Best Place To Live In New Hampshire".
The criteria we looked at were:
Median Home Values
Median Income
Population Density (Higher better)
Unemployment Rate
Commute Time
Crime
Education Levels
Health Insurance Coverage
Poverty rates
Sources of criteria include the New Census Data and FBI Crime Data. You can download the data here.
After the dust settled, what was the best place to live in New Hampshire? That would be Hanover.
If your city or town isn't among the top 10, jump down to the bottom of the post to see a detailed chart of the best places in New Hampshire.
Otherwise, buckle up for a ride down good living lane with Hanover at the end of the cul-de-sac.

Summary: The Best Places When It Comes To Living In New Hampshire
If you're looking at areas in New Hampshire with the best economic situations, where there's lower than average crime, and a lot to do, this is an accurate list.
Hanover made a strong showing to take in the overall number one spot for the best place to live in New Hampshire for 2022.
Best Towns To Live In New Hampshire
Charlestown (Pop. 1,374)
Goffstown (Pop. 3,225)
Contoocook (Pop. 1,773)
Gorham (Pop. 1,582)
Henniker (Pop. 1,598)
Hooksett (Pop. 4,149)
Hillsborough (Pop. 2,037)
Enfield (Pop. 1,272)
Hampton Beach (Pop. 2,264)
Peterborough (Pop. 3,015)
Best Small Towns To Live In New Hampshire
Amherst (Pop. 670)
Loudon (Pop. 782)
Walpole (Pop. 401)
Hancock (Pop. 201)
Plainfield (Pop. 282)
Newfields (Pop. 323)
New Hampton (Pop. 367)
Warner (Pop. 473)
Seabrook Beach (Pop. 958)
North Haverhill (Pop. 898)
If you're curious enough, here are the worst places to live in New Hampshire according to the data:
Rochester (Pop. 31,305)
Newport (Pop. 5,530)
Berlin (Pop. 10,025)
For more New Hampshire reading, check out:
Where Are The Best Places To Live In New Hampshire?
| Rank | City | Population |
| --- | --- | --- |
| 1 | Hanover | 8,744 |
| 2 | Portsmouth | 21,418 |
| 3 | Durham | 12,016 |
| 4 | Dover | 31,922 |
| 5 | Newmarket | 5,737 |
| 6 | Exeter | 9,349 |
| 7 | Hampton | 10,002 |
| 8 | Londonderry | 12,053 |
| 9 | Hooksett | 5,517 |
| 10 | Nashua | 89,052 |
| 11 | Lebanon | 13,718 |
| 12 | Somersworth | 12,027 |
| 13 | South Hooksett | 5,911 |
| 14 | Derry | 22,891 |
| 15 | Franklin | 8,695 |
| 16 | Hudson | 7,230 |
| 17 | Concord | 43,503 |
| 18 | Keene | 22,823 |
| 19 | Milford | 8,644 |
| 20 | Laconia | 16,584 |
| 21 | Claremont | 12,969 |
| 22 | Manchester | 112,441 |
| 23 | Rochester | 31,305 |
| 24 | Newport | 5,530 |
| 25 | Berlin | 10,025 |
Editor's Note: We updated this article for 2022. This is our ninth time ranking the best places to live in New Hampshire.