Editor's Note: We updated this article for 2021. This is our seventh time ranking the best neighborhoods to live in Los Angeles.
Article Table Of Contents   
(Skip to section)
What is it about Los Angeles, California that makes 3.8 million people want to live there?
Well besides the obvious: 284 days of sunshine, great beaches, and the hopes of spotting a famous person to name a few, we discovered that people are starting to flock to Los Angeles because The City of Angels has some of the best neighborhoods in America. And lucky for you, HomeSnacks has created a guide to those great neighborhoods and the top ten best neighborhoods in Los Angeles for 2021 are listed below.
But before you scroll down, you should probably know a little bit about how we ranked these LA gems. In order to determine the best, we had to give each neighborhood an actual concrete score: we call this a neighborhood's overall 'Snackability'. To get this score, we looked at the latest data on income levels, unemployment rates, crime, and home prices for 83 Los Angeles neighborhoods with over 1,000 residents. Incidentally, this is our seventh time ranking Los Angeles' best neighborhoods, so trust us when we say that these are the best of the best.
And folks, there's a lot of fun to be had in Los Angeles' best neighborhoods. For example, you can walk Universal Studios on a daily basis if you choose to live in Century City, you can visit the Brentwood Farmers' Market every Saturday if you choose LA's Westside, and you can go for a dip in the ocean if you choose Pacific Palisades
Want to know more? We recommend that you grab yourself a fresh avocado and kale smoothie, head to a shady park in Bel Air, and read on as we divulge Los Angeles' best neighborhoods.
The Best Neighborhoods In Los Angeles For 2021
The biggest cities in most states do tend to have the most problems; and while Los Angeles does have its fair share of problems and some pretty dangerous neighborhoods, it does have some of the best, most unique, neighborhoods to call home.
So, what's the best neighborhood in Los Angeles for 2021? That would be Mar Vista.
To see how your favorite LA neighborhoods compared, take a look at the list below; and if you don't see it there, head to the bottom.
For more California reading, check out:
The 10 Best Neighborhoods To Live In Los Angeles
If you want to live close to the Los Angeles Airport and close to Venice Beach, but not on the beach, then Los Angeles' first for 2021 neighborhood should be right up your alley.
But, folks, the Mar Vista neighborhood comes with a price. Homes in this neighborhood will run you around $797,290 and the median income is around $78,017. Fortunately, however, it's cheaper to rent in Mar Vista than buy. With rental rates currently topping $1,576, this gives you an opportunity to check out the neighborhood at discount before making any major, life changing, financial decisions.
Westwood is the largest neighborhood in terms of population on our list, currently recording 55,285 residents.
The bonus to this neighborhood, it's super safe. It ranked the fourth safest neighborhood on our list.
The one downfall to this neighborhood, however, is that the unemployment rate is currently above the national average at 5.0 percent. This tells us two things: 1).You should probably have a job in mind before you consider Los Angeles' second best neighborhood; and 2). Local notables like Mila Kunis and Johnny Depp won't live next to just anyone.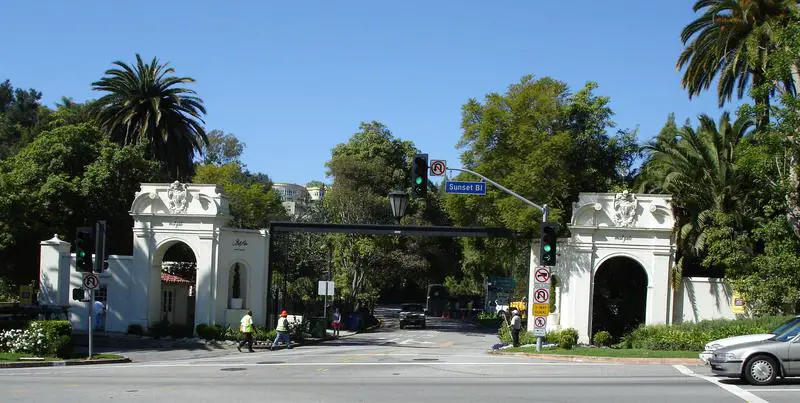 Source: Public domain
You, too, can live in Los Angeles' third best neighborhood if you can afford to buy a $1,853,384 home.
But don't let that price tag scare you. Bel Air, or Bel Air Estates as the locals call it, does have its many perks. It's located in the Westside area of LA in the foothills of the Santa Monica Mountains; and, people, it's gated. Probably why it's LA's third safest neighborhood.
Bel Air is another lightly populated neighborhood that made our list reporting only 8,746 residents. So, if you're into living next to older, well-educated neighbors who make a lot of money, definitely give Bel Air a second look.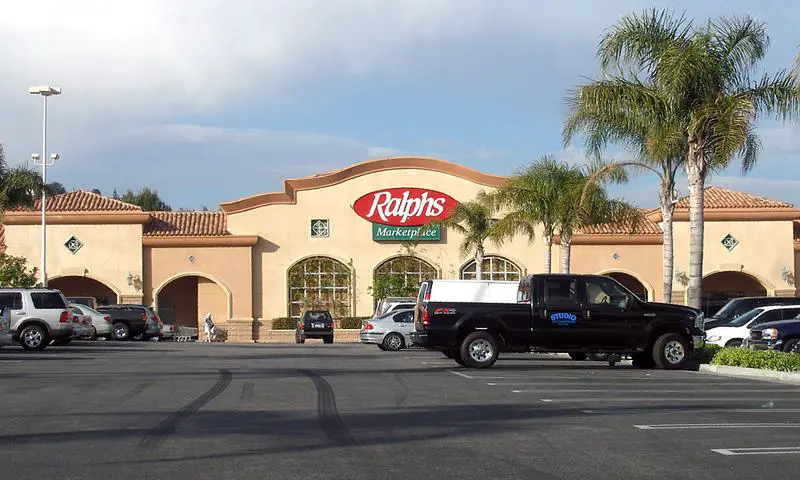 Los Angeles' fourth neighborhood for 2021 is not just any ranch, it's Porter Ranch.
Hailing from the northwest area of LA in the San Fernando Valley region, the fourth best neighborhood on our list does not disappoint. Porter Ranch has less expensive homes with the average around $681,550 and a higher than average rent rate at $2,763. So, buy, don't rent, if you're considering Porter Ranch: it will be easier on your pocket book.
And word on the street, the Porter Ranch neighborhood is one of the best kept secrets in California.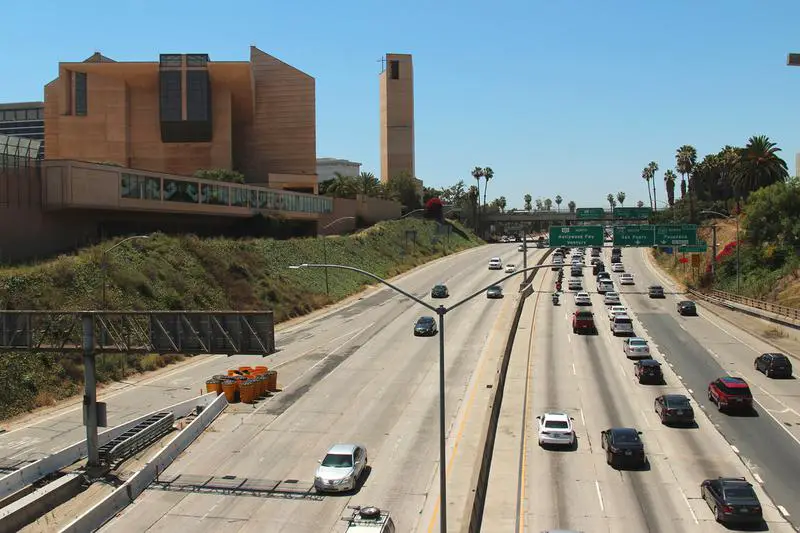 Located on the corner of the 405 and the 10 is the fifth best neighborhood in the City of Angels, West Los Angeles.
This is one of the many neighborhoods on the list that hails from the northwest side of LA. And can we just say, if you like shopping at Santa Monica's Third Street Promenade, you will be super close if West Los Angeles is your jam.
The homes in West Los Angeles are going to run you around $1,114,810, but the neighborhood is super worth it.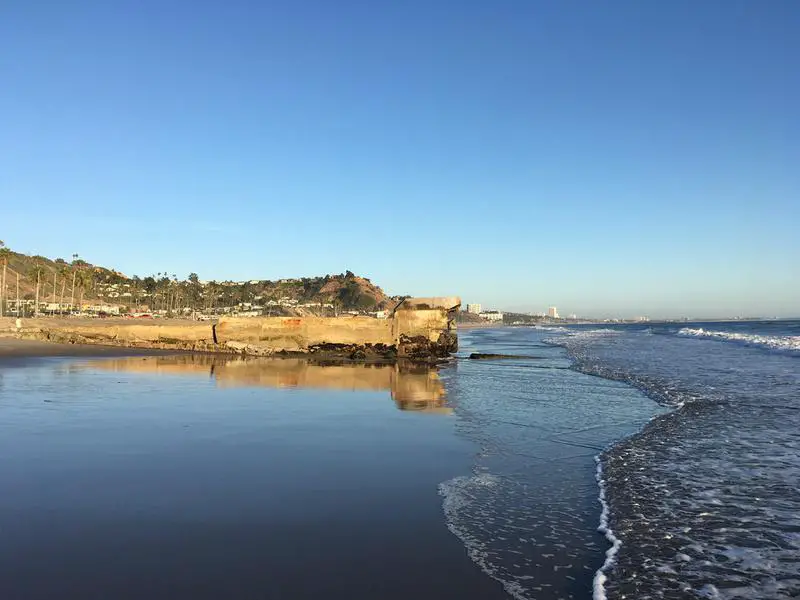 If you guessed that Los Angeles' sixth best neighborhood, Pacific Palisades, got its name because it is located on the Pacifc coastline, you guessed right.
But I bet you didn't know that if you want to live in this coveted LA neighborhood, you're going to have to make the big bucks and you're going to have to drop those big bucks on a home if you choose to buy or rent. Pacific Palisades is currently the second wealthiest and has the second most expensive homes on our list.
So, if you're looking for a true LA gem, look no further than Pacific Palisades.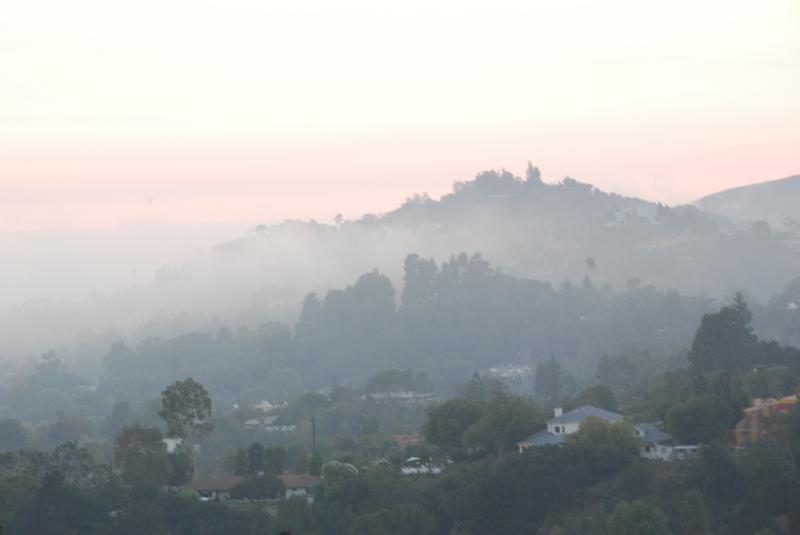 There are many advantages to living in Los Angeles' seventh best neighborhood, Brentwood. For one, you have a better chance of having your bike stolen than getting mugged. This neighborhood only had 371 violent crimes recorded at the time of this report, making them the seventh safest on our list.
Secondly, Brentwood scored off the charts on our snackability scale with an emphasis on education and employment, too. So, if you're looking for a safe place to send your kids to school, walk your dog, and/or go to work, Brentwood delivers.
The Museum of Jurassic Technology and the Woodbine Park are two of the reasons why Palms is the eighth best neighborhood in Los Angeles, but they're not the only reasons.
Made up of Craftsman and Spanish Colonial style homes, the Palms neighborhood is another neighborhood that made our list with only 44,417 residents. It is also LA's 15th least dangerous.
Most people get to Palms via the 405 and the 10 freeways, but the coolest feature in this neighborhood is that you can get to it by LA's only rail line, the Metro Expo Line.
Not only is Sawtelle the ninth best neighborhood in Los Angeles, it is the largest neighborhood on our list in terms of population.
The Sawtelle neighborhood has a lot to be proud of: they moved up 12 spots to clinch the ninth place rank to live. The average home price is $781,023. If you know anything about California real estate, this is quite the victory.
Sawtell is also the eighth neighborhood to make our top ten list from LA's Westside. It's starting to make us wonder what they're putting in the water over there.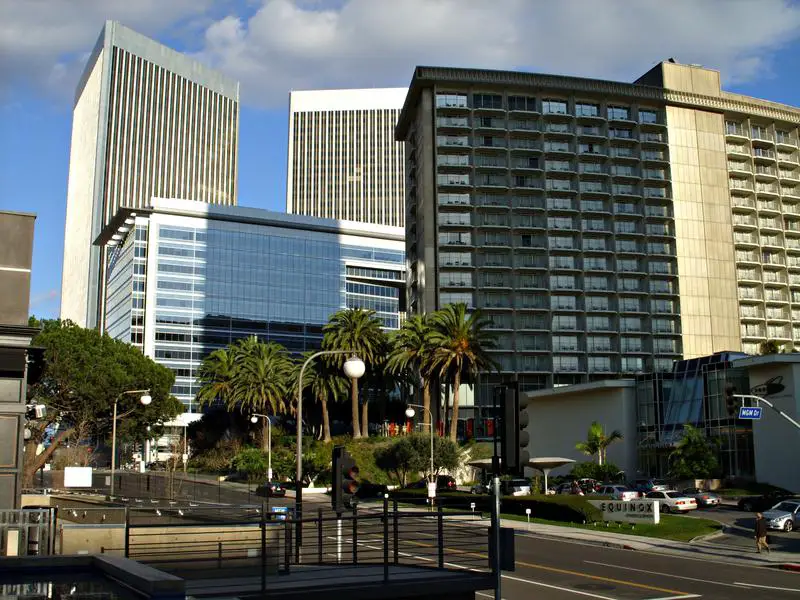 What happens when you mix people with great jobs, $113,367 as the average income, and $1,026,067 as the average home price? You get the tenth best neighborhood in Los Angeles for 2021, Century City.
Century City has the smallest population on our list with only 5,574 residents; but what they lack in numbers, they make up in chutzpah: they've had 57,086 property crimes recorded already this year.
On a lighter note, Century City is the second best neighborhood to find a job on our list. Must be all of that very important Tinseltown stuff happening there.
How We Determined The Best Los Angeles, CA Neighborhoods In 2021
In order to rank the best neighborhoods in Los Angeles, we had to determine what criteria defines a "best".
Using crime, census, and extrapolated BLS data, we arrived at the following set of criteria:
High incomes
Low unemployment rates
Low crime
High home prices
High population densities (A proxy for things to do)
We then ranked each neighborhood with scores from 1 to 83 in each category, where 1 was the best.
Next, we averaged the rankings for each neighborhood to create a best neighborhood index.
And finally, we crowned the neighborhood with the lowest best neighborhood index the "Best City Neighborhood In Los Angeles." We're lookin' at you, Mar Vista.
Read on below to learn more about what it's like to live in the best places Los Angeles, California has to offer. Or skip to the end to see the list of all the neighborhoods in the city from best to worst.
Putting A Bow On Our Analysis Of The Best Neighborhoods In Los Angeles
If you're measuring the neighborhoods in Los Angeles where crime is low and everyone wants to live, this is an accurate list.
As we mentioned earlier, the neighborhoods in Los Angeles aren't all good. Fashion District takes the title of the worst neighborhood to live in Los Angeles.
We ranked the neighborhoods from best to worst in the chart below.
For more California reading, check out:
Detailed List Of The Best Neighborhoods To Live In Los Angeles For 2021
| Rank | Neighborhood | Population |
| --- | --- | --- |
| 1 | Mar Vista | 42,620 |
| 2 | Westwood | 55,285 |
| 3 | Bel Air | 8,746 |
| 4 | Portar Ranch | 22,688 |
| 5 | West Los Angeles | 42,797 |
| 6 | Pacific Palisades | 22,500 |
| 7 | Brentwood | 23,965 |
| 8 | Palms | 44,417 |
| 9 | Sawtelle | 44,552 |
| 10 | Century City | 5,574 |
| 11 | Playa Del Ray | 16,056 |
| 12 | Playa Vista | 35,789 |
| 13 | West Hills | 31,007 |
| 14 | Pico-Robertson | 45,659 |
| 15 | Mid City West | 45,784 |
| 16 | Tarzana | 20,130 |
| 17 | Woodland Hills | 45,798 |
| 18 | Encino | 56,158 |
| 19 | Northridge | 108,186 |
| 20 | Glassell Park | 34,778 |
| 21 | Venice | 32,773 |
| 22 | Los Feliz | 32,513 |
| 23 | Winnetka | 67,623 |
| 24 | Granada Hills | 43,697 |
| 25 | Chatsworth | 41,309 |
| 26 | Eagle Rock | 55,648 |
| 27 | Shadow Hills | 3,577 |
| 28 | Reseda | 81,554 |
| 29 | Atwater Village | 7,087 |
| 30 | Sylmar | 80,559 |
| 31 | Highland Park | 23,411 |
| 32 | Hollywood Hills | 36,670 |
| 33 | Glendale | 1,744 |
| 34 | Silver Lake | 43,338 |
| 35 | Mount Washington | 9,218 |
| 36 | Beverly Glen | 52,653 |
| 37 | Studio City | 48,533 |
| 38 | Mid Wilshire | 187,740 |
| 39 | Toluca Lake | 3,727 |
| 40 | Westchester | 41,406 |
| 41 | Panorama City | 39,335 |
| 42 | Sunland | 19,165 |
| 43 | Cypress Park | 16,101 |
| 44 | Tujunga | 20,424 |
| 45 | Echo Park | 31,774 |
| 46 | Canoga Park | 86,344 |
| 47 | Arleta | 46,531 |
| 48 | Mission Hills | 21,104 |
| 49 | Valley Village | 48,263 |
| 50 | Lakeview Terrace | 14,460 |
| 51 | San Pedro | 73,264 |
| 52 | North Hills | 99,507 |
| 53 | Van Nuys | 127,440 |
| 54 | New Downtown | 6,396 |
| 55 | Boyle Heights | 79,029 |
| 56 | Mid City | 146,100 |
| 57 | North Hollywood | 158,322 |
| 58 | El Sereno | 51,650 |
| 59 | Harbor City | 25,861 |
| 60 | Montecito Heights | 33,281 |
| 61 | Wilmington | 61,534 |
| 62 | Harbor Gateway | 39,083 |
| 63 | Chinatown | 23,676 |
| 64 | Jefferson Park | 8,745 |
| 65 | Civic Center-Little Tokyo | 3,457 |
| 66 | Sun Valley | 32,371 |
| 67 | Leiment Park | 10,458 |
| 68 | Central City | 54,475 |
| 69 | Lincoln Heights | 2,763 |
| 70 | Westlake | 125,087 |
| 71 | Pacoima | 55,999 |
| 72 | South Park | 7,021 |
| 73 | Crenshaw | 26,759 |
| 74 | Hollywood | 90,322 |
| 75 | South Los Angeles | 248,666 |
| 76 | Hyde Park | 34,645 |
| 77 | Central City East | 7,185 |
| 78 | Southeast Los Angeles | 187,683 |
| 79 | Watts | 40,795 |
| 80 | West Adams | 11,961 |
| 81 | Downtown | 12,199 |
| 82 | Wholesale District-Skid Row | 7,245 |
| 83 | Fashion District | 2,466 |