Editor's Note: We updated this article for 2021. This is our seventh time ranking the best places to live in Wisconsin.
Article Table Of Contents   
(Skip to section)
Happy cows come from Wisconsin and so do some of America's best cities.
Hip millennial cities like Milwaukee, fun college cities like Madison, and sports crazy cities like Green Bay are not only some of Wisconsin's fastest growing cities, but they also lead the charge in making Wisconsin one of the fastest growing states in the country. And surprisingly folks, they did not make the top ten best places in Wisconsin for 2021.
The competition to determine the best places in the Badger State for 2021 was fierce. Mostly because the entire state of Wisconsin has a lot to offer in terms of quaint cities that border its Great Lakes and cities that offer employment in one of its nine Fortune 500 companies. And it wouldn't be right if we didn't mention cheese. Yes, cheese. Wisconsinites know how to make a good cheese. So much that every city on our top ten list has at least one down home, country cheese store. (It probably should have been a 'best of the best' category.)
Wisconsin has so many great cities, that you could literally throw a dart at the state and live happily wherever it landed. So, you can understand how difficult it was to narrow down a list of the top ten best places. We invite you to grab yourself some string cheese, a Milwaukee's Best, find a shady spot by Lake Winnebago and read on as we uncover where you should live in Wisconsin.
The 10 Best Places To Live In Wisconsin For 2021
What does the best city in "America's Dairyland" look like? Well, after crunching data from the US Census in terms of median home prices and unemployment rates for cities with over 5,000 residents, Fox Point is the best place to live in Wisconsin.
Take a look at the list below to see the cities that gave Fox Point a run for their money. And if you don't see your favorite Wisconsin city in the top ten, head to the bottom of the page.
If you're looking for something more national, check out the best states in America or the best places to live in America.
For more Wisconsin reading, check out:
The 10 Best Places To Live In Wisconsin For 2021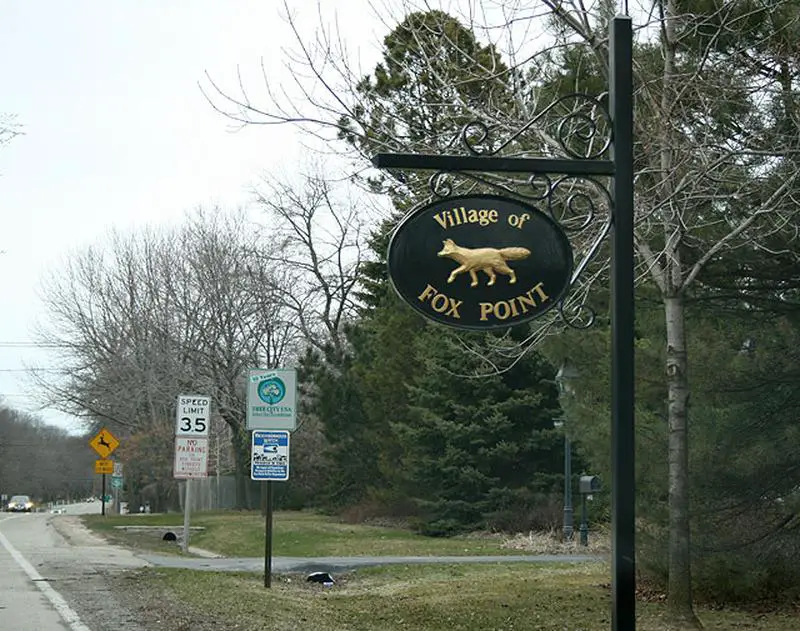 Source: Public domain
Wisconsin's best place to live, Fox Point is a year round playground for all. It's position on Lake Michigan's western shore and the fact that it is only 15 minutes north of Milwaukee allow one to spend the day with the kids in the water at Doctors Park and after hours soaking up the night life in the Badger State's biggest city.
Fox Point is also easy on the wallet. The median household income here is $117,903/year and the median price for a home is $325,700. This small town in Wisconsin ranks the best for home values.
Not to mention, Fox Point's job opportunities are endless. If you like the outdoors, water, and you have a boat, chartering fishing trips is a hot market in this bay city, and if protecting and serving is your schtick, you could become part of a team that keeps Fox Point's crime rate 55% below the national average.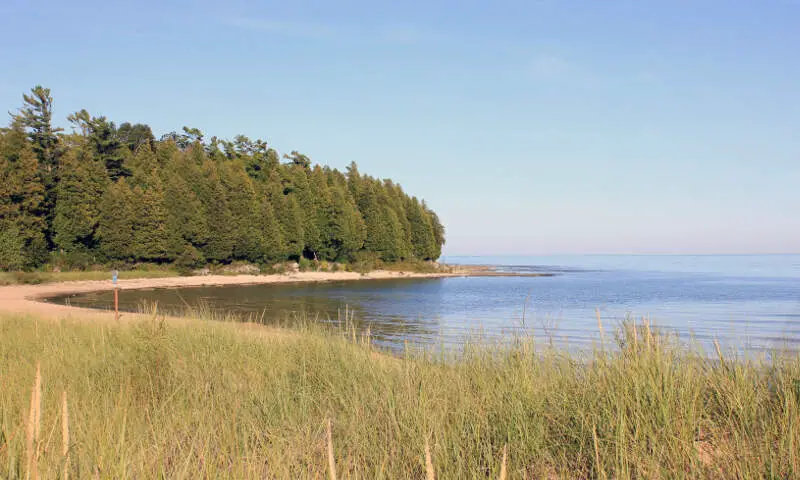 Source: Public domain
Start popping that champagne Whitefish Bay, you just earned the title, "Wisconsin's 2nd best place to live". Holding strong with the #2 rank two years in a row, this bay city might not house an NFL Championship Team like Green Bay, but it's winning at the things that really matter--cost of living, safety, education, and jobs.
Yes, if your real estate budget is $387,000 for a home, you can find that in Whitefish Bay. If you're looking for job opportunities, Whitefish Bay's unemployment rate is well below the national average at 2.2%. And if you're looking for great schools, Whitefish has those, too--it's one of Wisconsin's best places to raise a family.
And if that doesn't seal-the-deal, this should: you have a better chance of having an 80 degree day in January in this Great Lakes region than being a victim of a crime. Whitefish Bay's crime rate is almost 50% below the national average.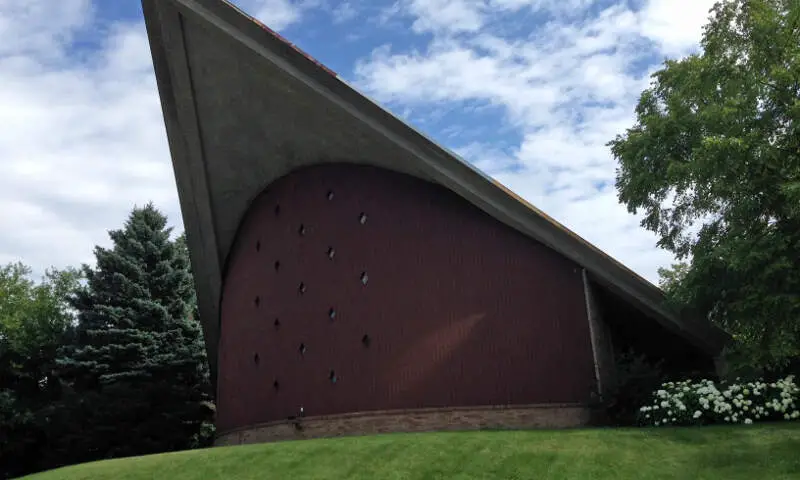 If you're looking for a great place to live, Elm Grove is your place. This Milwaukee suburb in Waukesha County is after all one of the richest places in Wisconsin. But, if money is not an issue, then step right up and join this small town of 6,153 residents who can pay $370,500 for a home because they make at least $106,058/year. Elm Grove's salaries aren't just handed out to its residents, these people are educated: 38% have a Bachelor's Degree and 18% have a Master's Degree.
It also doesn't hurt that 31% of Elm Grove's residents make $200,000 or more a year. And with money like this, it's not surprising that Elm Grove has the funds to pay for the programs to keep its crime rate 62% below the national average.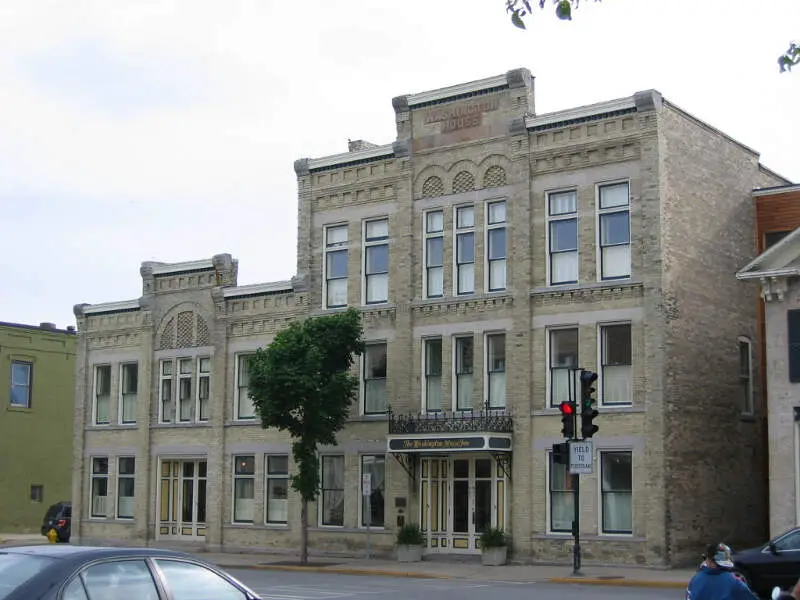 Source: Public domain
Cedarburg, Wisconsin, started life as a mill town. While those rustic days are gone, the town has transitioned into a cozy suburb of nearby Milwaukee. It's also one of the top places in Wisconsin to call home.
Cedarburg likes to flaunt its old-time charm, housing sites such as the Wisconsin Museum of Quilts & Fiber Arts. Want to see what life in the region was like way back when? You can head to the historic Cedarburg Mill or check out the 1849 Kuhefuss House Museum.
The town has more than homespun charm, however. The community also offers an excellent place to raise a family. The median income stands at $88,487 and the median home value comes in at $303,500. Crime is low and the schools are stellar, with a 10/10 rating from Great Schools. Meanwhile, the area remains affordable. The cost of living is around the national average.
Even if quilts and old buildings aren't your idea of a good time, Cedarburg offers plenty to do. It's just a half-hour drive to downtown Milwaukee and, if you want even more action, only two hours from the heart of Chicago.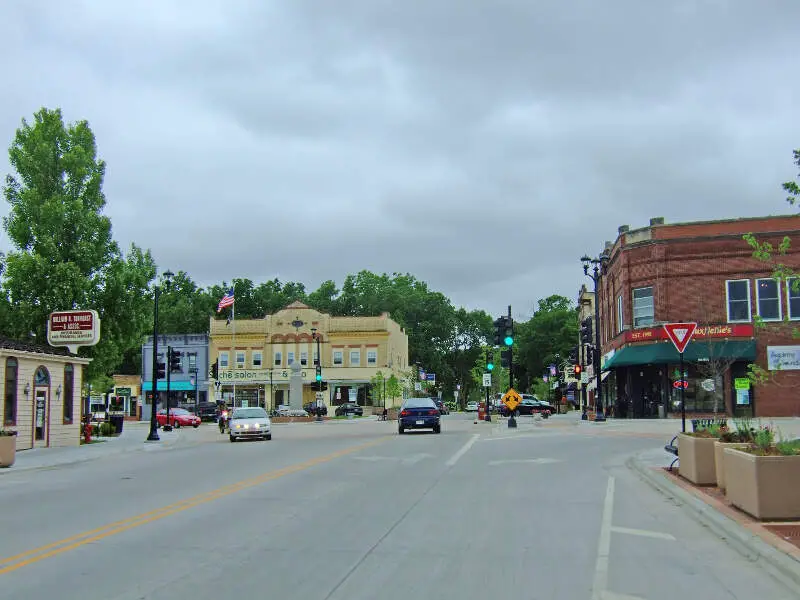 If you're looking for that one place in Wisconsin that knows how to balance hard work and play, look no further than the state's 5th best place to live, Oregon.
Centrally located just south of Madison, this little town of 10,353 residents is starting to see its name in the headlines more and more and this is because the locals here have a front row seat to great schools, an extremely low crime rate, and a strong job market. The numbers don't lie, folks, Oregon's unemployment rate is well below the national average at 1.3%.
And if you choose this small town in Dane County to buy your forever home, don't be surprised if you get asked to take a hike around Lerner Conservation Park or a bike ride on the trails at Anderson Farm: the locals here are very serious about their activities and they can afford this kind of fun because their median income is $83,885/year.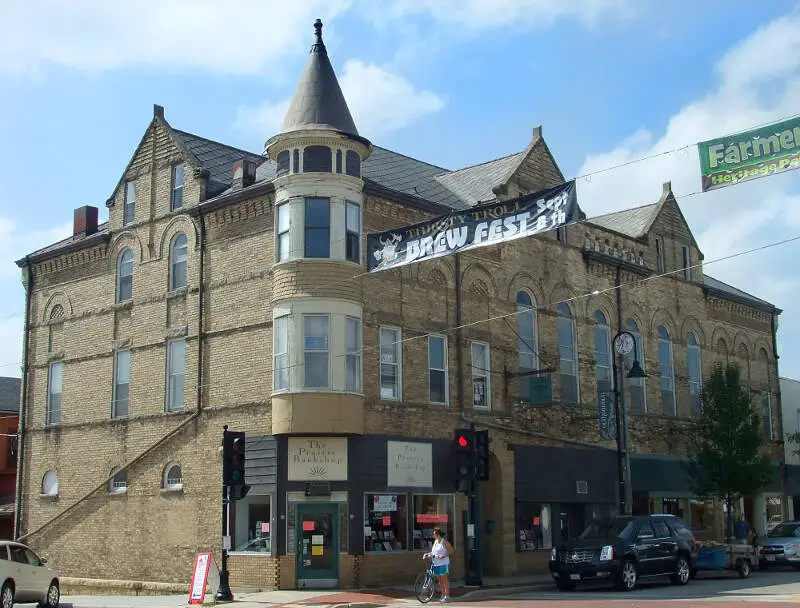 Like trolls? Well, welcome to Mount Horeb, Wisconsin, the "Troll Capital of the World." More than that, Mount Horeb represents the number 6 best place to live in the state.
First off, let's talk about those trolls. Drawing on the heritage of Norwegian settlers to the region, Mount Horeb created Trollway, an area in the business district decorated with life-sized troll statues. The town offers more than just kitschy tourist draws, however. Residents also enjoy a solid local economy and easy access to one of the state's most important cities.
Mount Horeb sports an unemployment rate of 1.3%, the 6th best pace in Wisconsin. The median income is $79,900 and the median home value comes in at $262,900.
The community offers significant draws for families, with 42.75% of households in town having children. The schools in the area rate a 7/10 on Great Schools' ranking system. Crime is well below the national average and the cost of living is just 10% above the U.S. standard.
Beyond its homegrown benefits, Mount Horeb boasts an excellent location as well. A half hour drive takes you to downtown Madison, the state capital.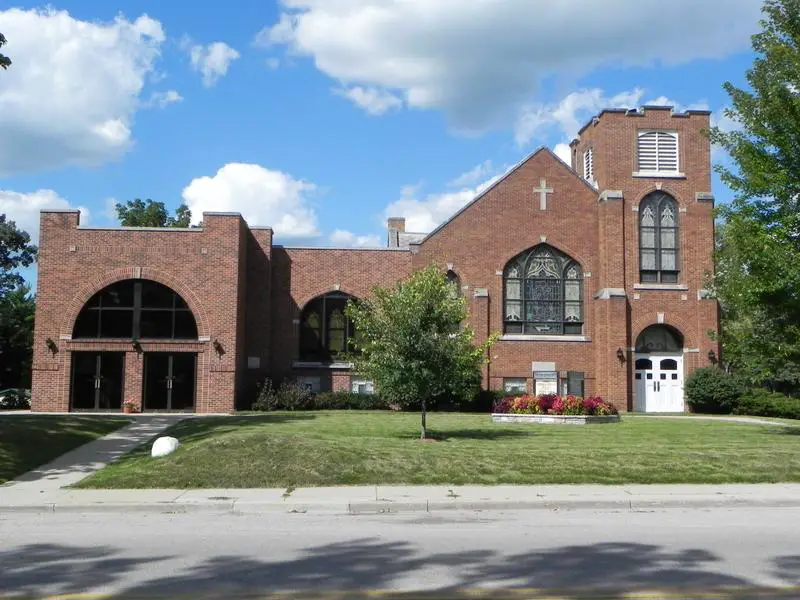 There's no cutting corners on the quality of life in Wisconsin's 7th best place to live, Hartland, this place has all of the bells and whistles. And while the locals might be the "heart" of Hartland, it's numbers like a crime rate 73% below the national average, 23% of the residents here have a Bachelor's Degree, and there are 15 parks inside the city's limits that make this place the best. It's numbers like these that are keeping the locals happy, healthy, and employed.
How do we know that they're happy? Their median income is $90,968/year; and while money isn't everything, it's nice to have the funds to cover your cost of living with a little extra to do the fun things that Hartland offers. Like, taking your kids to Homestead Animal Farm for the day. How do we know they're healthy? Well, 96.4% of them have health insurance and health care seems to be a priority considering there are four major medical care facilities for 9,268 residents. And, how do we know they're employed? Their strong job market is reporting an unemployment rate significantly lower than the national average at 1.0%.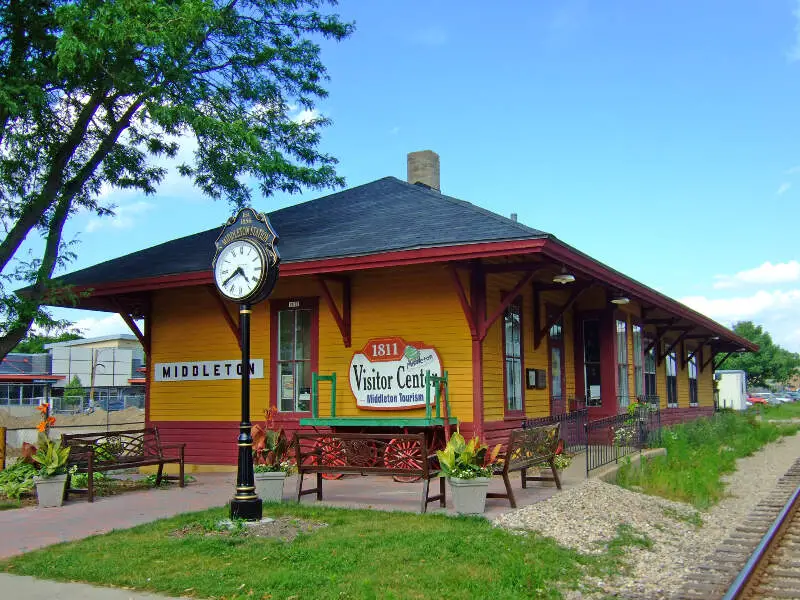 Built along Lake Mendota, Middleton, Wisconsin, provides a scenic suburb to the nearby state capital of Madison. With excellent access to both the seat of government and the University of Wisconsin, the community of 19,487 residents represents the number 8 top living area in Wisconsin.
Don't worry about criminal activity in Middleton. The crime rate sits about a third below the national average. The schools are superior as well, garnering a 7/10 rating from Great Schools.
Home prices in the area can get daunting. The median home value sits at $336,900, the 7th highest mark in the state. Those expenses help make the cost of living in Middleton relatively high, about 15%-20% above the national average.
The median income in the community stands at $76,011, with an unemployment rate of 2.5%.
Interested in the history of condiments? Middleton might be a stop for you. It hosts the National Mustard Museum. Thanks to its lake access, the town also provides plenty of outdoor fun. You can also check out the local Pheasant Branch Creek Conservancy, with plenty of hiking and other activities.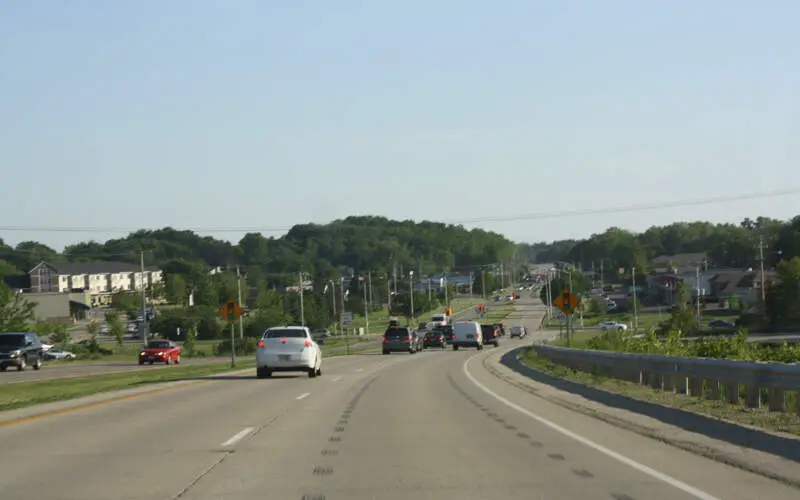 McFarland may only have 8,650 residents, but big things are happening in Wisconsin's 9th best place to live in terms of safety, great schools, great jobs, and fun stuff to do.
Located 20 minutes southeast of Madison on the eastern side of Lake Wauseba, this small town's crime rate is almost 60% below the national average. This number is especially important for McFarland as they rely on the tourists who visit this year-round playground.
Incidentally, don't be afraid to start your new life in McFarland with a rental as the average rent is $1,061/month. But, if you want to jump all in, the median home price here is $249,200. This number shouldn't be a problem, either, if you join the other 27% of McFarland's residents who hold a Bachelor's Degree and are earning $92,944/year.
Basically, you'd be pretty lucky to call McFarland home, but only you can pull the chute.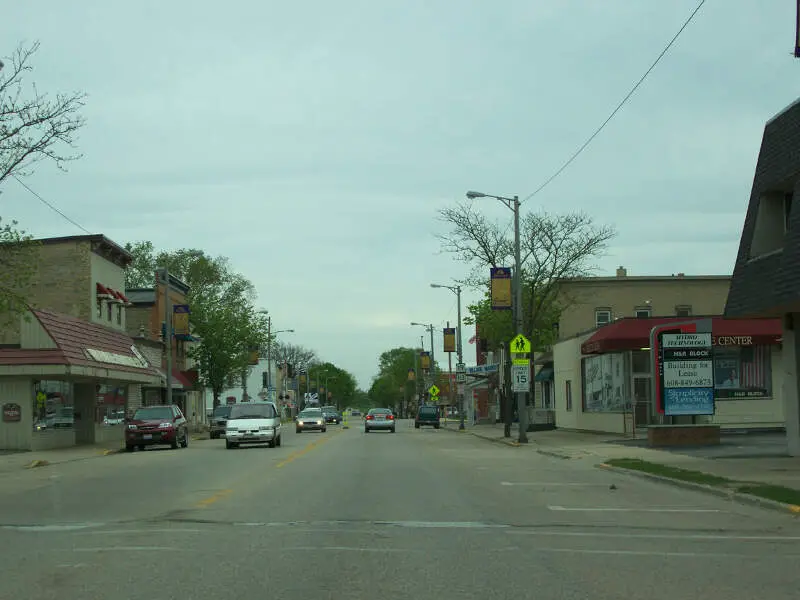 Not only do happy cows come from Wisconsin's 10th best place to live, Waunakee, but a lot of happy people do as well. There's a reason why notables like former NFL star Lawrence Johnson and the Wisconsin Badgers Women's Volleyball Coach, Kelly Sheffield, have been singing Waunakee's praises for years. Not only do they get some of the best ice cream from the happy cows at the local dairies, their cost of living is affordable, and they get to experience what makes Waunakee one of Wisconsin's best on the daily.
Yes, things like low crime, great schools, low unemployment rates, and year-round fun, have been front and center in Waunakee for quite some time. So, when you're ready to take charge of your quality of life by moving to Waunakee, this small town in Dane County, just north of Lake Mendota, has homes for $346,300. If that number makes you nervous, don't let it--the job market is strong here and the average household income is $112,845/year.
Mapping The Best And Worst Places To Live in Wisconsin
The Pressing Question: Size
Before we even started to collect data, we had to answer a tough question: Is it fair to pit Madison with a population of 254,977 against places with a population of 18?
We firmly decided no, that just isn't fair.
So to create our ranking, we broke places to live into three tiers:
Cities -- Populations over 5,000
Towns -- Populations between 1,000 and 5,000
Small Towns -- Populations below 1,000
This left us with 140 cities, 241 towns, and 380 small towns.
We then decided, no matter how much anyone loves their town, the best cities to live in Wisconsin have more of everything and therefore you need to have over 5,000 people to truly be 'the best'.
Now we also realize that city living might not be your cup of tea, so we ran the following analysis on towns and then again for small towns.
You can see those two top tens at the bottom of the post.
How We Calculated The Best Cities To Live In Wisconsin
Now that we had our set of cities, it was time to rank them.
We ranked each place in Wisconsin across a number of criteria from one to 140, with one being the best.
We then took the average rank across all criteria, with the city posting the lowest overall score being crowned the winner of the title "Best Place To Live In Wisconsin".
The criteria we looked at were:
Median Home Values
Median Income
Population Density (Higher better)
Unemployment Rate
Commute Time
Crime
Education Levels
Health Insurance Coverage
Poverty rates
Sources of criteria include the New Census Data and FBI Crime Data. You can download the data here.
After the dust settled, what was the best place to live in Wisconsin? That would be Fox Point.
If your city or town isn't among the top 10, jump down to the bottom of the post to see a detailed chart of the best places in Wisconsin.
Otherwise, buckle up for a ride down good living lane with Fox Point at the end of the cul-de-sac.

Wrapping Up The Best Places When It Comes To Living In Wisconsin
If you're looking at areas in Wisconsin with the best economic situations, where there's lower than average crime, and a lot to do, this is an accurate list.
Fox Point made a strong showing to take in the overall number one spot for the best place to live in Wisconsin for 2021.
Best Towns To Live In Wisconsin
Shorewood Hills (Pop. 1,996)
Maple Bluff (Pop. 1,452)
Howards Grove (Pop. 3,247)
Bayside (Pop. 4,428)
Combined Locks (Pop. 3,486)
Prairie du Sac (Pop. 4,218)
Merton (Pop. 3,535)
Cross Plains (Pop. 3,914)
Wind Point (Pop. 1,785)
Kohler (Pop. 2,363)
Best Small Towns To Live In Wisconsin
Park Ridge (Pop. 619)
Hewitt (Pop. 792)
Brownsville (Pop. 585)
North Bay (Pop. 207)
Dale (Pop. 523)
Gibbsville (Pop. 473)
Butte des Morts (Pop. 938)
Dyckesville (Pop. 510)
Lake Sherwood (Pop. 315)
Ephraim (Pop. 266)
If you're curious enough, here are the worst places to live in Wisconsin according to the data:
Milwaukee (Pop. 594,548)
Antigo (Pop. 7,780)
Beloit (Pop. 36,836)
For more Wisconsin reading, check out:
Where Are The Best Places To Live In Wisconsin?
| Rank | City | Population |
| --- | --- | --- |
| 1 | Fox Point | 6,650 |
| 2 | Whitefish Bay | 13,972 |
| 3 | Elm Grove | 6,153 |
| 4 | Cedarburg | 11,527 |
| 5 | Oregon | 10,353 |
| 6 | Mount Horeb | 7,449 |
| 7 | Hartland | 9,268 |
| 8 | Middleton | 19,487 |
| 9 | Mcfarland | 8,650 |
| 10 | Waunakee | 13,730 |