The 10 Safest Cities In Maine For 2020
We used data and science to determine the places in Maine where everyone sleeps safe and sound.

Editor's Note: This article has been update for 2020. This is our sixth time rankings the safest places to live in Maine.
Swipe left for slideshow. Article continues below.
Article Table Of Contents   
(Skip to section)
There's a reason why Maine is also known as "Vacationaland": it's super safe.
It's the third safest state in the country to be exact. But, Maine does have its fair share of problems: mostly petty crimes. And it wouldn't be right if we didn't mention that the state does have some dangerous places too; overall, however, Maine's violent crime numbers and property crime numbers speak volumes: they are virtually non-existent.
Maine's safest places have great schools, available jobs with good salaries, and programs in place to keep its residents happy, healthy, and you guessed it, safe. But where should one start in a state that's divided into 16 counties with a combination of 500 cities and towns?
Well, before you set out to find your home in this New England state, we suggest you take a look at HomeSnacks' list of the safest places in Maine for 2020. We took the guessing out of the game and consulted the numbers. In total, we analyzed 55 cities. We looked at important factors like property crimes and violent crimes per capita for every place with over 5,000 residents.
But, folks, the real icing on the cake is that Maine has super safe places to live for every type of person and for every budget. For instance, Bath is safe and happenin' for singles, Bar Harbor is one of the safest places to live if you love the beach, and if you don't have to worry about a budget, you should definitely give Brewer a look.
Want to know more? We suggest you grab a lobstah' roll, a cold Moxie, head to a sunny spot in Kennebunkport, and read on.
It's so safe in Maine, that they only need 195 police officers per 100,000 residents; and if you get injured, they have 36 hospitals to meet the needs of the 1.3 million people that call this New England state home.
So, what city is the safest place to live in Maine for 2020? Well, according to the most recent FBI data we crunched, Sabattus is the safest place to live in The Pine Tree State.
Check out the rest of our not so naughty, very safe Maine cities to see how your city ranked. And if you don't find your favorite there, head to the bottom.
For more reading on safe places to live in and around Maine, check out:
The 10 Safest Cities In Maine For 2020
Towns don't come much safer than Sabattus; in fact, if you're in Maine, they definitely don't. Sabattus was just shy of perfection in terms of violent crime, allowing just one to slip through in the last year of available data. That still means violent crime is nearly 20 times less frequent in Sabattus as your average American city. And property crime is also far from an issue in Sabattus, which averaged only 1.5 cases per month.
This is all great news for folks who just want a chill place to play some disc golf without fear of injury or Frisbee theft. Sabattus is located in Oxford County, just 40 miles north of Portland.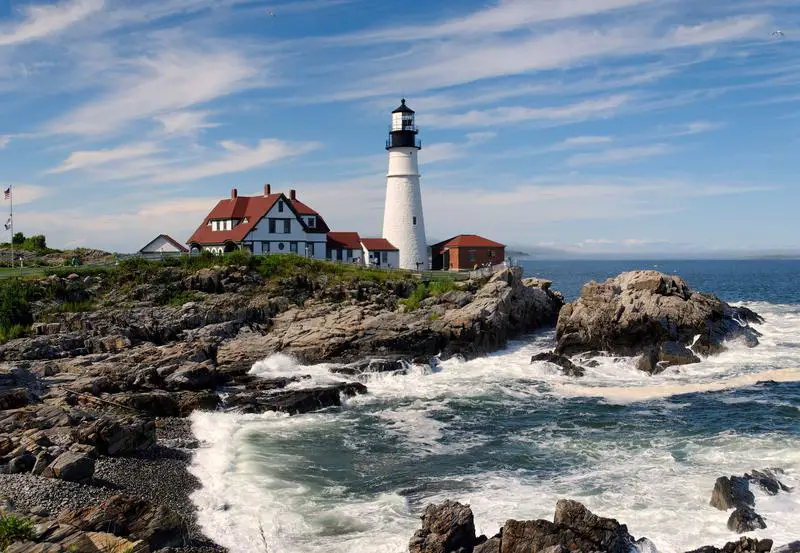 With a little over 9,000 residents, the superb quality of life in this little city just outside of Portland, is the reason that it is our second safest city in Maine for 2020.
The residents claim that Cape Elizabeth is where "Your problems will be smaller, You burdens will be few, For Friends are made for helping, And that's just what they do." We think this is definitely why they scored a whopping 8/10 on our snackablity scale with an 8.5/10 safety score. They are always looking out for each other.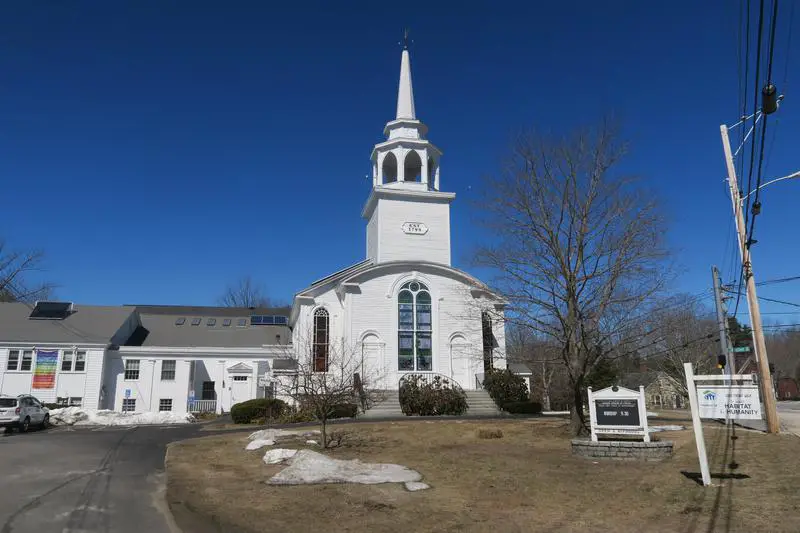 Welcome to Cumberland, our third safest city in Maine for 2020. It's so safe in this little city along the Casco Bay, that the moose, bears, and coyotes are always showing their faces at the same time every evening reminding the residents to get home before dark. Thanks furry friends!
Located along slightly northeast of Portland, Cumberland offers a safe environment with small town charm that packs a big punch. Not literally, of course. No fighting happens in Cumberland County; that wouldn't be safe. Not to mention, they have way better things to do with their time like taking a walk thru Broad Park Reserve or playing a safe game of touch football at the West Cumberland Athletic Complex.
Located in the deep south of the deep northern state, Eliot is the fourth safest place in Maine. But that doesn't tell the whole story; Eliot actually gets the gold medal in terms of violent crime, with the town not experiencing a single case of violence in the last year of available data. If you're curious about the peaceful roots of idyllic Eliot, visiting the Raitt Homestead Farm Museum might be illuminating.
It's a wonder that more of Eliot's New Hampshire neighbors aren't swimming across the Piscataqua River to join in on all the good times.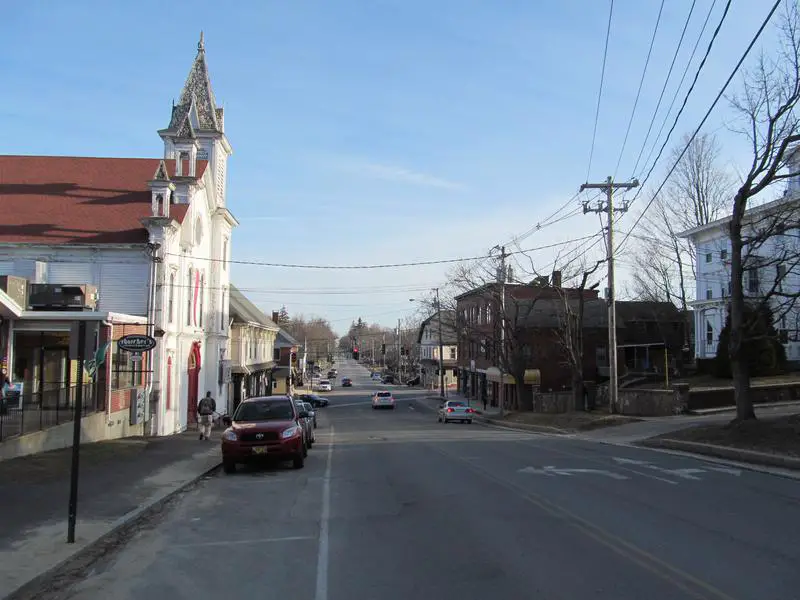 Welcome to our fifth safest city in Maine: Gorham. This city with a little over 17,000 residents in Cumberland County, should be called the 'The Best City to live in Maine,' too, because all is crazy safe and super fine in this middle-of-nowhere city.
Congrats to Gorham, their snackability rating is off the charts with their low crime and high safety score! Their number of strong job market scored an 8/10 and their education rating a 9.5/10! Do we think this has something to do with the fact that it's home to the University of Southern Maine? Probably.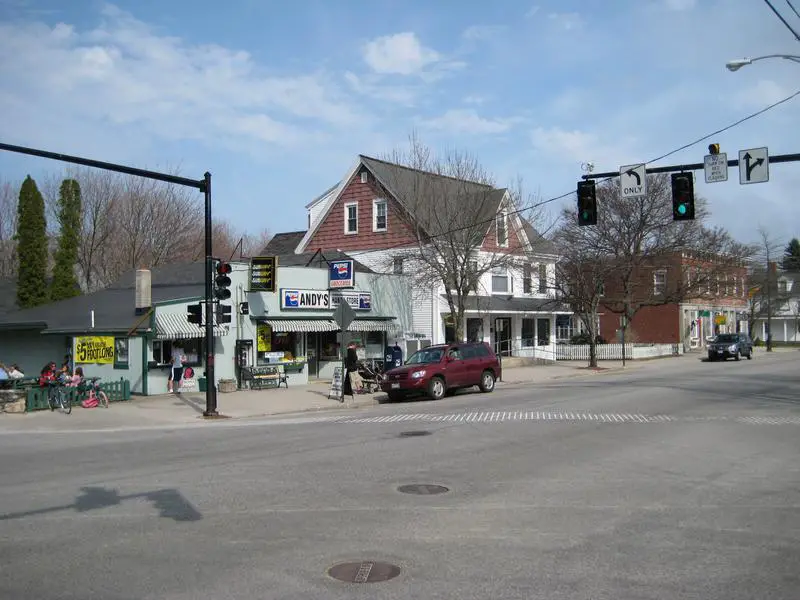 This shiny northern star has every right to be our sixth safest city in Maine for 2020. They scored off the charts on our snackability scale with an emphasis on education; and of course, safety.
You won't hear 'hold my beer and watch me handle this" in this city in Cumberland County. They are a safe, family friendly, town with a ton of respect for each other. Heck, crime is pretty much nonexistent in this city with a little more than 8,500 angels. Yep, you heard hear first, folks: Mainers can get along.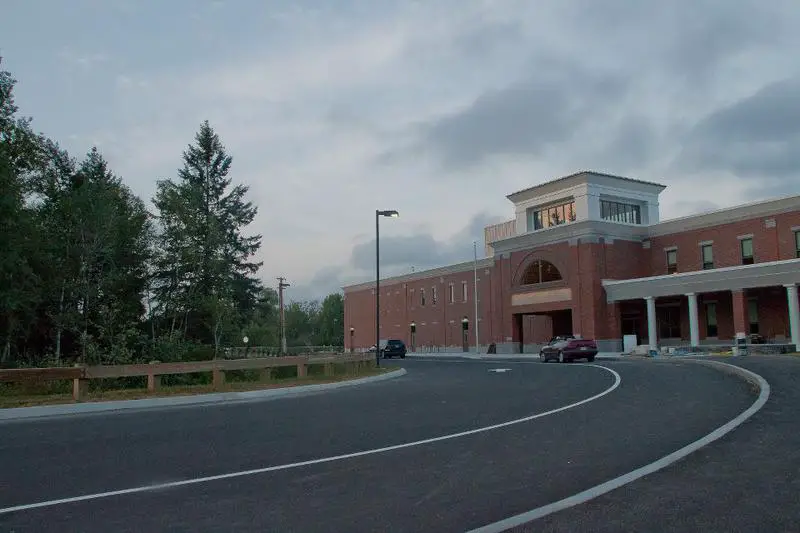 Hampden is not like the inside of a men's correctional facility, it is actually safe. This is why it has become our seventh safest city in Maine for 2020. And if you don't know how to keep it safe in this little city in York County, they will put you in Maine's State Prison.
Hampden's residents say that this little slice of the Maine lobstah pie, is the 'Pride of The Pine Tree State.' So it is no surprise that they keep moving up our list. And, it's definitely not shocking that they scored a 9/10 safety rating.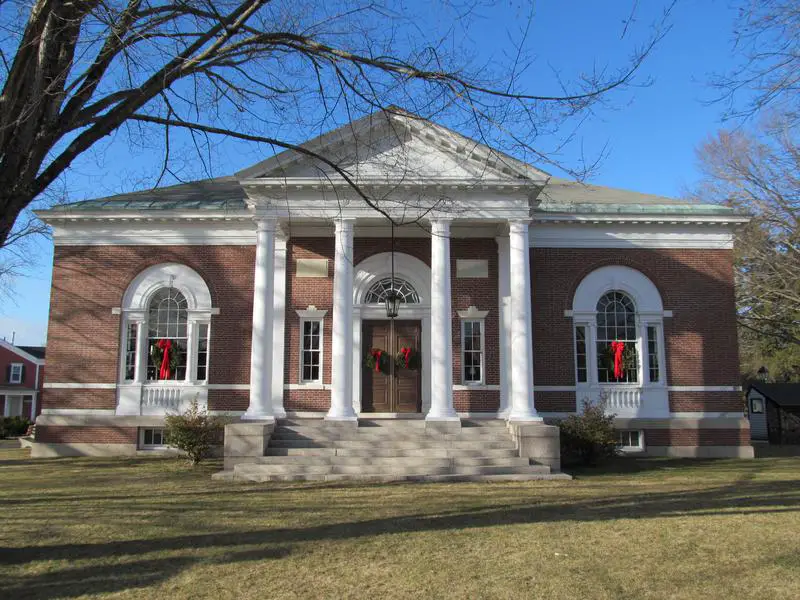 Flip on your yacht hazards, slap on a life jacket, slip on your Tom's, and read on to find out why Kennebunk is our eighth safest city in Maine.
This little Maine gem scored a 9/10 for safety and a 9/10 for number of educated residents. I think it's safe to say they're the poster city for the rest of The Pine Tree State. And word on the street is that young professionals are starting to take notice and move Kennebunk's direction. So don't wait, because the word is out.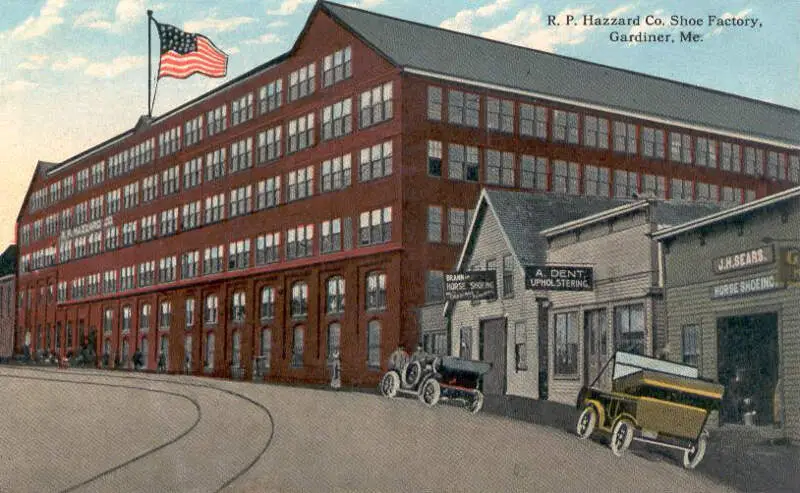 Source: Public domain
A part of the Augusta metro area, Gardiner is a huge hit with tourists. And why wouldn't it be? After a day spent enjoying the old brick architecture, the beautiful Waterfront Park, followed by a nightcap of craft spirits at Chadwick's, who could complain?
Oh and, of course, the safety! There was only one violent crime in Gardiner in the last year of available data, giving the city the fourth lowest rate in Maine. If Gardiner can improve its (already respectable) property crime rate, it could easily jump up a few places on this list by next year.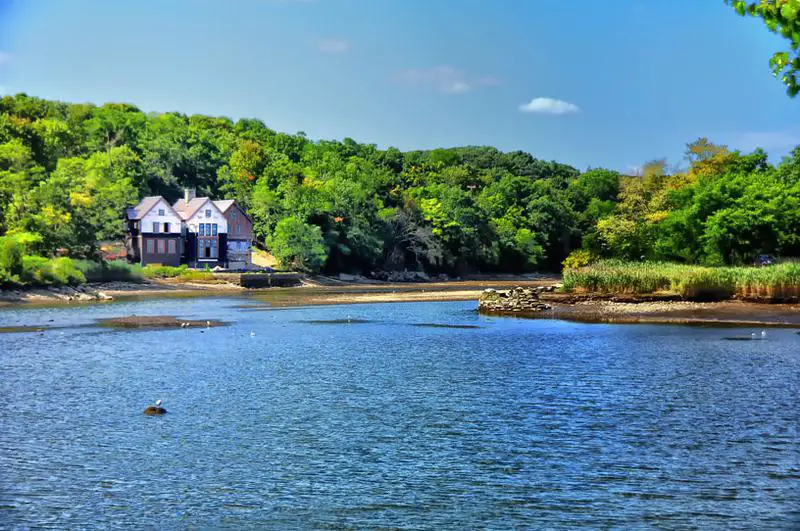 Oakland, Maine might only be the 10th safest place in Maine, but you better believe it's a heckuva lot safer than Oakland, California. In fact, with only two violent crimes in the last year of available data, Oakland, Maine had a violent crime rate 50 times lower than its western namesake.
And with solid 8/10 scores in education, housing, and jobs on our snackability scale, Oakland definitely ticks all the boxes. Kick back on a cruise around Messalonskee Lake and enjoy the high life in Oakland.
How we calculated the safest cities in Maine for 2020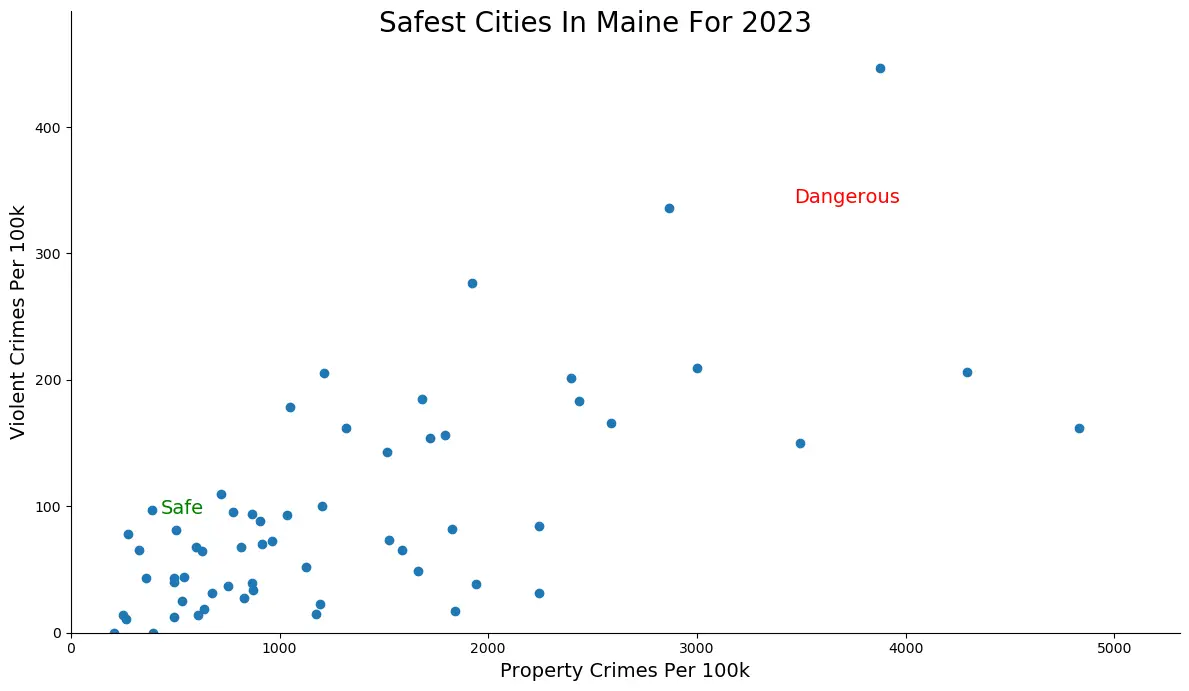 While there are surveys and public polls on what cities in a state are the safest, we didn't want to rely on speculation and opinion. Instead, we looked at the hard numbers from the FBI's most recent report of crime (Published Sept 2019) in Maine.
Specifically, we analyzed the
FBI's Uniform Crime Report
which summarizes the number of property crimes and violent crimes in each city per year. We used two criteria:
Violent crimes per capita (murders, assaults, rapes, armed robberies)
Property crimes per capita (thefts, burglaries, motor vehicle thefts)
For example, there were a total of 19 crimes committed in Sabattus which had a reported population of 5,057. That means the number of crimes per capita is 0.0038 which translates into a 1 in 266 chance of being the victim of a crime.
We only looked at cities that have populations of more than 5,000 people reported to the FBI in 2018, the last reporting year. This left us with a total of 55 of the biggest cities in Maine to rank.
We ranked each city for each criteria from 1 to 55 where 1 in any particular category is the safest.
Next, we averaged each places two criteria to create a Safety Index. We crowned the place with the lowest overall Safety Score "The Safest Place In Maine" with any ties going to the bigger city. You can download the data here.
The safest city in Maine, based on our criteria, is Sabattus. The most dangerous city in Maine? Augusta, where residents had a 1 in 27 chance of being the victim of a crime.
Note: This report is not an analysis of the effectiveness of local police departments, nor does it reflect the fact that people from out of town may come into a community and cause a crime. It simply looks at where crimes occurred most frequently, based on a city's population.
There You Have It - The Safest Cities In The Pine Tree State
Looking at the data, you can tell that Sabattus is as safe as they come, according to science and data.
But as most Maine residents would agree, almost every place here has its safe and not safe parts. So just make sure you're informed ahead of time.
Here's a look at the most dangerous cities in Maine according to the data:
Augusta
Skowhegan
Biddeford
For more reading, check out:
Breaking Down Crime In The Safest And Most Dangerous Cities In Maine

Share on Facebook
Chris Kolmar has been in the real estate business for almost ten years now. He originally worked for Movoto Real Estate as the director of marketing before founding HomeSnacks.
He believes the key to finding the right place to live comes down to looking at the data, reading about things to do, and, most importantly, checking it out yourself before you move.
If you've been looking for a place to live in the past several years, you've probably stumbled upon his writing already.
You can find out more about him on LinkedIn.