Editor's Note: We updated this article for 2021. This is our seventh time ranking the best places to live in New Mexico.
Article Table Of Contents   
(Skip to section)
There's more to New Mexico than aliens, amazing sunsets, and the Animas River. This Southwestern state actually has plenty of great places to call home.
Heck there's a reason two million people call it home; and lucky for you, HomeSnacks is here to uncover where the best places to live in New Mexico for Corrales are located. We think there must be something magical about New Mexico's best places to live. Notables like Julia Roberts, Gene Hackman, and Game of Thrones' author George R.R. Martin wouldn't just live anywhere. They love New Mexico's great people and good 'ol desert livin'.
Whether you're a fan of UFOs, the University of New Mexico Lobos, or catching a rodeo in Ruidoso, the good people in New Mexico's best places are waiting to show you why living in their corner of the Land of Enchantment deserves a second look.
What does it take to live in New Mexico's best of the best places? We suggest a good job. And the jobs that are keeping median incomes high and New Mexico's best places to live safe and enjoyable are in the medical field, architecture, and engineering.
However, to find out the top ten best places to live in New Mexico, you're going to have to keep reading.
The 10 Best Places To Live In New Mexico For 2021
New Mexico has so many great cities, that you could literally throw a dart at the state and live happily wherever it landed. So, you can understand how difficult it was to narrow down a list of the top ten best places.
What's the best place to live in New Mexico? After analyzing 32 places in New Mexico, Corrales is New Mexico's number one best place to live for 2021.
We invite you to grab yourself a green chili cheeseburger, find a remote spot to watch the sunset, and read on to see what other places made the top ten. And if you don't see your favorite New Mexico place there, head to the bottom.
If you're looking for something more national, check out the best states in America or the best places to live in America.
For more New Mexico reading, check out:
The 10 Best Places To Live In New Mexico For 2021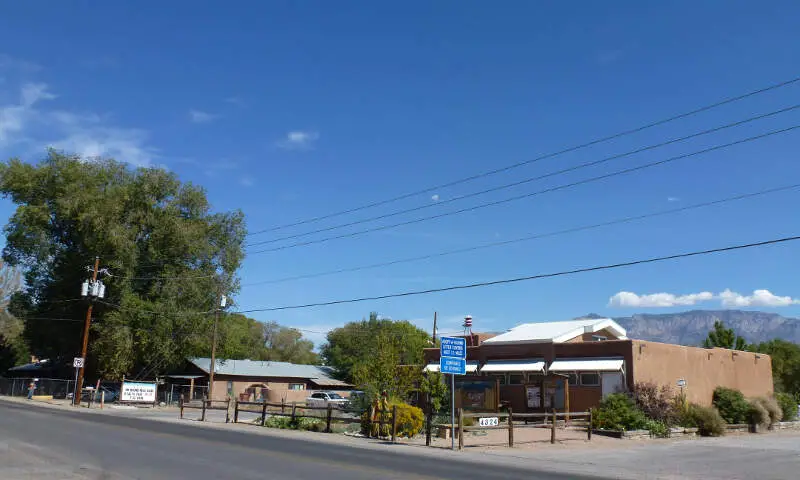 Welcome to Corrales, the best place to live in New Mexico for the second year running. Despite having the the big cities of Albuquerque and Rio Rancho as neighbors, Corrales has worked hard to retain its rural character. From the many wineries to the community Grower's Market, agriculture still plays a big part in Corrales's culture and economy. There are also many events peppered throughout the year and regular shows put on at the Old San Ysidro Church are a big hit with locals.
The first thing to know about your neighbors in Corrales is that they're among the best-educated in the state; about 60% of residents have a college degree and 30% have a master's degree or higher. Those fancy degrees come in handy when pay-day rolls around, because Corrales also has the best-paid populace in New Mexico, with a median household income of $85,580/year. Also, the poverty rate in Corrales is the lowest statewide at 4.9%. Smart, moneyed individuals rarely go in for crime, so it makes sense that Corrales is also the safest place in New Mexico, with a crime rate 80% below the national average. The catch? Housing is twice as expensive as the statewide average, with a typical home selling for $447,600 and rent going for $1,094/month.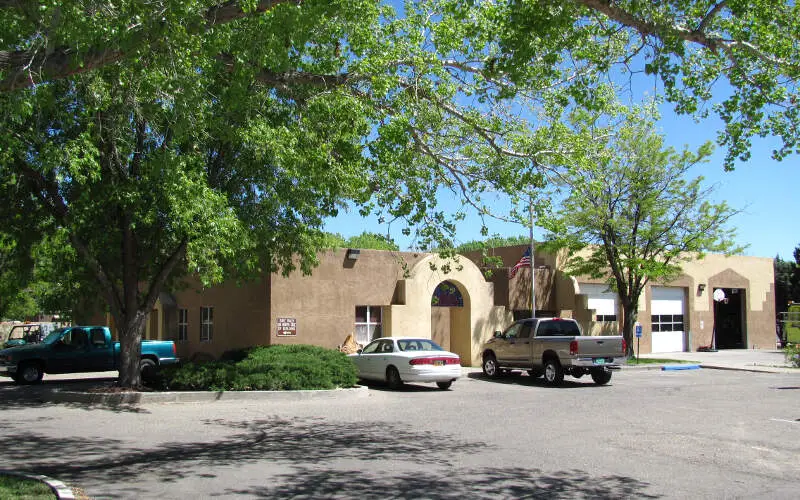 Los Ranchos de Albuquerque is an affluent suburb of Albuquerque. From organic farms to grower's markets, agriculture remains the dominant theme in Los Ranchos. Antique shopping, ceramics, and wineries leave you with plenty to do and work to enhance the cultural tradition of Los Ranchos. No event garners more attention than the annual Lavender Festival, though.
Nearly 30% of Los Ranchos residents have a master's degree or higher, so you'd better study up if you don't want to hold your team back on pub quiz night. The unemployment rate in Los Ranchos is the 7th lowest statewide at 4.9% and the village has the 2nd highest rate of residents with health insurance in New Mexico. Homes are the most expensive in the state, but the median rent of $760/month is lower than the statewide median. In any case, you shouldn't have much trouble paying the bills here, because Los Ranchos has the 5th highest median household income in New Mexico at $64,732/year.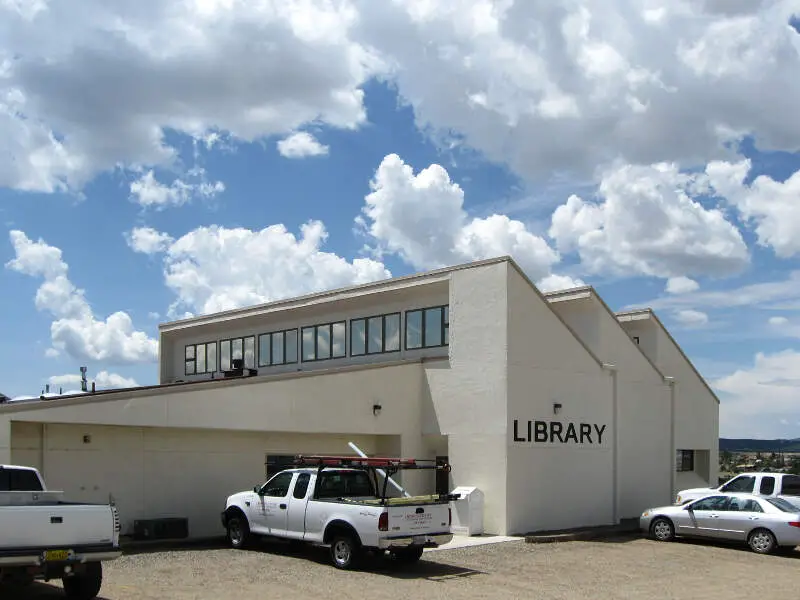 Source: Public domain
Edgewood is a town of 6,071 situated a half-hour east of Albuquerque. An exceedingly popular bedroom community, Edgewood's population has exploded by around 65% since 2010, making it New Mexico's fastest-growing city. Folks love the vintage indoor Church Street Market, chock full of local and handmade treasures. Wildlife West Nature Park is a must-visit for animal-lovers who want to see the epic wildlife of the Southwest up close and personal.
As for the essentials, the unemployment, poverty, crime, and health insurance rates in Edgewood all rank in the top ten statewide. GreatSchools also gave Edgewood's public schools an 8/10 score, so those with children can feel secure moving here. Increased demand drove up property values more than 10% in the last year, so don't be put off by the high price tag on homes -- it's a sound investment.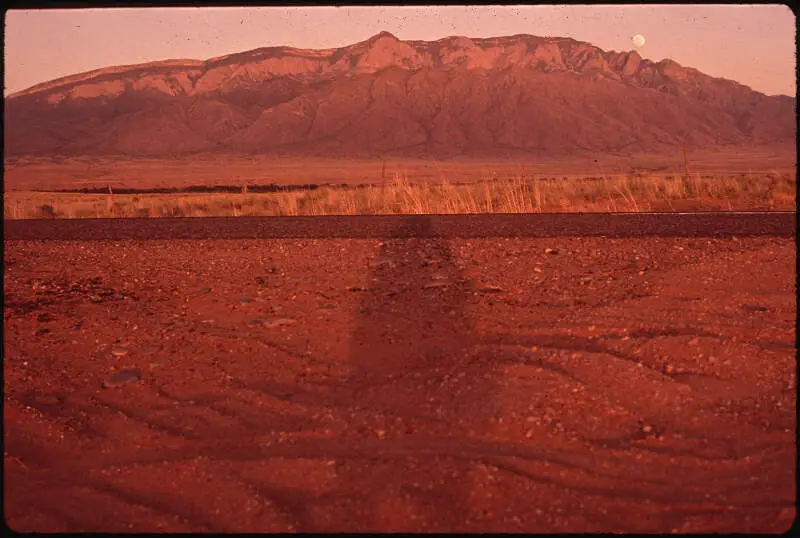 Source: Public domain
Rio Rancho, New Mexico's third-biggest city, also comes in as the 4th best place to live in the Land of Enchantment. Rio Rancho has been surging economically in recent years; it's home to an Intel facility that's by far the area's largest employer, as well as companies like Hewlett-Packard and Walmart. For families, A Park Above is a delightful spot that's been named the best city park by several New Mexico publications. And while New Mexico is generally sparse on greenery, you wouldn't know it if you walked or cycled down the Willow Creek Trail.
Rio Rancho's population has grown by more than 15% since 2010. Crime has remained uncommon, though, and ranks as the 8th lowest in New Mexico. The poverty rate in Rio Rancho is the 3rd lowest statewide at 9.5%. Rio Rancho's median rent of $1,167/month outstrips the statewide median by 33%. Expenses aren't a big issue for Rio Rancho's residents, though, because they enjoy the 3rd highest median household income in the state at $66,856/year.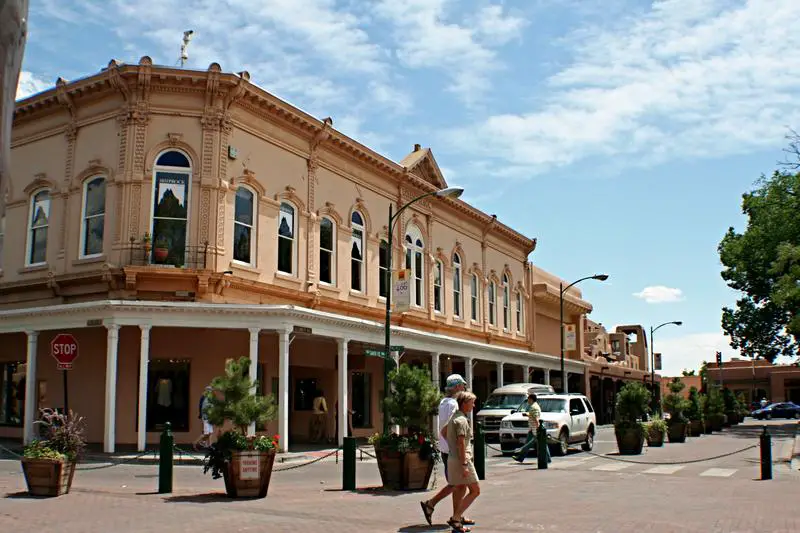 Situated at 7,000 feet in the foothills of the Rocky Mountains, Santa Fe is the highest capital city in the U.S. With about 300 sunny days each year and low humidity, residents have a tough time imagining living anywhere else. Known as The City Different, Santa Fe doesn't care about conforming; only about being awesome. A thriving arts scene,
top-notch cuisine with an amalgam of influences, and too much history and culture to cover here all make Santa Fe a place of endless discovery.
On the statistical side of things, it's important to note that Santa Fe is one of New Mexico's most expensive cities, with a cost of living about 10% higher than the statewide average and housing about 50% higher. That hasn't stopped people from coming in droves though, seeing as the city's population has grown by nearly 25% since 2010. People are willing to pay big for good schools, safe streets, low poverty and unemployment, and the ability to drop in on George R.R. Martin to ask the ETA for his next Game of Thrones book.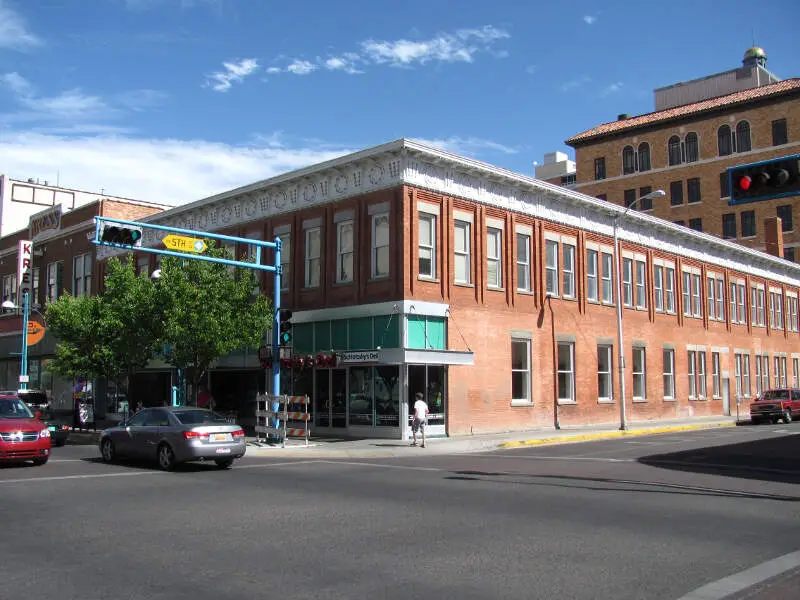 New Mexico's biggest and most densely populated city, Albuquerque, comes in as the state's 6th best place to call home. Albuquerque is known for its cultural diversity, it's thriving arts scene, and world-class cuisine.
Additionally, Albuquerque is the hot air ballooning capital of the world, but thrill seekers don't have to stop there. They can also hit the slopes at Sandia Peak. More relaxed folks will enjoy the Albuquerque's golf courses.
Albuquerque is a young city, with a median age of 36. 35% of adults here are highly educated, so brush up on your trivia before a pub quiz night if you want to compete. Albuquerque has great schools as well, achieving the 6th lowest high school dropout rate in New Mexico.
Homes in Albuquerque are the 5th most expensive statewide, with a median price of $198,200. But median household income keeps pace, with residents earning around $52,911 each year.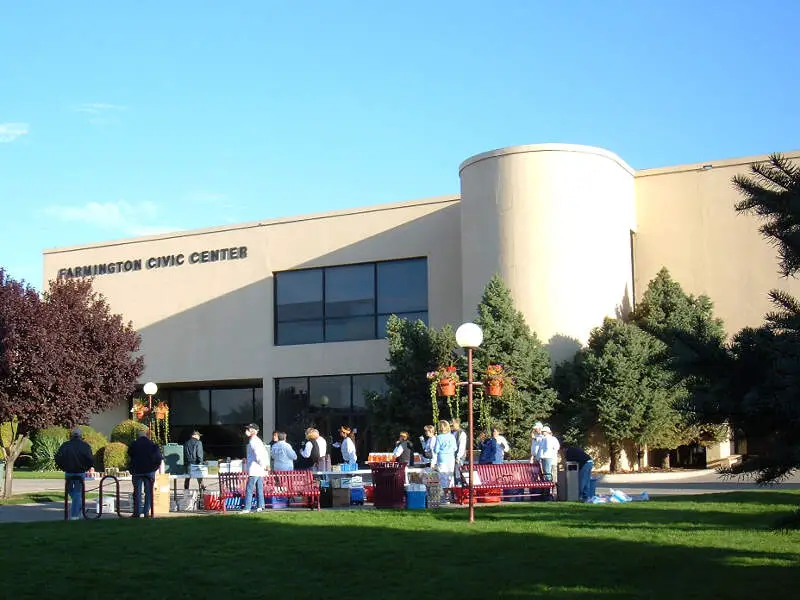 Source: Public domain
We're taking our first trip to New Mexico's northwest to reach our final stand-out city, Farmington. The principal hub of the Four Corners region, Farmington is an absolute paradise for outdoorsmen and women. Three rivers, four golf courses, five lakes, and six National Parks make up your backyard if you live in Farmington. World-class fly fishing, epic off-roading, unreal mountain biking, and limitless scenic landscapes -- what more could you want in a place? Top spots in Farmington proper are the Bisti/De-Na-Zin Wilderness Area, a rolling landscape of badlands with some fantastical rock formations, and Salmon Ruins, an outdoor experience for the aspiring archeologist.
Farmington is also among the most diverse cities in New Mexico, which greatly contributes to the cultural vibrancy here. Low unemployment, low poverty, good schools, and a solid housing market make for a high quality of life. Farmington residents also enjoy a median household income of $54,480, the 9th highest in New Mexico.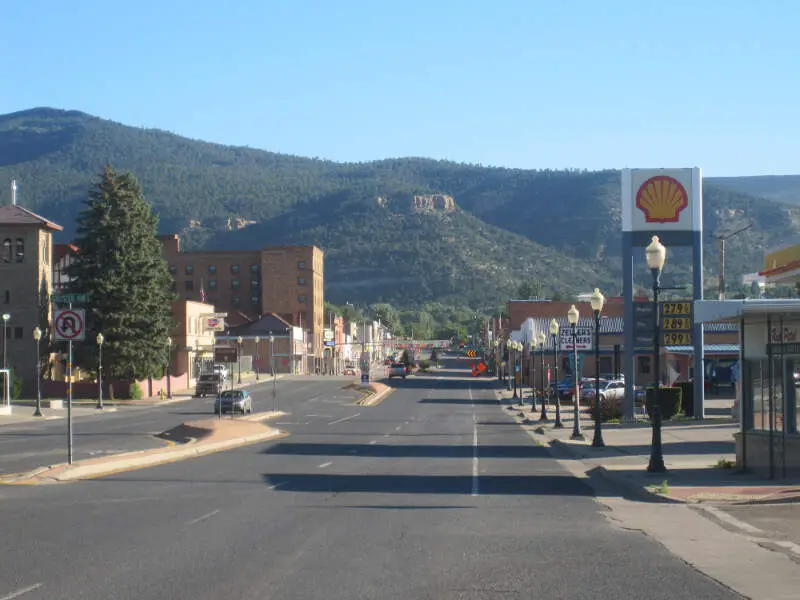 The county seat of Colfax County in northeastern New Mexico, Raton ranks as the 8th best place to live statewide. We already named Raton as one of the safest places in New Mexico, with the 3rd lowest overall crime rate in the state.
Additionally, homes in Raton sell for a median price of $83,700, while the median household income is $31,034. That combination of statistics gives Raton the 7th best home price to income ratio in the state, making it one of New Mexico's most affordable cities. On top of that, Raton has an overall cost of living score of about 80, where the national average is 100.
As for entertainment, Raton offers quite a bit for a city of just 6,047. There's Sugarite Canyon State Park for outdoorsy people, the Shuler Theater for arts enthusiasts, and plenty of mom and pop shops downtown to make for a thriving local economy.
Speaking of the economy, Raton has the 6th lowest unemployment rate in New Mexico and the 7th highest rate of health-insured residents. And folks don't have to stress themselves out over traffic every day, seeing as Raton also enjoys the 4th shortest average commute time in New Mexico at just 13 minutes.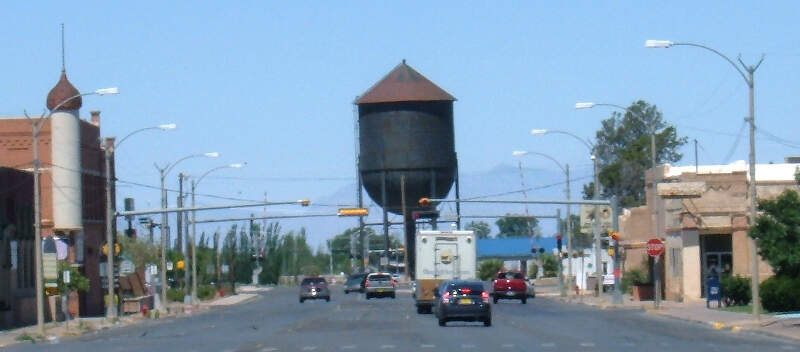 Source: Public domain
Located in the high desert at the base of the Sacramento Mountains, Alamogordo comes in as the 9th best place to live in New Mexico. We named Alamogordo one of the best places for singles in New Mexico and it's not hard to see why. Date ideas include: a day out at the New Mexico Museum of Space History for the science nerds, the Heart of the Desert for wine-lovers and pistachio-poppers, the Alameda Park Zoo for animal-enthusiasts, and the White Sands National Park for anyone with an eye for breathtaking beauty.
The poverty and unemployment rates in Alamogordo both rank within the top ten statewide. The cost of living here is cheap, with housing costs about 25% below the statewide average. In fact, Alamogordo's median home price of $113,500 is the lowest of anywhere on this list. As a bonus, Alamogordo has the 11th shortest average commute time in New Mexico at 16 minutes.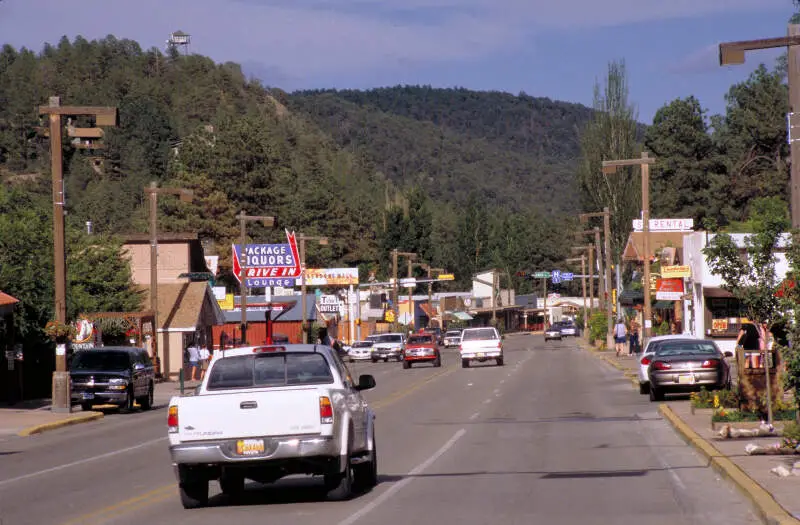 Source: Public domain
An enchanting mountain oasis situated high in the Sierra Blanca Mountains, Ruidoso comes in as the 10th best place to live in New Mexico. There are a number of options nearby for outdoor-enthusiasts, but Lincoln National Forest is a local favorite for day trips. If you're looking for something easier and closer to home, Grindstone Lake is only minutes from Ruidoso's downtown and offers all manner of outdoor fun. Last but not least, Pillow's Funtrackers is a premier entertainment venue with loads of family-friendly activities on offer. This quiet vibe coupled with plenty to keep you busy is why Ruidoso ranked so highly on our lists of both the the best cities for families and retirement in New Mexico.
Ruidoso is quite cheap if you want to give it a try; rent here goes for around $770/month, the lowest you'll find on this list and 80% below the average rent in New Mexico. Homes, on the other hand, are the 9th most expensive in the state at $180,700.
Mapping The Best And Worst Places To Live in New Mexico
The Pressing Question: Size
Before we even started to collect data, we had to answer a tough question: Is it fair to pit Santa Fe with a population of 83,922 against places with a population of 18?
We firmly decided no, that just isn't fair.
So to create our ranking, we broke places to live into three tiers:
Cities -- Populations over 5,000
Towns -- Populations between 1,000 and 5,000
Small Towns -- Populations below 1,000
This left us with 32 cities, 91 towns, and 145 small towns.
We then decided, no matter how much anyone loves their town, the best cities to live in New Mexico have more of everything and therefore you need to have over 5,000 people to truly be 'the best'.
Now we also realize that city living might not be your cup of tea, so we ran the following analysis on towns and then again for small towns.
You can see those two top tens at the bottom of the post.
How We Calculated The Best Cities To Live In New Mexico
Now that we had our set of cities, it was time to rank them.
We ranked each place in New Mexico across a number of criteria from one to 32, with one being the best.
We then took the average rank across all criteria, with the city posting the lowest overall score being crowned the winner of the title "Best Place To Live In New Mexico".
The criteria we looked at were:
Median Home Values
Median Income
Population Density (Higher better)
Unemployment Rate
Commute Time
Crime
Education Levels
Health Insurance Coverage
Poverty rates
Sources of criteria include the New Census Data and FBI Crime Data. You can download the data here.
After the dust settled, what was the best place to live in New Mexico? That would be Corrales.
If your city or town isn't among the top 10, jump down to the bottom of the post to see a detailed chart of the best places in New Mexico.
Otherwise, buckle up for a ride down good living lane with Corrales at the end of the cul-de-sac.

Wrapping Up The Best Places When It Comes To Living In New Mexico
If you're looking at areas in New Mexico with the best economic situations, where there's lower than average crime, and a lot to do, this is an accurate list.
Corrales made a strong showing to take in the overall number one spot for the best place to live in New Mexico for 2021.
Best Towns To Live In New Mexico
Sandia Heights (Pop. 3,319)
La Huerta (Pop. 1,332)
San Antonito CDP (Bernalillo (Pop. 1,186)
Sandia Knolls (Pop. 1,475)
Bosque Farms (Pop. 3,863)
El Rancho (Pop. 1,185)
Placitas CDP (Sandoval (Pop. 4,853)
Arenas Valley (Pop. 1,480)
Ponderosa Pine (Pop. 1,382)
La Mesilla (Pop. 2,165)
Best Small Towns To Live In New Mexico
Veguita (Pop. 290)
Pleasanton (Pop. 152)
Twin Forks (Pop. 254)
Luis Lopez (Pop. 239)
San Pedro (Pop. 136)
Galisteo (Pop. 290)
Las Palomas (Pop. 412)
Tijeras (Pop. 547)
Jaconita (Pop. 421)
San Jose CDP (San Miguel (Pop. 165)
If you're curious enough, here are the worst places to live in New Mexico according to the data:
Belen (Pop. 7,403)
Anthony (Pop. 9,310)
Deming (Pop. 14,139)
For more New Mexico reading, check out:
Where Are The Best Places To Live In New Mexico?
| Rank | City | Population |
| --- | --- | --- |
| 1 | Corrales | 8,588 |
| 2 | Los Ranchos De Albuquerque | 6,114 |
| 3 | Edgewood | 6,071 |
| 4 | Rio Rancho | 96,210 |
| 5 | Santa Fe | 83,922 |
| 6 | Albuquerque | 559,374 |
| 7 | Farmington | 45,258 |
| 8 | Raton | 6,047 |
| 9 | Alamogordo | 31,384 |
| 10 | Ruidoso | 7,791 |