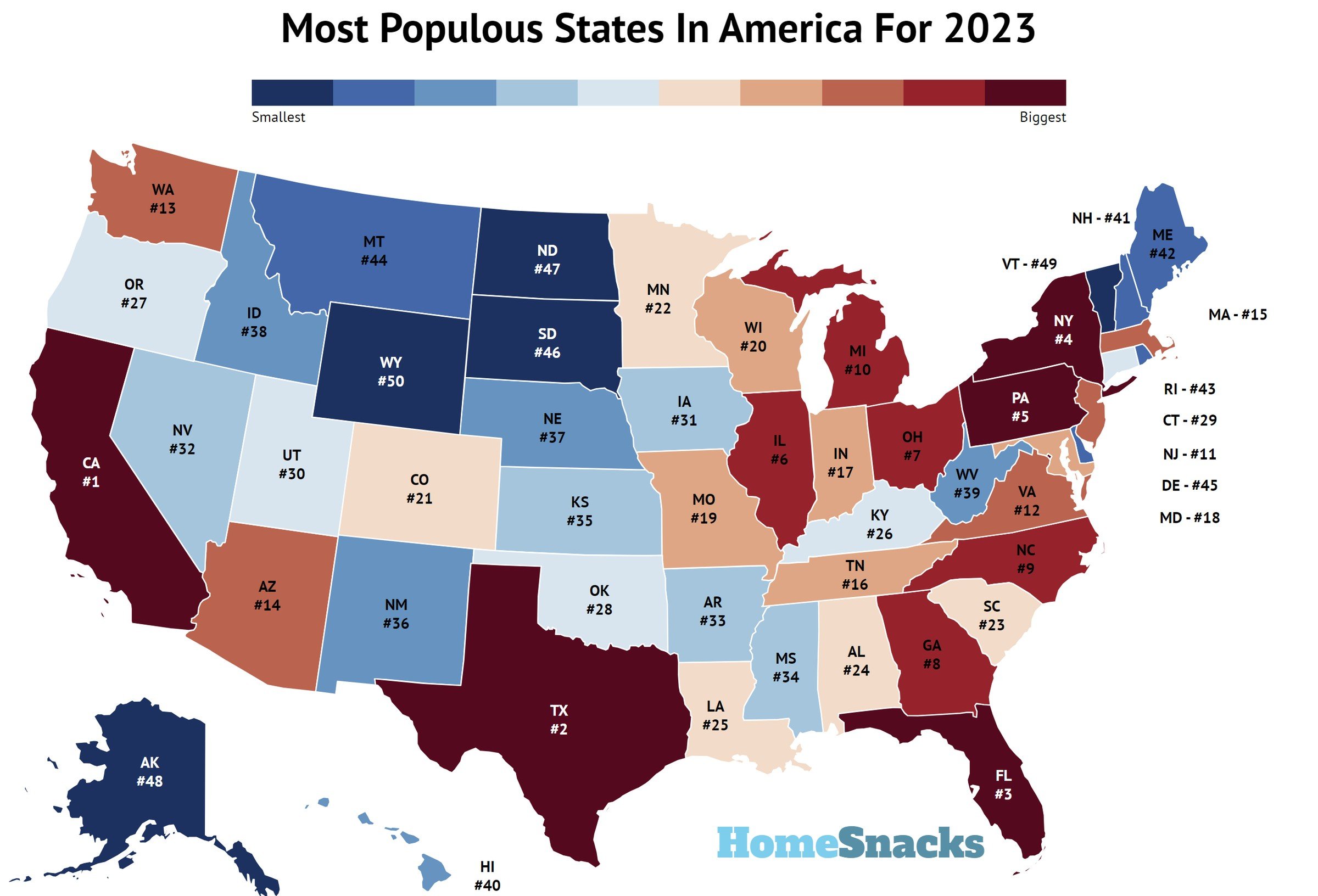 Click to enlarge
The ten largest states by population in the United States are the ones you'd probably guess were at the top. The sheer number of residents in these states can make daily life feel like a bustling experience, with millions of people commuting to work on any given Monday morning.
New York is a prime example of a state that feels densely populated — mainly due to New York City, which ranks among the world's most populous urban centers. Yet, the rest of the state offers a different perspective, with rural homes and serene landscapes.
Conversely, long commutes with sparse encounters may be the norm in less populated states. Remote work becomes necessary to avoid the local scene, giving the illusion of living in a remote area. However, a short drive of an hour or two can lead you to one of America's largest cities, teeming with activity.
Below, you will find the biggest states by population in the United States based on the most recent Census data.
The 10 Most Populous States In America For 2023
We analyzed all of the states in the U.S., looking for the largest population.
Our winner is one that people could guess easily. Not New York, but rather California. It's no shocker that one of the largest states by land in the U.S. is also the most populous.
But then come the surprising states.
Georgia and North Carolina? They only have one or two massive cities, and pictures of these states usually emphasize their beautiful countryside, beaches, and mountains.
Read on for more on the largest states by population in the United States.
How We Determined The Largest States By Population For 2023
Well, in the grand scheme of the some 60 article types we've created for the site over the past four plus years, this has to be the easiest analysis we've done.
We got the population of every state in America using the most recent Census data from the American Community Survey ,
We then ranked each state based on population from highest, California (Obvious), to lowest, Wyoming.
The state with the largest population, California, wins the prize of being the biggest state in America based on population for 2023.
Read on for some more reading about each of the top 10 biggest states and full breakdown of every state at the bottom.
These Are The 10 Most Populous States In The United States For 2023
California It's a no-brainer that California is one of the most populous states in the U.S. Have you seen the size of California on the map? It is the largest state and also the most populous.
California is home to several large cities, including Los Angeles, San Diego, San Jose, and San Francisco.
California is one of the most liked states and it's clear that people flock to this state to soak up the sun.
Population: 39,455,353
More On California: Biggest Cities | Photos | Average Rent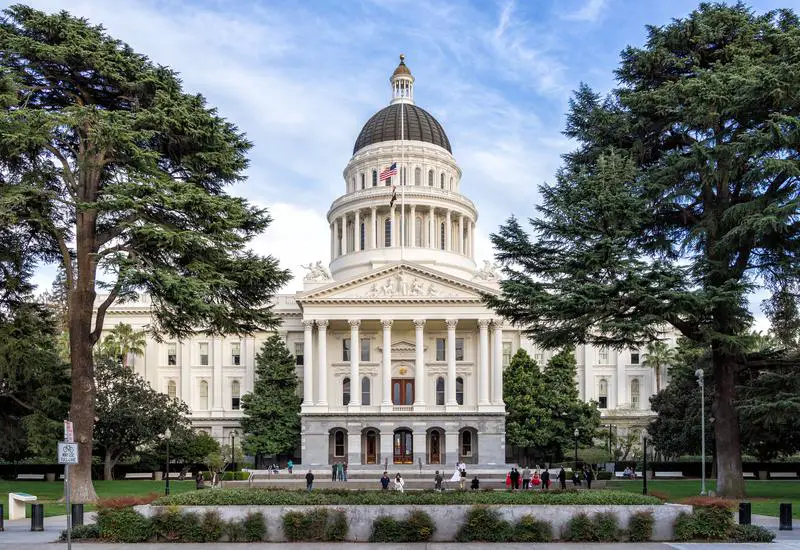 Like California, Texas is a monstrously large state. Several cities in Texas are so densely populated, they could hold a country in them. Think Houston. Other large cities in Texas include San Antonio, Dallas, and Austin.
Texas's population ranking also is bolstered by the sheer size of the state. Not everyone lives in the larger cities and those numbers add up if you are the size of Texas.
Population: 28,862,581
More On Texas: Biggest Cities | Photos | Average Rent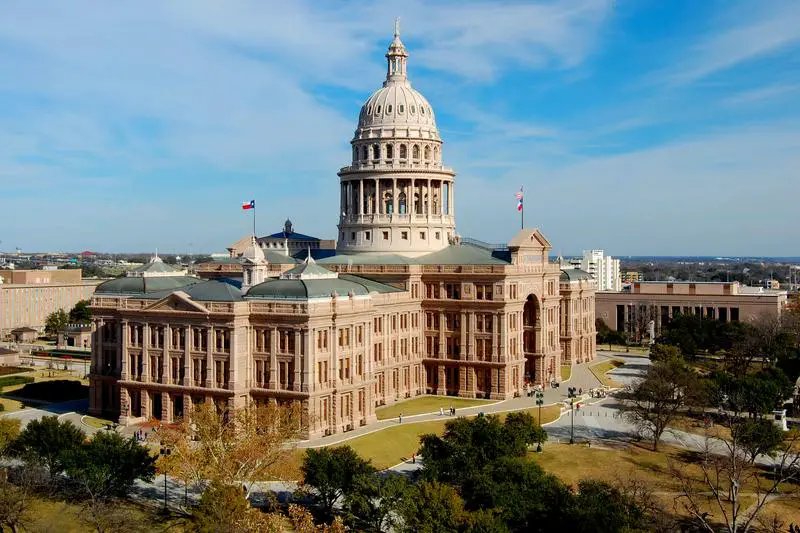 Third runner up on most populous state is Florida. This state is home to many large cities and is fairly large as well. While some states may have one or two large cities, Florida has over five cities that are home to over 200,000 people. The largest city in Florida has just over a whopping 892,000 people.
So while some parts of Florida are the swampy Everglades, the density is more than made up for in the cities.
Population: 21,339,762
More On Florida: Biggest Cities | Photos | Average Rent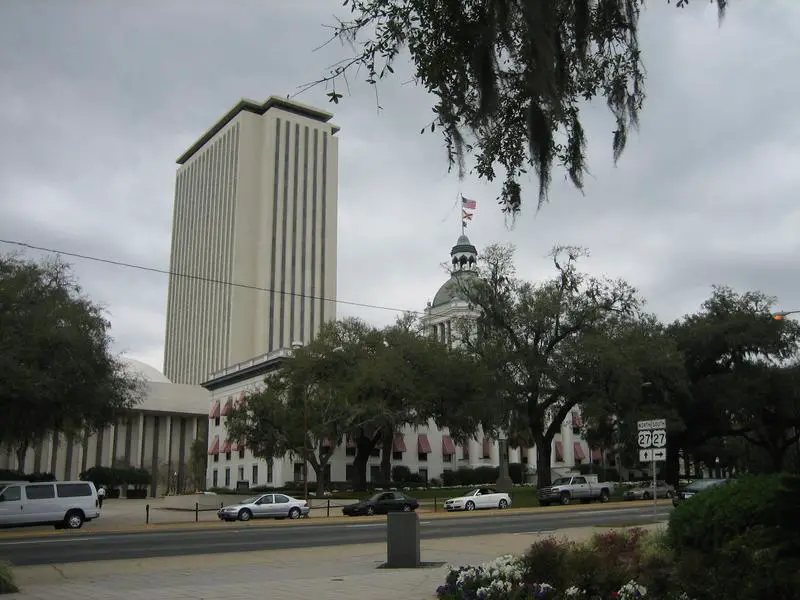 And here is where we finally get to New York. You would think that New York would be higher on the list because of New York City's immense population size, but actually, it just creates a population illusion for the state. New York is a large state and is relatively free of large cities except for New York City.
So although the Big Apple is densely populated, the other cities are very small in comparison.
Population: 20,114,745
More On New York: Biggest Cities | Photos | Average Rent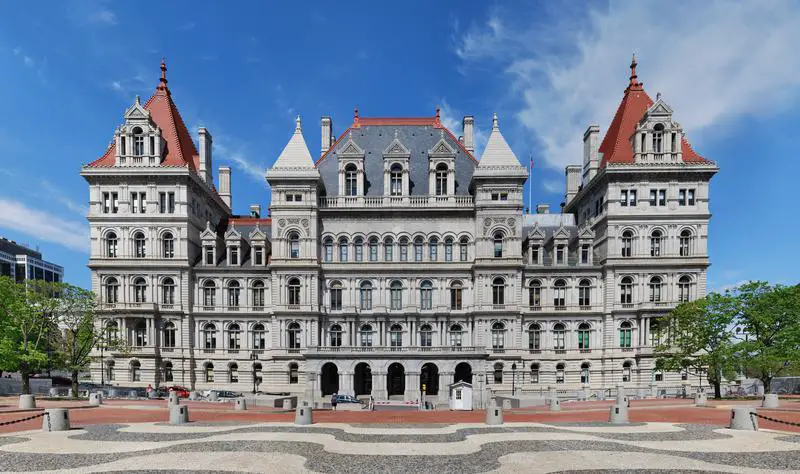 Pennsylvania is very densely populated in some areas. If you haven't heard of Philly or Pittsburgh, then you have not seen Pennsylvania in its people-glory. Philadelphia is home to over 1.5 million people– a number many states can't brag about.
There are so many people in this city compared to the rest of the state and you wonder if perhaps the Philly cheesesteaks are the driving factor.
Population: 12,970,650
More On Pennsylvania: Biggest Cities | Photos | Average Rent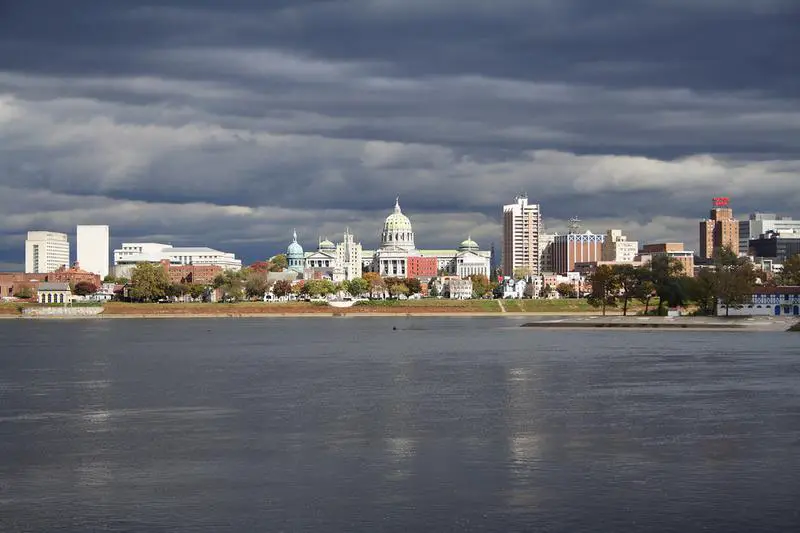 Ever think about why Illinois would make our top 10 most populated state in America list?
You guessed it, Chicago.
Chicago is home to nearly 3 million people and that doesn't include the masses that commute far into the city for work. Illinois, however, is like New York: you've got one massive city but are lacking everywhere else.
For this reason, Illinois is number 5 on our most populated states in the U.S. ranking.
Population: 12,821,813
More On Illinois: Biggest Cities | Photos | Average Rent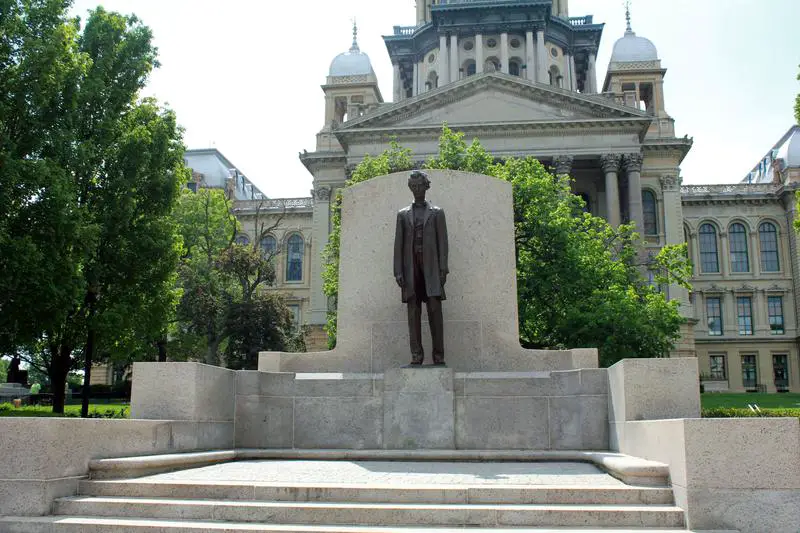 Source: Public domain
Ohio is one of America's most populous states because of its factories and industry.
Ohio has many larger cities, which include Columbus, Cleveland, and Cincinnati.
It is also a major state for healthcare: ever heard of the Cleveland Clinic? If you still like being around people, but are not a huge city fan, there are many smaller scale cities in Ohio within close distance of the big three. So here, you can have the best of both worlds.
Population: 11,769,923
More On Ohio: Biggest Cities | Photos | Average Rent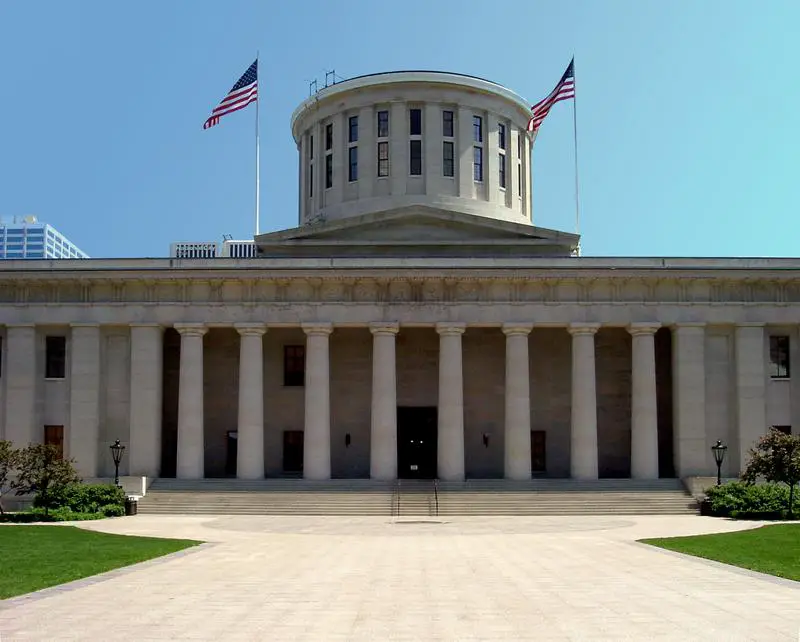 Georgia is a state that may surprise people for being highly populated.
How many people do you know from Georgia? If the answer is not many, it may not be because no one lives in Georgia, but rather that people love living in Georgia so much they never move. Georgia does have a lot of farmland, but it also has a city that is not small by any means: Atlanta.
Georgia may be a bit bipolar in terms of population areas, but it stays in our top 10 pretty firmly.
Population: 10,625,615
More On Georgia: Biggest Cities | Photos | Average Rent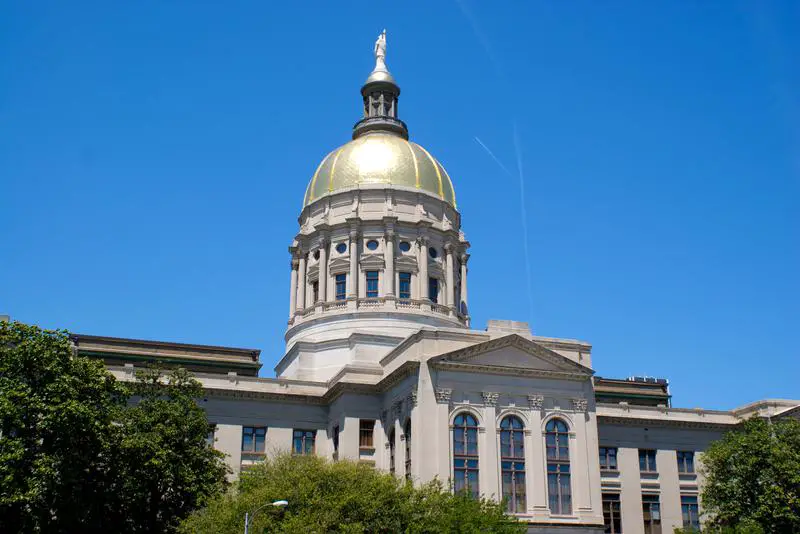 North Carolina may be the most well-known southern states, outside of Florida, for being loved by its people.
North Carolina is the southern destination for northern transplants and has pretty much anything you could want. From small beach towns to large cities like Charlotte, there is a place for everyone, so it's no wonder this state comes up as one of the most populous.
The Research Triangle Park (RTP) region is also a major hub for research and tech companies.
Population: 10,367,022
More On North Carolina: Biggest Cities | Photos | Average Rent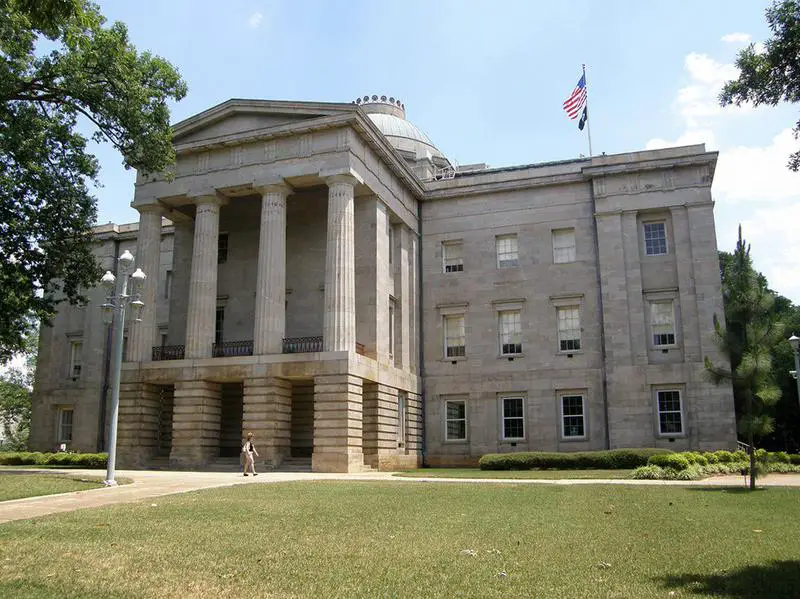 Last but not least comes Michigan.
This state is very large compared to some others and could swallow many New England states. It also is home to large metro areas like Detroit and Grand Rapids. You may think that most people have left Detroit, but it still is home to over 670,000 people.
Those cities, coupled with the many smaller towns throughout this large state make this state round out our top 10 list perfectly.
Population: 10,062,512
More On Michigan: Biggest Cities | Photos | Average Rent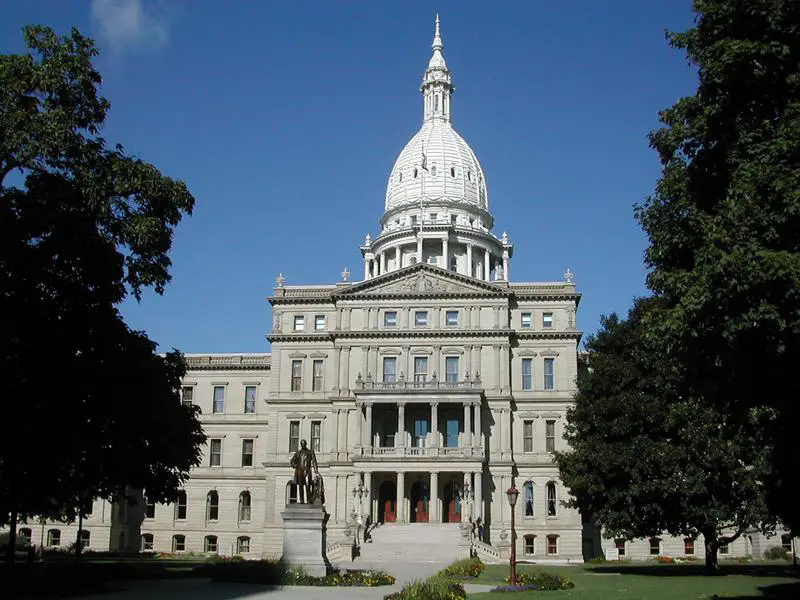 Conclusion: Biggest States In The US By Population For 2023
That's a wrap for the states in the U.S. with the biggest population. If you are living out in the boonies of Texas wondering why anyone would move to your state, think again. Moving to Houston could spice up your life a good bit if you are tired of the ranch life.
Population depends on two factors when it comes to U.S. states: state size and city density. You could have a smaller state that is filled with large, densely populated cities and has an overall state population more than a larger state with no one living in it. (Sorry Utah).
Or you can be an underdog for the win and have so much square mileage with a ton of medium-sized cities that you end up coming out ahead.
Either way, you can come to one conclusion from this article: America is massive. It is a constantly growing country, so who knows what next years top 10 will bring. Maybe even Utah will one day make top 10?
Here's a quick look at the smallest states:
Wyoming
Vermont
Alaska
For more reading, check out:
Detailed List Of US States By Population In 2023
| Rank | State | Population |
| --- | --- | --- |
| 1 | California | 39,455,353 |
| 2 | Texas | 28,862,581 |
| 3 | Florida | 21,339,762 |
| 4 | New York | 20,114,745 |
| 5 | Pennsylvania | 12,970,650 |
| 6 | Illinois | 12,821,813 |
| 7 | Ohio | 11,769,923 |
| 8 | Georgia | 10,625,615 |
| 9 | North Carolina | 10,367,022 |
| 10 | Michigan | 10,062,512 |
| 11 | New Jersey | 9,234,024 |
| 12 | Virginia | 8,582,479 |
| 13 | Washington | 7,617,364 |
| 14 | Arizona | 7,079,203 |
| 15 | Massachusetts | 6,991,852 |
| 16 | Tennessee | 6,859,497 |
| 17 | Indiana | 6,751,340 |
| 18 | Maryland | 6,148,545 |
| 19 | Missouri | 6,141,534 |
| 20 | Wisconsin | 5,871,661 |
| 21 | Colorado | 5,723,176 |
| 22 | Minnesota | 5,670,472 |
| 23 | South Carolina | 5,078,903 |
| 24 | Alabama | 4,997,675 |
| 25 | Louisiana | 4,657,305 |
| 26 | Kentucky | 4,494,141 |
| 27 | Oregon | 4,207,177 |
| 28 | Oklahoma | 3,948,136 |
| 29 | Connecticut | 3,605,330 |
| 30 | Utah | 3,231,370 |
| 31 | Iowa | 3,179,090 |
| 32 | Nevada | 3,059,238 |
| 33 | Arkansas | 3,006,309 |
| 34 | Mississippi | 2,967,023 |
| 35 | Kansas | 2,932,099 |
| 36 | New Mexico | 2,109,366 |
| 37 | Nebraska | 1,951,480 |
| 38 | Idaho | 1,811,617 |
| 39 | West Virginia | 1,801,049 |
| 40 | Hawaii | 1,453,498 |
| 41 | New Hampshire | 1,372,175 |
| 42 | Maine | 1,357,046 |
| 43 | Rhode Island | 1,091,949 |
| 44 | Montana | 1,077,978 |
| 45 | Delaware | 981,892 |
| 46 | South Dakota | 881,785 |
| 47 | North Dakota | 773,344 |
| 48 | Alaska | 735,951 |
| 49 | Vermont | 641,637 |
| 50 | Wyoming | 576,641 |
Editor's Note: We updated this article for 2023. This is our time ranking the most populous states in America.