Editor's Note: We updated this article for 2021. This is our seventh time ranking the best cities for families in Texas.
Swipe left for slideshow. Article continues below.
Article Table Of Contents   
(Skip to section)
Not only are the Stetsons bigger and better in Texas, but so are the state's best places for families. Just how much bigger and better? Well, HomeSnacks has consulted the latest Census for Texas places with at least 10,000 residents. This left us with 190 Texas cities; and let's just say, we have a pretty big list below of some pretty great places that any family would be lucky to set up shop.
And because we know that parents and guardians are also concerned with factors like whether there are other kiddos for their kiddos to play with, whether a place is safe, how the schools are performing, and how close the place is to a major city, we looked at that data too. Not surprising, Texas' best places for families have a lot to be proud of across the board.
Yes, our research led us to a lot of fun, family Texas facts. One, the percentage of households in each place that have children is at least 30 percent or more relative to population. Two, Texas currently has over 300 blue ribbon schools and two of our top ten places, Mansfield and Wylie, are leading the charge. And three, many of the state's best places for families are also some of Texas' safest cities. And, folks, the word is out: Texas is currently one of the fastest growing states in America.
So, want to know where the neighborhoods are safe, the schools are gold star, and where there are a bunch of families with kids? Keep reading, you're about to find out.
We looked at 190 cities in Texas to determine which cities are the best for raising your family. To do that, we looked at "family-friendliness," essentially all the factors you need to take into account when choosing a place to raise your family.
Can you guess which city ranked as the best for families in Texas? Yes, you guessed it, Southlake is the best place for families in Texas. Southlake comes up on several of our "best" lists for Texas and with a SnackAbility score of 10/10, it is no shocker that this city is family-friendly.
Want to see how your favorite city or hometown in Texas stacked up? Read on to learn more about our methodology and to see what makes each of our top ten cities for families so amazing.
Check out some more reading about Texas and the best places for families in the country:
The 10 Best Places To Raise A Family In Texas For 2021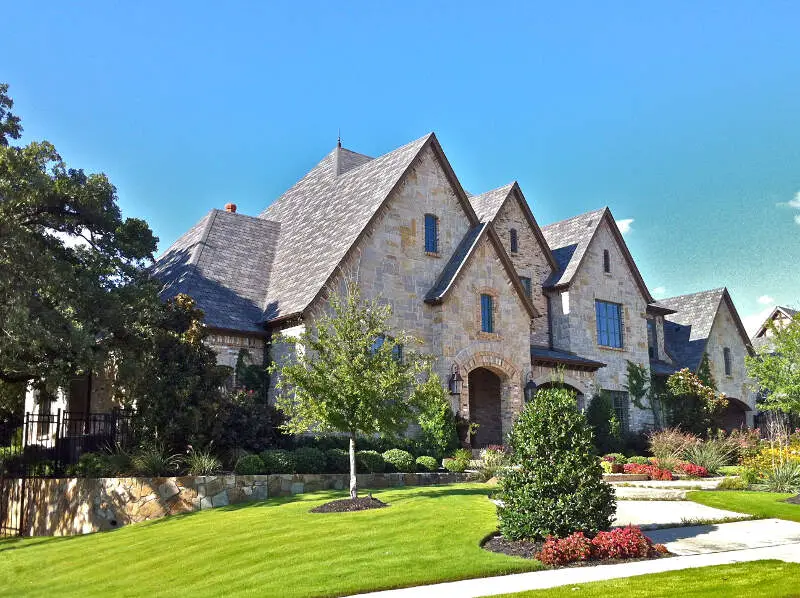 The most family friendly city in Texas for 2019 is Southlake.
Not surprising considering they are a year round destination for family fun. Southlake sits at the southeastern end of Grapevine Lake and boasts multiple golf courses, one of the fanciest shopping centers, and gold star schools. In fact, all of Southlake's schools are TEA exemplary.
How do you make Southlake happen for your family? Get a job at one of their major companies like Sabre Holdings or TD Ameritrade. Trust us, your family will be happy you did considering the household median income for residents 25-34 starts at $162,283/year.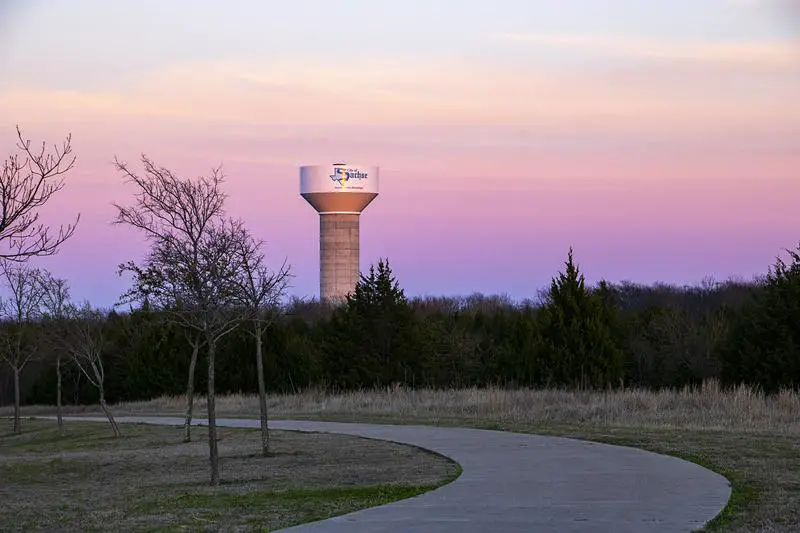 Source: City Of Sachse
When your city is on 'the map' because you are located just off the President George Bush Turnpike, you better make sure you bring it. And that's exactly what our third most family friendly city in Texas for 2019, Sachse, has done.
There not lyin' when they say everything is bigger and better in Sasche, Texas!
This city in Collin-Dallas County scored off the charts in jobs, affordability, and amenities.
And with over 10 parks at your family's disposal, that's a lot of wide open Texas space to let your kids roam.
So pack the truck and get a movin' so you can get first dibs on Sachse's best neighborhoods and gold star schools.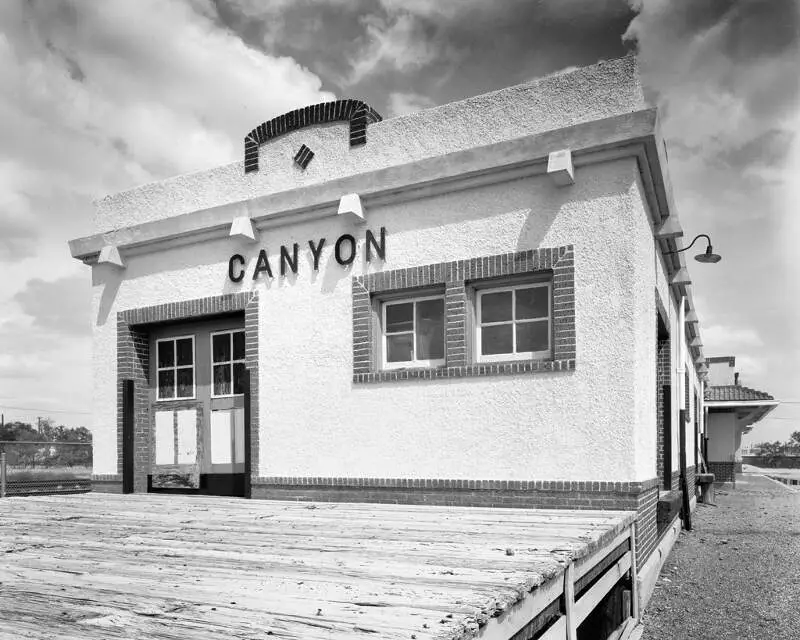 Oh Texas, Our Texas,' thank you for giving us our fifth most family friendly city in Texas for 2019: Canyon.
This Randall County city crushed our snackability scale with high marks across the board. It's like a ginormous Texas playground for big and little cowboys and cowgirls alike.
Known for West Texas A&M, the Panhandle-Plains Historical Museum, and the Palo Duro Canyon State Park, this city's family household median income is close to $47,000/year. Just think of all of the Canyon family friendly activities you'll be able to afford with all that dough.
They definitely know what they're doing in the city that 'Feels Like Home'.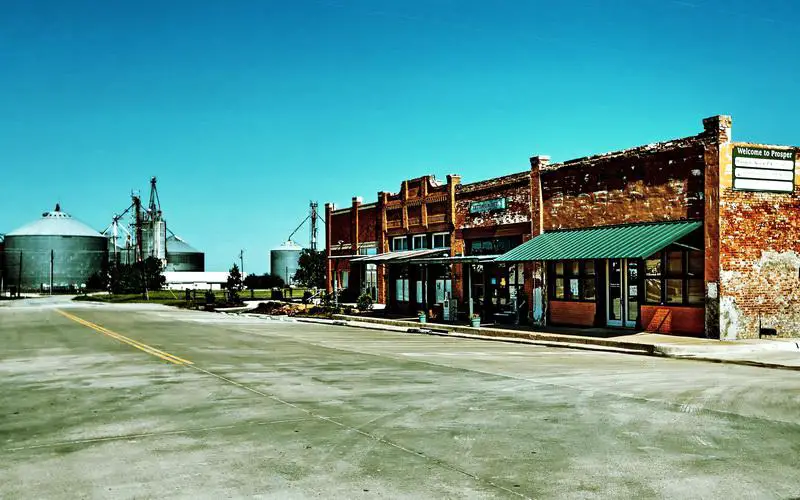 In Prosper, Texas, all families prosper. This is why this "Small Town with Big Heart" is our fourth most family friendly city in Texas for 2019.
This city in Collin-Denton County is a family friendly Dallas/Fort Worth-burb with tons of great jobs, low crime, and family friendly things to do.
Prosper companies like AmerisourceBergen and Conifer Health Solutions are providing a lot of opportunities for families to earn that cheddar. The median household income for Prosper is close to $136,000/year.
And if you're stressed about where to send your kids to school, you can stop now. Prosper has multiple blue ribbon elementary schools and golden apple secondary schools.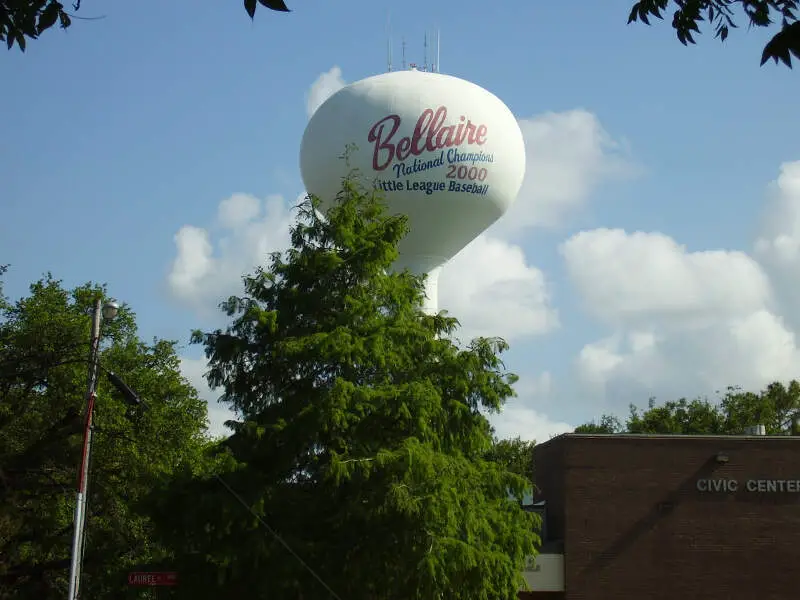 Source: Public domain
Must be something in the Grapevine Lake water because our second most family friendly Texas city hails from the same area.
Bellaire also scored off our charts with an 10/10 snackability rating with an emphasis on jobs, education, and family friendly amenities.
The "City of Homes" is one the wealthiest cities in the state, any family would be lucky to call this family friendly Dallas/Fort Worth-burb home.
And if their second place most family friendly Texas ranking doesn't seal the deal, check out our Best Cities in Texas, they took third on that list. (It's worth a google.)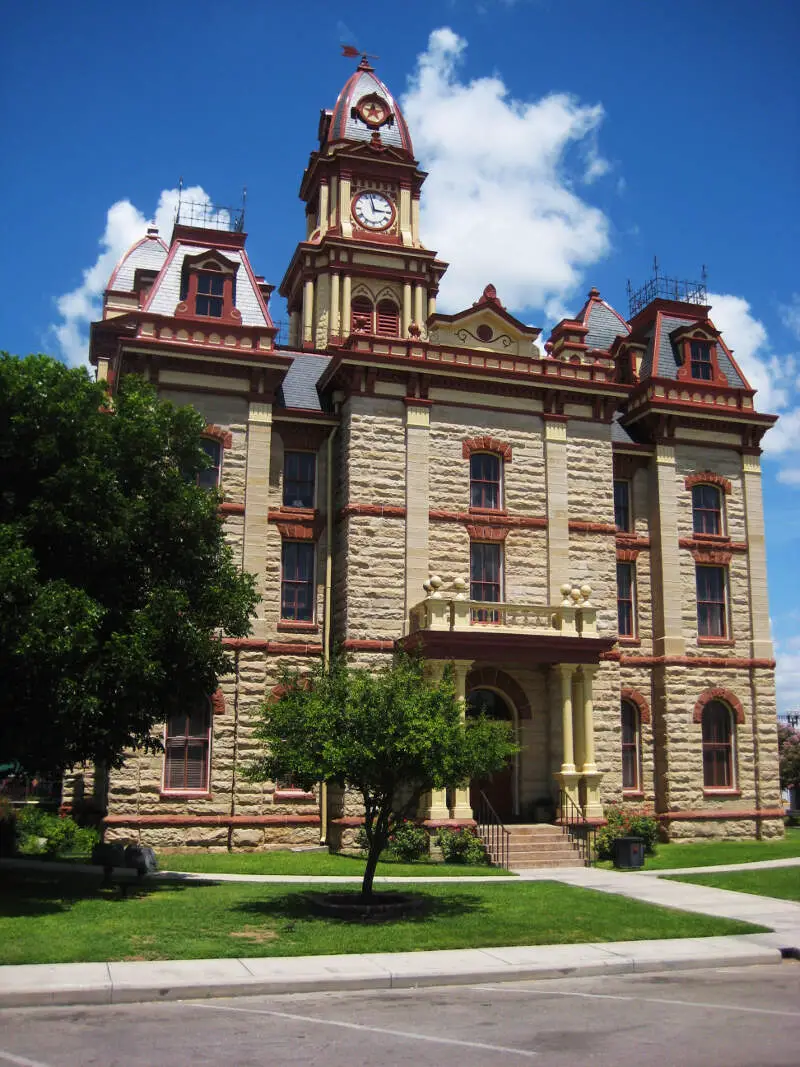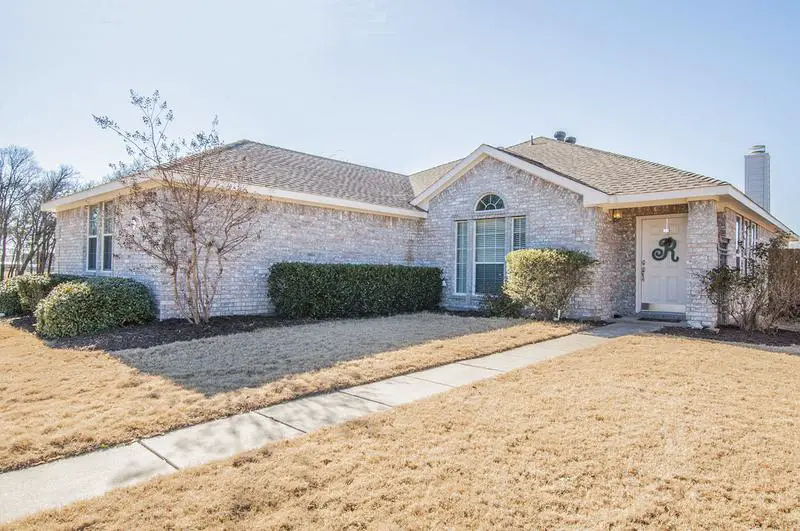 You don't have to worry about running into the 'Wile Coyote' in our eighth most family friendly city in Texas for 2019, Wylie, because it's super safe.
This little Texas gem is one of the fastest growing cities in The 10 Gallon Hat State. Did we mention one of the most affordable too? Wylie has a lot of great employment opportunities to keep it affordable, so it was not a surprise to us that they scored a 9/10 on our snackability scale with an emphasis on jobs. Busy people don't have time to be naughty, right?
Surrounded by multiple state and county parks and Lavon Lake, this Central Texas community has amazing shopping, art galleries, museums, and it's just a stone's throw away from Dallas.

Welcome to Mansfield. This city in Tarrant County has one of the highest scores on our list for family amenities and it's our seventh most affordable city in The Lone Star State for 2019.
Located slightly southwest of Dallas-Fort Worth, and just a hop, skip, and a jump from Joe Pool Lake, Mansfield has something for everyone. Amazing food, 11 parks, a baseball and soccer complex, and hiking and biking trails, dot the city's landscape.
Mansfield is famous for sticking to tradition. So if you're looking for a city with quaint, quiet neighborhoods, idyllic community parades and gatherings, and residents who want to keep the city in the hands of its people, Mansfield is your city.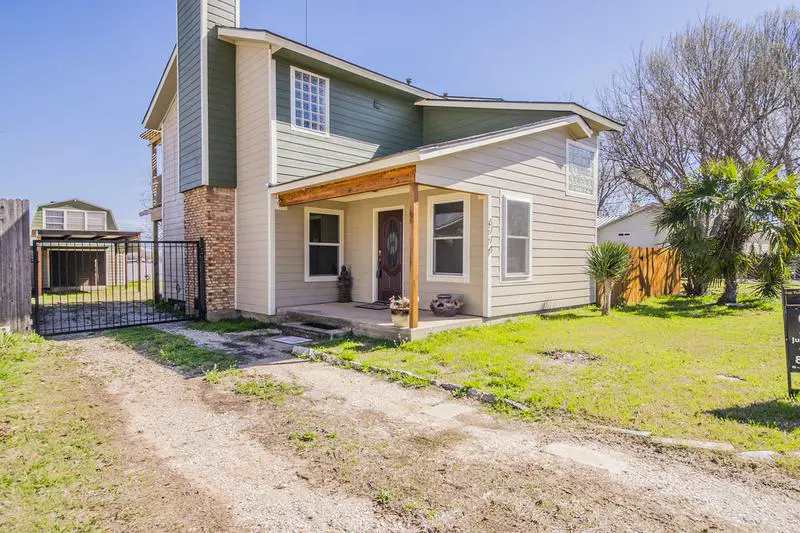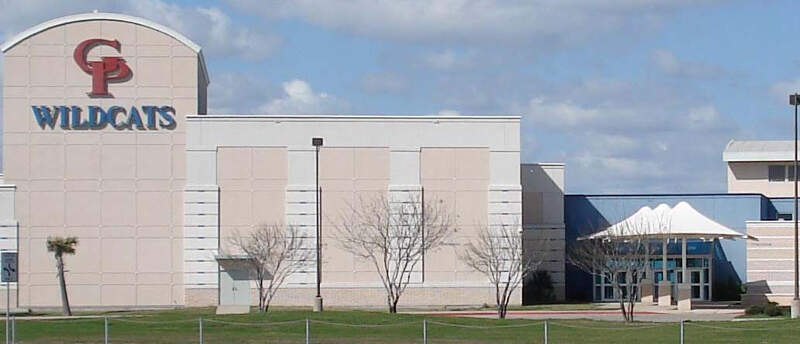 Source: Public domain
Finally a family friendly Texas city located on the coast. Yes, our tenth city, Portland, is located just outside of Corpus Christi on the Gulf of Mexico.
Portland made our list because they scored strong across all of our snackability's criteria. However, they made the most magic happen on our list in jobs, education, and amenities. The residents, here, are smart, hard-working Texans.
Good thing, because the more money families make here, the more fun in the sun they will be able to afford.
So, grab the fam, pack the Woody, and head to "The Gem City By the Gulf," cuz the ocean is calling your name.
How do you determine which place is best for families in Texas anyways?
To give you the places in Texas which are best for families, we have to look at a handful of metrics. Of course, we want to measure the type of people who live in each city, and make some assumptions about what's family-friendly and what isn't.
So we researched the internet for a database that contains all that information.
How we crunched the family friendly numbers for the Lone Star State
We threw a lot of criteria at this one in order to get the best, most complete results possible. Using U.S. Census data produced for the state of Texas, we looked at every single city in the state. We paid particular attention to:
Crime (Both violent and property)
Quality of local schools
Distance to a major city without necessarily being in it
% of households with children
Family-friendly amenities nearby (museums, libraries and colleges)
We then gave each city a Family Score.
The higher the score, the better the city is for families. We also limited our results to cities with populations over 10,000 people. For Texas, that meant a total of 190 cities. You can download the data here.
There You Have It - The Best Places To Raise A Family In Texas
If you're looking for a breakdown of cities in Texas ranked by criteria that most would agree make a place a great spot for families, this is an accurate list.
Here's a look at the best cities for singles Texas according to the data:
Bellmead
Humble
Addison
For more Texas reading, check out:
Where Are The Best Places For Families In Texas?
| Rank | City | Population |
| --- | --- | --- |
| 1 | Southlake, TX | 31,292 |
| 2 | Sachse, TX | 25,607 |
| 3 | Canyon, TX | 15,305 |
| 4 | Prosper, TX | 22,517 |
| 5 | Bellaire, TX | 18,815 |
| 6 | Lockhart, TX | 13,652 |
| 7 | Wylie, TX | 49,759 |
| 8 | Mansfield, TX | 69,557 |
| 9 | Azle, TX | 12,796 |
| 10 | Portland, TX | 17,025 |