Editor's Note: We updated this article for 2021. This is our seventh time ranking the best places to live in Texas.
Article Table Of Contents   
(Skip to section)
Everything is the best in Texas.
Err.
Everything is better in Texas.
Still, not right, but we'll go with it for now. And since everything might be better and bigger in Texas, we decided that we would hunker down with our data, spreadsheets, and algorithms to do Texas proud when it comes to researching the best places to live in the Lone Star State. And unlike other places that just randomly decide that Austin has to be the best place to live, we stick to the cold hard facts from sources like the Census and the FBI. Things like the best schools and lowest crime rates that people generally desire when moving to a new place in Texas.
If we could measure the most Cowboy hats and Cowboy fans per square mile, heck we'd measure that too. In all, we analyzed the 335 places in Texas over 5,000 people for this study.
What is the best place to live in Texas? According to the data we collected and our algorithms, West University Place ranks as the best place to live in Texas for 2021. They're no stranger to our lists as they took the top spot last year and rank as one of the wealthiest places in Texas. If West University Place is out of your price range, don't worry, the top ten has a place for everyone. So, go grab your tex-mex and a margarita as we take a quick look at the top ten.
The 10 Best Places To Live In Texas For 2021
You might have come here expecting to see Dallas and Houston, but even though those cities offer up a ton to residents, it's actually better to live outside the cities and commute.
West University Place is the perfect example -- it's a small suburb outside of Houston that has everything you'd could ever want, but without the constant hustle and bustle.
Overall, the economies in these places are booming and the quality of life is second to none.
Now read on to see the details behind the rankings and a closer look at the top ten cities being featured in our Friday Night Lights for 2021.
If you're looking for something more national, check out the best states in America or the best places to live in America.
For more Texas reading, check out:
The 10 Best Places To Live In Texas For 2021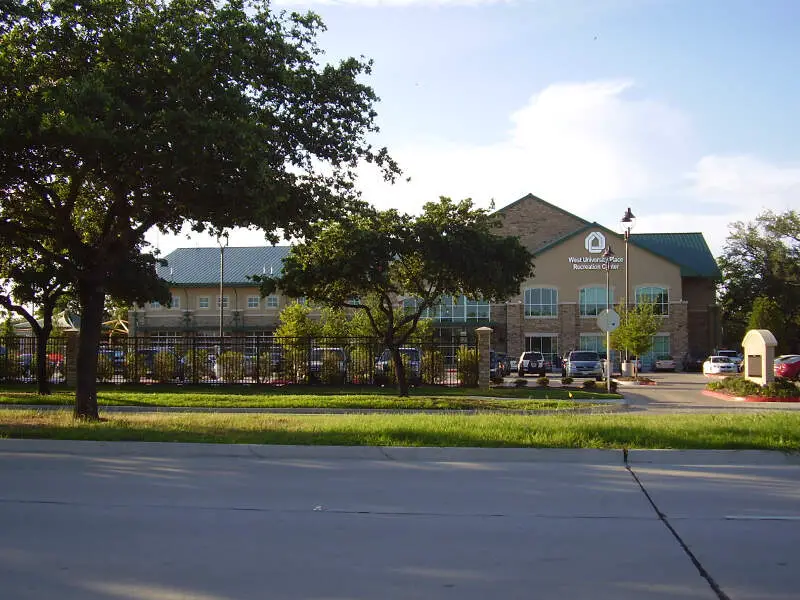 Source: Public domain
Kicking off our list of best places to live in Texas is West University Place, an affluent suburb of Houston. As the most densely-populated city in Texas, West University Place is sure to have enough activity even for your most social of social butterflies. I mean, in just fifteen minutes you can be at an Astros game or Houston's world-class Museum of Natural Science, depending on your inclination.
Over half of the population in West University Place has a master's degree or higher, so you know that folks here aren't dummies. All those fancy diplomas really pay off for residents, because at $250,001/year, West University Place has the highest median income in Texas. And since people with good jobs usually also have health insurance, West University place also has the 2nd highest rate of insured residents in the state.
Nobody gets left out of the good times in West University Place, as evidenced by the city's ranking as the place with the 7th lowest poverty level in Texas. Seeing as poverty and crime usually go hand in hand, it's no surprise that West University Place also boasts the 9th lowest rate of violent crime in Texas.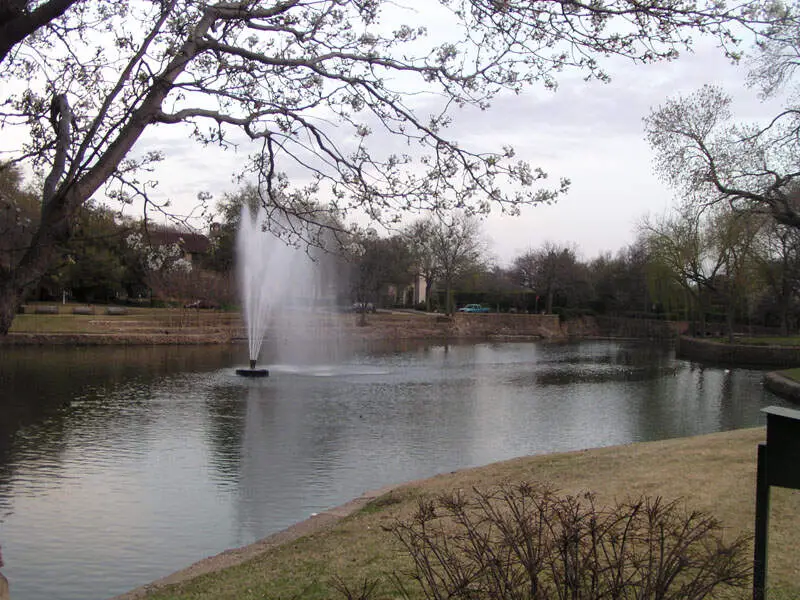 University Park is a Dallas suburb of 25,036 people that has a lot going for it. With a median age of 35, University Park is the youngest city to make this list, so you know it's a vibrant place with fresh ideas. It's also the 2nd most densely-populated city in Texas, which adds to the dynamism here. And with Dallas right there, you can be in America's largest urban art district in under 15 minutes.
In general, residents of University Park don't have money problems, because they're the 3rd best-paid workers in Texas, pulling in around $224,485/year. Moneyed individuals don't often go in for crime, and that holds true in University Park, where violent crime is the 6th lowest in Texas and the total crime rateis 50% lower than the national average.
Add to that top-notch schools and an excellent housing market, and you've got a recipe for the 2nd best place to call home in Texas.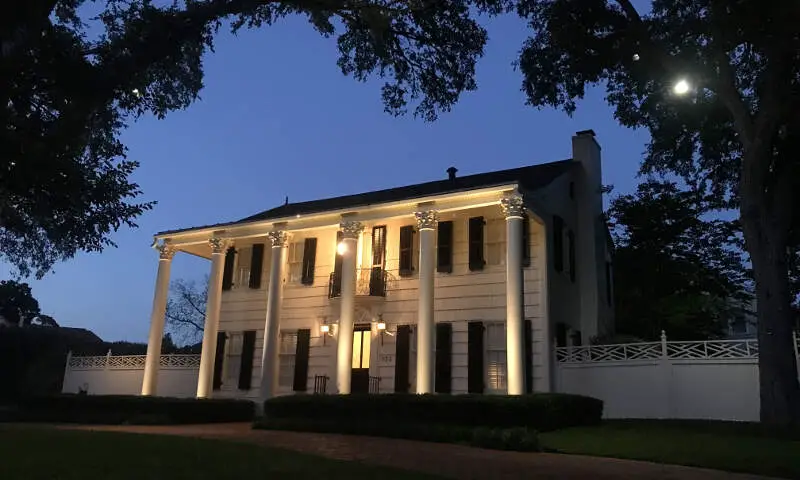 All of Texas' biggest cities get some love on this list, because San Antonio suburb of Terrell Hills ranks as the 3rd best place to live in the state. As the richest place in Texas, you should know that living in Terrell Hills can be kind of pricey. However, with homes going for around $617,200 and folks earning a median household income of $181,979/year, Terrell Hills actually has some of the lowest cost of living among this list's top five.
The unemployment rate in Terrell Hills is an absurdly low 1.2%, the 6th lowest in Texas. Terrell Hills also has the 4th lowest poverty rate in the state, sitting at around 0.7%. With all this money and all these jobs, it's no surprise that Terrell Hills' residents have the 8th highest rate of health insurance in Texas.
As a bonus, it shouldn't be a problem remembering the Alamo with it right in your neighborhood. And if you want a day shopping or just plain sightseeing, San Antonio's river walk is just the thing.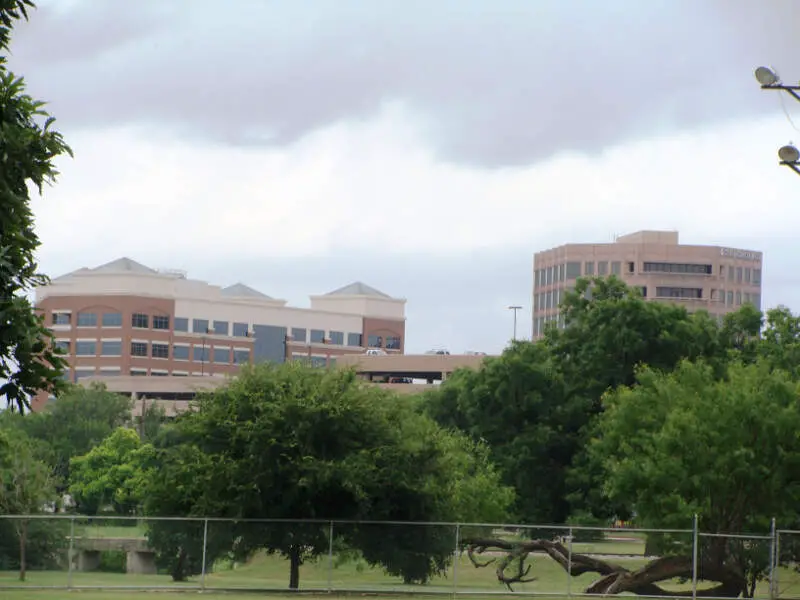 We're heading back down to the greater San Antonio area to arrive at our 4th best city in Texas, Alamo Heights. Alamo Heights is a city of 8,374 people almost completely surrounded by the bigger city, which helps give it the title of 9th most densely populated city in Texas. Those who like to be in the center of the action will find plenty to love in Alamo Heights. It's also a great jumping off point for getting to Natural Bridge Caverns, Texas' largest underground attraction and a serene, but strangely eerie, spot to spend the day.
Alamo Heights has a diverse population, high-quality public schools, and hot markets for both jobs and housing. It's also the place with the 3rd highest rate of insured residents in Texas, with 98.4% of people being covered.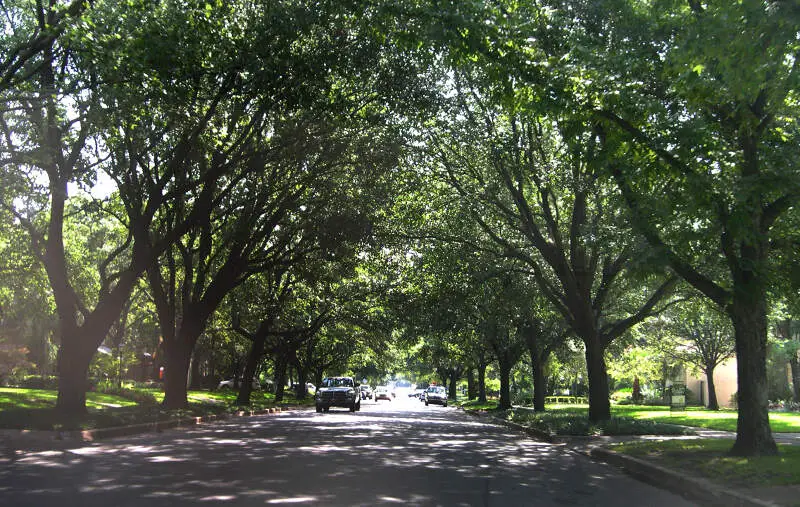 You should have no trouble recognizing that you're living in high society in Highland Park, an affluent town that, together with University Park, comprises the Park Cities enclave of Dallas. Homes in University Park are the 1st costliest in Texas, going for a median price of $1,508,900. That's okay though, because University Park residents are also the 4th best paid in the state, pulling in around $211,136/year.
Some other markers of University Park's excellence are its sub-3% rates of poverty and unemployment and its distinction as the 47th least violent place in Texas. As a bonus, folks in University Park only commute 17 minutes to and from work, which is the shortest trip you'll see on this list. In about the same amount of time, you can get to the Dallas Arboretum and Botanical Gardens to add a bit of color to your life.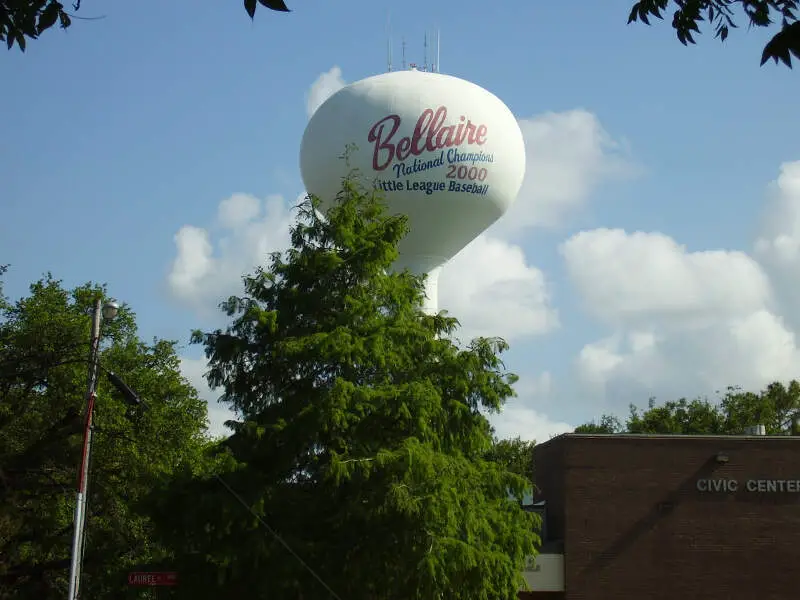 Source: Public domain
Bellaire is a city of 18,815 surrounded by Houston and West University Place. We named Bellaire one of the best cities for families in Texas, and a lot of those same factors land it on this list. For instance, an 8.5/10 GreatSchools average rating for local public schools and awesome kid friendly amenities around like the Children's Museum Houston.
If you've always wanted to get in on a book club, you've got a good shot in Bellaire, because around 50% of its residents have a master's, PhD, or professional degree. You also won't have to worry much about the vicissitudes of Wall Street or Washington here, because Bellaire has the 8th lowest poverty levels and 6th highest rate of residents with health insurance in Texas.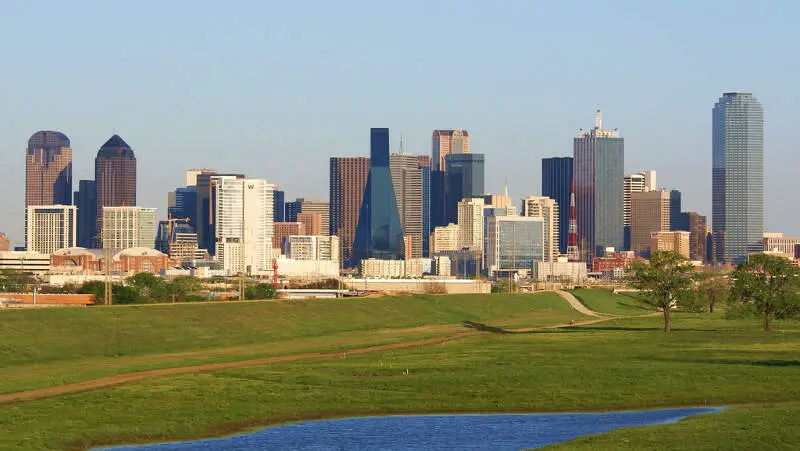 A bedroom community of the Dallas-Fort Worth Area, Coppell is a city of 41,645 that ranks as the 7th best place to live in Texas. Coppell is a place where the economy works for everyone, as evidenced by the super-low rates of unemployment (2.2%) and poverty (2.6%). It also has one of the premier educational systems in the state, with GreatSchools giving Coppell's schools an average score of 8/10 (with plenty of 10/10s available, depending on your district).
All these things are great indicators of Coppell's high quality, but we haven't come to the city's best feature: being only ten minutes away from the Legoland Discovery Center. At 40, Coppell has a lower median age than most places listed here, so we think residents' Lego appreciation is proportionally higher.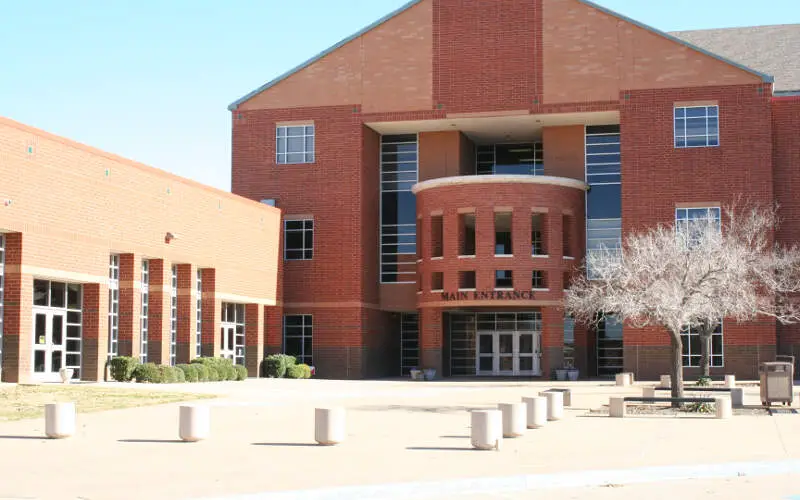 Another Dallas-Fort worth suburb, Colleyville is a city of 26,462 with across the board strong statistics. Noted for its consistently high-ranking public schools, you'd better believe kids who grow up in Colleyville get off on the right foot. Evidently, the importance of education transcends age, because about 30% of Colleyville's residents kept earning degrees after earning their bachelor's.
That work ethic really pays off for Colleyville's residents, who earn the 8th highest pay in Texas, around $163,509/year. And since smart people with good jobs don't have much reason to go around committing crimes, Colleyville also has the 9th lowest crime rate in the state, about 75% lower than the national average.
As for escaping the hustle and bustle of the big cities, not many cities on this list can boast having a 46-acre natural refuge, complete with nine ponds and countless fishing spots. Colleyville can, though.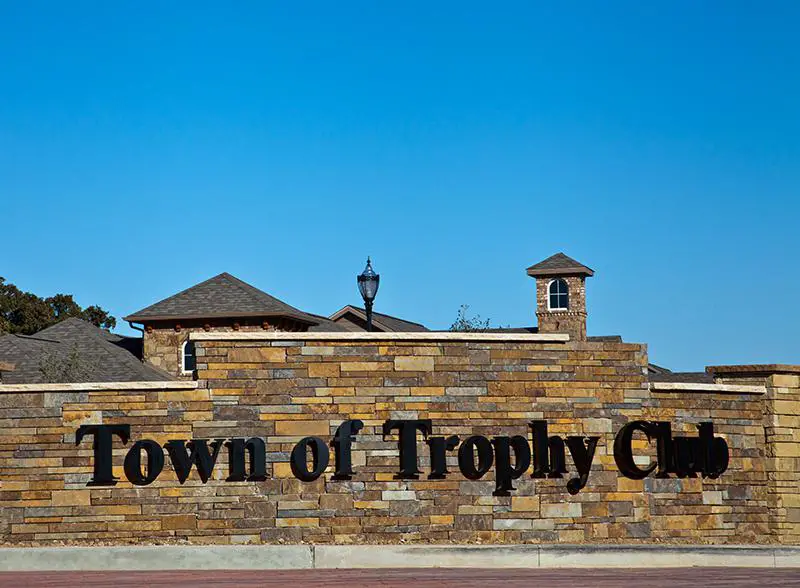 Source: Town of Trophy Club
An affluent suburb of the Dallas-Fort Worth metroplex, Trophy Club comes in as the 9th best place to live in Texas for 2021. As the town with the 4th lowest rate of crime in the state, Trophy Club is one of the safest places to live in Texas.
Trophy Club is also younger than most places on this list, with a median age of 40. The young folks are doing quite well for themselves, because the median household income in Trophy Club is $147,477/year. Combined with home prices of around $400,500, Trophy Club actually has the lowest overall cost of living among the cities featured here. And having the 14th lowest rate of poverty in Texas means that everyone in Trophy Club gets in on the good times.
Don't worry about a dearth of activity here, because in just 30 minutes you can find yourself at Fort Worth's Sundance Square, where the nightlife is popping.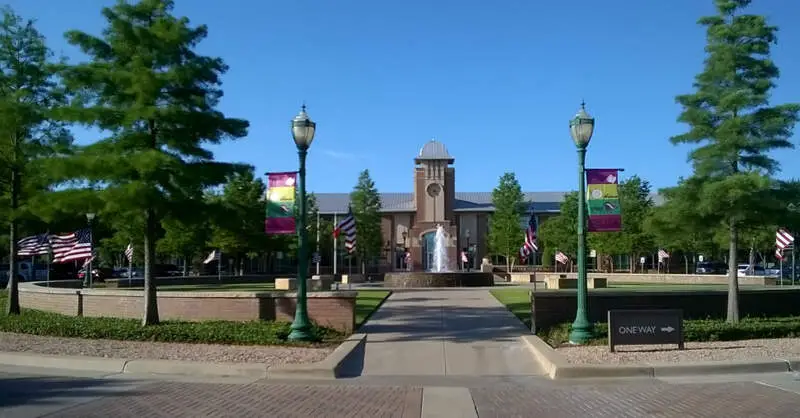 We're going to stick around the Dallas-Fort Worth metroplex to wrap up our list of best places in Texas with Keller, a suburb of 46,813. There's no one statistic that earns Keller a spot on this list. Is the school system way above average? Yes. Is the crime rate among the lowest in the state? You betcha. Are poverty and unemployment rates hovering around 3%? You'd better believe it.
Folks in Keller earn the 13th highest salaries in Texas, with a median household income of $141,364. Of all the places on this list, the cost of living in Keller is second-lowest only to Trophy Club. As an extra attraction, having the top-notch Keller Farmer's Market and Keller Pointe athletics center right in your neighborhood means it's easy to eat healthy and stay active here. That's the kind of quality that pays dividends down the road.
Mapping The Best And Worst Places To Live in Texas
The Pressing Question: Size
Before we even started to collect data, we had to answer a tough question: Is it fair to pit Austin with a population of 950,807 against places with a population of 18?
We firmly decided no, that just isn't fair.
So to create our ranking, we broke places to live into three tiers:
Cities -- Populations over 5,000
Towns -- Populations between 1,000 and 5,000
Small Towns -- Populations below 1,000
This left us with 335 cities, 580 towns, and 518 small towns.
We then decided, no matter how much anyone loves their town, the best cities to live in Texas have more of everything and therefore you need to have over 5,000 people to truly be 'the best'.
Now we also realize that city living might not be your cup of tea, so we ran the following analysis on towns and then again for small towns.
You can see those two top tens at the bottom of the post.
How We Calculated The Best Cities To Live In Texas
Now that we had our set of cities, it was time to rank them.
We ranked each place in Texas across a number of criteria from one to 335, with one being the best.
We then took the average rank across all criteria, with the city posting the lowest overall score being crowned the winner of the title "Best Place To Live In Texas".
The criteria we looked at were:
Median Home Values
Median Income
Population Density (Higher better)
Unemployment Rate
Commute Time
Crime
Education Levels
Health Insurance Coverage
Poverty rates
Sources of criteria include the New Census Data and FBI Crime Data. You can download the data here.
After the dust settled, what was the best place to live in Texas? That would be West University Place.
If your city or town isn't among the top 10, jump down to the bottom of the post to see a detailed chart of the best places in Texas.
Otherwise, buckle up for a ride down good living lane with West University Place at the end of the cul-de-sac.

Wrapping Up The Best Places When It Comes To Living In Texas
If you're looking at areas in Texas with the best economic situations, where there's lower than average crime, and a lot to do, this is an accurate list.
West University Place made a strong showing to take in the overall number one spot for the best place to live in Texas for 2021.
Best Towns To Live In Texas
Rollingwood (Pop. 1,642)
Olmos Park (Pop. 1,964)
Southside Place (Pop. 1,746)
Spring Valley Village (Pop. 4,098)
Hunters Creek Village (Pop. 4,688)
Bunker Hill Village (Pop. 3,909)
Piney Point Village (Pop. 3,312)
Meadowlakes (Pop. 2,240)
Ransom Canyon (Pop. 1,325)
Lost Creek (Pop. 4,498)
Best Small Towns To Live In Texas
Hilshire Village (Pop. 852)
Sunset Valley (Pop. 801)
Highland Haven (Pop. 561)
Westover Hills (Pop. 578)
Mountain City (Pop. 694)
Hill Country Village (Pop. 751)
Nazareth (Pop. 274)
Lake Tanglewood (Pop. 804)
San Leanna (Pop. 606)
Bishop Hills (Pop. 278)
If you're curious enough, here are the worst places to live in Texas according to the data:
Alton (Pop. 16,976)
Diboll (Pop. 5,266)
Hutchins (Pop. 5,718)
For more Texas reading, check out:
Where Are The Best Places To Live In Texas?
| Rank | City | Population |
| --- | --- | --- |
| 1 | West University Place | 15,603 |
| 2 | University Park | 25,036 |
| 3 | Terrell Hills | 5,371 |
| 4 | Alamo Heights | 8,374 |
| 5 | Highland Park | 9,168 |
| 6 | Bellaire | 18,815 |
| 7 | Coppell | 41,645 |
| 8 | Colleyville | 26,462 |
| 9 | Trophy Club | 11,949 |
| 10 | Keller | 46,813 |