Editor's Note: Data has been updated for 2022. This is our ninth time ranking the best San Jose suburbs.
Article Table Of Contents   
(Skip to section)
If you're thinking of moving to a San Jose suburb, then you're in the right place, because this is HomeSnacks ninth time ranking the best suburbs that California's third-biggest city has to offer.
There are a lot of reasons to love San Jose. It's known as the Capital of Silicon Valley, so you know anyone working in the tech industry would be delighted to live in the center of the action. And there's nowhere better for an outsider to learn about the region's relationship with tech than The Tech Interactive. For those who find more pleasure in shopping than coding, Santana Row, with its countless stores, restaurants, bars, and music venues, all along palm and oak-lined pedestrian-friendly streets, is sure to be a selling point. Not to mention San Jose's small but lively downtown, which offers a dizzying array of attractions. Not least of which is the annual Jazz Summer Fest that goes down at Plaza de Cesar Chavez each August.
No doubt about it, San Jose is awesome. But if you'd just like to have access to the best of San Jose without settling down there, you might be keener on living in one of its best suburbs. What do we mean by best? Well, we looked at data from the FBI and Census to rank each of San Jose's 30 suburbs based on factors such as crime, median household income, low rates of unemployment and poverty, and the availability of excellent amenities. We also used our own SnackAbility scale to figure out how each suburb stacked up in terms of education, affordability, and even commute times. The results were not disappointing, with more than half our list's suburbs scoring a perfect 10/10 overall SnackAbility score.
Just where are these phenomenal suburbs? By and large, to the northwest of San Jose, in the direction of San Francisco. That's not to say that there aren't great suburbs in other areas -- to the city's south you'll find the small city of Monte Sereno, where the streets are super safe and poverty rates hover around a measly 1%. Do note that these suburbs cannot be described as cheap; the only place in the top ten with homes typically selling for under $1,000,000 is Pleasanton, and the cost of livingthere is still twice as high as the national average. On the other end of the spectrum, you have the $2,000,000+ homes of Atherton, with a cost of living that outstrips the national average by 350%.
So get cracking on your piggy banks, sign up for a technology 101 class, and get ready to enjoy a perfect Mediterranean climate, because we're paying a visit to San Jose's best suburbs to live in 2022.
Here are the 10 best suburbs to live around San Jose for 2022:
That wraps our tour of San Jose's best suburbs. If you're weighing the choice between moving into or around San Jose, then be sure to also consult our list of the city's best neighborhoods.
Any of the suburbs listed above would make a great home if you have the capital to experience them fully. But which San Jose suburb stands out as the absolute best? According to the data, Los Altos is the best suburb for 2022.
Shocked to see that your favorite San Jose suburb didn't make our top ten? Fear not, there's a complete list of all of San Jose's 30 suburbs down below. Pro tip: the worst ones are at the bottom.
Note: This result may differ from our state wide data as we did not include commute times and crime for this analysis to allow for a larger selection of suburbs.
Feel free to check out some more reading about California:
The 10 Best San Jose Suburbs To Live For 2022
Los Altos is always mentioned as one of the best suburbs in the San Jose area. We'll tell you the good about "Awesome Los Altos."
Everyone here is rich; families average $240,094 a year, which is the 5th highest in the San Jose region. And only 3.59% are out of work. Homes average more than $2,000,001 each.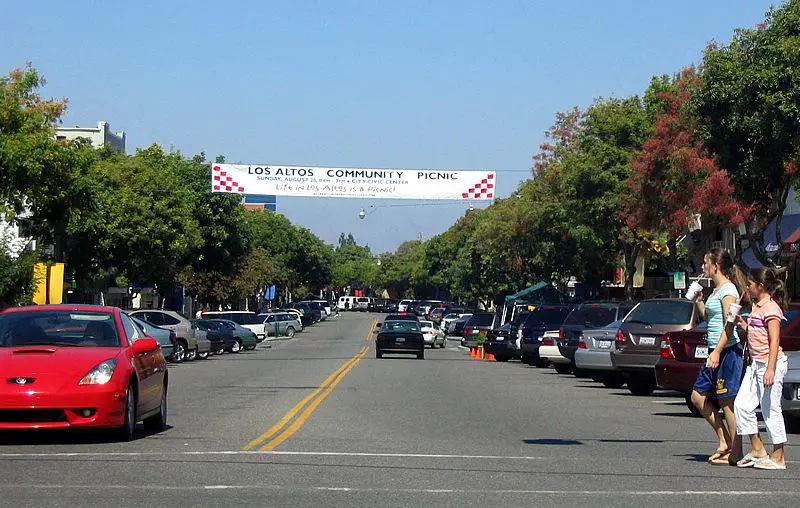 Los Altos Hills is the second best 'burb we looked at near San Jose for 2022.
It ranks 2nd for incomes in the area and only 0.44% of residents lack insurance, good for best.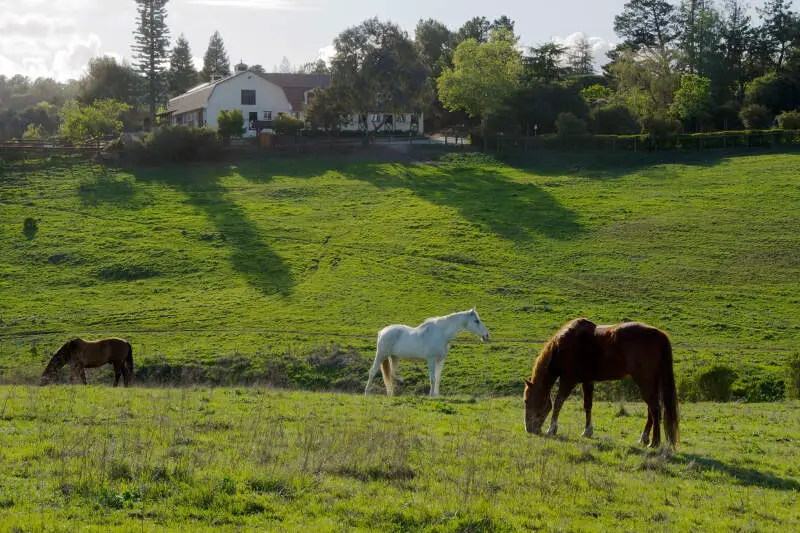 Source: Public domain
Here in Monte Sereno, it's really safe, and residents are just about as rich as you'll see in the San Jose metro area.
The bad side? Schools are more crowded, and the cost of living puts a large part of the city out of reach for most families.
But price is based on demand and a lot of people want to live in Monte Sereno.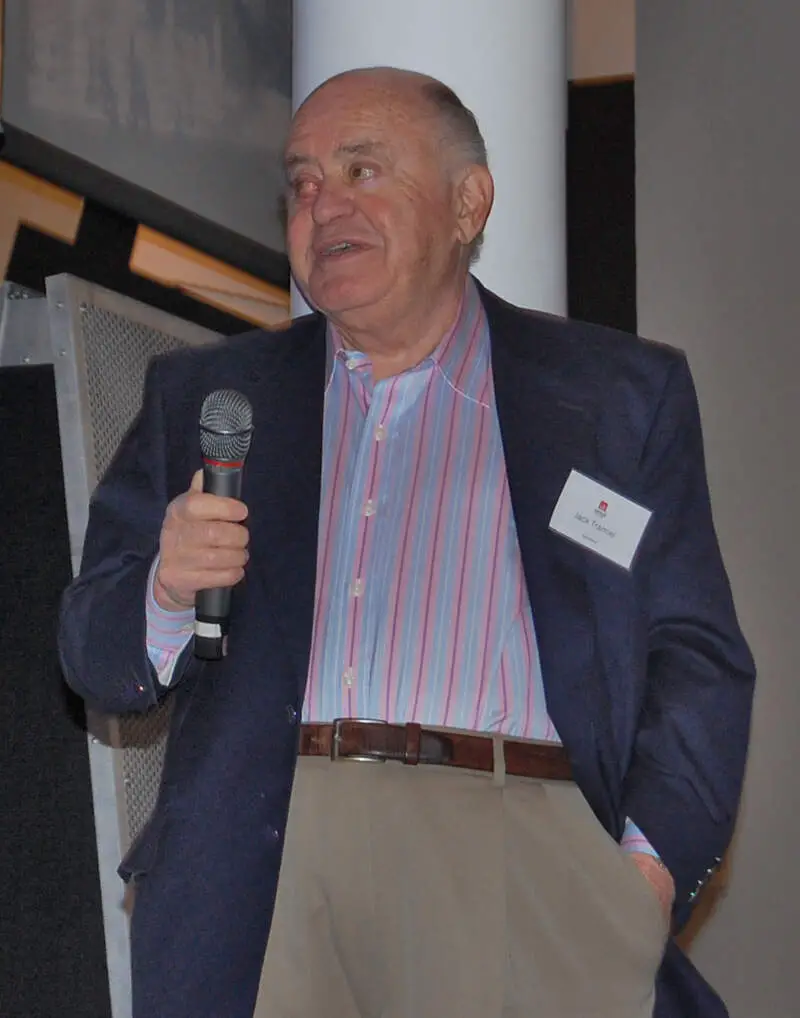 Atherton ranks as the 4th best suburb of San Jose for 2022.
You won't find many better places to raise your kids in the region than in Atherton and the schools are some of the best around.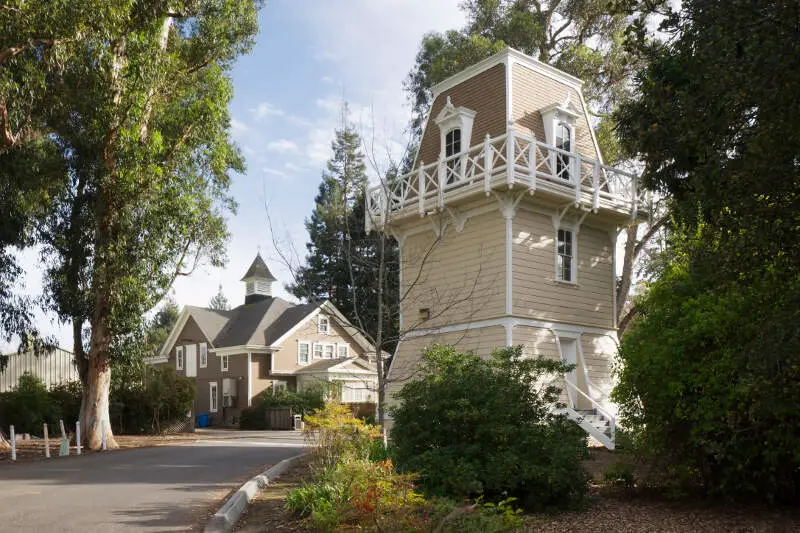 Source: Public domain
Coming in as the fifth best is Woodside.
Woodside gets kudos for having the 5th most expensive homes in the San Jose area, where houses sell for an average of $2,000,001. However, the cost of living here is among the highest in the area.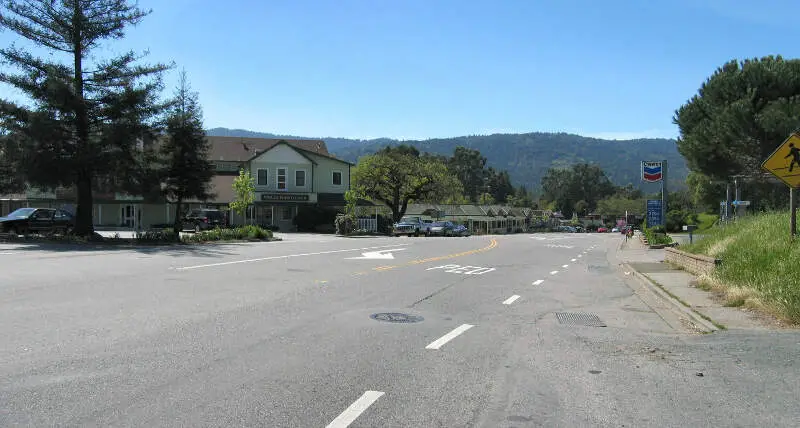 San Carlos is proud of its 6th place finish on this list. And here's why.
Most residents have great jobs and the unemployment rate sits at 4.05% which is 20th best in the area.
According to online reports, San Carlos is quickly becoming one of the more affluent suburbs in the San Jose area, meaning you need to get in soon.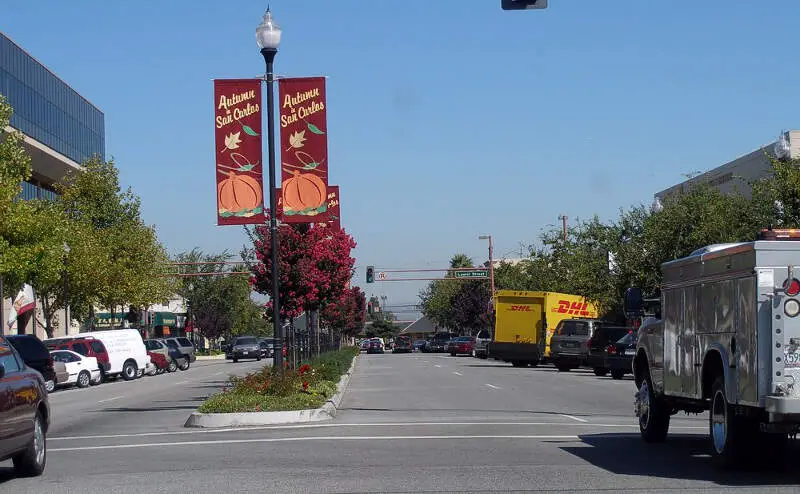 The 7th best suburb on our list goes to Portola Valley.
Portola Valley schools are some of the best in the region, and crime is really low. The cost of living makes it a lot more desirable for many families, especially first-time home buyers.
And, it's only 23.2 miles to downtown, which is a good thing.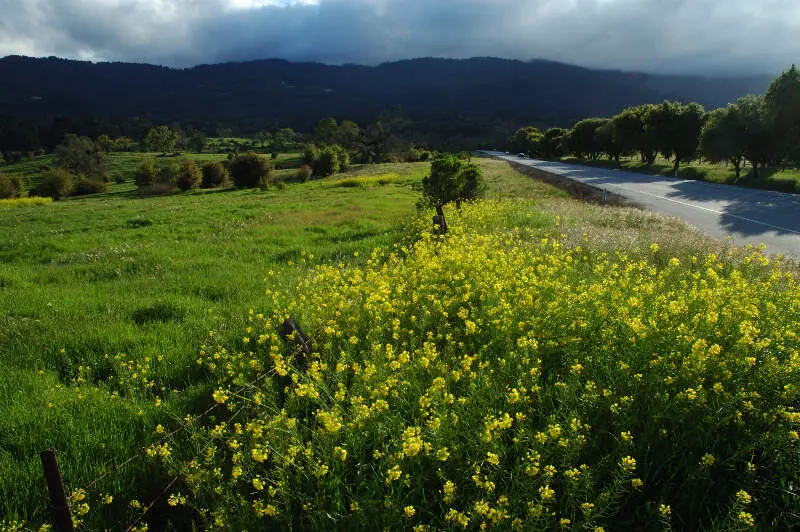 Cupertino is growing quickly, and for a good reason. Crime is far below average, and most residents are gainfully employed. Even the cost of living is reasonable.
A solid 2.6% of people lack insurance, good for 15th in the area.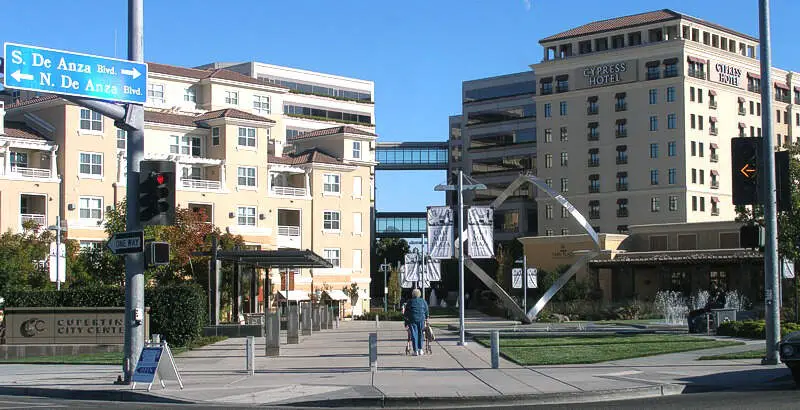 Is 'Everything Better In Saratoga?'
Almost.
It placed 9th on our list thanks to the fact that it's really expensive to live here, but the schools are great, so you get what you pay for in that regard.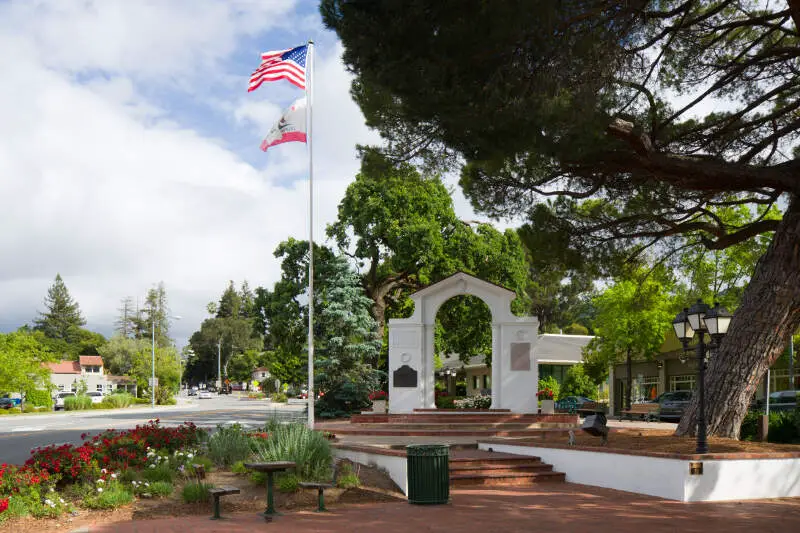 Source: Public domain
And rounding out the top ten for 2022 is Los Gatos.
This city is far above average in every category, and the best part? It's far more affordable than the other cities listed above. So, you get a big bang for your buck here.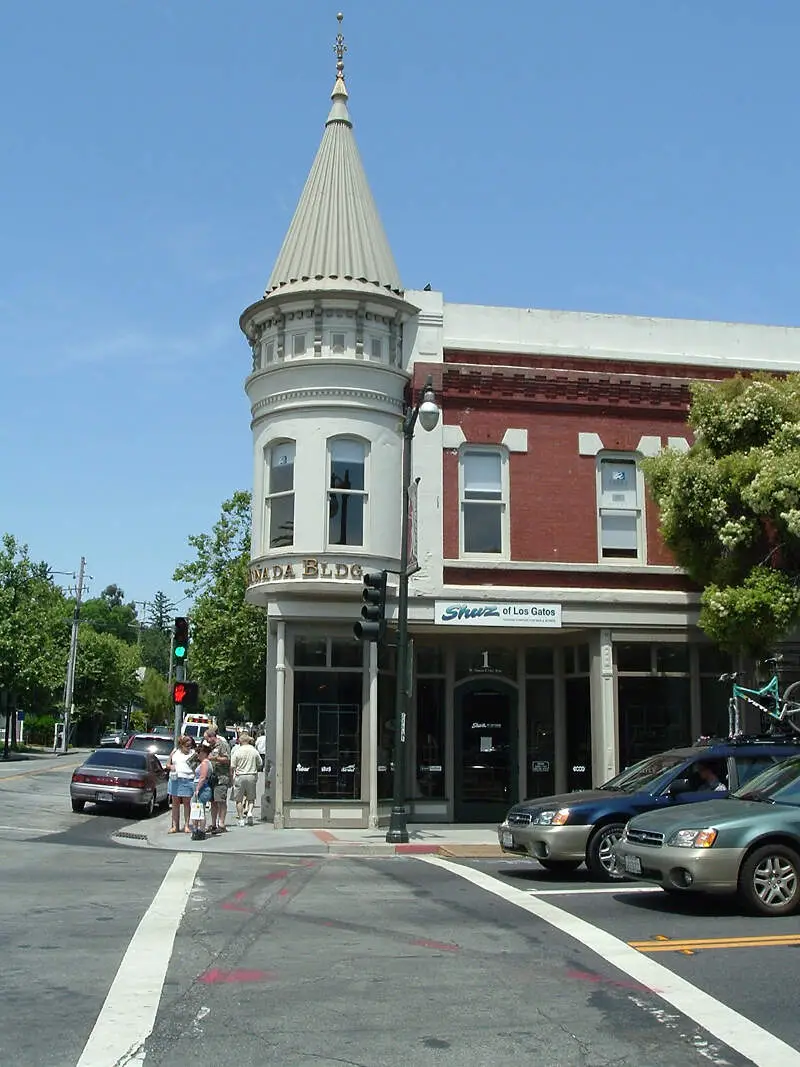 Methodology: How We Determined The Best Suburbs Around San Jose for 2022
Figuring out the best suburbs around San Jose was pretty simple; we just needed to list several things that people like, and then find out which cities have the most of those things.
We threw a lot of criteria at this one in order to get the best, most complete results possible:
Low unemployment rate
High Median household incomes
Population density (lots of things to do)
High home values
A lot of college educated people
Low poverty
High rate of insured families
Then we used the newest American Community Survey data for 2016-2020 to research each suburb.
FYI: We defined a suburb as being within 30 miles of San Jose.
Additionally, we limited the analysis to places that have over 3,000 people. This left us with a grand total of 30 suburbs to evaluate around San Jose.
We ranked each place with scores from 1 to 30 in each category, where 1 was the "best.
Next, we averaged the rankings for each place to create a quality of life index.
And finally, we crowned the city with the best quality of life index the "Best Suburb near San Jose." We're lookin' at you, Los Altos. You can download the data here.
Read on below to learn more about what it's like to live in the best of the best. Or skip to the end to see the list of all the suburbs ranked from best to worst.

Summary: Welcome to the Best San Jose 'Burbs of 2022
We said it once and we'll say it again--life in the big city isn't for everyone. At least not all the time.
So if you're hankering for some of the amenities of a larger city like San Jose, but don't want to deal with the drawbacks, one of these suburbs might just be for you.
For more California reading, check out:
Detailed List Of The Best San Jose Suburbs
| Rank | City | Population |
| --- | --- | --- |
| 1 | Los Altos, CA | 30,878 |
| 2 | Los Altos Hills, CA | 8,496 |
| 3 | Monte Sereno, CA | 3,511 |
| 4 | Atherton, CA | 7,060 |
| 5 | Woodside, CA | 5,593 |
| 6 | San Carlos, CA | 29,647 |
| 7 | Portola Valley, CA | 4,568 |
| 8 | Cupertino, CA | 59,799 |
| 9 | Saratoga, CA | 31,084 |
| 10 | Los Gatos, CA | 31,943 |
| 11 | Palo Alto, CA | 67,973 |
| 12 | Menlo Park, CA | 35,211 |
| 13 | Pleasanton, CA | 79,975 |
| 14 | Dublin, CA | 63,856 |
| 15 | Sunnyvale, CA | 152,569 |
| 16 | Mountain View, CA | 80,104 |
| 17 | Campbell, CA | 42,891 |
| 18 | Fremont, CA | 234,829 |
| 19 | Livermore, CA | 91,763 |
| 20 | Santa Clara, CA | 126,723 |
| 21 | Milpitas, CA | 75,182 |
| 22 | Newark, CA | 48,148 |
| 23 | Capitola, CA | 10,090 |
| 24 | Morgan Hill, CA | 44,789 |
| 25 | Scotts Valley, CA | 12,055 |
| 26 | East Palo Alto, CA | 29,448 |
| 27 | Santa Cruz, CA | 65,011 |
| 28 | Hayward, CA | 158,817 |
| 29 | Gilroy, CA | 55,227 |
| 30 | Watsonville, CA | 52,398 |