Most people think that Wisconsin cities are filled with a bunch of Laverne and Shirley look-alikes, Green Bay Packer snobs, and happy cows on happy farms.
While all this might be true for most Wisconsin cities, the trick is to find all of this goodness in the most affordable Wisconsin cities. And while learning the value of the dollar is important, you don't want to stress about it daily when looking for a safe, affordable Wisconsin neighborhood, a job that pays the bills and then some, or the best deal on a case of Milwaukee's Best.
Wisconsin residents are smart. They know a good deal when they see one. More importantly, they know that they can save money with every Wisconsin season.
In the fall and winter, residents head to their cabins to hunt and ice fish to offset their grocery budget. And when Wisconsin's winter turns white, some people plow snow, shovel snow, and/or blow snow for a little extra cash. So, you don't have to look any further if you choose The Badger State to call home. But you do have to check out our list below to find out the most affordable cities in Wisconsin for 2021.
We recommend that you grab yourself a brat, some cheese curds, find a sunny spot on Lake Michigan, and read on.
The 10 Most Affordable Places To Live In Wisconsin
If you ask any Cheese Head, they will say, hands down, that their city is the best. Heck, there's a reason The Badger State is the 20th most populous in the country.
And, yes, we think it has a little something to do with the great people, strong jobs in manufacturing, agriculture and healthcare. But, to the economically savvy, to truly be the best, the state must have the nicest, most affordable places to call home.
What's the cheapest place in the Badger State? According to the most recent data, the cheapest place in Wisconsin is Waupaca.
So, if you care about home values, cost of living, and gold star quality of life, take a look at the list below to see where your Wisconsin dollar will let you live like a Milwaukee Buck on a dairy farmer's salary.
And if you already knew these places were cheap, check out some more reading about Wisconsin and the cheapest places in the country:
The 10 Cheapest Places To Live In Wisconsin For 2021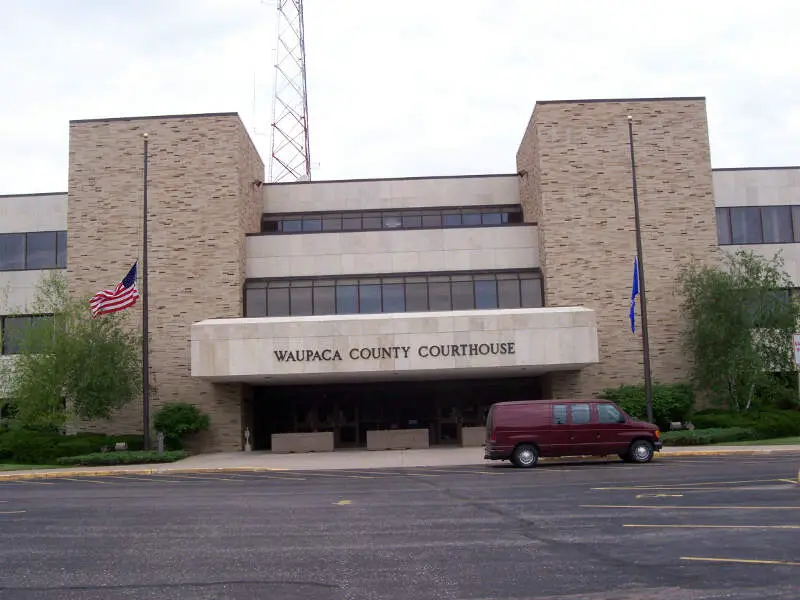 The cheapest place in Wisconsin is Waupaca, a city about 75 miles west of Green Bay. If you're good at working with your hands, you'll have no trouble locking down a job at Waupaca Foundry, the city's largest employer by a wide margin. And with the city's median income of $52,590, there's a good chance you'll be paid well for your efforts. Homes in Waupaca go for around $104,900, which gives the city the third best home price to income ratio in Wisconsin.
If you're in Waupaca, don't miss a chance to canoe down Crystal River. The name is not an exaggeration.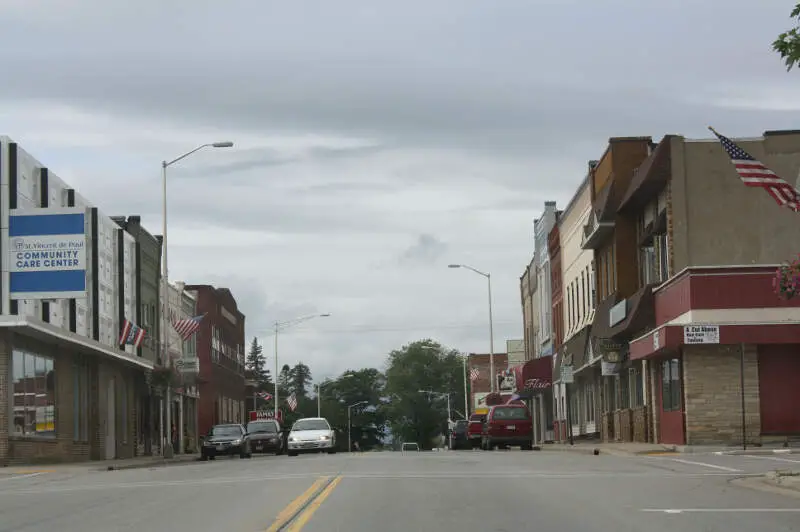 If you want to live in the cheapest place in America's Dairyland, look no further than Merrill. Merrill is known as the "City of Parks, so you'll never be left wondering how to entertain yourself free of charge. Merrill boasts the second cheapest homes in the state, and the absolute lowest you'll see on this list, with a median price of $85,300. Even more important, though, is that Merrill's median income is $48,159, meaning there's nowhere in Wisconsin where you'll spend less of your salary on your home.
Merrill is located in north-central Wisconsin.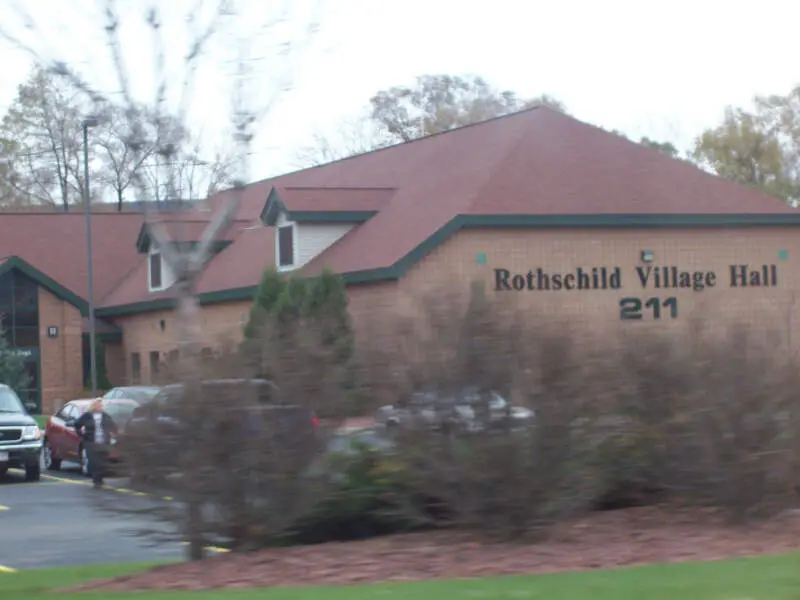 Whether you're ready to commit to a mortgage or just dipping your toes with a year's lease, Rothschild has some seriously affordable housing options. Part of the reason Rothschild ranks so well in affordability is that the median income in Rothschild is $70,925, meaning folks can pay slightly more for housing than the preceding cities on this list without going bust. With a median rent of $733 and a median home price of $144,000,
Rothschild is comfortably in the top 20 statewide for both home price and rent to income ratios. Not to mention that it's always 84 degrees at Logger's Landing Waterpark, so you'll be able to cheat winter better in Rothschild than anywhere else.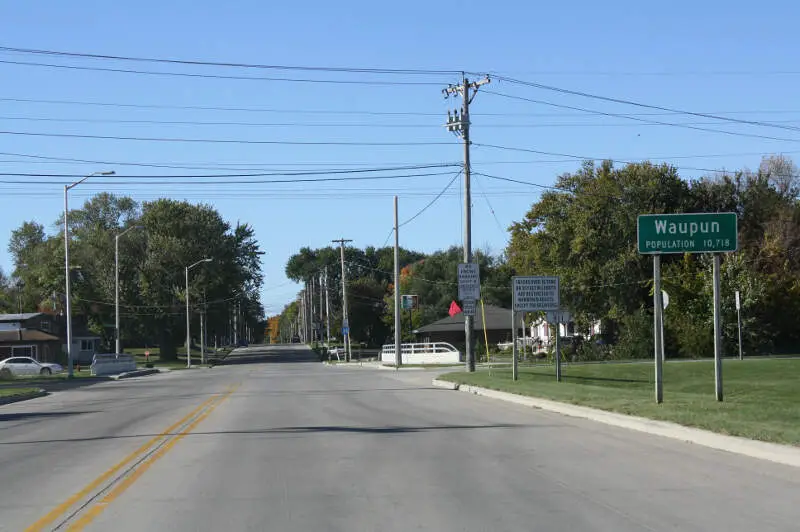 Waupun is the fourth cheapest city in Wisconsin, with the added bonus of being one of the best places to raise a family in the state. That means good schools, low crime, plenty of amenities for kids, and close proximity to major cities like Milwaukee and Green Bay. All that at a super affordable price. The median home price in Waupun is $120,600 and the median income is $56,587, putting the city in the top twenty statewide in home price to income ratio.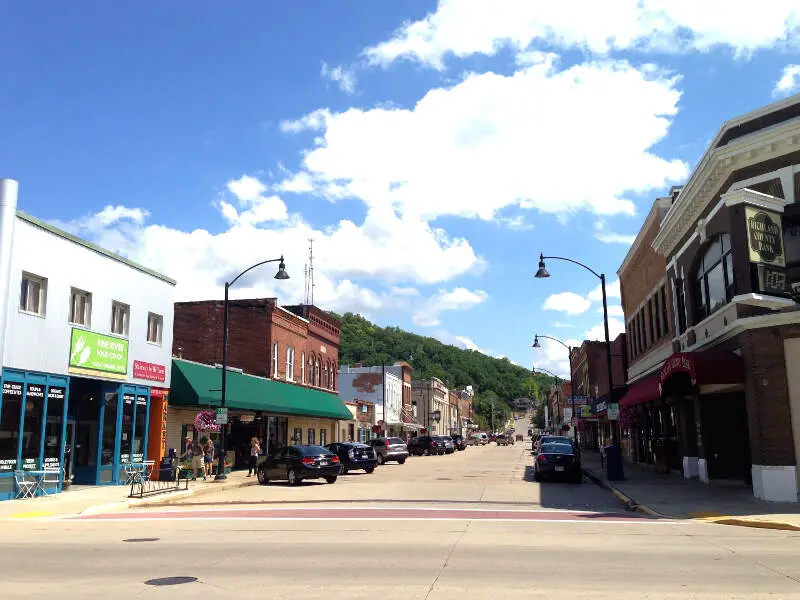 Richland Center comes in as the fifth most affordable city in Wisconsin thanks to its rock-bottom prices on housing. And this is a city that got an 8/10+ nearly across the board on our Snackability scores, so you know you're getting good bang for your buck.
At $579, Richland Center has the lowest rent you'll see on this list, and is less than half the average rent in Wisconsin. Not too shabby when you consider Wisconsin's average rent is already 25% lower than the national average. Richland Center also has the ninth cheapest homes in the state, with a median price tag of $100,600. Living in Richland Center, you'll have more than enough leftover cash to splurge at Oakwood Fruit Farm each and every autumn.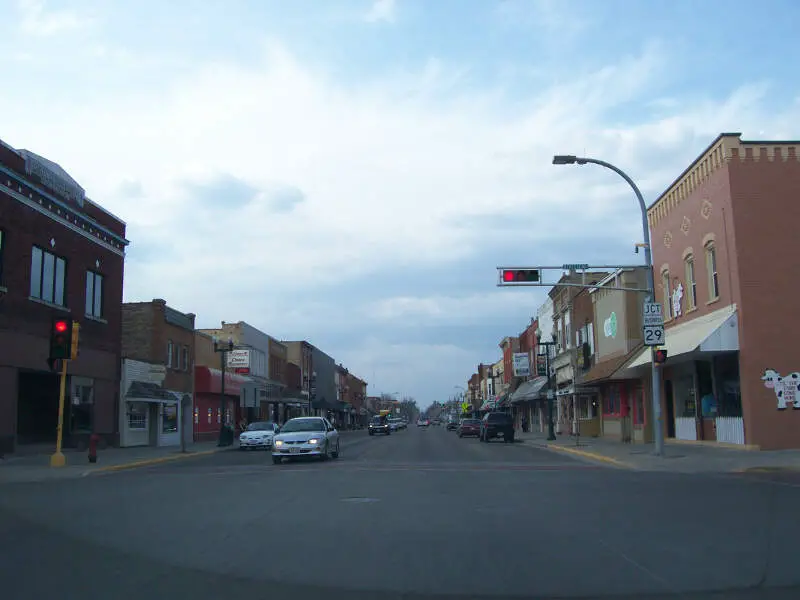 Located about 45 minutes northwest of Green Bay, Shawano ranks as the sixth most affordable city in Wisconsin. Shawano has the second cheapest homes on this list and the eighth cheapest homes in the state. Residents earn a median income of $45,630 and pay a median price of $98,900 for homes. On the other hand, Shawano is the least economical place to rent on this list, notwithstanding the fact that you can get an apartment for under $600/month here. Shawano is home to Twig's Beverage, who make some of the finest craft soda in the Midwest.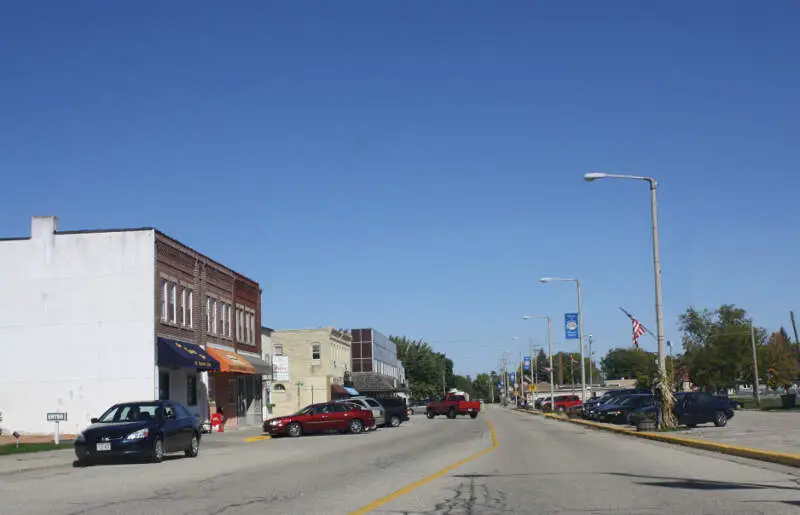 Located 45 minutes southwest of Madison, Milton ranks as the seventh least expensive city in Wisconsin. And you don't have to be a millionaire to enjoy a wine slushie from Northleaf Winery, a Miltonite favorite. But the real reason Milton stands out in terms of affordability is its awesome home price to income ratio. With homes costing around $149,800 on a median income of $67,523, paying off the mortgage in Milton takes no time at all.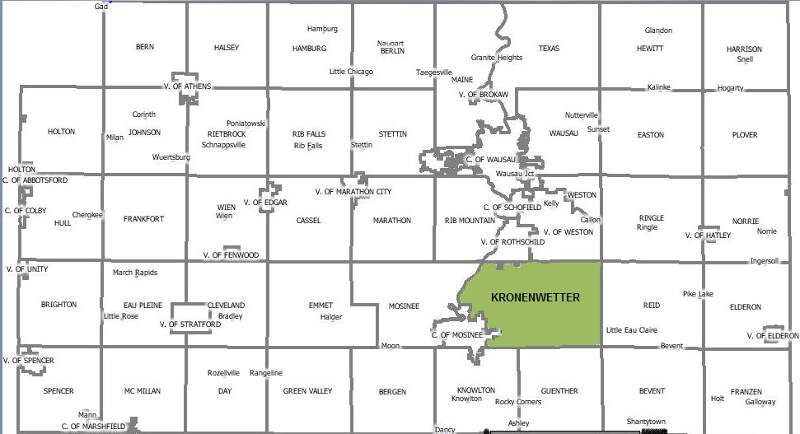 Source: Public domain
Kronenwetter's housing prices might make you think we're crazy to include it on this list. But when you remember that Kronenwetter is also one of the richest places in Wisconsin, it all starts to make sense. In terms of both renting and buying, Kronenwetter has some of the best housing to income ratios in the state. Thanks to a median household income is $84,435, a $172,400 home or $914/month rent doesn't phase Kronenwetter's population in the slightest.
Kronenwetter is another Central Wisconsin village, just south of Rothschild.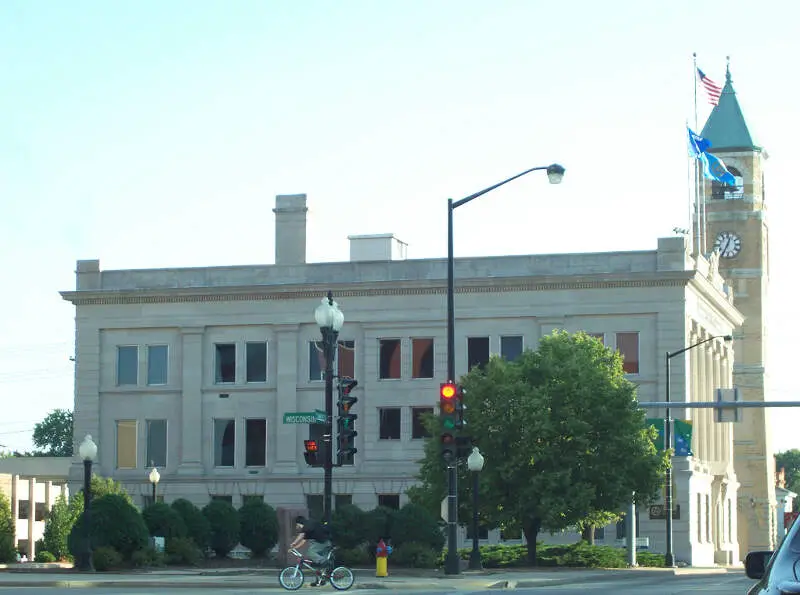 Neenah is located in central Wisconsin, on the western bank of Lake Winnebago. It lies along I-41, between Green Bay to the north and the state's largest city of Milwaukee to the south. Neenah represents more than a brief stopover on the highway, though. It also counts as the number 9 top city in Wisconsin in terms of cheap living expenses.
Neenah is a mid-sized town with a reasonably strong economy. The median income hovers at $59,820 and the unemployment rate comes in at 3.29.
Meanwhile, the over cost of living in the area approaches 90% of the U.S. norm. Modest housing costs help residents make ends meet. The median income is $59,820 and the median cost of rent stands at $750.
If you're in Neenah, you can check out the Bergstrom-Mahler Museum, featuring an assortment of glass art. Or, given its location, you can head to the lake for days of outdoors fun.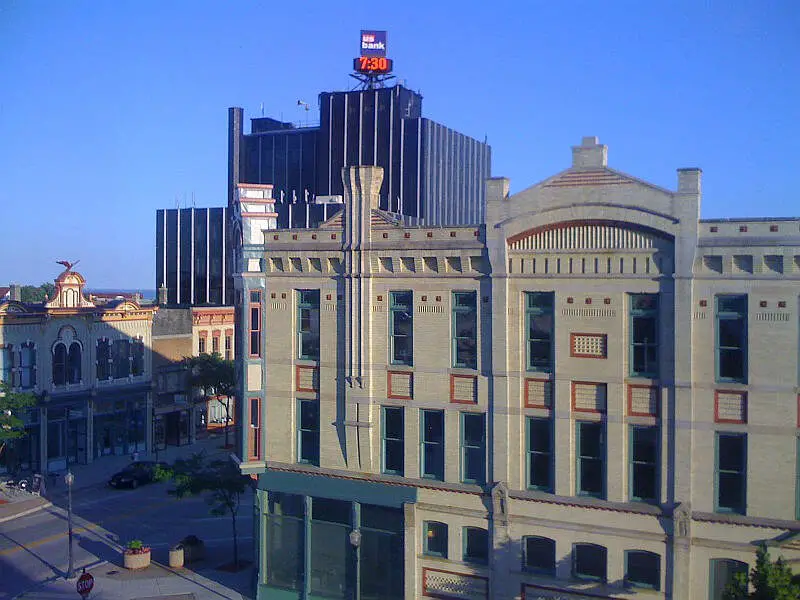 Source: Public domain
With a population of 48,327, Sheboygan is the biggest city on this, proving you don't need to sacrifice size for affordability. Not to mention that Sheboygan is one of the best cities for singles in Wisconsin, so there's plenty to do on a date without breaking the bank. Like a picnic at Kohler-Andrae State Park or wandering around Bookworm Gardens, a magical botanic garden inspired by children's books. If you're buying a home in Sheboygan, it'll cost around $114,500. Thanks to a median income of $51,104, Sheboygan boasts the 18th lowest home price to income ratio in Wisconsin. Only somewhat less affordable rent keeps Sheboygan from a higher spot on this list.
Sheboygan is located on the shore of Lake Michigan, between Milwaukee and Green Bay.
How We Determined The Most Affordable Places To Live In The Badger State For 2021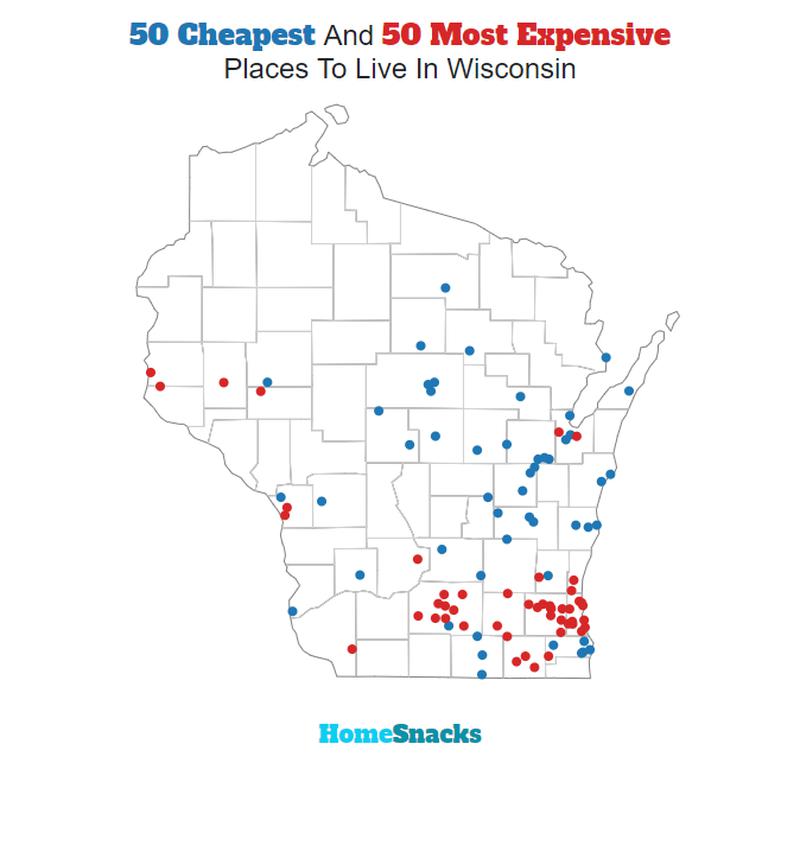 The two most important things to think about when it comes to being able to afford if you can live comes down to:
How much do money do I make?
How much do I have spend to live there?
You need to understand your costs in the context of how much money you make.
For example, if the median household earns $100,000 and spends $40,000 on housing it's actually cheaper to live there than a place with a median income of $50,000 and housing costs of $21,000. You might spend more on housing, but you have more money overall to play with.
With that example in mind, we derived several statistics from the latest Census American Community Survey 2015-2019 around incomes and costs. They are:
Median Home Price / Median Income (lower is better)
Median Income / Median Rent (Higher is better)
Median Home Price
We added simply median home price because high home prices generally correlate with higher expenses for all costs related to homes (heating, electricity, etc).
You can then compare these metrics in each of the places in Wisconsin to figure out which is the least expensive.
What you are left with is a "Cost of Living Index" by taking the average rank of each of these metrics for each city.
So we used that cost of living index in order to rank all of the 142 places in Wisconsin that have more than 5,000 people.
The place with the lowest cost of living in Wisconsin according to the data is Waupaca. You can download the data here.

There You Have It Mr. Or Mrs. Wisconsin Cheapskate
If you're looking at the cost of living numbers in Wisconsin, this is an accurate list of the most affordable places to live in Wisconsin for 2021.
Here's a look at the most expensive cities in Wisconsin according to the data:
Madison
Delafield
Fitchburg
For more Wisconsin reading, check out:
The Most Affordable Places To Live In Wisconsin
Editor's Note: We updated this article for 2021. This is our seventh time ranking the cheapest places to live in Wisconsin.