Article Table Of Contents   
(Skip to section)
If you're not flying down The Big Mountain in Whitefish going mach speed, hiking Glacier National Park, or visiting the best places in Montana for 2022, than you're not taking advantage of the best things that Montana has to offer.
Whether you're taking advantage of long summer nights by Flathead Lake, idyllic winter jaunts through Custer National Forest in Billings, or just hangin' with the good 'ol people of Big Sky Country, Montana is the best. Needless to say, it was very difficult to narrow down the top ten best places to live in this Northwest state.
But, HomeSnacks did it. How'd we do it? We consulted the numbers. In total, we analyzed 30 cities. We looked at important factors like cost of living, crime, unemployment rates, rent and median home values for every place with over 2,000 residents.
We discovered that there are awesome places in Montana to live for every stage of life and every budget. Glasgow is the best for families just starting out, Dillon is great for people looking to retire, and make sure to give Sidney a second look if you don't have to worry about a budget.
Have we piqued your interest? Want to know more about our methodology and where the best places in Montana are located? Keep reading.
Montana has so many great cities, that you could literally throw a dart at the state and live happily wherever it landed. But, what city is the best place to live in Montana for 2022? Well according to the US Census and FBI data we crunched, Red Lodge is the best place to live in The Treasure State if you care about home values, low crime, and a high quality of life.
Read below to see how your hometown ranked and how other amazing Montana cities ranked. Hint: if you live in the greater Helena area consider yourself one lucky Montanan!
If you're looking for something more national, check out the best states in America or the best places to live in America.
For more Montana reading, check out:
The 10 Best Places To Live In Montana For 2022
Known as the Gateway to Yellowstone, Red Lodge is a quaint mountain town nestled in Montana's highest peaks. For outdoor recreation, it's hard to top Red Lodge; between the snowsports at Red Lodge Mountain, the animals at the Yellowstone Wildlife Sanctuary, and the countless hiking and fishing spots in the area, you're unlikely to grow bored here.
Red Lodge is the oldest city to make this list, with a median age of 52. So if you're looking for a more relaxed and mature vibe, Red Lodge might be just the place for you. And if you've got kids, Red Lodge's public schools got an average score of 9.5/10 from GreatSchools. The student-teacher ratio is lower and the per-student expenditure is slightly higher than the statewide average, meaning students get all the resources they need in Red Lodge.
Homes in Red Lodge go for the 4th most expensive price in Montana at $277,600 and residents have a median household income of $49,286/year.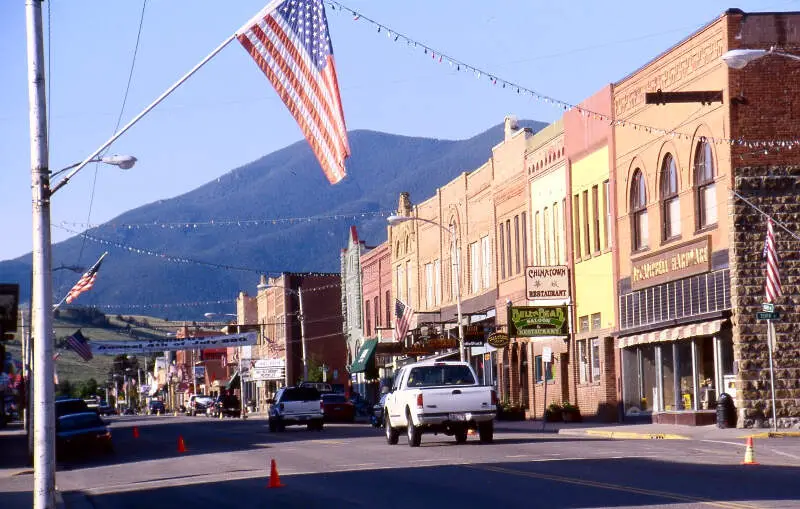 Source: Public domain
Next up on our tour of the best places to live in Montana is Laurel, a suburb of Billings. If you like being in the center of the action, Laurel might be your best bet, because it's the most densely populated city in Montana. And with Billings fifteen minutes down the road, you've got your pick of the state's best zoo and museum, while still having excellent natural beauty around at The Rimrocks.
The median household income in Laurel is $56,902/year and the poverty level is the lowest in Montana, so you don't have to worry about economic struggles here. Neither will you have any worries about crime, because Laurel had the 7th lowest violent crime rate in the state. If you do get banged up in Laurel somehow, it shouldn't be a big problem, because 95.8% of residents have health insurance, the 6th highest rate in Montana.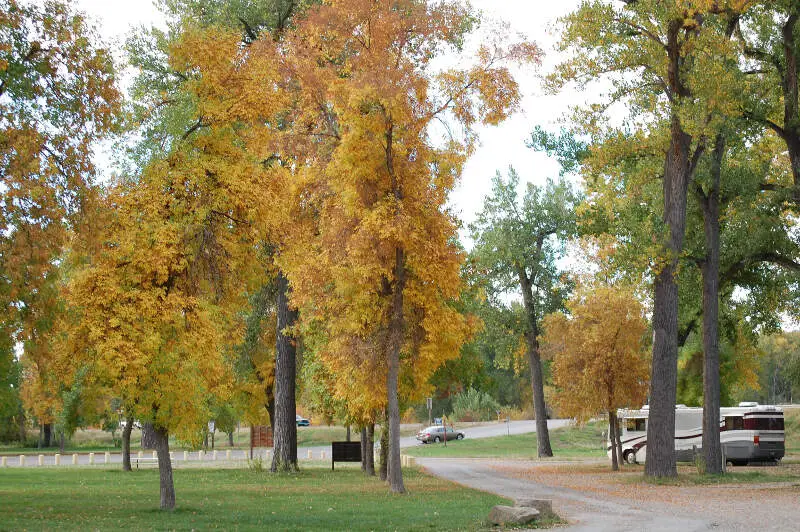 Colstrip moved up to the top spot for 2022 after finishing a close second last year, so things seem to just keep getting better here. While Colstrip has the highest median household income in Montana, $90,263/year, homes here are quite cheap at around $116,900. In fact, everything is a bit more affordable in Colstrip. The cost of living in Colstrip is about 20% lower than the statewide average, so things like groceries, utilities, and rent won't put a big dent in your finances here. 97.2% of Colstrip residents also have health insurance, the 2nd highest rate in the state, so going to the doctor here won't bankrupt you either.
Colstrip has the 3rd lowest poverty level in Montana at 6.2%, meaning the economy is working for everyone in this city. We also named Colstrip the safest place in Montana, so criminal activity is basically non-existent here.
As a nice bonus for outdoorsy folks, Colstrip's Castle Rock Lake is one of the premier fishing spots in the region. Even if you're just coming for a hike or a picnic, the picturesque scenery makes for a delightful day out.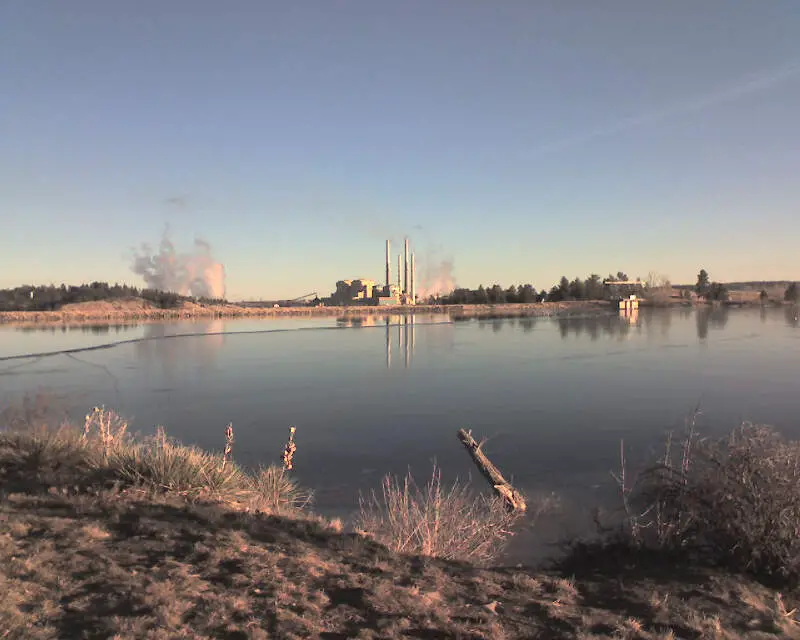 Source: Public domain
Sidney is a city of 6,351 located about ten miles west of the North Dakota border. The economic numbers in Sidney paint a very pretty picture; a poverty level of just 6.7%, the 5th lowest in Montana, unemployment at 1.4%, and a median household income of $60,284/year, the 3rd highest in the state. All those factors added up to us naming Sidney the richest place in Montana for 2022.
If you want to get in on the economic success story of Sidney, you'd better move fast, because it's also the fastest-growing Montanan city, with the population swelling by around 30% since 2010. The good news is that the cost of living in Sidney is quite moderate for such a rich populace, and homes are only the 8th costliest in the state at $241,200. Anyone interested in the history of eastern Montana will also have plenty of sites, forts, and museums to sate their curiosity in Sidney.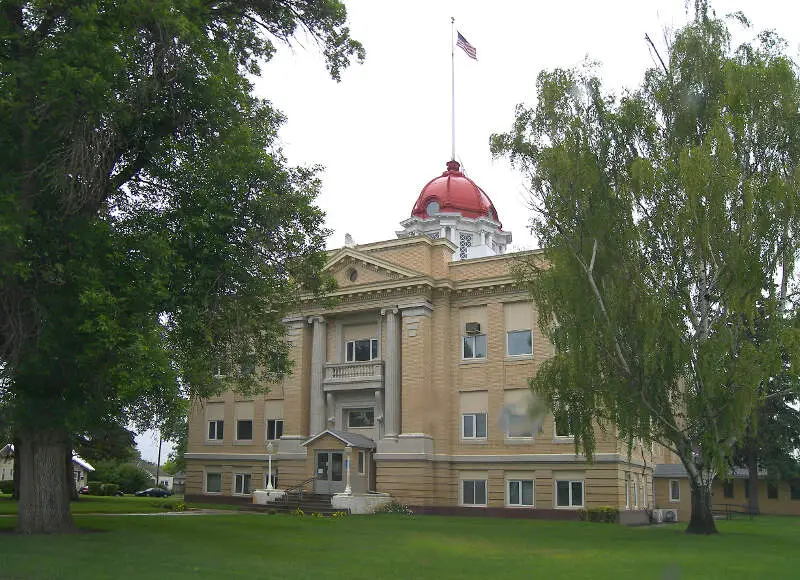 Bozeman is an up-and-coming city with plenty to love. Evidently, people agree, because Bozeman's population has grown by about 25% since 2010. Bozeman appears especially attractive for young people because, at 27, the city has the lowest median age of any place we're covering here. That's part of the reason we named Bozeman as one of the best cities for singles in Montana. The other is the abundance of fun things to do in Bozeman. Date ideas include a day out at the Museum of the Rockies, attending a MSU football game, shopping 'til you drop in Downtown Bozeman, and hiking at nearby Palisade Falls. You could even probably squeeze all that into one day if you're extra ambitious.
Bozeman's public schools are also quite good, with GreatSchools giving a 7.5/10 average score to the district. And with the 2nd lowest high school dropout rate in Montana, we think that whatever they're doing is working well.
The catch: Bozeman is also the most expensive city in Montana, with home prices at $412,500, the 2nd priciest in the state, and a cost of living roughly 10% higher than the national average. Folks here also earn the 6th highest median household income in Montana, though, so if you can lock down a job paying around $59,695/year you should be alright.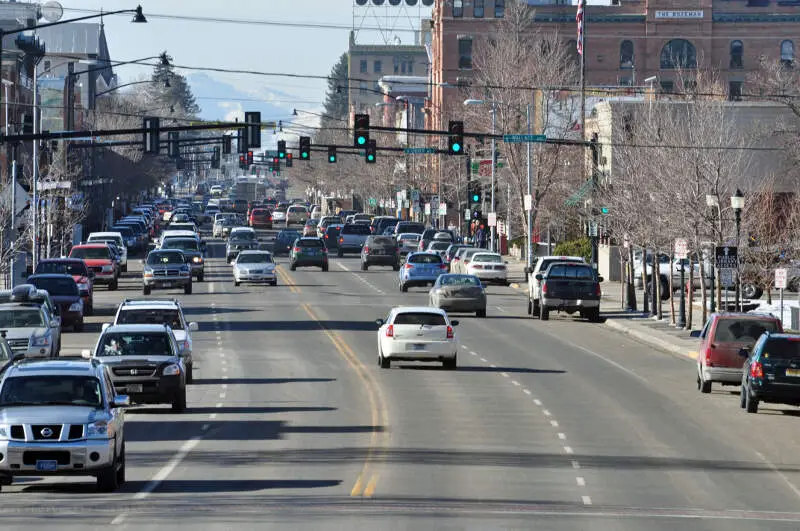 Source: Public domain
We probably don't have to try very hard to convince nature-enthusiasts that Whitefish is among the best places to live in Montana. Not when it's surrounded by Flathead National Forest, Kootenai National Forest, and Glacier National Park. It would take a lifetime to fully explore each of these national treasures, so if you're bored in Whitefish, you're doing it wrong. We haven't even touched on the Whitefish Ski Resort, the city beach, the local farmer's market, or any of the various annual events that Whitefish puts on.
There's a catch to all this, unfortunately. Whitefish is quite an expensive place to settle, with a cost of living around 15% higher than the national average and home prices at around $425,000, the 1st costliest in Montana. The good news is that you get to live in a hyper-educated community where about 20% of residents have a master's degree or higher. And since smart, moneyed individuals don't have much reason to go out committing felonies, Whitefish also had the 6th lowest rate of violent crime in Montana.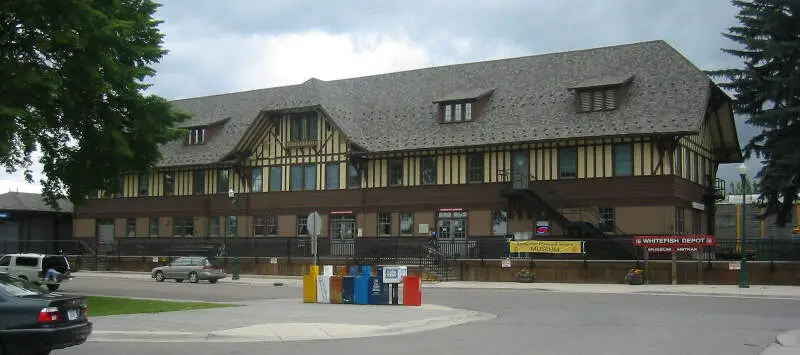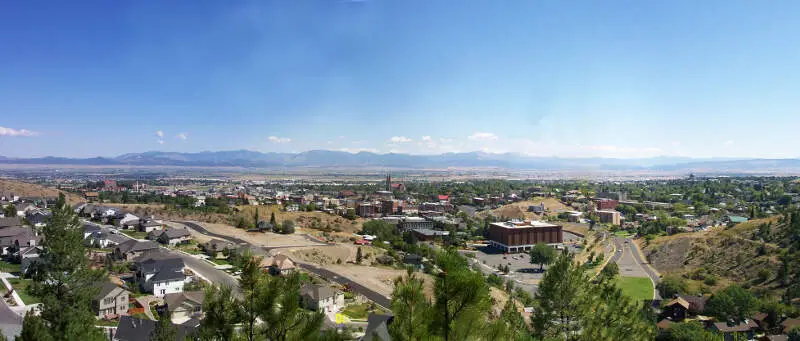 Glasgow is a small city of 3,332, yet it is still a key economic hub for northeastern Montana. Glasgow residents enjoy the 12th highest median household income in the state at $50,541/year. Like Colstrip, Glasgow's combination of high pay and low home prices make it an attractive choice for someone looking to save money. And it's not just like the 1% can succeed in Glasgow, seeing as the poverty level here is 12.4%, the 14th lowest in Montana.
As a nice bonus, Glasgow residents also have the 4th shortest commute time in the state at just 9 minutes. Anyone who's had a hellish commute in their life will appreciate just how much a short drive to and from work can improve one's quality of life. Glasgow also has a crime rate roughly 30% lower than the national average, so your chances of getting car-jacked on your commute are basically nil.
If you've made the move to Glasgow, we recommend rewarding yourself for your smart planning with a pint from the local Busted Knuckle Brewery.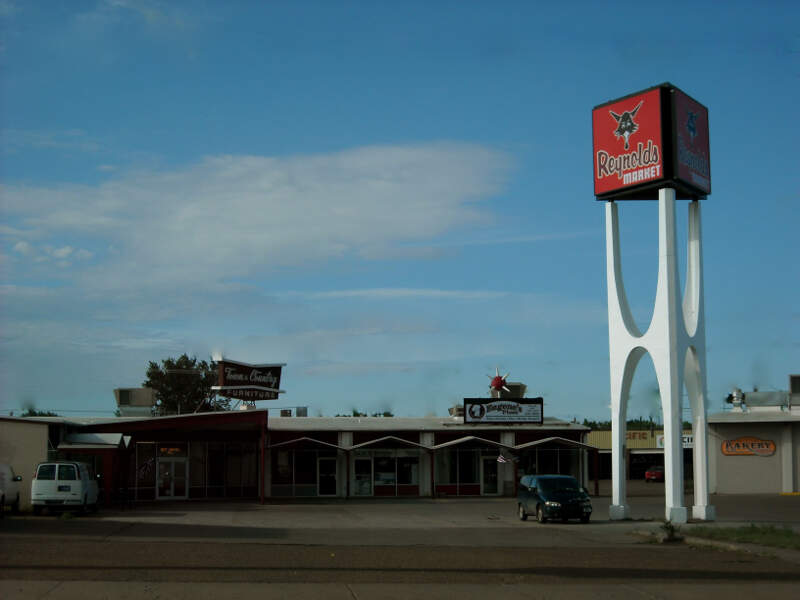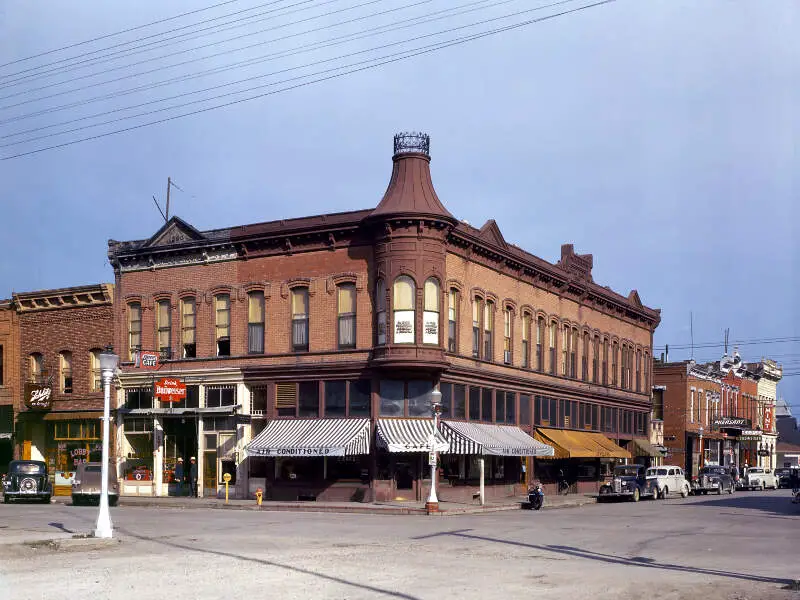 Source: Public domain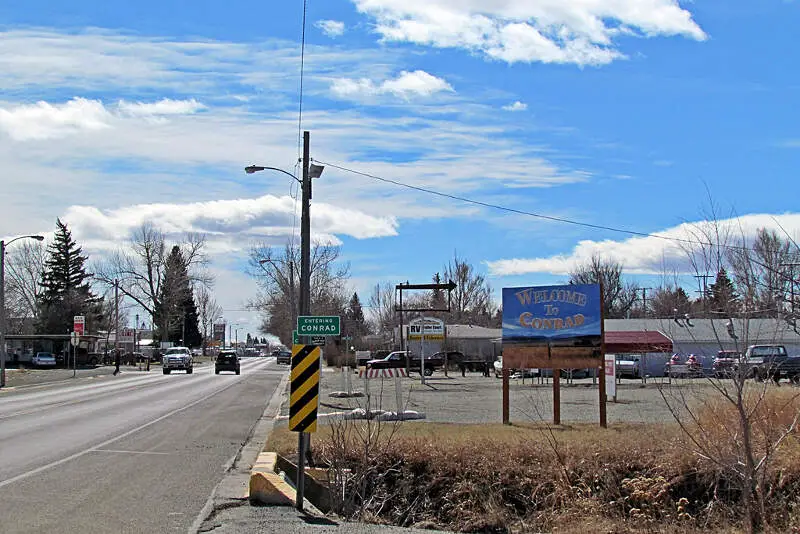 Mapping The Best And Worst Places To Live in Montana
The Pressing Question: Size
Before we even started to collect data, we had to answer a tough question: Is it fair to pit Helena with a population of 32,655 against places with a population of 18?
We firmly decided no, that just isn't fair.
So to create our ranking, we broke places to live into three tiers:
Cities — Populations over 2,000
Towns — Populations between 1,000 and 2,000
Small Towns — Populations below 1,000
This left us with 30 cities, 62 towns, and 215 small towns.
We then decided, no matter how much anyone loves their town, the best cities to live in Montana have more of everything and therefore you need to have over 2,000 people to truly be 'the best'.
Now we also realize that city living might not be your cup of tea, so we ran the following analysis on towns and then again for small towns.
You can see those two top tens at the bottom of the post.
Methodology: How We Calculated The Best Cities To Live In Montana
Now that we had our set of cities, it was time to rank them.
We ranked each place in Montana across a number of criteria from one to 30, with one being the best.
We then took the average rank across all criteria, with the city posting the lowest overall score being crowned the winner of the title "Best Place To Live In Montana".
The criteria we looked at were:
Median Home Values
Median Income
Population Density (Higher better)
Unemployment Rate
Commute Time
Crime
Education Levels
Health Insurance Coverage
Poverty rates
Sources of criteria include the New Census Data and FBI Crime Data. You can download the data here.
After the dust settled, what was the best place to live in Montana? That would be Red Lodge.
If your city or town isn't among the top 10, jump down to the bottom of the post to see a detailed chart of the best places in Montana.
Otherwise, buckle up for a ride down good living lane with Red Lodge at the end of the cul-de-sac.

Summary: The Best Places When It Comes To Living In Montana
If you're looking at areas in Montana with the best economic situations, where there's lower than average crime, and a lot to do, this is an accurate list.
Red Lodge made a strong showing to take in the overall number one spot for the best place to live in Montana for 2022.
Best Towns To Live In Montana
King Arthur Park (Pop. 1,137)
Scobey (Pop. 1,175)
Montana City (Pop. 2,878)
Four Corners (Pop. 4,003)
Glasgow (Pop. 3,363)
Colstrip (Pop. 2,288)
Helena Valley Northwest (Pop. 3,967)
Plentywood (Pop. 1,881)
Baker (Pop. 1,866)
West Glendive (Pop. 1,922)
Best Small Towns To Live In Montana
Belknap (Pop. 291)
Kerr (Pop. 115)
Turah (Pop. 426)
South Hills (Pop. 529)
Park City (Pop. 944)
Sweet Grass (Pop. 95)
Saddle Butte (Pop. 175)
Huntley (Pop. 478)
Gibson Flats (Pop. 253)
Rader Creek (Pop. 234)
If you're curious enough, here are the worst places to live in Montana according to the data:
Polson (Pop. 5,033)
Lewistown (Pop. 5,923)
Hardin (Pop. 3,777)
For more Montana reading, check out:
Where Are The Best Places To Live In Montana?
| Rank | City | Population |
| --- | --- | --- |
| 1 | Red Lodge | 2,134 |
| 2 | Laurel | 6,797 |
| 3 | Colstrip | 2,335 |
| 4 | Sidney | 6,351 |
| 5 | Bozeman | 48,330 |
| 6 | Whitefish | 8,032 |
| 7 | Helena | 32,655 |
| 8 | Glasgow | 3,332 |
| 9 | Dillon | 4,333 |
| 10 | Conrad | 2,624 |
| 11 | Belgrade | 9,184 |
| 12 | Deer Lodge | 2,893 |
| 13 | Glendive | 5,030 |
| 14 | Missoula | 74,994 |
| 15 | Billings | 109,705 |
| 16 | Columbia Falls | 5,651 |
| 17 | Havre | 9,739 |
| 18 | Great Falls | 58,717 |
| 19 | Kalispell | 23,935 |
| 20 | Libby | 2,758 |
| 21 | Livingston | 7,696 |
| 22 | Cut Bank | 3,049 |
| 23 | Malta | 2,058 |
| 24 | Hamilton | 4,827 |
| 25 | Shelby | 2,875 |
| 26 | Townsend | 2,080 |
| 27 | Wolf Point | 2,739 |
| 28 | Polson | 5,033 |
| 29 | Lewistown | 5,923 |
| 30 | Hardin | 3,777 |
Editor's Note: We updated this article for 2022. This is our ninth time ranking the best places to live in Montana.