If you've never paddled Flathead Lake or had a bison burger in Bozeman, then you've not experienced what the good people of Montana already know; they have some of the best, most affordable fun in the country.
But, you're going to need a little more than affordable fun if you're looking to move your life to Montana on a budget. You're going to need a good job and a map to navigate Montana's cost of living.
We're pretty sure there isn't a bad place to build your dream cabin in Montana, but there are some places that are super expensive. So, HomeSnacks thought that we'd give you the ultimate Montana life hack: a list of the most affordable places to live in Big Sky Country for 2021. How did we determine that most affordable places in Montana? We consulted Montana's most recent census data. We also looked at cost of living, home prices, and the recent crime statistics for places with 1,000 or more residents.
The competition was fierce to say the least. Many of the Treasure State's top ten most affordable places boast great home prices, safe neighborhoods, and good jobs. Any one of these Montana places would be a great place to enjoy life while saving money. Montana's most affordable places also frees up cash for the fun 'Montana' things to do and see. Like, scoring tickets to Livingston's Roundup Rodeo or catching a powder day in Whitefish. So, want to know where the cheapest places in Montana are to live? Read on.
It's simple economics, folks. When you choose to live in one of Montana's most affordable places, you're choosing to live where your Montana dollar will go the furthest. And that, friends, makes perfect sense.
So, what's the most affordable place to live in Montana for 2021? The most affordable place in Montana would be Colstrip according to the most recent Census data.
To see how your city compared, take a look at the list below.
And if you already knew these places were cheap, check out some more reading about Montana and the cheapest places in the country:
The 10 Cheapest Places To Live In Montana For 2021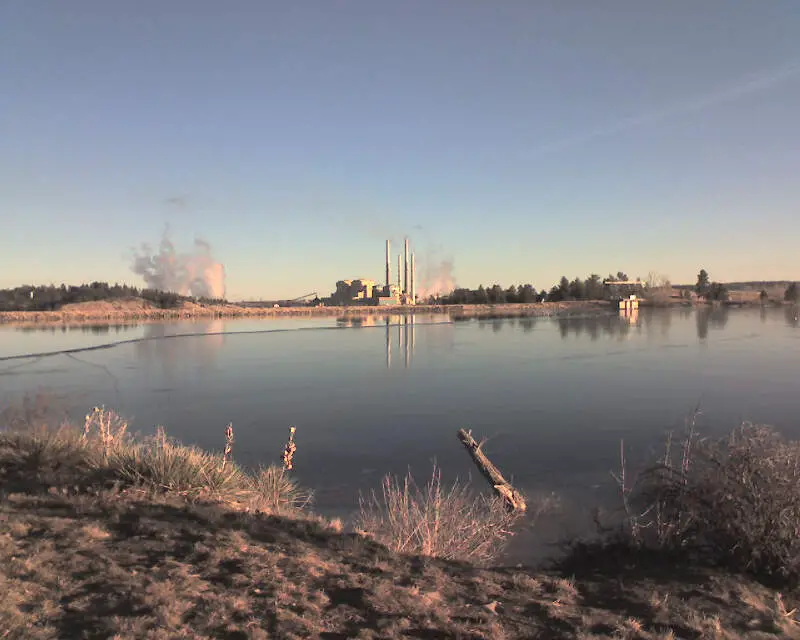 Source: Public domain
Colstrip's Homesnacks accolades just keep on coming: first we named it the safest place in Montana, then the best place to live overall, and now, it's earned the title of most affordable city statewide. Colstrip doesn't have the cheapest homes or lowest rent in Montana, but what it does have is a well-paid population and low unemployment. The median income in Colstrip is $86,797, about 65% higher than Montana's average. So when you see a home for sale in Colstrip for only $119,000, you know it's a good deal. In fact, of all the places in Montana, folks in Colstrip spend the least amount of their earnings on homes, by a massive margin. The median rent in Colstrip is $810, which is good enough to give Colstrip the second best rent to income ratio in the state as well. If you're stuck looking for free things to do in Colstrip, fear not, because the walleye, pike, and bass fishing at Castle Rock Lake is out of this world.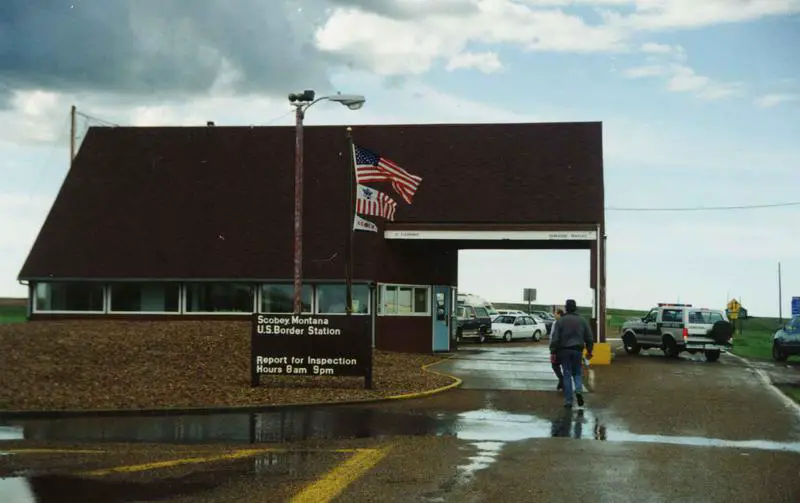 Located in northeastern Montana in the heart of grain and cattle country, Scobey ranks as the second cheapest place to call home in Big Sky Country. One of the premier spots for both big game and bird hunting, hunters from all over make Scobey a destination. Homes in Scobey go for around $117,100, which is about 80% less than the statewide average, while the median rent is $503/month. More important than the actual cost, though, is the fact that Scobey is in the top five statewide for housing to income ratios, regardless of if you're buying or renting.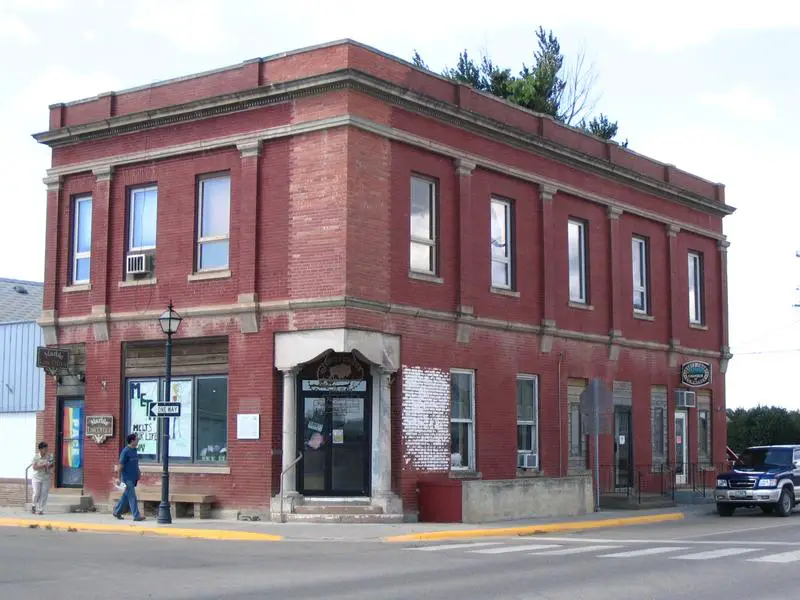 Chester earned its #3 position on this list thanks to having awesome affordability stats across the board. Here you'll find the seventh least expensive homes in Montana, with a median price of $116,300. And with an unemployment rate hovering around 1%, you'd better believe that everyone gets a piece of the pie in Chester. If you want to learn more about how things were done back in the Wild West days, definitely check out the Liberty County Museum. Whether you're just spending a small stretch of time or settling down in Chester for good, both the rent to income and home price to income ratios are among the top ten statewide.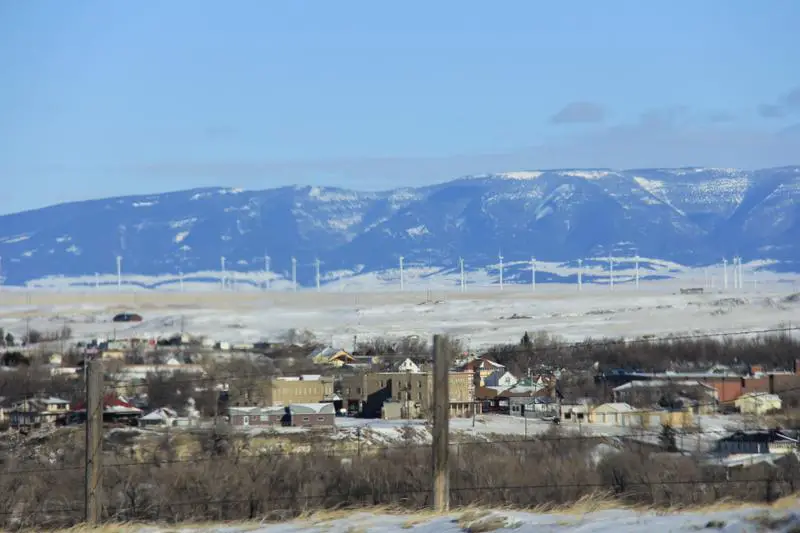 Source: Public domain
We're going to take a long drive southwest from Wolf Point to arrive at our fourth cheapest city in Montana, Harlowton. If you're looking to buy a home in Montana for the absolute lowest price, Harlowton's the place for you. You can snag a home in Harlowton for about $91,300, which beats out the second cheapest homes in the state by a lot. Folks in Harlowton also spend the second lowest percentage of their salaries on homes, so there's plenty of money left over in the budget to treat yourself to a brewski or two at Gally's Brewing Co.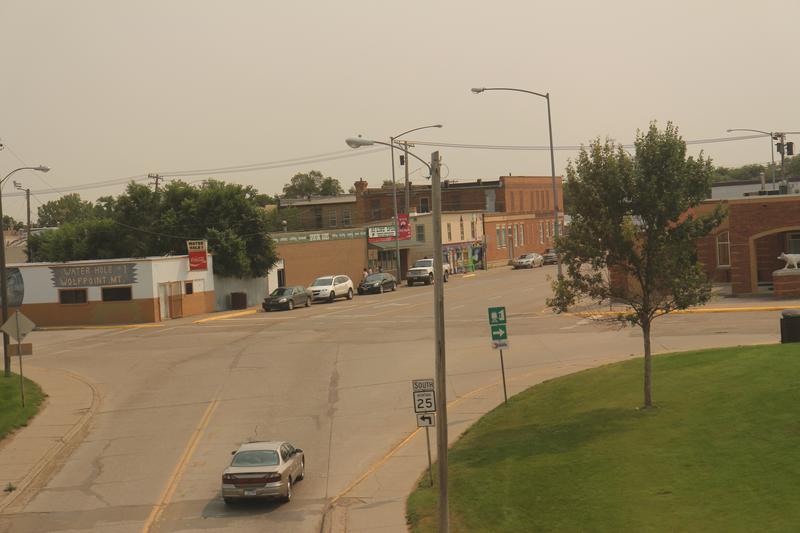 Located in the Fort Peck Indian Reservation in northeastern Montana, Wolf Point ranks as the fifth least expensive place to call home in the state. Wolf Point hosts the Wild Horse Stampede, "the Grandaddy of Montana Rodeos," so if you're a fan of cowboy stuff, you're in luck. If you decide to settle down in Wolf Point, a home will set you back around $104,800, the third lowest price in Montana. Wolf Point also has the fourth best home price to income ratio statewide. If you're not sure about committing to a mortgage, the rent in Wolf Point goes for about $628/month. As a bonus, Wolf Point is also one of the best cities for singles in Montana, so you won't have to break the bank looking for love here.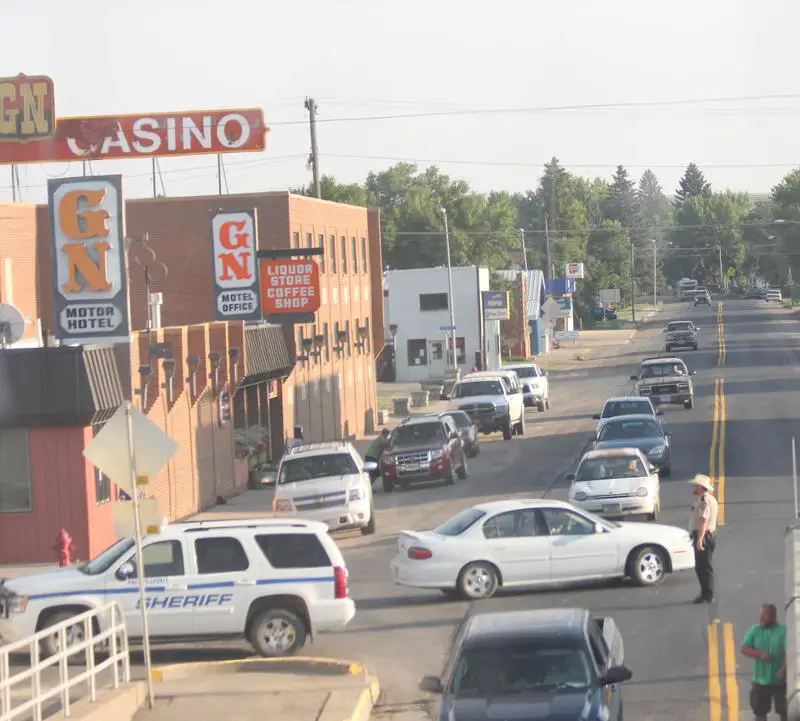 Next up on our list of uber-affordable spots in Montana is Malta. You can buy a home in Malta for about $127,200 and get a place to rent for around $576/month. Combining those factors with Malta's median income of $44,189 puts Malta in or around the top ten statewide for housing to income ratios. Malta is also home to the Great Plains Dinosaur Museum, which is great for a day out with the kiddos or a "wine and dino" date night with your partner.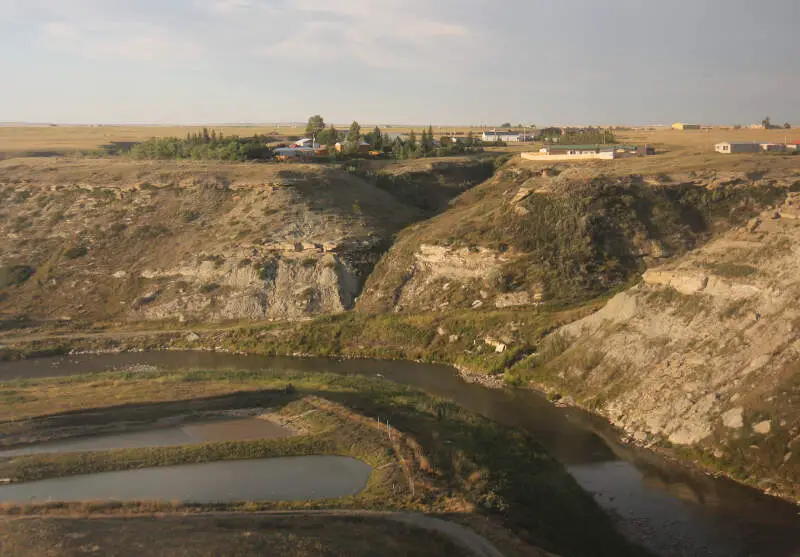 The county seat of Glacier County in the northwestern part of the state, Cut Bank comes in as the seventh most affordable place in Montana. The unemployment rate is very low in Cut Bank, so everyone can take full advantage of how cheap things are.
The median home price in Cut Bank is the fifth lowest in Montana at $108,100, and the median rent is among the top ten cheapest statewide at $588. When you factor in that the median household income here is $39,722, you start to appreciate just how easy it is to save in Cut Bank.
On top of that, Cut Bank has some of the shortest average commute times in Montana, so you'll save even more on gas. Not to mention that with plenty of interconnected trails, nature-lovers can get their fix without spending a dime.
If you're looking for fun things to do here, look no further than Cut Bank Creek Brewery, a local favorite that's starting to spread throughout the state. And Cut Bank residents like to party with a number of events, chief among them being the Lewis & Clark festival.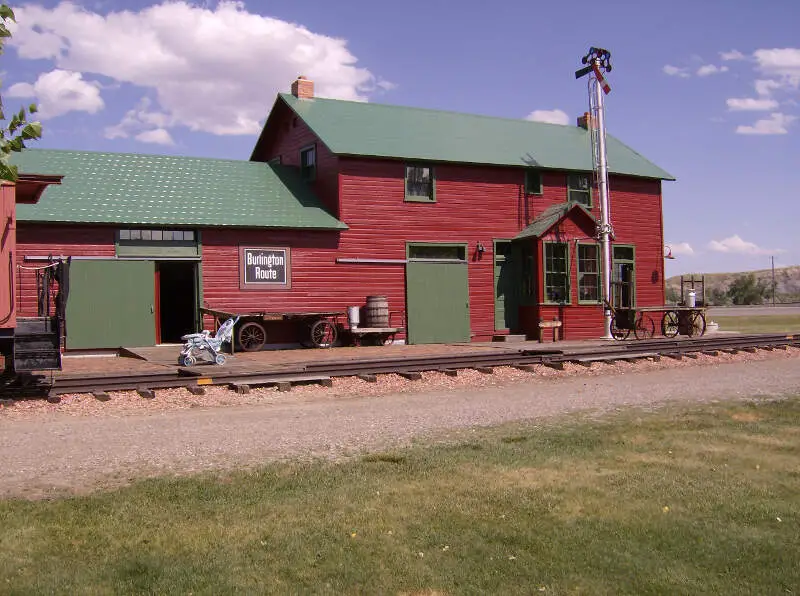 Situated about 50 miles eaast of Billings, Hardin ranks as Montana's eighth least expensive place to call home.
Hardin offers easy access to some of the most sought after fly fishing destinations in the country on Bighorn River. And Hardin is proud of its heritage, which is on full display at the Big Horn County Historical Museum.
Or wait until summer for a more interactive historical perspective at the Little Bighorn Days festival, which draws visitors from all over the country.
Homes in Hardin sell for a median price of $126,700, while your typical rental costs around $621. Hardin residents also enjoy a median household income of $46,154, making everything that much more affordable.
Overall, the low cost of living combined with a high quality of life in Hardin make for a winning combination.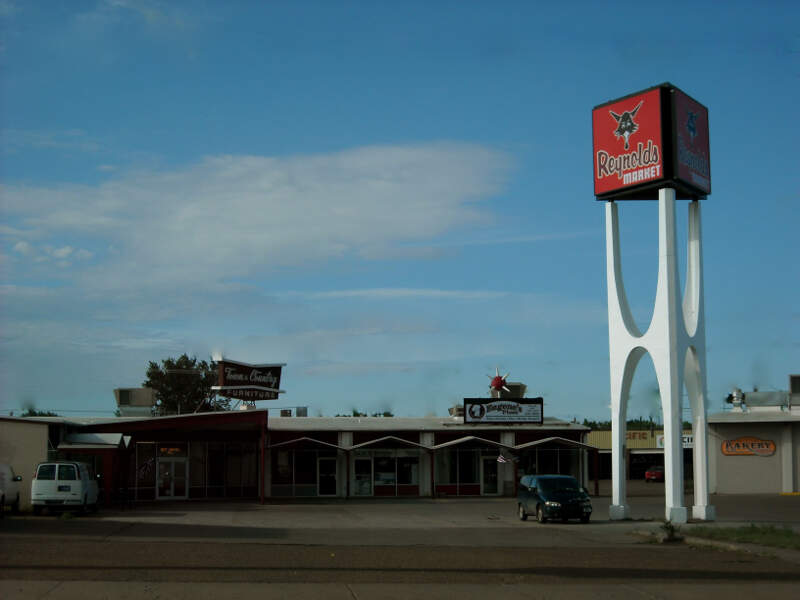 We turn now to one of the principal economic hubs of northeastern Montana for our ninth most affordable city statewide, Glasgow. The median home price in Glasgow is $150,200, which is actually the most expensive you'll see on this list. However, because Glasgow is one of the richest places in Montana, with a median income of $53,235, folks here don't have any trouble paying off their mortgages. In fact, Glasgow residents pay the 12th lowest percentage of their income on homes in Montana. And if you just want to try Glasgow out without making a major commitment, you're in luck. The median rent in Glasgow is a measly $558/month, which is nearly a third of the average rent in Montana. That's good enough to give Glasgow the third best rent to income ratio in the state.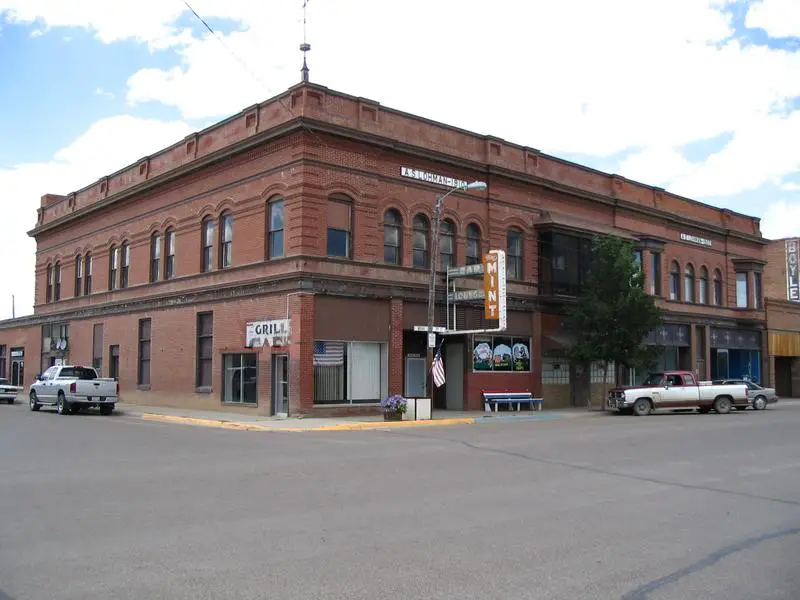 We're finishing our tour of Montana's cheapest places to live with the small city of Chinook. Sure the cost of living is low here, the commute times are short, and the schools are excellent.
But what really stands out about Chinook is just how much there is to do in this community of 1,057 residents. There's a city pool, a 9-hole golf course that's open to the public, and a wildlife museum with stunning displays of animals in their natural habitats that could rival any big city's museum.
Unemployment is relatively low, crime isn't a big issue, and folks here earn a median income of $40,855. If you want to try Chinook out to see how you like it, the barrier to entry is incredibly low – in fact, the city has the cheapest median rent in Montana at $496.
If you decide you like it here, the median home price is $130,100. That number's been climbing steadily in recent years, as more people realize you can get a high quality of life for a bargain in Chinook.
How We Determined The Most Affordable Places To Live In The Treasure State For 2021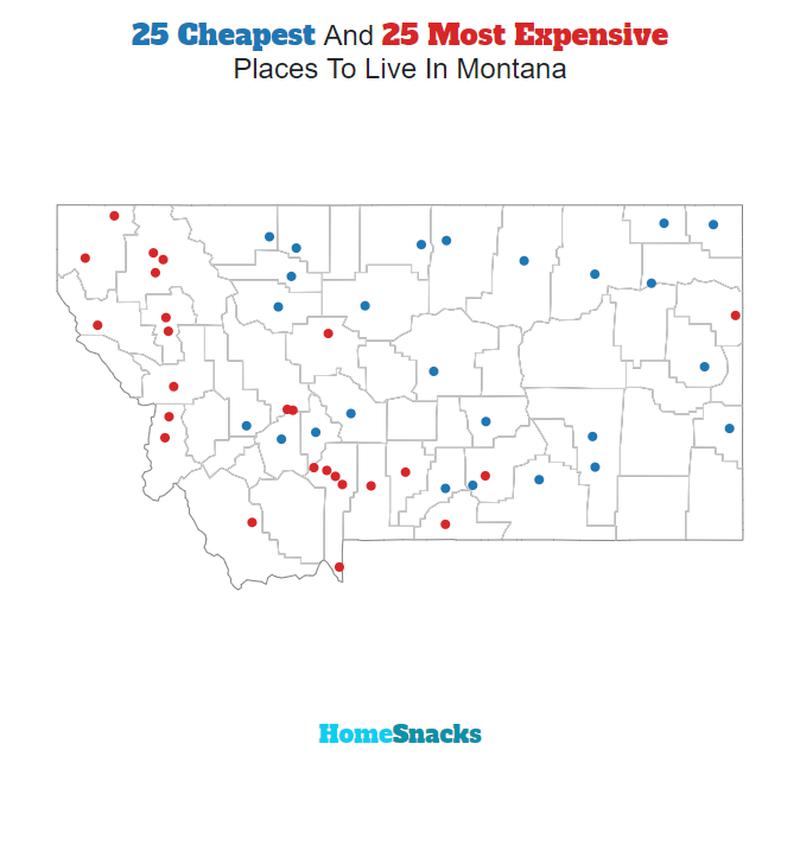 The two most important things to think about when it comes to being able to afford if you can live comes down to:
How much do money do I make?
How much do I have spend to live there?
You need to understand your costs in the context of how much money you make.
For example, if the median household earns $100,000 and spends $40,000 on housing it's actually cheaper to live there than a place with a median income of $50,000 and housing costs of $21,000. You might spend more on housing, but you have more money overall to play with.
With that example in mind, we derived several statistics from the latest Census American Community Survey 2015-2019 around incomes and costs. They are:
Median Home Price / Median Income (lower is better)
Median Income / Median Rent (Higher is better)
Median Home Price
We added simply median home price because high home prices generally correlate with higher expenses for all costs related to homes (heating, electricity, etc).
You can then compare these metrics in each of the places in Montana to figure out which is the least expensive.
What you are left with is a "Cost of Living Index" by taking the average rank of each of these metrics for each city.
So we used that cost of living index in order to rank all of the 53 places in Montana that have more than 1,000 people.
The place with the lowest cost of living in Montana according to the data is Colstrip. You can download the data here.

There You Have It Mr. Or Mrs. Montana Cheapskate
If you're looking at the cost of living numbers in Montana, this is an accurate list of the most affordable places to live in Montana for 2021.
Here's a look at the most expensive cities in Montana according to the data:
Whitefish
Bozeman
Manhattan
For more Montana reading, check out:
The Most Affordable Places To Live In Montana
Editor's Note: We updated this article for 2021. This is our seventh time ranking the cheapest places to live in Montana.