Editor's Note: Data has been updated for 2021. This is our seventh time ranking the best Houston suburbs.
Article Table Of Contents   
(Skip to section)
Houston is a phenomenal city with great suburbs, each with their own distinct personality. If you're interested in living near the biggest city Texas has to offer, then you're in the right place because this is our seventh time ranking the best Houston suburbs out there.
There's a reason someone like Beyonce has been singing Houston's praises for years. Whether you're spending your days hanging out at the downtown Houston's Discovery Green or your nights out enjoying Houston's nightlife, there's something for every speed in America's fourth-largest city. Of course, everyone knows about the Space Center Houston, thanks to the iconic "Houston, we have a problem" audio clip, but folks might not know that Houston has a world-renowned museum district and a diversity of cuisine that extends to something called "Viet-Cajun" food ! Houston also has a crazy low cost of living, which even commuters can take advantage of. But if you're not sold on living in Houston, then maybe one of its surrounding cities will catch your eye.
Some of these options have populations over 100,000, like Sugar Land, which has its own sports stadiums, festival park, popular music venues, and cultural districts; in short, everything you need without necessitating a trip to Houston. If you want a lot of different cultures in your life, then Pearland, one of Texas's most diverse cities, is a good choice. If you're trying to cut down on costs, Meadows Place has the only homes on this list going for under $200,000. And if low crime, a stellar waterfront vibe, and easy access to some of the tastiest seafood in the state sound like just the triple threat for you, then look no further than Seabrook. Want a handy geographical cheat sheet for finding Houston's best suburbs? 80% of this list is located south of Houston, so that seems like a good place to start.
So get ready to turn on your air conditioning and munch on some Czeck-inspired kolache, because we're about to Rocket off to the best Houston suburbs to live in for 2021.
Here are the 10 best suburbs to live around Houston for 2021:
Houston, we don't have a problem. At least, as long as we stick to one of the city's best suburbs. We came up with this list by looking at data from the Censusand the FBI to find places with low crime, high median household incomes, and low rates of unemployment and poverty. In short, the absolute best suburbs Houston has to offer.
If you're ready to start rooting for the Astros, any one of the above cities will make a good choice. But what is Houston's best suburb? According to the latest data, West University Place is the gold medal winner for 2021.
To see how well all of Houston's 27 suburbs ranked on our list, scroll down. The worst ones are at the bottom, so maybe make a note to avoid those.
Note: This result may differ from our state wide data as we did not include commute times and crime for this analysis to allow for a larger selection of suburbs.
Feel free to check out some more reading about Texas:
The 10 Best Houston Suburbs To Live For 2021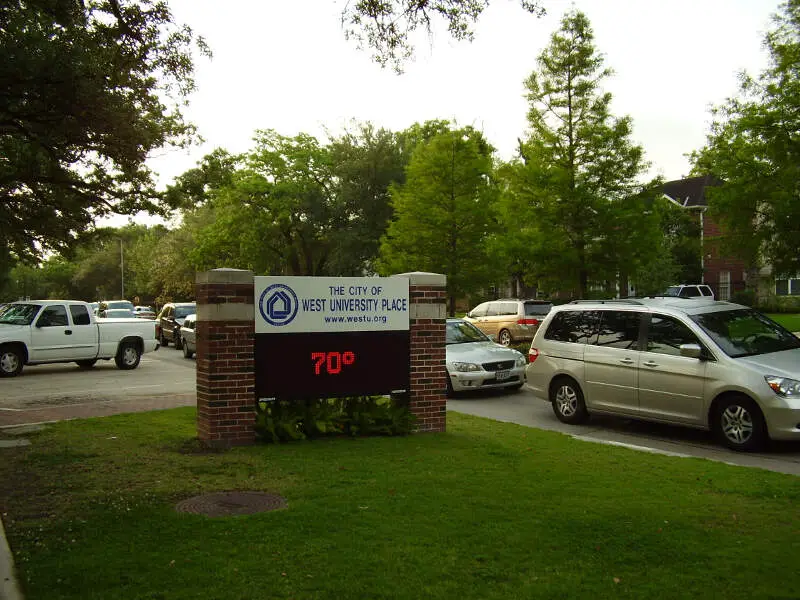 Source: Public domain
West University Place is always mentioned as one of the best suburbs in the Houston area. We'll tell you the good about "Awesome West University Place."
Everyone here is rich; families average $250,001 a year, which is the highest in the Houston region. And only 2.59% are out of work. Homes average more than $1,113,500 each.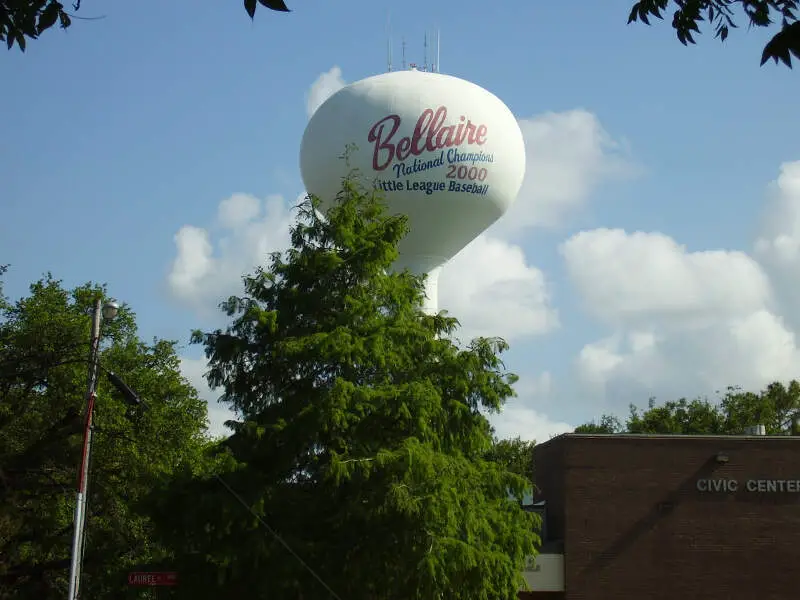 Source: Public domain
Bellaire is the second best 'burb we looked at near Houston for 2021.
It ranks 2nd for incomes in the area and only 2.4% of residents lack insurance, good for 2nd best.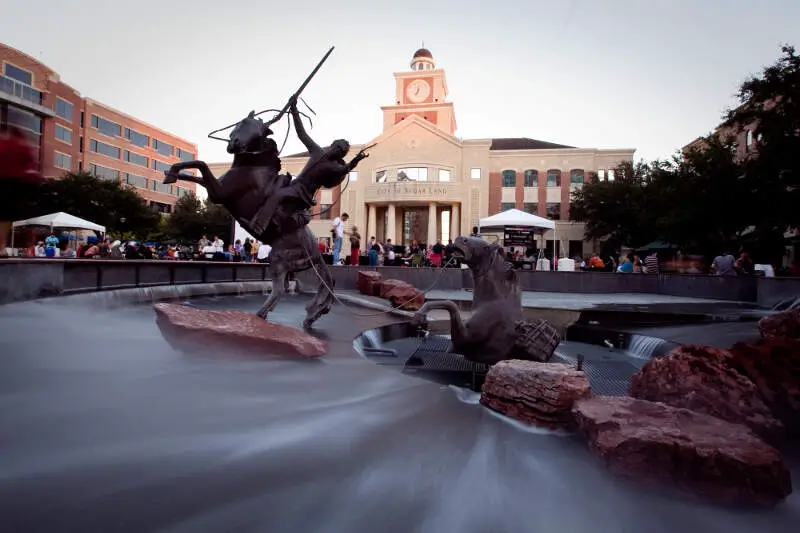 Here in Sugar Land, it's really safe, and residents are just about as rich as you'll see in the Houston metro area.
The bad side? Schools are more crowded, and the cost of living puts a large part of the city out of reach for most families.
But price is based on demand and a lot of people want to live in Sugar Land.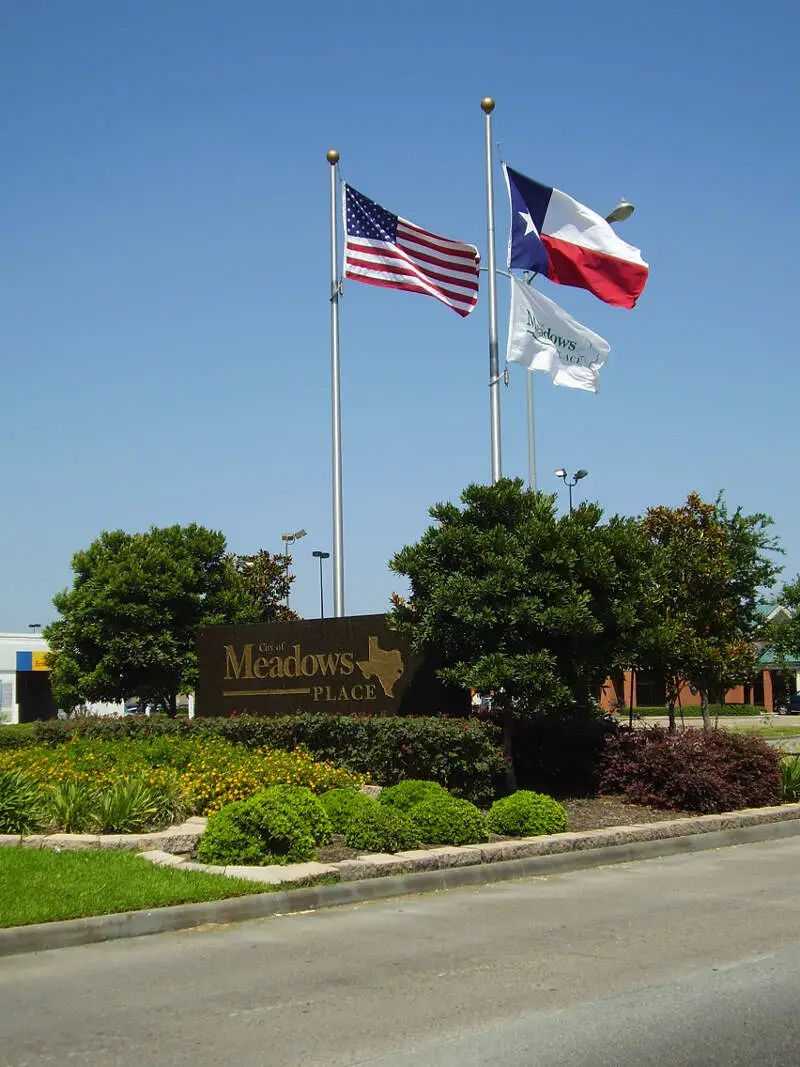 Source: Public domain
Meadows Place ranks as the 4th best suburb of Houston for 2021.
You won't find many better places to raise your kids in the region than in Meadows Place and the schools are some of the best around.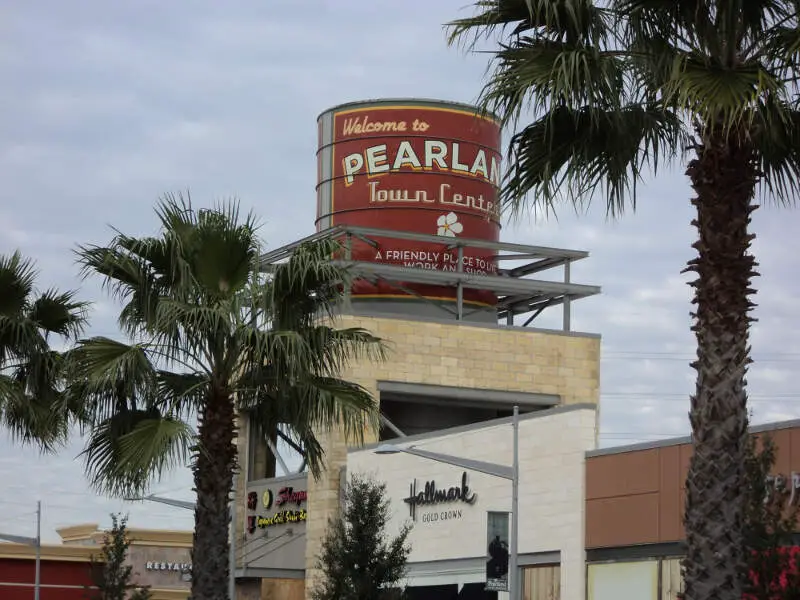 Coming in as the fifth best is Pearland.
Pearland gets kudos for having the 8th most expensive homes in the Houston area, where houses sell for an average of $244,800. However, the cost of living here is among the highest in the area.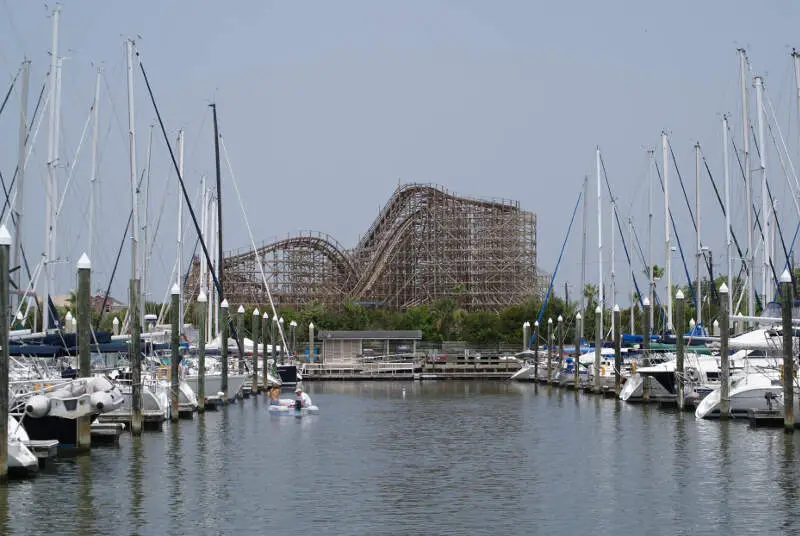 El Lago is proud of its 6th place finish on this list. And here's why.
Most residents have great jobs and the unemployment rate sits at 5.52% which is 14th best in the area.
According to online reports, El Lago is quickly becoming one of the more affluent suburbs in the Houston area, meaning you need to get in soon.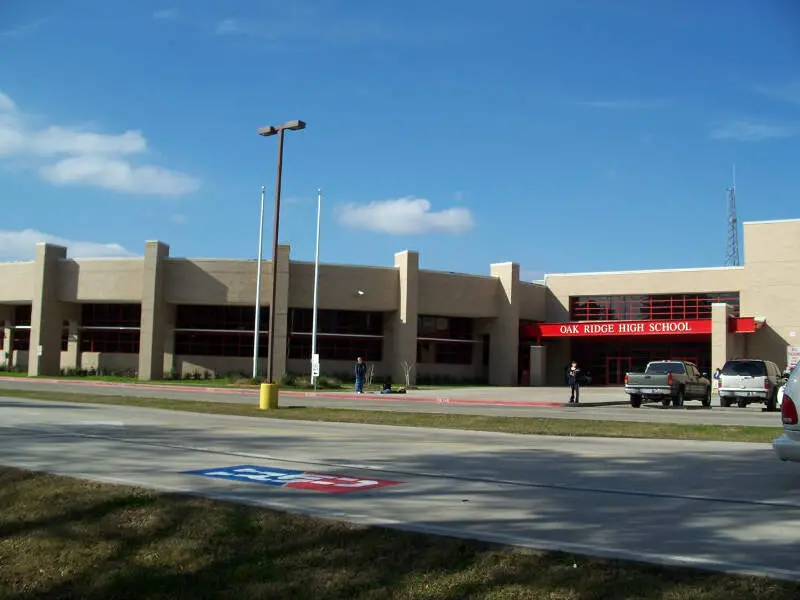 The 7th best suburb on our list goes to Oak Ridge North.
Oak Ridge North schools are some of the best in the region, and crime is really low. The cost of living makes it a lot more desirable for many families, especially first-time home buyers.
And, it's only 26.2 miles to downtown, which is a good thing.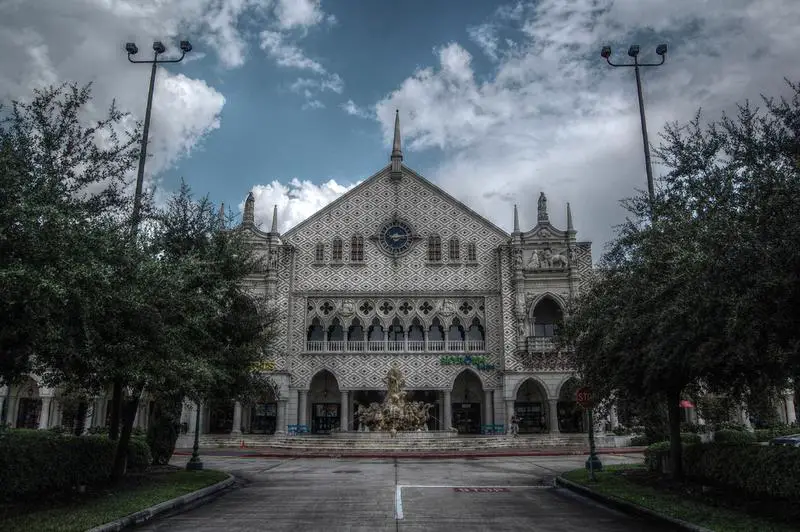 Shenandoah is growing quickly, and for a good reason. Crime is far below average, and most residents are gainfully employed. Even the cost of living is reasonable.
A solid 4.3% of people lack insurance, good for 3rd in the area.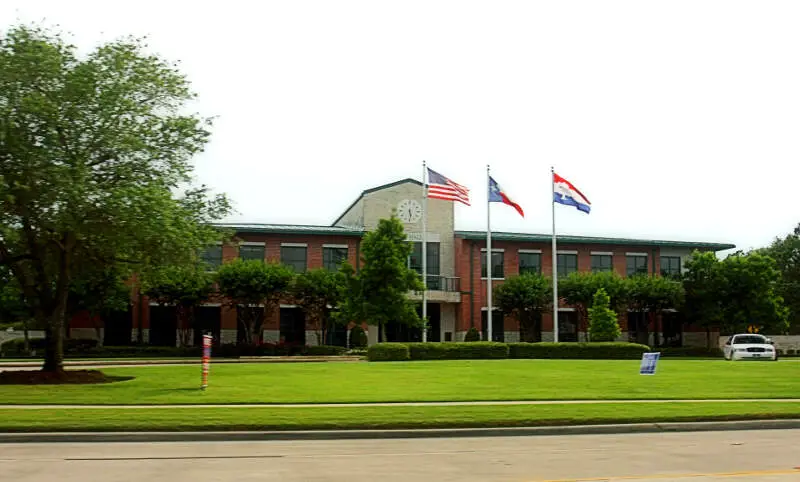 Is 'Everything Better In Friendswood?'
Almost.
It placed 9th on our list thanks to the fact that it's really expensive to live here, but the schools are great, so you get what you pay for in that regard.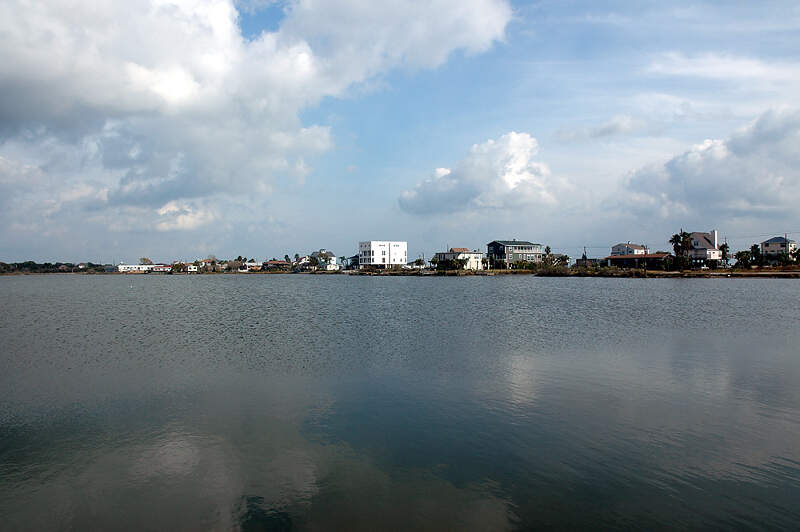 And rounding out the top ten for 2021 is Seabrook.
This city is far above average in every category, and the best part? It's far more affordable than the other cities listed above. So, you get a big bang for your buck here.
How We Determined The Best Suburbs Around Houston for 2021
Figuring out the best suburbs around Houston was pretty simple; we just needed to list several things that people like, and then find out which cities have the most of those things.
We threw a lot of criteria at this one in order to get the best, most complete results possible:
Low unemployment rate
High Median household incomes
Population density (lots of things to do)
High home values
A lot of college educated people
Low poverty
High rate of insured families
Then we used the newest American Community Survey data for 2015-2019 to research each suburb.
FYI: We defined a suburb as being within 30 miles of Houston.
Additionally, we limited the analysis to places that have over 2,000 people. This left us with a grand total of 27 suburbs to evaluate around Houston.
We ranked each place with scores from 1 to 27 in each category, where 1 was the "best.
Next, we averaged the rankings for each place to create a quality of life index.
And finally, we crowned the city with the best quality of life index the "Best Suburb near Houston." We're lookin' at you, West University Place. You can download the data here.
Read on below to learn more about what it's like to live in the best of the best. Or skip to the end to see the list of all the suburbs ranked from best to worst.

Welcome to the Best Houston 'Burbs of 2021
We said it once and we'll say it again--life in the big city isn't for everyone. At least not all the time.
So if you're hankering for some of the amenities of a larger city like Houston, but don't want to deal with the drawbacks, one of these suburbs might just be for you.
For more Texas reading, check out:
Detailed List Of The Best Houston Suburbs
| Rank | City | Population |
| --- | --- | --- |
| 1 | West University Place, TX | 15,603 |
| 2 | Bellaire, TX | 18,815 |
| 3 | Sugar Land, TX | 118,709 |
| 4 | Meadows Place, TX | 4,653 |
| 5 | Pearland, TX | 122,078 |
| 6 | El Lago, TX | 2,710 |
| 7 | Oak Ridge North, TX | 3,149 |
| 8 | Shenandoah, TX | 2,887 |
| 9 | Friendswood, TX | 39,688 |
| 10 | Seabrook, TX | 13,927 |
| 11 | Nassau Bay, TX | 4,048 |
| 12 | Manvel, TX | 10,179 |
| 13 | Katy, TX | 20,202 |
| 14 | Deer Park, TX | 33,855 |
| 15 | Stafford, TX | 17,206 |
| 16 | Kemah, TX | 3,057 |
| 17 | La Porte, TX | 35,246 |
| 18 | Tomball, TX | 11,689 |
| 19 | Alvin, TX | 26,299 |
| 20 | Richmond, TX | 12,646 |
| 21 | Webster, TX | 11,222 |
| 22 | Baytown, TX | 76,635 |
| 23 | Pasadena, TX | 153,350 |
| 24 | South Houston, TX | 17,587 |
| 25 | Arcola, TX | 2,441 |
| 26 | Galena Park, TX | 10,983 |
| 27 | Humble, TX | 15,864 |