Editor's note: This is not investment advice and we are not financial advisers. Article updated for 2020.
Swipe left for slideshow. Article continues below.
Article Table Of Contents
(Skip to section)
There's a the age old question everyone thinks about when they decide to move to a city in Ohio:
Should I buy a place or rent? Well, we aren't here today to solve that problem for you exactly. We are just assuming you'll do the right thing and a buy a place. And while we are happy to tell you the best place to live in Ohio, this analysis is going to tackle the question of the best place to buy a house as an investor. That is we are going to try and determine the up and coming cities in the Buckeye State.
To do that we are going to look at places in Ohio that are growing faster than average, but where home prices are below average. In every day terms, the "deals". The best deal in Ohio at the moment? That would be Munroe Falls according to our analysis.
Here's a look at the top ten places to buy a home in ohio for 2020:
What's the best place to buy a home in Ohio for 2020? According to our analysis, would the the ideal place to buy a home looking into the future.
The methodology that wen't into this can be a bit complicated, so we'll break it down for you in as much detail as we can below. If you're not worried about finding a deal on good places to live, check out the most expensive places to live in ohio and, for those of you on a budget, the cheapest places to live in ohio.
For more Ohio reading, check out:
The 10 Best Cities To Buy A House In Ohio For 2020
Like much of the Connecticut Western Reserve, the area that makes up present-day Munroe Falls was previously inhabited by various tribes of American Indians. When the Western Reserve began being surveyed in 1796, what is now Munroe Falls was mostly in the southern part of the survey township Town 3, Range 10, then a part of Washington County before being placed in the new Jefferson County the following year. In 1800, it was made part of Trumbull County, which followed the boundaries of the Western Reserve, and in 1808, the area was made part of Portage County. The first settlers in present-day Munroe Falls, a group of around 40 people including Francis Kelsey and William Stow, came in 1809. Kelsey built a sawmill on the south side of the Cuyahoga River and a gristmill was built on the north side. The initial name of the new village was Kelsey's Mills. The first school in Munroe Falls was built in 1816. In 1817 a wooden dam was built to provide power for both mills and the name of the village was changed to Florence. Around 1836, William and Edmund Munroe from Boston arrived and purchased the two mills and approximately 250 acres of land around them to lay out a new village, which they named Munroe Falls. The village was incorporated October 26, 1838. The Munroes had great plans for the village to become a center of commerce and an important city, but these plans never worked out. After about 10 years, which included the economic instability of the Panic of 1837, the Munroes defaulted to many of the creditors and the properties they owned were taken over by other individuals.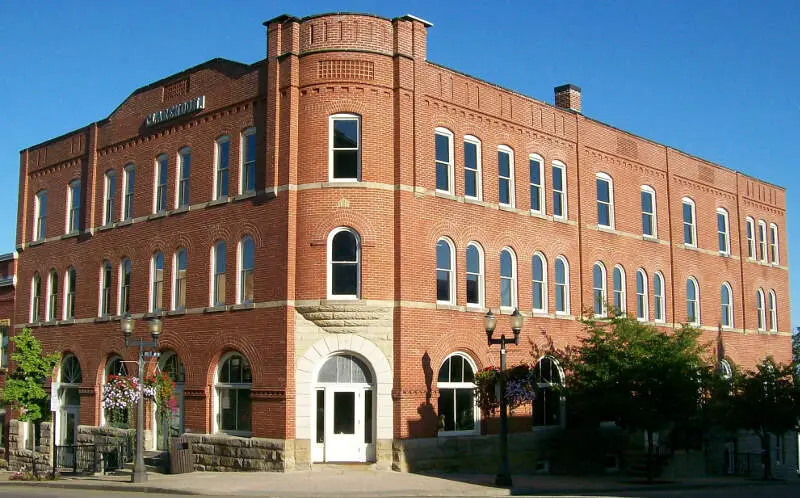 The seat of justice of Belmont County was originally known as Newellstown, and under the latter name was laid out in the late 1790s by David Newell. The name of the settlement was soon changed to St. Clairsville in honor of Northwest Territory Governor and Revolutionary War Major-General Arthur St. Clair.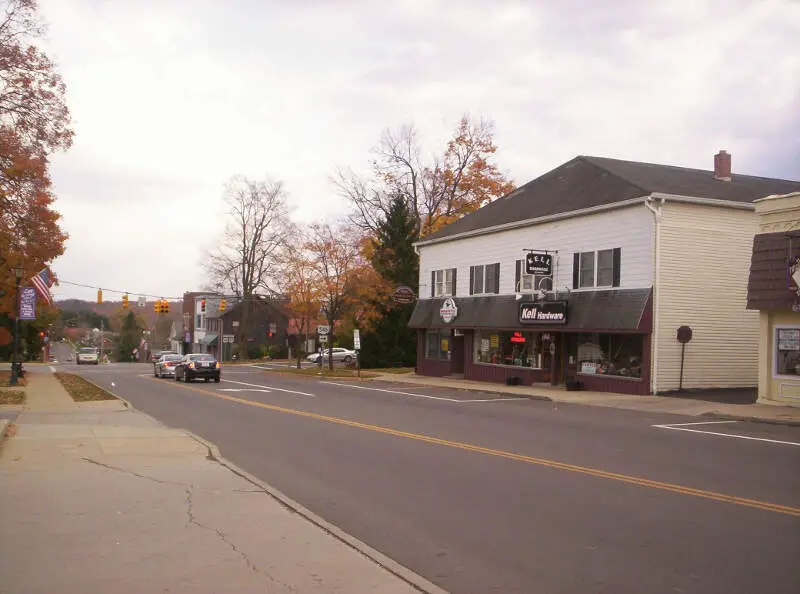 Source: Public domain
Lexington was founded by Amariah Watson, Jr. in 1812, a land speculator who had purchased wide lands locally in order to sell to other settlers. During the 1800s, Lexington had many taverns, hotels, and grist mills - most of which at one time or another burned to the ground. In the 19th century, leading members of the community were William Cockley Thad and Martin Kell, Les Griebling, Erwin Castor, Sgt. Patrick Gass, and Jacob Cook. The first road constructed through town was what is now State Route 97, and the second was what is now Lexington-Ontario Road.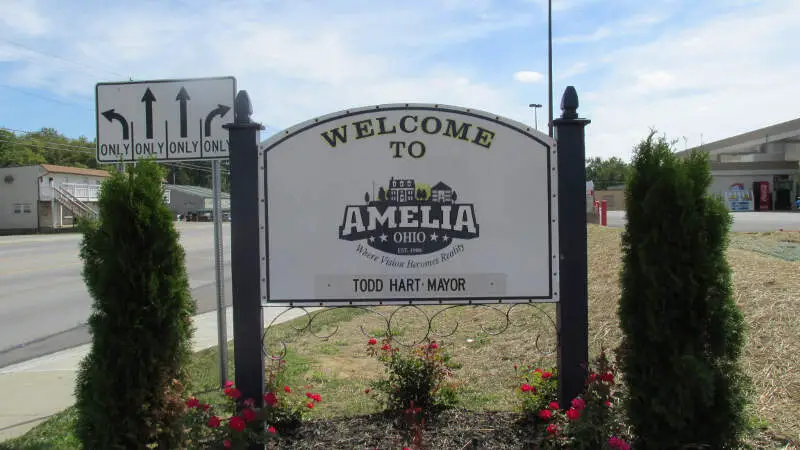 Amelia was not officially platted. The name Amelia was adopted in honor of Amelia Bowdoin, a well known and popular tollgate operator on the Ohio Turnpike - Main Street, today State Route 125. Her home still stands at 94 W. Main St., across the street from where it stood when it was a tollhouse. A post office called Amelia has been in operation since 1836.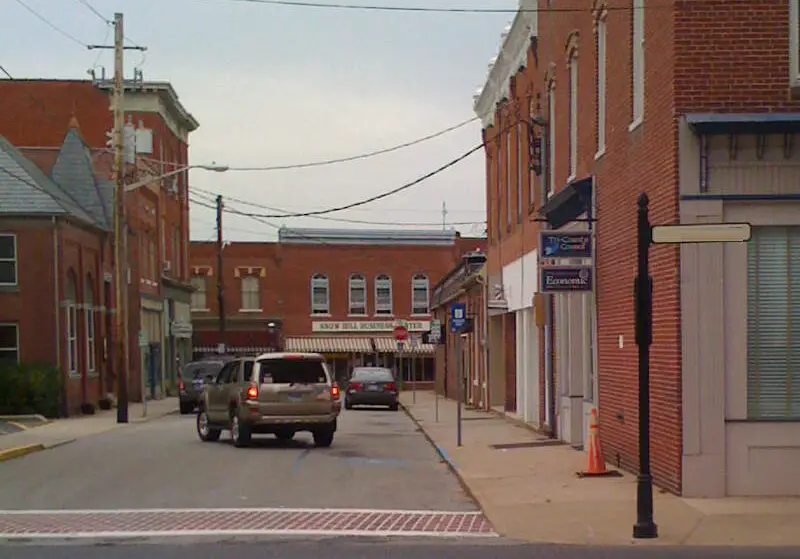 Source: Public Domain
Chardon is named after Peter Chardon Brooks, who donated land to build the historic Chardon Square. Chardon Township celebrates its incorporation in 1812, and thus the City of Chardon does the same.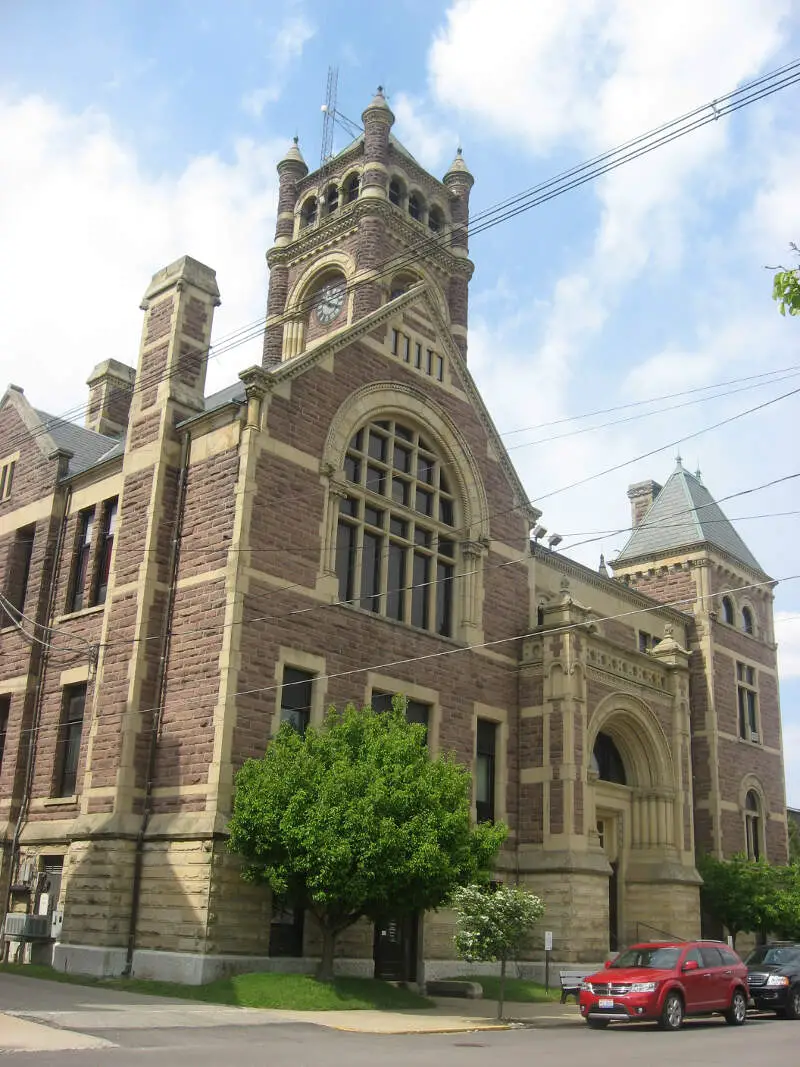 Source: Public domain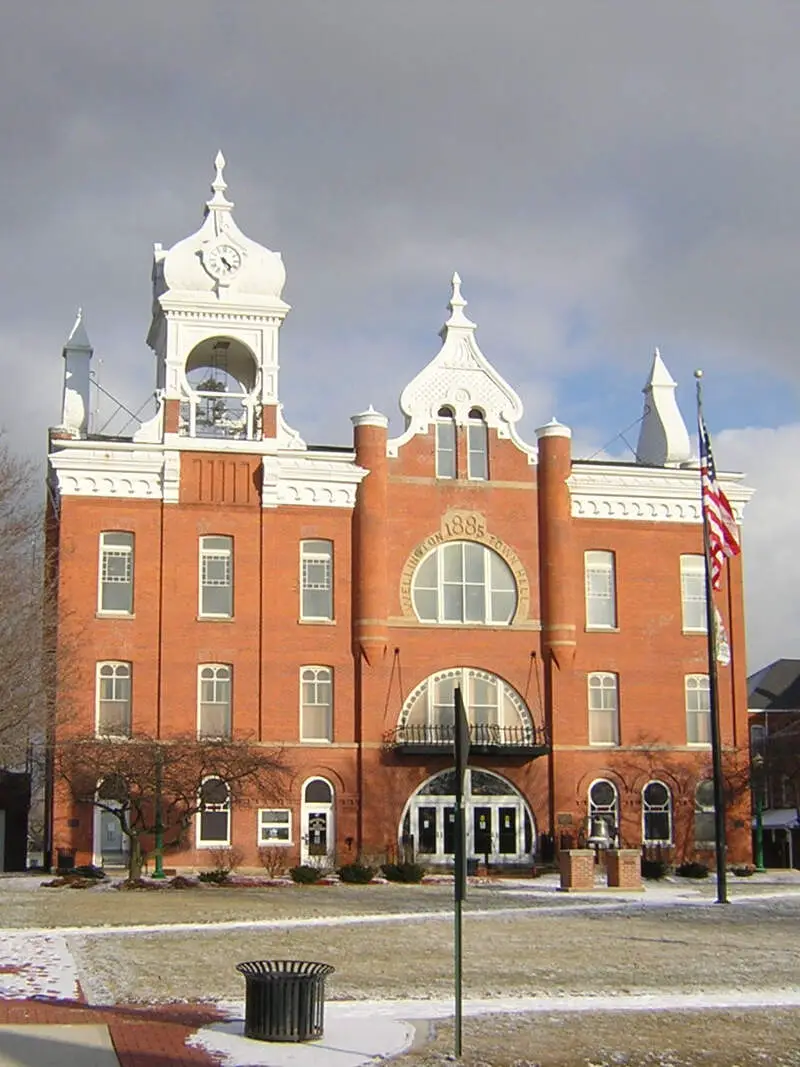 Some say the village was named after William Welling, a local resident, while others believe the name is derived from the title of the Duke of Wellington.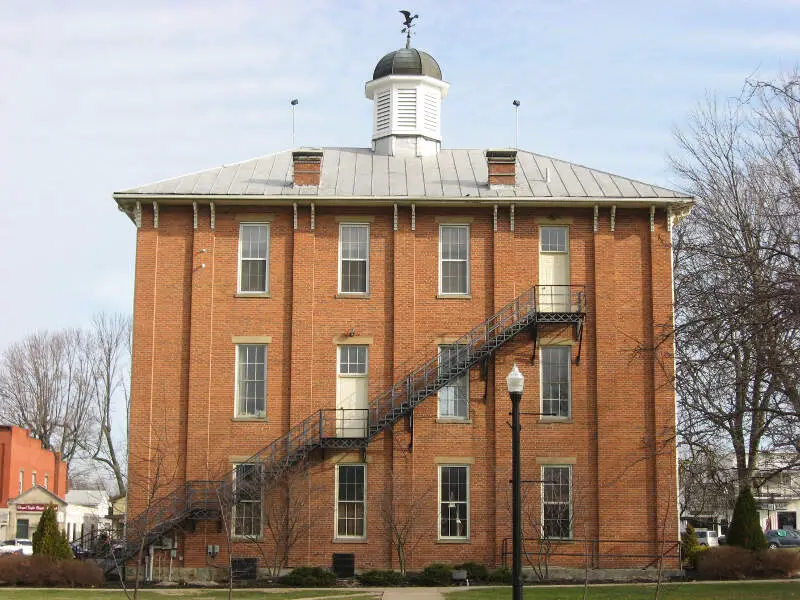 Source: Public domain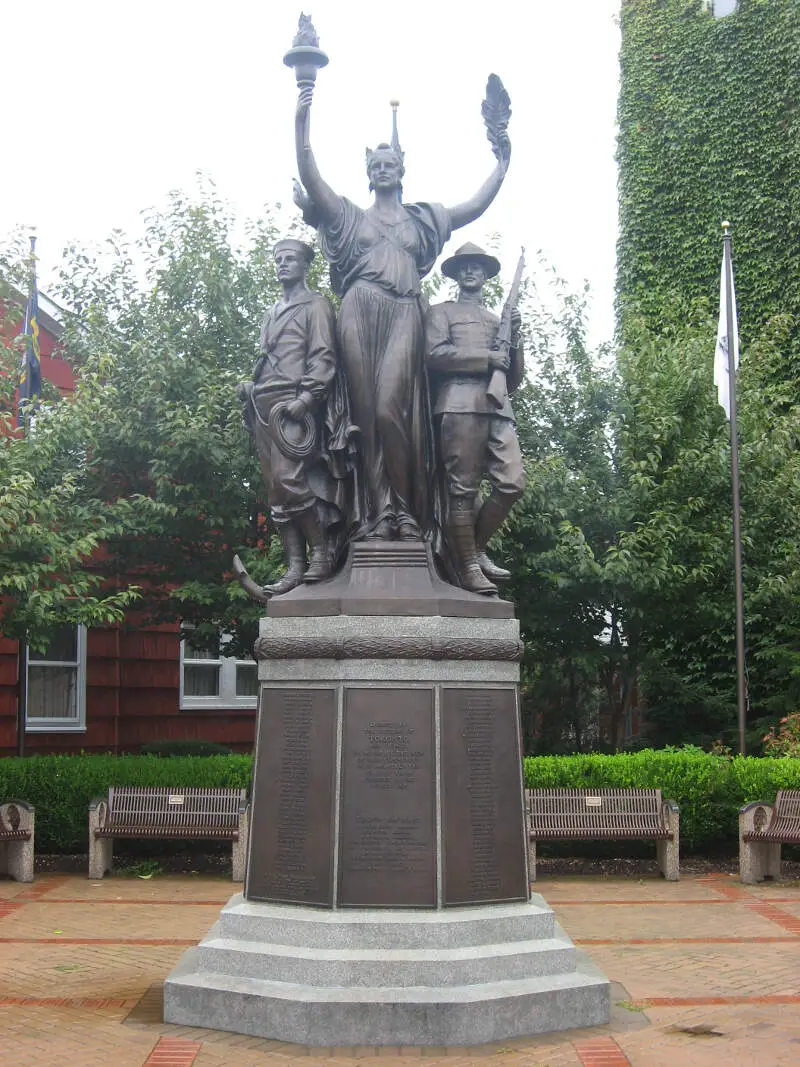 Source: Public domain
The area was first settled in the 19th century, when it was known as Newburg's Landing. When the railway was built, however, the area's name was changed to Sloanes Station. In 1881, after a vote, the town was incorporated under its present name. This was taken from the much larger Canadian city of the same name, which civic leader Thomas M. Daniels felt was a place worth emulating.
How do you determine the best places to buy a home in ohio for 2020?
We were in real estate for almost five years and have been working on this site for another three. Suffice is to say, we've put a lot of thought into what goes into finding a good place to buy a home.
So all that thinking has come to this moment where we get to spell out how we'd approach finding an up-and-coming place to live in Ohio. Put differently, the analysis will try to find places in Ohio with undervalued homes relative to pent up demand.
To do that we looked at the most recent American Community Survey Census data for 2014-2018 and compared it to the previous vintage (2012-2016). Specifically, we used the following criteria:
Y-o-Y Change In Population (People want to live here)
Y-o-Y Change In Median Home Prices (People are willing to pay for it)
Home Prices Relative To The State Average (It's still kinda cheap)
We want places that are growing, have seen home prices increase in recent years, and are still "cheap" for Ohio with the following caveats:
So of the 0 cities and towns in Ohio, only 254 places made it through our initial filters to even be considered.
We then ranked each place from 1 to 254 for the criteria mentioned above with 1 being the best for that criteria. We averaged the rankings to create a "best place to buy" index with the place having the lowest index being the best. You can download the data here.
Turns out that Munroe Falls is the best potential gem in the not-so-rough in the Buckeye State.
Read on for more on these places.

There You Have It - The Best Places To Purchase A House In ohio for 2020
There's our analysis of the best places to buy a house in Ohio. And, to be clear, we aren't necessarily saying these places are the best places to live, just that it looks like they might be in a couple of years based on the data.
In fact, every place in the following table meets our criteria, so even though it may not look super long, remember we started off with all 0 places in the state.
So if we'd could rent or buy in these cities, we'd definitely buy.
For more ohio reading, check out:
Detailed List Of The Best Places To Buy A Home In Ohio