The 10 Safest Cities In Ohio For 2021
We used data and science to determine the places in Ohio where everyone sleeps safe and sound.

Editor's Note: This article has been update for 2021. This is our sixth time rankings the
safest places to live in Ohio
. All the data comes from the
FBI's Crime In The USA 2019 report.
Article Table Of Contents   
(Skip to section)
Yes, there is more to Ohio than Cincinnati and cornfields.
And if you are from the Buckeye State you know that there are a ton of fun facts that keep this flyover state ranked as one of the safest places to live in the headlines. More importantly, it has some of the safest cities to call home.
Ohio residents love their Cincinnati Bengals and Cleveland Browns. And when the Bengals and Browns play each other, it's more like a flag football. Fights never break out between the two teams' fans or players because the good people of Ohio are so nice and so safe. #friends'tiltheend Ohio is so safe that they made a law that dogs have to ride in safety seats, like kids. And don't get stuck at a 4-way stop in Ohio, it takes forever because the people are so nice and safe that everyone wants to let everyone go first.
When Ohioans aren't busy reviewing their car safety manuals, they can be found practicing their CPR. Now if that doesn't say safe, we don't know what does. We could all learn a little somethin' from Ohio.
We took a look at the FBI crime data for 190 Ohio cities with a population of more than 5,000 to determine which cities are the safest to call home.
How did we determine the safest cities to call home in the Buckeye State? We looked at crime, education levels, and job opportunities in each city.
Drum roll...
What the safest place in Ohio? Sagamore Hills came out on top as the safest place to live in Ohio. Kudos to Sagamore Hills!
Read on to learn how Sagamore Hills brought home the gold and how your city ranked:
For more reading on safe places to live in and around Ohio, check out:
The 10 Safest Cities In Ohio For 2021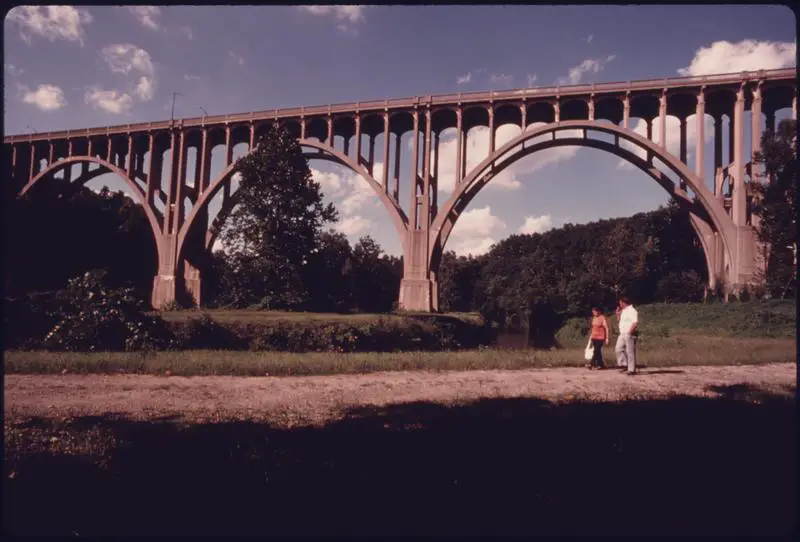 Source: Public domain
Sagamore Hills moved up the list a good bit over the years to claim the first overall spot on our list of the safest cities in Ohio.
There were a grand total of NO violent crimes here in the last reporting year and the property crime rate is third safest. So you were more likely to get hit by lightning that murdered last year -- which is actually true for all cities in America, but it's really true here.
Sagamore Hills Township is one of the nine townships of Summit County, Ohio, United States.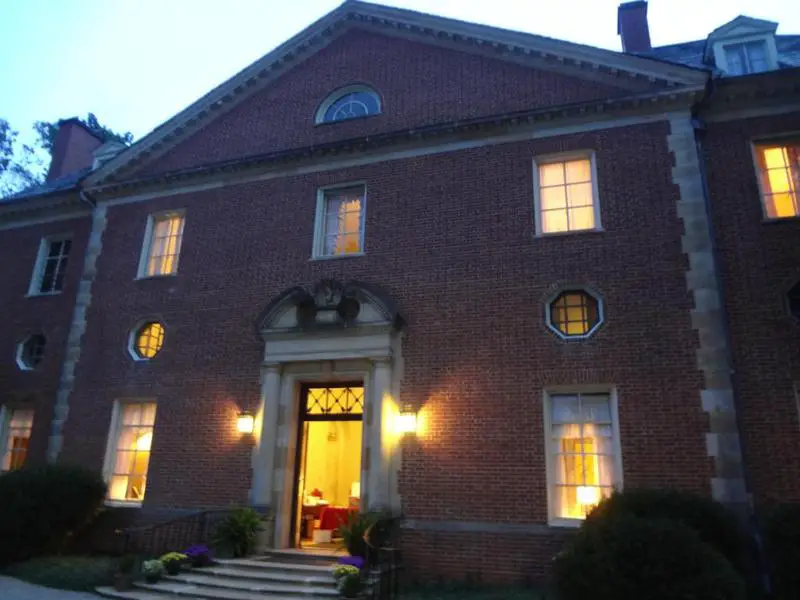 Indian Hill is an affluent suburb of Cincinatti with a penchant for safety.
You'll find some of the nicest homes Ohio has to offer in Indian Hill, with a median home price of $151836. You'll have to earn a pretty good living to reside in Indian Hill, where the overall cost of living score is 100, compared to the US average of 100.
That's okay for most residents, seeing as the median income in Indian Hill sits at an impressive $61815. It's worth every penny to live in Indian Hill, seeing as the city had 0 violent crimes in 2019, and the ninth safest lowest property crime rate in Ohio.
So you don't have to worry about your million-dollar house getting broken into or being attacked when you're out at one of Indian Hill's gorgeous parks.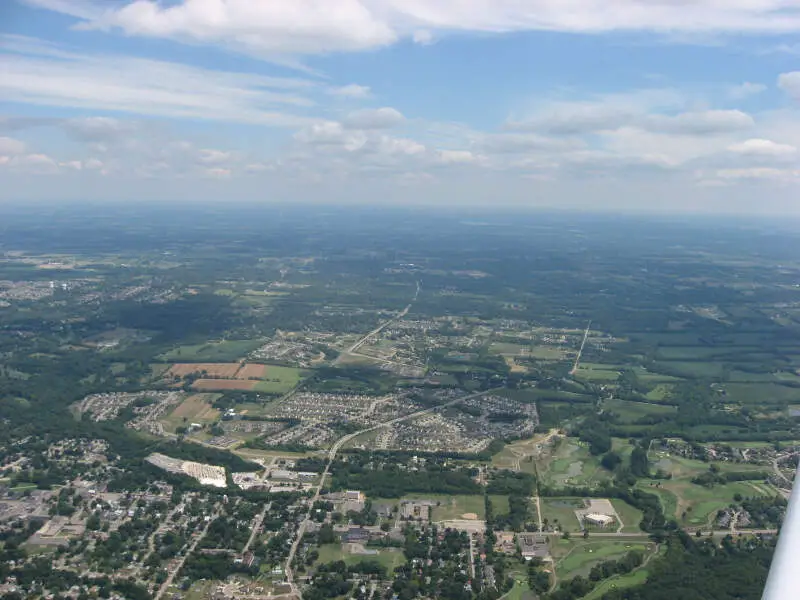 Source: Public domain
There's something for everyone to love in Springboro, a city of 18,975 situated just south of Dayton. For the adults, there's the Crooked Handle Brewery, while kids will love having the Friesinger's Candy Factory right in their neighborhood.
There was just 1 violent crimes committed over 2019, and we bet residents are pretty peeved at that one guy for ruining their otherwise clean sheet. On top of that, there were only two property crimes committed each month, on average, over the year. We just hope the Springboro police aren't growing bored with nothing to do.
Springboro's unemployment rate sits at just 2.99%, and the cost of living is right on level with the national average. It sounds like a steal to us.
Coming in as the fourth safest place to call home in Ohio is Munroe Falls, a small suburb of Akron. There wasn't a single violent crime recorded in Munroe Falls over 2019, so you never have to worry about your physical security here.
You don't just get safety in Munroe Falls, though. You get it for bargain prices the median rent in Munroe Falls is a measly $769 and the cost of living in Munroe Falls is below the national average. And with residents earning a median income of $66333, there's no trouble making ends meet here.
You also don't have to worry about getting your stuff stolen when you're out at Munroe Falls Metro Park, because there was barely any property crime here over the last year.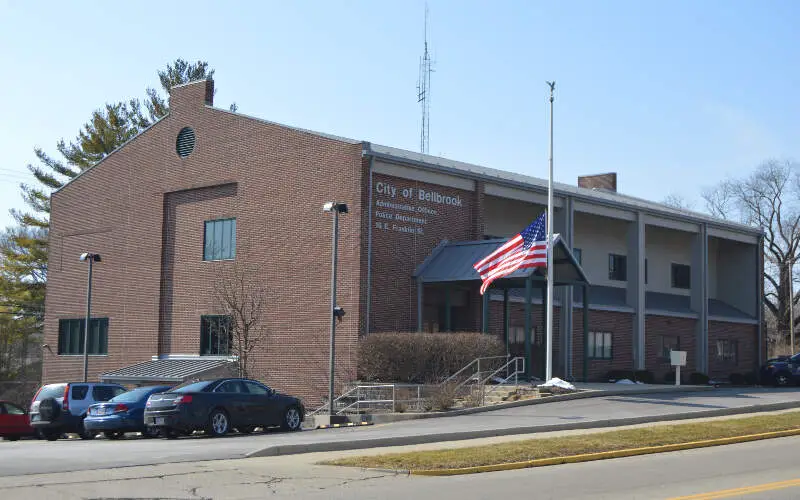 Source: Public domain
Next up on our list of Ohio's safest places to live is Bellbrook, a city of 7,326 located just outside Dayton.
Bellbrook hosts the Sugar Maple Festival each year, and with tourists coming from all over the state, its crime numbers are even more impressive. Think about it: everybody hopped up on sugar, and not a single violent crime committed over 2019.
One of the most significant contributors to Bellbrook's safety is the city's economic stability. Bellbrook's unemployment rate sits at an impressive0.08%, and homes are affordable while the median income is high at $84130.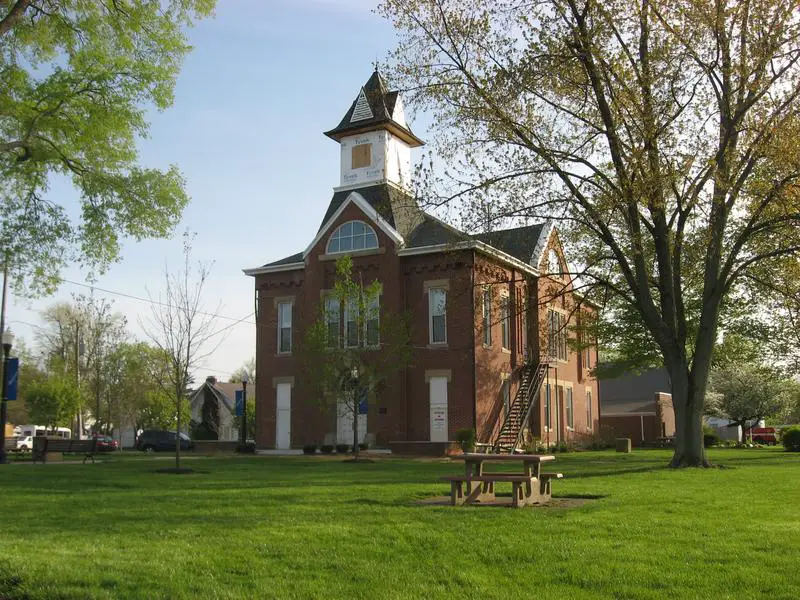 Source: Public domain
If you think wine and safety don't go hand-in-hand, think again. Johnstown is a small village of 5,119 with not one, but two vineyards: Otter Creek and Autumn Rush.
Sipping on vino didn't lead to any altercations in Johnstown over 2019, considering the village had zilch in the way of violent crime. In terms of property crime, there were a handful of petty thefts, but other than that, Johnstown residents didn't have much to worry about in terms of serious crimes, like stolen cars or burglaries.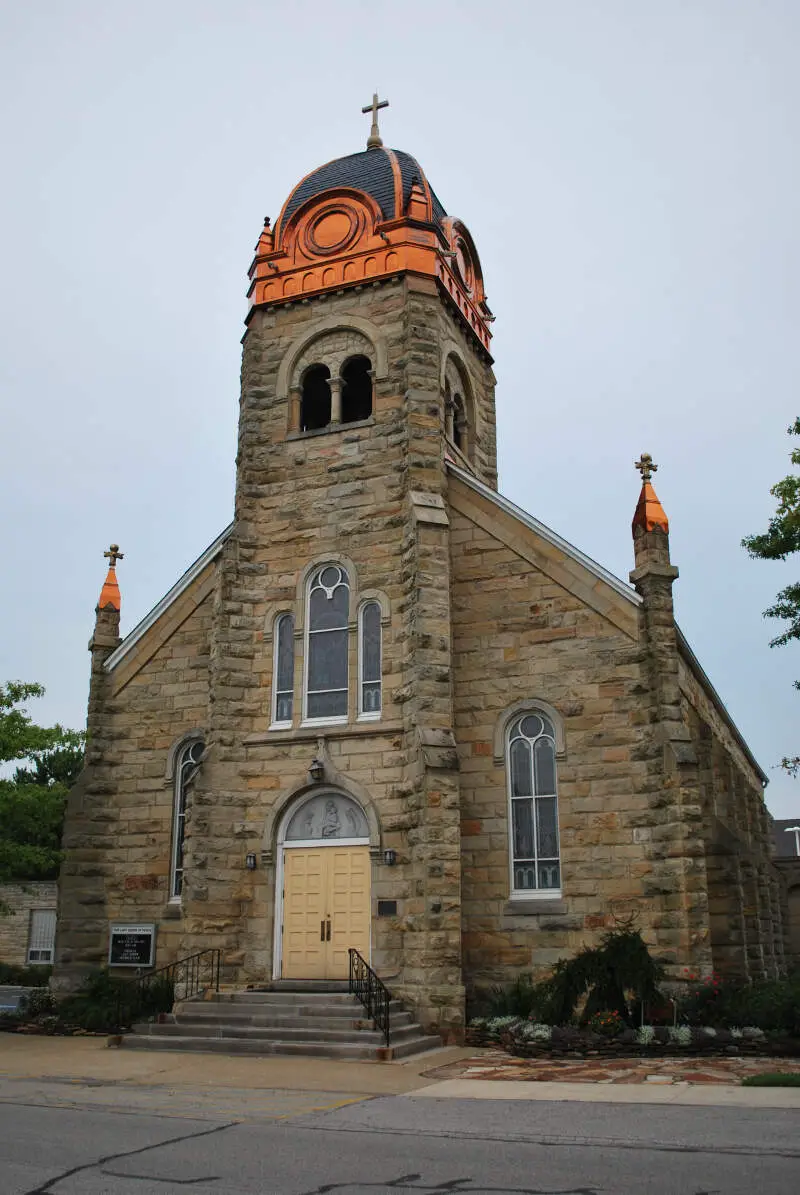 Grafton might be home to a few prisons, but it's unlikely you'll see any of the village's residents in the clink. While there were a couple of violent crimes in 2019, things are under control here for the most part.
Residents would rather spend their time making furry friends at the local Our Little World Alpacas farm than go in on a crime. In fact, Grafton's property crime rate ranks as the second safest lowest in Ohio and the overall crime rate is roughly 80% below the national average.
Grafton is situated about 30 miles southwest of Cleveland.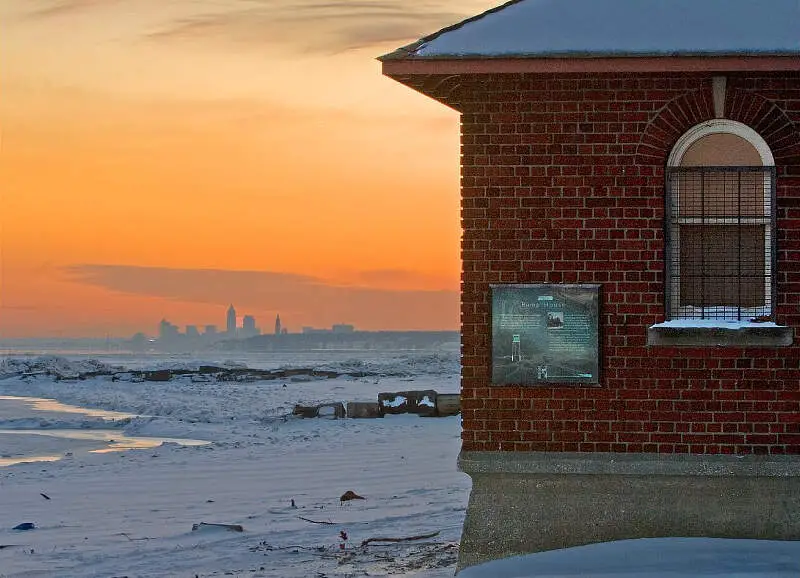 We're staying in the Cleveland area for our eighth safest Ohian city, Bay Village. Living alongside Lake Eerie comes with perks, not least of which is having Huntington Beach right in your backyard.
Locals love the fishing, kayaking, and hiking opportunities their gorgeous slice of the state afford them. But most of all, they're happy they can enjoy all these great things in safety.
Bay Village's unemployment and poverty rates are both below 3%, and the median income here sits at a very healthy $103582. But you don't have to be crazy rich to live here your typical Bay Village home sells for about $247900.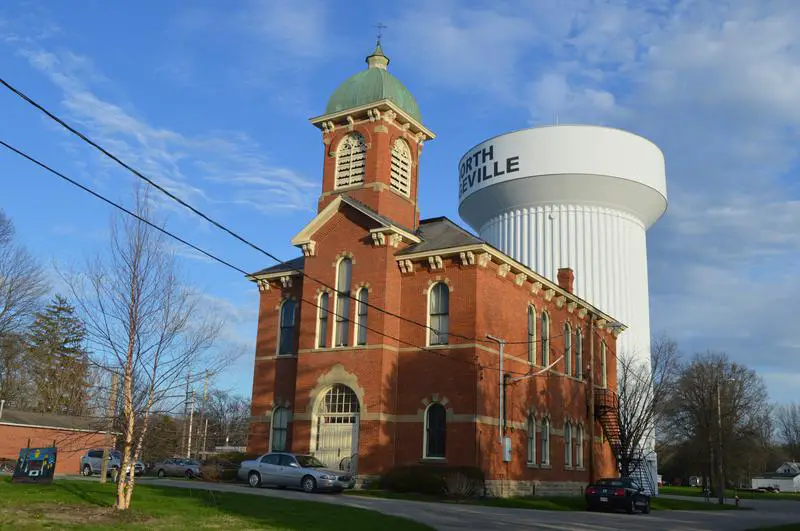 Source: Public domain
As the most populous city on this list, North Ridgeville proves that you don't need to live in a teeny town to enjoy a low crime rate. North Ridgeville had the sixth safest rate of property crime in Ohio, with about eight times less property crime than the average American city. So don't fret if you can't find your wallet after a day at Sandy Ridge Reservation; it's doubtful that a pickpocket was involved. North Ridgeville also only saw nine total violent crimes in 2019, so it's not exactly Gotham based on this category either.
North Ridgeville is a west side suburb of Cleveland.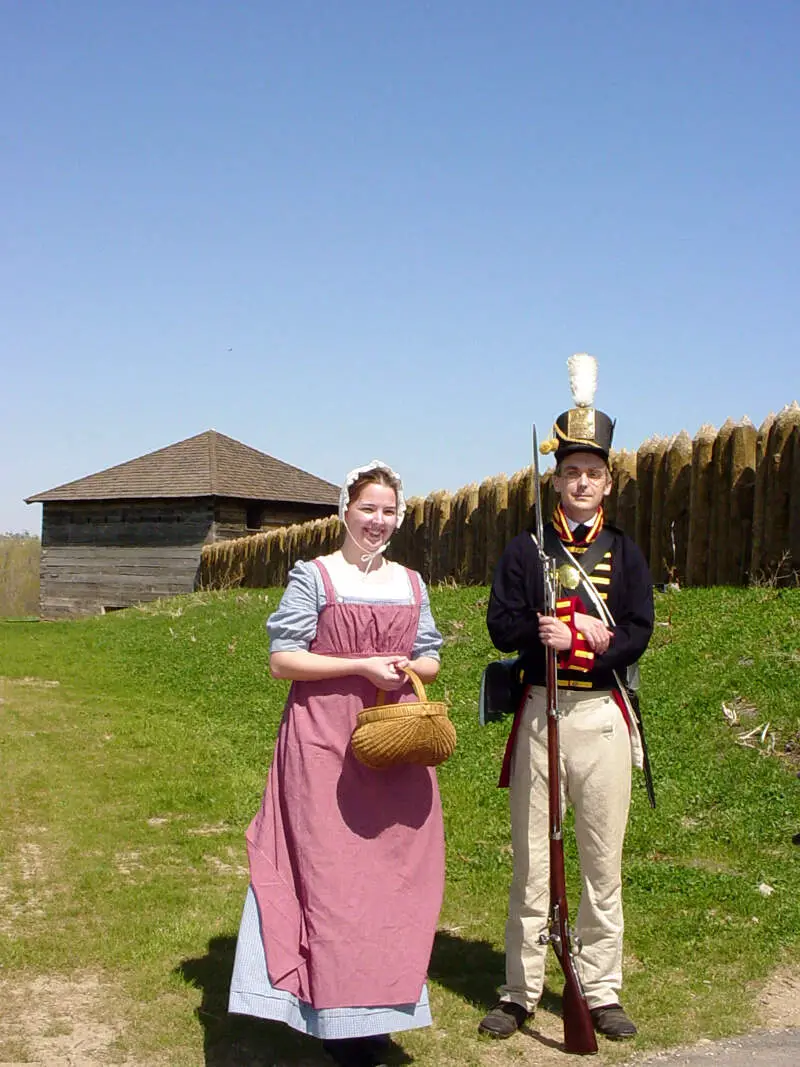 Source: Public domain
Perrysburg already topped our list of the best places to raise a family in Ohio, and a big part of that had to do with the city's crazy low crime rate.
This Toledo suburb offers more well-maintained nature preserves and modernized parks than you can shake a stick at,
The overall cost of living score in Perrysburg is 100, meaning it's right on par with the national average. Not a bad deal for a place with barely any violent crime and property crime is basically limited to shoplifting.
How we calculated the safest cities in Ohio for 2021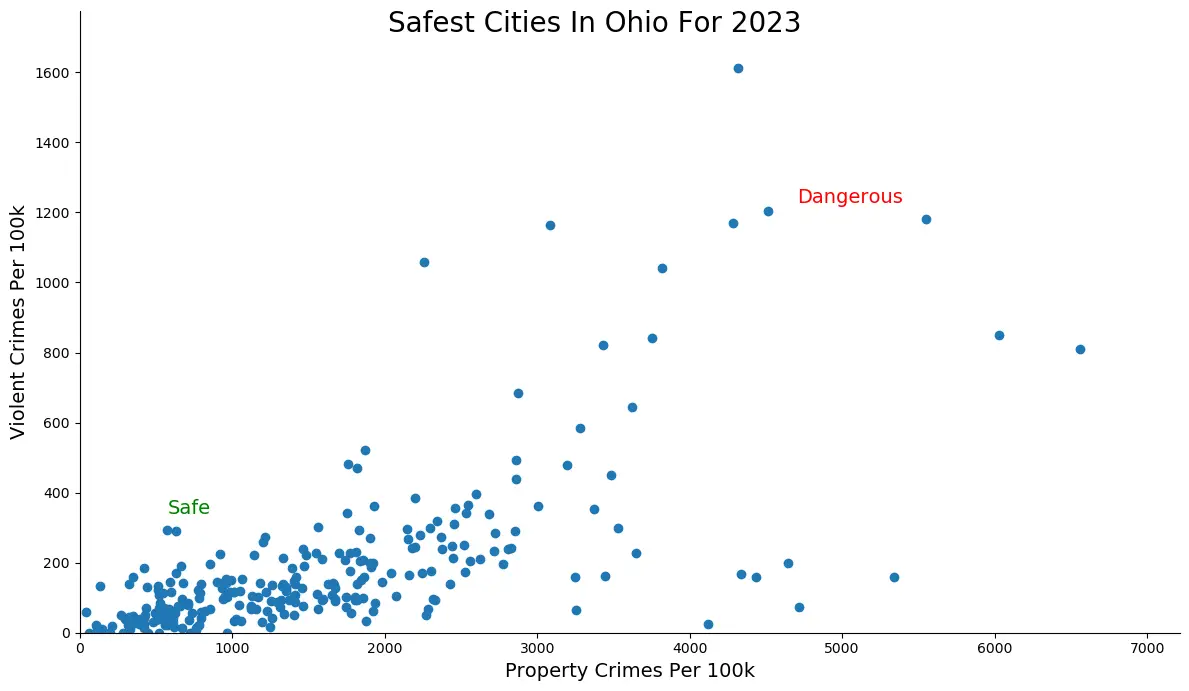 While there are surveys and public polls on what cities in a state are the safest, we didn't want to rely on speculation and opinion. Instead, we looked at the hard numbers from the FBI's most recent report of crime (Published Sept 2020) in Ohio.
Specifically, we analyzed the
FBI's Uniform Crime Report
which summarizes the number of property crimes and violent crimes in each city per year. We used two criteria:
Violent crimes per capita (murders, assaults, rapes, armed robberies)
Property crimes per capita (thefts, burglaries, motor vehicle thefts)
For example, there were a total of 30 crimes committed in Sagamore Hills which had a reported population of 10,934. That means the number of crimes per capita is 0.0027 which translates into a 1 in 364 chance of being the victim of a crime.
We only looked at cities that have populations of more than 5,000 people reported to the FBI in 2019, the last reporting year. This left us with a total of 190 of the biggest cities in Ohio to rank.
We ranked each city for each criteria from 1 to 190 where 1 in any particular category is the safest.
Next, we averaged each places two criteria to create a Safety Index. We crowned the place with the lowest overall Safety Score "The Safest Place In Ohio" with any ties going to the bigger city. You can download the data here.
The safest city in Ohio, based on our criteria, is Sagamore Hills. The most dangerous city in Ohio? Canton, where residents had a 1 in 14 chance of being the victim of a crime.
Note: This report is not an analysis of the effectiveness of local police departments, nor does it reflect the fact that people from out of town may come into a community and cause a crime. It simply looks at where crimes occurred most frequently, based on a city's population.
There You Have It - The Safest Cities In The Buckeye State
Looking at the data, you can tell that Sagamore Hills is as safe as they come, according to science and data.
But as most Ohio residents would agree, almost every place here has its safe and not safe parts. So just make sure you're informed ahead of time.
Here's a look at the most dangerous cities in Ohio according to the data:
Canton
Moraine
Cleveland
For more reading, check out:
Breaking Down Crime In The Safest And Most Dangerous Cities In Ohio

Share on Facebook
Chris Kolmar has been in the real estate business for almost ten years now. He originally worked for Movoto Real Estate as the director of marketing before founding HomeSnacks.
He believes the key to finding the right place to live comes down to looking at the data, reading about things to do, and, most importantly, checking it out yourself before you move.
If you've been looking for a place to live in the past several years, you've probably stumbled upon his writing already.
You can find out more about him on LinkedIn.