What do 2.9 million Kansas residents know that we don't? Well, besides how cool it is that Cawker City owns the biggest ball of twine and how much fun can be had at the Big Brutus Polka Fest in West Mineral, Kansans know that The Sunflower State has some of the most affordable places to live in America.
And lucky for you, HomeSnacks is here to unravel Kansas' most affordable places for 2021.
The competition was fierce to say the least. Many of Kansas' top ten most affordable places boast great home prices, safe neighborhoods, and good jobs. Any one of these Kansas places would be a great place to enjoy life while saving money. Not only does living in Kansas' most affordable places free up cash for a better home, a safer community, and just your overall cost of living, it provides extra money for the fun 'Kansas' things to do and see. Like, catching a Kansas City Royals game or taking a road trip to Louisburg's Dancefestopia Music Festival.
And it just so happens that some of Kansas' most affordable are also on our top ten best places to live in The Jayhawker State. So, living in many of our most affordable places will make you feel like you've won the Kansas Lottery. Want to know more? We suggest you crank some Kansas, head to the top of Mount Sunflower in Wallace County, and read on.
The 10 Most Affordable Places To Live In Kansas
What's the cheapest place to live in Kansas according to the most recent census data? There can be only one most affordable place in Kansas for 2021, and that would be Pratt.
So, if you care about home values and affordability, take a look at the list below to see where your Kansas dollar will go the furthest. And if you don't find your favorite there, head to the bottom.
And if you already knew these places were cheap, check out some more reading about Kansas and the cheapest places in the country:
The 10 Cheapest Places To Live In Kansas For 2021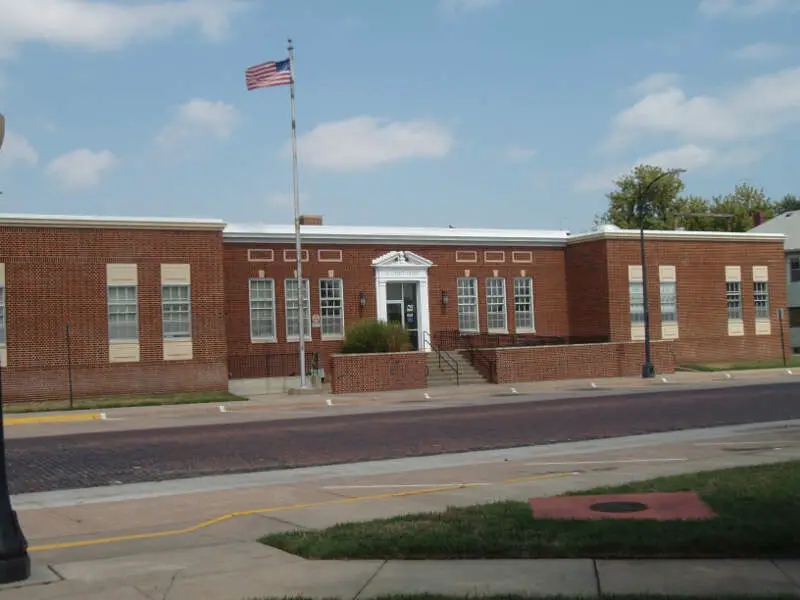 In terms of affordability, there's nowhere better in Kansas than Pratt, a small city 80 miles west of Wichita. Pratt has the tenth cheapest homes on the market in Kansas, with a median price tag of $84,900. Even more importantly, Pratt residents pay the sixth smallest percentage of their income on homes statewide. Which means there's plenty of money left over to experience Pratt's high culture at both its art museum and history museum. Or if you're trying to keep things cheap, Pratt's got you covered with 270 acres of parks.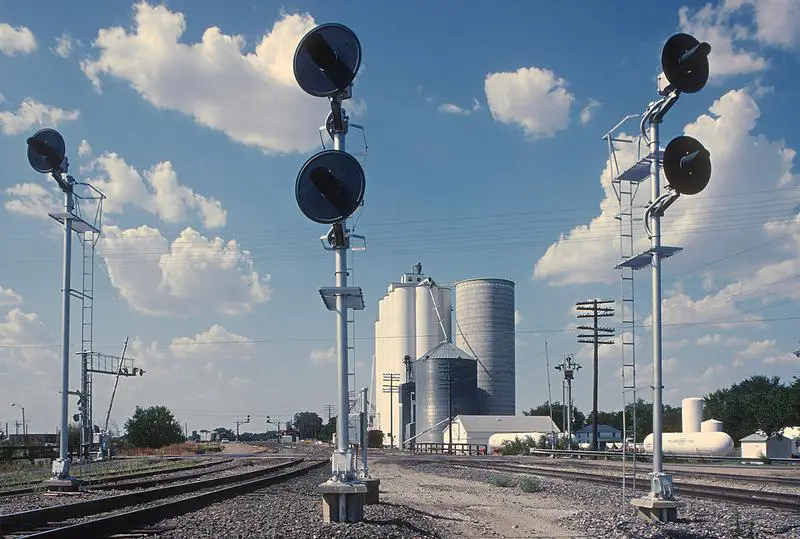 A suburb of Wichita, Mulvane is the second least expensive city in Kansas. Mulvane scored an 8.5/10 on our overall Snackability scale, meaning the city has good schools, safe streets, a steady job market, and, of course, affordable housing.
Renting in Mulvane is absurdly cheap, with the median rent being $630/month. That's about 60% less than the average rent in Kansas, which is already much lower than the national average. And coupled with a median income of $69,042, Mulvane has the most affordable rent in Kansas. Seeing as you're already pretty lucky to live in such a great place for such a low price, consider letting your luck ride at the Kansas Star Casino.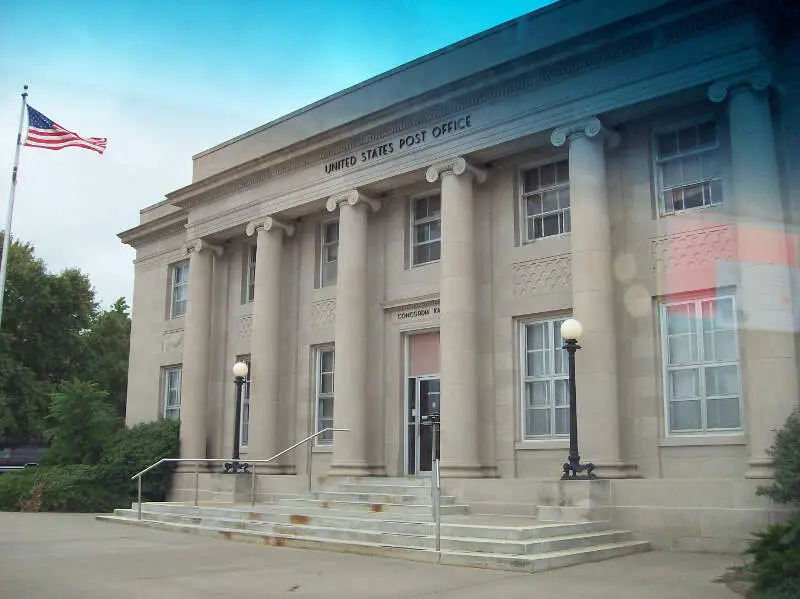 Located in the Smoky Hills region of North Central Kansas, Concordia ranks as the third cheapest place to live in Kansas. The city home to Camp Concordia, a WWII German POW camp that's a definite must-see for any history buff in the area. Homes in Concordia go for about $76,500, the seventh lowest in Kansas. And with residents earning a median income of $43,145, Concordia has the seventh best home price to income ratio in the state.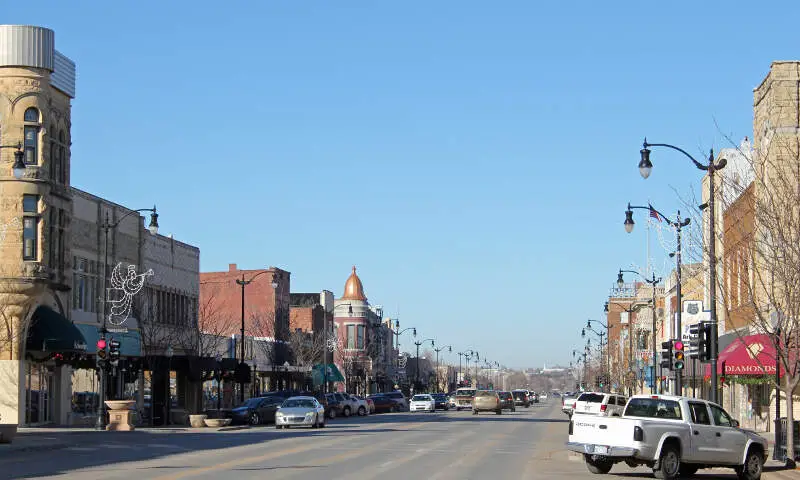 The first thing to know when you show up in Arkansas City — pronounce the "s" at the end of Arkansas, or you'll surely be put down as a carpetbagger. Once you've got that down and you're ready to buy a home, you're in luck, because Arkansas City has the third least expensive homes for sale in Kansas at a median price of $64,100. Even more importantly, residents of Arkansas City pay the lowest proportion of their income on homes statewide. With all these awesome statistics, why isn't Arkansas City ranked higher? Unfortunately, it's the least affordable place for renters on this list. Regardless of your housing situation, everyone will appreciate the gorgeous trails and excellent fishing opportunities at Cowley Lake Waterfall.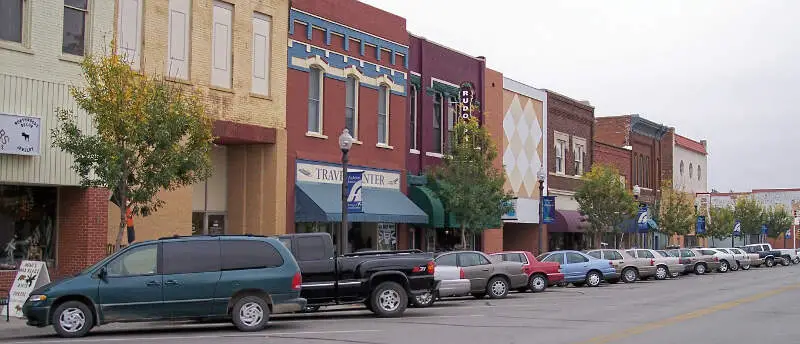 Located 45 miles northwest of Kansas City, Atchison ranks as the fifth cheapest place in Kansas. Atchison is one of the most history-rich cities in Kansas, complete with an art gallery and four museums. Living in such a hub of history doesn't cost much, because the median home price in Atchison is only $89,900. Rent is also quite cheap in Atchison, with a median price tag of $615, so regardless of your housing situation, Atchison's got a good deal for you.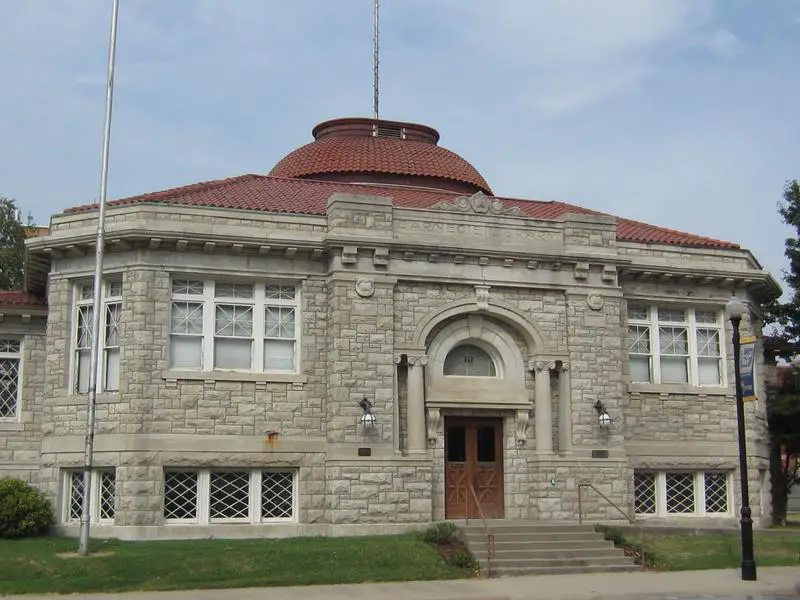 There's good news and bad news when it comes to Parsons, our sixth most affordable city in Kansas. The good news is that Parsons has the fourth cheapest homes for sale statewide at a median price of $65,000 and residents have the second easiest time paying off their mortgage. The bad news is that Parsons population has been steadily dwindling in recent years, and not without reason. Parsons ranks as one of the worst places to live in Kansas, due to a 20%+ poverty rate and a crime rate 75% over the national average.
Parsons is the second most populous city in southeastern Kansas.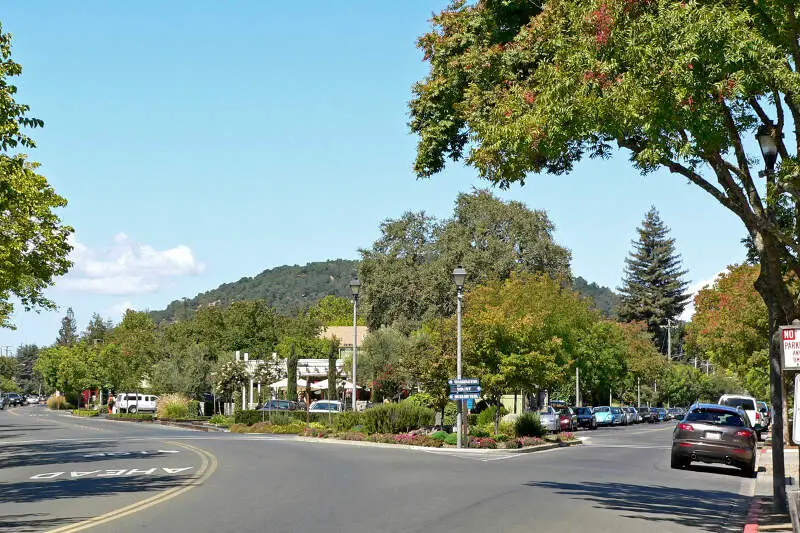 Source: Public Domain
Rounding out our list of most affordable places to live in Kansas is Park City, yet another suburb of Wichita. Park City has a particularly strong economy, with an unemployment rate under 3% and a median income of $72,708. Even with home prices slightly higher than most places on this list at $134,500, Park City still has the ninth best home price to income ratio in Kansas. Which is good, because you'll have extra cash for a concert or Wichita Wings game at Hartman Arena.
When you first look at the numbers, you might be confused as to why the Wichita suburb of Bel Aire ranks as the eighth cheapest place to live in Kansas. After all, with a median home price of $161,000 and a median rent of $1,103, Bel Aire has the priciest housing on this list by a wide margin. However, because Bel Aire is the richest place in Kansas, with residents earning a median income of $90,795, folks have no trouble at all getting their mortgage or rent paid.
Bel Aire is also the only city on this list to score a 9/10 on our overall Snackability scale, thanks to having excellent schools, safe streets, a booming jobs market, and plenty to do. Maybe that's why we named it one of the best places to live in Kansas.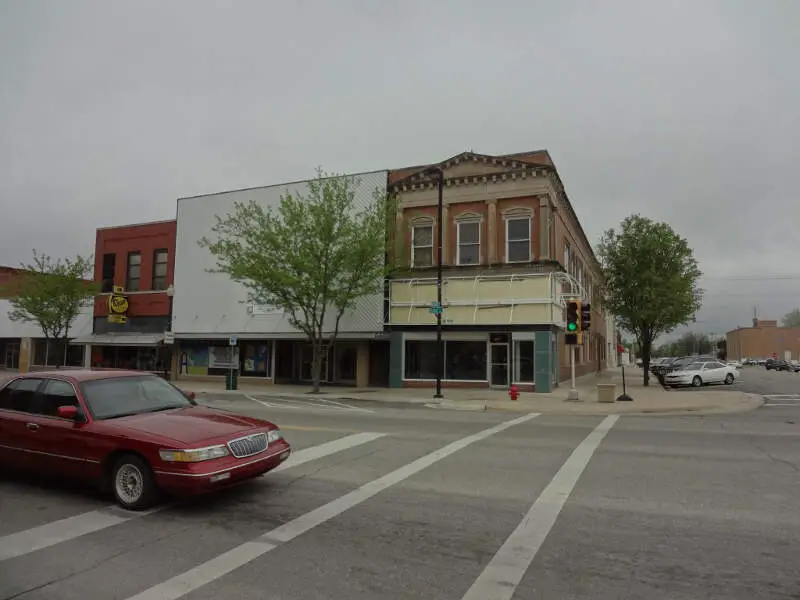 Great Bend is a city in and the county seat of Barton County, Kansas, United States. It is named for its location at the point where the course of the Arkansas River bends east then southeast. As of the 2010 census, the population of the city was 15,995.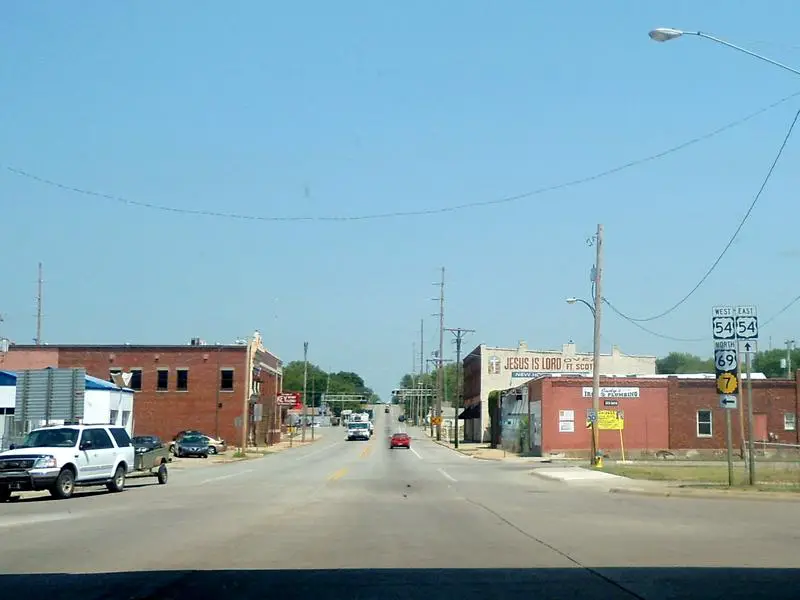 At one point, Fort Scott was an actual fort. Named for Mexican War hero General Winfield Scott, the community first took root in the 1840s. Nowadays, it houses more than soldiers. In fact, the town represents the number 10 most affordable places to live in Kansas.
Looking for a good value on a housing purchase? Check out Fort Scott. The median home value sits at $58,400. That equates to the second cheapest price in the state. If you're not ready for that kind of commitment, you can still get a good deal on an apartment as well. The median rent in town stands at $622 per month.
Bolstered by these reasonable housing expenses, the cost of living in Fort Scott comes in at just 70% of the national average. Along with the break on your living space, you can also find inexpensive services and transportation.
Fort Scott is located in the far eastern part of the state, about an hour and a half south of Kansas City, the largest urban area in the region. The median income in town is $35,417 and the unemployment rate is 3.13%.
How We Determined The Most Affordable Places To Live In The Sunflower State For 2021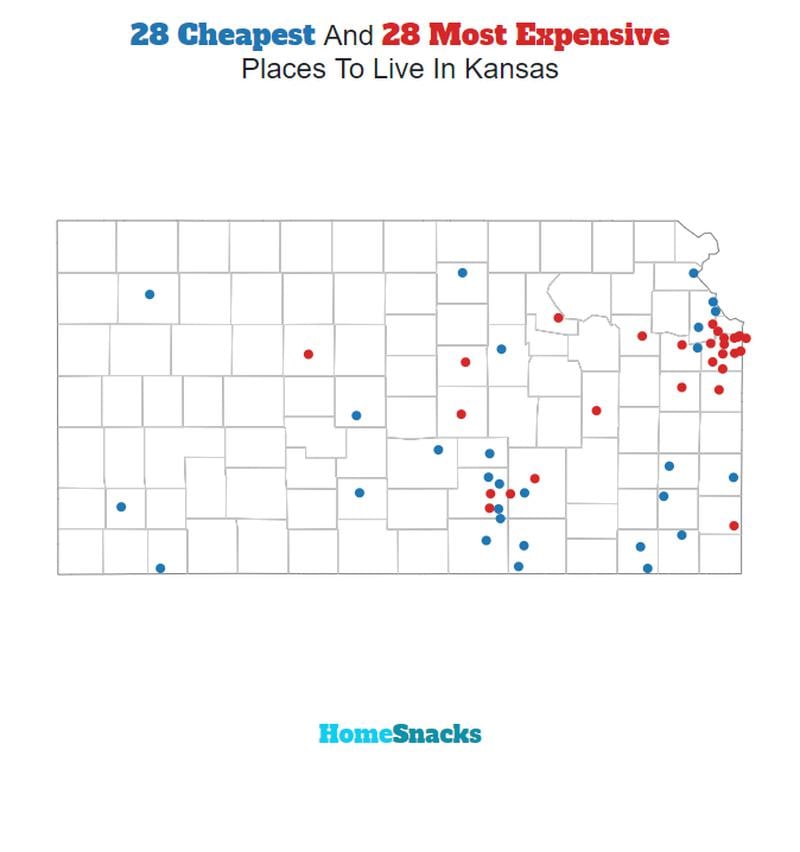 The two most important things to think about when it comes to being able to afford if you can live comes down to:
How much do money do I make?
How much do I have spend to live there?
You need to understand your costs in the context of how much money you make.
For example, if the median household earns $100,000 and spends $40,000 on housing it's actually cheaper to live there than a place with a median income of $50,000 and housing costs of $21,000. You might spend more on housing, but you have more money overall to play with.
With that example in mind, we derived several statistics from the latest Census American Community Survey 2015-2019 around incomes and costs. They are:
Median Home Price / Median Income (lower is better)
Median Income / Median Rent (Higher is better)
Median Home Price
We added simply median home price because high home prices generally correlate with higher expenses for all costs related to homes (heating, electricity, etc).
You can then compare these metrics in each of the places in Kansas to figure out which is the least expensive.
What you are left with is a "Cost of Living Index" by taking the average rank of each of these metrics for each city.
So we used that cost of living index in order to rank all of the 61 places in Kansas that have more than 5,000 people.
The place with the lowest cost of living in Kansas according to the data is Pratt. You can download the data here.

There You Have It Mr. Or Mrs. Kansas Cheapskate
If you're looking at the cost of living numbers in Kansas, this is an accurate list of the most affordable places to live in Kansas for 2021.
Here's a look at the most expensive cities in Kansas according to the data:
Manhattan
Lawrence
Prairie Village
For more Kansas reading, check out:
The Most Affordable Places To Live In Kansas
Editor's Note: We updated this article for 2021. This is our seventh time ranking the cheapest places to live in Kansas.