Article Table Of Contents   
(Skip to section)
Thinking of picking up everything and moving to Kansas?
Already live here and trying to find the right place to live?
Well, look no further than our set of the best places to live in Kansas for 2022 — we've been doing these rankings since 2015.
How do you pick the best places to live in what many agree is the best darn state in the nation? If you do a survey, you'll most likely get opinions based emotions.
That's why we used science — data from the Census and FBI on things people care about in a place in Kansas like low crime, quality of life, and friendly neighborhoods. After all, the data never lies.
After analyzing everything from weather and amenities to crime and education, we've come up with the following list as the best places to live in Kansas. Read on below to see how we calculated the results and where your hometown ranked. Hint: If you live in Johnson County, consider yourself lucky.
The 10 Best Places To Live In Kansas For 2022
What city is the best place to live in Kansas for 2022? According to the most recent FBI and Census data, Leawood ranks as the best place to live in Kansas for 2022 amongst the 55 places above 5,000 people.
Looking at the data, you can tell that anything within a 15-minute drive of Leawood is the most desirable, according to science and data.
But as most Kansas residents would agree, almost every place here is awesome.
If you're looking for something more national, check out the best states in America or the best places to live in America.
For more Kansas reading, check out:
The 10 Best Places To Live In Kansas For 2022
Not only is Leawood the best place to live in Kansas, but it's also the only city on our top ten list to score a perfect 10/10 on our SnackAbility scale.
Leawood is used to being in the limelight as this is the second year in row that they have earned this rank–consistent strong numbers in areas like safety, affordability, education, and amenities, tend to do this to a city; and rightfully so as the crime rate here is below the national average. To put this in perspective, there were only 586 recorded last year.
In terms of cost of living, you will find savings comparable to the state average in transportation and utilities, but you're going to pay the highest median home price at $472,500. On the flipside, the median household income here is $156,538/year. Not to mention, if you were wondering how Leawood would best support your family, just know that this city is one of the best places to raise your family in the state and it's because they spend quite a bit per student.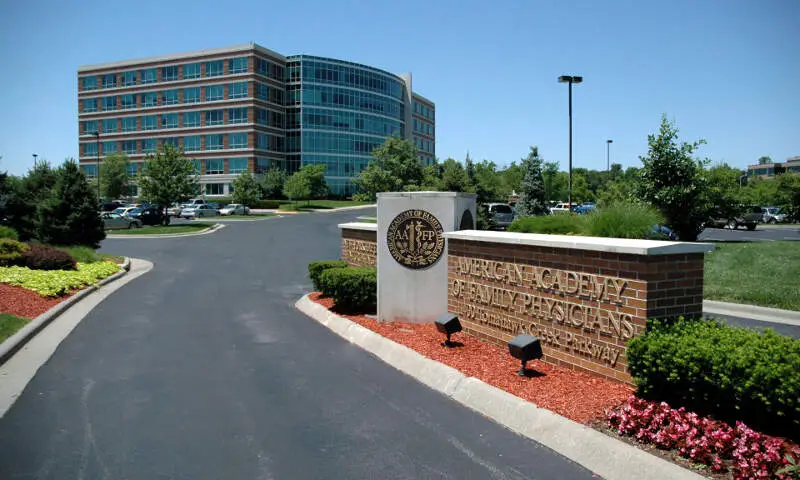 Source: Public domain
Overland Park is one of the biggest cities in Kansas with 193,412, so the fact that it is also the 2nd best place to live in the state and one of the best places to live in the United States is quite amazing.
So, how can the rest of the state as well as the rest of the country take a page from Overland Park's book? Well, first you need to find out how to get your crime rate below the state average and below the national level like yours truly. You also need to figure out how to get your cost of living at a manageable level. Overland Park might have the 2nd highest median home price (because so many people want to move here), but the city's median income of $87,629/year more than accounts for overall living expenses if you are part of the working class. And if you aren't part of the working class here, you have no excuse as the unemployment rate in Overland Park is the 13th best unemployment rate at 3.2%.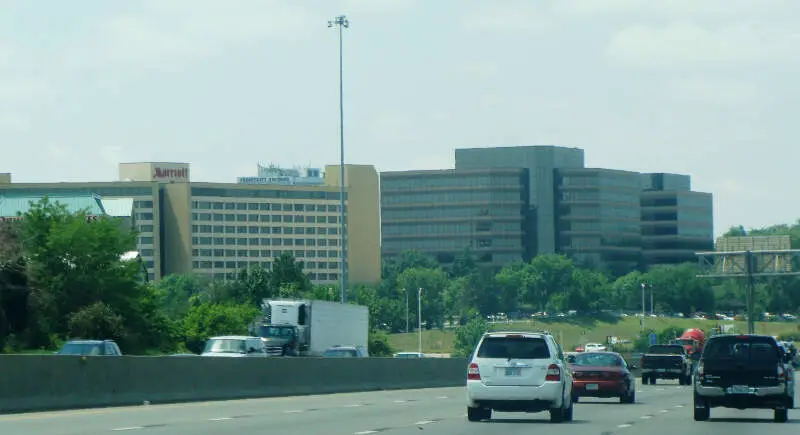 Low crime and a low cost of living have transformed Kansas' 3rd best place to live, Lenexa, into a Kansas hot spot. Up three spots from last year, it is now a top ten-er and a well deserving one at that.
First of all, the homes in Lenexa are the 3rd most expensive in the state of Kansas, with the average home worth a whopping $278,100.
Other numbers that stand out: the combined median household income for Lenexa's residents is $90,487/year and the crime rate here is way below the national average. Basically, folks, it's super safe here. In fact, it's one of the safest cities in the state. And this is important when you are looking for a place with safe urban adventures for you and your family.
Speaking of adventures, Lenexa scored a 9/10 on our SnackAbility scale with its number of educated residents, its job market, commute times, and amenities at the forefront. Hop on the easily accessible concrete rivers here and enjoy Lenexa's Nerman Museum of Contemporary Art or Shawnee Mission Park.

If you're thinking about Olathe as your forever home, you better start thinking about it now as this city is not only the 4th best place to live in Kansas, it's one of the fastest growing cities in America.
The homes in Olathe are the 4th highest in the state. We're not elitists, nor are we saying that big homes mean a better place to live, but price reflects demand, and simply put, a lot of people want to live in Olathe if they can afford it. And one way you can afford it is to get a job that pays the city's median income of $96,548/year to cover your cost of living. But, you can expect to find a job pretty easily in Olathe as the job market here is pretty strong and the unemployment rate is the 12th at 3.1%.
Olathe is also crazy safe. The crime rate here is very low. And surprisingly, for a city of 139,216 residents, there were only 2,295 reported last year and a majority of them were property related–so lock your doors!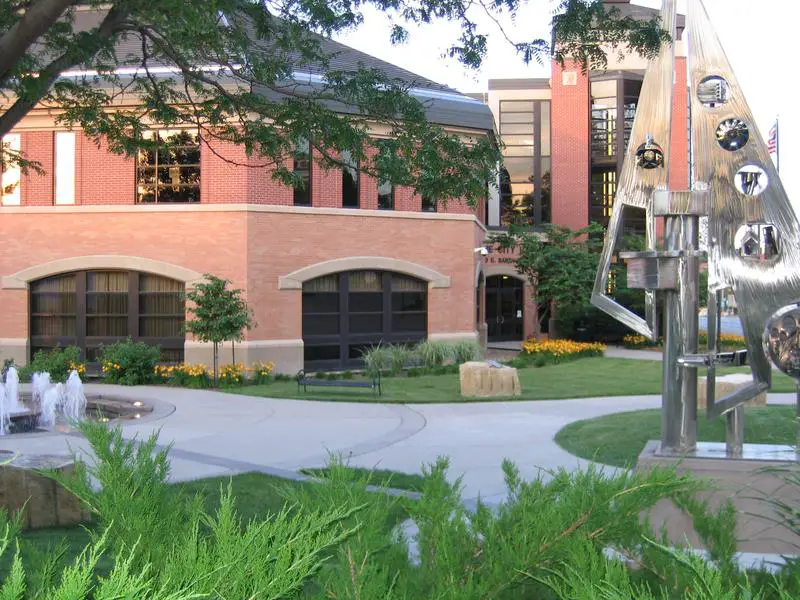 Andover is located about 20 miles east of Wichita in central Kansas. And, as other places on this list, it's not only one of the best Wichita suburbs, but one of the best places to live in Kansas.
Andover ranks well because of the quality of the economy and the quality of the schools. The median income in Andover comes in at $98,320 which ranks as the 2nd highest in the state. The town of some 13,609 people has an unemployment rate that ranks 5th lowest in the Sunflower State. And the Andover Public Schools earn a cool A- from Niche.
In terms of things to do in Andover, you can take your kids to Andover Central Park and then grab dinner at Poplar Restaurant with friends. For more grown ups things to do, there's always Terradyne Country Club to spend a saturday morning.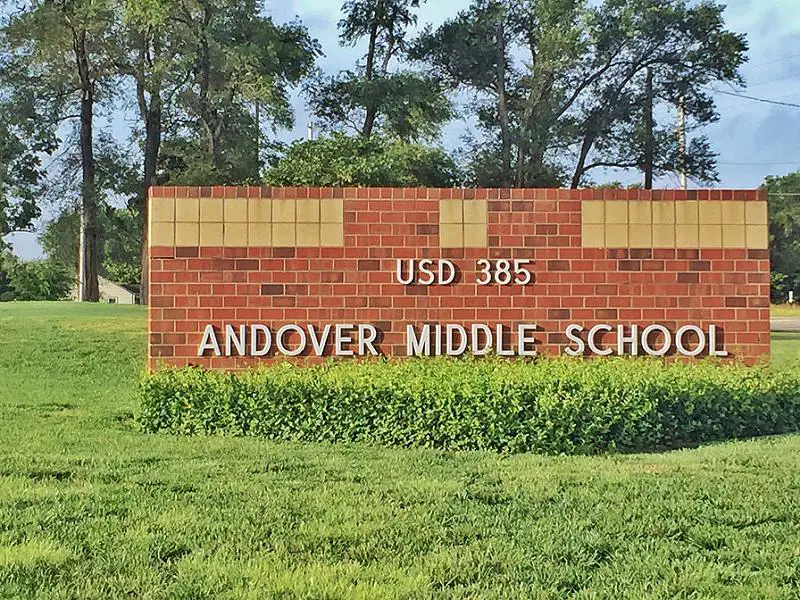 Next on our list of the best place to live in Kansas is Shawnee. Shawnee is a western suburb of Kansas City next to the Kansas River.
Shawnee is no stranger to our lists of great places as it perennially shows up on our list of safest and best thanks to low crime and a strong economy. The city ranks in the top 20% for property crime and for violent crime.
Some of the best things about living in Shawnee include of the many parks like Mill Creek Streamway Park and museums. There are also a number of breweries popping up as the town continues to grow. You'll find the Transport Brewery and the Servaes Brewing Company in town.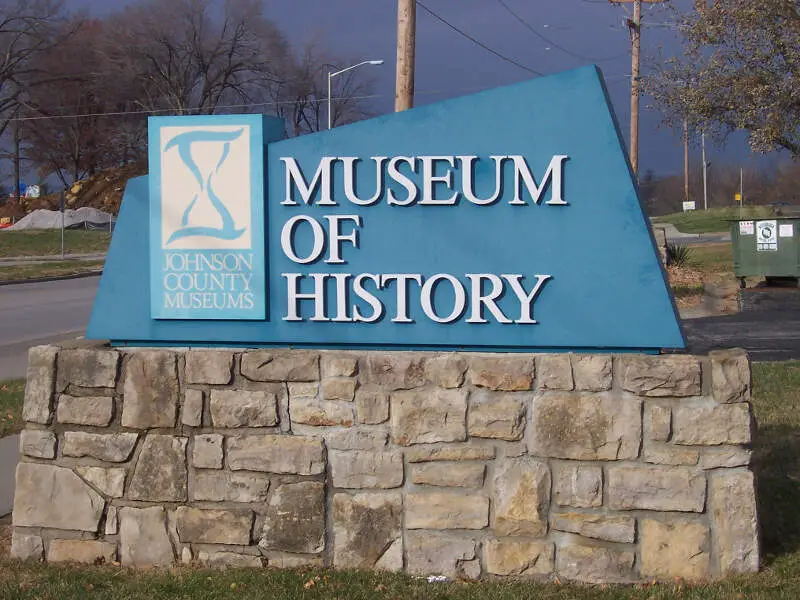 Here's an update on why Gardner is the 7th best places to live in Kansas and why it continues to be one of The Wheat State's best of the best year after year.
Not only does Gardner have the youngest population in the state (31) running around keeping the city's energy up and spending money on all of the fun things that Gardner has to offer: like, visiting the quaint coffee shops downtown and the annual Grand Slam Beer and Wine Festival, but the cost of living here is super manageable for anyone just starting out. And if you're a youngster trying to date in one of the best places for singles in the state, you're going to need the extra cash.
But, we're not worried that Gardner's 21,936 residents will figure it out–this small town did score a 9/10 for education on our SnackAbility scale with one of the highest high school graduation rates in the state. Not to mention, smart people know a good deal when they see one; and for Gardner, that deal looks like a median home price of $201,100. They also know how to earn the city's median income of $78,193–the unemployment rate here is 3.3% and the poverty level is 6.0%.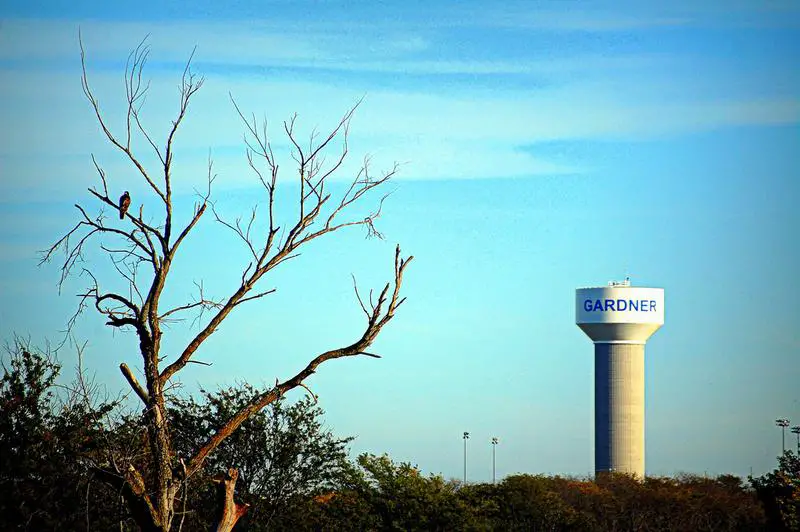 The 8th best place to live in Kansas is Manhattan, located in central Kansas near I-70 at the Route 77 junction in Riley County. Unlike its more famous namesake, Manhattan, KS is incredibly safe. There were only 462 property crimes during the past data year, good for 7th safest. There is also very little violence as Manhattan ranks 4th safest for violent crime.
"The Little Apple" has something for everyone — great schools for kids and plenty to do for adults. There's the Flint Hills Discovery Center to help augment A schools according to GreatSchools. And then when you graduate, Kansas State University is in town.
Adults can spend a weekend day going to the Liquid Art Winery and Estate and then having dinner at the Tallgrass Tap House. Manhattan has everything you could want in your forever town.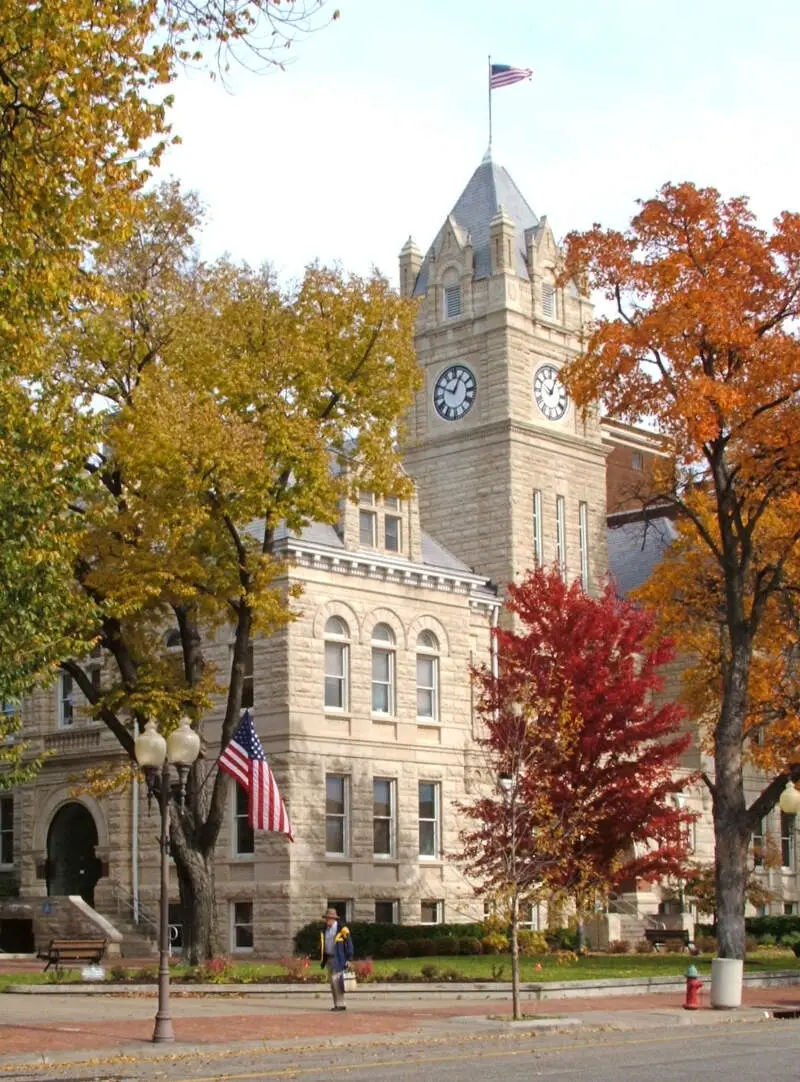 Step outside of your comfort zone and think about this: Kansas' 9th best place to live has low crime, a low cost of living, and it's one of Wichita's biggest suburbs, so you might want to pay attention if you're thinking about a change of pace.
And that change of pace would look like a crime rate that is below the state average. Derby's overall cost of living is slightly above the state level and slightly below the national level–you will find above average savings in housing, health services, and utilities. Just think of all of the money you will save with a combined household median income of $74,447/year and a median home price of $173,800.
Incidentally, Derby scored a 9/10 on our SnackAbility scale for amenities and whether you like to play outside or inside, there are plenty of places to take selfies in this city that will make your out-of-town and/or out-of-state friends super jealous. Yes, don't be afraid to share a photo petting the dinosaurs at the Field Station Dinosaur Park or the covered wagon at the Derby History Museum, as we're pretty sure that it will up your Instagram cred. Not to mention, commute times here are next to nothing, so that leaves plenty of time to enjoy Derby and Wichita on a daily basis.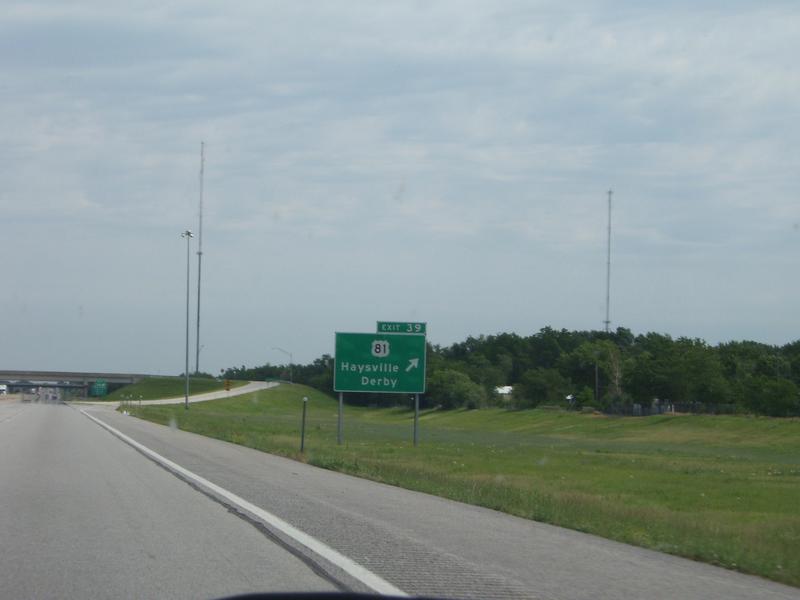 Source: Public domain
Roeland Park is an inner ring suburb of Kansas City about 15 minutes away from downtown. Roeland Park is another great place to live in Kansas. It's a family friendly town with easy commutes to the city and surrounding major suburbs. R Park is a great place to bring the kids. There's also plenty of shopping around as the Roeland Park Shopping Center is located in town.
Housing is 14th highest in the state, which means that a ton of people want to live here. And you can see that people are willing to pay for a piece of real estate as incomes are 15th highest in the state too. Roeland Park is part of the Shawnee Mission School District, which consistently ranks in the top five for Kansas. Add to that a low crime rate, and you have a perennial contender for best place to live in Kansas.
Mapping The Best And Worst Places To Live in Kansas
The Pressing Question: Size
Before we even started to collect data, we had to answer a tough question: Is it fair to pit Topeka with a population of 125,819 against places with a population of 18?
We firmly decided no, that just isn't fair.
So to create our ranking, we broke places to live into three tiers:
Cities — Populations over 5,000
Towns — Populations between 1,000 and 5,000
Small Towns — Populations below 1,000
This left us with 55 cities, 140 towns, and 412 small towns.
We then decided, no matter how much anyone loves their town, the best cities to live in Kansas have more of everything and therefore you need to have over 5,000 people to truly be 'the best'.
Now we also realize that city living might not be your cup of tea, so we ran the following analysis on towns and then again for small towns.
You can see those two top tens at the bottom of the post.
Methodology: How We Calculated The Best Cities To Live In Kansas
Now that we had our set of cities, it was time to rank them.
We ranked each place in Kansas across a number of criteria from one to 55, with one being the best.
We then took the average rank across all criteria, with the city posting the lowest overall score being crowned the winner of the title "Best Place To Live In Kansas".
The criteria we looked at were:
Median Home Values
Median Income
Population Density (Higher better)
Unemployment Rate
Commute Time
Crime
Education Levels
Health Insurance Coverage
Poverty rates
Sources of criteria include the New Census Data and FBI Crime Data. You can download the data here.
After the dust settled, what was the best place to live in Kansas? That would be Leawood.
If your city or town isn't among the top 10, jump down to the bottom of the post to see a detailed chart of the best places in Kansas.
Otherwise, buckle up for a ride down good living lane with Leawood at the end of the cul-de-sac.

Summary: The Best Places When It Comes To Living In Kansas
If you're looking at areas in Kansas with the best economic situations, where there's lower than average crime, and a lot to do, this is an accurate list.
Leawood made a strong showing to take in the overall number one spot for the best place to live in Kansas for 2022.
Best Towns To Live In Kansas
Mission Hills (Pop. 3,582)
Westwood (Pop. 1,747)
Victoria (Pop. 1,316)
Fairway (Pop. 3,964)
Lindsborg (Pop. 3,417)
St. Marys (Pop. 2,793)
Silver Lake (Pop. 1,659)
North Newton (Pop. 1,901)
Rose Hill (Pop. 3,915)
Colwich (Pop. 1,305)
Best Small Towns To Live In Kansas
Westwood Hills (Pop. 414)
Maple Hill (Pop. 695)
Tipton (Pop. 255)
Spearville (Pop. 964)
Glen Elder (Pop. 521)
Lake Quivira (Pop. 987)
Eastborough (Pop. 742)
Assaria (Pop. 471)
Andale (Pop. 790)
Willowbrook (Pop. 94)
If you're curious enough, here are the worst places to live in Kansas according to the data:
Pittsburg (Pop. 20,096)
Parsons (Pop. 9,648)
Coffeyville (Pop. 9,343)
For more Kansas reading, check out:
Where Are The Best Places To Live In Kansas?
| Rank | City | Population |
| --- | --- | --- |
| 1 | Leawood | 34,702 |
| 2 | Overland Park | 193,412 |
| 3 | Lenexa | 54,804 |
| 4 | Olathe | 139,216 |
| 5 | Andover | 13,609 |
| 6 | Shawnee | 65,844 |
| 7 | Gardner | 21,936 |
| 8 | Manhattan | 55,045 |
| 9 | Derby | 24,428 |
| 10 | Roeland Park | 6,747 |
| 11 | Bel Aire | 8,082 |
| 12 | Tonganoxie | 5,357 |
| 13 | Mulvane | 6,025 |
| 14 | Spring Hill | 6,992 |
| 15 | Hays | 20,855 |
| 16 | Eudora | 6,551 |
| 17 | Lawrence | 97,348 |
| 18 | Mcpherson | 13,066 |
| 19 | Salina | 46,706 |
| 20 | Colby | 5,426 |
| 21 | Basehor | 6,225 |
| 22 | Valley Center | 7,843 |
| 23 | Mission | 9,618 |
| 24 | Lansing | 11,955 |
| 25 | Maize | 5,044 |
| 26 | Ottawa | 12,308 |
| 27 | Abilene | 6,258 |
| 28 | Augusta | 9,363 |
| 29 | Merriam | 11,191 |
| 30 | Haysville | 11,260 |
| 31 | Paola | 5,634 |
| 32 | Topeka | 125,819 |
| 33 | Leavenworth | 36,129 |
| 34 | Hutchinson | 40,669 |
| 35 | Pratt | 6,595 |
| 36 | Liberal | 19,025 |
| 37 | Newton | 18,846 |
| 38 | El Dorado | 12,976 |
| 39 | Wichita | 390,566 |
| 40 | Concordia | 5,005 |
| 41 | Emporia | 24,631 |
| 42 | Bonner Springs | 7,846 |
| 43 | Wellington | 7,716 |
| 44 | Atchison | 10,561 |
| 45 | De Soto | 6,374 |
| 46 | Great Bend | 15,224 |
| 47 | Chanute | 9,044 |
| 48 | Ulysses | 5,518 |
| 49 | Winfield | 11,990 |
| 50 | Independence | 8,595 |
| 51 | Fort Scott | 7,715 |
| 52 | Iola | 5,322 |
| 53 | Pittsburg | 20,096 |
| 54 | Parsons | 9,648 |
| 55 | Coffeyville | 9,343 |
Editor's Note: We updated this article for 2022. This is our ninth time ranking the best places to live in Kansas.