Article Table Of Contents   
(Skip to section)
Arkansas is one of the friendliest places on earth and is known as the Natural State due to the vast abundance of natural beauty, gorgeous lakes and streams, and interesting wildlife.
It's the kind of place where you are proud to call home and know all of your neighbors.
With so much beauty, everyone who lives in this state probably thinks that they live in the best town or city in Arkansas. But, we've compiled data and found the real ten best places to live in Arkansas based on factors like education, low crime rates, and high incomes.
This is the ninth time we've ranked the best places in Arkansas and it's always a pleasure to take a look around the state. With all of the great amenities that Arkansas has to offer, we we are always surprised how it's one of the cheapest states in America to call home.
Read on to learn about the cream of the crop when it comes to places to live in Arkansas.
The 10 Best Places To Live In Arkansas For 2022
What's the best place to live in Arkansas? According to the most recent FBI and Census data, Bentonville ranks as the best place to live in Arkansas for 2022 based on general quality of life factors.
As you can see, there are plenty of amazing places to live in Arkansas, but these top ten cities undoubtedly take the cake.
Their low unemployment rates, low crime rates, high incomes, low household vacancy rates, and high student expenditure rates make these ten places the best places to live in Arkansas.
If you're looking for something more national, check out the best states in America or the best places to live in America.
For more Arkansas reading, check out:
The 10 Best Places To Live In Arkansas For 2022
We've been ranking the best places to live in Arkansas for a few years now and Bentonville has held onto the first place title throughout that time. Located in the foothills of the Ozark Mountains about a half-hour north of Fayetteville, Bentonville has grown to become something much more than just the corporate headquarters of Walmart (although you can still check out the first five-and-dime Waltons shop at the Walmart Museum). Besides being the top employer in the area, Walmart has aided Bentonville in other ways. Like setting up the free-of-charge Crystal Bridges Museum of American Art, an architectural and artistic wonder all in one. Not to mention the art trails that connect the museum to Bentonville's idyllic downtown. With all these top-notch family-friendly amenities around and award-winning public schools, it's no wonder we named Bentonville the best place to raise a family in Arkansas.
You won't have much to worry about in terms of security in Bentonville, because the crime rate here is less than half the statewide average. You're honestly more likely to get banged up mountain biking at one of the internationally recognized (and awarded) trails in Bentonville.
You may want to study up before going to a pub quiz in Bentonville because over half the population has a college degree and nearly 20% of residents have a master's degree or higher to boot. That hyper-education comes in handy when making a functional economy, seeing as Bentonville enjoys some of the lowest rates of poverty (7.1%) and unemployment (2.5%) in the state. Folks in Bentonville also have the
3rd highest median household income in the state, with a typical home bringing in around $84,340/year. Which is good, because homes in Bentonville are also the 1st costliest in the state, with a median price tag of $258,300. Besides housing, though, the cost of living in Bentonville is just about on par with the rest of Arkansas. And if you're a little wary of spending big bucks on a home in Bentonville, just remember that the city's population has grown by a whopping 45% since 2010 and property values went up by over 10% in just the last year, making the purchase a fairly safe investment.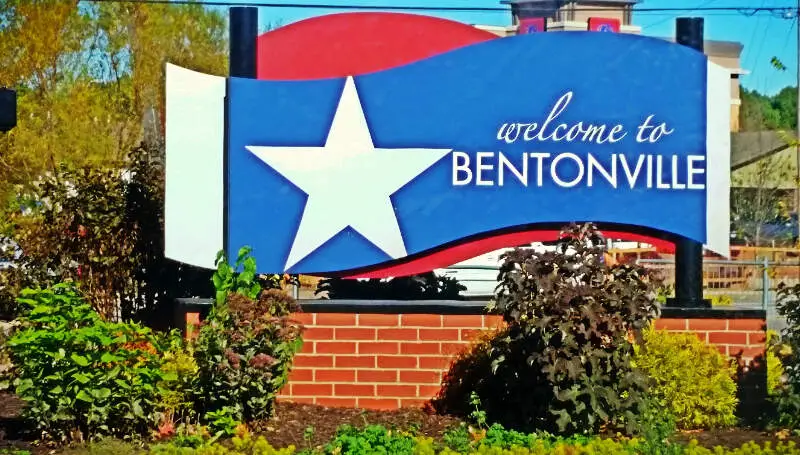 Located on Interstate 40 just 20 minutes northwest of Little Rock, Maumelle is a city of 18,193 with a lot going for it. you'll have no trouble finding Lake Valencia in the center of town, complete with a fountain, gazebo, and a boardwalk that runs along the shore. You can go fishing for rainbow trout or catfish, depending on the season, here or at nearby Lake Willastein. And of course, being so close to Little Rock means you can pay a visit to the Arkansas State Capitol any time you like.
Moving on to the statistical nitty-gritty, Maumelle is a stand-out city in several ways. Economically speaking, it doesn't get much better than Maumelle. The city enjoys the 4th lowest poverty rate in Arkansas at just 5.8%. And it's not like people are just scraping by here, either. Maumelle has the 4th highest median household income in the state at $84,112/year. Homes are also the 3rd most expensive in Arkansas at $224,100. While the cost of living in Maumelle is just in line with the national average, it's still about 15% higher than the statewide average, with housing a whopping 70% pricier. In other words, make sure you've got some savings or a lucrative job lined up before making the move to Maumelle.
On the bright side, tax dollars go to all the right places here. Maumelle's school district spends 40% more per student than your average Arkansas district and it obviously pays off, seeing as the dropout rate is the 4th lowest in the state. As an added perk, 95.2% of Maumelle residents have health insurance, the 6th highest rate in Arkansas.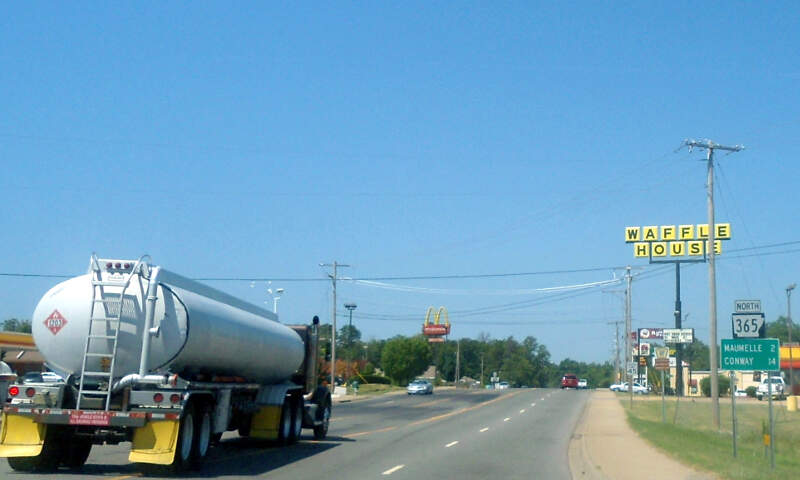 We're returning to the rapidly-expanding Northwest Arkansas region for our 3rd best city in Arkansas, Farmington. Farmington has its economy figured out pretty well, considering that unemployment is at just 0.9% and the poverty rate is the lowest in Arkansas at 2.9%. Homes in Farmington go for a median price of $195,900, the 4th highest in the state. Property values have been steadily rising in recent years, so it's a good time to buy in Farmington.
Farmington's public schools consistently perform better than the statewide average, with higher test scores and rates of graduation than most Arkansas school districts. Farmington also has the 6th lowest high school dropout rate in the state, so the efforts of local school officials have certainly paid off. Not to mention that GreatSchools gave Farmington High School a 9/10 rating and a College Success Award. All these great features help explain why more than 1,000 people have moved to Farmington since 2010.
If you're looking for the freshest produce in town, you'll love having the year-round Fayetteville Farmer's Market just 10 minutes down the road.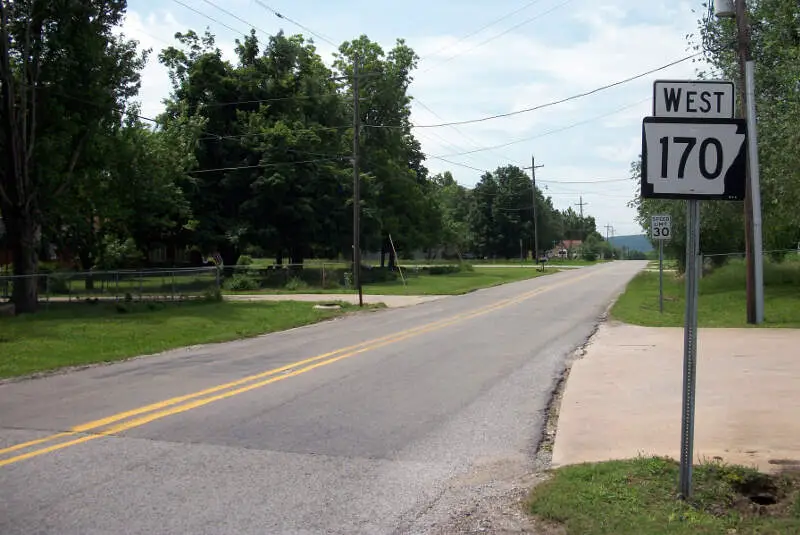 Next up on our compilation of Arkansas's cream of the crop is White Hall, a suburb of Little Rock located about a half-hour south of the capital. One of the richest, most liberal cities in the state, White Hall knows how to build an economy that works for all its residents. The poverty rate is 11.8% and the unemployment rate is 2.0%, which rank as the 14th and 8th lowest in Arkansas, respectively. That helps explain why only 11.1% of residents are on food stamps. The economic base in White Hall is obviously rock-solid and most people are doing much more than just treading water here. White Hall has the 5th highest median household income in the state at $79,808/year.
While rent is quite affordable at just $934/month, White Hall has the 16th most expensive homes in the state at $160,800. On the bright side, a plurality of residents spends less than $800 on property taxes. If you do decide to settle down in White Hall, you won't have much to fear in terms of crime. There's nowhere less violent than White Hall, which experienced 85% less violent crime than your average Arkansas city and the total crime rate is also well below the national average. As a bonus, residents enjoy having Crenshaw Springs Water Park right in their backyard.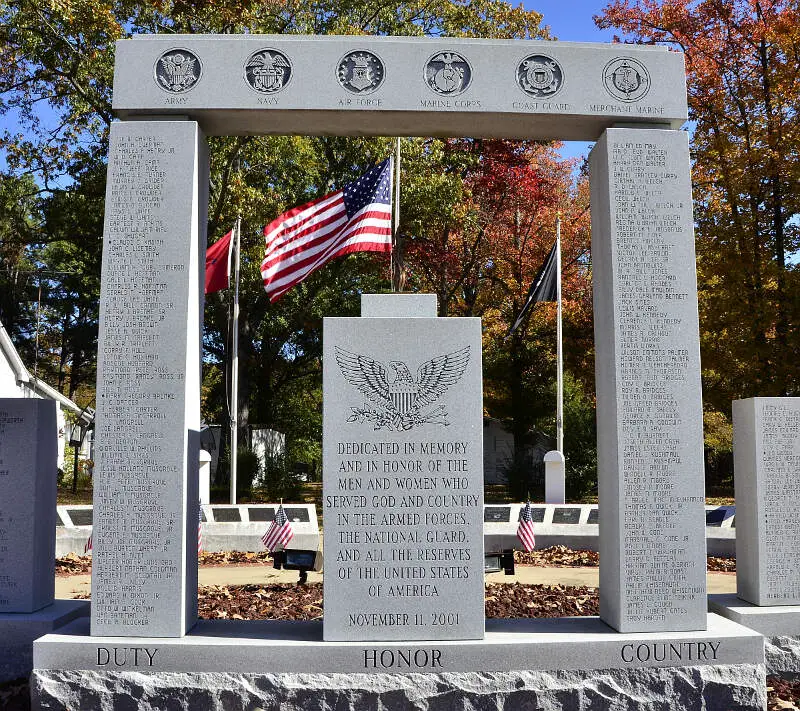 Sherwood is another suburb located just north of Little Rock. As the 7th most densely populated place in the state, you can rest assured that you'll never be far from the action in Sherwood. In no time flat, you can find yourself window shopping in Little Rock's River Market District. If the political affiliation of your neighbors is an important consideration for you, know that Sherwood ranks as one of the most liberal cities in Arkansas.
About two-thirds of Sherwood's population buy instead of rent. Your typical Sherwood home goes for around $155,800 while renting here costs about $859/month. Unemployment and poverty rates are both fairly low in Sherwood, but crime is, unfortunately, more frequent here than your average Arkansas city. On the flip side, schools in Sherwood are solid, life here is pretty inexpensive, and the vast majority of residents have health insurance.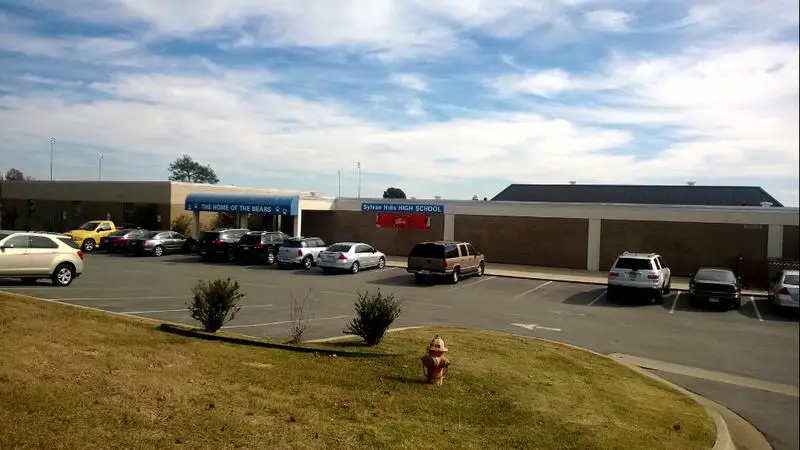 Last up on our list of the best places to live in Arkansas is Greenwood, our first and only representative of Fort Smith suburbs. Greenwood is one of the safest cities in Arkansas, with a crime rate roughly 80% below the national average. Even if you do get into a scrap in Greenwood, you won't have to worry about medical bills, because the city has the 9th highest rate of insured residents in the state.
In economic terms, Greenwood is one of the best cities on this list. While unemployment and poverty rates are slightly higher than in some cities featured above, they still rank near the best in the state. Greenwood is also one of Arkansas's most affordable cities, with a cost of living well below the national average. A typical Greenwood home goes for around $135,300, while rent will set you back around $758/month. Residents earn the 16th highest median household income in the state at $57,078/year and that number has grown by nearly 9% in the last year alone.
If you're into military history, you'll want to pay a visit to the Devil's Backbone Civil War Battlefield. But if you're just trying to get away from the noise of everyday life for a while, Bell Park will serve just fine.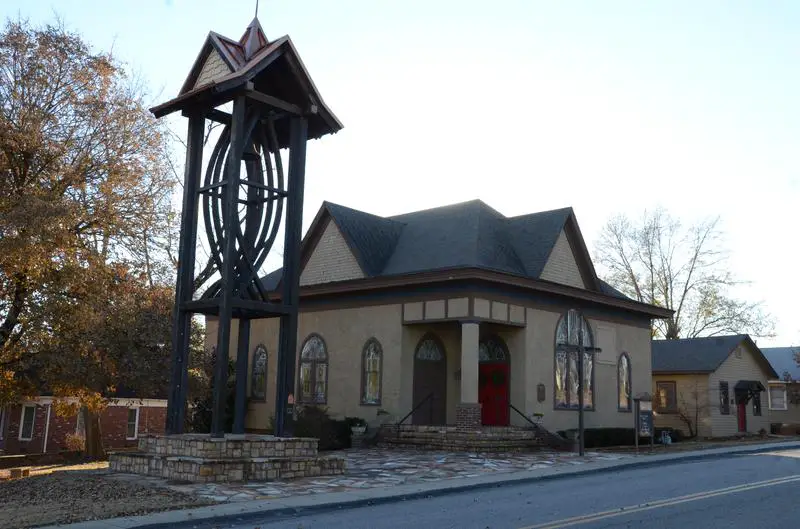 Located just north of Springdale in the Northwest Arkansas region with cities like Bentonville and Centerton, Lowell ranks as the 7th best place to live in Arkansas for 2022. While some Little Rock suburbs might have a slight statistical edge on Lowell for now, the future looks decidedly brighter for cities in this region. To give you an idea of why consider that Lowell has grown by about 30% since 2010 and is an extremely young city with a median age of just 33. Even more importantly, property value in Lowell rose by nearly 8% in the last year and the median household income spiked by nearly 15%. If those trends continue, expect Lowell to keep creeping up this list in the years to come.
The question is, can Lowell keep up with this influx of new residents? Looking at the statistics gives cause for optimism. After all, both the unemployment and poverty rate in Lowell are the lowest in the state, sitting at 0.7% and 4.4% respectively. Awesome economic indicators don't end there, though; Lowell also has the 6th highest median household income in Arkansas, with your typical household bringing in about $78,359/year. These are the reasons why we named Lowell as the richest place in Arkansas. Having loads of cash isn't worth it if there's loads of crime around you, but Lowell's got that covered as well; the crime rate in Lowell is the 9th lowest in the state.
If you're into wacky local traditions, you'll also be a big fan of Lowell's Mudtown Days held annually in June. For those looking to have a cleaner, more orderly experience, catching a Naturals's game at Arvest Ballpark in Springdale is fun for the whole family.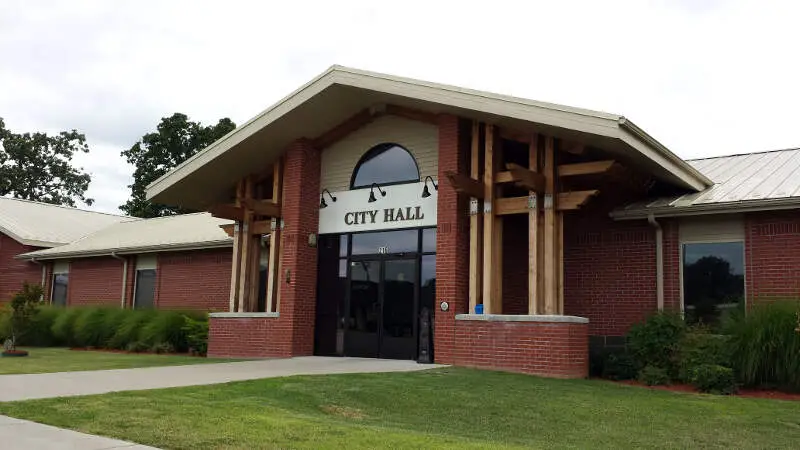 Pea Ridge is Bentonville suburb about ten miles north of the city close to the Missouri border. The small town of some 6,000 people punches above its weight on the quality of life scale. Pea Ridge National Military Park, Beaver Lake, and the Crystal Bridges Museum of American Art offer year round things to do and you can grab something to eat at the Pea Ridge Cafe or the Cannonball Cafe where everyone is sure to know your name.
On the number side of things, Pea Ridge had the highest incomes in the Natural State in the latest Census data. Some of the major employers in the area contributing to that ranking include Walmart, Tyson Foods, and the University of Arkansas. Rounding out the picture with solid schools and low crime makes for a great place to call home.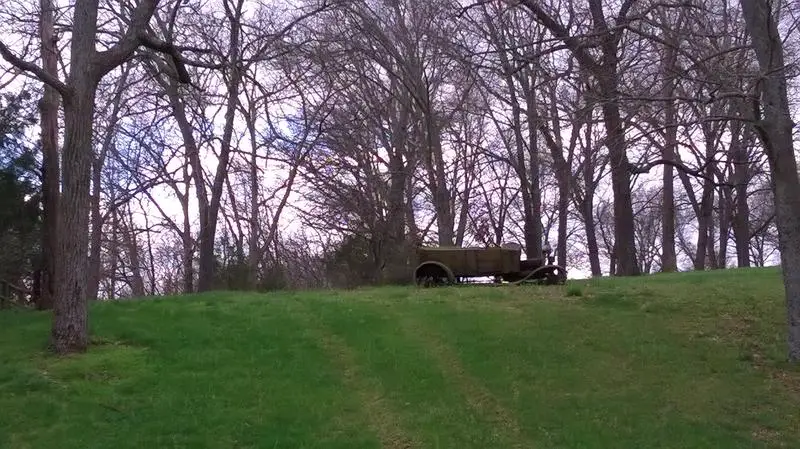 More than just a mere suburb, though, Bryant distinguishes itself as the number 9 best place in Arkansas to put down roots. Bryant is very affordable, sitting comfortably below the national average in cost of living. Residents, then, can easily stretch the $71,802 median income they earn. This figure sits at number 8.0 in Arkansas.
The median home value in the area is $166,600, while the unemployment rate hovers at 3.2%. Schools in the area are strong as well. Bryant Elementary School receives a score of 8/10 from Great Schools.
Located in the central part of Arkansas, Bryant sits just off I-30, a main travel artery through the state. This makes it an excellent home base for commuters, with the community providing a short half-hour drive into the state capital of Little Rock.
Along with its access to the state's largest city, Bryant has other important selling points. A short trip will take you to the Ouachita National Forest. Or you can travel a little further and take a weekend trip to Memphis, Tennessee, located about two and a half hours away.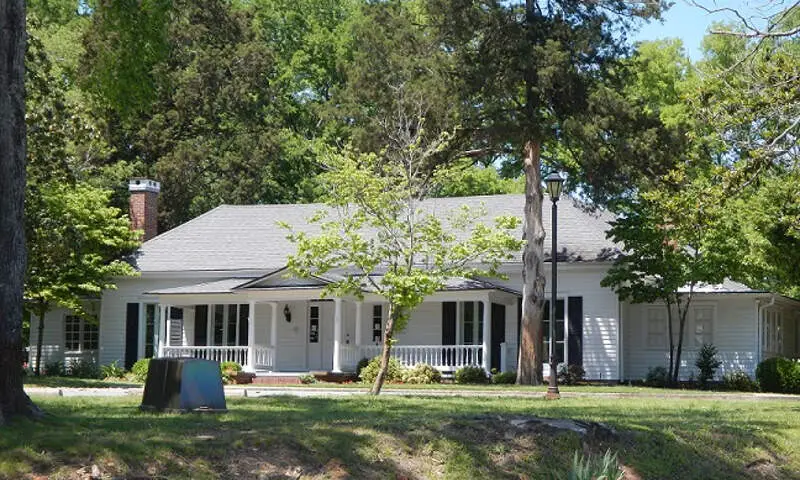 Located in the rapidly-growing Northwest Arkansas region a half-hour north of Fayetteville, Centerton ranks as the 10th best place to call home in the state. Centerton itself is the main hub of the region's growth. The city's population has grown by nearly 70% since 2010, making it the fastest growing city in Arkansas. With a median age of a spritely 31, Centerton is also the youngest city to make this list. There are clearly enough jobs to support this population boom, seeing as the unemployment rate in Centerton is a measly 1.7%, the 7th lowest in Arkansas. Add to that easy access to Fayetteville's Botanical Garden of the Ozarks and the ability to catch a Razorback's game and you've got all the reasons why Centerton's star has been rising in recent years.
The economy works for everyone in Centerton, as evidenced by the low poverty rate of 6.9%, the 7th lowest in Arkansas. When economic stress is low, crime tends to fall as well. That plays out in Centerton, which has the 36th lowest crime rate in the state, with crime being about 60% lower than the statewide average. Housing is kind of pricey in Centerton, with a median rent of $1,117/month and a median home price of $195,600. Centerton's residents are well able to handle these prices, though, seeing as they enjoy the 2nd highest median household income in Arkansas at $195,600.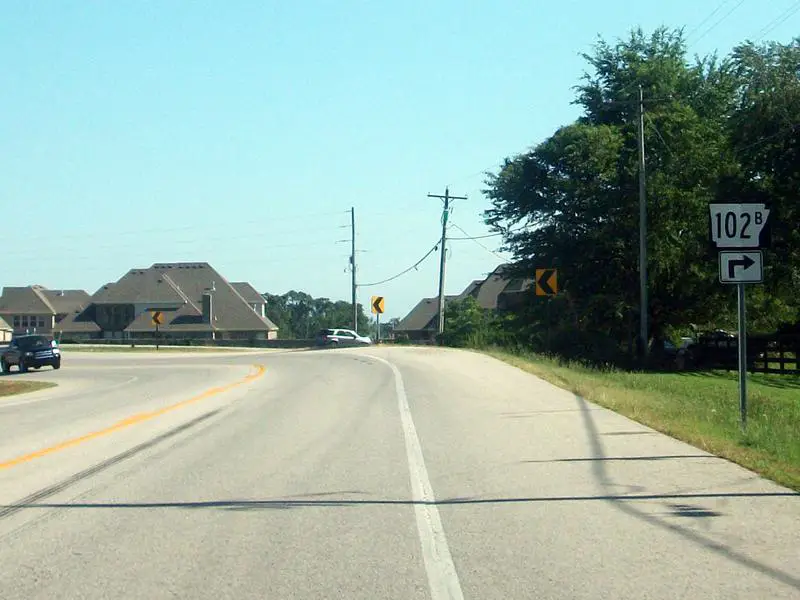 Mapping The Best And Worst Places To Live in Arkansas
The Pressing Question: Size
Before we even started to collect data, we had to answer a tough question: Is it fair to pit Little Rock with a population of 198,067 against places with a population of 18?
We firmly decided no, that just isn't fair.
So to create our ranking, we broke places to live into three tiers:
Cities — Populations over 5,000
Towns — Populations between 1,000 and 5,000
Small Towns — Populations below 1,000
This left us with 62 cities, 143 towns, and 298 small towns.
We then decided, no matter how much anyone loves their town, the best cities to live in Arkansas have more of everything and therefore you need to have over 5,000 people to truly be 'the best'.
Now we also realize that city living might not be your cup of tea, so we ran the following analysis on towns and then again for small towns.
You can see those two top tens at the bottom of the post.
Methodology: How We Calculated The Best Cities To Live In Arkansas
Now that we had our set of cities, it was time to rank them.
We ranked each place in Arkansas across a number of criteria from one to 62, with one being the best.
We then took the average rank across all criteria, with the city posting the lowest overall score being crowned the winner of the title "Best Place To Live In Arkansas".
The criteria we looked at were:
Median Home Values
Median Income
Population Density (Higher better)
Unemployment Rate
Commute Time
Crime
Education Levels
Health Insurance Coverage
Poverty rates
Sources of criteria include the New Census Data and FBI Crime Data. You can download the data here.
After the dust settled, what was the best place to live in Arkansas? That would be Bentonville.
If your city or town isn't among the top 10, jump down to the bottom of the post to see a detailed chart of the best places in Arkansas.
Otherwise, buckle up for a ride down good living lane with Bentonville at the end of the cul-de-sac.

Summary: The Best Places When It Comes To Living In Arkansas
If you're looking at areas in Arkansas with the best economic situations, where there's lower than average crime, and a lot to do, this is an accurate list.
Bentonville made a strong showing to take in the overall number one spot for the best place to live in Arkansas for 2022.
Best Towns To Live In Arkansas
Lake Hamilton (Pop. 1,874)
Cave Springs (Pop. 2,803)
Austin (Pop. 3,108)
Rockwell (Pop. 3,883)
Greenland (Pop. 1,516)
Salem (Pop. 2,571)
Johnson (Pop. 3,573)
West Fork (Pop. 2,491)
Goshen (Pop. 1,601)
Prairie Creek (Pop. 2,122)
Best Small Towns To Live In Arkansas
Magnet Cove (Pop. 354)
Cammack Village (Pop. 969)
Oakhaven (Pop. 98)
Moorefield (Pop. 188)
Wiederkehr Village (Pop. 34)
Corinth (Pop. 54)
Higginson (Pop. 689)
Avilla (Pop. 994)
Damascus (Pop. 455)
Burdette (Pop. 175)
If you're curious enough, here are the worst places to live in Arkansas according to the data:
Helena-West Helena (Pop. 10,487)
Newport (Pop. 7,552)
West Memphis (Pop. 24,656)
For more Arkansas reading, check out:
Where Are The Best Places To Live In Arkansas?
| Rank | City | Population |
| --- | --- | --- |
| 1 | Bentonville | 52,070 |
| 2 | Maumelle | 18,193 |
| 3 | Farmington | 7,166 |
| 4 | White Hall | 5,017 |
| 5 | Sherwood | 31,225 |
| 6 | Greenwood | 9,392 |
| 7 | Lowell | 9,433 |
| 8 | Pea Ridge | 5,960 |
| 9 | Bryant | 20,563 |
| 10 | Centerton | 15,345 |
| 11 | Rogers | 67,787 |
| 12 | Greenbrier | 5,592 |
| 13 | Cabot | 26,376 |
| 14 | Benton | 36,360 |
| 15 | Mountain Home | 12,463 |
| 16 | Batesville | 10,749 |
| 17 | Conway | 66,776 |
| 18 | Harrison | 13,124 |
| 19 | Marion | 12,371 |
| 20 | Little Rock | 198,067 |
| 21 | Fayetteville | 86,622 |
| 22 | Prairie Grove | 6,236 |
| 23 | Stuttgart | 8,617 |
| 24 | Ward | 5,195 |
| 25 | Beebe | 8,131 |
| 26 | Monticello | 9,392 |
| 27 | Siloam Springs | 17,031 |
| 28 | Arkadelphia | 10,670 |
| 29 | Searcy | 23,673 |
| 30 | Clarksville | 9,661 |
| 31 | Springdale | 80,433 |
| 32 | Heber Springs | 7,156 |
| 33 | Van Buren | 23,600 |
| 34 | Jonesboro | 77,391 |
| 35 | North Little Rock | 66,079 |
| 36 | Alma | 5,816 |
| 37 | Russellville | 29,227 |
| 38 | Walnut Ridge | 5,104 |
| 39 | Berryville | 5,594 |
| 40 | Paragould | 28,821 |
| 41 | Jacksonville | 28,442 |
| 42 | Trumann | 7,000 |
| 43 | Magnolia | 11,537 |
| 44 | Warren | 5,596 |
| 45 | Fort Smith | 87,788 |
| 46 | Pocahontas | 6,582 |
| 47 | El Dorado | 17,826 |
| 48 | Hot Springs | 38,697 |
| 49 | Texarkana | 29,864 |
| 50 | De Queen | 6,499 |
| 51 | Malvern | 10,886 |
| 52 | Mena | 5,524 |
| 53 | Morrilton | 6,638 |
| 54 | Hope | 9,668 |
| 55 | Pine Bluff | 42,323 |
| 56 | Blytheville | 13,735 |
| 57 | Wynne | 7,773 |
| 58 | Camden | 10,877 |
| 59 | Osceola | 6,786 |
| 60 | Helena-West Helena | 10,487 |
| 61 | Newport | 7,552 |
| 62 | West Memphis | 24,656 |
Editor's Note: We updated this article for 2022. This is our ninth time ranking the best places to live in Arkansas.