Editor's Note: We updated this article for 2021. This is our seventh time ranking the cheapest places to live in Massachusetts.
Article Table Of Contents   
(Skip to section)
We know it's hard to believe to most North Easterners, but there is more to life than the New England Patriots and the Red Sox, folks. There's the need and want for affordable living and Massachusetts has just that.
The Bay State wants you to call one of its many affordable cities home.
Massachusetts has a boatload of wicked affordable cities. Hip millennial cities like Boston and Cambridge have multiple opportunities for young professionals to pad their bank accounts. Cities like Salem and Provincetown provide inexpensive staycations. And if you 'bang a left,' you can find safe, affordable, family-oriented cities like Newton and Melrose.
What Massachusetts lacks in size, they sure make up in millionaires. They have the sixth largest number of millionaires per capita in the United States. And with a statewide median income close to $68,000/year, who wouldn't want to get their hands on all that 'cheddah'.
If you want to live the American dream without a hefty Beantown price tag, look beyond Boston. More importantly, don't fret. We've done the work for you. Take a look below at our top affordable cities in Massachusetts' list for 2021. Grab some lobstah chowdah, a regular coffee, find a quiet spot at the Cape, and read on. We promise it will be wicked cool.
The 10 Most Affordable Places To Live In Massachusetts
It's simple economics, people. The less you have to spend on bills, the more you will have to spend on things that matter: like your home, good food, Vineyard Vines, Lilly Pulitzer, Celtics tickets, and just overall good East Coast fun.
This economic formula for affordability is no different for the good people of Massachusetts.
So, what does the most affordable place to live in the Bay State look like? Well, after crunching data from the US Census in terms of median housing costs, median income, and overall cost of living for cities with over 5,000 residents, Palmer Town takes the cake.
If you care about home values, cost of living, and high quality of life, take a look at the list below to find the most affordable places in Massachusetts, where your salary will let you live like royalty.
And if you already knew these places were cheap, check out some more reading about Massachusetts and the cheapest places in the country:
The 10 Cheapest Places To Live In Massachusetts For 2021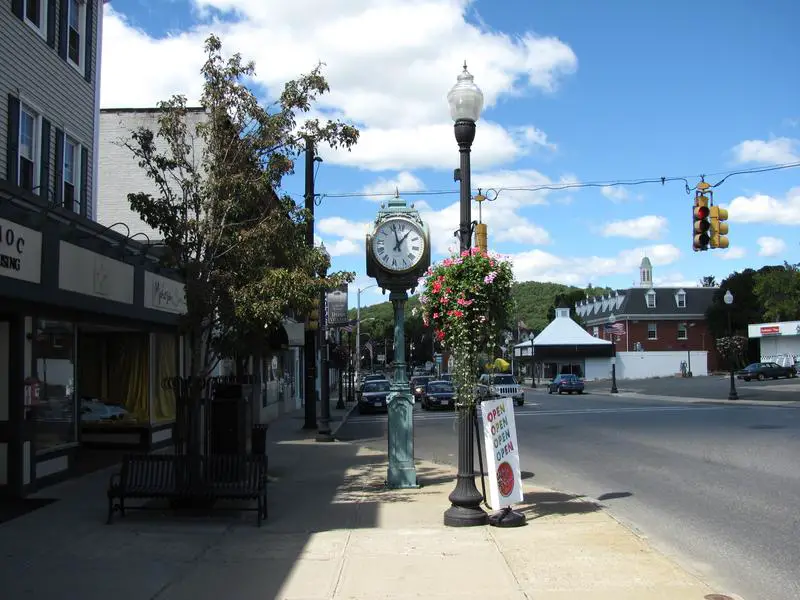 When it comes to affordability, there's nowhere better in Massachusetts than Palmer Town. Palmer Town residents pay a median price of $197,000 for homes and earn a median income of $64,651. That gives Palmer Town the best ratio of home price to income in Massachusetts. And with a median rent of $962, Palmer Town is also one of the cheapest places to rent in the state, taken as a proportion of income. With all that extra cash, you can afford to splurge at the Yankee Flea Market any day of the week.
Palmer Town is located between Worcester and Springfield in the south-central part of Massachusetts.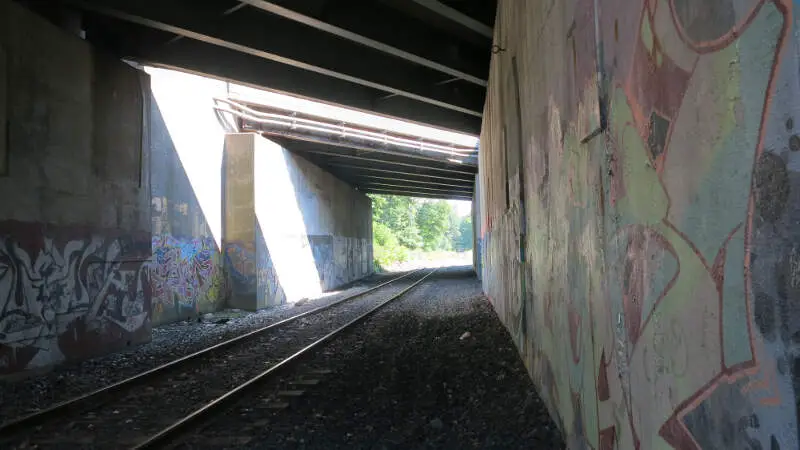 Located just west of Springfield, Westfield ranks as the second cheapest city to live in Massachusetts. With a median price tag of $234,400, Westfield has the second highest home prices on this list. However, because residents earn $67,862 as a median income, Westfield still has the seventh best ratio of home price to income in the state. It's also economical to rent in Westfield, where the median rent to income ratio is among the best in Massachusetts. We should also mention that Westfield was just shy of making the cut of best places to live in Massachusetts, so if you want quality on a budget, look no further.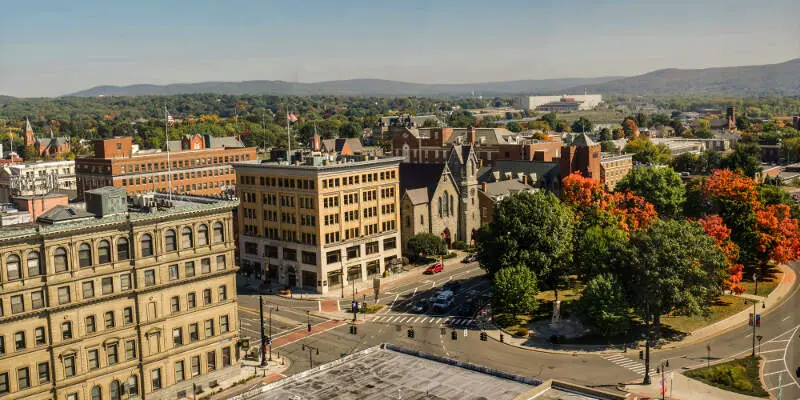 If you're looking to buy a home in Massachusetts, you'd be hard pressed to find anywhere cheaper than Pittsfield. The median home price in Pittsfield is the third lowest in the state at $174,300. With residents earning a median income of $51,411, paying off a mortgage in Pittsfield couldn't be easier. Even more good news for those who want to live the high life on a budget: Onota Lake has a free public beach, boat launch, and fishing. That's how you enjoy the Berkshires year-round without spending a dime.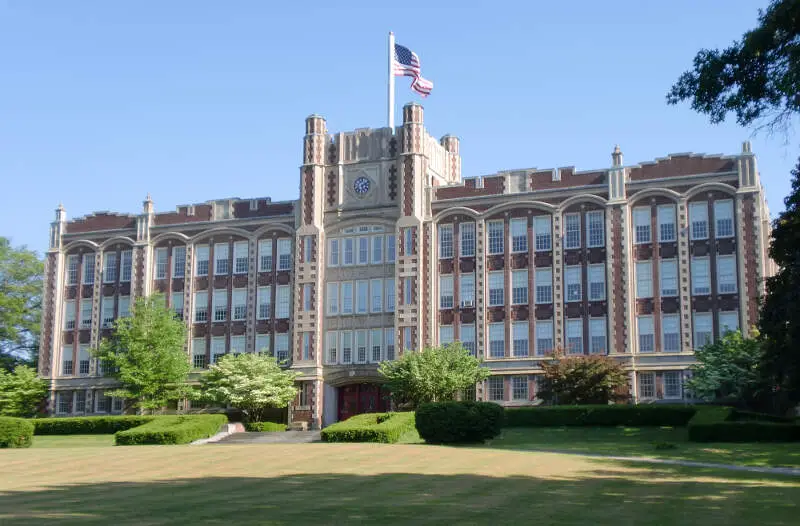 Located just north of Springfield, Chicopee ranks as the fourth cheapest city in Massachusetts. With a median home price of $182,100 and a median income of $53,225, Chicopee has the fifth lowest home price to income ratio in the state. The median rent in Chicopee is $923, so it's a little more economical to buy than rent here.
If you can get your entertainment fix through free activities like hiking at Chicopee Memorial State Park, you'll have even more money in your wallet at the end of every week.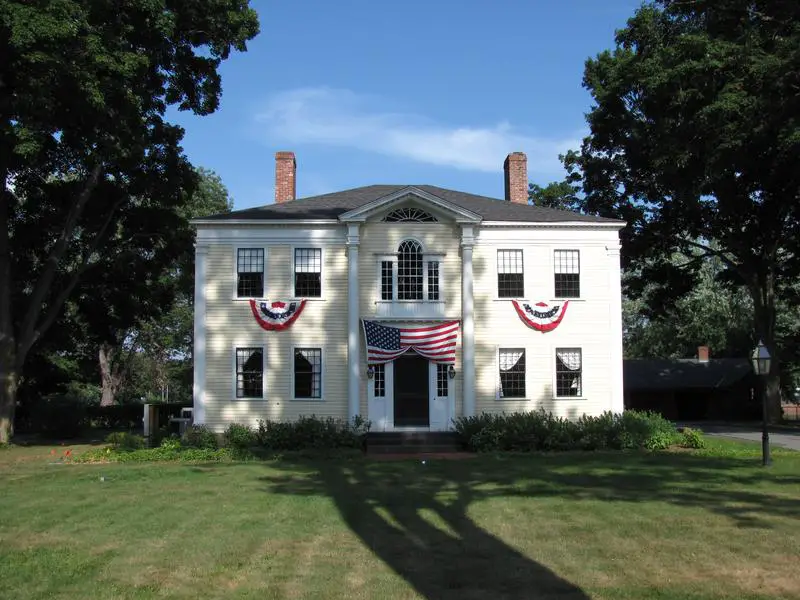 Located across the Connecticut River from Springfield, Agawam Town ranks as the fifth cheapest place to live in Massachusetts. At $230,700, the median home price in Agawam Town is a bit higher than in Palmer Town. But, thanks to residents earning a slightly higher median income of $68,944, Agawam Town ranks as the second most affordable place to buy a home in Massachusetts, when taken as a proportion of income. If you need another reason to buy a home in Agawam Town, remember that it's the home of Six Flags New England. Friends from out of town will be visiting all the time, whether you want them to or not!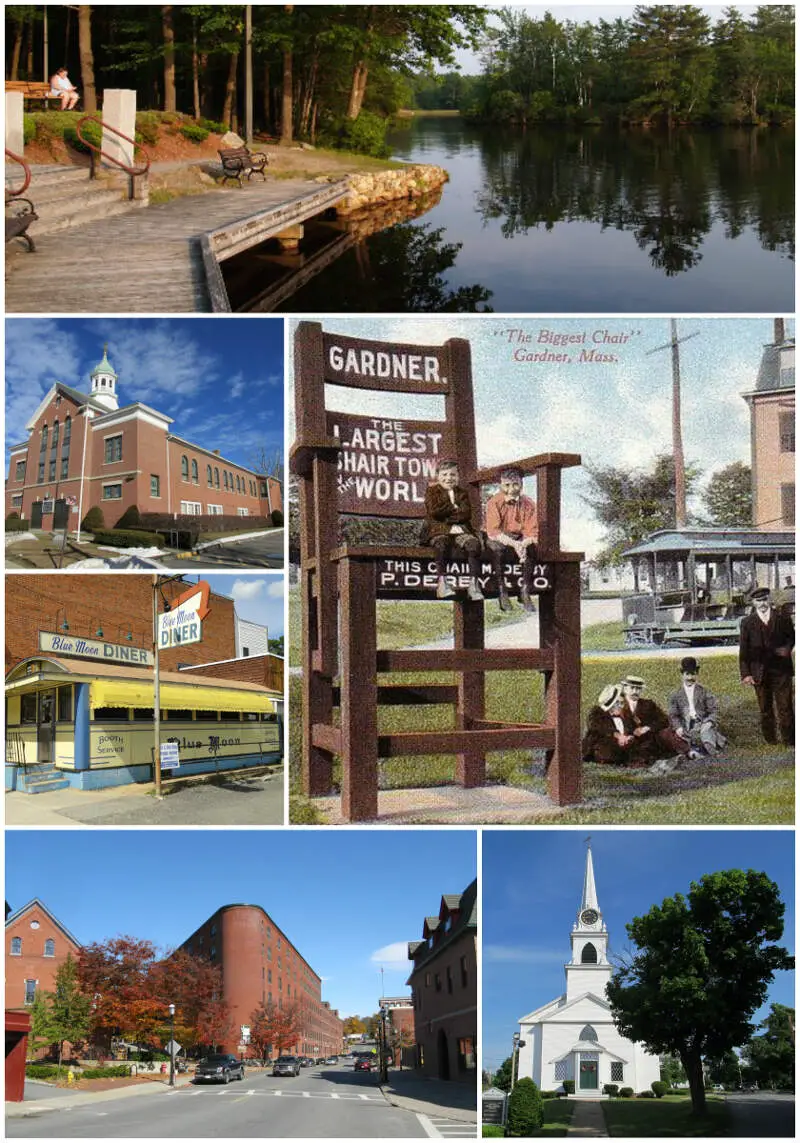 Gardener is the sixth most affordable city in Massachusetts, thanks to the low price tag on housing for both buyers and renters. The median rent in Gardner is a measly $838, which is bound to make Bostonians super jealous. But where Gardner really shines is the cost of homes. At $185,700, Gardner has the fifth cheapest homes in the state. And with residents earning a median income of $49,679, it's a piece of cake to pay off the mortgage. Those of an outdoorsy inclination will find plenty to do at Dunn State Park without having to break out the wallet at all.
Gardner is about 40 miles north of Worcester.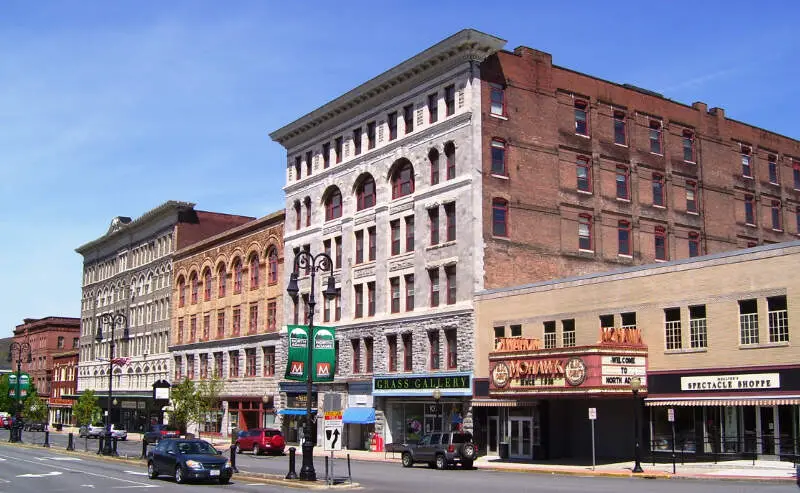 Rounding out our list of cheapest places to live in Massachusetts is North Adams, a city in northern Berkshire County near the New Hampshire border.
You won't feel like you're living in an aggressively cheap city when you've got the Mass MoCA downtown. With a median rent of $757, North Adams has the cheapest rent on this list. Not to mention that it's more than three times cheaper than the average rent in Massachusetts. North Adams also boasts the cheapest homes in the state, with a median price tag of $140,900. With residents earning a median income of $41,471, North Adams has the fourth best home price to income ratio in the state.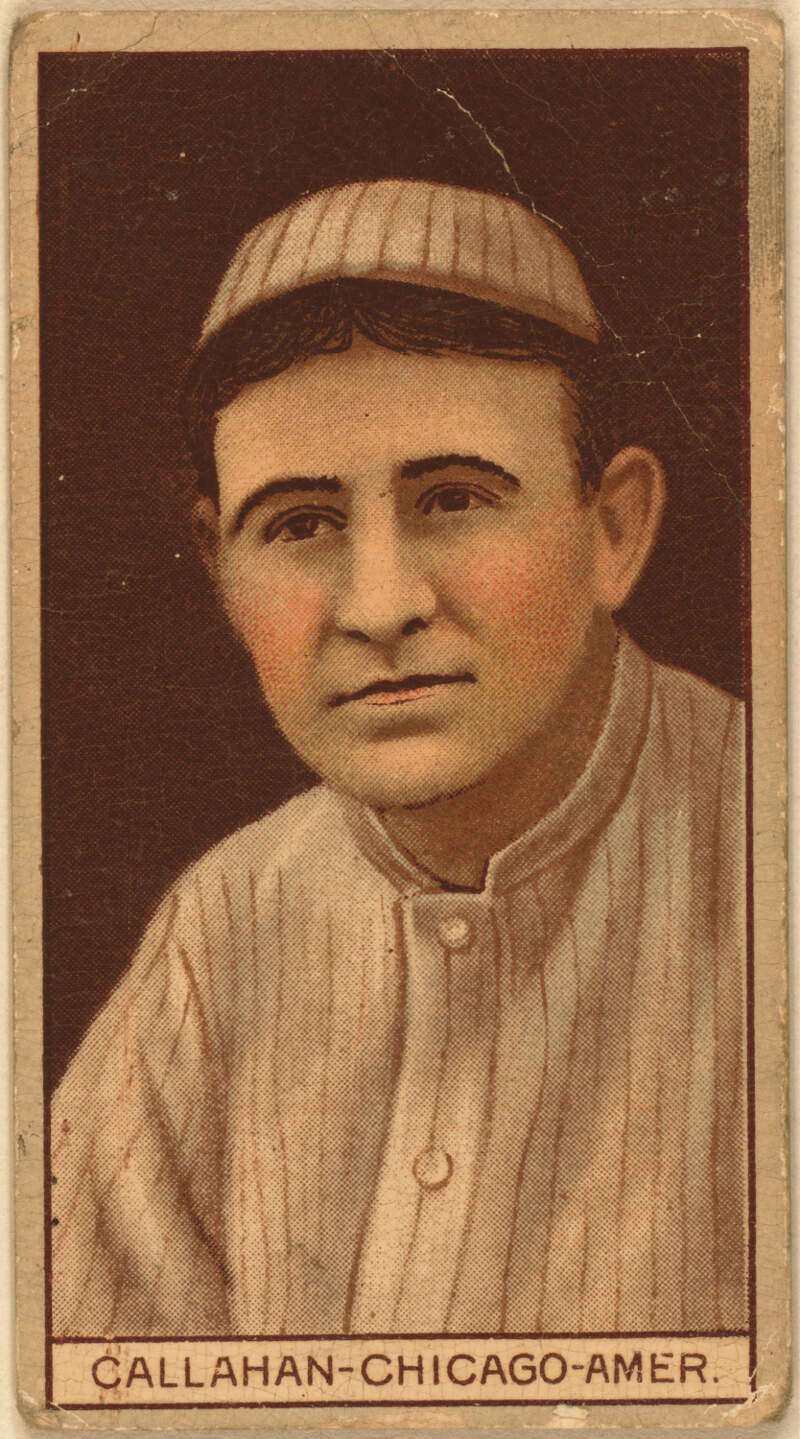 Source: Public domain
Located about 30 miles west of Lowell and north of Worcester, Fitchburg ranks as the eighth most affordable city in Massachusetts. Fitchburg has the sixth lowest home price to income ratio in the state, with a median home price of $196,600 and a median income of $57,207. Living in Fitchburg, you won't know what people are talking about when they say that Massachusetts is one of the most expensive states in America.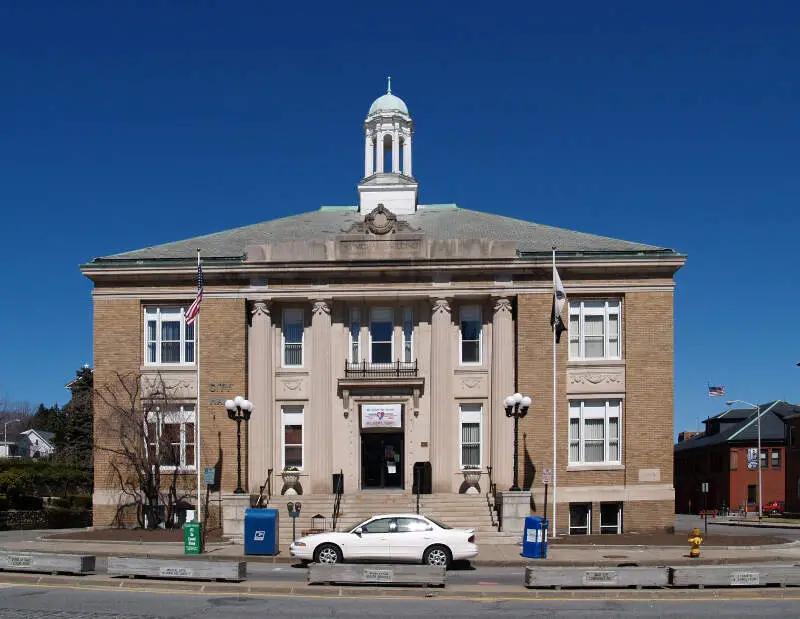 Source: Public domain
From the Leominster State Forest to the winter fun a short drive away at Wachusett Mountain, Leominster is a city with a prime location for people who love outdoor recreation. The area is also about an hour away from Boston, for those who crave even more city action.
The community of 41,606 is also a haven for people looking to save a few bucks when it comes to their cost of living. If you're ready to reside in Leominster for a while, expect homes to come with a median value of $241,800. A price that isn't bad if you earn the areas median household income of $61,825.
Avoiding a mortgage here won't burst your budget either. Renters can look forward to a median rate of $973. As a matter of fact, Leominster has one of the best rent rate to household income ratios in Massachusetts, coming in at No. 10.0. And as if helping you keep more money in your wallet wasn't a big enough perk of calling this place home, the area is also incredibly safe.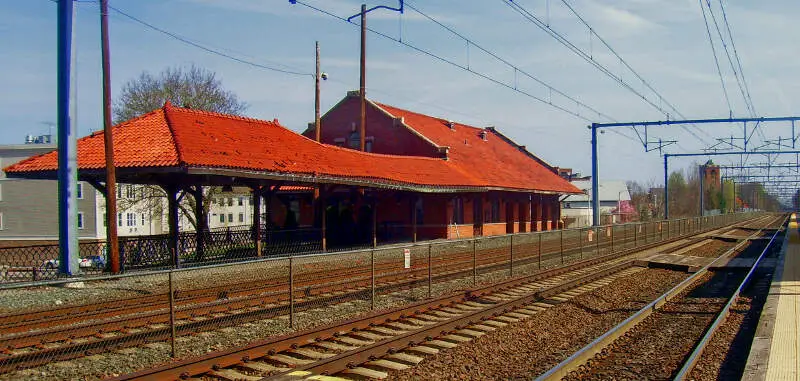 At first glance, the affordability of Attleboro might not be obvious. Housing is more expensive here than anywhere else on this list, with a median home price of $292,900 and a median rent of $1,081. However, because Attleboro residents earn an above average median income of $74,962, it's the 12th easiest place to pay off a mortgage in Mass. On top of that, Attleboro is in the top ten statewide for income to rent ratio and scored a 8.5/10 on our overall SnackAbility scale, meaning it's an all-around great spot to call home.
Attleboro is just 20 minutes northeast of Providence, Rhode Island.
How We Determined The Most Affordable Places To Live In The Bay State For 2021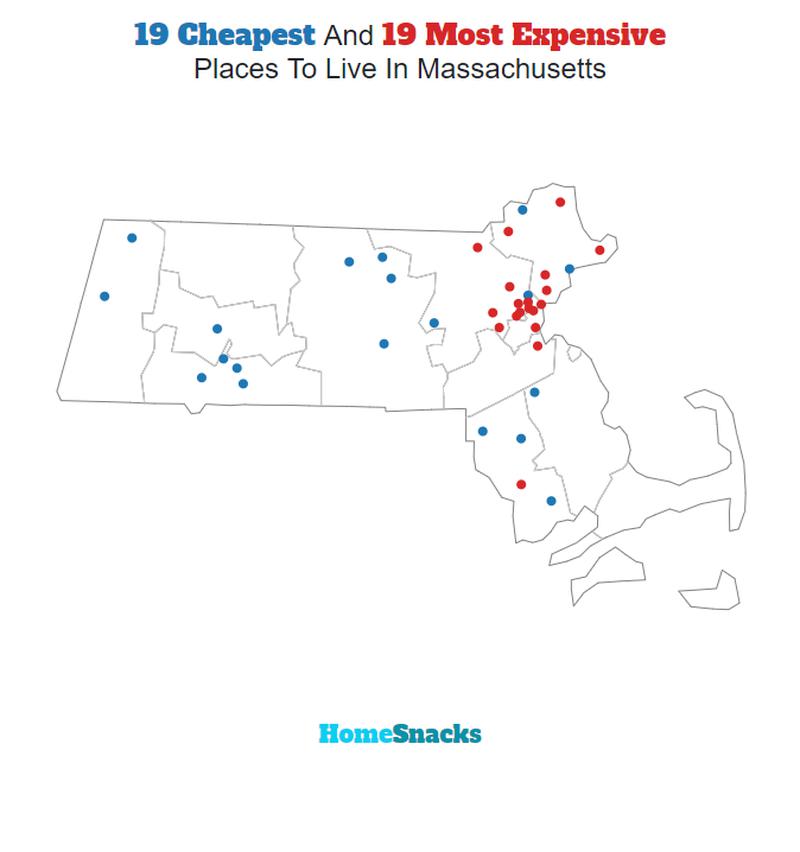 The two most important things to think about when it comes to being able to afford if you can live comes down to:
How much do money do I make?
How much do I have spend to live there?
You need to understand your costs in the context of how much money you make.
For example, if the median household earns $100,000 and spends $40,000 on housing it's actually cheaper to live there than a place with a median income of $50,000 and housing costs of $21,000. You might spend more on housing, but you have more money overall to play with.
With that example in mind, we derived several statistics from the latest Census American Community Survey 2015-2019 around incomes and costs. They are:
Median Home Price / Median Income (lower is better)
Median Income / Median Rent (Higher is better)
Median Home Price
We added simply median home price because high home prices generally correlate with higher expenses for all costs related to homes (heating, electricity, etc).
You can then compare these metrics in each of the places in Massachusetts to figure out which is the least expensive.
What you are left with is a "Cost of Living Index" by taking the average rank of each of these metrics for each city.
So we used that cost of living index in order to rank all of the 53 places in Massachusetts that have more than 12,000 people.
The place with the lowest cost of living in Massachusetts according to the data is Palmer Town. You can download the data here.

There You Have It Mr. Or Mrs. Massachusetts Cheapskate
If you're looking at the cost of living numbers in Massachusetts, this is an accurate list of the most affordable places to live in Massachusetts for 2021.
Here's a look at the most expensive cities in Massachusetts according to the data:
Boston
Cambridge
Somerville
For more Massachusetts reading, check out:
The Most Affordable Places To Live In Massachusetts