Editor's Note: We updated this article for 2021. This is our seventh time ranking the best places to live in Oklahoma.
Article Table Of Contents   
(Skip to section)
Not only is everything 'Okie' dokie in Oklahoma, the Sooner State has some of the best cities in the country. And lucky for you, HomeSnacks uncovered what places to live should be in the top ten for 2021.
The appreciation for the blood, sweat, and tears of the Sooners is very evident in Oklahoma's best places to live. The Oklahoma cities that made our list average some of the highest median household incomes and boasts some of the most expensive homes. These cities have some of the most educated residents and safety is a priority.
Heck there's a reason Garth Brooks lives in Tulsa and Gwen Stefani is willing to drop everything and live with Blake Shelton in Tishomingo. They love Oklahoma's great people and its good 'ol country livin'. All country music and Oklahoma pride aside, this flyover state has some pretty cool cities. Oklahoma's roads wind through cities where Native American culture is strong. And cities like Okmulgee, where a good 'ol fashioned cattle drive and/or rodeo are Friday night's hot ticket out, can be found down any Oklahoma backroad.
Spend a weekend in Oklahoma and you will know why it's the 28th most populated state in the country.But to find out the top ten best places to live in Oklahoma, you're going to have to keep reading.
Oklahoma has so many great cities, that you could literally throw a dart at the state and live happily wherever it landed. So, you can understand how difficult it was to narrow down a list of the top ten best places.
What's the best place to live in Oklahoma for 2021? There can only be one number one, and that Oklahoma city would be Jenks.
The competition was fierce, however. To see a list of Oklahoma's best of the best cities that gave Jenks a run for its money, take a look below. And if you don't see your favorite city there, head to the bottom.
If you're looking for something more national, check out the best states in America or the best places to live in America.
For more Oklahoma reading, check out:
The 10 Best Places To Live In Oklahoma For 2021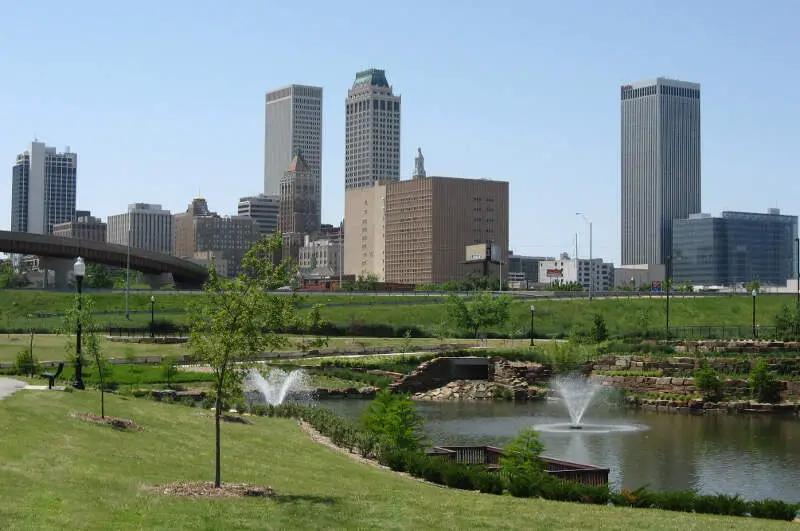 Jenks, a city of 22,488 located just south of Tulsa, comes in as HomeSnacks' best place to live in Oklahoma for the second year running. Jenks is a place with small-town charm and big-city amenities. It's home to the Oklahoma Aquarium, a big hit with local families and Riverwalk Crossing, a Tulsa-bordering district where you'll find a wide range of eclectic shops, dining, outlook areas, and countless events. Jenks is also known for its ample antiquing opportunities.
Jenks has top-notch schools, safe streets, and low rates of unemployment and poverty. Not to mention that Jenks residents are quite smart; around 45% of folks have a bachelor's degree and 15% have a master's degree or higher to boot. This helps explain why Jenks has the best-paid populace in Oklahoma, with a typical household bringing in around $94,132/year. The cost of living in Jenks is about 15% higher than the Oklahoma average, with housing costs outstripping the state by 60%. The median home price in Jenks is the 4th highest in Oklahoma at $214,300 and rent goes for around $1,203/month. People don't seem to mind the cost, though, considering Jenks is also Oklahoma's fastest-growing city, adding a whopping 40% to its ranks since 2010.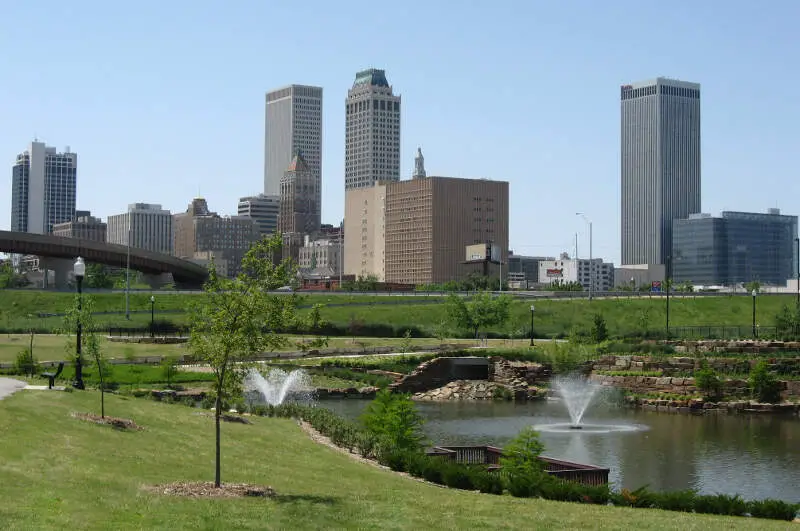 Another Tulsa suburb located just south of Jenks, Bixby offers a similar mix of abundant attractions and opportunities combined with a tight-knit community. Fishing, picnicking, and hiking can all be found at Lake Bixhoma, while an amphitheater, butterfly garden, and 30+ acres of gorgeously-landscaped trees and flowering pants make for a peaceful sanctuary at Washington Irving Memorial Park & Arboretum. And if you're looking for the freshest produce in town, look no further than Gibson Gardens.
Bixby's population has grown by 33% in the last decade and it's not hard to see why. GreatSchools gave Bixby's public schools and an average score of 9.5/10, and Bixby High was awarded a College Success Award. Poverty and unemployment rates both rank as the 8th lowest in Oklahoma, while the rate of residents with health insurance is the 4th highest in the state. Homes may be the 2nd priciest in Oklahoma, but residents also enjoy the 4th highest median household income statewide at $83,119/year.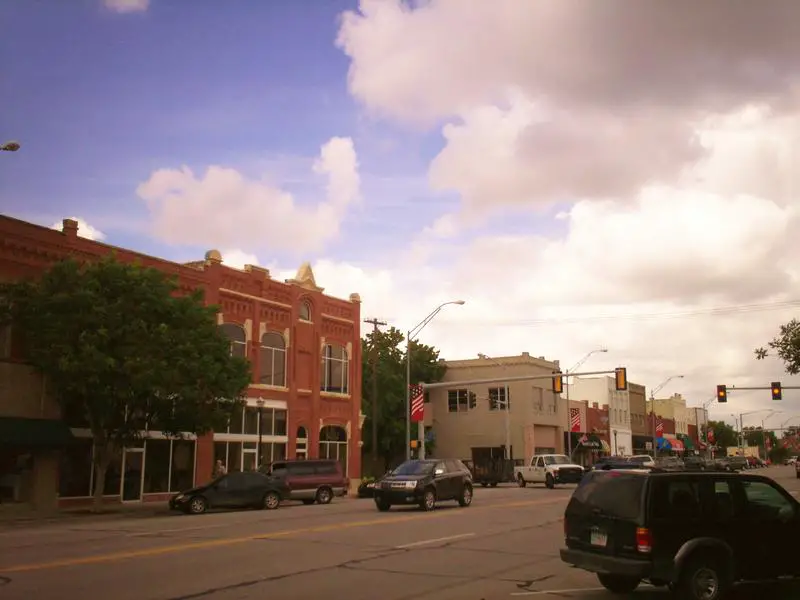 Oklahoma's fourth biggest city and a neighbor of Tulsa, Broken Arrow ranks as the 3rd best place to call home in the Sooner State. If you're an angler, chances are we won't have to try very hard to convince you Broken Arrow is great; the city boasts a massive 110,000 square-foot Bass Pro Shop. For other shoppers, Broken Arrow's Rose District has more boutiques than you could shake a stem at. Those looking to catch a Broadway Show will find themselves at the Broken Arrow Performing Arts Center, while those looking to get a bit of peace from the bigger city will end up in Ray Harral Nature Park.
Homes in Broken Arrow go for around $166,900 and you can find a nice spot to rent for $1,037/month. While that means Broken Arrow's housing is roughly 30% higher than the statewide average, the cost of living in other categories is basically on par with the statewide average.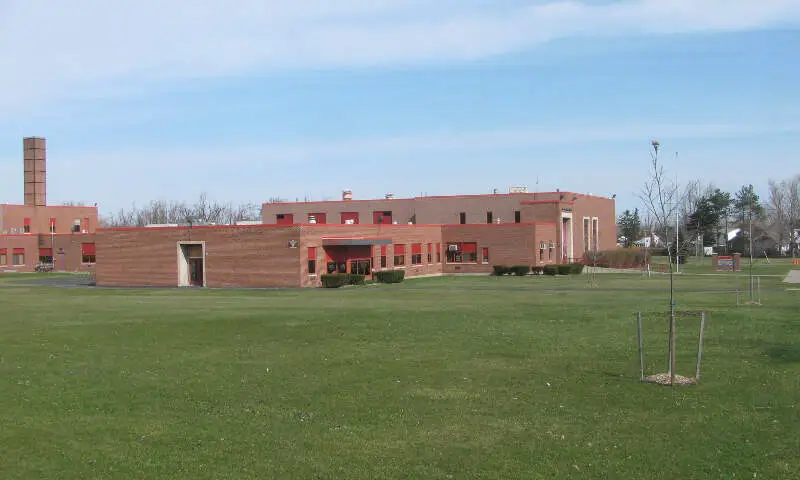 A rapidly-growing bedroom community of OKC, Mustang comes in as our 4th best place in Oklahoma for 2021. Good shopping, great schools, and a warm small-town feel all contribute to Mustang's 25% growth since 2010. Most Mustang residents head into Oklahoma City when they get the itch for the lights of the big city or a bit of culture. Seeing as there are museums for both cowboys and art, anyone should be able to have an enjoyable day of self-education a short day-trip from Mustang. All part of why Mustang ranked so highly on our coverage of the cities for families in Oklahoma.
In all of Oklahoma, Mustang has the 7th lowest crime rate, 4th lowest poverty rate, and 2nd highest rate of residents with health insurance. Oh, and some of the cheapest homes of places on this list, with a median price tag of $160,200.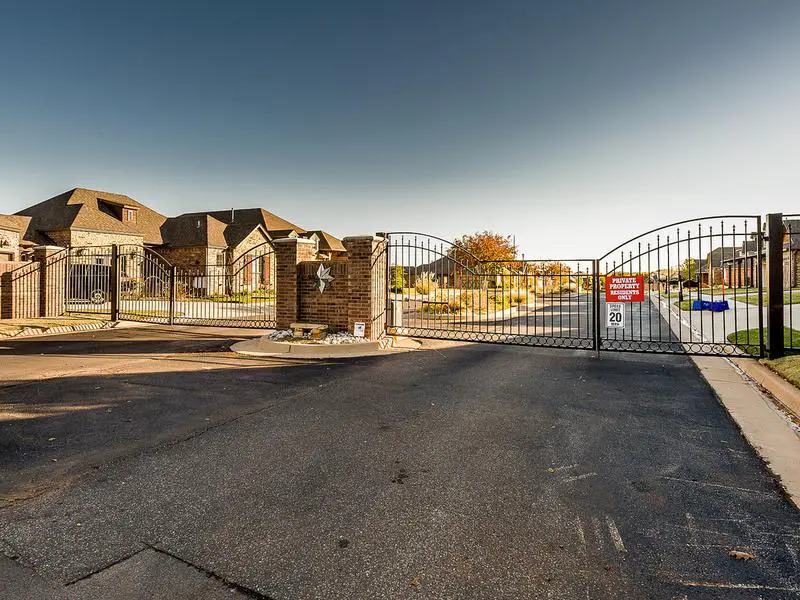 Located just north of Oklahoma City, Edmond ranks as the 5th best place to call home in Oklahoma. Art-lined streets, the regular shows put on at the Armstrong Auditorium, and the annual Downtown Edmond Arts Festival all scream that Edmond is a city with an eye for aesthetic quality. As for the outdoor-inclined, Edmond's countless green spaces in town, first-class fishing at Arcadia Lake, and championship golf courses are sure to be a source of endless delight.
If you're looking for one of the premier public school districts in the state, you've found it in Edmond. GreatSchools gave Edmond's district a 9.5 average score (out of 30+ schools, mind you) and several of those schools have received National Blue Ribbon Awards. The high school dropout rate in Edmond is the 3rd lowest in Oklahoma, over half the adult population has a college degree, and nearly a quarter of folks have a master's, PhD, or professional degree. This helps explain why Edmond's residents enjoy the 5th highest median household income in the state at $81,473/year.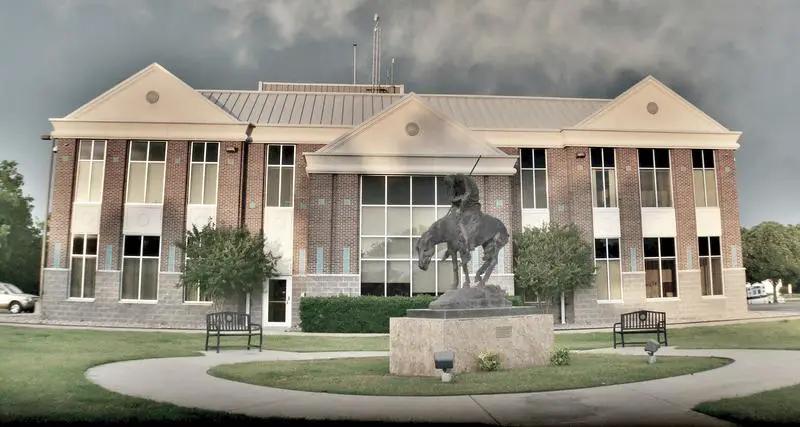 A northern suburb of Tulsa, Owasso ranks as the 6th best place to live in Oklahoma. Being just 20 minutes from Tulsa's downtown really opens up your entertainment options. Music-enthusiasts have the choice between the Jazz Hall of Fame and the Woody Guthrie Center that honors the folk legend. Visual artists have a feast for the eyes as the gorgeous Philbrook Museum of Art and everyone can enjoy the Gathering Place, America's best new attraction of 2019, according to USA Today's Readers' Choice awards.
Owasso's public schools consistently beat out the statewide average in test scores and graduation rates by more than 10%, and GreatSchools awarded Owasso's district an average score of 9/10. Poverty and unemployment are both low in Owasso, and although it's the most dangerous spot on this list, the crime rate is still 25% below the statewide average. Owasso's residents have the 11th highest median household income in the state at $72,443/year. It's quite easy to see why the city's grown by more than 30% in the last decade.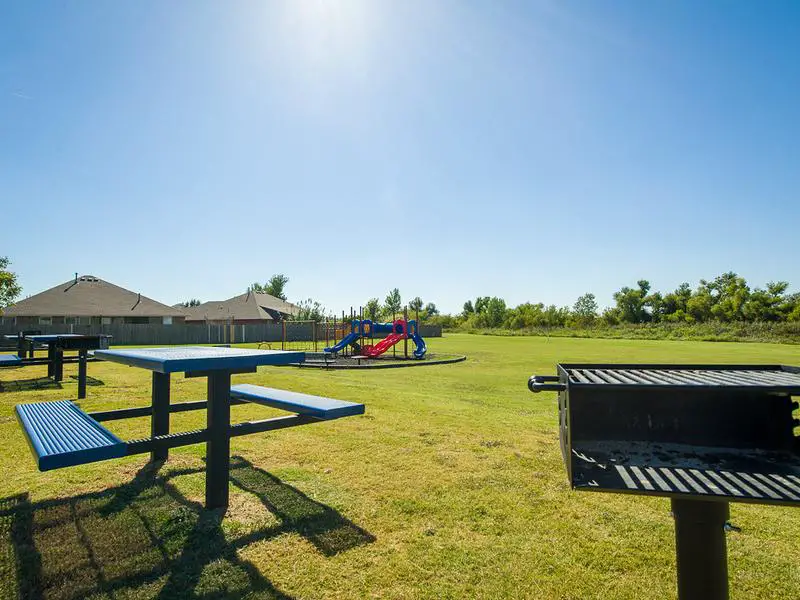 Piedmont is a thriving and dynamic city of 7,747 located just northwest of Oklahoma City. The population of Piedmont has expanded by nearly 40% in the last decade thanks in part to its friendly, inviting atmosphere, relatively low cost of living, and plentiful recreational and cultural opportunities. Plus, being just a half-hour from OKC's Bricktown Entertain District, with its endless supply of fun, means residents have easy access to all the big-city amenities without sacrificing on the small-town atmosphere.
There are a lot of stats that prove Piedmont's excellence; the lowest unemployment rate and lowest poverty level in Oklahoma, at 0.8% and 1.9% respectively, for a start. 92.6% of residents have health insurance, the 7th highest rate statewide. Piedmont also has a crime rate that's roughly 90% below the national average and ranks as the 2nd lowest in Oklahoma. Finally, Piedmont is among the richest palces in Oklahoma, with the 3rd highest median household income at $86,117/year and 3rd most expensive homes in the state.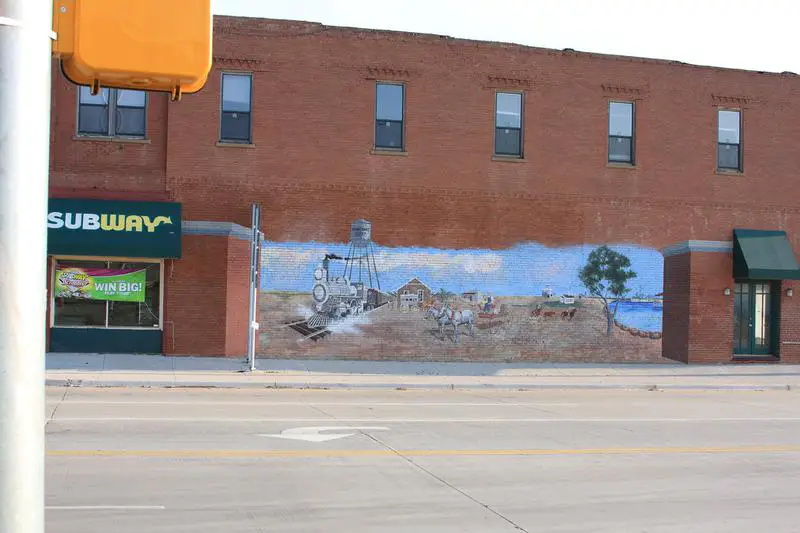 A southern suburb of Oklahoma City, Blanchard is the oldest city on this list, with a median age of 37. People of every age enjoy the downtown business district, great parks, and many events, though. Blanchard hosts the May Daze Festival, a celebration complete with live entertainment, a carnival, and endless food, games, and shopping. And the annual Blanchard Bluegrass Festival pulls in crowds from all around.
Blanchard is one of the safest places in Oklahoma, with a crime rate 45% below the national average. The unemployment rate here is a measly 2.7%, so if you're looking for a job here, it should be a piece of cake. Just want to try out Blanchard without committing to a $191,700 mortgage? You're in luck, because at $743/month, rent in Blanchard is 40% cheaper than the average rent in Oklahoma.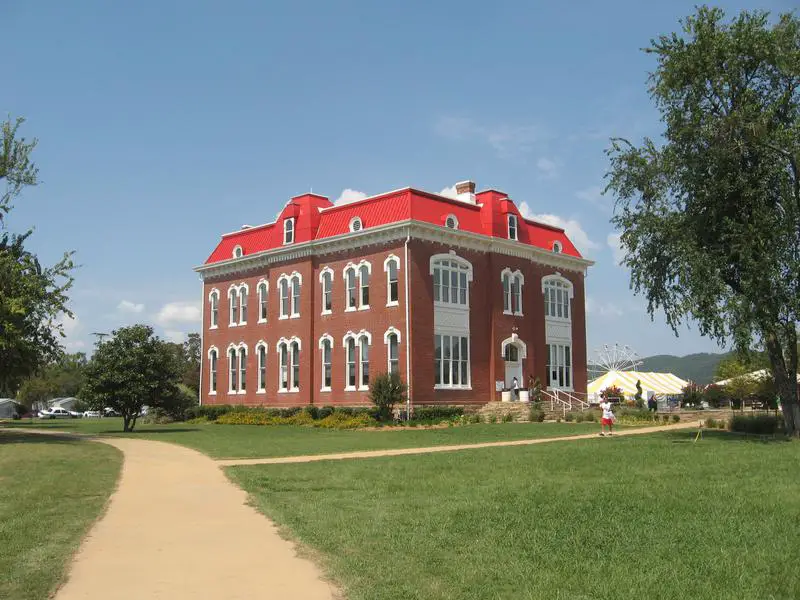 Source: Public domain
Choctaw sits just to the east of Oklahoma City, part of the furthest rim of communities surrounding the state's largest city. More than a typical suburb, though, Choctaw is actually the oldest chartered community in what was once known as Oklahoma Territory. It still provides a major draw for modern-day settlers, existing as the number 9 best place to live in Sooner State.
A strong economy and top-notch educational opportunities make Choctaw an excellent place to raise a family. The area has a median income of $77,917, the 8th best figure in the state. The unemployment rate is healthy as well, coming in at 2.8%. The median home value in the area hovers at $178,600. The schools in the area are amazing, scoring a 9/10 on Great Schools.
Despite being over 100 years old, Choctaw didn't become a noteworthy town until the middle of the 20th century. As of the 1960 census, it had just 623 people. Now it sports a population of 12,474 and provides excellent access to Oklahoma's largest population areas. A half-hour drive will take you to the center of Oklahoma City. Looking further out, Tulsa lies just an hour and a half down I-44.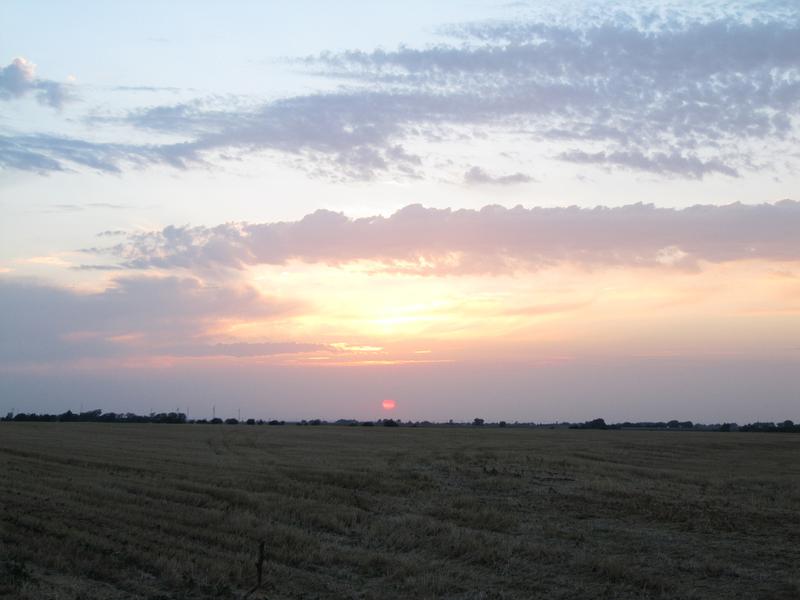 Tuttle is a fast-growing community. From a population of under 3,000 people in the 1990 census, it now boasts 7,294 people. And those residents can count themselves as lucky -- they live in the number 10 top place in Oklahoma to call home.
Located to the southwest of Oklahoma City, Tuttle stands about a half hour from the heart of the state's biggest urban area. The community also provides access to a taste of the jungle as well: the Tiger Safari Zoo is a short drive away.
Beyond these attractions, Tuttle's main draw is economic. Residents enjoy a median income of $87,170, the 2nd best mark in Oklahoma. The unemployment rate is also one of the best in the state, coming in at 1.2%.
Parents in Tuttle don't have to worry about their kids' educations. The schools are ranked an 8/10 on Great Schools. At the same time, Tuttle offers affordability. The cost of living is about 90% of the national average. Meanwhile, the median home value is $197,600.
Mapping The Best And Worst Places To Live in Oklahoma
The Pressing Question: Size
Before we even started to collect data, we had to answer a tough question: Is it fair to pit cities with populations over 100,000 against places with a population of 18?
We firmly decided no, that just isn't fair.
So to create our ranking, we broke places to live into three tiers:
Cities -- Populations over 5,000
Towns -- Populations between 1,000 and 5,000
Small Towns -- Populations below 1,000
This left us with 68 cities, 168 towns, and 405 small towns.
We then decided, no matter how much anyone loves their town, the best cities to live in Oklahoma have more of everything and therefore you need to have over 5,000 people to truly be 'the best'.
Now we also realize that city living might not be your cup of tea, so we ran the following analysis on towns and then again for small towns.
You can see those two top tens at the bottom of the post.
How We Calculated The Best Cities To Live In Oklahoma
Now that we had our set of cities, it was time to rank them.
We ranked each place in Oklahoma across a number of criteria from one to 68, with one being the best.
We then took the average rank across all criteria, with the city posting the lowest overall score being crowned the winner of the title "Best Place To Live In Oklahoma".
The criteria we looked at were:
Median Home Values
Median Income
Population Density (Higher better)
Unemployment Rate
Commute Time
Crime
Education Levels
Health Insurance Coverage
Poverty rates
Sources of criteria include the New Census Data and FBI Crime Data. You can download the data here.
After the dust settled, what was the best place to live in Oklahoma? That would be Jenks.
If your city or town isn't among the top 10, jump down to the bottom of the post to see a detailed chart of the best places in Oklahoma.
Otherwise, buckle up for a ride down good living lane with Jenks at the end of the cul-de-sac.

Wrapping Up The Best Places When It Comes To Living In Oklahoma
If you're looking at areas in Oklahoma with the best economic situations, where there's lower than average crime, and a lot to do, this is an accurate list.
Jenks made a strong showing to take in the overall number one spot for the best place to live in Oklahoma for 2021.
Best Towns To Live In Oklahoma
Nichols Hills (Pop. 3,864)
North Enid (Pop. 1,091)
Okarche (Pop. 1,338)
Elgin (Pop. 2,825)
Justice (Pop. 1,290)
Verdigris (Pop. 4,217)
Mooreland (Pop. 1,989)
Buffalo (Pop. 1,335)
Forest Park (Pop. 1,079)
Burns Flat (Pop. 2,117)
Best Small Towns To Live In Oklahoma
Lake Aluma (Pop. 74)
Woodlawn Park (Pop. 168)
Burlington (Pop. 153)
Burneyville (Pop. 617)
Taloga (Pop. 377)
Fairmont (Pop. 239)
Kremlin (Pop. 215)
Canton (Pop. 465)
Cleo Springs (Pop. 304)
Sams Corner (Pop. 178)
If you're curious enough, here are the worst places to live in Oklahoma according to the data:
Hugo (Pop. 5,142)
Okmulgee (Pop. 11,846)
Idabel (Pop. 6,924)
For more Oklahoma reading, check out: