The 10 Safest Cities In Wisconsin For 2020
We used data and science to determine the places in Wisconsin where everyone sleeps safe and sound.

Editor's Note: This article has been update for 2020. This is our sixth time rankings the safest places to live in Wisconsin.
Swipe left for slideshow. Article continues below.
Article Table Of Contents
(Skip to section)
Wisconsin is filled with happy cows, happy people, and super safe, happy places to live.
And here at HomeSnacks, we wanted to know just how safe is America's Dairyland? More importantly, where, exactly, are the safest cities in The Badger State? So, we consulted the numbers. We looked at important factors like property crimes and violent crimes per capita for every place with over 5,000 residents. In total, we analyzed 141 cities.
We discovered that Wisconsin's violent crime and property crime numbers are way below the national average. Probably why they're the 16th safest and the 13th best state in the country , right? But, folks, this doesn't come without a cost. Wisconsin does get a lot of snow and Wisconsin dairy farmers do expect you to eat a lot of cheese. So, if you don't like everything dairy, and/or snow, you might want to consider Alaska.
More importantly, however, we discovered that there are crazy safe, super cool places in Wisconsin for every budget. For instance, Wisconsin has safe college towns like Madison, hip, safe places like Appleton for professionals just starting out, and great, safe, family friendly places like Oconomowoc.
And don't get us started on how Wisconsin is always looking out for the safety of their residents. The Greenbay Packers make their fans wear a cheese cushion on their head for all of their games in case one should get hit by a flying football and they've created roads solely for the purpose of snowmobile travel.
Want to know more? Grab a basket of fried cheese curds, a chocolate shake, find a sunny spot on one of their 15,000 lakes, and read on.
Here are the 10 safest cities to live in Wisconsin for 2020:
It's not lost on us that some of Wisconsin's safest places are also some of their best places to live. Wisconsin has a lot to offer; not only in safety, but by way of great schools, jobs, amenities, and down-to-earth hospitality. Unfortunately, there can be only one number one safest place to live in Wisconsin for 2020 and that would be Oconomowoc Town.
Take a look at the list below to see the cities that gave Oconomowoc Town a run for their money. And if you don't see your favorite Wisconsin city in the top ten, head to the bottom of the page.
For more reading on safe places to live in and around Wisconsin, check out:
The 10 Safest Cities In Wisconsin For 2020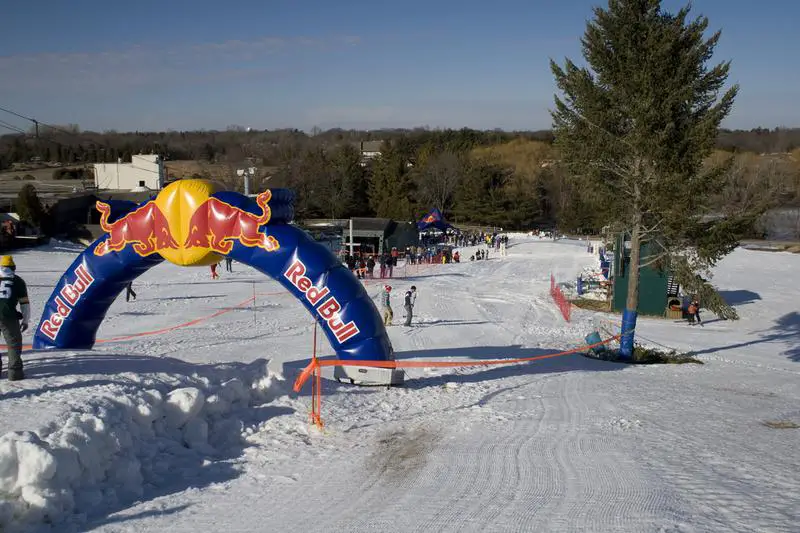 Population: 8,692
Rank Last Year: 6 (Up 5)
Violent Crimes Per 100k: 11 (3rd safest)
Property Crimes Per 100k: 115 (2nd safest)
More on Oconomowoc Town:
In southeast Wisconsin lays a gem of a town, Oconomowoc, the safest in Wisconsin.
Sure we could focus on the really low property crime rate and solid violent crime rates, instead we're gonna focus on the name.
Oconomowoc is in Waukesha County making it, and this is science, probably one of the hardest, longest names to say in America. I don't even know where to start -- Ocon-mo-woc? Help? Anyone?
I'm guessing it's probably in some way related to a Native American tribe that's from the area.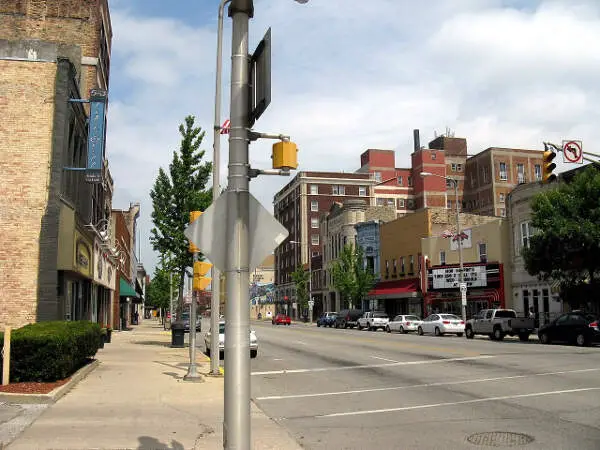 Source: Public Domain
Population: 5,032
Rank Last Year: 4 (Up 2)
Violent Crimes Per 100k: 0 (1st safest)
Property Crimes Per 100k: 457 (9th safest)
More on Geneva Town:
You might mistake yourself for being in Switzerland when you enter Geneva, but, no, you're only in Wisconsin.
Much like Geneva Switzerland, you can expect to be safe and cold.
Located in the very south of Wisconsin, it ranks as the ninth lowest for property crime and lowest violent crime. It also managed to break the top ten for the second year in a row.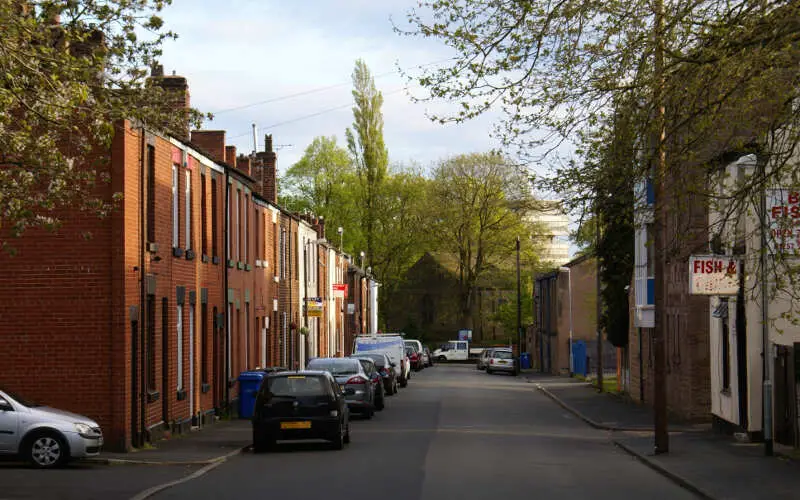 Source: Public Domain
Population: 8,146
Rank Last Year: 10 (Up 7)
Violent Crimes Per 100k: 36 (14th safest)
Property Crimes Per 100k: 85 (1st safest)
More on Mukwonago Town:
it seems like just yesterday that Mukwonago broke into the top ten safest places in Wisconsin and look at it now -- it sits at third statewide.
Sticking to the area of Wisconsin familiar to this list, the southeast part of the state seems to be the place to live to avoid crime. While violent crime in the city isn't as low as some of the others in the top ten, the city knocks it out of the park for property crime -- the lowest in the state.
And if there is any crime in the city, then you'll know that Eric Szmanda, of CSI fame, will come home to help catch you.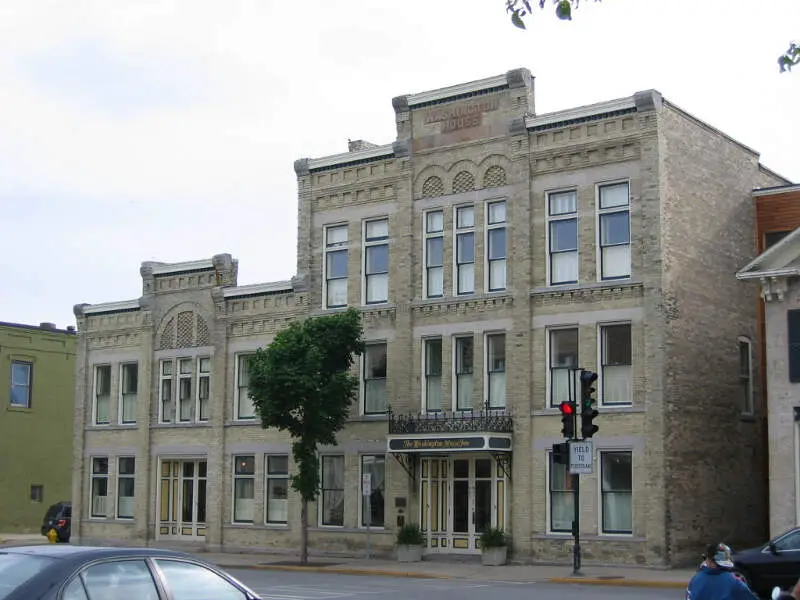 Source: Public domain
Located about as far east as you can be in Wisconsin without ending up in Lake Michigan, Cedarburg ranked fourth for 2020.
Not only is Cedarburg safe, but it's also one of the best places to live in Wisconsin. Scoring an even 10 out of 10 in our snackability score, that places it in the top 5% of places in America.
The city is also extremely well educated as over 50% of the population has at least a BA.

Muskego may not have been in the top ten in either property or violent crime in Wisconsin, but solid rankings in each gives the city the title of fifth safest in the state.
With a property crime rate three times lower than the national average, there's very little chance of someone robbing your day's catch after fishing at Muskego Lake. On top of that, Muskego had roughly twenty times less violent crime than the national average. It's not hard to see how the crime category helped land Muskego on our list of best places to raise a family in Wisconsin.
Muskego is located about 20 miles southwest of Milwaukee.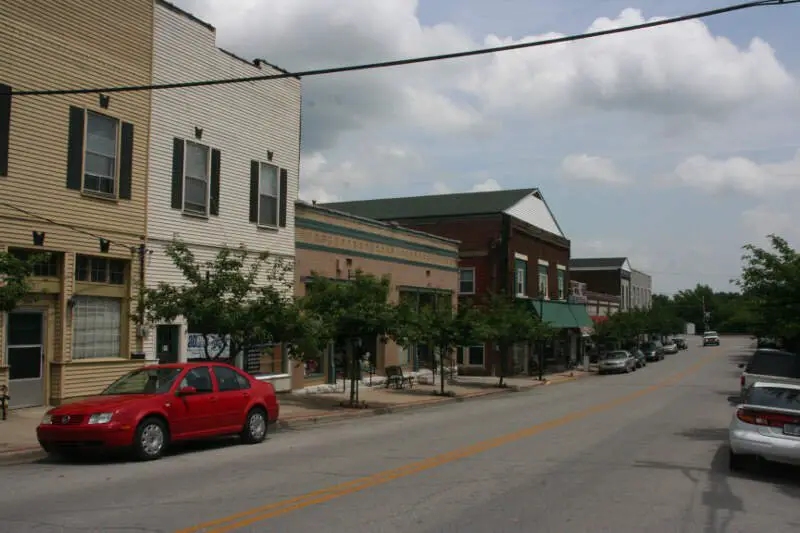 Source: Public Domain
Population: 5,322
Rank Last Year: 50 (Up 44)
Violent Crimes Per 100k: 18 (4th safest)
Property Crimes Per 100k: 695 (21st safest)
More on Delavan Town:
Delavan Town was barely in the top fifty safest cities in Wisconsin last year, so the jump to the #6 spot is a major improvement. Why the big change over the past year? Well, Delavan only experienced one violent crime in 2018, the fourth lowest rate in Wisconsin. So you'll have no problems enjoying a concert at Delavan's Phoenix Park Bandshell in safety. And while the town's property crime rate was only the 21st lowest in the state, that still works out to less than one crime per week.
Delavan Town is less than an hour southwest of Milwaukee.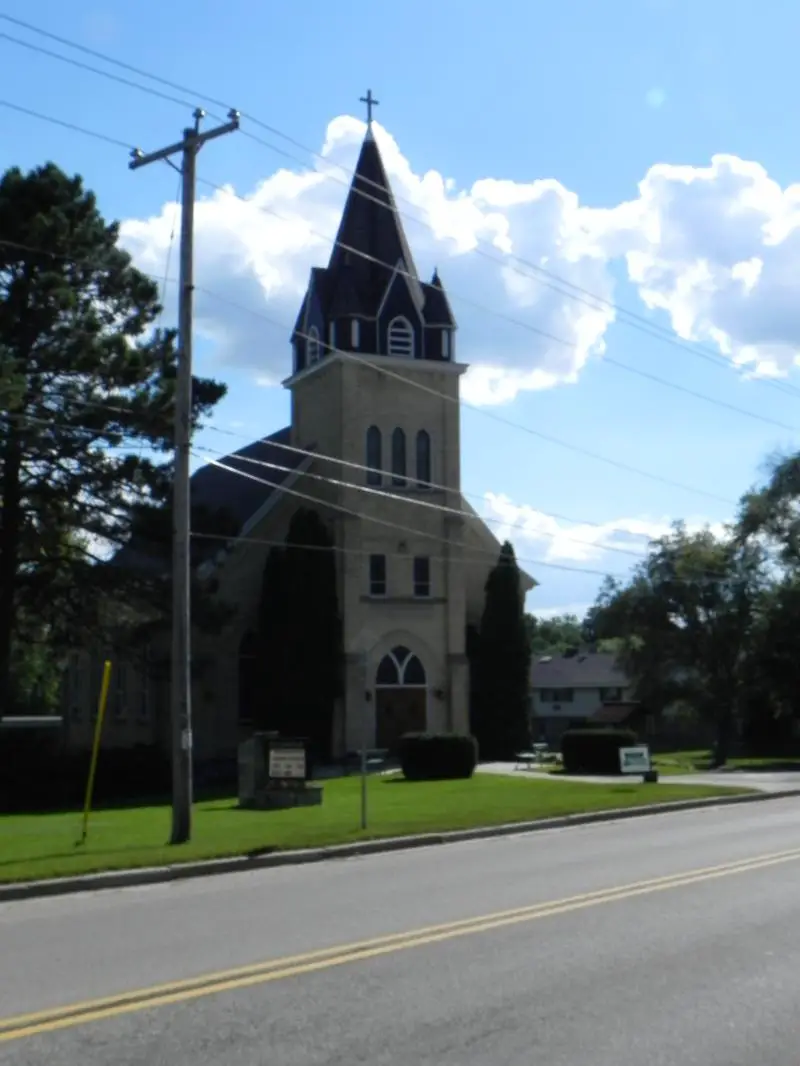 A western suburb of Milwaukee, Hartland ranks as the seventh safest spot in the Badger State overall. Hartland experienced just over one property crime per week in 2018, giving the village the 17th lowest rate in Wisconsin. With some of the best fishing statewide available at Pewaukee Lake, it's nice to know that your hard-earned catches won't get filched. Hartland also only had three violent crimes in the whole year, which works out to a rate roughly 12 times lower than the national average.
Hartland also got a perfect 10/10 score on our overall snackability score, meaning the village is top-notch in just about every way. One small catch, though; we named Hartland the sixth richest place in Wisconsin, so you'd better start saving if you want to move to this safe haven.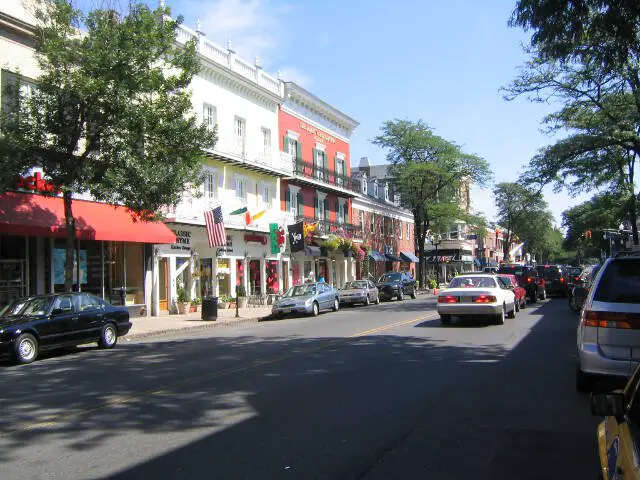 Source: Public Domain
Population: 7,385
Rank Last Year: 2 (Down 6)
Violent Crimes Per 100k: 27 (8th safest)
Property Crimes Per 100k: 663 (19th safest)
More on Grand Rapids:
If you were thinking of Grand Rapids, MI you need to flip that M upside down for this list as Grand Rapids, WI is the eighth safest spot in Wisconsin.
You know you can trust your neighbors and friends as there were a total of 0 murders here. In fact, there were a total of 0 violent crimes here in the last reporting year which is pretty amazing for a city of this size.
Grand Rapids is located right in the middle of Wisconsin -- the heartland of the heartland if you will.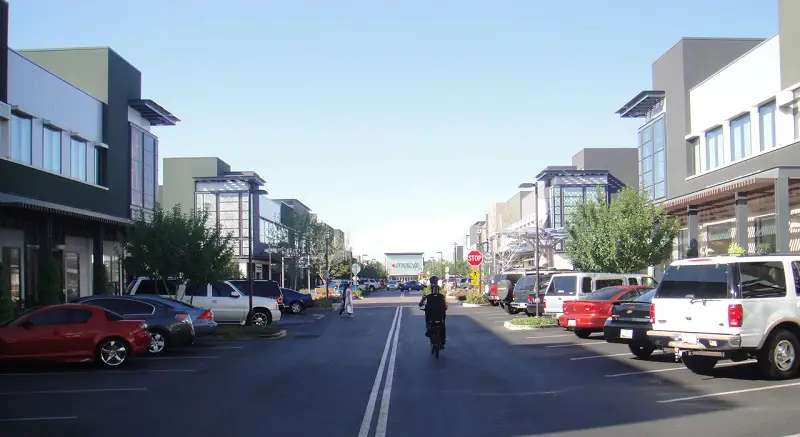 Source: Public Domain
Population: 14,667
Rank Last Year: 8 (Down 1)
Violent Crimes Per 100k: 47 (22nd safest)
Property Crimes Per 100k: 470 (11th safest)
More on Hobart-Lawrence:
Hobart-Lawrence has a hyphenated name because it's kinda like a modern family -- it's a combination of Hobart and Lawrence that the FBI combines together for reporting purposes. And so there's really two cities that can claim the honor of 8th safest in Wisconsin.
While the violent crime rate is better than average, the cities really shine when it comes to property crime -- the 11th lowest in the state.
Make sure to check out T.Bacon's BBQ in Hobart -- the best ranked place on Yelp. Or Lawrence University in Lawrence as that's the only thing that came up there in our quick Google search.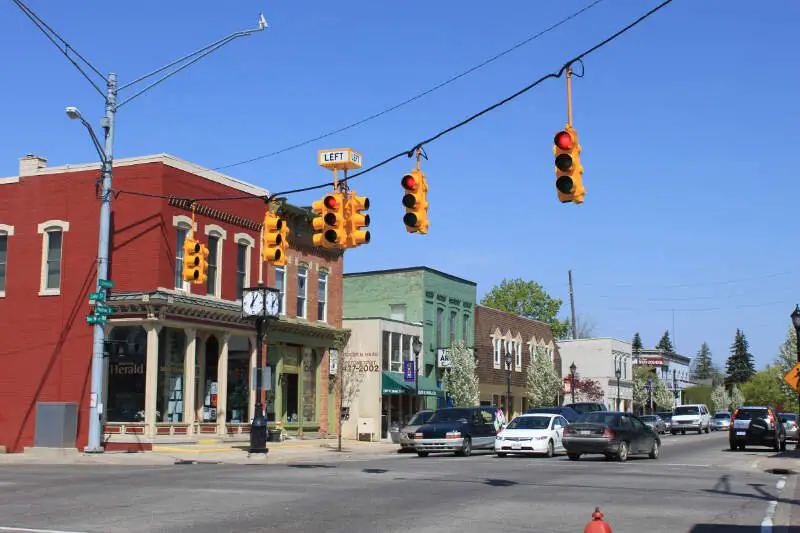 Source: Public Domain
Population: 22,006
Rank Last Year: 12 (Up 2)
Violent Crimes Per 100k: 72 (31st safest)
Property Crimes Per 100k: 372 (5th safest)
More on Fox Valley Metro:
Located just a half hour southwest of Green Bay, Fox Valley Metro is the tenth safest city in Wisconsin.
Fox Valley Metro made it onto this list mostly due to its incredibly low rate of property crime, the fifth lowest in the state. With only 82 property crimes reported in 2018, Fox Valley Metro had six times less property crime than your average American city. If Fox Valley Metro can get its violent crime rate down to similarly impressive numbers, expect it to jump higher on this list next year.
How we calculated the safest cities in Wisconsin for 2020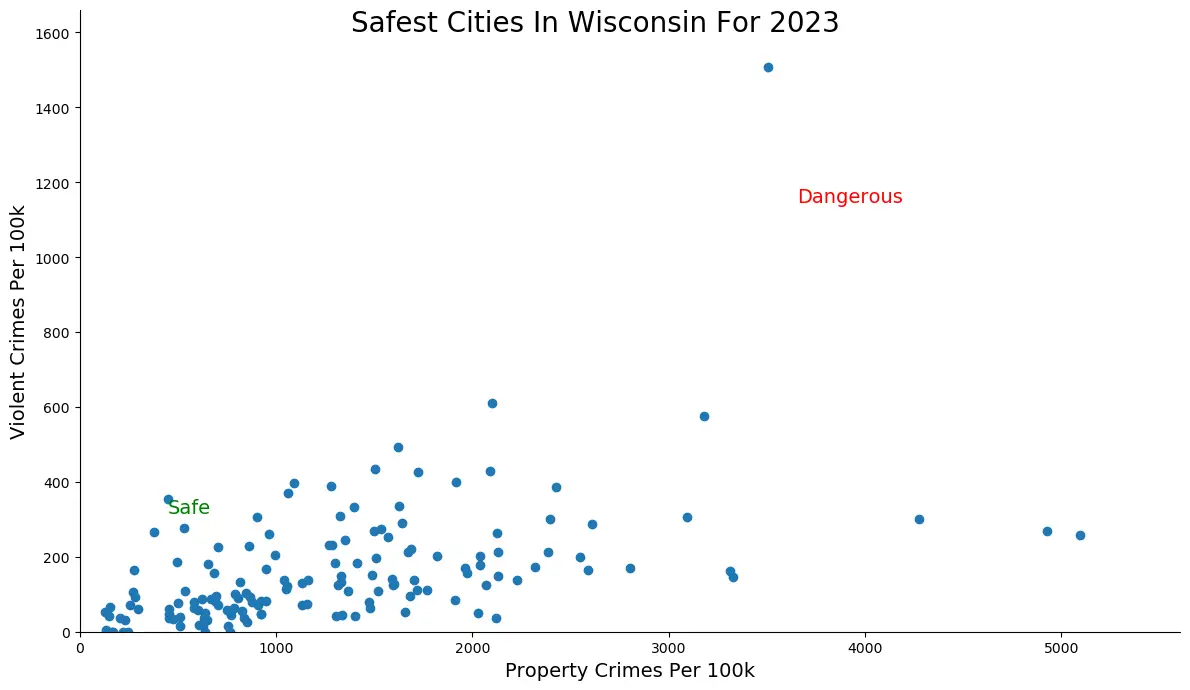 While there are surveys and public polls on what cities in a state are the safest, we didn't want to rely on speculation and opinion. Instead, we looked at the hard numbers from the FBI's most recent report of crime (Published Sept 2019) in Wisconsin.
Specifically, we analyzed the
FBI's Uniform Crime Report
which summarizes the number of property crimes and violent crimes in each city per year. We used two criteria:
Violent crimes per capita (murders, assaults, rapes, armed robberies)
Property crimes per capita (thefts, burglaries, motor vehicle thefts)
For example, there were a total of 11 crimes committed in Oconomowoc Town which had a reported population of 8,692. That means the number of crimes per capita is 0.0013 which translates into a 1 in 790 chance of being the victim of a crime.
We only looked at cities that have populations of more than 5,000 people reported to the FBI in 2018, the last reporting year. This left us with a total of 141 of the biggest cities in Wisconsin to rank.
We ranked each city for each criteria from 1 to 141 where 1 in any particular category is the safest.
Next, we averaged each places two criteria to create a Safety Index. We crowned the place with the lowest overall Safety Score "The Safest Place In Wisconsin" with any ties going to the bigger city. You can download the data here.
The safest city in Wisconsin, based on our criteria, is Oconomowoc Town. The most dangerous city in Wisconsin? Glendale, where residents had a 1 in 12 chance of being the victim of a crime.
Note: This report is not an analysis of the effectiveness of local police departments, nor does it reflect the fact that people from out of town may come into a community and cause a crime. It simply looks at where crimes occurred most frequently, based on a city's population.
There You Have It - The Safest Cities In The Badger State
Looking at the data, you can tell that Oconomowoc Town is as safe as they come, according to science and data.
But as most Wisconsin residents would agree, almost every place here has its safe and not safe parts. So just make sure you're informed ahead of time.
Here's a look at the most dangerous cities in Wisconsin according to the data:
Glendale
Brown Deer
Milwaukee
For more reading, check out:
Breaking Down Crime In The Safest And Most Dangerous Cities In Wisconsin

Share on Facebook
Chris Kolmar has been in the real estate business for almost ten years now. He originally worked for Movoto Real Estate as the director of marketing before founding HomeSnacks.
He believes the key to finding the right place to live comes down to looking at the data, reading about things to do, and, most importantly, checking it out yourself before you move.
If you've been looking for a place to live in the past several years, you've probably stumbled upon his writing already.
You can find out more about him on LinkedIn.