Editor's Note: We updated this article for 2021. This is our seventh time ranking the best places to live in Idaho.
Article Table Of Contents   
(Skip to section)
Do you live in one of the best places in Idaho?
Well you've come to the right place as we've been ranking the best places in Idaho for the better part of a decade now.
We all see the stories come through our Facebook feed where people talk about how awesome it is where they live in their little corner of Idaho, and people have a hard time determining who, actually, lives in the best place. So, HomeSnacks set out to determine where the best places to live in Idaho might be.
You might be surprised by the results. Boise is an awesome place to live, but its suburbs actually rank slightly higher. While Idaho as a state is a pretty darn great place to live, we wanted to find the pockets of greatness. So, in order to determine where the best possible place to live in Idaho might be, we had to crunch some numbers that fall into the awesome category, weigh all of the categories against one another, and get an answer.
Most of the cities at the top of the list are suburbs of Boise, or at least considered part of the greater Boise City-Nampa Metro area.
What's the best place to live in Idaho for 2021? According to the most recent FBI and Census data, Eagle ranks as the best place to live in Idaho for 2021 amongst the 31 places above 5,000 people. Sorry small towns in Idaho, you have your own list.
Read to learn more about the top ten places to live in Idaho, a detailed explanation of how we ranked the places, a map of the best places, and a full table of all the places in the state.
It's our seventh time ranking the cream of the crop in Idaho, so we have a ton of data to help you find the right place to call home.
If you're looking for something more national, check out the best states in America or the best places to live in America.
For more Idaho reading, check out:
The 10 Best Places To Live In Idaho For 2021
Head about 15 minutes directly north from Meridian and you will run into Idaho's best place to live, Eagle.
Be prepared to pull out the pocket book and write a pretty big check for a home here as Eagle has the highest median home price in the state. The overall cost of living in Eagle is also quite a bit more expensive than both the state and national average. To live the Eagle dream comfortably, you're going to have to make upwards of $92,807/year. Yes, you have to have the big bucks if you want to play in Eagle--probably why there are only 26,514 residents in this Idaho town.
What this small town lacks in size, it makes up for in big time safety and big time personality. Matter of fact, the crime rate in Eagle is virtually non-existent: it is the 10th safest city in the state. In terms of personality--A.K.A. amenities: you'll find both classical and contemporary experiences in Eagle; and the best part, you can explore it all by walking, hiking, biking, public transportation--or even by paddling if you're up for it. (Word on the street, the Boise River Greenbelt will connect you to everything Eagle and Boise.)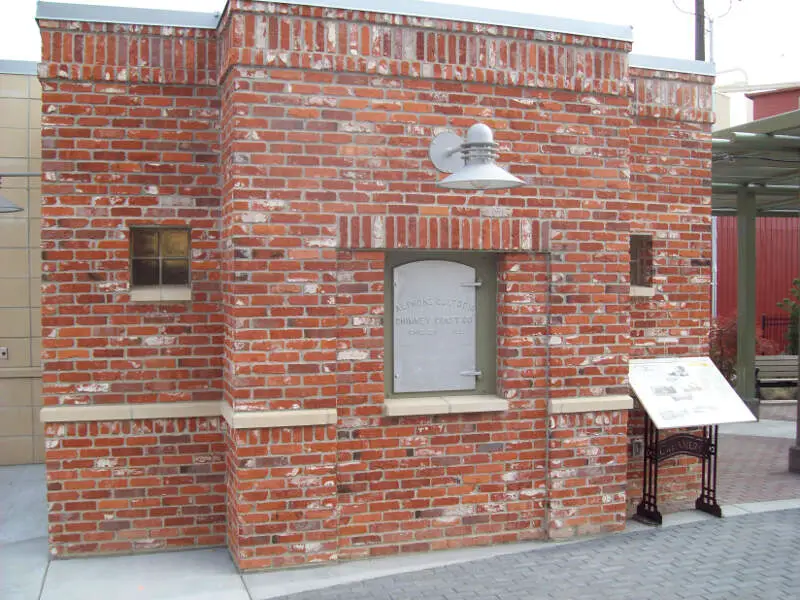 Source: Public domain
If you want to score some of Idaho's most coveted real estate and the state's 2nd highest median income in terms of median home price to income ratio, look no further than the Gem State's #2 best place to live, Meridian.
Yes, according to our SnackAbility research, Meridian is one of Idaho's largest cities for both likability and population. In fact, this city of 101,905 residents is part of The Center of the Treasure Valley and we can see why. So, here are some tips to help navigate the cost of living in this Idaho treasure like a pro. First, homes in Meridian are the 4th most expensive in the state, so your household median income needs to be at least $71,389/year to afford Meridian's median home price, $274,900.
You shouldn't have trouble finding a job in the city "Built for business...designed for living" as the unemployment rate here is the 14th lowest in the state at 3.7%. And after you get your ducks in a row, make sure to leave time for the fun things that Meridian has to offer because we wouldn't want you to miss out on the annual Meridian Dairy Days Festival or the perfect day spent with the family at Kleiner Park.
A star on an old school house led 19th Century travelers to and from this destination and now Star, Idaho is the 3rd best place to live. Today, only 9,115 residents call it home, but that is starting to change as Star is one of the fastest growing places in Idaho.
However, if you want to "Live the Life of Riley" in Star, you're going to have to make $65,282/year to manage this city's slightly higher than average cost of living. As a result, Star continuously ranks as one of the richest cities in the state. The people in Star are super smart, too, and it seems to be trickling down to the youngsters as over half the adult population has some sort of college degree and the high school dropout rate here is one of the lowest in Idaho. A piece of advice, you're going to want to find time between making that median income and schlepping the kids to some of the best schools in the state to experience Star's vast Canyon Country that includes the pristine Boise River and some of the best kayaking in the upper northwest.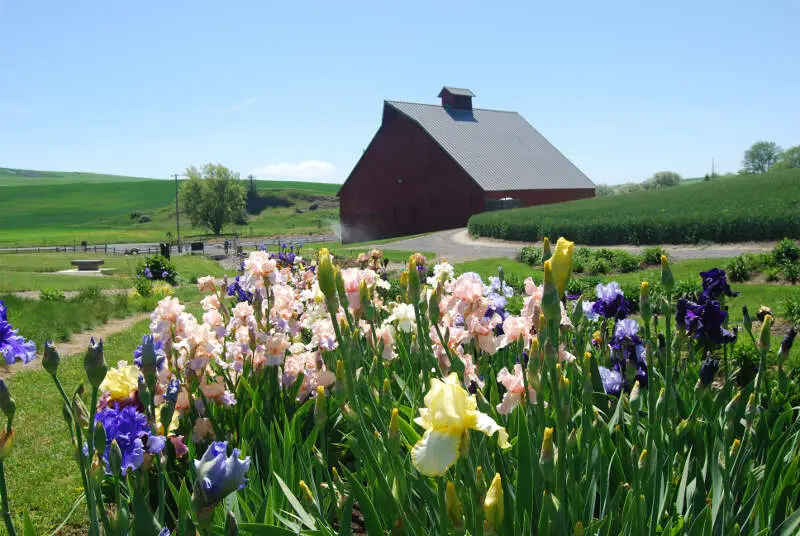 If you're looking for a classic northern Idaho small town, your journey should start and stop in the state's 4th best place to live, Moscow.
Moscow's cost of living is slightly higher than the state and national average, but can you really put a price on low crime, great schools, and serenity? If you answered "no" to any of those three, this is what your average cost of living will look like if you choose to buy your forever home in Moscow: your household will need to make the city's median income, $41,896/year to afford the median home price of $229,900. Your main living expenses like--but not limited to--groceries, healthcare, transportation, and utilities are going to put a slightly bigger dent in your budget more so than if you lived in one of Idaho's cheapest places to live. But, the crime rate here is 37% below the national average and your kids will have access to some of Idaho's best schools. In fact, Moscow not only holds some of Idaho's best private schools, it has one of the state's nationally acclaimed blue ribbon schools, J. Russell Elementary School.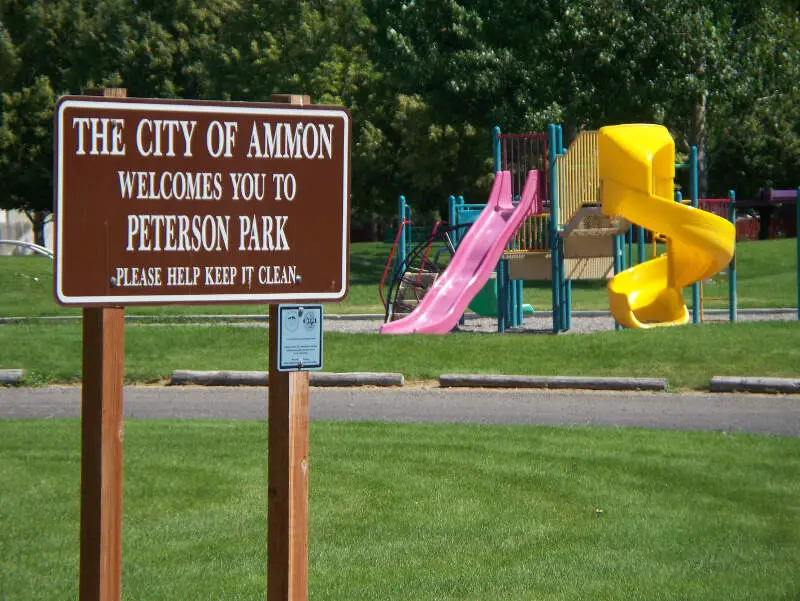 Ammon is not a rear view town by any means; in fact, it's not only one of potato country's top 20 fastest growing places for 2021, it's Idaho's 5th best place to live.
Located 15 minutes directly east of Idaho Falls, this Idaho-Montana border town is every outdoor enthusiast's dream. Ammon has great biking and playgrounds for kids at McCowin Park, but a quick day trip to Idaho Falls River Walk or a weekend trip to Yellowstone National Park/a> would be well worth your time and Ammon's cost of living; which by the way, is quite a bit less than the state and national average. Yes, the median home value here is the 13th best in the state.
So, pack your bag with your love for the outdoors and a great value and move to Ammon: we promise you won't be disappointed.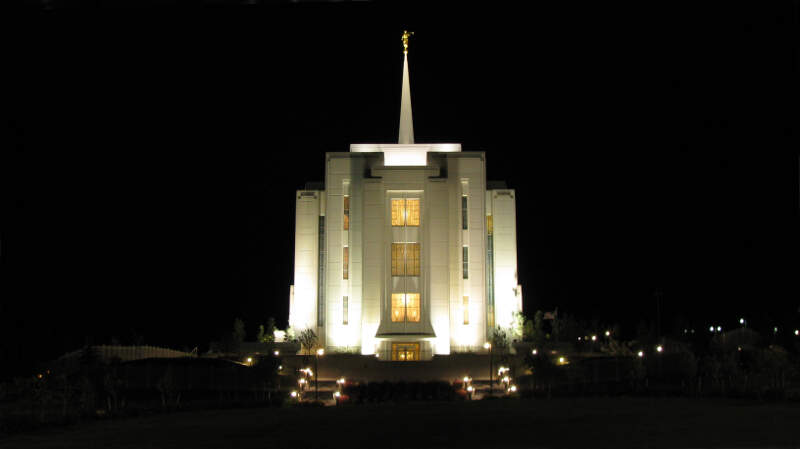 Source: Public domain
Rexburg gets Idaho's 6th best place to live stamp of approval by the youngsters. Rexburg has the youngest median age (23 years-old) in the state, making it a prime spot for singles.
What's the draw for the state's youngest population? Well, Rexburg's cost of living is relatively reasonable compared to the rest of the state, the crime rate here is 80% less than the national average, and there's a university inside the city's limits. More importantly, if you love being outside, you will never be bored in Rexburg as it's also super close to Yellowstone and Wyoming's Grand Teton National Park.
However, we recommend that you have a job in place before you move your life to Rexburg because the unemployment rate in this city of 28,414 residents is the 3highest in Idaho at 7.0%. We also suggest that you start your search at Brigham Young University-Idaho and Madison Memorial Hospital if you can swing it as they are two of the top companies to work for in Rexburg.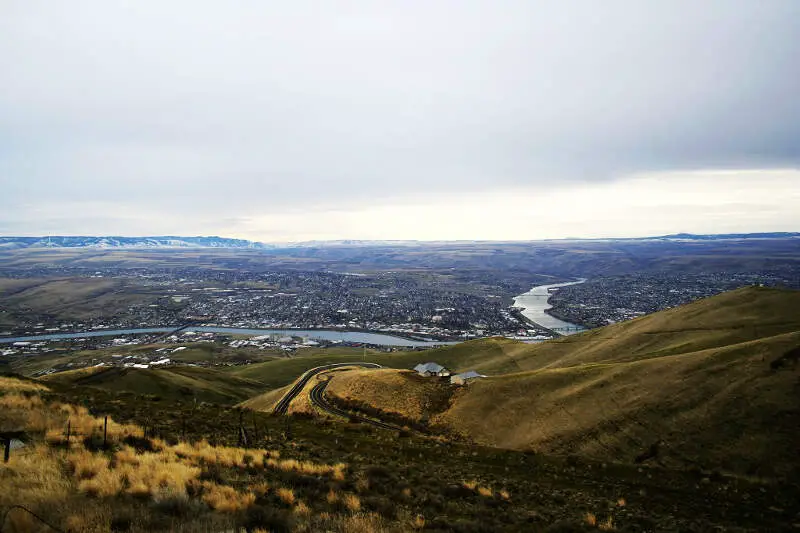 In Idaho's 7th best place to live, Lewiston, you'll find larger than life Idaho hospitality, the world famous Hells Gate State Park where the Snake River and Clearwater River collide, and an affordable cost of livings by the state's 2021 definition.
The following are Lewiston's cost of living details. if you want to move to Lewiston be prepared to pay $189,400 on a home as this city's median home price is the 15th in the state. And if you want to get ahead in this city of 32,664 residents, your median household income needs to be at least $56,479/year so that you can afford Lewiston's slightly higher than average living expenses like groceries, healthcare, and utilities. You'll be in luck, however, in the job department as Lewiston has the 11th lowest unemployment rate in the state at 3.3%.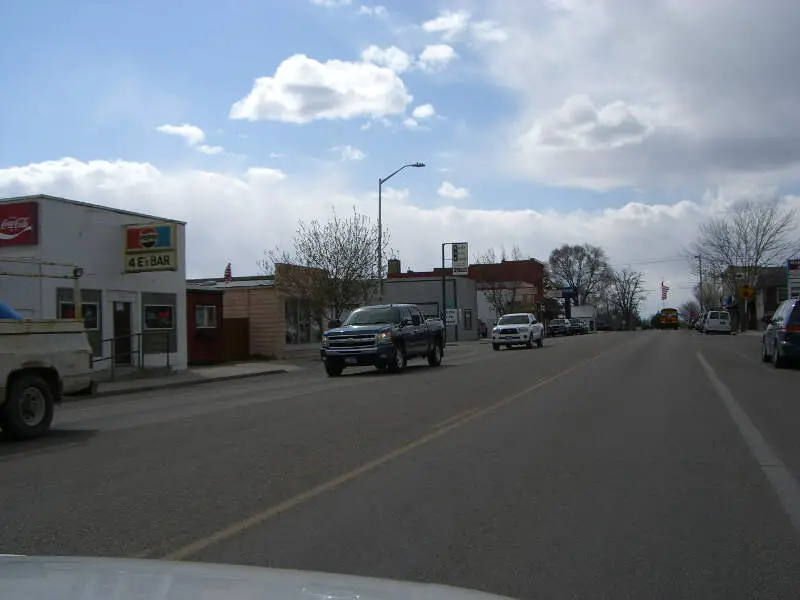 Blink and you'll miss Idaho's 8th best place to live because this is truly some small town living. But, don't let this one stoplight town fool you, there's a bunch of big Idaho fun to be had here and the town's overall cost of living won't break your bank. Quite the contrary, to be honest, as the median household income in Kuna is the 3rd highest income in Idaho: $68,017/year.
If you do decide to move to Kuna without a job, you'll probably be able to find one right away whether it's in Kuna, or the nearby cities Nampa and Boise. But, don't wait because the locals here will not be happy if you mess with their great unemployment rate as they have the 12th lowest in the state at 3.4%.
Kuna's big-city energy mixed with Old West charm is no small potatoes here either. You can relax at one of the town's four wineries by day and you can experience the town's hot night-life along Indian Creek after dark.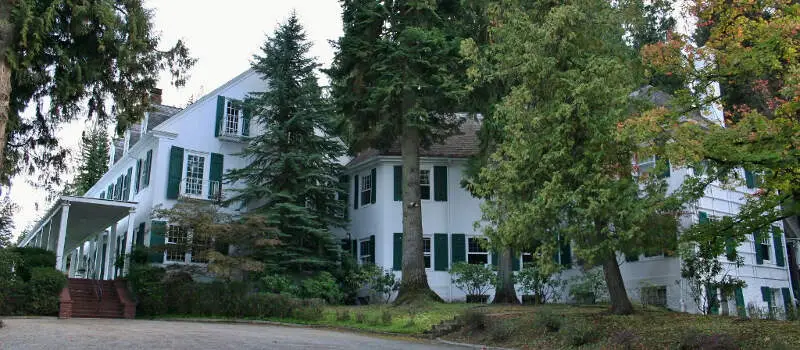 Access to Hayden Lake via the shores of Honeysuckle Beach is reason enough for some to want to call Hayden home. Making the other benefits this city has to offer the cherry on top for an area that already has plenty for water-recreation lovers to enjoy and is conveniently close to Coeur d'Alene. Hayden is the 9th best place to live in Idaho for 2021.
Hayden's 3rd lowest rates of poverty in the state speaks volumes about the quality of life in town. However, if you want to get in on that action, it could cost more than in other cities. Homes here have the 5th highest median value in the state, coming in at $256,100. But that figure is to be expected when your community lands a spot on this list and has schools like Hayden Elementary, which earn an 8/10 rating from GreatSchools.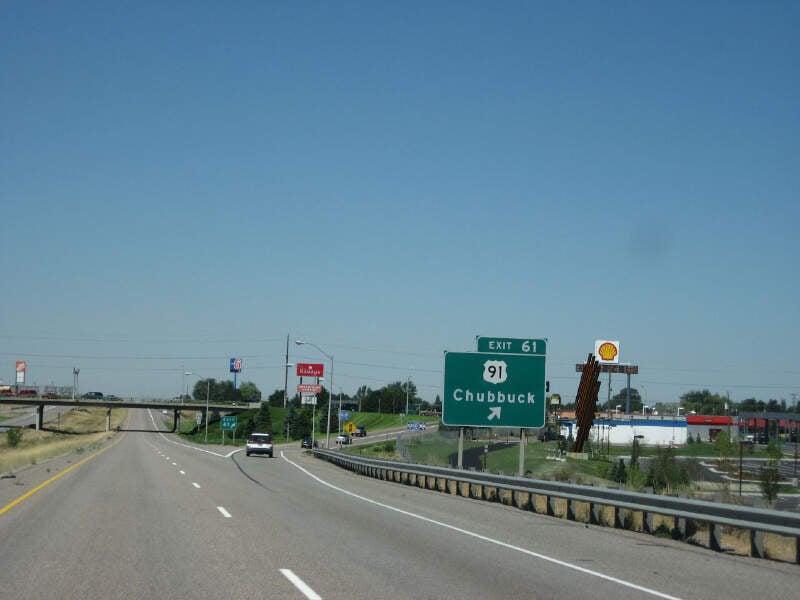 The closest city on our list to the Potato Capital of the World, Blackfoot, Chubbuck rounds out our list as the 10th best place to live in Idaho. Chubbuck's bold energy and outdoor culture has transformed this town of 14,995 residents into one of the Gem State's best of the best. It also doesn't hurt that your Idaho dollar will go the furthest in this city as the cost of living here is one of the lowest on our top ten list.
Located just outside of the Pocatello Metropolitan Area, Chubbock's household median income $59,459 to median home price ratio is the 16th best in the state. An average priced home in Chubbuck will run you $176,300. More importantly, all that extra cash that you save with Chubbuck's low cost of living will allow you the freedom to spend a little more on the things that matter: like, spending the "best day ever" with your family at the annual Chubbuck Days Festival in August.
Mapping The Best And Worst Places To Live in Idaho
The Pressing Question: Size
Before we even started to collect data, we had to answer a tough question: Is it fair to pit cities with populations over 100,000 against places with a population of 18?
We firmly decided no, that just isn't fair.
So to create our ranking, we broke places to live into three tiers:
Cities -- Populations over 5,000
Towns -- Populations between 1,000 and 5,000
Small Towns -- Populations below 1,000
This left us with 31 cities, 60 towns, and 113 small towns.
We then decided, no matter how much anyone loves their town, the best cities to live in Idaho have more of everything and therefore you need to have over 5,000 people to truly be 'the best'.
Now we also realize that city living might not be your cup of tea, so we ran the following analysis on towns and then again for small towns.
You can see those two top tens at the bottom of the post.
How We Calculated The Best Cities To Live In Idaho
Now that we had our set of cities, it was time to rank them.
We ranked each place in Idaho across a number of criteria from one to 31, with one being the best.
We then took the average rank across all criteria, with the city posting the lowest overall score being crowned the winner of the title "Best Place To Live In Idaho".
The criteria we looked at were:
Median Home Values
Median Income
Population Density (Higher better)
Unemployment Rate
Commute Time
Crime
Education Levels
Health Insurance Coverage
Poverty rates
Sources of criteria include the New Census Data and FBI Crime Data. You can download the data here.
After the dust settled, what was the best place to live in Idaho? That would be Eagle.
If your city or town isn't among the top 10, jump down to the bottom of the post to see a detailed chart of the best places in Idaho.
Otherwise, buckle up for a ride down good living lane with Eagle at the end of the cul-de-sac.

Wrapping Up The Best Places When It Comes To Living In Idaho
If you're looking at areas in Idaho with the best economic situations, where there's lower than average crime, and a lot to do, this is an accurate list.
Eagle made a strong showing to take in the overall number one spot for the best place to live in Idaho for 2021.
Best Towns To Live In Idaho
Tyhee (Pop. 1,066)
Ketchum (Pop. 2,719)
Dalton Gardens (Pop. 2,356)
Iona (Pop. 2,266)
Hidden Springs (Pop. 2,474)
Lincoln (Pop. 2,808)
Grangeville (Pop. 3,153)
Sun Valley (Pop. 1,398)
Soda Springs (Pop. 2,963)
Robie Creek (Pop. 1,570)
Best Small Towns To Live In Idaho
Hayden Lake (Pop. 731)
Fernan Lake Village (Pop. 152)
Blanchard (Pop. 233)
Bennington (Pop. 283)
Genesee (Pop. 951)
Conkling Park (Pop. 74)
Bloomington (Pop. 220)
Troy (Pop. 888)
Dover (Pop. 709)
Wardner (Pop. 155)
If you're curious enough, here are the worst places to live in Idaho according to the data:
Pocatello (Pop. 55,525)
Emmett (Pop. 6,770)
Caldwell (Pop. 54,887)
For more Idaho reading, check out: