Idaho is known for producing the most potatoes, its super cool ski towns, some pretty nice people, and Boise is home to Albertsons and we can thank Owyhee for the Idaho Candy Company.
More importantly, if you choose to live in one of Idaho's most affordable places, you will save money for the fun things that the 'Gem of the Mountains' has to offer. Like, a date night at South Boise's Big Idaho Potato Hotel or a powder day in Ketchum's Bald Mountain. So, want to know where you can get the most bang for your buck in Idaho? Keep reading as we unravel Idaho's most affordable places to live.
Idaho has a lot to offer. They have hip millennial cities like Idaho Falls, cool college cities like Moscow, and fun ski towns like Sun Valley, but we're here to tell you where your Idaho dollar will go the furthest.
What's the cheapest place to live in Idaho? While the competition was fierce, there can be only one number one affordable to live in Idaho for 2022; and that would be Blackfoot.
So, if you care about home values and affordability, take a look at the list below; and if you don't find your favorite there, head to the bottom.
And if you already knew these places were cheap, check out some more reading about Idaho and the cheapest places in the country:
The 10 Cheapest Places To Live In Idaho For 2022
Located between Idaho Falls and Pocatello, Blackfoot ranks as the first least expensive place to call home in the Gem State. Rent in Blackfoot is absurdly cheap, with a median price of $683; that's less than half the average rent in Idaho. Even more importantly, with a median income of $52,360, Blackfoot residents get the second best deal on rent statewide. If you decide you like Blackfoot enough to settle down for good, a home will set you back about $152,200.
But if you're just visiting Blackfoot, be sure to take advantage of the "free taters for out of staters" deal at the Idaho Potato Museum.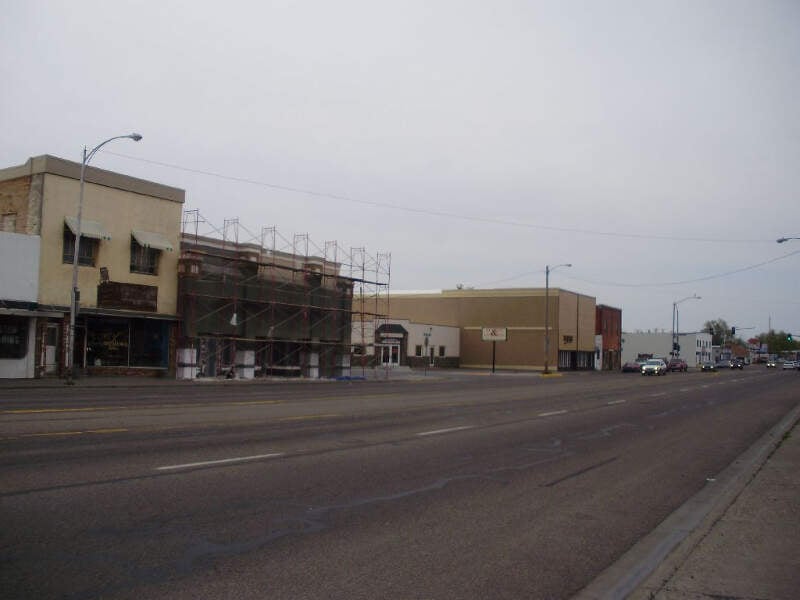 If you're a sucker for a good deal, there's nowhere better in Idaho than Payette, a little city an hour northwest of Boise. Payette boasts the third cheapest homes statewide, with a median price of $134,300. And with a median income of $47,272, Payette residents pay the second smallest percentage of their salaries on homes anywhere in Idaho. On top of that, folks in Payette enjoy the ninth best rent to income ratio in the state. If you do decide to settle down in Payette, be sure to mark the annual week-long Apple Blossom Festival on your calendar.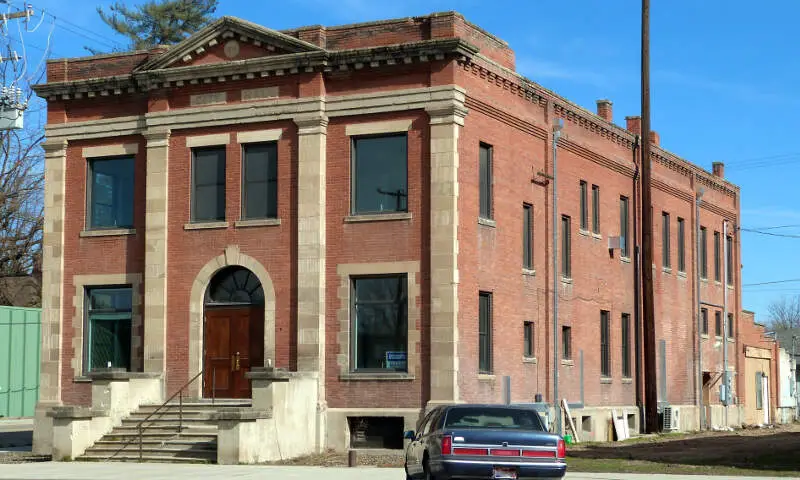 We'll take a short drive southwest from Rupert to arrive at our third most affordable place in Idaho, Burley. Burley is located on the south bank of Snake River, one of the premier spots to waterski, windsurf, and fish in southern Idaho.
Buying a home in Burley will set you back about $135,900, the fourth lowest price in Idaho. The median income in Burley is $48,065, giving the city the best home price to income ratio in Idaho.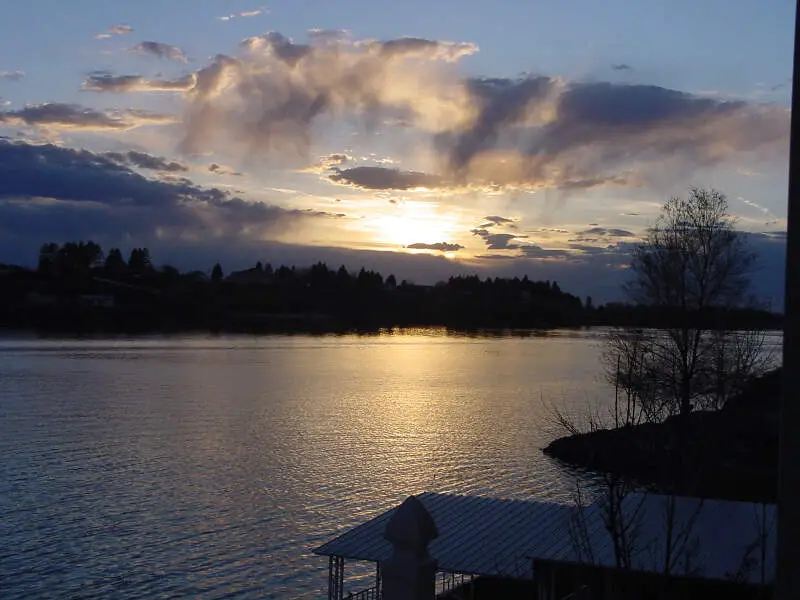 Source: Public domain
Jerome, Idaho, is located in a rural area in the southern part of the state. To give you an idea of what life is like in the region: dairy farming makes a major contribution to the town's economy. But Jerome is more than just a good place for cows. It's also the number 4 most affordable place in Idaho for people to call home.
Home prices are cheap in Jerome, a town of 11,824 people. The median home value sits at $146,800. Just to put that number in context, that ranks as the sixth mark in the state. Rents are similarly affordable, with a median value of $771 per month.
Looking at the general economy for the region, the median income stands at $47,389. The unemployment rate comes in at 3.82%.
Given its location, life is relatively rustic in Jerome. However, residents do have access to Idaho's natural beauty. For instance, the Craters of the Moon National Monument and Preserve is about two hours away. For a weekend getaway, folks in Jerome can head to Boise, the state's capital and biggest city, also about a two-hour drive away.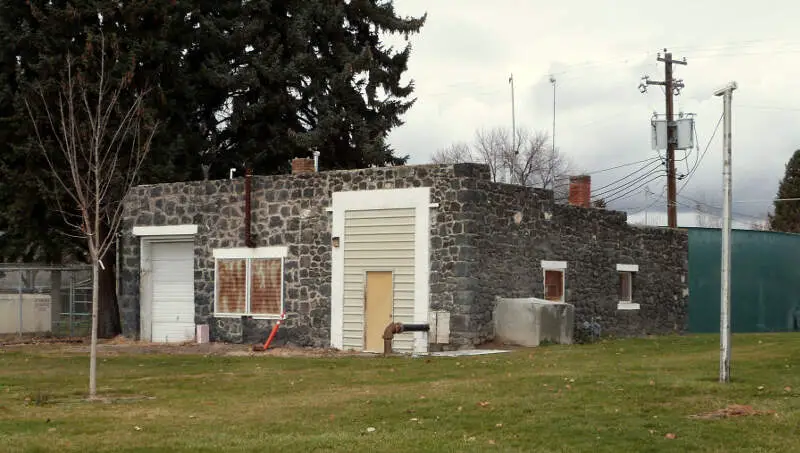 Welcome to Idaho Falls, the last stop on our tour of uber-affordable spots in Idaho. Idaho Falls ia a happening city that scored an 8/10 on our overall SnackAbility scale, with an emphasis on a great market for jobs and homes, short commutes, and great amenities — all for some of the lowest prices in the state.
We also named Idaho Falls one of the best cities for singles in Idaho, thanks to fabulous date night options like catching a Chukars game at Melaleuca Field or just wandering down the Idaho Falls River Walk. The median rent in Idaho Falls is $787 and the median home price is $179,600.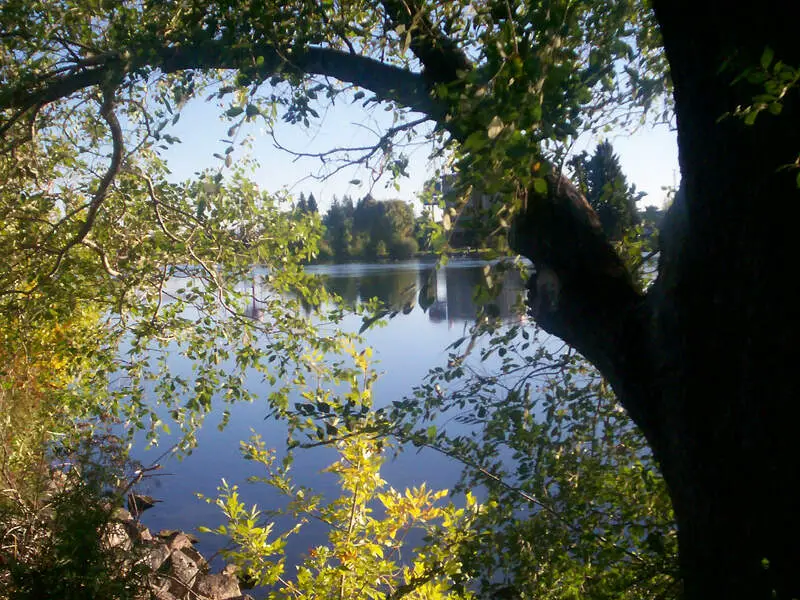 As one of the biggest cities in Idaho, Pocatello proves that you can have all the convenience of a large place without paying a large price. Pocatello is home to the Idaho Museum of Natural History, but if you're looking for a more unique historical perspective, the Museum of Clean is a great place to spend the day. Homes in Pocatello are the tenth cheapest in Idaho, with a median price of $154,000. Pocatello residents also pay the tenth smallest percentage of their income on rent in Idaho.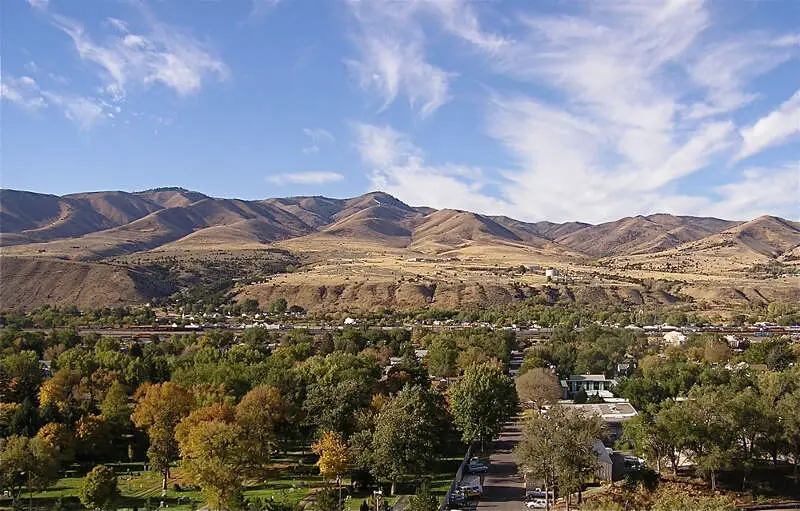 Source: Public domain
As an affluent suburb of Pocatello, the cost of housing in Chubbuck is a bit pricier than the preceding cities on this list. To give you an idea, the median home price in Chubbuck is $189,600 and the median rent is $901. However, Chubbuck's residents are also among the best-paid on this list, with a median income of $61,442. That gives Chubbuck the fifth best home price to income and 11th best rent to income ratio in Idaho.
If you're worried that there won't be enough free things to do in your free time, consider that Chubbuck has over 20 parks, so you will never be bored.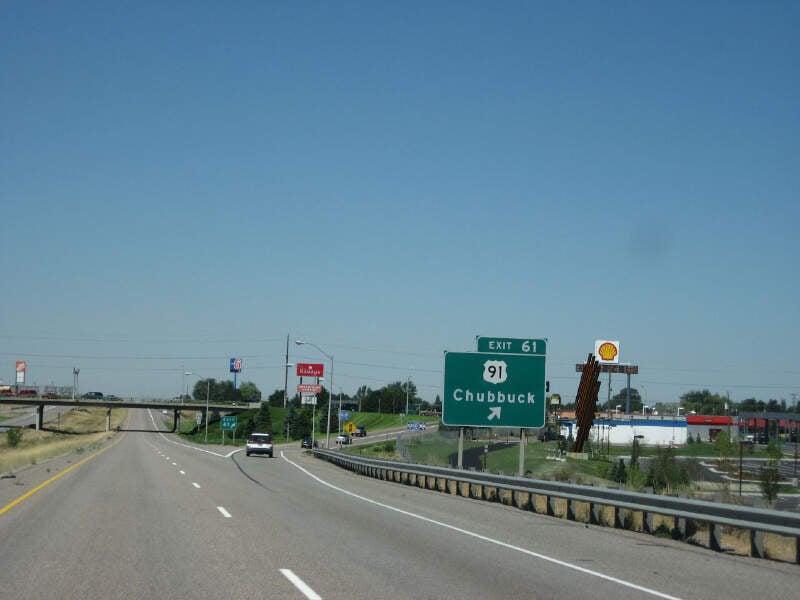 Known as the city where Napoleon Dynamite was shot, Preston ranks as the eighth least expensive place in Idaho. Preston makes this list by virtue of its rock-bottom median rent of $730/month. Combine that with a median income of $53,094, and Preston has the sixth best rent to income ratio in Idaho. And don't worry about the paying extra for self-defense classes, because Preston is one of the safest cities in Idaho.
Preston is located in southeastern Idaho, near the Utah border.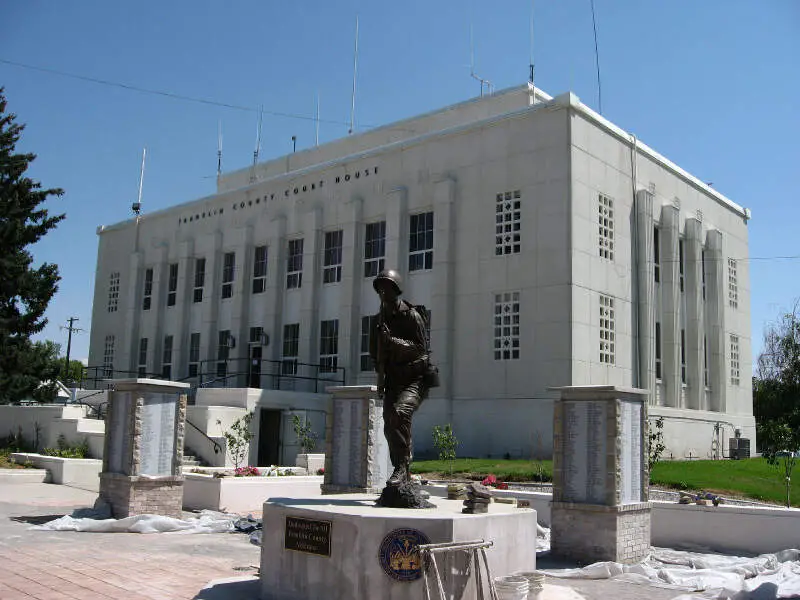 Fruitland is a city in Payette County, Idaho, United States. It lies along U.S. Route 95 in the Treasure Valley of southwest Idaho, about 50 miles west of Boise on the border with Oregon. It is part of the Ontario Micropolitan Area. Fruitland is named after the apple orchards that surround the community, and its slogan is "The Big Apple of Idaho."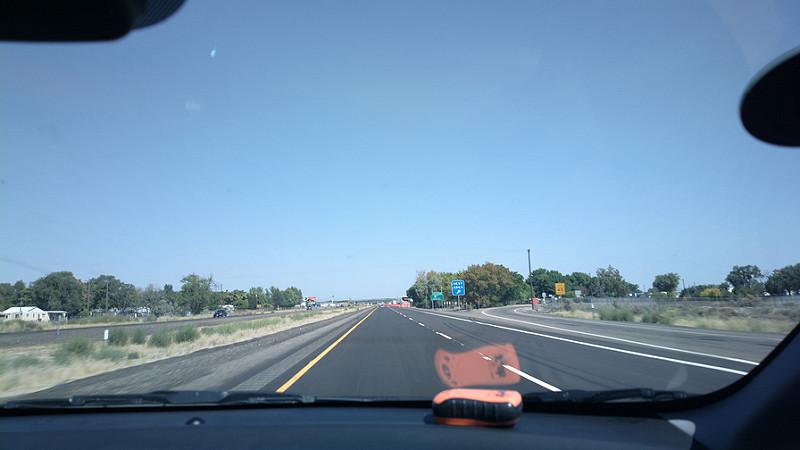 Weiser is a city in the rural western part of the U.S. state of Idaho and the county seat of Washington County. With its mild climate, the city supports farm, orchard, and livestock endeavors in the vicinity. The city sits at the confluence of the Weiser River with the great Snake River, which marks the border with Oregon. The population was 5,507 at the 2010 census.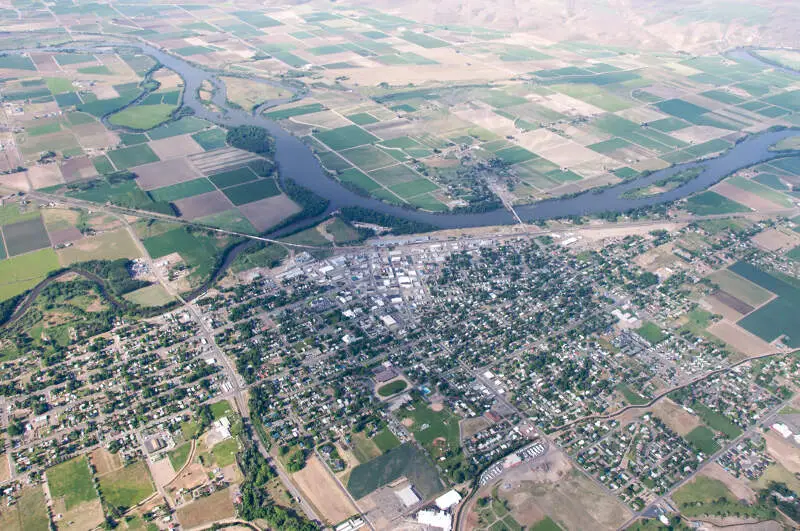 Cheapest Places To Live In Idaho FAQs
The county in Idaho with the lowest cost of living is Adams County. The average living wage in Adams County is $81,054 according to MIT data. Adams County has the lowest cost of living because it has relatively less expensive childcare and housing costs compared to Idaho as a whole. Childcare costs $10,277 a year in Adams County for two children compared to the Idaho average of $12,392. Housing costs, defined as a blend of the average rent and average mortgage payment, are $8,808 per year in Adams County compared to $10,812 on average in Idaho.
The cost of living in Idaho is 4.5% lower than the US average. According to MIT, the required living wage for a family of four with two working parents in Idaho is $85,747 vs the national average for a family of four with two working parents of $89,744. The median income of a Idaho household is $58,915.
The cheapest housing market in Idaho is Weiser. The average home value in Weiser is $122,100, the lowest in the state. The average home value in Idaho is $235,600, almost 1.9 times higher than Weiser.
Methodology: How We Determined The Most Affordable Places To Live In The Gem State For 2022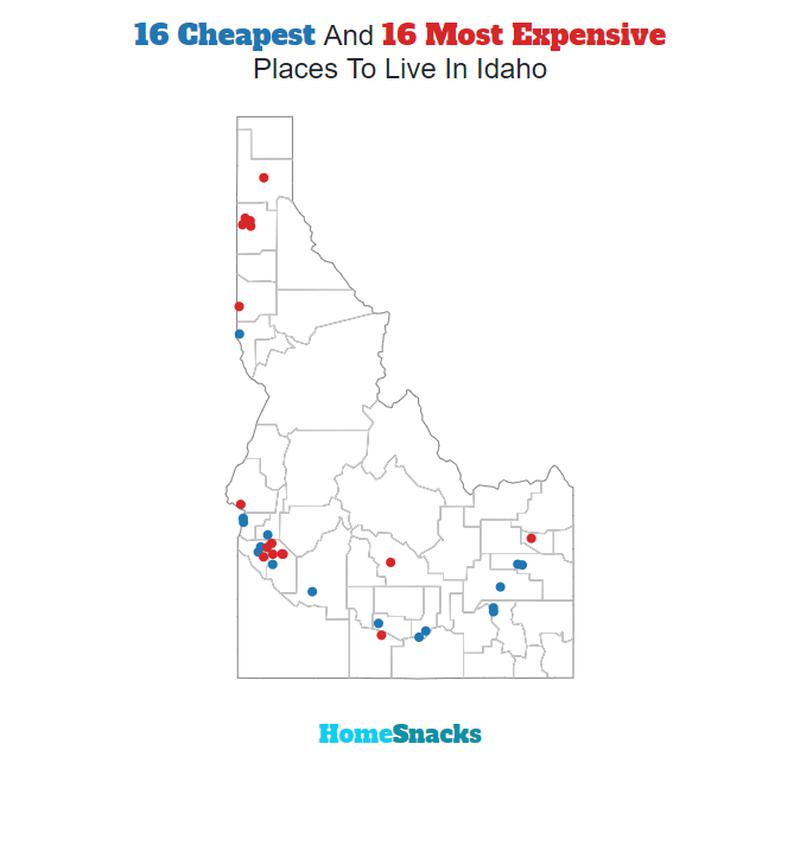 The two most important things to think about when it comes to being able to afford if you can live comes down to:
How much do money do I make?
How much do I have spend to live there?
You need to understand your costs in the context of how much money you make.
For example, if the median household earns $100,000 and spends $40,000 on housing it's actually cheaper to live there than a place with a median income of $50,000 and housing costs of $21,000. You might spend more on housing, but you have more money overall to play with.
With that example in mind, we derived several statistics from the latest Census American Community Survey 2016-2020 around incomes and costs. They are:
Median Home Price / Median Income (lower is better)
Median Income / Median Rent (Higher is better)
Median Home Price
We added simply median home price because high home prices generally correlate with higher expenses for all costs related to homes (heating, electricity, etc).
You can then compare these metrics in each of the places in Idaho to figure out which is the least expensive.
What you are left with is a "Cost of Living Index" by taking the average rank of each of these metrics for each city.
So we used that cost of living index in order to rank all of the 33 places in Idaho that have more than 5,000 people.
The place with the lowest cost of living in Idaho according to the data is Blackfoot. You can download the data here.

Summary: There You Have It Mr. Or Mrs. Idaho Cheapskate
If you're looking at the cost of living numbers in Idaho, this is an accurate list of the most affordable places to live in Idaho for 2022.
Here's a look at the most expensive cities in Idaho according to the data:
Sandpoint
Hayden
Rexburg
For more Idaho reading, check out:
The Most Affordable Places To Live In Idaho
Editor's Note: We updated this article for 2022. This is our ninth time ranking the cheapest places to live in Idaho.