The 10 Safest Cities In Idaho For 2021
We used data and science to determine the places in Idaho where everyone sleeps safe and sound.

Editor's Note: This article has been update for 2021. This is our sixth time rankings the
safest places to live in Idaho
. All the data comes from the
FBI's Crime In The USA 2019 report.
Article Table Of Contents   
(Skip to section)
Idaho is filled with some super great people, some super awesome scenery, and some super safe places to live.
Yes, there really are super safe places in Idaho, but you're going to have to know how to navigate the state's property and violent crime heat map to find Idaho's best of the best in terms of safety. And that's where HomeSnacks comes in, folks. We took a look at the FBI data on crime for places in Idaho with more than 5,000 residents and created a list of the safest places to live in the Gem State for 2021.
Our research led us to multiple conclusions. One, there are super safe places throughout the potato capital of the world -- from Meridian in the state's southern region to Moscow in the northern region. Two, not that we're surprised, the state is the sixth safest in the country. And, third, you should probably take a look at our list of Idaho's safest places below before you make ANY decisions. There might be some on that list that surprise you.
That's right, whether your looking to move to a quintessential cowboy town like Rupert, a family friendly place like Middleton, or a place for young professionals like Boise, there is a safe place for everyone.
So, want to know where can live in Idaho where you don't have to worry about thieves stealing packages from your porch when you're not home? Keep reading.
Here are the 10 safest cities to live in Idaho for 2021:
Now, HomeSnacks is not your just your average website. We've been researching and ranking states and cities based on all types of criteria for the last five years. We've had more than 50 million people read our published articles and we've been featured in hundreds of media outlets for our best of the best rankings, including this feature by TheTravel.com. So, yes, we know what we're talking about.
So, what's the safest place to live in Idaho for 2021? Drum roll... the number one safest place in the Gem State is Weiser based on the most recent crime data.
To see how your favorite place in Idaho compared, take a look at the list below; and if you don't see it there, head to the bottom.
For more reading on safe places to live in and around Idaho, check out:
The 10 Safest Cities In Idaho For 2021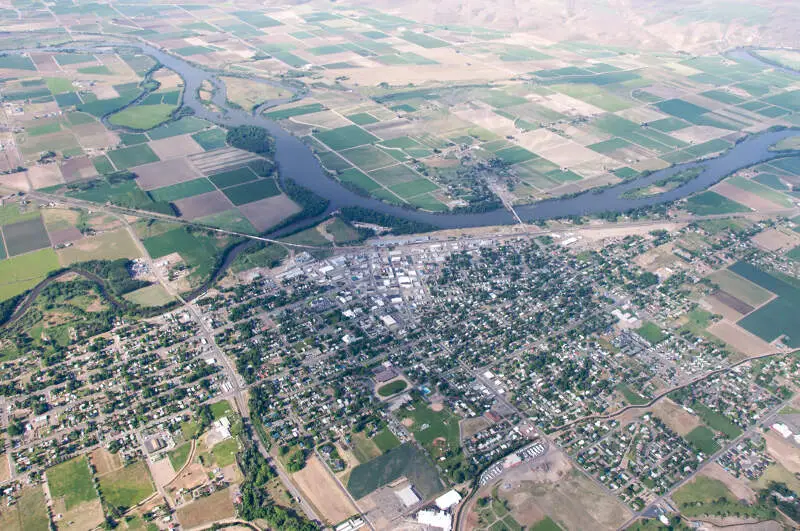 Weiser, Idaho, sits along the Snake River, right up against the Oregon border on the far western part of the state. Named for the Weiser River, which also flows near town, the community was founded in Civil War times and became an important railroad spot in the late 19th century.
Weiser is known today as the one-time stomping ground of Hall of Fame pitcher Walter Johnson and as the home of the annual National Oldtime Fiddlers' Contest. It also has a reputation as one of the safest places in Idaho. In fact, in a population of 5,369, the area reported 0 violent crimes and 0 property crimes.
Given those stats, it's no wonder that Weiser ranks as the number 1 safest place to live in Idaho.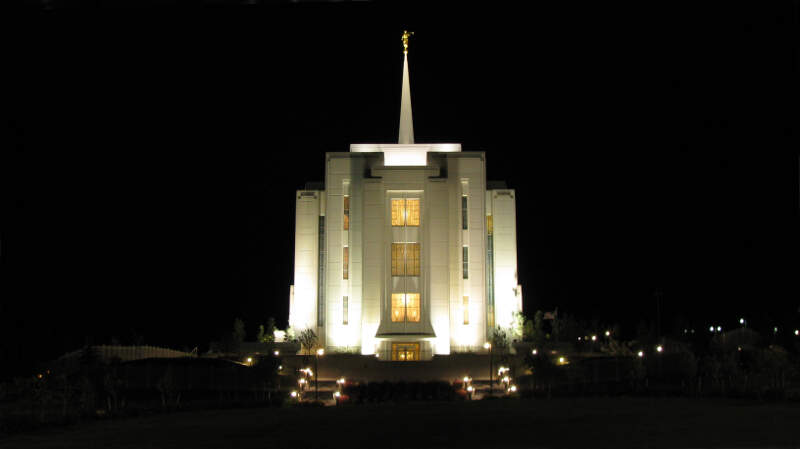 Source: Public domain
Welcome to Rexburg, our second safest city in Idaho. It's so safe in this little village at the West entrance of Yellowstone National Park, that the wolves, coyotes, and bears are always howling and growling at the residents reminding them to get home before dark. Thanks furry friends!
Home to Brigham Young University-Idaho, Rexburg offers a safe environment with small town charm that packs a big punch. Not literally, of course. No fighting happens here; that wouldn't be safe. Not to mention the BYU Mormons sometimes have things to hide, so we're pretty sure that safety is always on their mind.
There's a true sense of community in this quaint little potato town, that it is no surprise that their city's motto is 'America's Family Community.' The residents, here, look out for each other. Rexburg's gold star qualities like the non-existent number of crimes per 100,000 residents, their large number of educated residents, and just their overall safety standards, speaks volumes. Yes, Rexburg, you might be located just above volcanoes that may erupt, but you truly offer a better life.
With a little over 28,000 residents, the superb quality of life in this Madison County village at the base of the Teton Range, is the reason that this city has held strong in the number one spot three years in a row.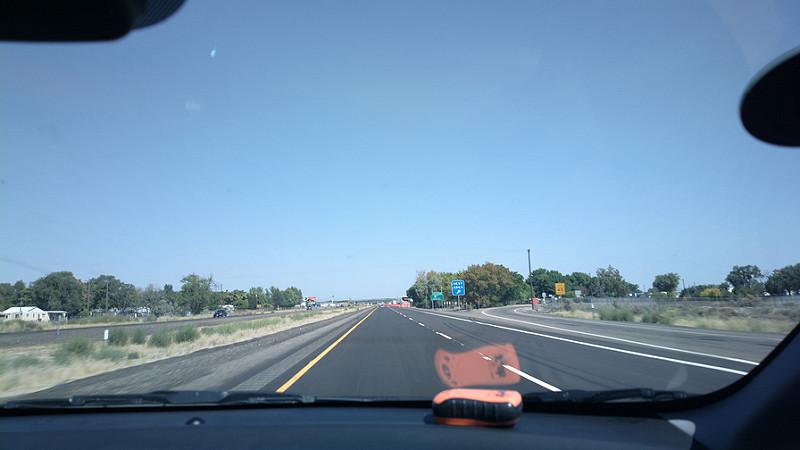 Where the fruit orchards spill out into Western Treasure Valley at the Idaho/Oregon border is Fruitland. This town, where the only crimes being committed might be leaving Mr. Potato Head without a mouth, is our third safest city in potato-land.
Fruitland Is known as the "The Big Apple of Idaho," so one might think it resembles wily New York City; but just the opposite, it is super chill and super safe. This little outdoor enthusiast's dream is known for its safe, family friendly atmosphere. There is a ton of stuff to do in this little town with only 5,472 residents in the middle of Payette County. They have fruit orchards where you could spend an entire day picking apples; and for the adventurous type, you can kayak, hike, and/or ski as far as the eye can see.
Just 60 minutes northwest of Boise, Fruitland is the kind of place where one can safely cruise the roads on snowmobiles, dog sleds, and x-country skis. It's also the kind of place where packages from Amazon won't get stolen from your front porch. If they do, however, it was probably a grizzly bear; and take it from us, you should pick your battles.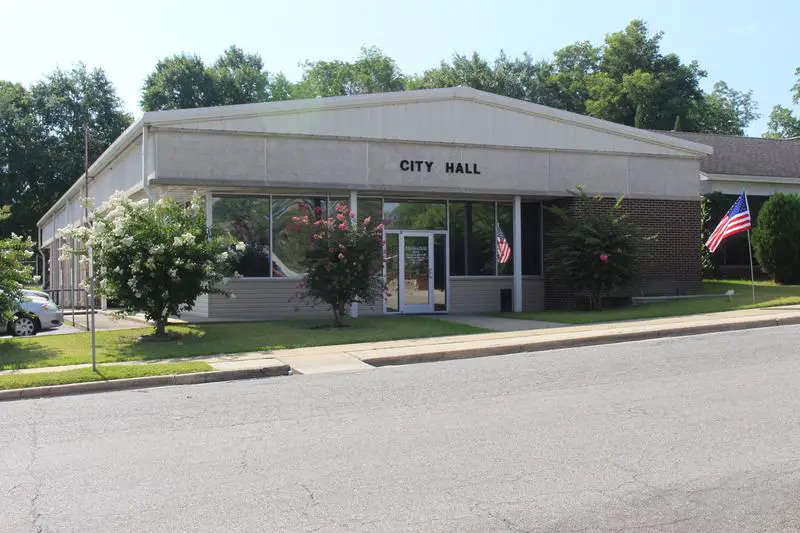 Hi ho, hi ho, off to our fourth safest city in Idaho we go. While it might not be Smurf Village, Rathdrum is a city filled with individuals who work just as hard with safety always in mind.
Fun fact about Rathdrum, they have a lot of great people and super safe parks. We don't know about you, but we think these are probably the main reasons it scored 7/10 in safety on our snackability chart.
Talk to anyone from the Gem State and they will tell you that Rathdrum is small town living at its best. There are a boat load of things to do and the residents have the money to safely enjoy life. They have one of the highest median household incomes in Idaho. So it's not surprising that this city in Kootenai County received an 8/10 job score and an 8.5/10 score in amenities. It takes hard working individuals to keep a business alive. Nice work Rathdrum!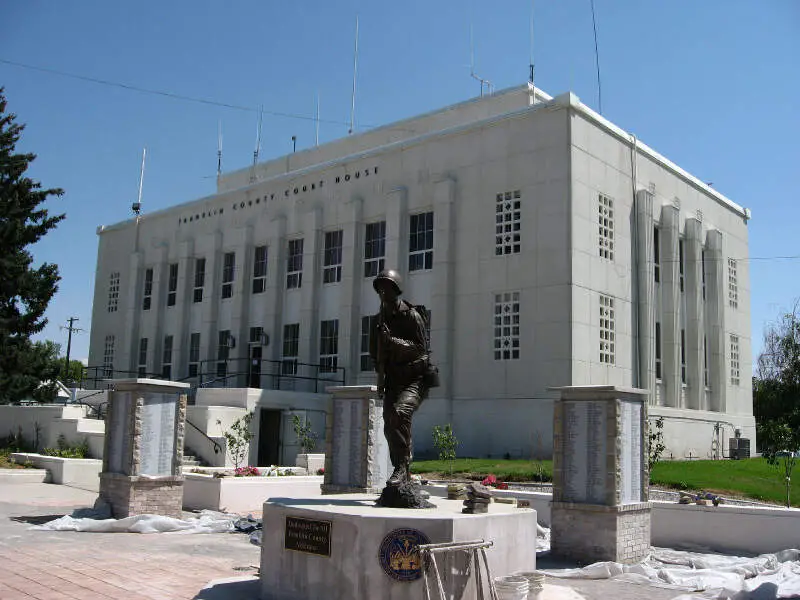 Home to the Napoleon Dynamite Festival and the Idaho Festival of Lights is our fifth safest city in Idaho: Preston. This eastern corner city where Idaho meets Utah is one of the best kept secrets of the West.
Hardworking Idaho roots run deep in this corner of the country and it is evident in the numbers. They scored an 8/10 snackability score with an emphasis on safety and available jobs. Preston is every outdoor enthusiasts dream with the mountains, reservoirs, and parks that surround it. Just don't try cruising down those mountains without a sled, that wouldn't be safe and that would hurt.
Whether you're taking in a rodeo or snowmobiling the city's trails, the term SAFE takes on an important meaning in Preston. It's a family friendly town in Franklin County where the treets re or veryone. The people here are super welcoming and there are a ton of safe, family friendly activities.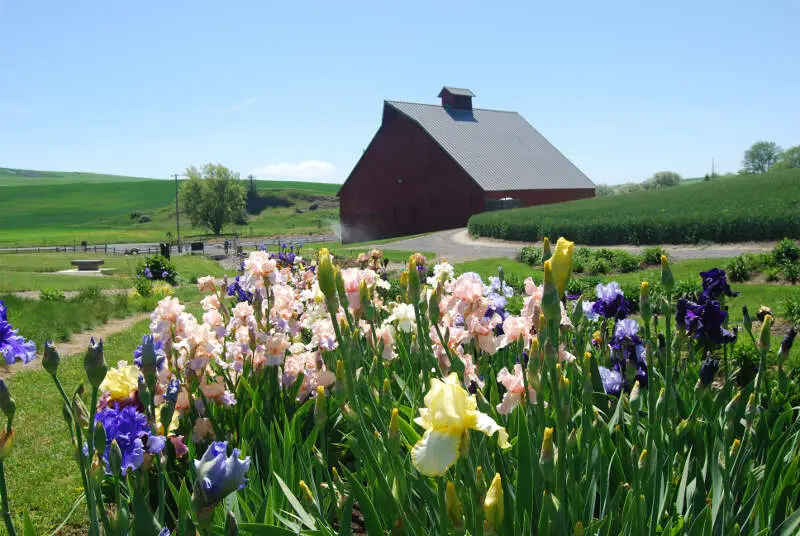 Moscow is a little potato town located in northern Idaho along the Washington/Idaho border. The only crime committed here is wearing the wrong team colors. FYI: your team is the University of Idaho and your school colors are gold and silver. That goes for all 5 of you.
Moscow has been holding strong on our top 10 list for the last couple of years. So, it's no surprise that they are our sixth safest city in Idaho. Not to be confused with Moscow, Russia because Moscow, Idaho is safe.
Home to one of the only airports in the state, Moscow Mountain, and Columbia River Plateau, Moscow is truly "Idaho at Its Best." Moscow also put its best foot forward when they scored an 9.5/10 for educated residents and an 7/10 safety score. Smart and safe!
Palmer is one of those snowy towns. They average close to 50" of snow/year. According to their residents, the only dangers lurking in the shadows of this city might be the occasional snowball fight. Keep that snow slingin' to a minimum Moscow, unless of course you're tossing' them at the Eastern Washington Eagles, because we wouldn't want you to tarnish that strong 7/10 safety rating.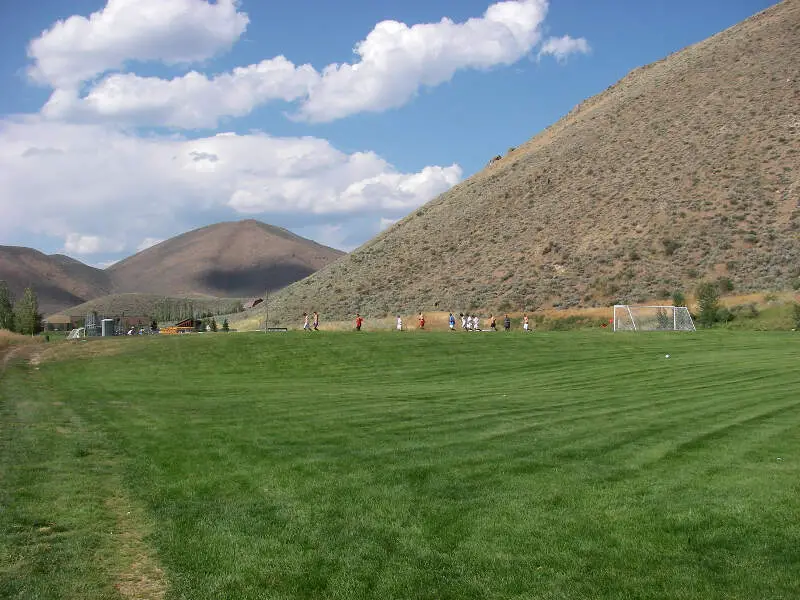 Source: Public domain
Flip on your snowmobile hazards and slap a fluorescent orange safety jacket on that gigantic grizzly bear, and call Hailey, Idaho safe: our fifth safest city to be exact.
It might not be Barney Fife's Mayberry, but this little town with a vibrant downtown scene, unforgettable summer festivals, and year-round fun backed by a strong french fry industry is just as notable and just as safe. Probably why it's one of the most populous towns of the Wood River Valley. This little piece of heaven surrounded by the Sawtooth National Forest is a family friendly, safe city. It boasts convenient restaurants and stores and an occasional rodeo or two. It's a great place to raise a family. And word on the street is that young professionals are starting to take notice and move Hailey's direction. Heck, you could be Bruce Willis' or Demi Moore's neighbor! So don't wait, because the word is out.
And if you want to read more about how great Hailey is, check out our article 'The Best Cities in Idaho'. Not surprising, Hailey also made our top ten.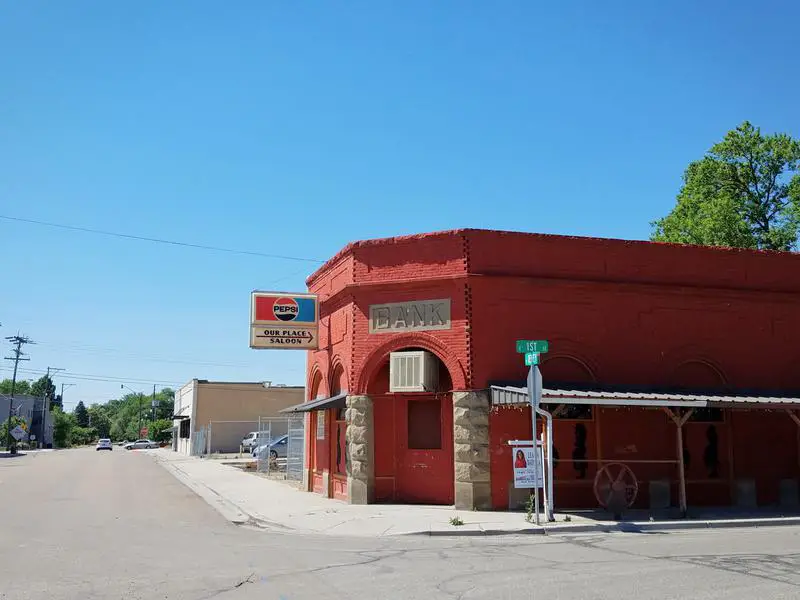 Middleton is the ideal destination when you're trying find that true rugged Idaho feel with safe, small city vibes. We're not sure if it's really where the grizzly bears roam, but we do think that it's safe enough to let your children roam. And this is definitely one of the reasons it's hanging strong as our eighth safest city in the 'Spud Capital of the World'.
Their motto states: 'Life is Better Here,' and we think they are right. It is one hidden gem in the middle of the Gem State. Whether you want to take a crack at corralling cattle or growing potatoes, Middleton is a rancher and farmers dream. Low crime and the lure of a rural environment are definitely what's attracting people to this Boise River Valley; but it's a spectacular landscape and great people that make families want to stay
Middleton is known for its strong housing market, unbreakable economy, and overall affordability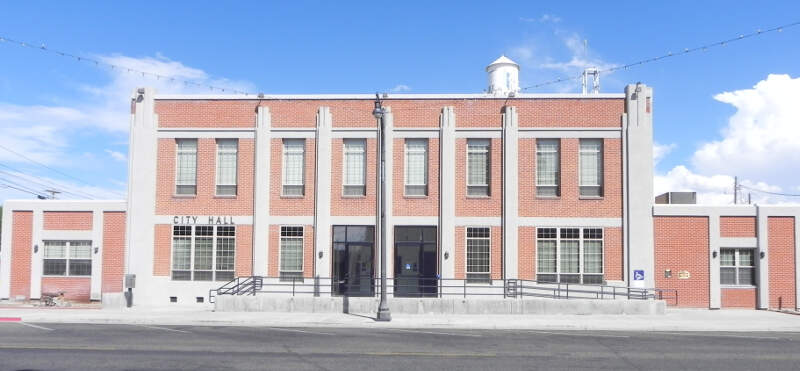 In Rupert they love their wide open spaces, their parks, their super safe neighborhoods, and they take pride in keeping their residents safe.
This true-to-definition Idaho city is our ninth safest city. It's a place where work and play meet at Idaho State Road 83 and Idaho State Road 84. Rupert's small town charm delivers big opportunities to all that are searching for a safe, not scary, place to call home. Heck, they scored off the charts in safety on our snackability scale. And that says a lot considering they're the largest city in Minidoka County.
Rupert's slogan should be: "Where Safety is Cool". According to the US Census and FBI crime data, the city ranked ninth safest for the number of crimes per capita. So, if safe, family friendly, economically sound communities that are happening, is your cup of tea, you better hurry because Rupert's homes are flying off the shelves.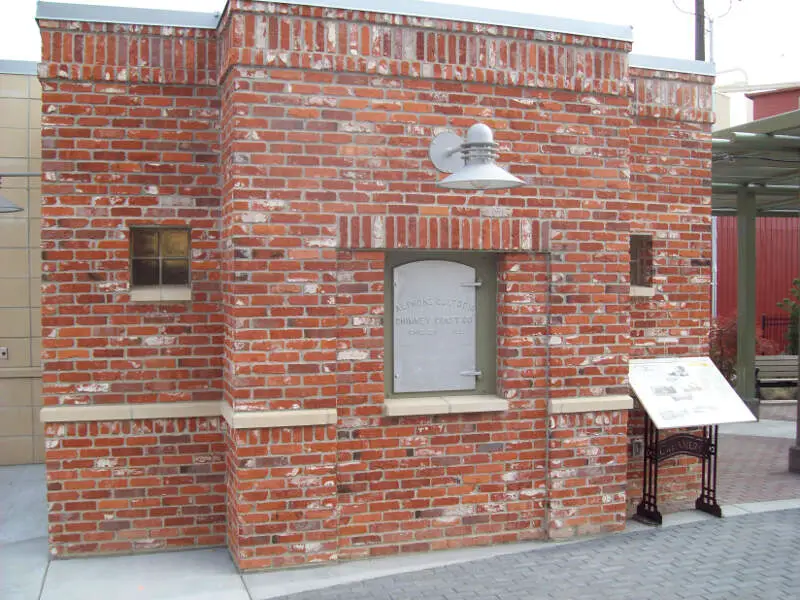 Source: Public domain
Where the Snake River meets the Boise River in the Treasure Valley is Meridian. This our tenth safest city in Idaho. This little city, nestled between the state's capital and Nampa, is super family friendly and virtually crime free. Heck, they don't even start fights when people throw out the 'no, You-Dah-Ho' joke.
Meridian's overall HomeSnacks snackability score was a 9/10! Not surprising, considering their safety rating scored an 8/10 and percentage of educated residents scored an 8.5/10. Busy potato farmers = less naughty potato farmers. If that doesn't say safe, we don't know what does.
It also not surprising that their city motto is 'Built for Business: Designed for LIving'. The people in this corner of the U.S. are super nice, hardworking, individuals that strive to create a better corner of the world for its residents. This is probably why they are considered the state's and country's fastest-growing cities and one our safest.
So grab the fam, pack up the pick-up, pick out a potato farm, and get a-movin' so you don't miss out on any of their safe, family friendly, activities scheduled for 2021.
How we calculated the safest cities in Idaho for 2021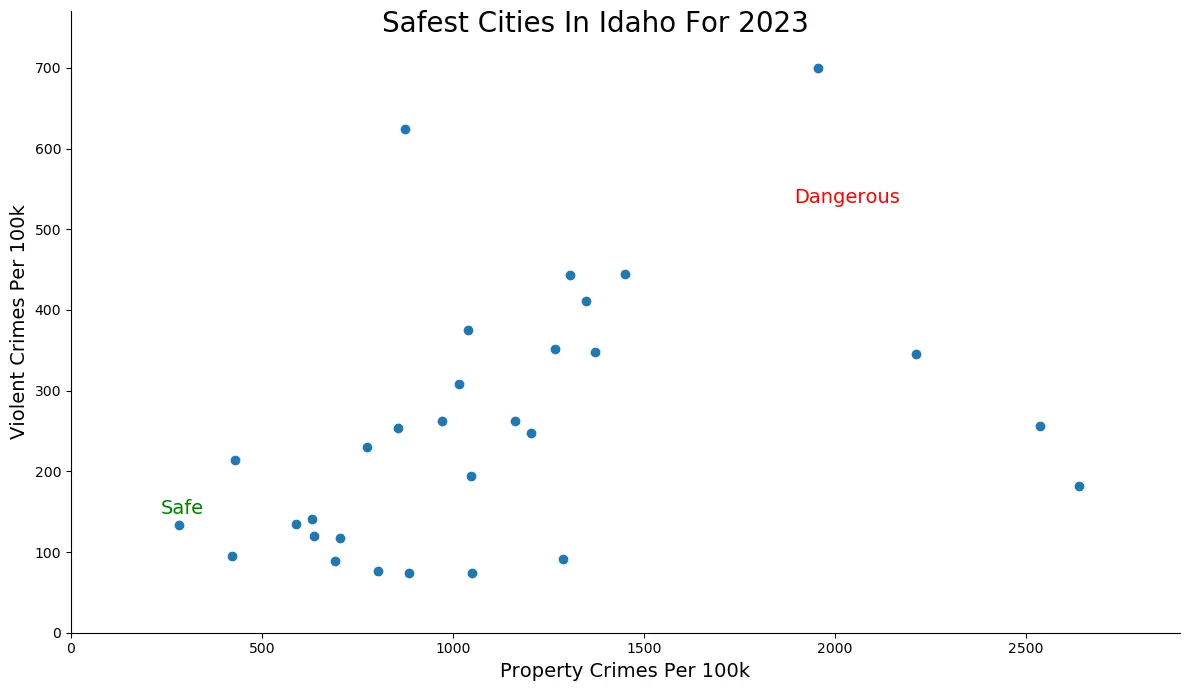 While there are surveys and public polls on what cities in a state are the safest, we didn't want to rely on speculation and opinion. Instead, we looked at the hard numbers from the FBI's most recent report of crime (Published Sept 2020) in Idaho.
Specifically, we analyzed the
FBI's Uniform Crime Report
which summarizes the number of property crimes and violent crimes in each city per year. We used two criteria:
Violent crimes per capita (murders, assaults, rapes, armed robberies)
Property crimes per capita (thefts, burglaries, motor vehicle thefts)
For example, there were a total of 0 crimes committed in Weiser which had a reported population of 5,369. That means the number of crimes per capita is 0.0 which translates into a 1 in 12000 chance of being the victim of a crime.
We only looked at cities that have populations of more than 5,000 people reported to the FBI in 2019, the last reporting year. This left us with a total of 27 of the biggest cities in Idaho to rank.
We ranked each city for each criteria from 1 to 27 where 1 in any particular category is the safest.
Next, we averaged each places two criteria to create a Safety Index. We crowned the place with the lowest overall Safety Score "The Safest Place In Idaho" with any ties going to the bigger city. You can download the data here.
The safest city in Idaho, based on our criteria, is Weiser. The most dangerous city in Idaho? Garden City, where residents had a 1 in 37 chance of being the victim of a crime.
Note: This report is not an analysis of the effectiveness of local police departments, nor does it reflect the fact that people from out of town may come into a community and cause a crime. It simply looks at where crimes occurred most frequently, based on a city's population.
There You Have It - The Safest Cities In The Gem State
Looking at the data, you can tell that Weiser is as safe as they come, according to science and data.
But as most Idaho residents would agree, almost every place here has its safe and not safe parts. So just make sure you're informed ahead of time.
Here's a look at the most dangerous cities in Idaho according to the data:
Garden City
Pocatello
Twin Falls
For more reading, check out:
Breaking Down Crime In The Safest And Most Dangerous Cities In Idaho

Share on Facebook
Chris Kolmar has been in the real estate business for almost ten years now. He originally worked for Movoto Real Estate as the director of marketing before founding HomeSnacks.
He believes the key to finding the right place to live comes down to looking at the data, reading about things to do, and, most importantly, checking it out yourself before you move.
If you've been looking for a place to live in the past several years, you've probably stumbled upon his writing already.
You can find out more about him on LinkedIn.