Have you heard of Midwestern Hospitality?
Yes, it's a thing. And, yes, it's what makes Illinois one of the best states in the country. Now, if you talk to the flatlanders that call Illinois home, they would definitely agree that their hospitality is gold star worthy. They would also tell you, however, that there a ton of other qualities that make Illinois a state you should call home.
Take for instance the variety of delicacies the state has to offer. There is nothing like a loaded horseshoe or fried tenderloin after a long night of drinking. And you can't visit Chicago without trying Chicago's deep dish pizza. (Illinoisans have deemed it its own food group.) More importantly, if weren't for the Land of Lincoln, we wouldn't have Twinkies; and that, folks, would be a travesty.
When you think of Illinois, it's easy to think that the entire state revolves around Chicago. While that might be the case for most, here at HomeSnacks we know that there are many fantastic smaller places in Illinois that make it the best.
We also know that a Portillos' chili hot dog shouldn't be the only reason to move to the state Chicago calls home. So, we made sure to look at very important factors when determining the best places to call home in the Land of Lincoln — low cost of living, strong economy, strong job market, and low crime to name a few.
Grab a slice of deep dish pizza and a pop and read on.
The 10 Best Places To Live In Illinois For 2021
What city is the best place to live in Illinois for 2021? Well according to the US Census and FBI data we crunched, Deerfield is the best place to live in Illinois if you care about home values, low crime, and a high quality of life.
While not everyone can afford to live in our top ten best Illinois cities — they come with a hefty Chicago price tag — there are other amazing places in Illinois to call home. And lucky for you, we have found them.
If you didn't see your city in the top ten, don't freak out. We analyzed over 329 cities. Read on to see where your city landed and a detailed breakdown of each.
If you're looking for something more national, check out the best states in America or the best places to live in America.
For more Illinois reading, check out:
The 10 Best Places To Live In Illinois For 2021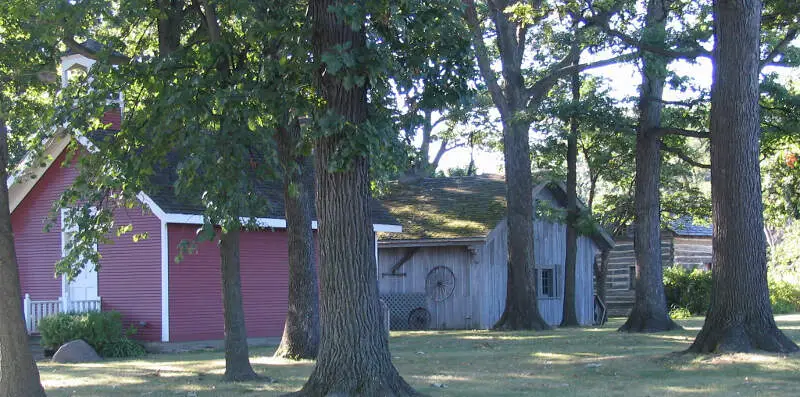 We start our tour of the best places to call home in Illinois with Deerfield, a North Shore suburb of Chicago. Deerfield ranks as the 28th least violent place in the state and has a total crime rate about 70% below the national average.
Deerfield's economy is largely driven by the healthcare industry, as it is home to the headquarters of big name companies like Walgreens, Baxter, and Takeda Pharmaceuticals. If you're working in one of those fields, you should have no trouble locking down a job here. And based on Deerfield's rank as the 13th best-paid populace in the state, with a median household income of $153,431/year, we think you should do pretty well for yourself at that job. And with a sub-3% unemployment rate and poverty level, Deerfield's economy is working at every level. For a village where healthcare looms large, it's not surprising that 98.2% of residents have health insurance, one of the highest rates in Illinois.
If you're planning on moving with your family, or starting a family soon, know that Deerfield's school district is among the best in the state, with GreatSchools awarding a 9/10 score or higher to every single public school in the area. Speaking of education, the local Historic Village is a staple of the Deerfield school experience that's fun for the whole family. But if you're looking for something a tad bit more modern, "The Square" in Deerfield's downtown has everything you need to keep your shopaholism satisfied.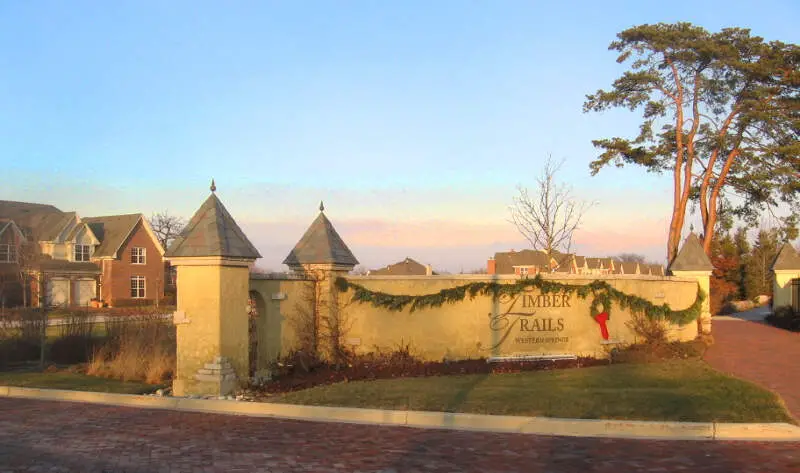 Located between Chicago and Naperville, Western Springs is the 2nd best place to live in Illinois. Western Springs' poverty level of 3.9% and unemployment rate of 2.3% are among the most impressive in the state. It's not like people are just floating by here either, because at $174,760/year, Western Springs enjoys the 7th highest median household income statewide. And if you enjoy a side of culture with your cash, the Theatre of Western Springs is always putting on shows and plays.
Western Springs is also known for its excellent schools and safe streets. In fact, there were only 3 violent crimes committed in Western Springs in 2021, which gives Western Springs the 14th lowest rate in Illinois. Even though violence is quite unlikely, Western Springs residents are prepared if it does come. That's because 98.9% of folks in Western Springs have health insurance, which is the 8th highest rate in Illinois.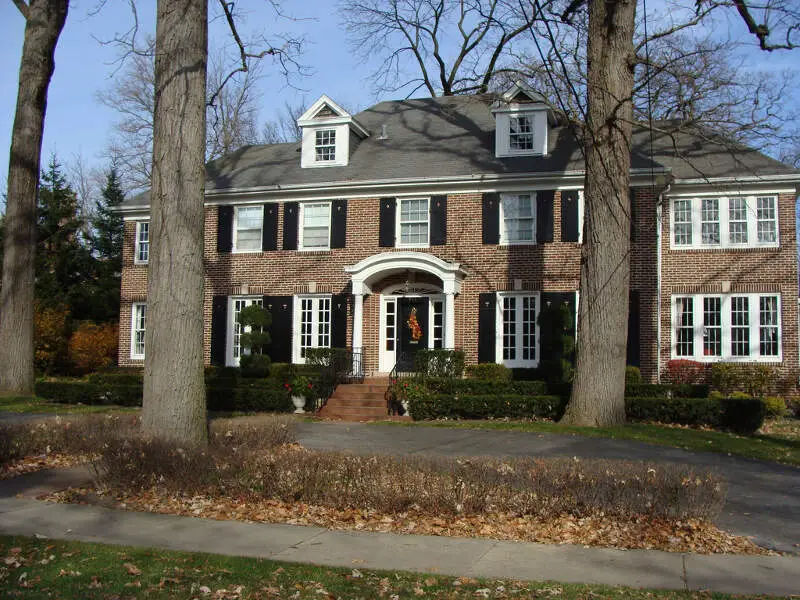 We know we've been touting the wealth of some of the other communities on this list, but none of them holds a candle to Winnetka. Homes in Winnetka go for around $1,091,700, the 1st costliest in the state. If you want to buy the Home Alone house, it might set you back a bit more. That's okay though, because Winnetka also has the highest median household income statewide at $250,001/year. With these kind of numbers, it's not hard to see why we named Winnetka one of the richest places in Illinois.
Folks in Winnetka didn't coincidentally end up in big homes with big salaries. Over 45% of residents have a master's degree, PhD, or professional degree, so you're looking at the result of years of hard work here. And it's paid off for the whole community, which enjoys an unemployment rate and poverty level under 3%. Residents can spend their hard-earned free time fishing, kayaking, or hiking at Skokie Lagoons.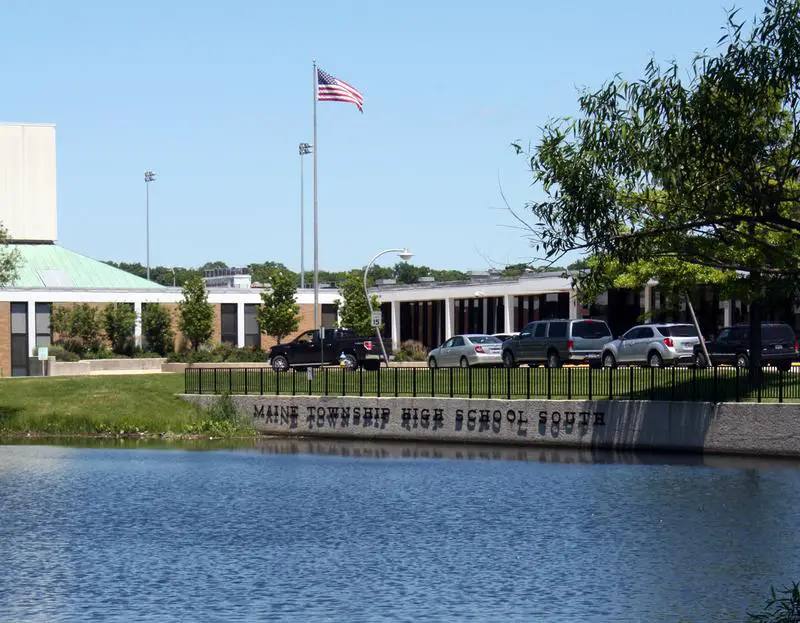 Located 15 miles northwest of downtown Chicago, Park Ridge ranks as the 4th best place to call home in Illinois.
For starters, you never have to worry about how you'll get to the airport in Park Ridge, because O'Hare International Airport is basically right there. Park Ridge also has several top-notch amenities, from the trails at the Wildwood Nature Center, to the historic Pickwick Theatre, and a ton of spas per capita.
As for the data, everything points to Park Ridge being an excellent forever home. Crime is low, schools are great, and the local economy works for everyone — we don't hand out 10/10 SnackAbility scores for nothing, after all.
The median household income in Park Ridge sits at an impressive $111,642, and homes typically sell for $437,000. It's also one of the most densely populated spots on this list, which translates into more amenities and less boredom.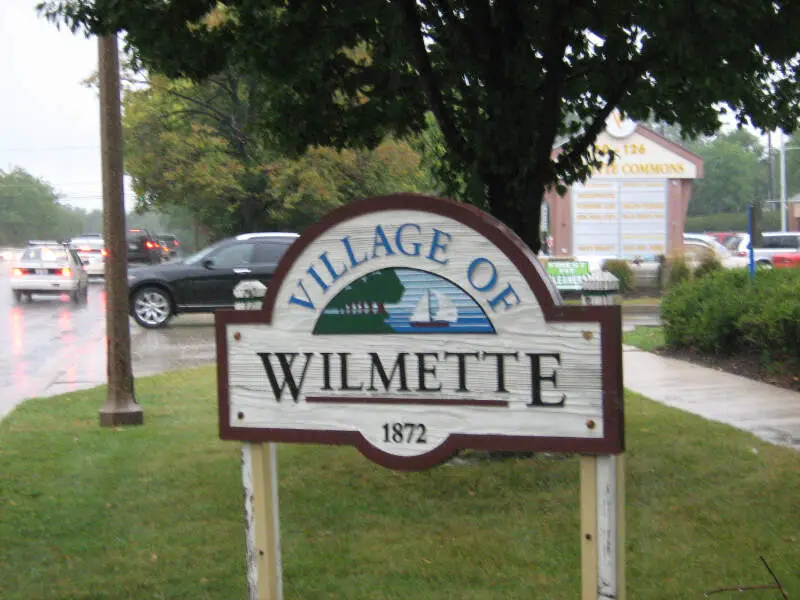 Wilmette is a northern suburb of Chicago with a population of 27,247. Wilmette consistently ranks among the top in the state for highest education expenditures per student. All that spending really pays off, because GreatSchools gave local schools a 9.5/10 average score. Apparently, big spending on education works to instill a life-long love of learning in Wilmette, because nearly 50% of residents have a master's degree or higher.
All that schooling translates into the 9th highest median household income in Illinois at $164,681/year. Which is kind of necessary when you're also paying the 6th highest price for a home in the state at $707,800.
Being so close to Lake Michigan comes with other advantages that statistics can't capture. Like having the beach at Gillson Park right in your neighborhood.
Up next on our list of the best places to live in Illinois is Glencoe, one Chicago's best suburbs. We also named Glencoe as the richest place in Illinois, so you might want to turn up with a lucrative job or substantial savings if you're moving here soon.
Glencoe residents enjoy the 2nd highest median income in Illinois at $248,851. Which is sort of necessary when you're also paying the 2nd highest prices for homes in the state, with a median home value of $953,700.
But for the money, you get some of the best schools in the state — GreatSchools gave the village's school's an average rating of 8.5, and Glencoe enjoys the lowest high school dropout rate in Illinois.
Besides being great on paper, Glencoe has loads to keep you occupied year-round. It's home to the Chicago Botanical Garden, so there's always time to stop and smell the roses here.
Residents also have access to Glencoe Beach for relaxation and the Writer's Theatre for some heady entertainment. And heady entertainment is in high demand, considering 88% of adults in Glencoe are highly educated.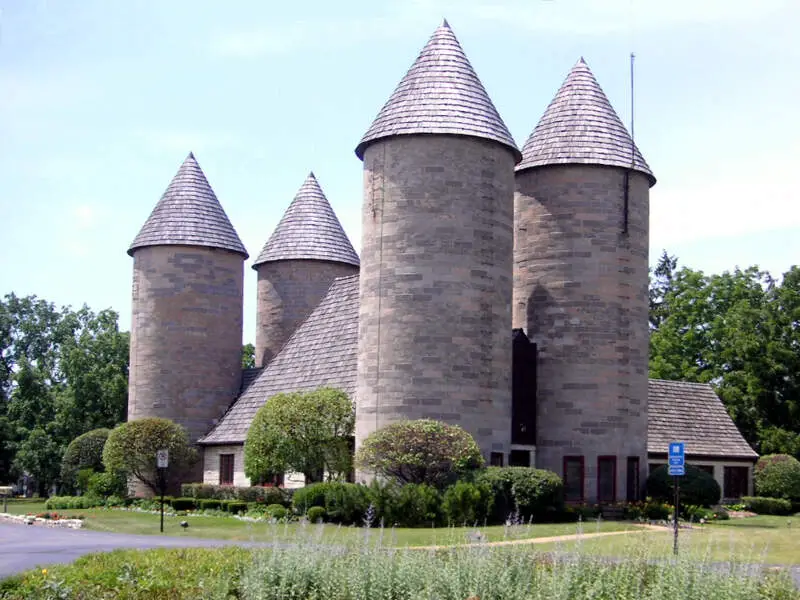 We're sticking around the Chicago suburbs for Illinois's 7th best place to live, Inverness.
Between the nearby Baker's Lake Forest Preserve and Paul Douglas Preserve, there's plenty for an outdoorsy person to do in Inverness (much like its Scottish namesake).
You never need to worry about your safety in Inverness — we ranked the village as one of the safest places in Illinois thanks to its incredibly low crime numbers.
It makes sense that crime in Inverness is low — residents have such good lives that there's really no need to go around stealing things. Glencoe has the 2nd highest rate of residents with health insurance statewide, and unemployment and poverty rates are below 3%, with both categories ranking in the top five in Illinois.
Overall, Inverness residents earn the 5th highest median household income in Illinois at $192,576. And while homes are on the pricey side, with a median value of $628,700, residents are more than up to the challenge of making ends meet.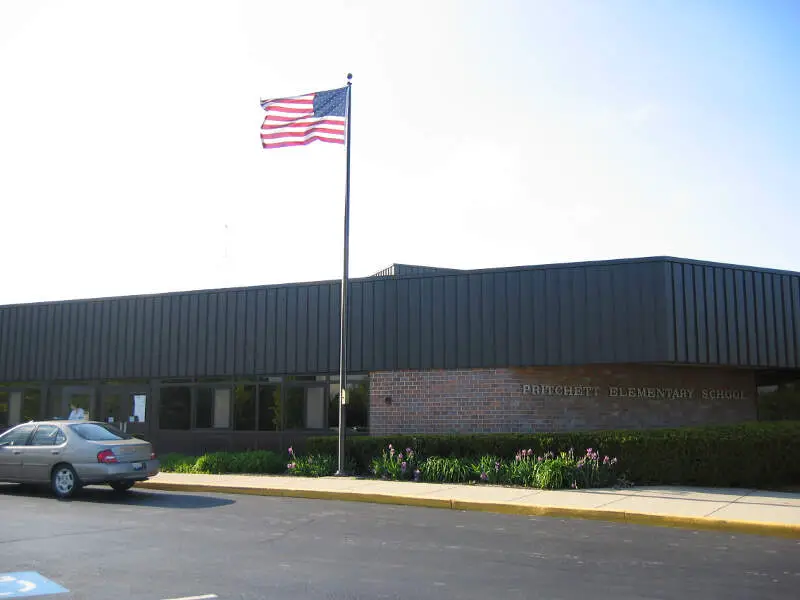 Source: Public domain
In what's becoming a pattern, Buffalo Grove is yet another Chicago suburb to rank among the best places to live in Chicago. At 41,062, Buffalo Grove is the most populous place to make this list, so you won't have to worry about being far from the action here. Especially with Fine Art Festival and the Buffalo Grove Days popping off every summer.
You won't have to worry about crime here either, because Buffalo Grove experienced the 18th lowest amount of violent crime per capita in Illinois and had a total crime rate about 75% below the national average. And if you've got kiddos, you can feel confident sending them through one of the best educational systems in the state.
With a median household income of $115,951/year and a median home price of $332,300, Buffalo Grove has the second lowest cost of living of places we're covering on this list.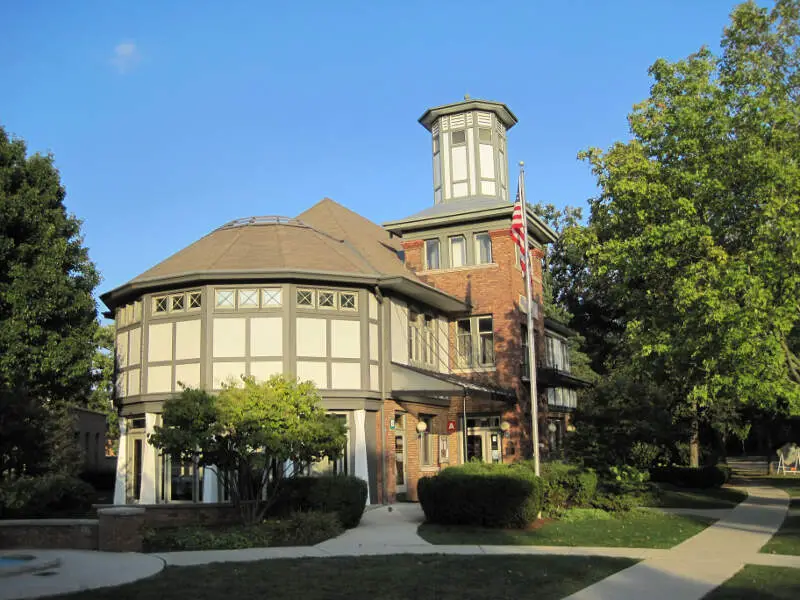 Lake Bluff is a village of 5,632 on the North Shore of Lake Michigan. At 45, Lake Bluff is the oldest place on this list, so keep that in mind if the relative age of your neighbors is a priority for you. Around 80% of adults in Lake Bluff have a college degree, and about half of those people have a master's degree or higher. Which helps explain why, at 1.9%, Lake Bluff has the 7th lowest poverty level in Illinois. It's also one of the reasons why Lake Bluff has the 10th highest median household income in the state, at $164,421/year.
Lake Bluff also only experienced 1 violent crimes in 2021, the 10th lowest rate in Illinois. So you don't have to worry about pickpockets or hooligans when you go to catch a show on the village green for the Bluffina Summer Concert Series.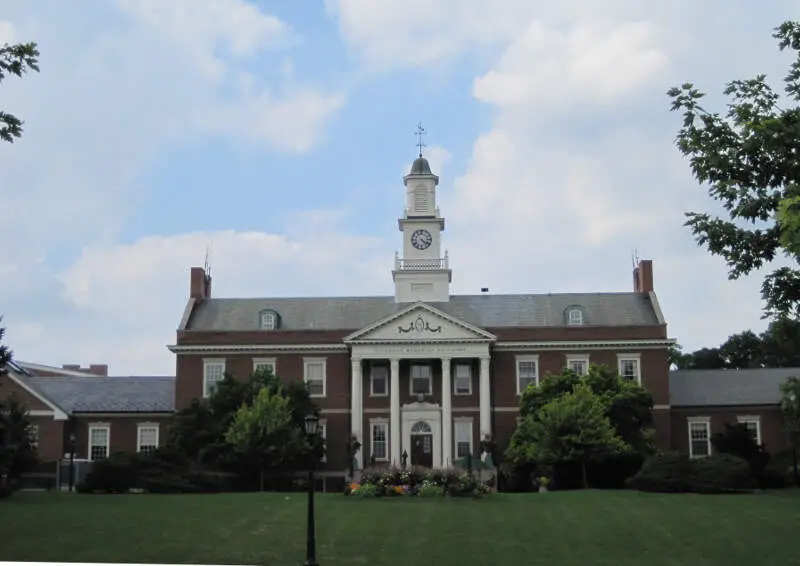 We're sticking around western Chi-Town suburbs for our 10th best place to call home in Illinois, the village of Hinsdale. People in Hinsdale know the importance of education, from start to finish. All the elementary schools in Hinsdale received a score of 9/10 from GreatSchools, and both the local middle school and high school got a perfect 10/10. That educational excellence is just one of the reasons we named Hinsdale as the best family city in Illinois. Seeing as over 40% of Hinsdale's population has a master's degree or higher, we think the success of early education carries over nicely into success later in life.
After all, Hinsdale does have the 4th highest median household income in the state, $203,368/year. Which comes in handy when you've also got the 3rd priciest homes. And since smart, moneyed individuals rarely feel the need to engage in criminal activity, Hinsdale's crime rate being about 80% below the national average makes a lot of sense.
If you're craving a bit more action, though, Chicago's downtown is just 20-minute train ride away, so you can be walking The Magnificent Mile any time you like.
Mapping The Best And Worst Places To Live in Illinois
The Pressing Question: Size
Before we even started to collect data, we had to answer a tough question: Is it fair to pit Springfield with a population of 115,888 against places with a population of 18?
We firmly decided no, that just isn't fair.
So to create our ranking, we broke places to live into three tiers:
Cities — Populations over 5,000
Towns — Populations between 1,000 and 5,000
Small Towns — Populations below 1,000
This left us with 329 cities, 376 towns, and 620 small towns.
We then decided, no matter how much anyone loves their town, the best cities to live in Illinois have more of everything and therefore you need to have over 5,000 people to truly be 'the best'.
Now we also realize that city living might not be your cup of tea, so we ran the following analysis on towns and then again for small towns.
You can see those two top tens at the bottom of the post.
How We Calculated The Best Cities To Live In Illinois
Now that we had our set of cities, it was time to rank them.
We ranked each place in Illinois across a number of criteria from one to 329, with one being the best.
We then took the average rank across all criteria, with the city posting the lowest overall score being crowned the winner of the title "Best Place To Live In Illinois".
The criteria we looked at were:
Median Home Values
Median Income
Population Density (Higher better)
Unemployment Rate
Commute Time
Crime
Education Levels
Health Insurance Coverage
Poverty rates
Sources of criteria include the New Census Data and FBI Crime Data. You can download the data here.
After the dust settled, what was the best place to live in Illinois? That would be Deerfield.
If your city or town isn't among the top 10, jump down to the bottom of the post to see a detailed chart of the best places in Illinois.
Otherwise, buckle up for a ride down good living lane with Deerfield at the end of the cul-de-sac.

Wrapping Up The Best Places When It Comes To Living In Illinois
If you're looking at areas in Illinois with the best economic situations, where there's lower than average crime, and a lot to do, this is an accurate list.
Deerfield made a strong showing to take in the overall number one spot for the best place to live in Illinois for 2021.
Best Towns To Live In Illinois
Leland Grove (Pop. 1,625)
Dunlap (Pop. 1,351)
St. Joseph (Pop. 4,109)
Germantown Hills (Pop. 3,491)
Hudson (Pop. 1,704)
Rochester (Pop. 3,687)
Sherman (Pop. 4,404)
Philo (Pop. 1,627)
Kenilworth (Pop. 2,613)
Forsyth (Pop. 3,421)
Best Small Towns To Live In Illinois
Irwin (Pop. 79)
Georgetown (Pop. 516)
Indian Creek (Pop. 768)
Ogden (Pop. 732)
Bartelso (Pop. 619)
Spaulding (Pop. 766)
Downs (Pop. 971)
Pesotum (Pop. 514)
Goodfield (Pop. 931)
McNabb (Pop. 305)
If you're curious enough, here are the worst places to live in Illinois according to the data:
Cahokia (Pop. 14,162)
Riverdale (Pop. 12,793)
Harvey (Pop. 24,386)
For more Illinois reading, check out:
Where Are The Best Places To Live In Illinois?
| Rank | City | Population |
| --- | --- | --- |
| 1 | Deerfield | 19,006 |
| 2 | Western Springs | 13,272 |
| 3 | Winnetka | 12,428 |
| 4 | Park Ridge | 37,457 |
| 5 | Wilmette | 27,247 |
| 6 | Glencoe | 8,888 |
| 7 | Inverness | 7,633 |
| 8 | Buffalo Grove | 41,062 |
| 9 | Lake Bluff | 5,632 |
| 10 | Hinsdale | 17,710 |
Editor's Note: We updated this article for 2021. This is our seventh time ranking the best places to live in Illinois.