The 10 Safest Cities In Illinois For 2021
We used data and science to determine the places in Illinois where everyone sleeps safe and sound.

Editor's Note: This article has been update for 2021. This is our sixth time rankings the
safest places to live in Illinois
. All the data comes from the
FBI's Crime In The USA 2019 report.
Article Table Of Contents   
(Skip to section)
Yes, there is more to Illinois than Chicago.
If you are from the Land of Lincoln you know that there is no 'noise' in Illinois. But there are a lot of other fun facts that keep this flyover state ranked as one of the safest places to live in the headlines.
Illinois residents love their Chicago Bears, fine delicacies like the horseshoe and the infamous breaded tenderloin, and the fact that Illinois is home to President Lincoln, President Grant, President Reagan, and President Obama. And when Illinoisans aren't busy cheering Ill-ini at the University of Illinois games, they're celebrating the fact that we also rated them one of the best states to live based on job opportunities and quality of life; and that folks, can be contributed to their safe communities and great people. Illinois is kinda a big deal.
We took a look at the FBI crime data for 290 Illinois cities with a population of more than 5,000 to determine which cities are the safest to call home.
Here are the 10 safest cities to live in Illinois for 2021:
Yes, many of Illinois' top ten safest cities are in and around Chicago.
But what city is the safest city to live in Illinois for 2021? Well according to the FBI crime data we crunched, Campton Hills is the safest place to live in Illinois if you care about low crime and a high quality of life.
And while Campton Hills is very deserving of the number one spot, make sure you read on to see how HomeSnacks ranked the Land of Lincoln's other 290 cities.
For more reading on safe places to live in and around Illinois, check out:
The 10 Safest Cities In Illinois For 2021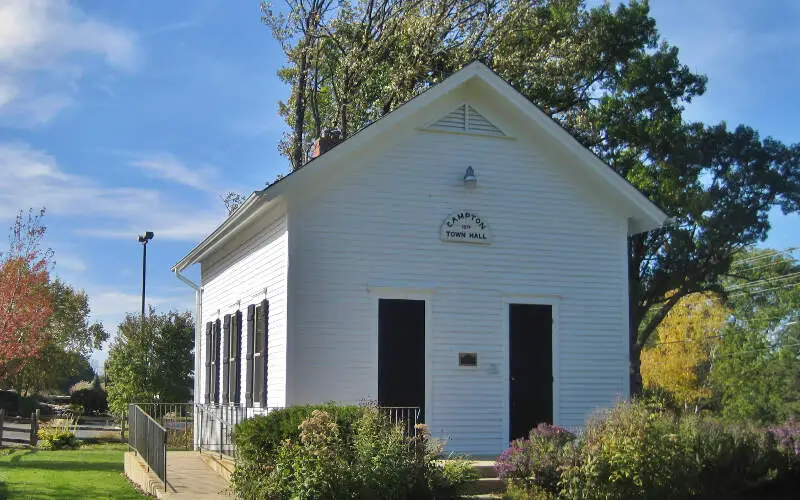 Campton Hills is not the Compton 2Pac sings about, it is actually quite the opposite: it's safe. Located in Northern Illinois, it is one of Chi-towns far West burbs and it comes in as our number one safest city in Illinois.
Campton Hills' gold star qualities like the non-existent number of crimes per 100,000 residents speaks volumes. With a little over 11,000 residents, the superb quality of life in this little village in Kane County is the reason that it basically maintained its spot from last year. Campton Hills is the kind of place where packages from Amazon won't get stolen from your front porch when you're not home.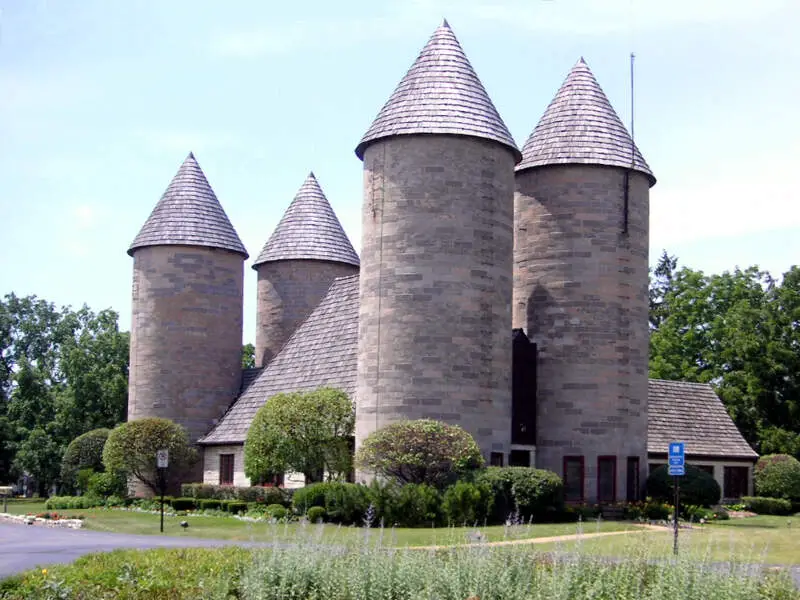 Inverness is a suburban village located just northwest of Chicago.
It's hard to find a place less violent or more different than the Windy City, considering Inverness recorded exactly 0 violent crimes in 2019. No murders, assaults, rapes, or robberies -- basically, the way life should be.
On top of that, Inverness had the third safest lowest property crime rate in Illinois. In other words, there's a better chance of a stray golfball from the Inverness Golf Club breaking your window than a burglar. However, it's a pretty expensive place to live based on our cost of living index and home prices. So safety comes at a bit of a price.
We're heading just south of Chicago to reach Illinois' third safest place to call home, Orland Hills.
We're guessing folks are pretty peeved at that 1 guy who committed a violent crime over 2019, ruining the village's otherwise clean sheet. Still, the village's streets are every bit as peaceful and safe as the Orland Grassland that sits beside it.
Additionally, you don't have to worry about a criminal stealing or damaging your valuables because Orland Hills only recorded 25 property crimes over the year. That includes 0 burglaries, so don't worry if you forget to lock your door in Orland Hills.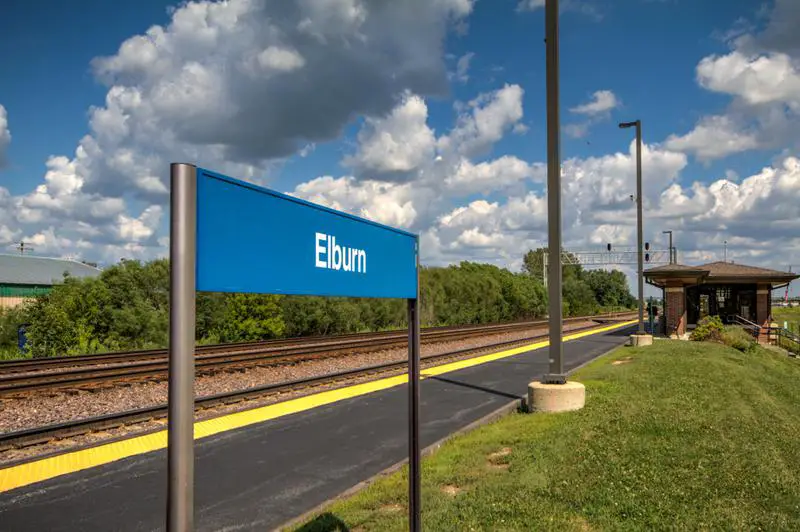 Just because the word 'burn' is in Elburn does not mean you need to worry about getting burned: it's super safe.
The only matches being lit in Kane County are on the fireworks celebrating Elburn's fourth place victory on our Safest Illinois's Cities list.
Elburn's HomeSnacks snackability was a 9.5/10! Not surprising considering their employment rating is 8.5/10 and their degree of education scored 9.5/10. Busy people = less naughty people. If that doesn't say safe, we don't know what does.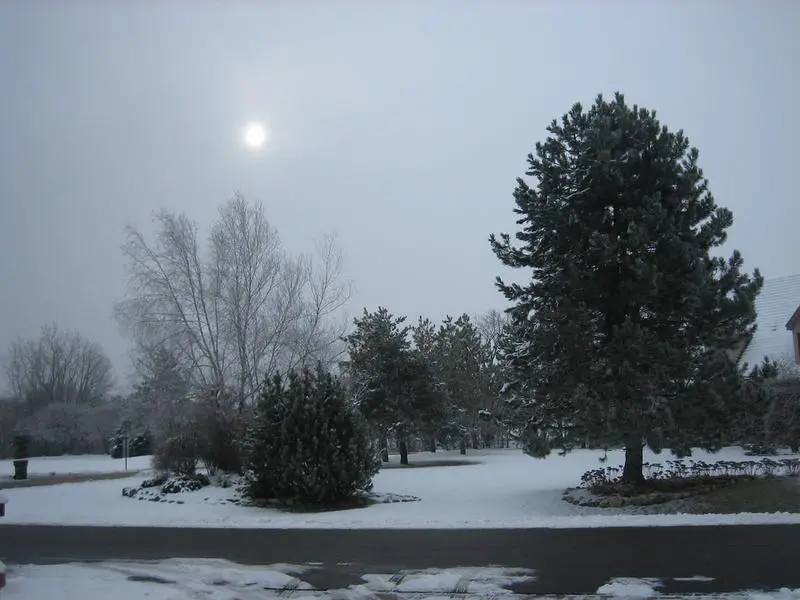 Hawthorn Woods is an affluent village in Lake County and it is our fifth safest city in Illinois.
You won't hear guns a-poppin' and see fists flying unless maybe there's a scuffle over a putt on one of their pristine Arnold Palmer golf courses. Wow, fancy and safe!
This Chicago burb offers a city vibe with a laid back suburban feel. There is a sense of community in Hawthorn Woods and education is a top priority.
So grab the fam, pack the grocery getter, and get a-movin' soon so you don't miss out on any of their safe, family friendly activities scheduled for 2021.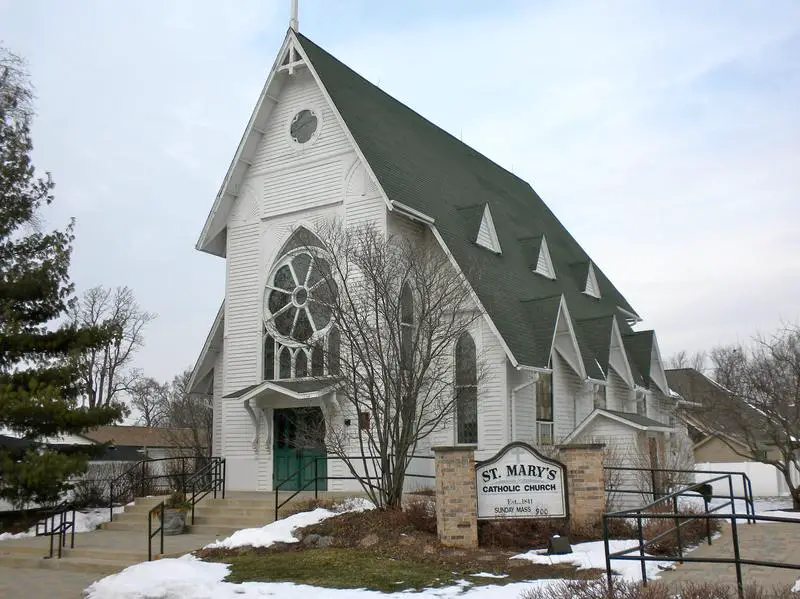 Source: Public domain
The word is out on Gilberts -- it's a safe place to live and folks are flocking there, as evidenced by the population increasing by 6 times since 2000. The village only saw three violent crimes in the last year of available data, and ranked with the sixth lowest rate of property crime in the state.
So if you lose your dog on a hike in Freeman Kame Nature Preserve, don't fret; the chances are that your dog will be returned groomed and pampered later that same day.
Like Manhattan, Gilberts is only 50 miles outside of Chicago, but to the northwest instead.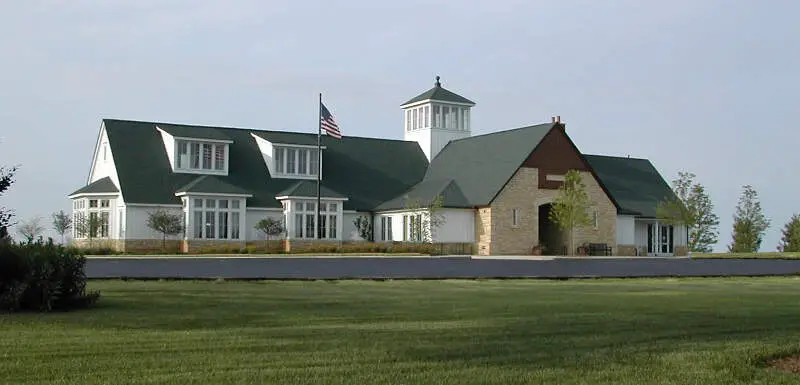 In Huntley they love their wide open spaces, their parks, and they love love their Thanksgiving Turkey Festival. Yes, this is a 'big' thing in Huntley. So much that the residents take over the streets for a long day of celebrating. Just don't start fighting over who has the bigger turkey, because that just wouldn't be right.
The Turkey Festival must stay rather under control, because their snackability safety rating is 9/10. So it's not surprising that their town motto is "The Friendly Village with Country Charm". Awwwwww, sweet and safe. This, folks, is why they're our seventh safest city in Illinois.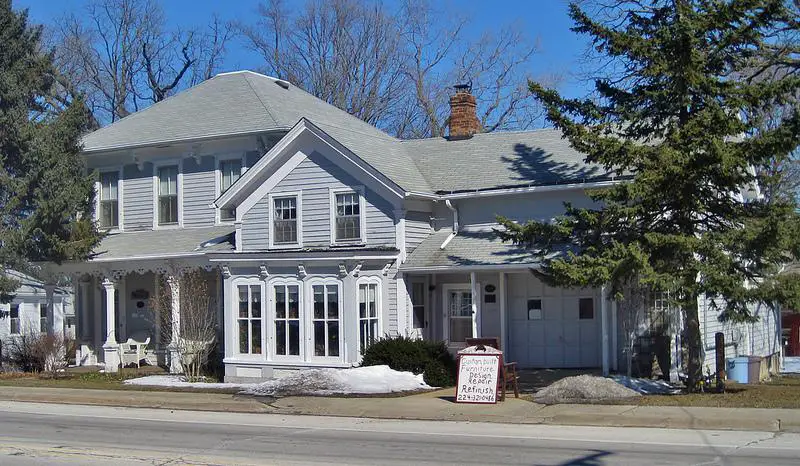 Lindenhurst is a village of 14,296 with some seriously impressive crime statistics. Like having the fifth safest lowest property crime in Illinois.
You know a place is extra safe when, on average, there's fewer than one crime committed each week. We just wonder if the local police are bored with such meager amounts of criminal activity.
You can stay out as late as you want at the family-friendly Lindenhurst Park District without fear of an attack or theft. That's because there were only 5 violent crimes committed here over 2019.
Lindenhurst is located in the northeastern corner of Illinois. It started out as a small farming community, but has continued to grow into a great, safe place to live for people of all stripes.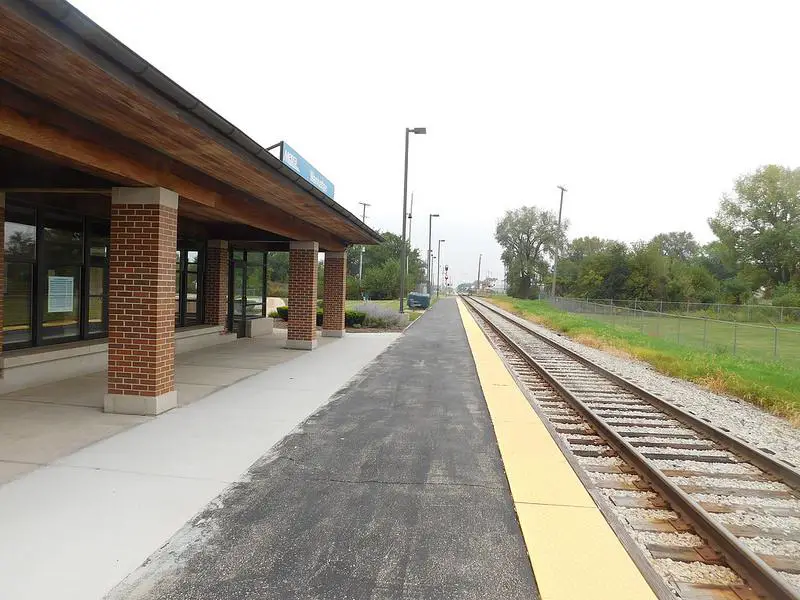 Located just 50 miles southwest of the hustle and bustle of Chicago is the small town of Manhattan. No, not that Manhattan -- Illinois's version of the Big Apple is actually super safe. But unlike the top 3 cities on this list, Manhattan hasn't frequently topped the safety charts in recent years. In fact, in the previous year of available data, Manhattan only ranked as the 24th safest place in the state.
And with some of the lowest property crime numbers statewide, you can be sure that both your natural and manmade valuables will be protected at Sugar Creek Preserve.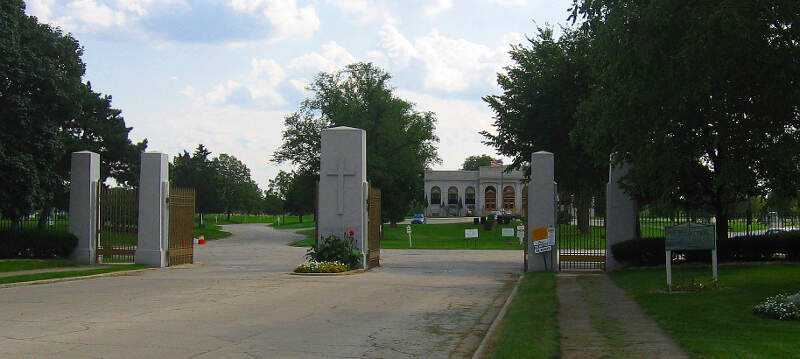 Justice -- now there's a good name for one of the safest cities in Illinois. If you're romping around Buffalo Woods by yourself at night, don't worry -- it's honestly like the Justice League is watching over you at all times when you're here.
Unlike #7 Hinsdale, Justice isn't actually too great in the violent crime category, with the worst ranking on this list. But, there's a lot fewer robberies going on inJustice than in many other places on this list. Evidently, Superman has his crew focused mostly on pickpockets and purse-snatchers these days.
Justice is located just a half hour southwest of Metropolis..er.Chicago.
How we calculated the safest cities in Illinois for 2021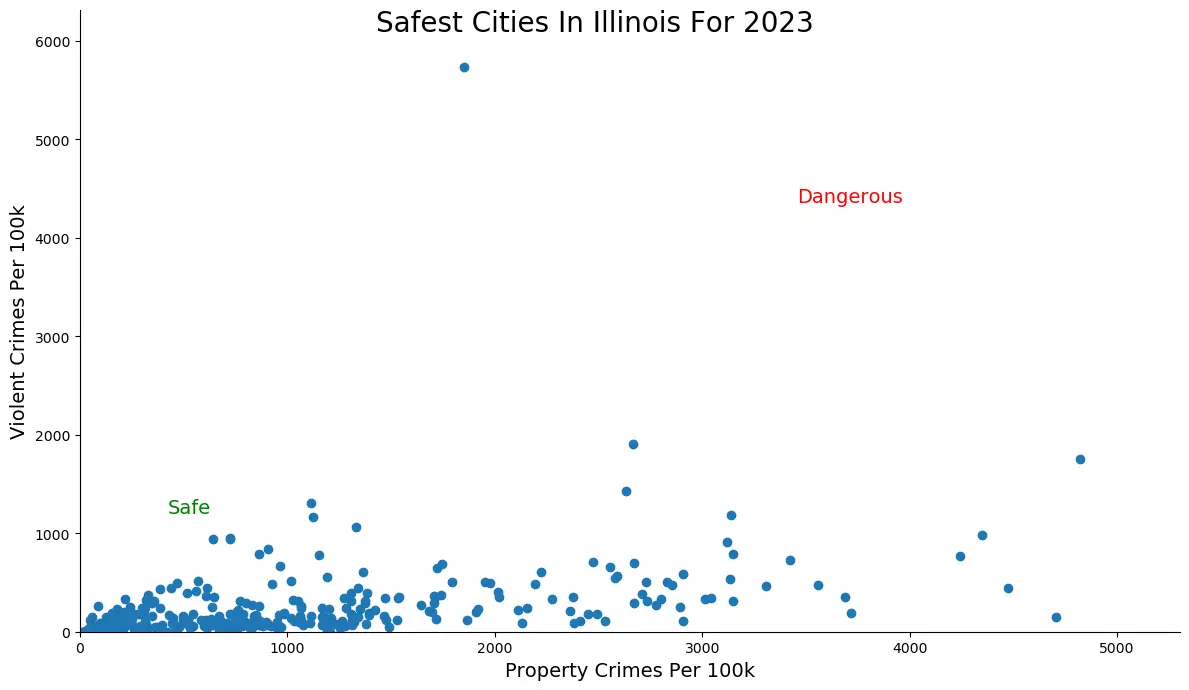 While there are surveys and public polls on what cities in a state are the safest, we didn't want to rely on speculation and opinion. Instead, we looked at the hard numbers from the FBI's most recent report of crime (Published Sept 2020) in Illinois.
Specifically, we analyzed the
FBI's Uniform Crime Report
which summarizes the number of property crimes and violent crimes in each city per year. We used two criteria:
Violent crimes per capita (murders, assaults, rapes, armed robberies)
Property crimes per capita (thefts, burglaries, motor vehicle thefts)
For example, there were a total of 8 crimes committed in Campton Hills which had a reported population of 11,202. That means the number of crimes per capita is 0.0007 which translates into a 1 in 1,400 chance of being the victim of a crime.
We only looked at cities that have populations of more than 5,000 people reported to the FBI in 2019, the last reporting year. This left us with a total of 290 of the biggest cities in Illinois to rank.
We ranked each city for each criteria from 1 to 290 where 1 in any particular category is the safest.
Next, we averaged each places two criteria to create a Safety Index. We crowned the place with the lowest overall Safety Score "The Safest Place In Illinois" with any ties going to the bigger city. You can download the data here.
The safest city in Illinois, based on our criteria, is Campton Hills. The most dangerous city in Illinois? Mount Vernon, where residents had a 1 in 15 chance of being the victim of a crime.
Note: This report is not an analysis of the effectiveness of local police departments, nor does it reflect the fact that people from out of town may come into a community and cause a crime. It simply looks at where crimes occurred most frequently, based on a city's population.
There You Have It - The Safest Cities In The Prairie State
Looking at the data, you can tell that Campton Hills is as safe as they come, according to science and data.
But as most Illinois residents would agree, almost every place here has its safe and not safe parts. So just make sure you're informed ahead of time.
Here's a look at the most dangerous cities in Illinois according to the data:
Mount Vernon
Centralia
Danville
For more reading, check out:
Breaking Down Crime In The Safest And Most Dangerous Cities In Illinois

Share on Facebook
Chris Kolmar has been in the real estate business for almost ten years now. He originally worked for Movoto Real Estate as the director of marketing before founding HomeSnacks.
He believes the key to finding the right place to live comes down to looking at the data, reading about things to do, and, most importantly, checking it out yourself before you move.
If you've been looking for a place to live in the past several years, you've probably stumbled upon his writing already.
You can find out more about him on LinkedIn.