Editor's Note: Data has been updated for 2020. This is our sixth time ranking the fastest growing cities in California.
Swipe left for slideshow. Article continues below.
Article Table Of Contents
(Skip to section)
Is being in an area that's growing quickly a good thing or a bad thing?
Depends on who you ask. Some want bigger, more exciting cities like Los Angeles and San Diego, while others want peace and quiet like in Buellton and Williams, thank you very much.
But today we're going to put opinions aside and just look at the cold hard facts -- over the past five years, which cities in California have the grown the fastest.
After getting knee deep in the Census's American Community Survey, we emerged with this set of cities in the Golden State that have people climbing over each other to get in.
These are the 10 fastest growing cities in California for 2020 according to the most recent census data:
What's the fastest growing city in California for 2020? Based on the most recent ACS data, Dublin ranks as the fastest growing city in California. If you happen to be a resident of Dublin, you're probably not too surprised to find it on our list.
If you're surprised--and you're wondering why these places are kind of a big deal--keep reading. We'll tell you what makes each of these 10 places in California are growing like weeds.
And if you already knew these places were happening, check out the best places to live in California or the Fastest Growing States In America.
For more California state reading:
The 10 Fastest Growing Cities In California For 2020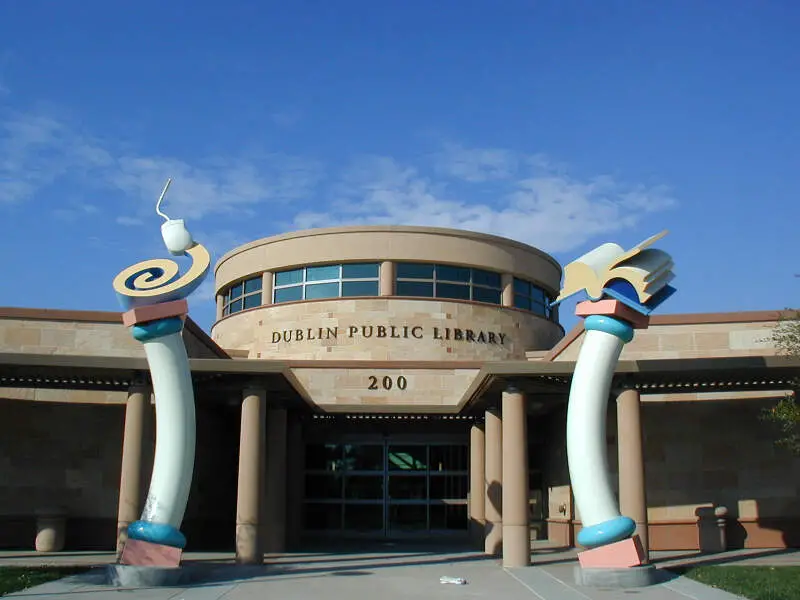 Dublin is a suburban city of the East Bay and Tri-Valley regions of Alameda County, California, United States. Located along the north side of Interstate 580 at the intersection with Interstate 680, roughly 35 miles east of downtown San Francisco, 23 miles east of downtown Oakland, and 31 miles north of downtown San Jose, it was named after the city of Dublin in Ireland. Dublin is the second fastest-growing city in the state of California, behind only Santa Clarita. The population was 46,063, and the 2013 estimate at 49,890. Dublin is home to the headquarters of Sybase, Inc, CallidusCloud, Ross Stores, Tria Beauty, Medley Health, Challenge Dairy and Arlen Ness.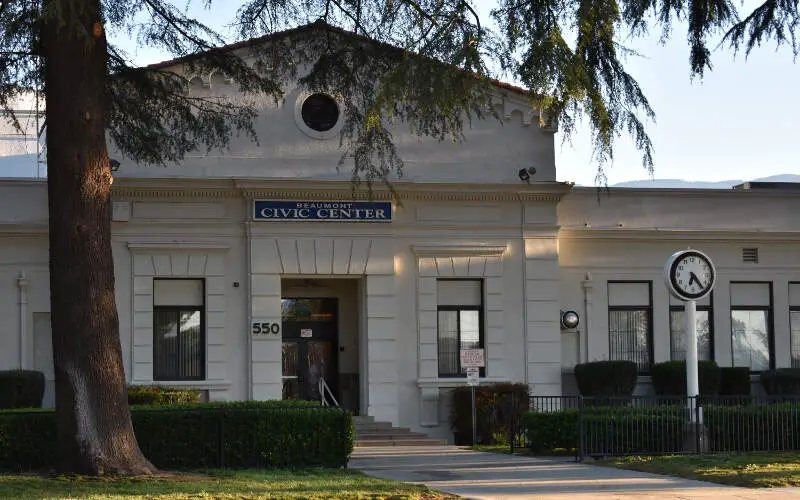 Beaumont is a city in Riverside County, California, United States located at a half mile elevation in the pass area south of Southern California's highest peak, San Gorgonio Mountain, and north of San Jacinto Peak.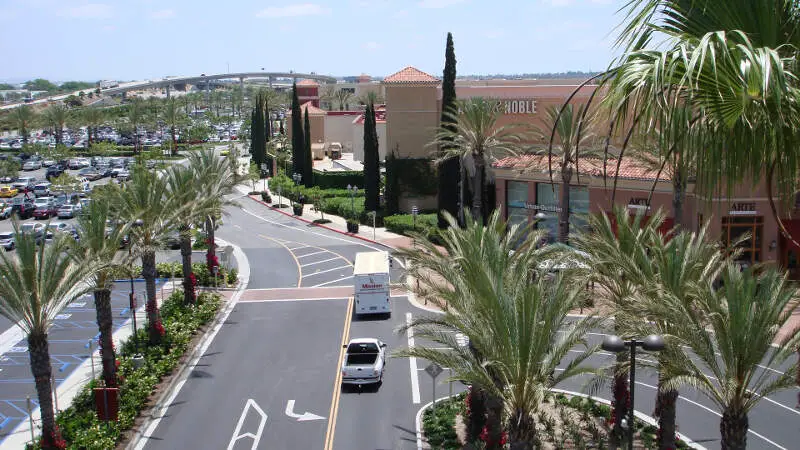 Source: Public domain
Irvine is a master-planned city in Orange County, California, United States. The Irvine Company started developing the area in the 1960s and the city was formally incorporated on December 28, 1971. The 66-square-mile city had a population of 212,375 as of the 2010 census; in 2016 the city's population was 258,386.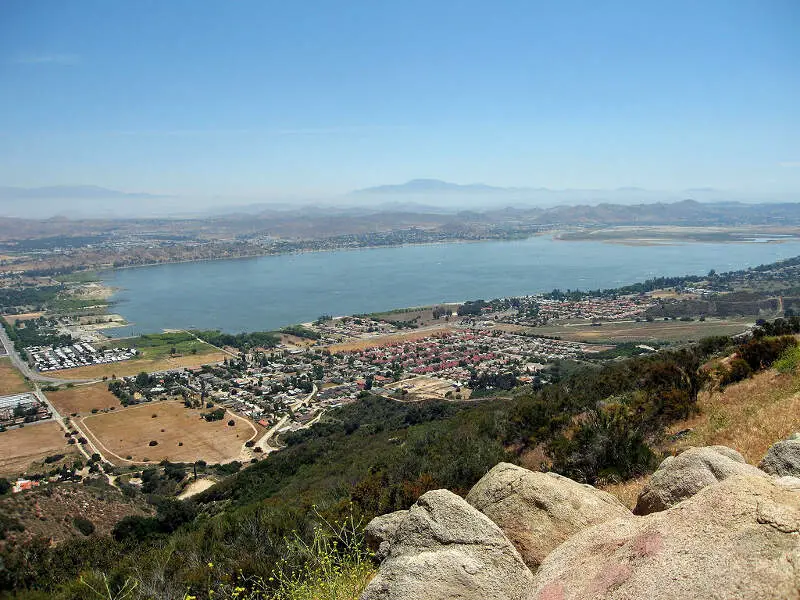 Lake Elsinore is a city in western Riverside County, California, United States. Established as a city in 1888, it is on the shore of Lake Elsinore, a natural freshwater lake about 3,000 acres in size. The city has grown from a small resort town in the late 19th century and early 20th century to a population of 51,821 at the 2010 census.
Source: Public domain
Brentwood is a city in Contra Costa County, California, United States. It is located in the East Bay region of the San Francisco Bay Area. The population is 51,481 as of 2010, an increase of 121 percent from 23,302 at the 2000 census.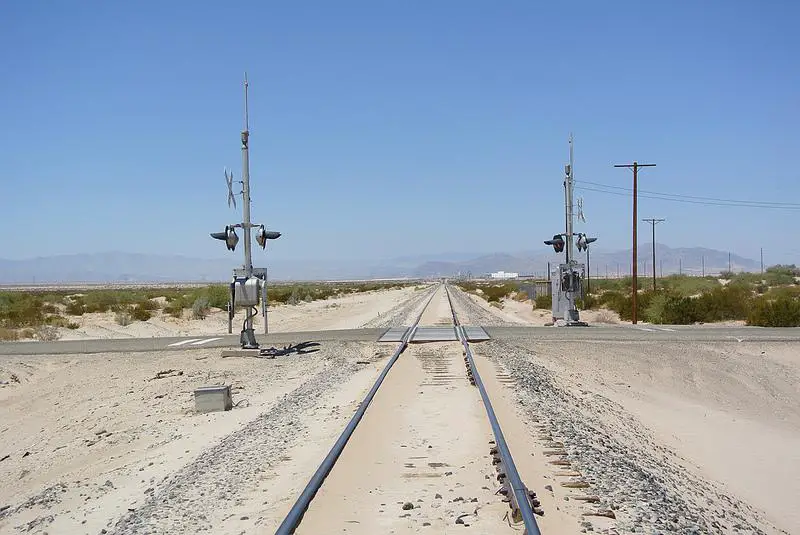 Imperial is a city in Imperial County, California. Imperial is located 4 miles north of El Centro. As of the 2010 census, the city had a population of 14,758. It is part of the El Centro metropolitan area. Nearby recreation facilities transform the desert into a popular Valley tourist destination due to availability of activities. Three year-round golf courses are within minutes of Imperial. The sand dunes provide a place for campers and dune buggy enthusiasts. This region is well known for its abundance of bird species such as dove, quail, ducks, pheasant and geese.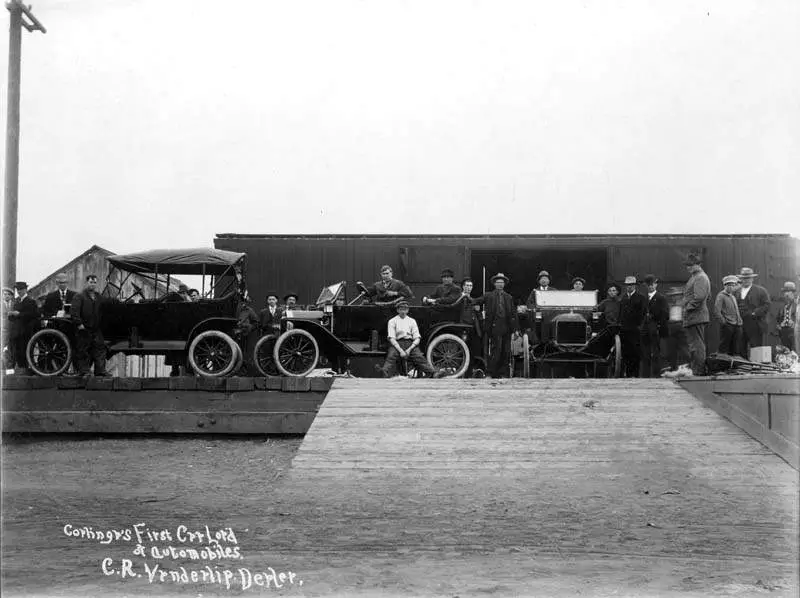 Source: Public domain
Coalinga is a city in Fresno County and the western San Joaquin Valley, in central California.
Lathrop is a city located in San Joaquin County, California, United States. The 2010 United States Census reported Lathrop-s population was 18,023. The city is located in Northern California at the intersection of Interstate 5 and SR 120.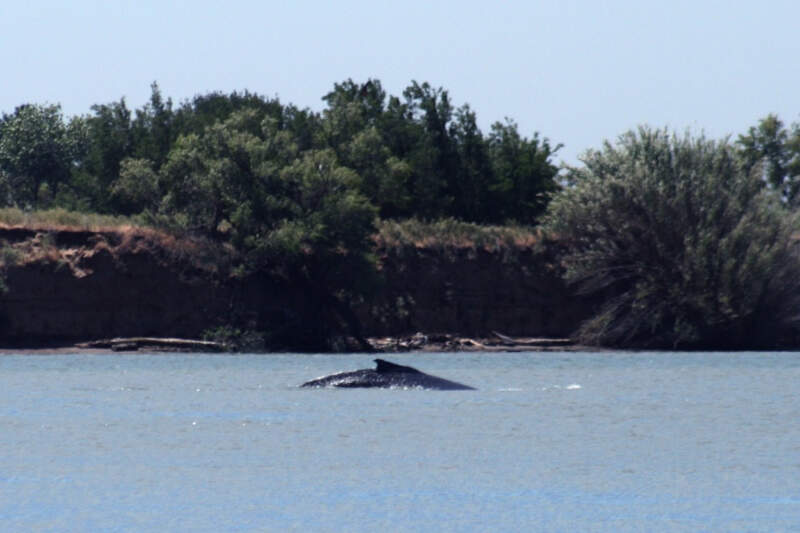 Rio Vista is a city located in the eastern end of Solano County, California, in the San Francisco Bay Area-either in the East Bay or the North Bay, depending on what definition is used-on the Sacramento River, in the Sacramento River Delta region. The population was 7,360 at the 2010 census.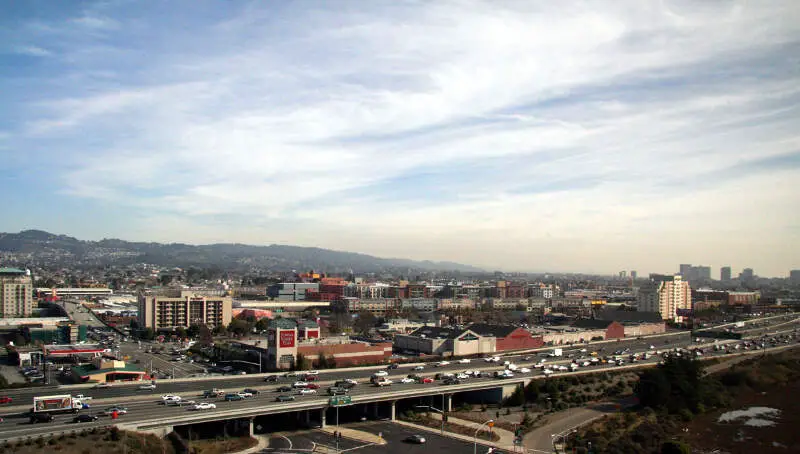 Emeryville is a small city located in northwest Alameda County, California, in the United States. It is located in a corridor between the cities of Berkeley and Oakland, extending to the shore of San Francisco Bay. Its proximity to San Francisco, the Bay Bridge, the University of California, Berkeley, and Silicon Valley has been a catalyst for recent economic growth.
How We Measured The Fastest Growing Cities In the Golden State for 2020
To figure out which cities are growing the most, we simply had to look at the growth rates for cities sine the beginning of the decade, according to the American Community Survey put out by the census every year. Specifically:
Current Population
Population in 2010
Growth rate from 2010 to Current (The latest available data which came out in Dec 2018)
We ranked all 426 California cities with a population over 5,000 people from highest growth rate to lowest.
The city with the highest growth rate during this time was crowned the fastest growing city in the Golden State.
And for those of you who are a little rusty with their statistics, you can calculate the growth rate by the following formula:
[Current Population - Population 2010] / [Population 2010]
Here's a graph of the cities in California with the largest percent increase in population: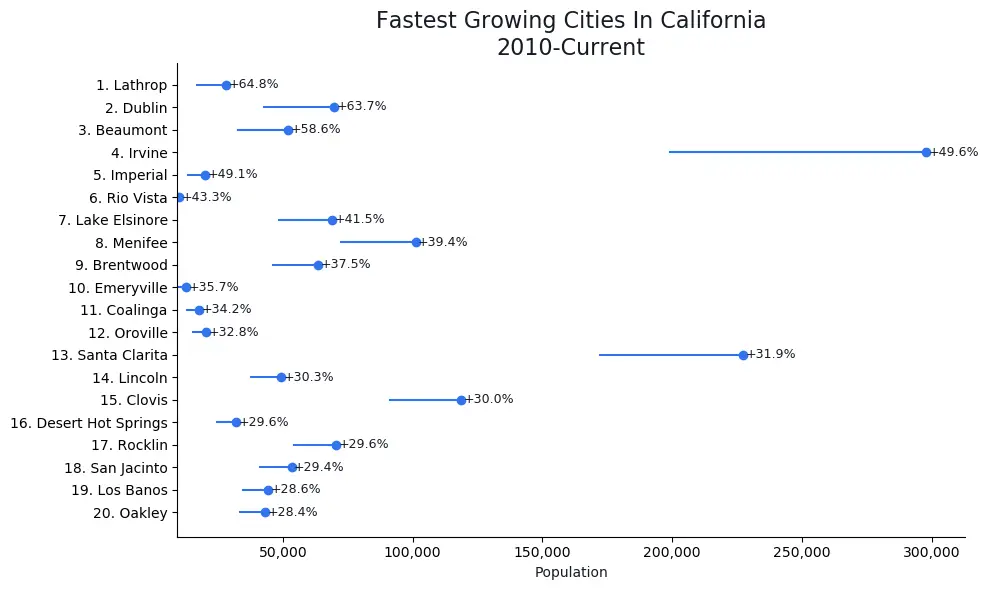 Click to enlarge
These Places Grew Up So Fast In California, You Know?
So there you have it, the fastest growing cities in California are led by Dublin which has been growing at a blistering pace this decade relative to other cities and towns around the state.
It'll be interesting to see if these places can keep growing at the same rate over the next couple of years. We'll be here to let you know!
These places have been growing (or shrinking) the slowest (fastest):
Avenal
Crescent City
Susanville
For more California reading, check out:
Detailed List Of Fastest Growing Places In California For 2020