People in Kentucky are some of the happiest people in the country according to the Happiness Research Institute. They also have reason to smile because they have some of the most affordable places to live.
How did we determine the most affordable places to live in Kentucky for 2021? We consulted the latest Census data on cost of living.
Most people think that the Bluegrass State is filled with a bunch of horse ranches, silly hat wearing Kentucky Derby-ites, and University of Kentucky Wildcat super fans. And while all this might be true for most places in Kentucky, the trick is to find all of this goodness in the most affordable places to live in Kentucky. While many parts of Kentucky are above the national average for unemployment, there are places that are trying to keep the Bluegrass State in the black. Kentucky companies like Jif Peanut Butter and Post-it Notes provide good jobs for this flyover state's residents. Coincidentally, we can thank Kentucky's education institutions like the University of Louisville for producing smart, hard-working Kentuckians who want to make Kentucky available and affordable for all.
So, want to know where you can find a safe, affordable Kentucky home and a job that pays the bills? Keep reading.
The 10 Most Affordable Places To Live In Kentucky
It's simple economics, folks. Good jobs increase median incomes which translates to most people being able to live in our most affordable Kentucky places. This is a good thing because Kentucky has a lot to offer. They have hip millennial cities like Des Moines and cool college cities like Lexington.
What's the cheapest place to live in Kentucky? Unfortunately there can be only one place that takes the mantle of the most affordable place in Kentucky for 2021, and that would be Princeton.
So, if you care about home values and affordability, take a look at the list below to see where your Kentucky dollar will go the furthest. And if you don't find your favorite there, head to the bottom.
And if you already knew these places were cheap, check out some more reading about Kentucky and the cheapest places in the country:
The 10 Cheapest Places To Live In Kentucky For 2021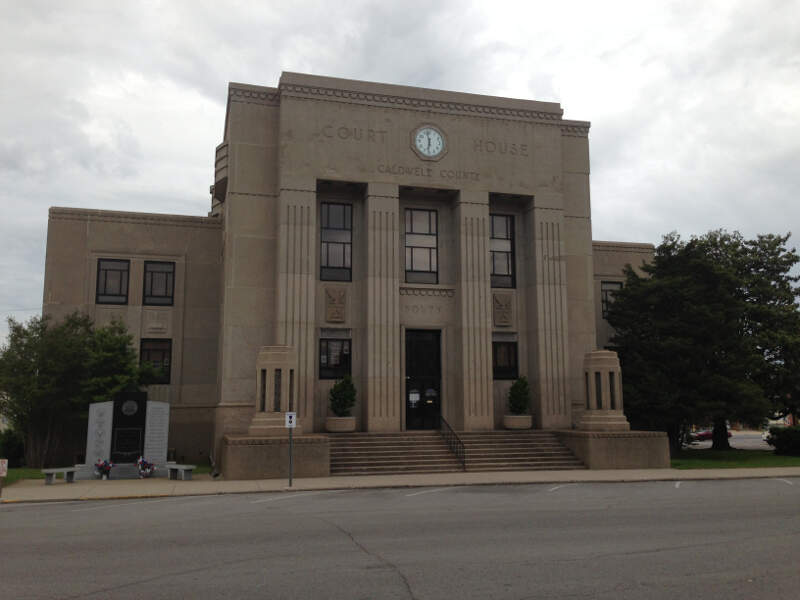 You won't find anywhere cheaper to live in Kentucky than Princeton, a small city in western Kentucky. Homes here are nearly as cheap as a year's tuition at the Ivy League version of Princeton, with a median price tag of $79,300. That's the lowest median home price in Kentucky. And with folks in Princeton earning a median income of $40,574, the city is the second easiest place to pay off your mortgage.
Not to mention that you'll spend the 2lowest proportion of your salary on an apartment statewide if you choose to rent instead of buy. With all that money you're saving on housing, you'll have plenty to splurge when the summertime Black Patch Heritage Festival rolls around.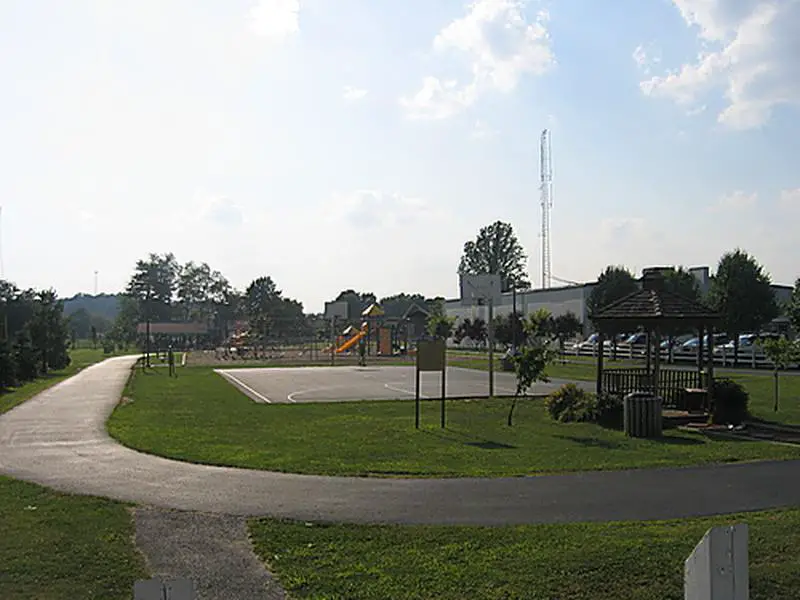 Flatwoods already scored an 8/10 on our overall Snackability scale, so we already knew it was a great place to call home. Safety, short commutes, solid amenities, and, of course, uber-affordability are all a guarantee when you're in Flatwoods. The city has the lowest home price to income ratio in Kentucky, with homes going for $91,600 and residents earning $49,073/year. In other words, it's quite easy to believe that you're living in one of the cheapest states to live in America when you're in Flatwoods.
Flatwoods is located in the eastern part of Kentucky, near the borders of Ohio and West Virginia.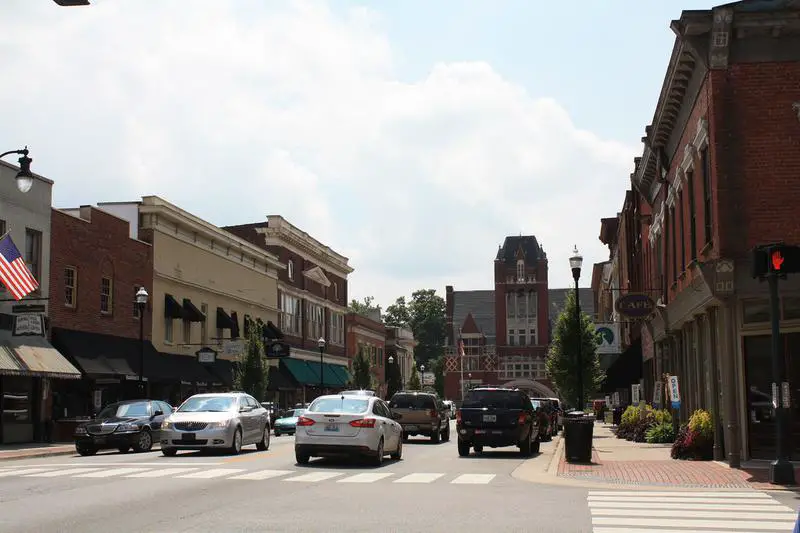 Bardstown's population has been steadily increasing in recent years, and it's not hard to see why. We already named it one of the best cities to raise a family in Kentucky, so Bardstown's affordability is just icing on the cake. It may seem odd that such a great place to raise a family is also in the heart of bourbon country, but hey, parents need a way to wind down too! Bardstown has one of the cheapest median rents you'll see on this list at $676/month, and with folks here earning a median income of $54,328, it's hardly noticeable when the rent check clears.
Bardstown is about 40 minutes south of Louisville.

Source: Public domain
Yet another Cincinnati suburb, Dayton ranks as the fourth most affordable place in Kentucky. While Dayton is one of the least economical places to rent on this list, the city is saved by it's exceptional home price to income ratio; the fourth best in Kentucky. Homes in Dayton go for about $107,000 and residents earn a median income of $52,515.
Since the mortgage isn't breaking the bank, you'll have plenty of cash to ball out on a Riverboat Tour of the Ohio River. Heck, you may even be able to afford the yacht option with how much you're saving on housing.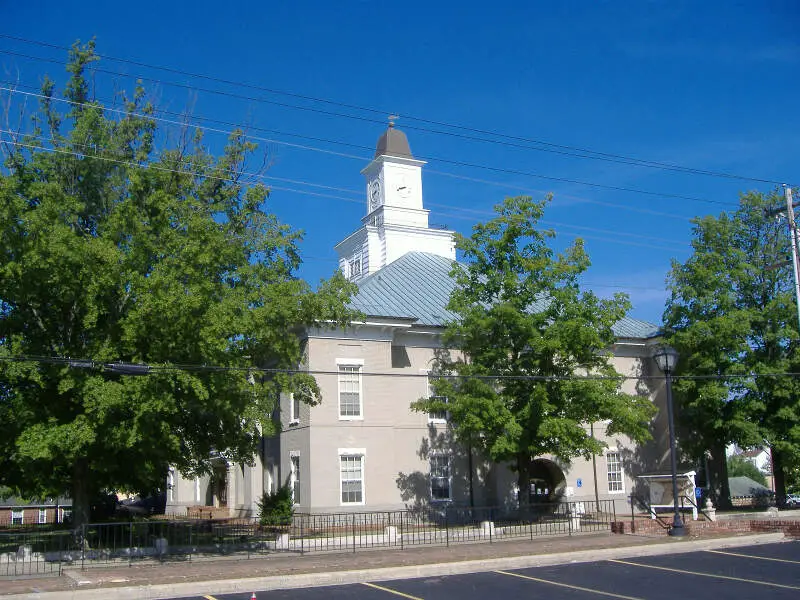 Source: Public domain
Named for Revolutionary War General William Russell, Russellville is located in the southern part of the state. It has a long history dating back to the 18th century that includes a famous bank robbery that may have involved Jesse James. These days, the town has another distinction: it ranks as the number 5 cheapest location in Kentucky.
It's easy to find an affordable place to live in Russellville. The median home value comes in at $91,600, one of the lowest figures in the state. Even if you're not in the housing market, you can find a good deal on an apartment. The median rent comes in at $595 per month.
Overall, the cost of living in town reaches 80% of the national average. The cheap housing makes up most of this value, though you'll also save money on groceries and health care. These savings are important, because the area's economy is tough. The median income hovers at $36,840, while the unemployment rate is 11.12%.
Russellville generally sits in a rural area. However, if the desire for big-city entertainment strikes you, it's an hour-and-15-minute drive to Nashville, Tennessee. Or you can stay in town and enjoy the local Tobacco and Heritage Festival.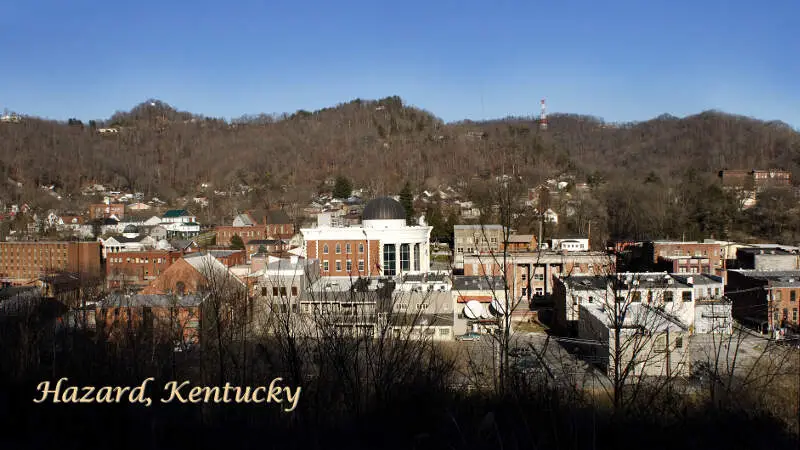 Ever hear of the Dukes of Hazzard? Well, this isn't that place. However, Hazard did play host to its sort-of namesake TV show, during the 1981 Black Gold Festival. The rest of the time, Hazard stands as the number 6 easiest place to afford in Kentucky.
Times can be hard in this one-time booming coal town. The median income stands at $50,078 and the unemployment rate hovers at 10.07%. This has contributed to a high crime rate, which sits about 30% above the national average.
Luckily, the 5,046 residents of Hazard are able to stretch a dollar. The overall cost of living stands about 15% below the U.S. standard. This comes mostly thanks to cheap housing. The median home value in Hazard is $122,300, while the area's median rent comes in at $655 per month.
Located in the rural southeastern part of the state, Hazard is far from a major urban area. It's about a two-hour drive from Lexington. Louisville is about three hours away.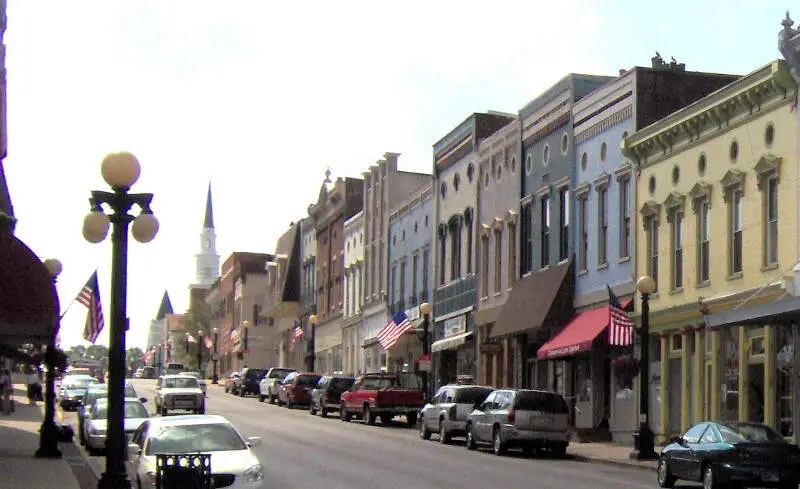 Harrodsburg is an old community. In fact, it's celebrated as the oldest city in Kentucky, as well as one of the first permanent settlements on the western side of the Appalachian mountains. In the modern age, Harrodsburg draws attention as the number 7 cheapest location in Kentucky.
The general cost of living in Harrodsburg stands about 15% below the national norm. This comes thanks to a great value in the housing market. The median home price ranks as the ninth lowest mark in the state, with a figure of $100,700. On the rental side, the median rent hovers at $608 per month.
Looking at the rest of the local economy, Harrodsburg has a median income of $39,449. The unemployment rate comes in at 8.95%.
Harrodsburg is located in the central part of Kentucky, about 45 minutes southwest of Lexington and an hour and a half southeast of Louisville. Want to get a taste of historical Harrodsburg? Check out Old Fort Harrod State Park in the middle of town.

Source: Public domain
A suburb of Cincinnati, Bellevue is a favorite weekend destination for people from the big city thanks to having countless things to do. People who commute to Cincy from Bellevue appreciate that they get all the convenience of big city life with few of the attendant costs. While homes in Bellevue are the second most expensive on this list at $136,400, it does not detract from the city's overall affordability. With residents earning a median income of $63,415, paying the mortgage or the rent in Bellevue is far easier than most places in Kentucky.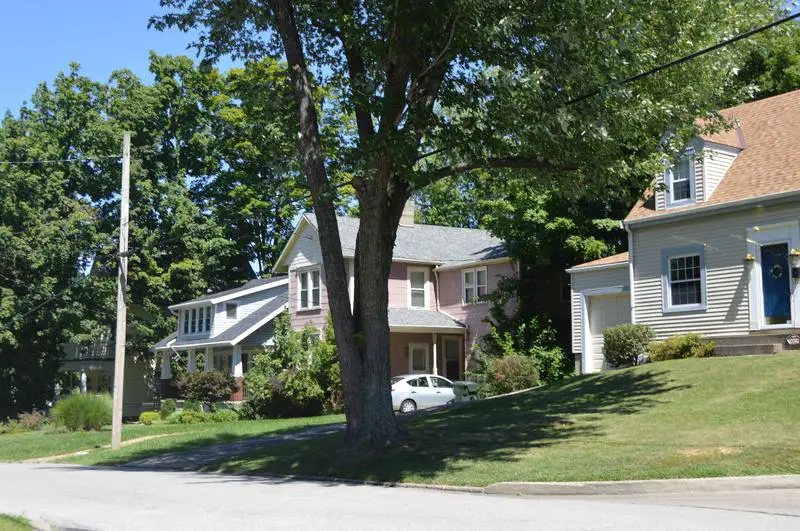 Source: Public domain
Bardstown may have the market cornered on raising a family on a budget in Kentucky, but if you're trying to find that special guy or gal on a budget, Erlanger is the place to be. That's because Erlanger is one of the best cities for singles in Kentucky. Seeing as singles are more prone to rent than buy, Erlanger's affordable renting market is extra attractive. And if you do decide to settle down with a mortgage, know that Erlanger has the seventh best home price to income ratio in Kentucky. Sounds like a no-lose scenario to me!
Erlanger is just 15 minutes southwest of Cincinnati.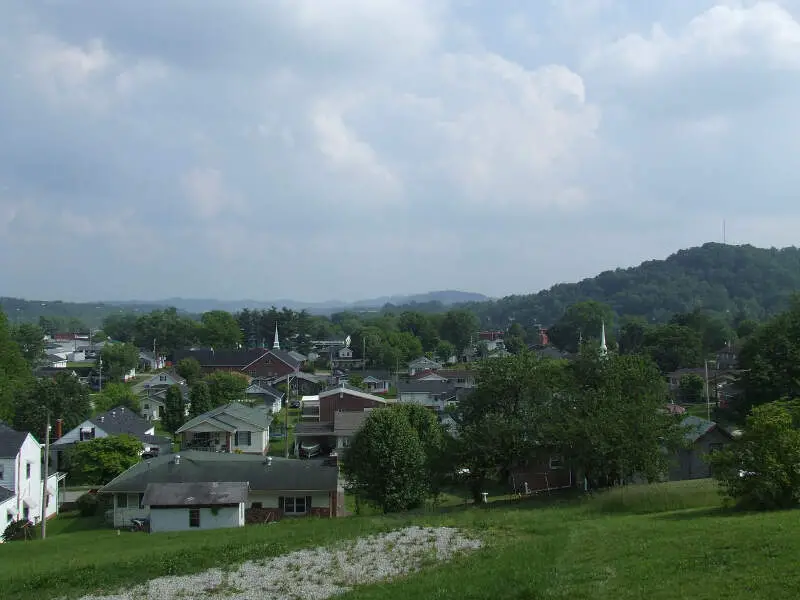 Source: Public domain
Kentucky Fried Chicken opened up its first location in Corbin, Kentucky, in 1930. That's a fantastic legacy all on its own. But Corbin has another thing going for it as well: it ranks at number 10 on the list of most affordable towns in Kentucky.
The 7,325 inhabitants of Corbin get quite a deal. The cost of living in town equates to a more than 20% discount from the national average. You'll find cheap transportation and services in the area. Most of all, you'll get low-cost housing.
The median home value for the community comes in at $104,000. Rents are equally affordable. The median value there stands at $627 per month. Crime is about 20% below the U.S. norm and the median income is $40,119.
Looking for something to do in Corbin? Of course, you can check out the modern versions of KFC. Or if you want a sense of the old-time version, head over to the Harland Sanders Caf and Museum, located in North Corbin.
How We Determined The Most Affordable Places To Live In The Bluegrass State For 2021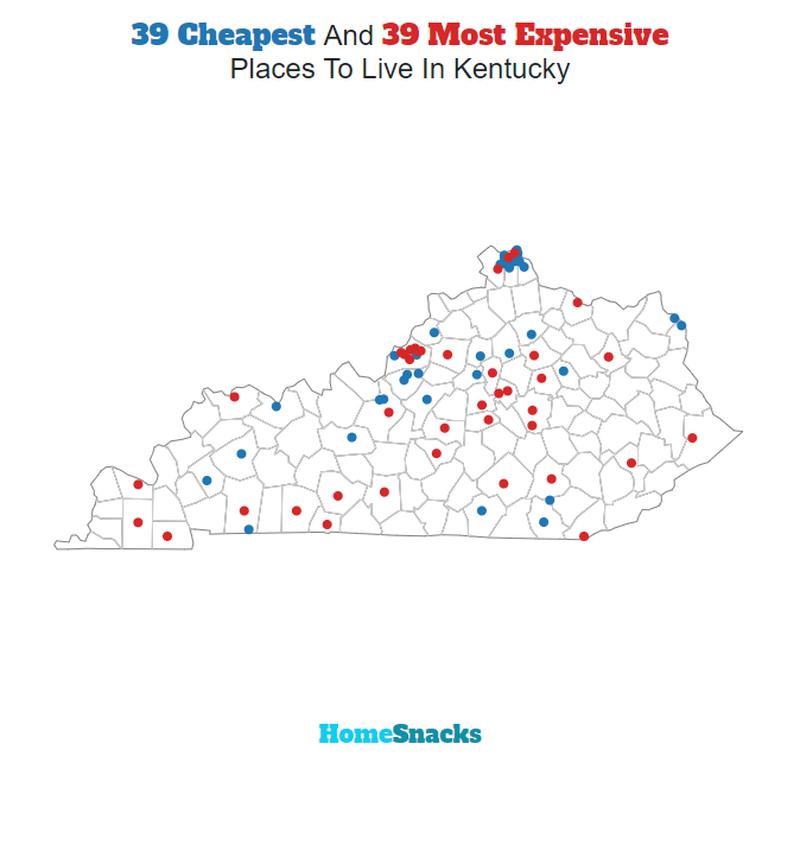 The two most important things to think about when it comes to being able to afford if you can live comes down to:
How much do money do I make?
How much do I have spend to live there?
You need to understand your costs in the context of how much money you make.
For example, if the median household earns $100,000 and spends $40,000 on housing it's actually cheaper to live there than a place with a median income of $50,000 and housing costs of $21,000. You might spend more on housing, but you have more money overall to play with.
With that example in mind, we derived several statistics from the latest Census American Community Survey 2015-2019 around incomes and costs. They are:
Median Home Price / Median Income (lower is better)
Median Income / Median Rent (Higher is better)
Median Home Price
We added simply median home price because high home prices generally correlate with higher expenses for all costs related to homes (heating, electricity, etc).
You can then compare these metrics in each of the places in Kentucky to figure out which is the least expensive.
What you are left with is a "Cost of Living Index" by taking the average rank of each of these metrics for each city.
So we used that cost of living index in order to rank all of the 78 places in Kentucky that have more than 5,000 people.
The place with the lowest cost of living in Kentucky according to the data is Princeton. You can download the data here.

There You Have It Mr. Or Mrs. Kentucky Cheapskate
If you're looking at the cost of living numbers in Kentucky, this is an accurate list of the most affordable places to live in Kentucky for 2021.
Here's a look at the most expensive cities in Kentucky according to the data:
Pikeville
Murray
Morehead
For more Kentucky reading, check out:
The Most Affordable Places To Live In Kentucky
Editor's Note: We updated this article for 2021. This is our seventh time ranking the cheapest places to live in Kentucky.