The 10 Safest Cities In Kentucky For 2020
We used data and science to determine the places in Kentucky where everyone sleeps safe and sound.

Editor's Note: This article has been update for 2020. This is our sixth time rankings the safest places to live in Kentucky.
Swipe left for slideshow. Article continues below.
Article Table Of Contents   
(Skip to section)
We don't need to place the superfecta bet or the exoctic wager, we know already know that Kentucky has some super safe place to live: 4.5 million residents can't be wrong, right?
Now, Lexington has The Wildcat for protection and Louisville has the Bats, but what about the rest of the state? Well, you're in luck: HomeSnacks has created a list of the safest places in The Bluegrass State for 2020. You know, the Kentucky places where good schools, good jobs, and good people are the reason the communities and neighborhoods in Kentucky's top ten safest places are SAFE.
How did we do it? We consulted the numbers. In total, we analyzed 73 cities. We looked at important factors like property crimes and violent crimes per capita for every place with over 5,000 residents.
We discovered that while the state is below the national average for both violent and property crime, they are not THAT much lower. Yes, Kentucky has some dangerous places, so before you throw a dart on the map of Kentucky to choose your next place to call home, we suggest you look at our list of safest places below: there might be some that surprise you.
And if you aren't being safe, there are close to 8,000 sworn in police officers to make sure your behaving.and we hear they're pretty good on horses. We also hear that there are safe places for every stage of life and every budget. For instance, Bowling Green is super safe for singles, Richmond is great for families, and for those looking to retire, you should definitely give Fort Thoma a look.
Want to know more? Grab a mint julep, a sunny spot at Churchill Downs, and take a look below at the top ten safest places in Kentucky.
Here are the 10 safest cities to live in Kentucky for 2020:
It doesn't matter if you're a betting person or not, the number one safest place in Kentucky won fair and square.
The competition, however, was fierce to say the least. Many of the Bluegrass State's top ten safest places boast safe neighborhoods, safe schools, and good jobs. Any one of these Kentucky places would be a great place to safely enjoy life.
What's the safest place to live in Kentucky? Without further adieu, the safest place in Kentucky is Villa Hills.
To see how your favorite 'Old Kentucky Home' faired, take a look below; and if you don't see it there, head to the bottom.
For more reading on safe places to live in and around Kentucky, check out:
The 10 Safest Cities In Kentucky For 2020
There is nothing yucky in this city in Kentucky. It's actually quite the opposite, Villa Hills is safe.
Located in the extreme northern tip of Kentucky on the Kentucky/Ohio border, Villa Hills is our number one safest city to live in the Bluegrass State.
Villa Hills offers a safe environment with small town charm. Home to over 45 assisted living facilities, this 'Special Place to Live' scored a whopping 9.5/10 on our snackablity scale. You wouldn't trust just anyone with granny and gramps, right? To be honest, the only crime being committed here is the love they have for the Cincinnati Bengals. We get you're a border town, but you might want to convince your state to get their own football team because it's kinda weird.
Villa Hills' gold star qualities like the non-existent number of crimes per 100,000 residents, their large number of educated residents, and just their overall safety standards, speaks volumes. With a little over 5,000 residents, the superb quality of life in this little village in Kenton County is the reason that it is our number one safest city in Kentucky for 2020.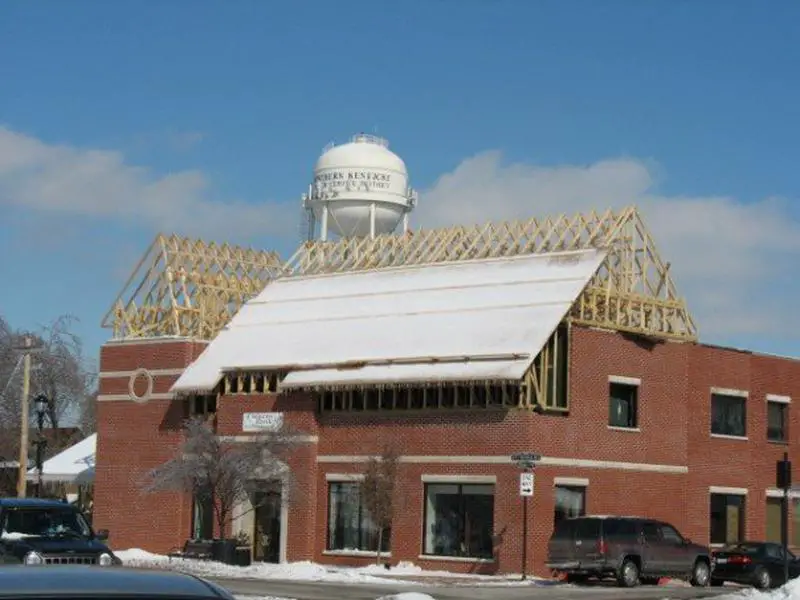 Source: Public domain
Of course Fort Thomas is safe. The whole idea behind a fort is to keep its inhabitants safe, and that is exactly what the 'City of Beautiful Homes,' has done to become our second safest city in Kentucky
This is the quintessential Kentucky river city located in the southern bank of the Ohio River. Not surprising, they received an 8.5/10 job opportunity score and an 8.5/10 affordability score. There is a sense of true community in this city in Campbell County.
Whether it's strolling their newly renovated downtown or at the local coffee shop, nothing says safe like a community that creates opportunities to get to know anything and everything about each other. Just make sure you take the trash out in proper attire because someone is always watching, and you wouldn't want to become the talk of hometown hero Cris Collinsworth's next NFL segment.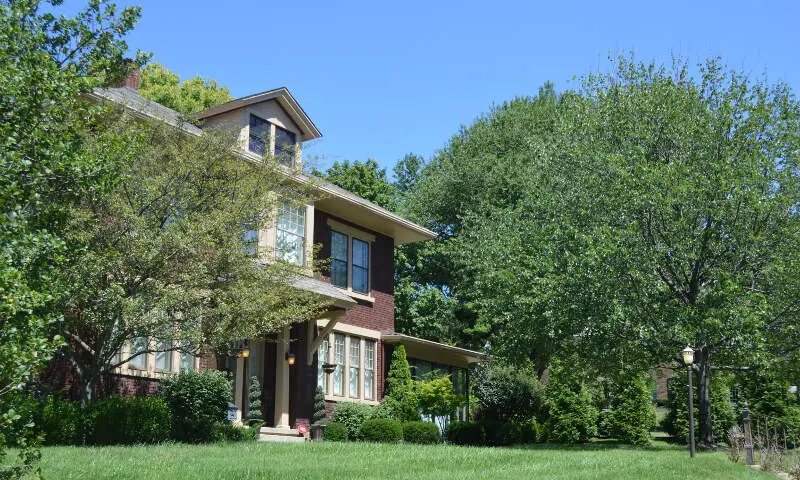 Source: Public domain
Turns out, forts are pretty safe places to be in Kentucky. Fort Mitchell proves that with an impressive #6 and #9 ranking statewide in terms of property and violent crimes respectively. That works out to only 1 violent crime committed each season in Fort Mitchell -- not too shabby at all.
If all that safety's not gripping you, wait until you hear that Fort Mitchell is home to the world's only museum of ventriloquism at the Vent Haven Museum. You certainly wouldn't be a dummy for moving to third safest city in Kentucky.
Fort Mitchell is only a hop, skip, and a jump from Ohio, with Cincinnati just a 15 minute drive north.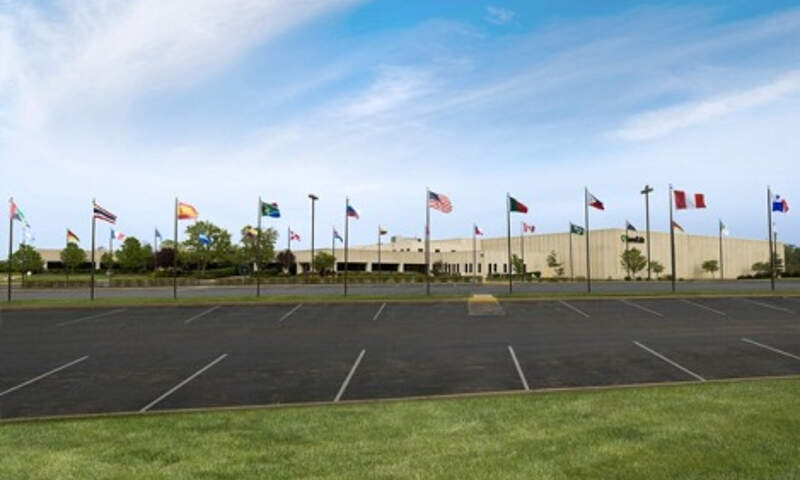 When you're in a sketchy situation, it's always best to take the high ground. Well, the ground doesn't get much higher than Highland Heights. And Highland Heights neighbors #3 Fort Mitchell, so it seems like this general area has got it's safety tricks down pat.
Highland Heights is actually even more impressive than Fort Mitchell in terms of violent crime -- the city only experienced 2 violent crimes in the entire last year of available data. So catch an event at the BB&T Arena. There's like 0 chance that you'll end up in a drunken brawl or mugged on the way back to your car. And all that education the kids are getting at Northern Kentucky University is working wonders for making the streets safer.
Welcome to our fifth safest city in Kentucky: Taylor Mill. This old mill city in Kenton County should be called the 'The Best City to live in Kentucky,' too, because all is crazy safe and super fine in the 859. We don't know about you, but we think a city with local festivals and multiple recreational opportunities sounds like a place we could definitely call home.
And kudos to Taylor Mill, their snackability rating is off the charts: a whopping 8.5/10! Their number of amenities scored an 8.5/10 and their education rating an 8/10! There's a reason Taylor Mill's motto is 'Taylored with Pride,' they have a strong sense of community with a big city focus. Check it out! We're pretty sure you will want to call it home.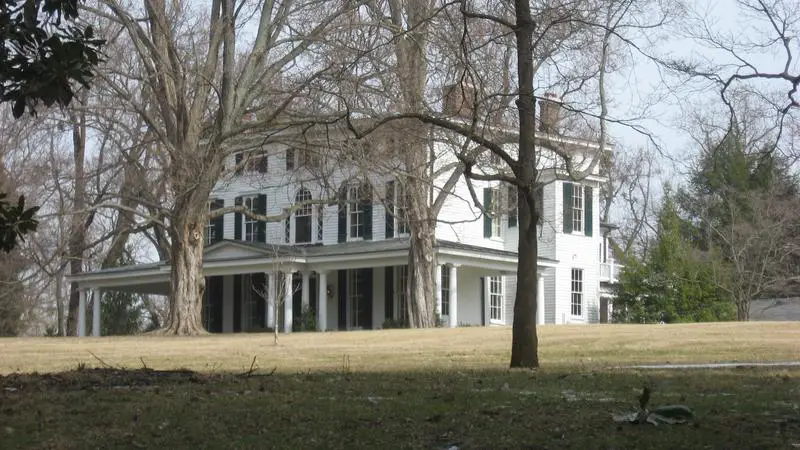 Source: Public domain
Where Kentucky State Road 71 meets West Virginia State Road 275 is Edgewood. This Cincinnati-burb, known for its bootlegging' and rum running' stories from the late 1800s, is our sixthsafest city in Kentucky 2020.
All bootlegging aside, Edgewood is also known for its safe, family friendly atmosphere. There is a ton of stuff to do in this little town of 8736 residents in the tiny tip of Kenton County. They have a boat load of places to shop and dine, and their immaculate parks, Presidents Park, Freedom Park, and Victory Park, provide the backdrop for safe, friendly games of basketball, volleyball, and soccer for all ages. Heck, there town motto is "Where every day is a walk in the park".
So if you want to feel like everyday's a walk in the park, grab the fam, pack up the pick-up, and get a-movin' so you don't miss out on any of their safe, family friendly, activities scheduled for 2020.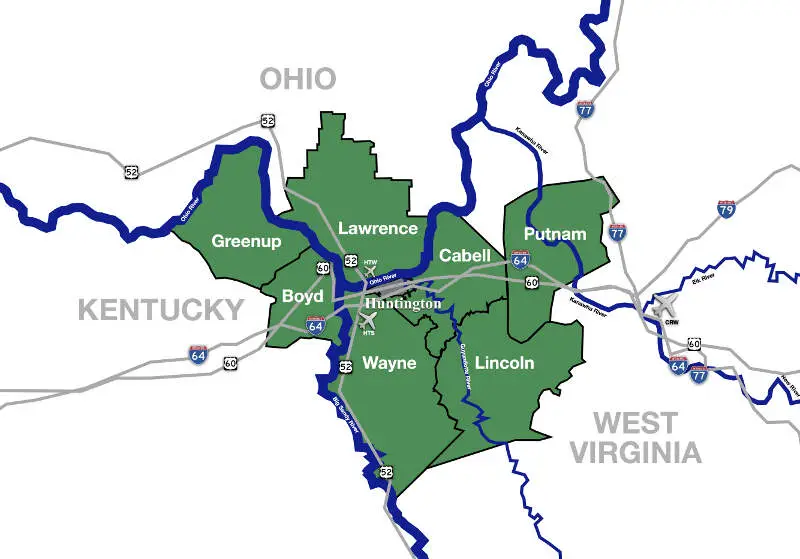 Slap on a fluorescent orange safety jacket before you ride, and read on to find out why Flatwoods is our seventh safest city in Kentucky.
It might not be Barney Fife's Mayberry, or maybe it is, but this little town with a vibrant community, unforgettable neighborhoods, and year-round fun backed by a strong farming community is just as notable and just as safe. Probably why it's one of the most sought after cities outside of Ashland. It doesn't end there folks. This little piece of heaven, just outside Greenbo State Park, is a family friendly, safe city. It boasts convenient strip malls and we're pretty sure a Dollar General or two. It's a great place to raise a family. And word on the street is that young professionals are starting to take notice and move Flatwoods' direction. So don't wait, because the word is out.
And if you want to read more about how great Flatwoods is, check out our article The Best Cities in Kentucky. Not surprising, Flatwoods also made our top twenty. Good work 'Good Neighbor Community'!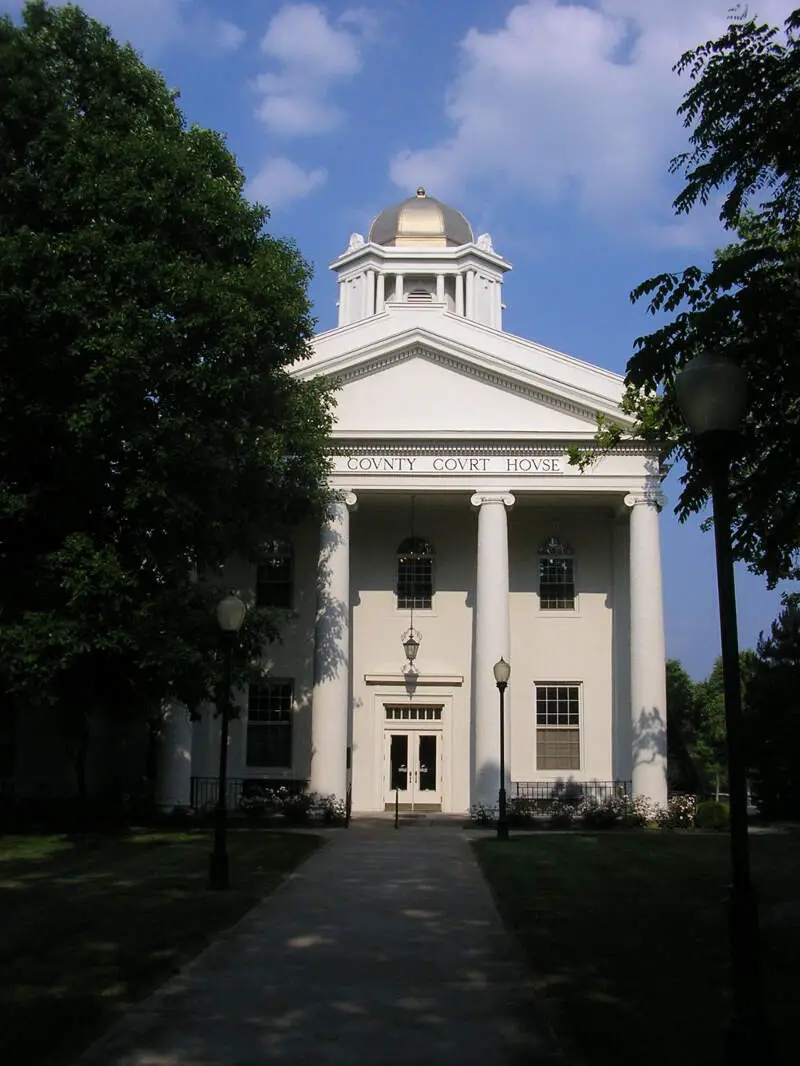 One thing is certain -- Independence, Kentucky has declared independence from dangerous streets. Independence is the most populated city on this list, proving that safe cities don't have to come in small packages. The property crime rate in Independence is the real bragging point for residents; it's more than four times lower than the national average, earning the city the 3rd place rank in this category for Kentucky.
So grab a shot (or three) of bourbon at Boone County Distilling Co., knowing you couldn't manage to have your wallet stolen even if you tried.
Independence is the fifth and final city on this list in Kenton County, and is located just a short drive from many other cities on this list.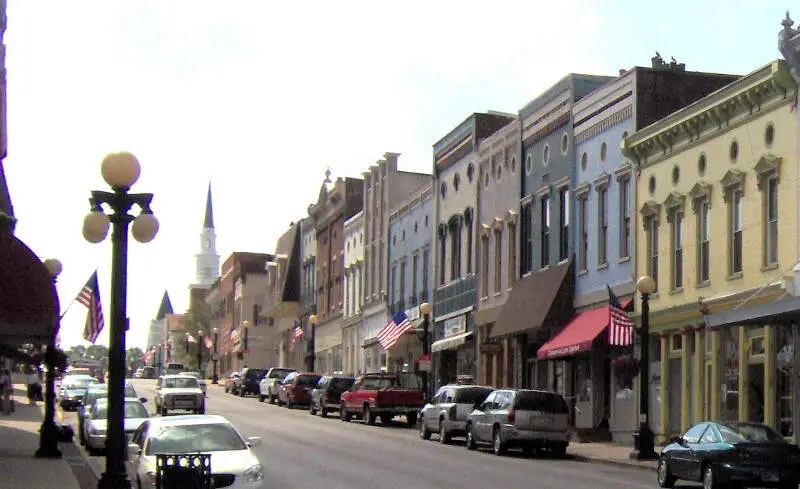 Alright, so Harrodsburg might be at the bottom of this list, but that doesn't mean the city shouldn't still be proud. Especially considering that Harrodsburg ranked as only the 28th safest city in Kentucky in the previous year of available data. The #9 ranking this year earns Harrodsburg the title of most improved player in the state.
If you enjoy the simulation of violence more than the real thing, Harrodsburg has just the thing for you at Old Fort Harrod State Park - a full-scale replica of the titular fort. Violence has taken a steep drop since the pioneer days, with Harrodsburg having only 3 total violent crimes in the last year of available data.
Harrodsburg is an hour and some change southeast of Louisville and less than an hour south of Frankfort.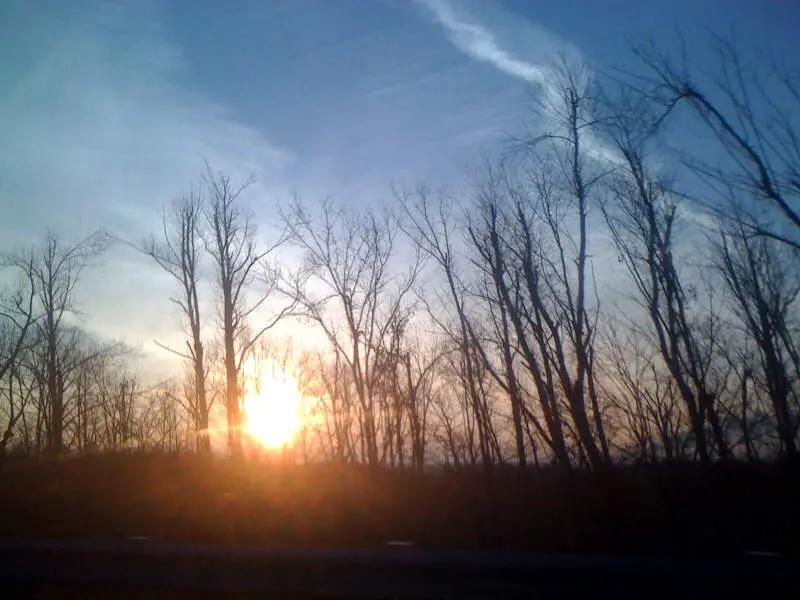 Home to Kentucky's Rods & Ribs Festival, this city is our eighth safest city. It's a place where work and play meet midway between Louisville, Nashville, and the northern boundaries of the Green River.
Central City is so safe, that the only crime here is a bad haircut or dipping your ribs in ranch. Its small city charm delivers big opportunities to all that are searching for a safe place to call home. They claim to be more then prepared to show you the good 'ol hometown pride that makes the south famous and safe. Yes, 'It's that Friendly'.
Central City's slogan should be: "Where It's Happening". They are the only city in Muhlenburg County that allows liquor to be sold by package stores, they have a boat load of bbq joints, and three kinda close places where you can legally buy guns.
How we calculated the safest cities in Kentucky for 2020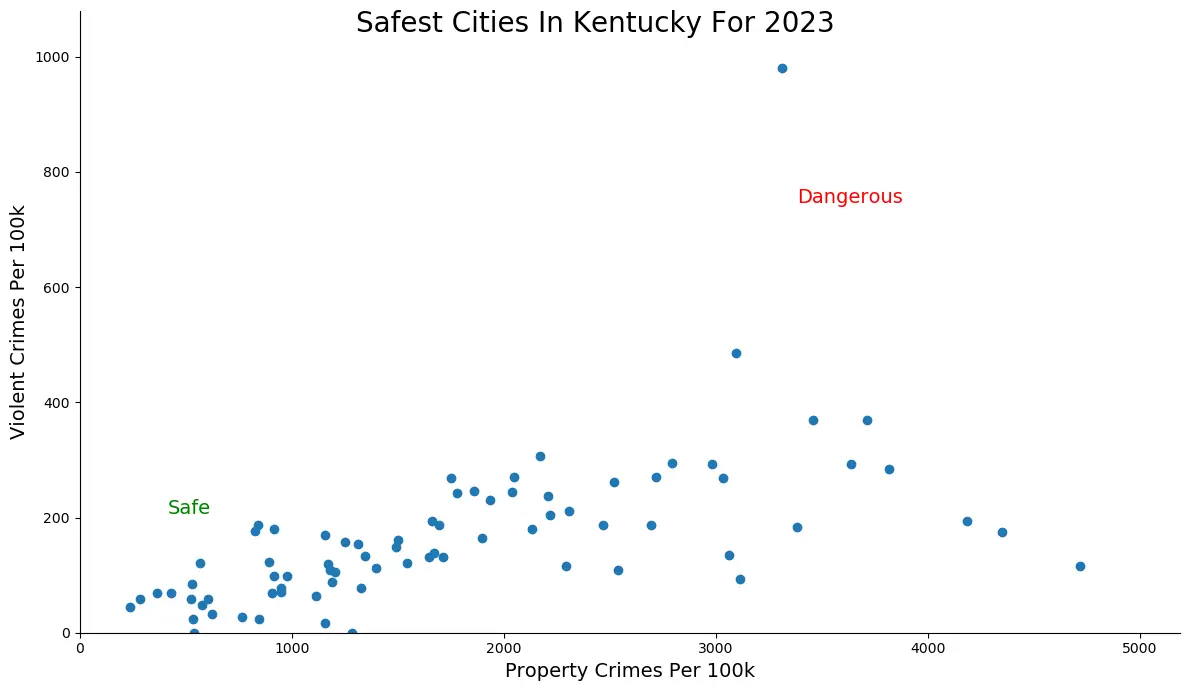 While there are surveys and public polls on what cities in a state are the safest, we didn't want to rely on speculation and opinion. Instead, we looked at the hard numbers from the FBI's most recent report of crime (Published Sept 2019) in Kentucky.
Specifically, we analyzed the
FBI's Uniform Crime Report
which summarizes the number of property crimes and violent crimes in each city per year. We used two criteria:
Violent crimes per capita (murders, assaults, rapes, armed robberies)
Property crimes per capita (thefts, burglaries, motor vehicle thefts)
For example, there were a total of 43 crimes committed in Villa Hills which had a reported population of 7,455. That means the number of crimes per capita is 0.0058 which translates into a 1 in 173 chance of being the victim of a crime.
We only looked at cities that have populations of more than 5,000 people reported to the FBI in 2018, the last reporting year. This left us with a total of 73 of the biggest cities in Kentucky to rank.
We ranked each city for each criteria from 1 to 73 where 1 in any particular category is the safest.
Next, we averaged each places two criteria to create a Safety Index. We crowned the place with the lowest overall Safety Score "The Safest Place In Kentucky" with any ties going to the bigger city. You can download the data here.
The safest city in Kentucky, based on our criteria, is Villa Hills. The most dangerous city in Kentucky? Paducah, where residents had a 1 in 20 chance of being the victim of a crime.
Note: This report is not an analysis of the effectiveness of local police departments, nor does it reflect the fact that people from out of town may come into a community and cause a crime. It simply looks at where crimes occurred most frequently, based on a city's population.
There You Have It - The Safest Cities In The Bluegrass State
Looking at the data, you can tell that Villa Hills is as safe as they come, according to science and data.
But as most Kentucky residents would agree, almost every place here has its safe and not safe parts. So just make sure you're informed ahead of time.
Here's a look at the most dangerous cities in Kentucky according to the data:
Paducah
Mayfield
Oak Grove
For more reading, check out:
Breaking Down Crime In The Safest And Most Dangerous Cities In Kentucky

Share on Facebook
Chris Kolmar has been in the real estate business for almost ten years now. He originally worked for Movoto Real Estate as the director of marketing before founding HomeSnacks.
He believes the key to finding the right place to live comes down to looking at the data, reading about things to do, and, most importantly, checking it out yourself before you move.
If you've been looking for a place to live in the past several years, you've probably stumbled upon his writing already.
You can find out more about him on LinkedIn.