Article Table Of Contents   
(Skip to section)
Where are the best places in the Kentucky? They are the places that have awesome economies. They're also the places where people have the best jobs, where residents are happily married, and where the sun shines the most.
And certainly, since crime is really low, everyone wants to be there. It's literally all sunshine and rainbows in this flyover state.
And these places offer the most rainbow and sunshine when it comes to living in Kentucky – we would say they are the best places to live in Kentucky.
How you might ask? We looked at the 75 most populated cities in the Bluegrass State for this study to see which ones have the best quality of life, low crime, and booming economies.
The cities at the top are places where things are going swimmingly right now, at least according to data.
There might be some surprises on this list, but when you look at the unbiased data, it's hard to argue against. We had more than ten million people read our worst cities in a state series, which was featured in hundreds of media outlets, including an NPR feature.
So, we know what we're talking about.
The 10 Best Places To Live In Kentucky For 2022
What city is the best place to live in Kentucky for 2022? Well according to the US Census and FBI data we crunched, Edgewood is the best place to live in Kentucky if you care about a good education, low crime, and a high quality of life.
Looking more at the data, you can tell that anything within a 15-minute drive of Edgewood is the most desirable, according to science and data.
But as most Kentucky residents would agree, almost every place here is awesome.
If you're looking for something more national, check out the best states in America or the best places to live in America.
For more Kentucky reading, check out:
The 10 Best Places To Live In Kentucky For 2022
What's new and exciting in Edgewood? Funny you should ask: this city has the 9th best home price and the 7th best unemployment rate making it the best place to live in The Bluegrass State.
But, don't get it confused–you will need to make at least $105,714/year to afford the median home price of $225,500 and the overall higher cost of living in this small town of 8,779 residents.
And if you don't have a job yet, don't fret: you'll be amongst people who know the value of work and it shows with the city's 2.1% unemployment rate and a poverty rate well below the national average at 2.6%. They really do look out for each other in this little corner of Kenton County. The crime rate here is over 70% below the national average making it one of the safest cities in Kentucky. Simply put, folks, there were only 67 crimes committed at the time of this report, and 90% of them were property related.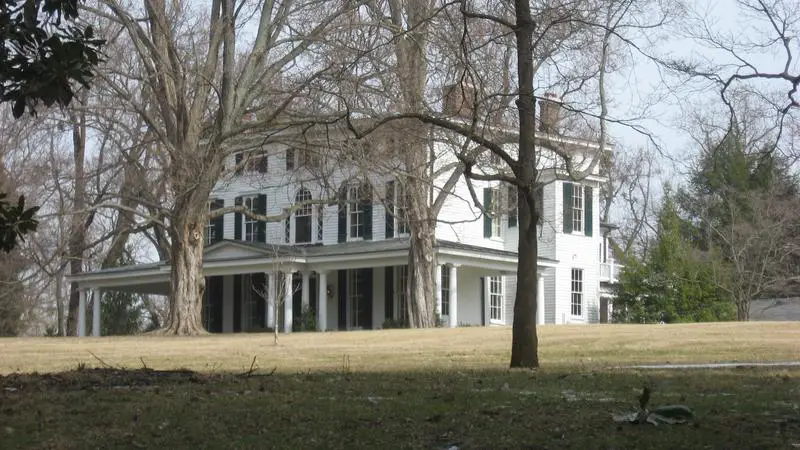 Source: Public domain
If you're looking to live in Kentucky, there's no better time than the present and there's no better place than the state's 2nd best place to live, Fort Thomas. In a nutshell, this is because there are a bunch of hard-working Kentuckians in Fort Thomas. The unemployment rate here is the 2nd lowest in the state at 3.7%. Needless to say, we were not surprised to find that this city is one of the richest cities in the state as well.
Located along the Ohio River along the Ohio River just over the bridge from Cincinnati, Fort Thomas is a city of rich history that will accommodate every stage of life–great schools and safe parks for kids, multiple distilleries and breweries for parents after the kids are put to bed.
If you're a young professional, a href="https://www.newportonthelevee.com/">Newport on the Levee in downtown Fort Thomas has cool co-working spaces and electric night-life, and if you're ready to retire, the cost of living here will allow you to stretch your retirement budget much further.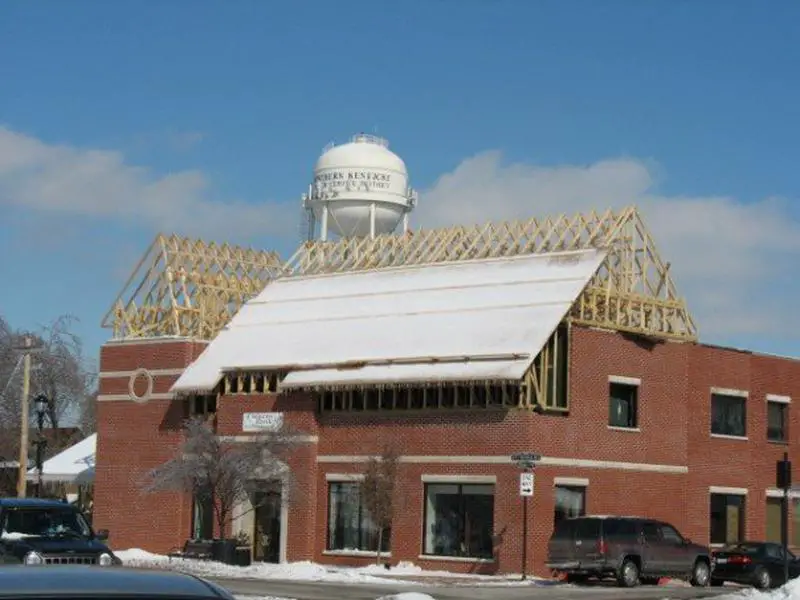 Source: Public domain
If you are looking for "more," you will definitely find "more" in Kentucky's 3rd best place to live, Wil-More.
Yep, the "Kindest town in Kentucky the United States" has it goin' on! It scored one of the top five highest SnackAbility scores on our list with an emphasis on safety, education, amenities, and commute times. Not to mention, Wilmore's low cost of living has made it one of the fastest growing cities in the state, and Kentucky's youngsters are starting to take notice. Wilmore has the youngest population at 29 and we're wondering why this city of 6,339 residents in Jessamine County is not one of the best places for singles in the state?
But, sometimes "less" is "more," especially when it comes to crime. And, folks, Wilmore is safe. We're not saying leave your front doors unlocked, but if you choose to buy your forever home here, just know that the town's crime rate crime rate is one of the lowest in the state. In fact, there were only 60 crimes committed here last year and most of them were property related.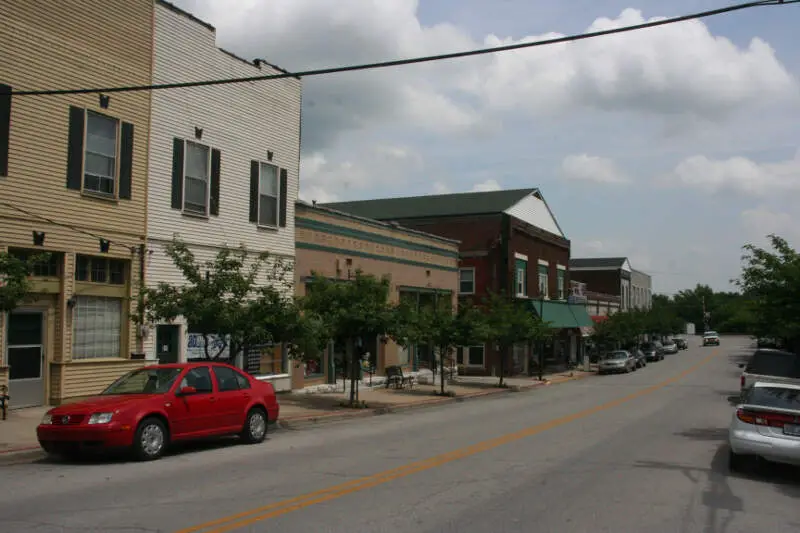 Source: Public domain
Villa Hills: some call it The South's Wonderland, we call it Kentucky's 4th best place to live for 2022.
Villa Hills is the second Ohio River city to grace our list and it just so happens that it has the second highest SnackAbility score as well. Yes, Villa Hills scored a 9.5/10 for high marks in overall cost of living, safety, and education. You know what's even better than that–if you make the city's household median income of $91,166/year, you can score a sweet real estate deal considering Villa Hills has the 10th at $218,500.
A competitive median income to complement the city's cost of living only means that you'll have the extra cash to take your kids out to celebrate the report cards they get from some of the best schools in the state.
You'll also have the funds to enjoy the fun things that people who have life figured out in Villa Hills like to do: for example, biking around Embshoff Woods or spending an entire day getting your hat "Pinterest ready" for the annual Kentucky Derby.
There are currently 5,766 Kentucky residents that are living their best life where Route 1072 meets Route 17 in the 5th best place to live in the Bluegrass State, Fort Wright.
How and why are things easy peasy in Fort Wright? Well, for one they have the 2nd in the state at 0.9%. The SnackAbility indicators that stood out in this small town in Kenton County at the time of our report were affordability, safety, and education. But, you will need to make at least $86,208/year to pay the $215,000 price tag for a home.
However, when we brokedown Fort Wright's cost of living, we found that you will pay much less for your utilities compared to the state average–so, you can rest easy every time you take that 20 minute shower. We also discovered that you will feel comfortable and confident in your surroundings as the cost of living in Fort Wright is well below the state and national average–there were only 69 crimes reported here.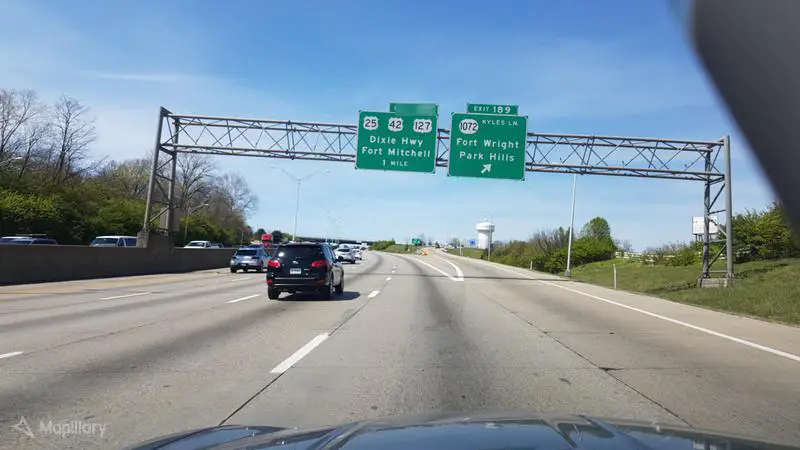 Hey y'all, raise a cheer for the 6th best place to live in Kentucky, Fort Mitchell.
The second "Fort" to make our list, Fort Mitchell should be re-named Fort Knox 2.0 as it's super safe–one of the safest places in the state. To put this in perspective, the crime rate here is close to 70% below the national average.
But if you know anything about this Northern Kentucky Goldenrod, it's the good 'ol fashioned southern hospitality of the 8,278 residents that live in this small town that draws people to this place, and it's the town's overall cost of living that makes them stay. And while it might be slightly higher than the state and national average, the excess has funded great schools and great communities. So, while you might have to pay the 2nd highest home median price in the state ($279,400), know that you are funding the city's future.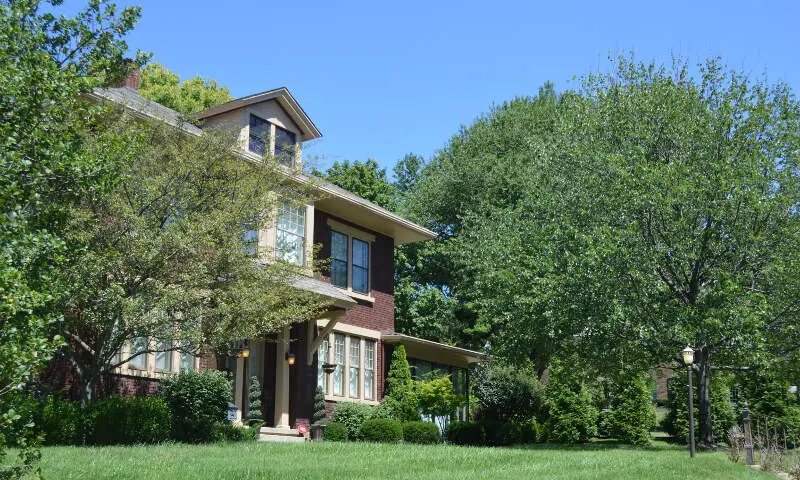 Source: Public domain
Welcome to the big dance, Bellevue. We knew it wouldn't be long before you joined the ranks of the rest of Kentucky's best places to live. Up ten spots from last year, Bellevue has recently racked up accolades for being the 7th best place to live in Kentucky as well as one of the most affordable in terms of cost of living.
You can get a home in Bellevue for $135,900 making it one of the cheapest places to live in Kentucky. However, the residents here are some of the highest earning Kentuckians in the state with the household median income at $68,819/year. So, we were not at all surprised to find that Bellevue is one of the richest places in the state as well.
The third leg to this Triple Crown is Bellevue's low crime rate. In fact, when we pulled Bellevue's numbers, there were only 81 crimes recorded and most of them were property related.

Source: Public domain
Get ready to roll out the red carpet Cold Spring–you are Kentucky's 8th best place to live.
Cold Spring takes the old phrase "stick with what you know–stick with what you're good at" and upped the ante. Basically, if you want to play in the big leagues, you're going to have to have the SnackAbility scores like Cold Spring.
Cold Springs may have dropped a rank on our list, but they are first in the hearts of its 6,481 residents for many reasons. And those reasons are the following: the city's unemployment rate is the 8th best in the state at 3.5%. The cost of living in Cold Spring is also super affordable. (You'll be happy to know that groceries and utilities are less expensive in Cold Spring than the state and national average combined.)
However, if you choose to buy a home here instead of renting first, get ready to pay the 13th highest home price in the state at $190,000. But, the best thing about Cold Spring is that it is super safe. In fact, the crime rate here is quite a bit lower than the state and national average.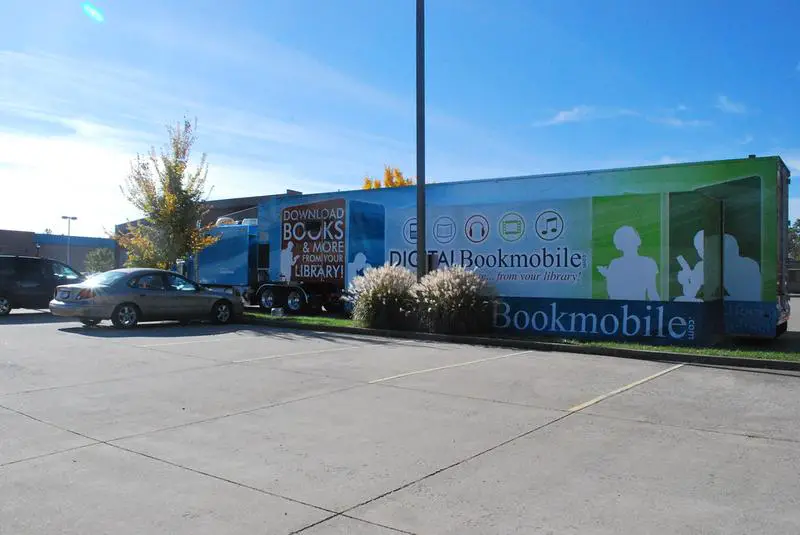 Taylor Mill is a Cincinnati suburb in northern Kentucky near the Ohio border. Taylor Mill deserves its spot as the 9th best place to live in the Bluegrass State. It's the kind of place you put down roots for a long time.
As a suburb of Cincinnati, you have access to everything in the city without having to be in the city. There's no traffic and you can get downtown in under 30 minutes to catch a Reds game or visit the Cincinnati Zoo & Botanical Garden. In town, there are great parks for kids including Mills Road Park and Pride Park. There's also great Mexican food at El Jinete Mexican Restaurant and American at Knuk-N-Futz.
On the numbers side of things, Taylor Mill is part of the Kenton County School District which has good reviews from parents. There's basically no crime in town as it ranks 6th lowest for property crime and the city ranks 14th for incomes.
St. Matthews ranks as the 10th best place to live in Kentucky. St. Matthews is an eastern suburb of Louisville at the intersection of I-64 and I-264 — a pretty great location for a pretty great town.
Housing is 5th highest in the state, which means that a ton of people want to live here. And you can see that people are willing to pay for a piece of real estate as incomes are 20th highest in the state too. St. Matthews is part of the Jefferson County Public School System, which has the number 1 ranked high school in Kentucky according to Niche in DuPont Manual High School. Add to that a low crime rate, and you have a perennial contender for best place to live in Kentucky.
The Brown Park is gorgeous, with a stream to feed ducks and geese, and a great playground. And Plehn's Bakery has some of the best donuts in the area along with butter kuchen. There's also plenty of shopping around at the Mall St. Matthews.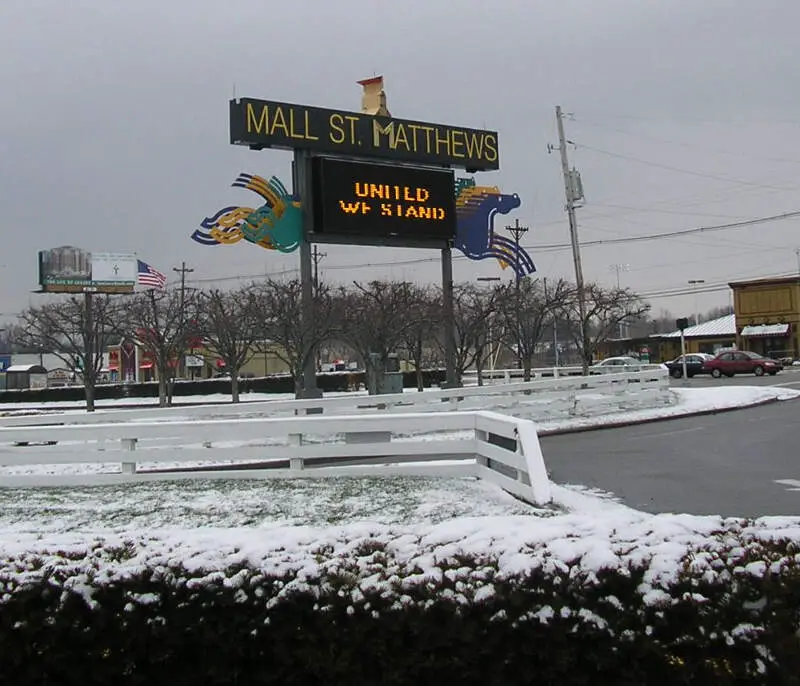 Mapping The Best And Worst Places To Live in Kentucky
The Pressing Question: Size
Before we even started to collect data, we had to answer a tough question: Is it fair to pit Frankfort with a population of 27,705 against places with a population of 18?
We firmly decided no, that just isn't fair.
So to create our ranking, we broke places to live into three tiers:
Cities — Populations over 5,000
Towns — Populations between 1,000 and 5,000
Small Towns — Populations below 1,000
This left us with 75 cities, 156 towns, and 250 small towns.
We then decided, no matter how much anyone loves their town, the best cities to live in Kentucky have more of everything and therefore you need to have over 5,000 people to truly be 'the best'.
Now we also realize that city living might not be your cup of tea, so we ran the following analysis on towns and then again for small towns.
You can see those two top tens at the bottom of the post.
Methodology: How We Calculated The Best Cities To Live In Kentucky
Now that we had our set of cities, it was time to rank them.
We ranked each place in Kentucky across a number of criteria from one to 75, with one being the best.
We then took the average rank across all criteria, with the city posting the lowest overall score being crowned the winner of the title "Best Place To Live In Kentucky".
The criteria we looked at were:
Median Home Values
Median Income
Population Density (Higher better)
Unemployment Rate
Commute Time
Crime
Education Levels
Health Insurance Coverage
Poverty rates
Sources of criteria include the New Census Data and FBI Crime Data. You can download the data here.
After the dust settled, what was the best place to live in Kentucky? That would be Edgewood.
If your city or town isn't among the top 10, jump down to the bottom of the post to see a detailed chart of the best places in Kentucky.
Otherwise, buckle up for a ride down good living lane with Edgewood at the end of the cul-de-sac.

Summary: The Best Places When It Comes To Living In Kentucky
If you're looking at areas in Kentucky with the best economic situations, where there's lower than average crime, and a lot to do, this is an accurate list.
Edgewood made a strong showing to take in the overall number one spot for the best place to live in Kentucky for 2022.
Best Towns To Live In Kentucky
Indian Hills (Pop. 2,953)
Audubon Park (Pop. 1,449)
Windy Hills (Pop. 2,203)
Hurstbourne (Pop. 4,343)
Beechwood Village (Pop. 1,368)
St. Regis Park (Pop. 1,453)
Orchard Grass Hills (Pop. 1,787)
Barbourmeade (Pop. 1,391)
Crestview Hills (Pop. 3,327)
Lakeside Park (Pop. 2,762)
Best Small Towns To Live In Kentucky
Thornhill (Pop. 281)
Norbourne Estates (Pop. 374)
Maryhill Estates (Pop. 184)
Strathmoor Manor (Pop. 374)
Crossgate (Pop. 278)
Glenview Hills (Pop. 450)
Mockingbird Valley (Pop. 134)
Bellewood (Pop. 300)
Rolling Fields (Pop. 801)
Riverwood (Pop. 525)
If you're curious enough, here are the worst places to live in Kentucky according to the data:
Oak Grove (Pop. 7,332)
Mayfield (Pop. 9,823)
Somerset (Pop. 11,548)
For more Kentucky reading, check out:
Where Are The Best Places To Live In Kentucky?
| Rank | City | Population |
| --- | --- | --- |
| 1 | Edgewood | 8,779 |
| 2 | Fort Thomas | 16,335 |
| 3 | Wilmore | 6,339 |
| 4 | Villa Hills | 7,475 |
| 5 | Fort Wright | 5,766 |
| 6 | Fort Mitchell | 8,278 |
| 7 | Bellevue | 5,786 |
| 8 | Cold Spring | 6,481 |
| 9 | Taylor Mill | 6,805 |
| 10 | St. Matthews | 18,022 |
| 11 | Middletown | 7,885 |
| 12 | Union | 5,988 |
| 13 | Douglass Hills | 5,713 |
| 14 | Alexandria | 9,600 |
| 15 | Erlanger | 19,106 |
| 16 | Independence | 28,119 |
| 17 | Jeffersontown | 27,933 |
| 18 | Mount Washington | 14,699 |
| 19 | Lyndon | 11,451 |
| 20 | Georgetown | 34,362 |
| 21 | Highland Heights | 7,372 |
| 22 | Flatwoods | 7,143 |
| 23 | Vine Grove | 6,234 |
| 24 | Elizabethtown | 30,179 |
| 25 | Elsmere | 8,617 |
| 26 | Lawrenceburg | 11,416 |
| 27 | La Grange | 8,938 |
| 28 | Hillview | 9,066 |
| 29 | Florence | 32,721 |
| 30 | Shelbyville | 16,244 |
| 31 | Dayton | 5,550 |
| 32 | Murray | 19,254 |
| 33 | Crestwood | 5,034 |
| 34 | Danville | 16,801 |
| 35 | Owensboro | 59,796 |
| 36 | Paris | 9,776 |
| 37 | Versailles | 9,251 |
| 38 | Shepherdsville | 13,757 |
| 39 | Frankfort | 27,705 |
| 40 | Madisonville | 18,801 |
| 41 | Morehead | 7,653 |
| 42 | Campbellsville | 11,370 |
| 43 | London | 8,058 |
| 44 | Bardstown | 13,169 |
| 45 | Harrodsburg | 8,480 |
| 46 | Henderson | 28,469 |
| 47 | Corbin | 7,558 |
| 48 | Mount Sterling | 7,190 |
| 49 | Radcliff | 22,796 |
| 50 | Nicholasville | 30,549 |
| 51 | Newport | 15,045 |
| 52 | Pikeville | 6,642 |
| 53 | Middlesborough | 9,242 |
| 54 | Berea | 15,773 |
| 55 | Shively | 15,723 |
| 56 | Paducah | 24,947 |
| 57 | Winchester | 18,520 |
| 58 | Ashland | 20,449 |
| 59 | Richmond | 35,744 |
| 60 | Cynthiana | 6,270 |
| 61 | Bowling Green | 71,628 |
| 62 | Leitchfield | 6,789 |
| 63 | Russellville | 7,056 |
| 64 | Covington | 40,466 |
| 65 | Franklin | 8,909 |
| 66 | Princeton | 6,087 |
| 67 | Williamsburg | 5,266 |
| 68 | Hopkinsville | 31,052 |
| 69 | Lebanon | 5,960 |
| 70 | Maysville | 8,752 |
| 71 | Monticello | 5,999 |
| 72 | Glasgow | 14,394 |
| 73 | Oak Grove | 7,332 |
| 74 | Mayfield | 9,823 |
| 75 | Somerset | 11,548 |
Editor's Note: We updated this article for 2022. This is our ninth time ranking the best places to live in Kentucky.