Got kids? Are you a young professional short on cash? Ready to retire on a budget?
Don't worry, Louisiana has you covered!
That's right, Louisiana has some of the most affordable places to live, no matter what stage you are in life. And lucky for you, HomeSnacks is here to help you navigate the places in The Bayou State where your dollar will go the furthest.
Ask any Louisianian, and they will tell you, hands down, that their corner of the Deep South is the best. And while that might be true for most Louisiana places, there are some pretty rental prices in places with more than 5,000 residents.
Want to know more? We suggest you crank some Louis Armstrong, grab a basket of fried gator bites in Lafayette, and keep reading.
The 10 Most Affordable Places To Live In Louisiana
The competition was fierce to say the least. Many of Louisiana's most affordable places boast great home prices and safe neighborhoods: any one of these places would be a great place to enjoy life while saving money. More importantly, if you choose one of Louisiana's most affordable places, you're going to free up cash for the fun "Louisiana" things to do and see. Like, buying tickets for a swamp tour in Slidell or spending a long weekend celebrating Mardis Gras in New Orleans.
So, where's the most affordable place to live in Louisiana for 2022? The cheapest place to live in Louisiana would be Baker.
To see how your city compared, take a look at the list below. And if you don't see you're favorite there, head to the bottom.
And if you already knew these places were cheap, check out some more reading about Louisiana and the cheapest places in the country:
The 10 Cheapest Places To Live In Louisiana For 2022
Baker exists as a suburb of the state capital of Baton Rouge. A 15-minute drive will get you to the center of one of Louisiana's most important cities. And this proximity won't cost you that much… Baker provides one of the most affordable places to live in the state.
Baker's median home value hovers at $114,500. That's a modest level for Louisiana as a whole. But it provides amazing value for the area. The median income in the area sits at a healthy $64,455 and the unemployment rate comes in at 7.65. Putting the housing market in context with the local earning power, Baker sports the number 1.0 best ratio of home prices to income in the state.
Rents in the area are a little steeper. The median figure there hovers at $912 per month.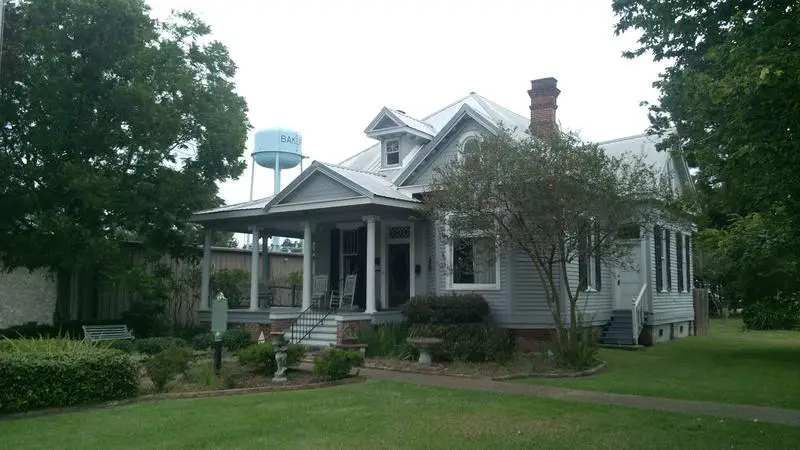 You'll have no trouble believing that you're living in one of the cheapest states in America when you move to Franklin. Thanks to relatively high incomes and low home prices, Franklin has the second best home price to income ratio in Louisiana. That leaves plenty of money leftover to go shopping in Franklin's historic district.
Franklin is located 45 miles southeast of Lafayette.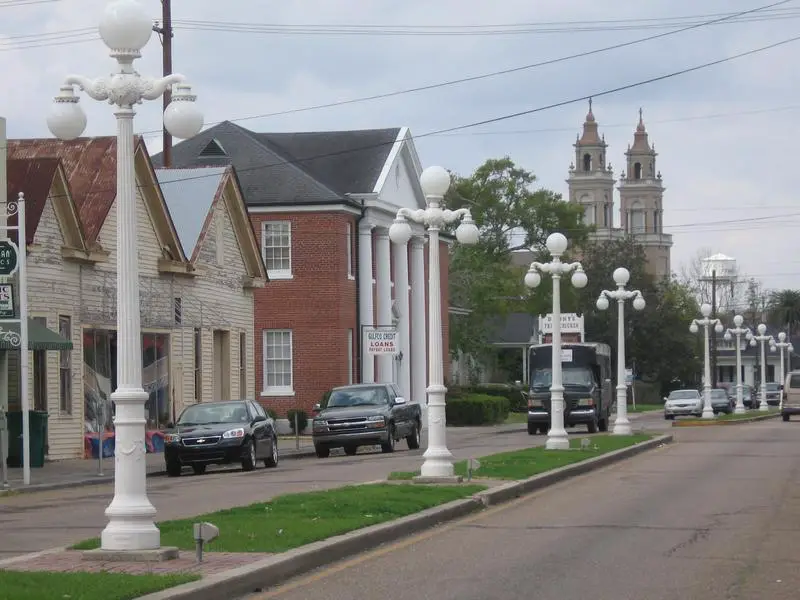 A suburb of Lafayette, Scott is the third most affordable city in Louisiana. Scott's median income of $55,825 is quite high, which helps offset the slightly higher home prices and rent. Buying or renting, Scott is in or around the top ten statewide in terms of housing costs to income ratio. And with across the board 7/10+ in our Snackability categories for safety, education, jobs, and housing, you can be sure that moving to Scott is a good investment for your future.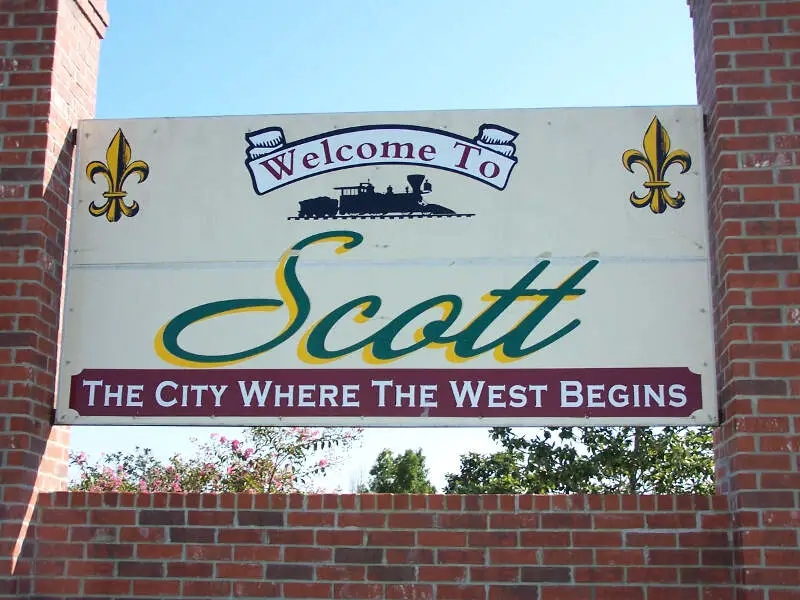 Source: Public domain
Welcome to Sugar City! Otherwise known as Jeanerette. The town of 5,321 residents gets its nickname from the sugar industry that dominated the economy during the 19th and 20th centuries. In today's world, Jeanerette holds another claim to fame. It ranks as one of the cheapest locations to put down roots in Louisiana.
The one-time booming area has hit some hard times. The median income stands at $42,616 and the unemployment rate runs a whopping 23.2%.
Still, Jeanerette has its positives as well. These largely stem from the affordable housing in the area. The median home price sits at $106,400, the 12th cheapest figure in Louisiana. Rents have a median value of $751.
Jeanerette lies in the southern part of Louisiana, about 40 minutes southeast of Lafayette. It provides excellent access to the region's unique natural wonders. For instance, an hour-and-40-minute drive will take you to Rockefeller Wildlife Refuge.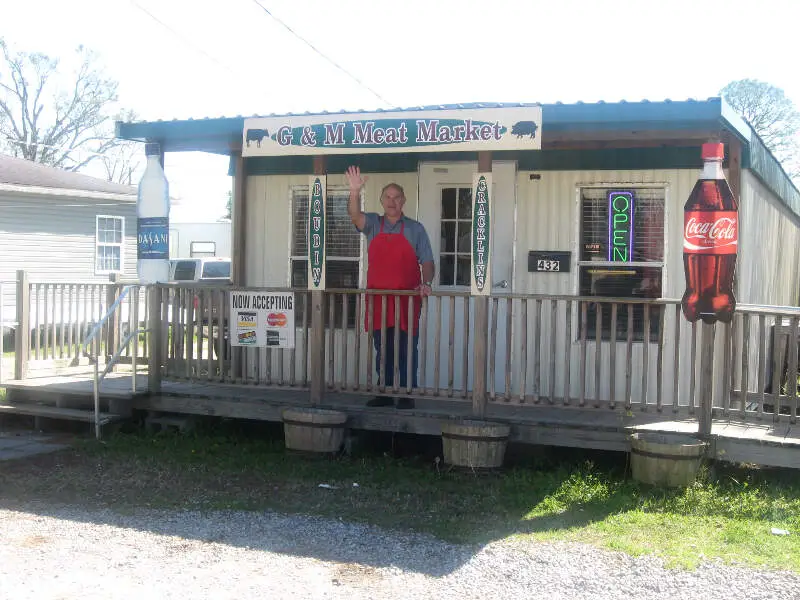 Located in the southern part of the state about an hour and a half from New Orleans and Baton Rouge, Patterson clocks in as the fifth least expensive place in Louisiana.
If you fancy being able to go on a swamp tour with gators, bears, and eagles anytime you like, Patterson is the place for you. We didn't name it one of
the best places to live in Louisiana without good reason reason after all. Patterson has the eighth best home price to income ratio in the state, thanks to a low median home price of $105,800 and a relatively high median income of $42,338.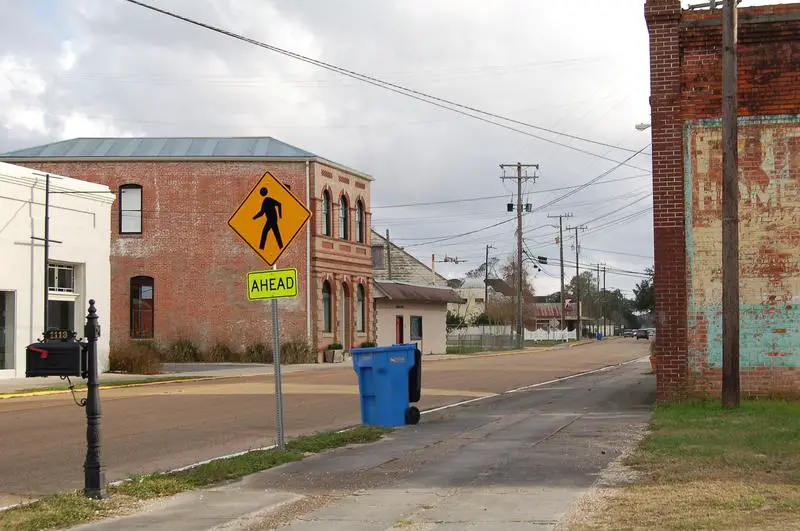 Eunice is a city in Acadia and St. Landry parishes in the U.S. state of Louisiana. The 2010 census placed the population at 10,398, a decrease of 1,101, or 9.5 percent, from the 2000 tabulation of 11,499.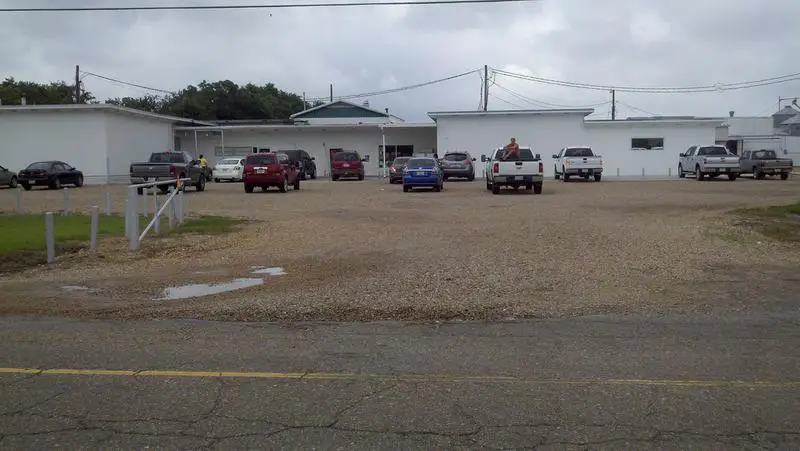 Rounding out our list of cheapest places to live in Louisiana is Denham Springs, a city just 25 minutes east of Baton Rouge. Whether you'd prefer spending your weekends tubing down the Amite River or shopping at the Antique Village, Denham Springs has something for everyone. And with an excellent housing to income ratio for both renters and home-buyers, there's something for every budget as well.
The median home price in Denham Springs is $167,500, the highest you'll see on this list. But with residents earning a median income of $67,921, the mortgage on your Denham Springs home will be paid off before the new paint can dry.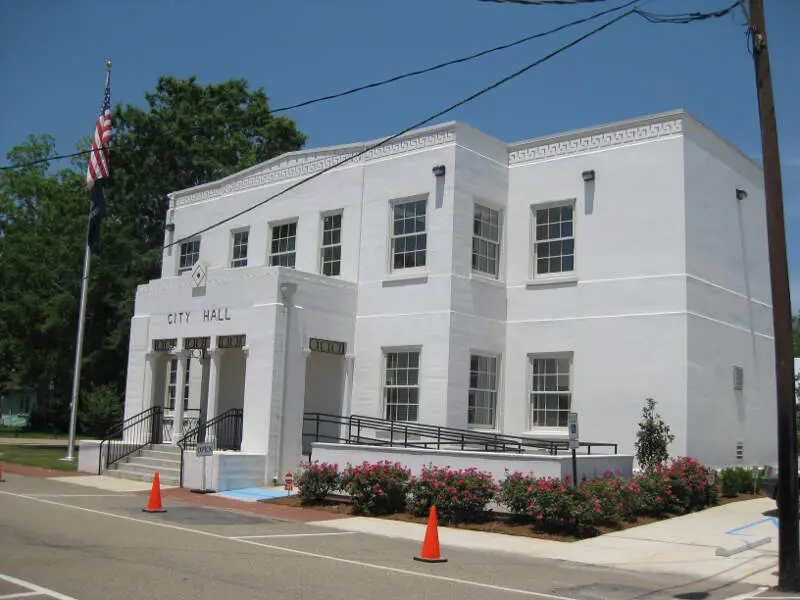 With a population of 20,122, Sulphur is the biggest city to make this list, proving that you don't need to be teeny to be affordable. At first glance at the housing prices, you may think we made a mistake putting Sulphur so high up on this list. But when you remember that Sulphur is also among richest places in Louisiana and things start to make sense. With a median income of $54,537, Sulphur is safely in the top ten statewide for both housing to income ratio, regardless of if you're buying or renting. It's also home to top-notch hiking trails like the Creole Nature Trail.
Sulphur is located in the southwestern part of Louisiana, near Lake Charles.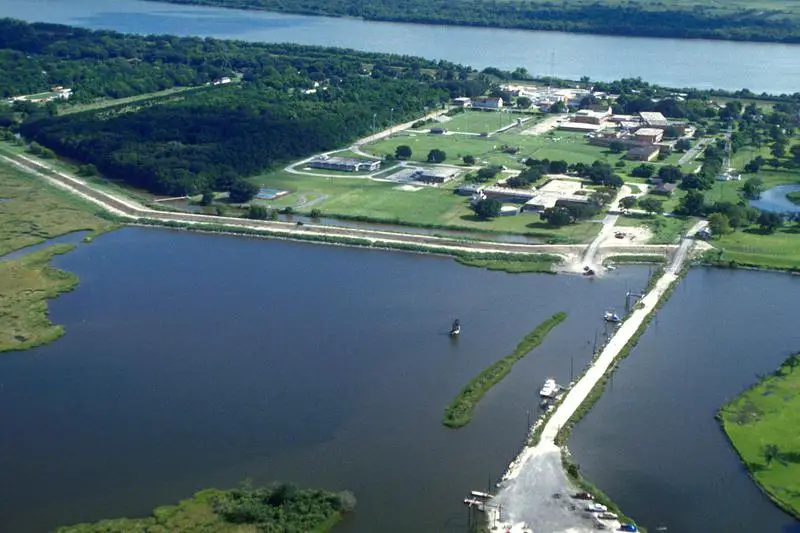 Source: Public domain
New Iberia is the parish seat of Iberia Parish, Louisiana, United States. It is a small city located 30 miles southeast of Lafayette.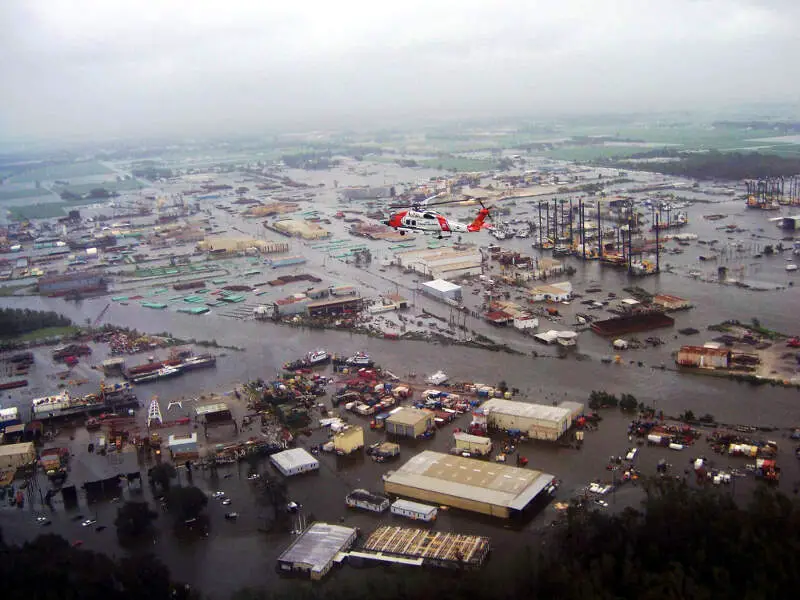 Source: Public domain
Leesville has an overall cost of living that is 10% lower than the louisiana average and almost 20% lower than the national average. The main reason for affordability in Leesville? Housing. Real estate costs about 30% less than the louisiana average. The median home value according to the most recent Census data comes in at $96,600 while rents average $697 per month.
Located about midway between Shreveport and Lafayette at the intersection of Routes 171 and 28, Leesville offers residents many affordable amenities including Leesville Art Park and the Museum of West Louisiana.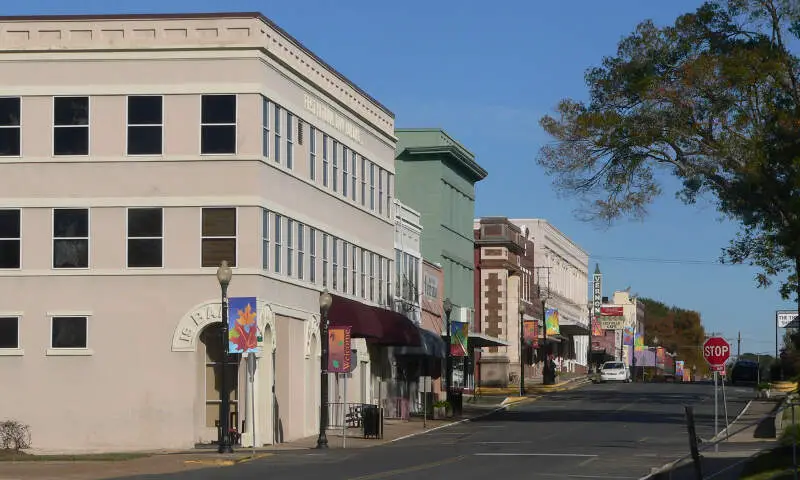 Source: Public domain
Cheapest Places To Live In Louisiana FAQs
The county in Louisiana with the lowest cost of living is Acadia Parish. The average living wage in Acadia Parish is $82,688 according to MIT data. Acadia Parish has the lowest cost of living because it has relatively less expensive childcare and housing costs compared to Louisiana as a whole. Childcare costs $12,765 a year in Acadia Parish for two children compared to the Louisiana average of $13,248. Housing costs, defined as a blend of the average rent and average mortgage payment, are $8,700 per year in Acadia Parish compared to $11,044 on average in Louisiana.
The cost of living in Louisiana is 4.3% lower than the US average. According to MIT, the required living wage for a family of four with two working parents in Louisiana is $85,909 vs the national average for a family of four with two working parents of $89,744. The median income of a Louisiana household is $50,800.
The cheapest housing market in Louisiana is Ville Platte. The average home value in Ville Platte is $67,300, the lowest in the state. The average home value in Louisiana is $168,100, almost 2.5 times higher than Ville Platte.
Methodology: How We Determined The Most Affordable Places To Live In The Pelican State For 2022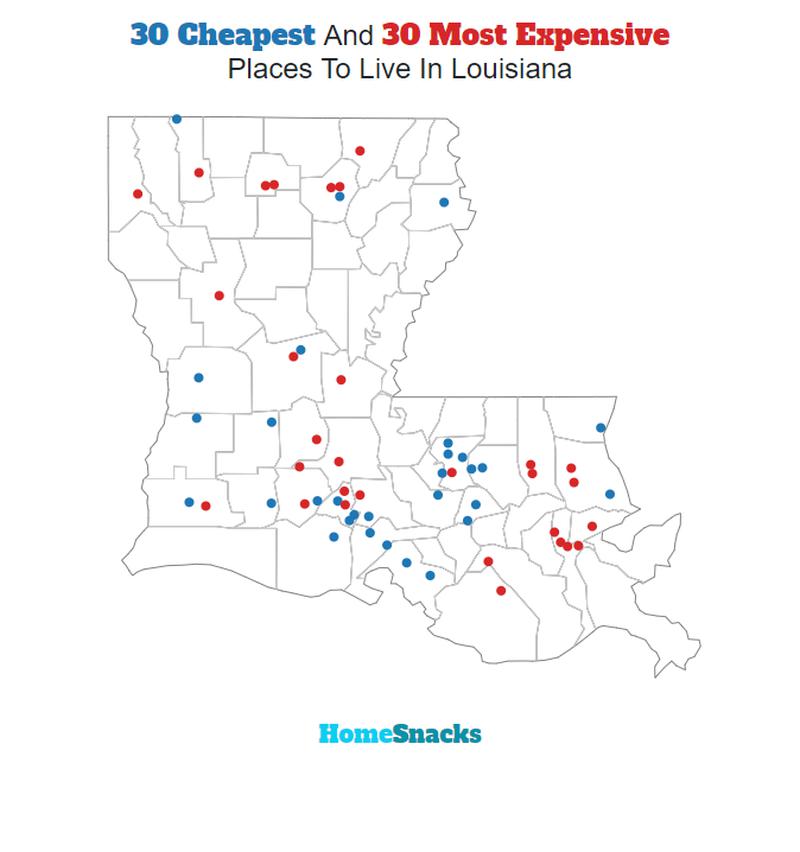 The two most important things to think about when it comes to being able to afford if you can live comes down to:
How much do money do I make?
How much do I have spend to live there?
You need to understand your costs in the context of how much money you make.
For example, if the median household earns $100,000 and spends $40,000 on housing it's actually cheaper to live there than a place with a median income of $50,000 and housing costs of $21,000. You might spend more on housing, but you have more money overall to play with.
With that example in mind, we derived several statistics from the latest Census American Community Survey 2016-2020 around incomes and costs. They are:
Median Home Price / Median Income (lower is better)
Median Income / Median Rent (Higher is better)
Median Home Price
We added simply median home price because high home prices generally correlate with higher expenses for all costs related to homes (heating, electricity, etc).
You can then compare these metrics in each of the places in Louisiana to figure out which is the least expensive.
What you are left with is a "Cost of Living Index" by taking the average rank of each of these metrics for each city.
So we used that cost of living index in order to rank all of the 61 places in Louisiana that have more than 5,000 people.
The place with the lowest cost of living in Louisiana according to the data is Baker. You can download the data here.

Summary: There You Have It Mr. Or Mrs. Louisiana Cheapskate
If you're looking at the cost of living numbers in Louisiana, this is an accurate list of the most affordable places to live in Louisiana for 2022.
Here's a look at the most expensive cities in Louisiana according to the data:
New Orleans
Natchitoches
Hammond
For more Louisiana reading, check out:
The Most Affordable Places To Live In Louisiana
Editor's Note: We updated this article for 2022. This is our ninth time ranking the cheapest places to live in Louisiana.