The 10 Safest Cities In Louisiana For 2020
We used data and science to determine the places in Louisiana where everyone sleeps safe and sound.

Editor's Note: This article has been update for 2020. This is our sixth time rankings the safest places to live in Louisiana.
Swipe left for slideshow. Article continues below.
Article Table Of Contents   
(Skip to section)
Louisiana is so safe that they still make people drive 55 MPH on the Louisiana highways.
All jokes aside, we think they must be doing something right in Louisiana in terms of safety: 4.6 million residents can't be wrong, right?
Right.
Yes, there really are super safe places in The Bayou State. But, you're going to have to know how to navigate the state's property and violent crime heat map to find Louisiana's best of the best in terms of safety because the state does have some dangerous places. And that's where HomeSnacks comes in, folks. We took a look at the FBI data on crime for places in Louisiana with more than 5,000 residents and created a list of the safest places to live in The Pelican State for 2020.
Our research led us to multiple conclusions. One, there are super safe places throughout Louisiana's: from Shreveport in the state's northwest region to some neighborhoods in New Orleans in the state's bayou region. Two, Mother Nature is everyone's security guard in Louisiana's safest places: she's added alligators to stand patrol in these places. And, third, you should probably take a look at our list of Louisiana's safest places below before you make ANY decisions. There might be some on that list that surprise you.
Want to know more? We suggest you grab a frozen daiquiri, a basket of boiled mudbugs, find a sunny spot on the Gulf of Mexico, and read on.
Here are the 10 safest cities to live in Louisiana for 2020:
It's by no means breaking news that Louisiana has happy safe places to live. Many think it's because of the great people and good 'ol southern hospitality, and we would have to agree. But, we also think it's because of the hard working people of Louisiana paying it forward to fund programs that keep their cities and communities safe.
So want to know where you can walk the streets safely, your kids can safely play outside until dark, and you don't have to worry about packages being stolen from your front porch? Look no further than Louisiana's safest place to live for 2020, Addis.
If you want to see how Louisiana's other amazing safe places faired, take a look at the list below. And if you don't see your favorite there, head to the bottom.
For more reading on safe places to live in and around Louisiana, check out:
The 10 Safest Cities In Louisiana For 2020
Welcome to Addis, our number one safest city in Louisiana. It's so safe in this little city along the Mississippi River, that the alligators are always showing their faces at the same time every evening reminding the residents to get home before dark. Thanks gators!
Located along Louisiana Highway One, Addis offers a safe environment with small town charm that packs a big punch. Not literally, of course. No fighting happens in Baton Rouge Parish; that wouldn't be safe. Not to mention they have the Cajun Navy dialed in if ya know what we mean. #winkwink
With a little over 5,000 residents, the superb quality of life in this little city just outside of Baton Rouge, is the reason that it is our number one safest city in Louisiana for 2020. The residents claim that Addis is where "Your problems will be smaller, You burdens will be few, For Friends are made for helping, And that's just what they do." We think this is definitely why they scored a whopping 8/10 on our snackablity scale with an 8.5/10 safety score. They are always looking out for each other.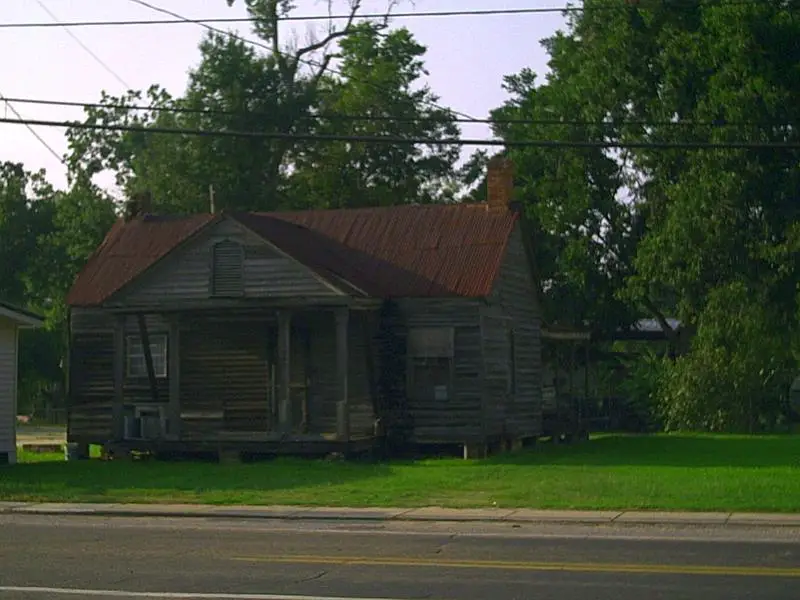 Youngsville is the ideal destination when you're trying to find that true Louisiana town with safe, small city vibes and big city pride. This is definitely one of the reasons it has held strong from last year to be our second safest city in Louisiana.
Youngsville's gold star qualities like the non-existent number of crimes per 100,000 residents, their large number of educated residents, and their A+ social and economic infrastructure, speaks volumes. It might not be Lafayette, but this little city with a vibrant melting pot of French, African, and American cultures, five star restaurants, unforgettable summer festivals, and endless fun, is just as notable and just as safe. Probably why it's one of the most populous cities at the southern end of Lafayette Parish.
Youngsville is the kind of place where one can safely cruise the roads on ATVs, lawnmowers, and trucks with gun racks. It's also the kind of place where packages from Amazon won't get stolen from your front porch. But if they do, it was probably a gator. And take it from us, you should pick your battles.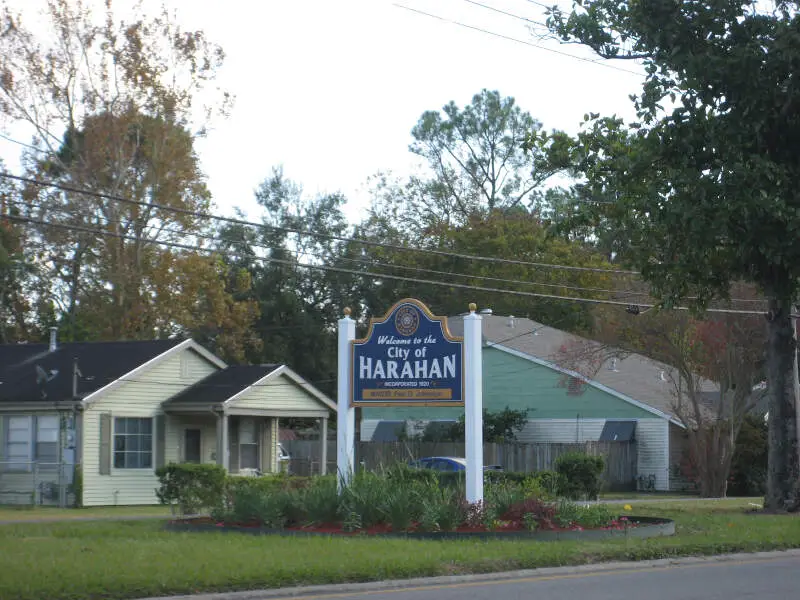 Harahan, located along the Mississippi River just East of New Orleans, is our third safest city in Louisiana. This little river city is super family friendly and virtually crime free. It's one of the safest places to call home on our list.
We think that their town motto should be: 'Feels Like Home'. They are super welcoming; and in true Louisiana fashion, they would be happy to get anyone out of a jam.
Harahan's overall HomeSnacks snackability score was off the hook: a straight up 9/10! Not surprising, considering their safety rating is an 8/10 and percentage of educated residents is 8/10. Busy people = less naughty people. If that doesn't say safe, we don't know what does.
Keep making' The Bayou State proud, Harahan. We all could learn a lot from this Jefferson Parish city.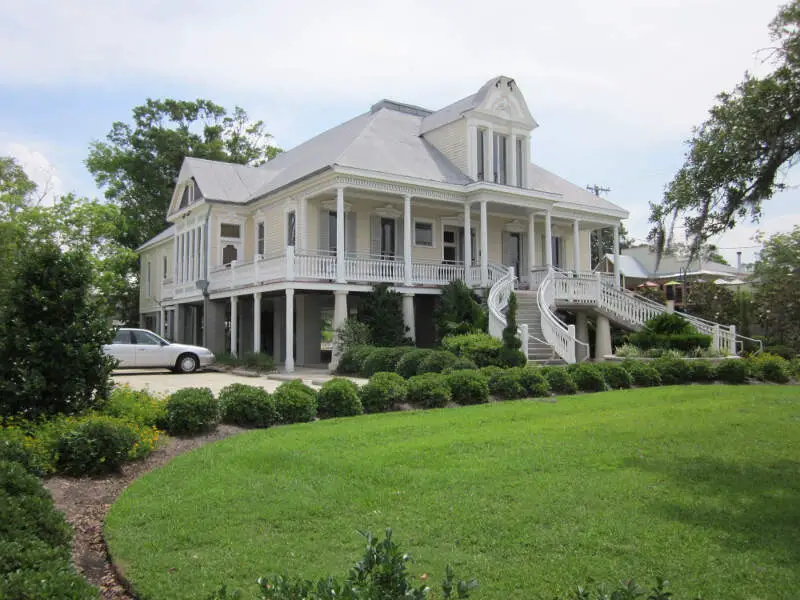 Y'all flip on your swamp boat hazards, slap on a life jacket, and read on to find out why Mandeville is our fourth safest city in Louisiana.
It might not be Barney Fife's Mayberry, or maybe it is, but this safe, little Lake Pontchartrain city with a vibrant Cajun community, quiet neighborhoods, and hardworking residents is just as notable and just as safe. Probably why it's one of the most sought after cities outside of New Orleans. It doesn't end there folks. This little Louisiana gem, scored a strong 8.5/10 on our snackability scale, they also scored an 8.5 for job opportunities and an 8.5 for number of educated residents. I think it's safe to say they're the poster city for the rest of the state. And word on the street is that young professionals are starting to take notice and move Mandeville's direction. So don't wait, because the word is out.
And if you want to read more about how great Mandeville is, check out our article: The Best Cities in Louisiana'. Not surprising, this Tammany Parish city also made our top ten. Good work 'Good Neighbor Community'!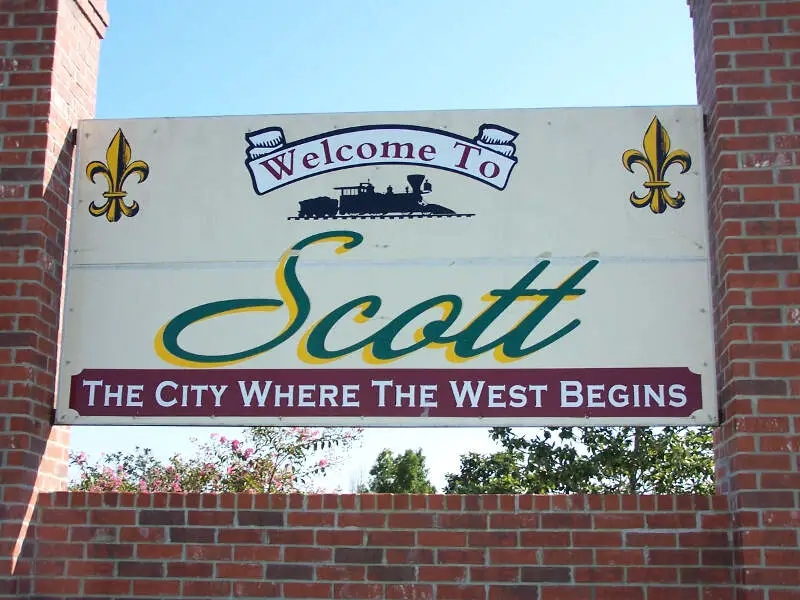 Source: Public domain
Welcome to our fifth safest city in Louisiana: Scott. This city of over 8,000 residents in Lafayette Parish, should be called the 'The Best City to live in Louisiana,' too, because all is crazy safe and super fine in "The City Where the West Begins and the Hospitality Never Ends."
They have the best gator bites, too! Not real alligator bites, folks. That wouldn't be safe. But tiny little deep fried, breaded morsels of real gator. Gator bites aside, it truly is a family friendly city where the (S)treets (A)re (F)or (E)veryone. The people here are super welcoming and there are a ton of safe, family friendly parks and activities.
And kudos to Scott, their snackability rating is off the charts: a whopping 8/10! Their number of amenities scored 7/10 and their education rating a 7/10! Scott has a strong sense of community with a big city focus. Check it out! We're pretty sure you will want to call it home.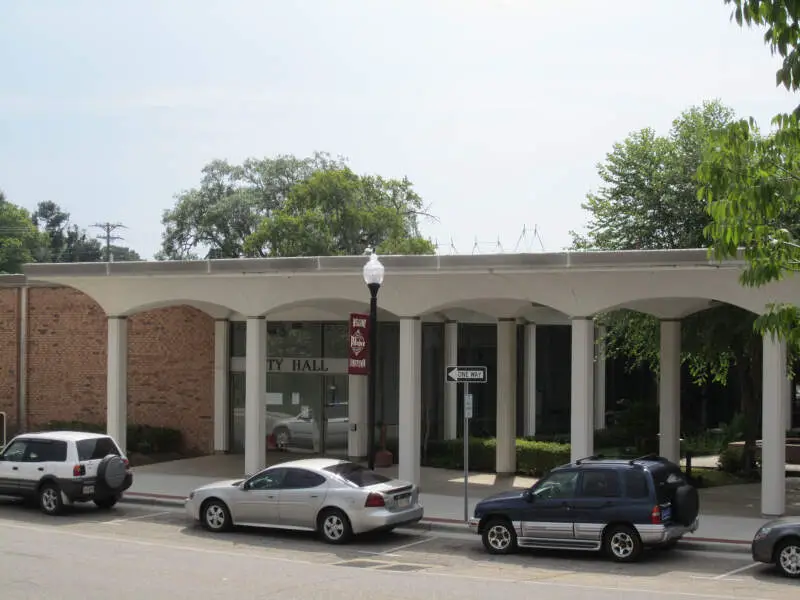 Where Louisiana Highway 79 meets Louisiana Highway 80 is Minden. This city in the upper northwest region of the state also known as "The cleanest city in Louisiana," is our sixth safest city in the Bayou State for 2020. Cleanliness and safety go hand-in-hand, right? That's impressive!
All cleanliness aside, Minden is also known for its safe, family friendly atmosphere. There is a ton of stuff to do in this little city of 12,500 residents in Webster Parish. They have a boat load of places to shop and dine, and play. Their immaculate parks, provide the backdrop for safe, friendly games of basketball, volleyball, and soccer for all ages.
We're pretty sure the only crime being committed here is a 'Mindenite' cheering for any NFL team other than the Saints.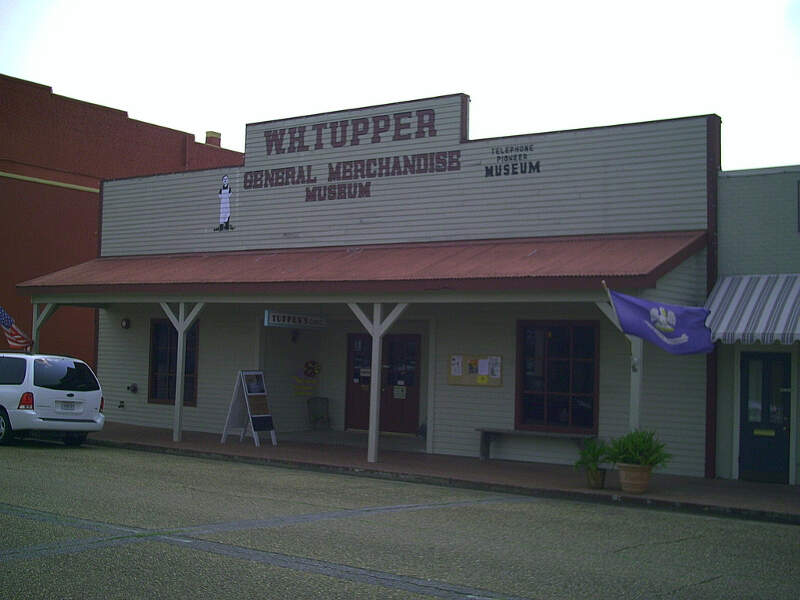 Jennings comes in as Louisiana's seventh safest city overall, with top ten rankings in both violent and property crimes. Which means that any would-be art thieves probably aren't casing Jennings's Zigler Art Museum for an upcoming heist at the moment.
Jennings is the only city on this list that wasn't here last year, so the city has clearly been working hard to be a safer place. So when you turn up for Turn it Up Tuesday in Founder's Park, you can be fairly certain that crime won't also turn up.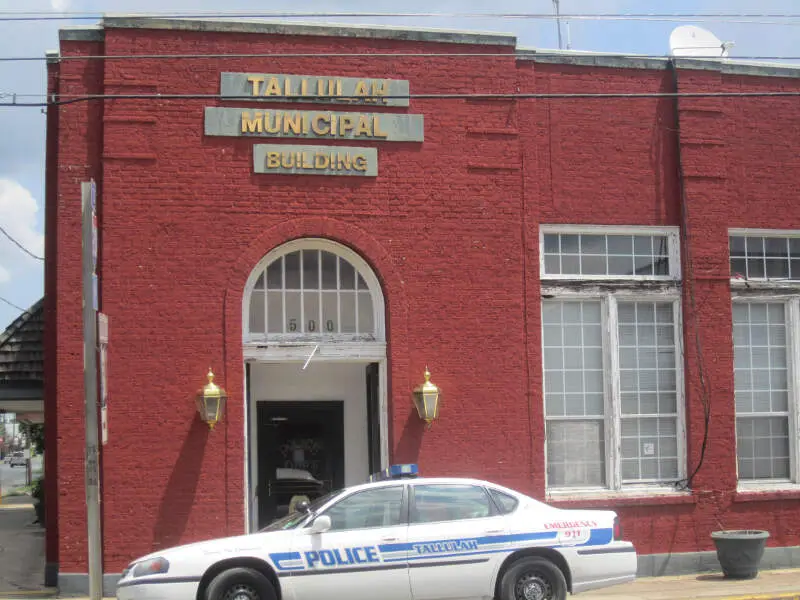 Of course Tallulah is safe. It's the small city where the big idea for Delta Air Lines originated. You can't build planes without safety in mind, right? You also can't be dumb. Probably why they also have a large number of educated residents, and probably why they are our eighth safest city in Louisiana. Safe and smart?! Good work Tallulah!
This is the quintessential Madison Parish city located just East of the Mississippi River. Not surprising, they received an 8.5/10 safety score and an 8.5/10 amenities score. The neighborhoods are safe and there's a ton of stuff to do.
Whether it's strolling their Cajun inspired downtown or buying crawfish at the local seafood shop, nothing says safe like a community that creates opportunities to get to know anything and everything about each other.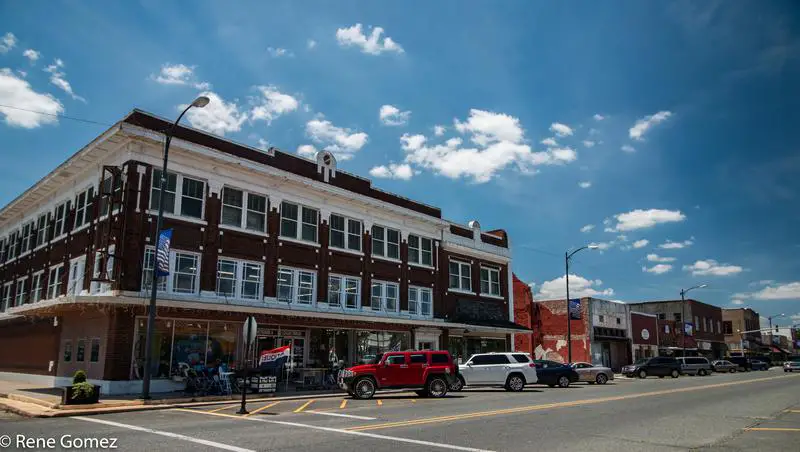 In De Ridder they love their wide open spaces, their parks, their safe neighborhoods, their Cajun cuisine, and their trucks with gun racks. We all know nothing says safe like showing' up to the annual 'Beauregard Watermelon Festival' with your gal by your side and a newly mounted rack, right?
This little piece of heaven in the 337 has every right to be our ninth safest city in Louisiana for 2020. They scored off the charts on our snackability scale with an emphasis on education; and of course, safety.
De Ridder is so safe, that the only crime here is a bad haircut or dipping your crawfish in ranch. Its small city charm delivers big opportunities to all that are searching for a safe place to call home. They claim to be more then prepared to show you the good 'ol hometown pride that makes the south famous and safe. Yes, 'It's that Friendly'.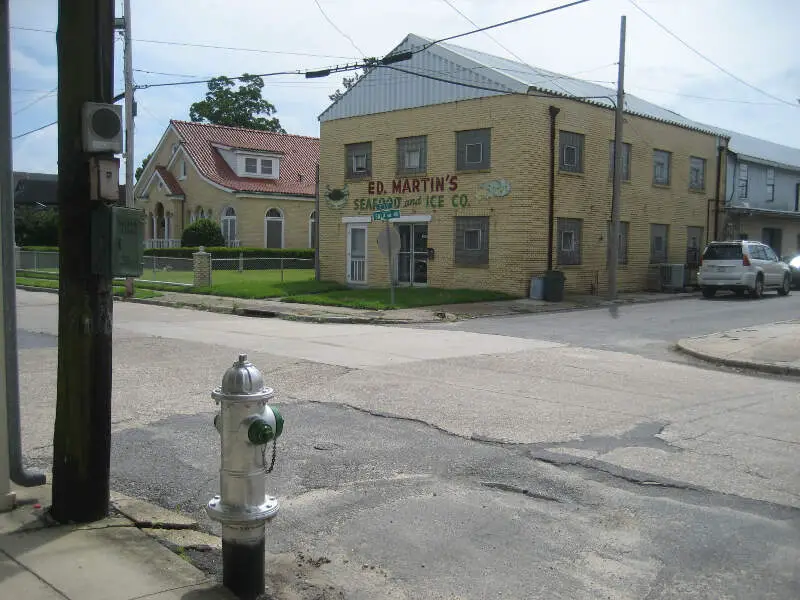 Westwego rounds out our safest cities in Louisiana list coming in at number ten. They crushed our snackability scale with a gold star job ranking and an education score that make the smartest cities in Louisiana look like chump change. Smart people know that working hard creates a safe, productive environment necessary for a small city to survive.
Some might say Westwego is "The Fishing Capital of Louisiana?" And we all know nothing says safe like a bunch of good 'ol swampbillies that know how to safely drive swamp boats to bring in a solid catch.
When Westwego residents aren't busy putting up swamp boat crossing signs or safely alligator-proofing their surroundings, they can be found manning their other dominant industries like daiquiri shacks and gator farms. Probably why their median income for a family is over $34,000.
How we calculated the safest cities in Louisiana for 2020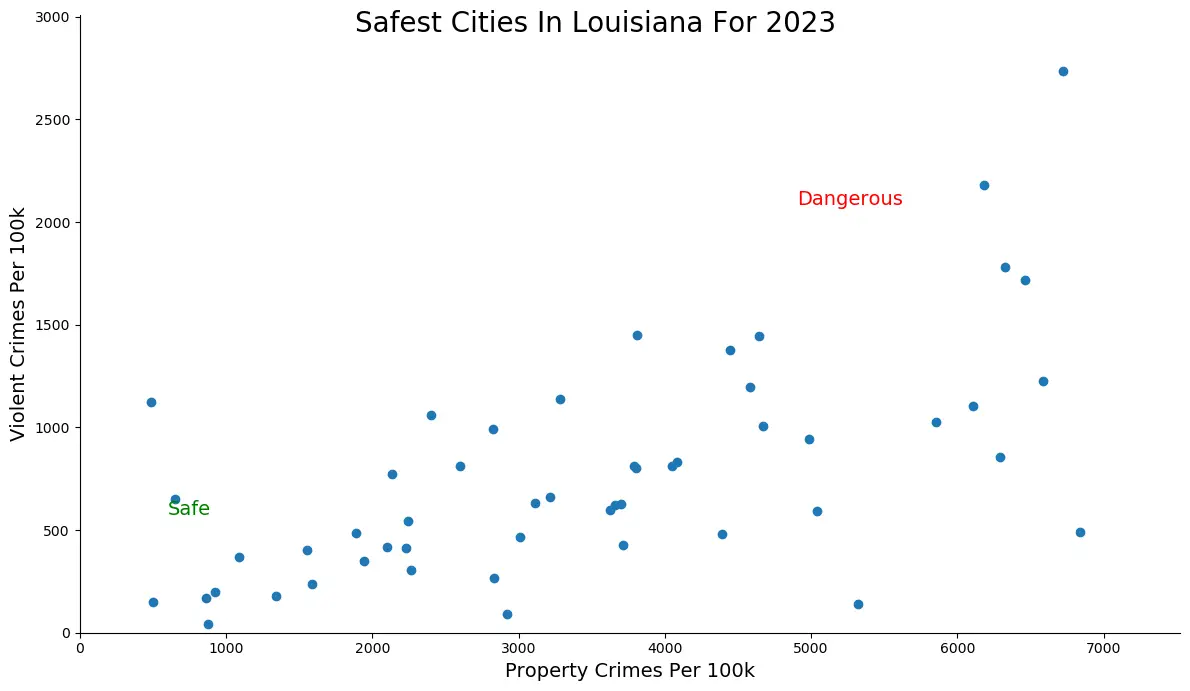 While there are surveys and public polls on what cities in a state are the safest, we didn't want to rely on speculation and opinion. Instead, we looked at the hard numbers from the FBI's most recent report of crime (Published Sept 2019) in Louisiana.
Specifically, we analyzed the
FBI's Uniform Crime Report
which summarizes the number of property crimes and violent crimes in each city per year. We used two criteria:
Violent crimes per capita (murders, assaults, rapes, armed robberies)
Property crimes per capita (thefts, burglaries, motor vehicle thefts)
For example, there were a total of 7 crimes committed in Addis which had a reported population of 5,505. That means the number of crimes per capita is 0.0013 which translates into a 1 in 786 chance of being the victim of a crime.
We only looked at cities that have populations of more than 5,000 people reported to the FBI in 2018, the last reporting year. This left us with a total of 55 of the biggest cities in Louisiana to rank.
We ranked each city for each criteria from 1 to 55 where 1 in any particular category is the safest.
Next, we averaged each places two criteria to create a Safety Index. We crowned the place with the lowest overall Safety Score "The Safest Place In Louisiana" with any ties going to the bigger city. You can download the data here.
The safest city in Louisiana, based on our criteria, is Addis. The most dangerous city in Louisiana? Hammond, where residents had a 1 in 8 chance of being the victim of a crime.
Note: This report is not an analysis of the effectiveness of local police departments, nor does it reflect the fact that people from out of town may come into a community and cause a crime. It simply looks at where crimes occurred most frequently, based on a city's population.
There You Have It - The Safest Cities In The Pelican State
Looking at the data, you can tell that Addis is as safe as they come, according to science and data.
But as most Louisiana residents would agree, almost every place here has its safe and not safe parts. So just make sure you're informed ahead of time.
Here's a look at the most dangerous cities in Louisiana according to the data:
Hammond
Opelousas
Alexandria
For more reading, check out:
Breaking Down Crime In The Safest And Most Dangerous Cities In Louisiana

Share on Facebook
Chris Kolmar has been in the real estate business for almost ten years now. He originally worked for Movoto Real Estate as the director of marketing before founding HomeSnacks.
He believes the key to finding the right place to live comes down to looking at the data, reading about things to do, and, most importantly, checking it out yourself before you move.
If you've been looking for a place to live in the past several years, you've probably stumbled upon his writing already.
You can find out more about him on LinkedIn.