Editor's Note: We updated this article for 2021. This is our seventh time ranking the best cities for singles in Wisconsin.
Swipe left for slideshow. Article continues below.
Article Table Of Contents   
(Skip to section)
Are you trying to find love in Wisconsin?
Or are you just looking to hook up?
Either way, we've got you covered here. At least, we'll point you in the right direction - which is why you came here in the first place, right?
According to the Pew Research Center, the number of Americans who have remained single (not married) is growing. That means, people are dating a lot longer than they used to.
There are many reasons for that, including financial and cultural. And, we suspect smartphones and social media has a lot to do with it, too. After all, we're all a lot more distracted these days.
If you live in Wisconsin, there's a pretty good chance there are a lot of singles in your area. The Badger State ranks in the top 10 when it comes to number of people over the age of 18 who aren't married, or in a serious relationship. That's great news for people looking for their match.
So, where are the best cities for singles in Wisconsin? We've got the answers here.
The 10 Best Cities For Singles In Wisconsin For 2021
So, what was the best city for singles in Wisconsin? Madison ranks as the best place for singles in Wisconsin if you care about things singles care about like night life, affordable housing, and other singles.
Read on below to see how we crunched the numbers and how each city ranked. If you live in or really close to one of these cities, and you're single, you should probably get out more often. And stop staring at your phone. Just sayin'.
The most boring place in Wisconsin? That would be Suamico.
And after you find a mate, you'll no doubt want to start a family and buy a home right? Don't forget to check out the best places to live in Wisconsin or the safest places to live in Wisconsin.
For more Wisconsin reading, check out:
The 10 Best Cities For Singles In Wisconsin For 2021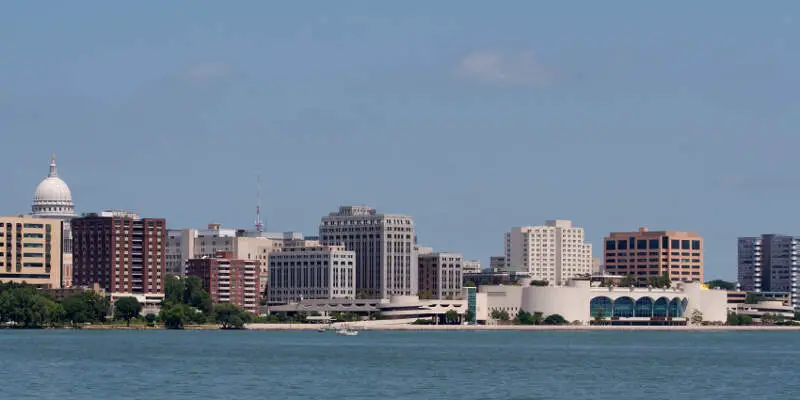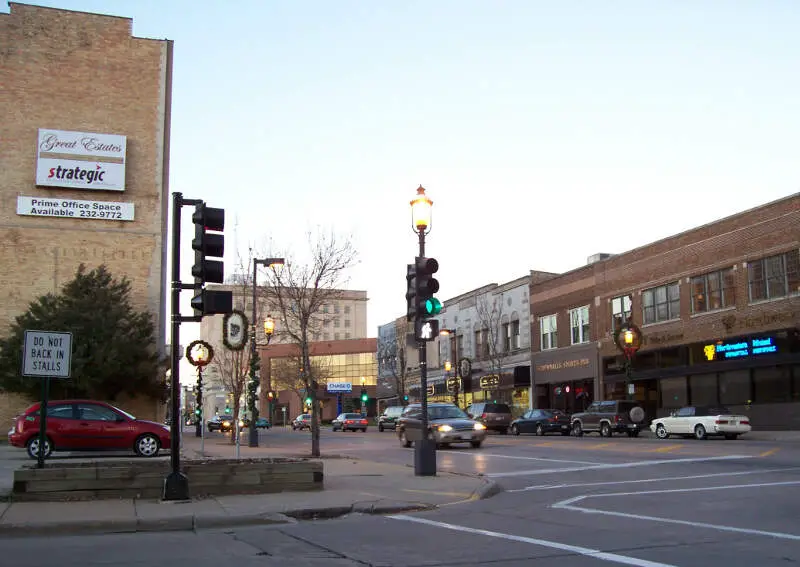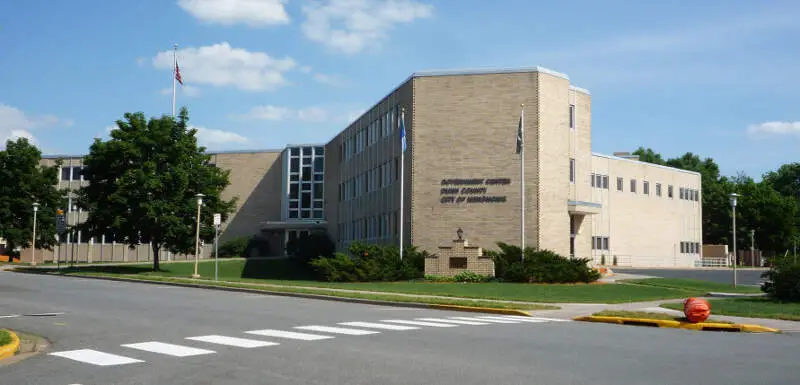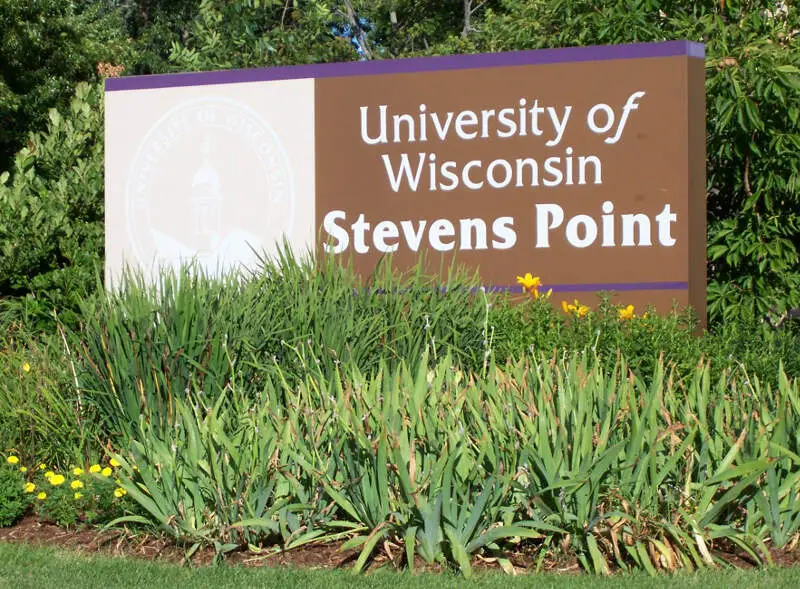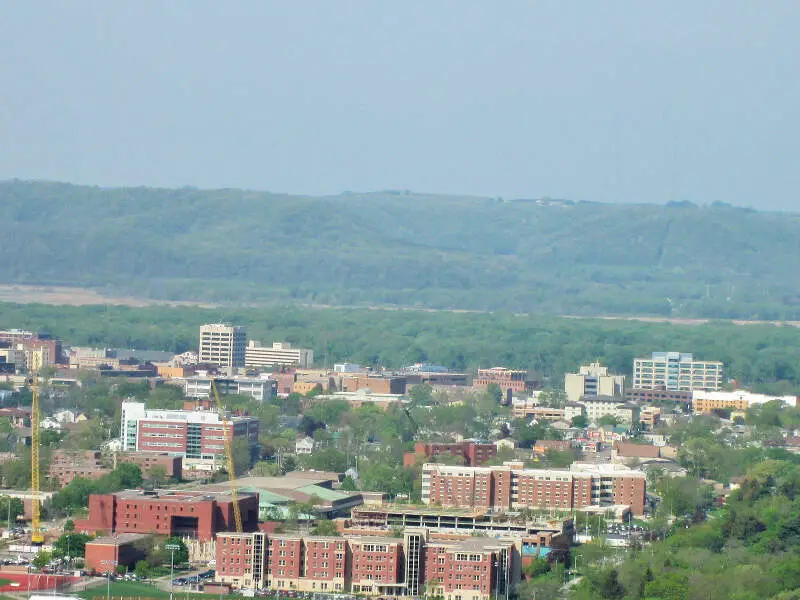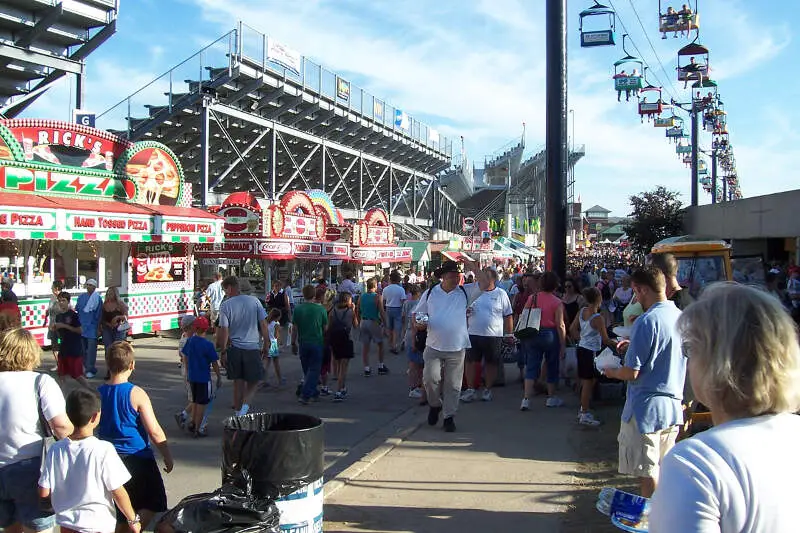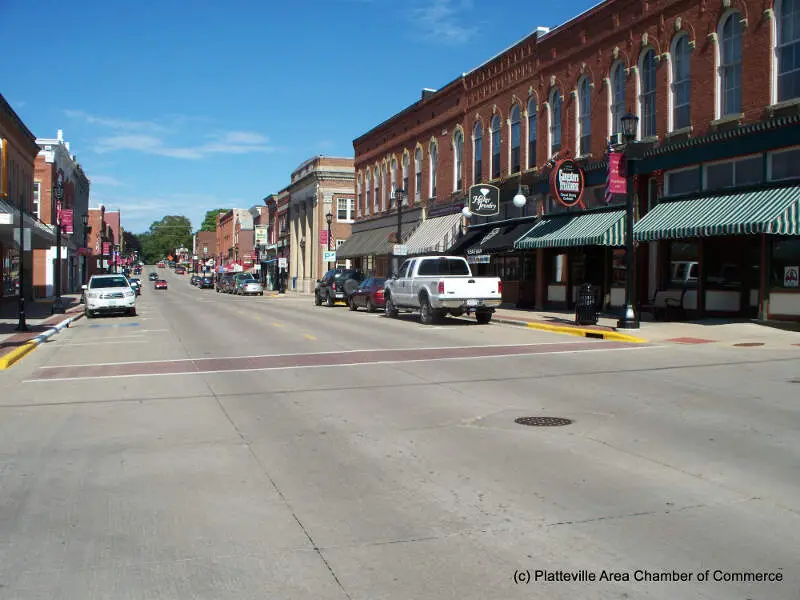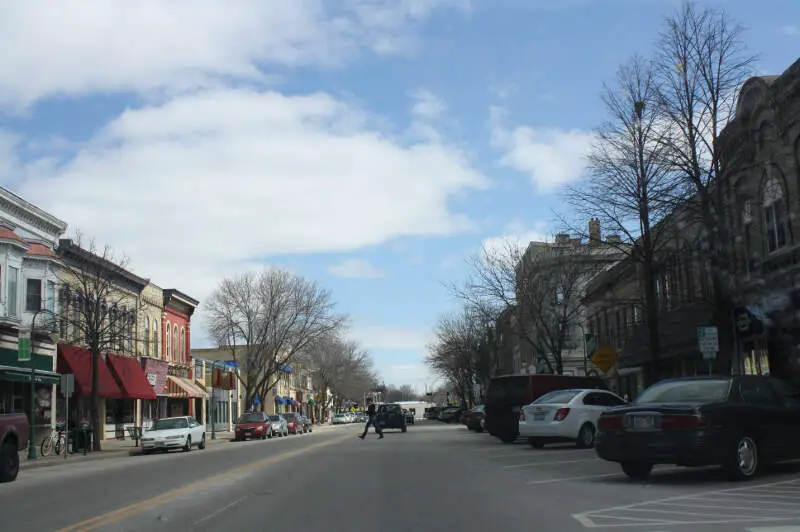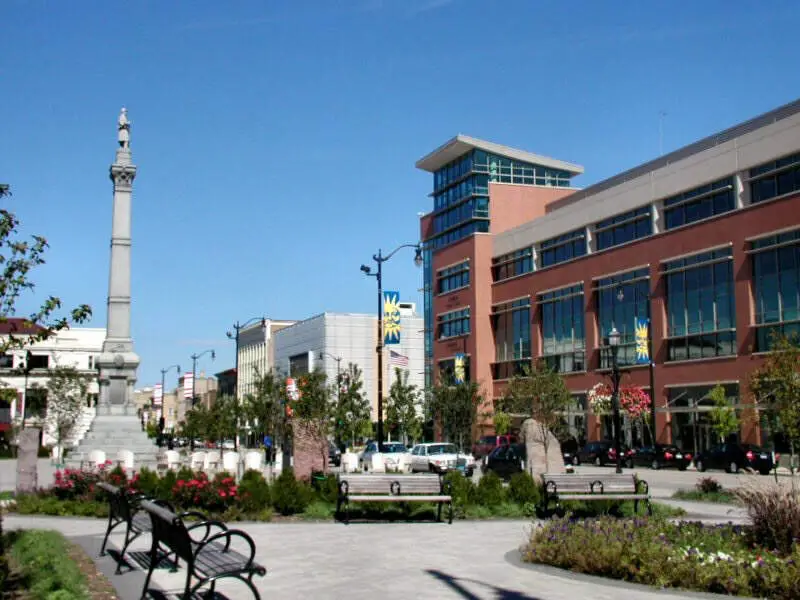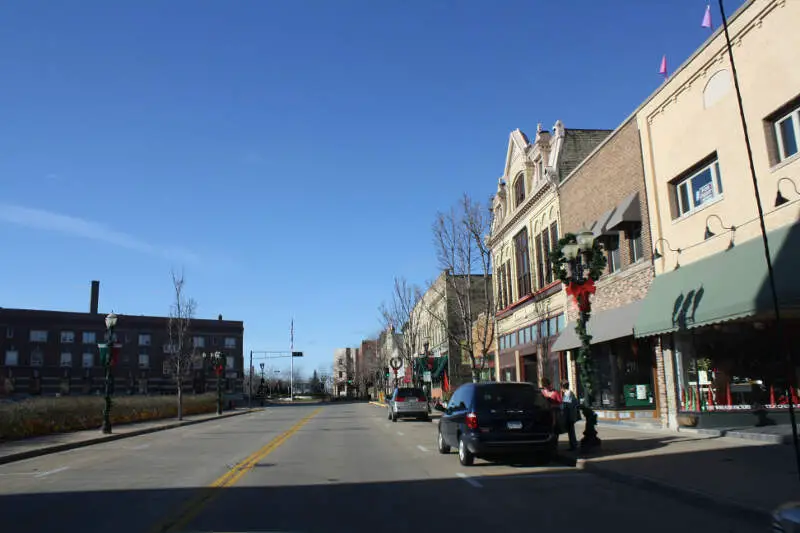 How do you determine which city is best for singles in Wisconsin anyways?
To give you the places in Wisconsin which are best for singles to find one another, we have to look at a handful of metrics. Of course, we want to measure the type of people who live in each city, and make some assumptions about what single people like.
So we researched the internet for a database that contains all that information.
How we crunched the numbers for the Badger State
We threw a lot of criteria at this one in order to get the best, most complete results possible. Using the 2015-2019 American Community Survey Census data produced for the state of Wisconsin, we looked at every single city in the state. We paid particular attention to:
Population density
% of population that's male vs. female (closer to a 50-50 ratio is better)
% of households with kids
Median age
Number of unmarried people in each city
We then gave each city a Singles Score.
The higher the score, the better the city is for singles to find one another. We also limited our results to cities with populations over 10,000 people. For Wisconsin, that meant a total of 85 cities. You can download the data here.
Read on to see why Madison is the talk of the town while Suamico is probably a bit on the boring side.
There You Have It - The Best Cities for Singles in Wisconsin for 2021
If you're looking for a breakdown of cities in Wisconsin ranked by criteria that most would agree make a place a great spot for finding a single person (and potentially love), this is an accurate list.
Here's a look at the most boring cities in Wisconsin according to the data:
Suamico
Howard
Mequon
For more Wisconsin reading, check out:
Detailed List Of The Best Cities For Singles In Wisconsin
| Rank | City |
| --- | --- |
| 1 | Madison, WI |
| 2 | Oshkosh, WI |
| 3 | Menomonie, WI |
| 4 | Stevens Point, WI |
| 5 | La Crosse, WI |
| 6 | West Allis, WI |
| 7 | Platteville, WI |
| 8 | Whitewater, WI |
| 9 | Racine, WI |
| 10 | Menasha, WI |
| 11 | River Falls, WI |
| 12 | Milwaukee, WI |
| 13 | Sheboygan, WI |
| 14 | Kenosha, WI |
| 15 | Green Bay, WI |
| 16 | Eau Claire, WI |
| 17 | Wausau, WI |
| 18 | Cudahy, WI |
| 19 | Greenfield, WI |
| 20 | Middleton, WI |
| 21 | Shorewood, WI |
| 22 | Beaver Dam, WI |
| 23 | Appleton, WI |
| 24 | Sun Prairie, WI |
| 25 | Waukesha, WI |
| 26 | Little Chute, WI |
| 27 | South Milwaukee, WI |
| 28 | Wauwatosa, WI |
| 29 | Weston, WI |
| 30 | Superior, WI |
| 31 | Beloit, WI |
| 32 | Glendale, WI |
| 33 | Brown Deer, WI |
| 34 | Marinette, WI |
| 35 | Fond Du Lac, WI |
| 36 | Fitchburg, WI |
| 37 | Janesville, WI |
| 38 | Whitefish Bay, WI |
| 39 | De Pere, WI |
| 40 | Neenah, WI |
| 41 | Watertown, WI |
| 42 | Hudson, WI |
| 43 | Monroe, WI |
| 44 | Portage, WI |
| 45 | Allouez, WI |
| 46 | Baraboo, WI |
| 47 | Oak Creek, WI |
| 48 | Chippewa Falls, WI |
| 49 | Oconomowoc, WI |
| 50 | Waunakee, WI |
| 51 | West Bend, WI |
| 52 | Kaukauna, WI |
| 53 | Plover, WI |
| 54 | Manitowoc, WI |
| 55 | Wisconsin Rapids, WI |
| 56 | Greendale, WI |
| 57 | Oregon, WI |
| 58 | Onalaska, WI |
| 59 | Ashwaubenon, WI |
| 60 | Marshfield, WI |
| 61 | Grafton, WI |
| 62 | Two Rivers, WI |
| 63 | Sussex, WI |
| 64 | Hartford, WI |
| 65 | Bellevue, WI |
| 66 | Port Washington, WI |
| 67 | Waupun, WI |
| 68 | Stoughton, WI |
| 69 | Franklin, WI |
| 70 | Fort Atkinson, WI |
| 71 | Brookfield, WI |
| 72 | Pleasant Prairie, WI |
| 73 | Verona, WI |
| 74 | Cedarburg, WI |
| 75 | New Berlin, WI |
| 76 | Caledonia, WI |
| 77 | Muskego, WI |
| 78 | Richfield, WI |
| 79 | Burlington, WI |
| 80 | Deforest, WI |
| 81 | Mount Pleasant, WI |
| 82 | Menomonee Falls, WI |
| 83 | Mequon, WI |
| 84 | Howard, WI |
| 85 | Suamico, WI |