Editor's Note: We updated this article for 2021. This is our seventh time ranking the cheapest places to live in Connecticut.
Article Table Of Contents   
(Skip to section)
Connecticut is home to Gillette Castle State Park in East Haddam and Yale University in New Haven, but did you know that the Constitution State is also home to some of the most affordable places in the country?
The experts say that the cost of living is on the rise, so HomeSnacks thought it would be a great idea to give Connecticuters one of the best life hacks: we compiled a list of the most affordable places to live in Connecticut for 2021.
How did we determine the most affordable places to live in Connecticut for 2021? We consulted the latest US Census data and cost of living statistics.
Do we think it's a coincidence that several of our top best places to raise a family in Connecticut are also on our most affordable list? Absolutely not. Kids are expensive! So the more money you save on your cost of living, the more money you will have to enjoy the fun 'kid' things to do and see in Connecticut. Like, visiting Pleasure Beach in Bridgeport or taking the ConnDot from Middletown to New Haven.
Don't get it twisted, folks; just because a place is affordable, doesn't mean that you aren't going to have to do your part. In order to afford to live in many of Connecticut's affordable places you're going to have to have a job. And you're in luck. The unemployment rate in most of our top ten places is below the national average. Want to know more? We suggest that you head to a Woodstock winery, find a shady spot, and read on.
The 10 Most Affordable Places To Live In Connecticut
What's the cheapest place to live in Connecticut according to the most recent census data? There can be only one most affordable place in Connecticut for 2021, and that would be Torrington.
So, if you care about home values and affordability, take a look at the list below to see where your Connecticut dollar will go the furthest. And if you don't find your favorite there, head to the bottom.
And if you already knew these places were cheap, check out some more reading about Connecticut and the cheapest places in the country:
The 10 Cheapest Places To Live In Connecticut For 2021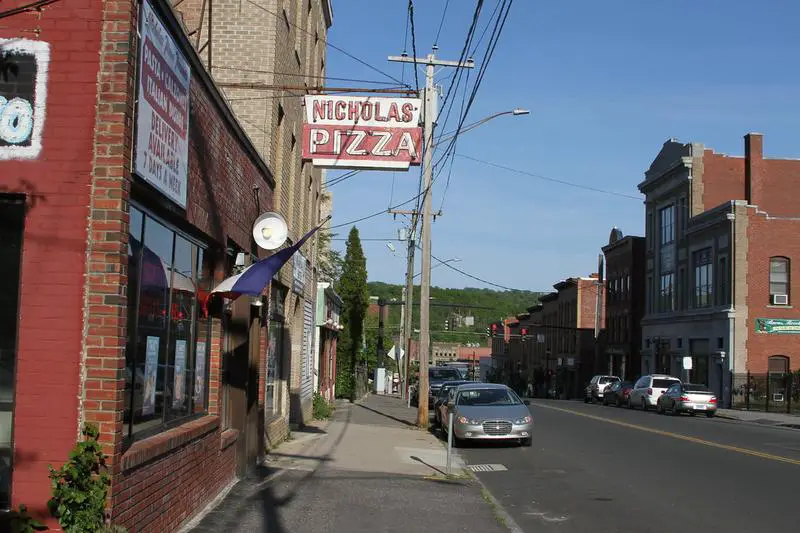 According to the data, Torrington is the cheapest place to live in Connecticut for 2021. Torrington's recently gotten some major improvements done in the downtown area, so you know the city's not skimping on public works to achieve its affordability. If you're planning on moving to Torrington, know that you'll be enjoying the second cheapest home prices in the state at a median price of $153,700. With residents earning a median income of $63,172, Torrington has the best home price to income ratio in Connecticut. On top of that, Torrington is one of the cheapest places to rent in the state. So when you're kicking back at Burr Pond, finances will be the last thing on your mind.
Torrington is the largest city in Litchfield County in the northwestern part of Connecticut.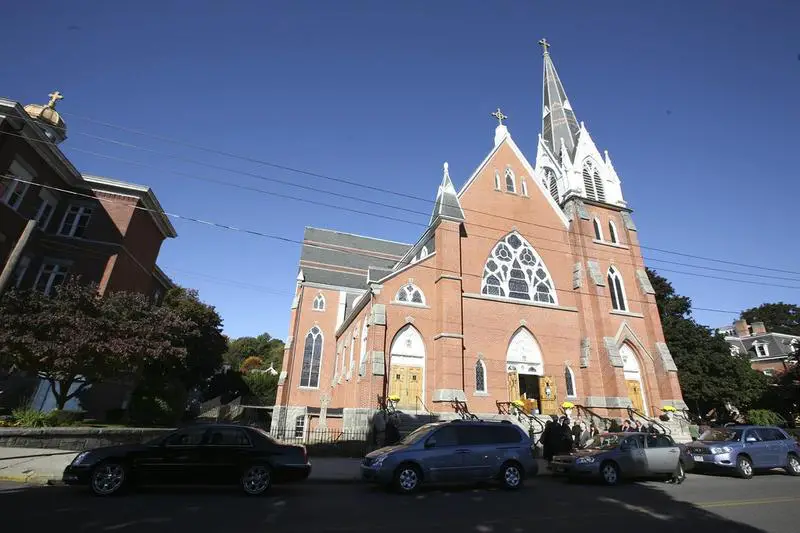 Located just south of Waterbury, Naugatuck ranks as the second cheapest place to live in Connecticut. Naugatuck is an absolute godsend for renters, who get to enjoy the best rent to income ratio in the whole state. Part of that is due to the relatively low median rent of $1,069 in Naugatuck, while some of the credit goes to the relatively high median income of $74,944.
Naugatuck's not a bad choice for those looking to buy a home either. Home prices are just a hair pricier than Torrington when looked at a percentage of income. In any case, you'll have no shortage of free outdoor activities wtih Naugatuck State Forest right in your backyard.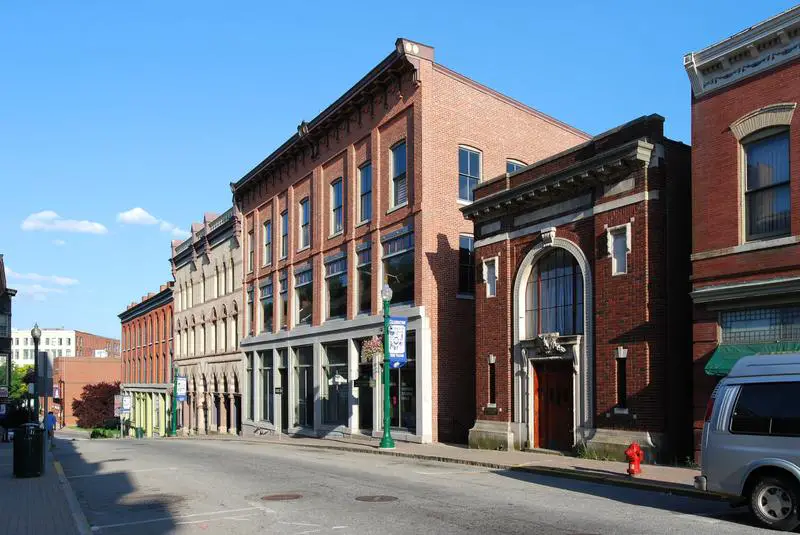 Source: Public domain
Norwich is a port city located at the mouth of the Thames River in eastern Connecticut that has some seriously sweet deals on housing. Norwich boasts the fourth cheapest homes in the state and, more importantly, the third best home price to income ratio. It doesn't matter if you're in Thamesville or across the river in Laurel Hill; there's something for everyone in Norwich. Especially if you're into gambling, seeing as Mohegan Sun is just a short drive away.
Hey, with all the money you're saving on housing, you can afford to hit the blackjack table every now and then.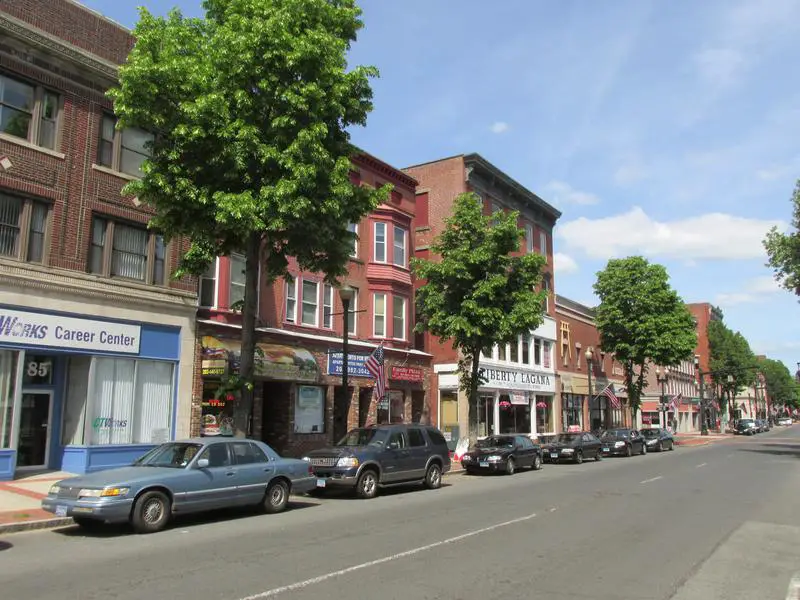 Located on I-91 between New Haven and Hartford, Meriden ranks as the fourth most affordable place to live in the Constitution State. The median rent in Meriden is $1,027, which taken with a median income of $58,843 gives Meriden the seventh best rent to income ratio in Connecticut. Homes are also the fourth most affordable in the state, so it doesn't matter much if you're buying or renting here -- it's all cheap
And if you still can't shake your financial worries, drive or climb up to Castle Craig in Hubbard Park - we guarantee you'll forget all about it as you overlook the rolling hills of Central Connecticut.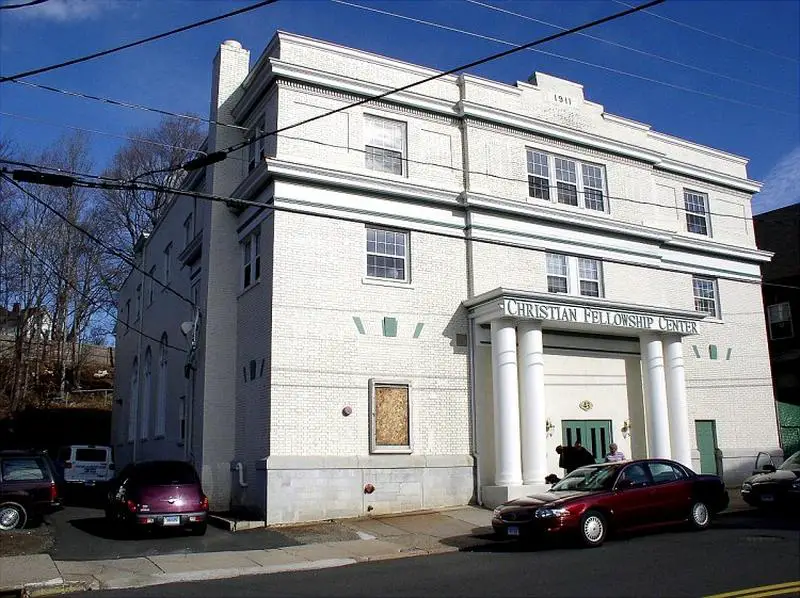 Bristol is an all-around great place to live in 8/10+ in every single category of our overall Snackability score. Maybe that's why we named it as one of the best places to live in Connecticut. Or maybe it's because it's home to Lake Compounce, an amusement park that every CT kid went to at least once during their childhood. In any case, Bristol is among the cheapest places to live in Connecticut whether you're renting or buying. The median rent in Bristol is $1,027 and the median home price is $197,800.
Bristol is located between Hartford and Waterbury, so your commute will be short if you're working in either city.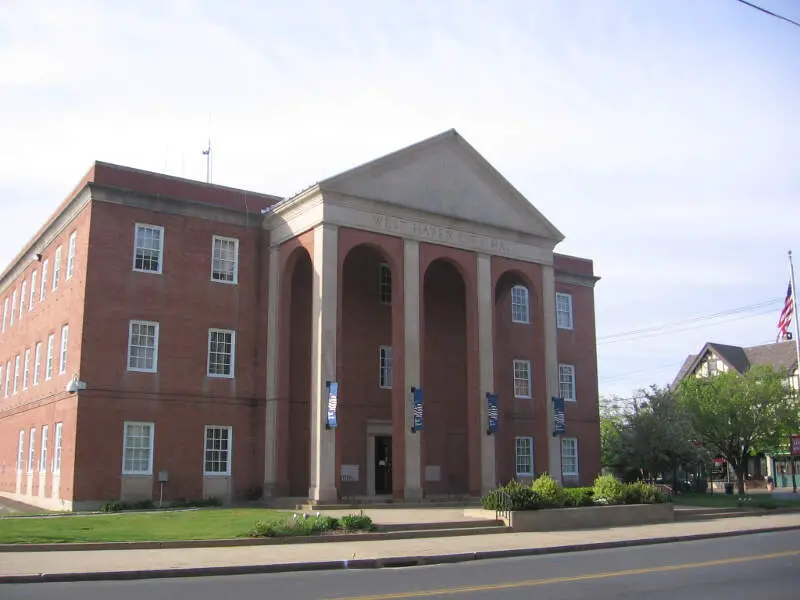 Source: Public domain
West Haven, a city just west of New Haven, ranks as the sixth most affordable spot to live in Connecticut. You'd be surprised to learn you're living in one of the most expensive states in America if you're a resident of West Haven.
Homes in West Haven go for about $193,800, which, taken with the city's median income of $62,985 gives West Haven the sixth best home price to income ratio in Connecticut. It's also the first place on this list with beaches, so if that's a priority for you, West Haven is the place to be.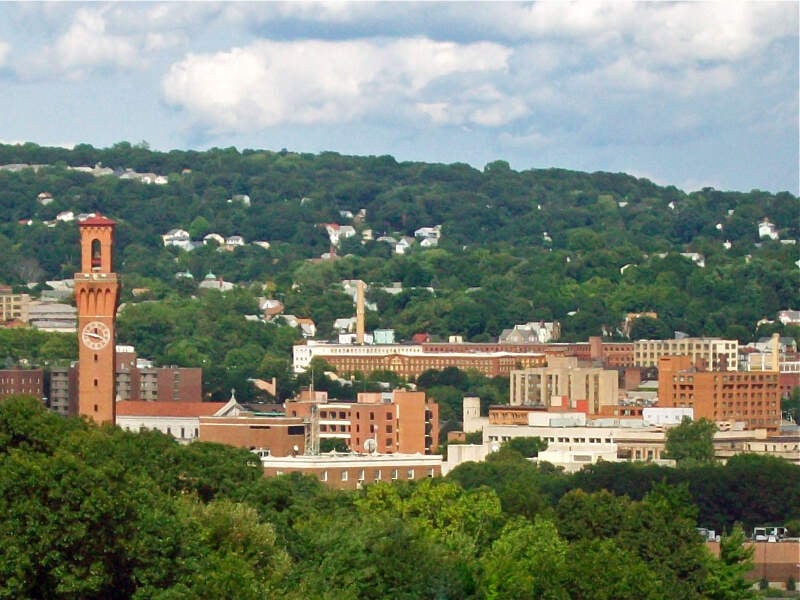 One of the biggest cities in Connecticut, Waterbury clocks in as the seventh cheapest place to call home in the state. You'd be hard-pressed to find a less expensive house than one in Waterbury, where the median home price is the lowest in the state at $130,700. That puts Waterbury firmly in the top ten in terms of home price to income ratio. Which leaves plenty of money left over to catch a show at the famous Palace Theater.
On the flip side, Waterbury is the least economical place to rent on this list and the city does have a bit of a crime problem.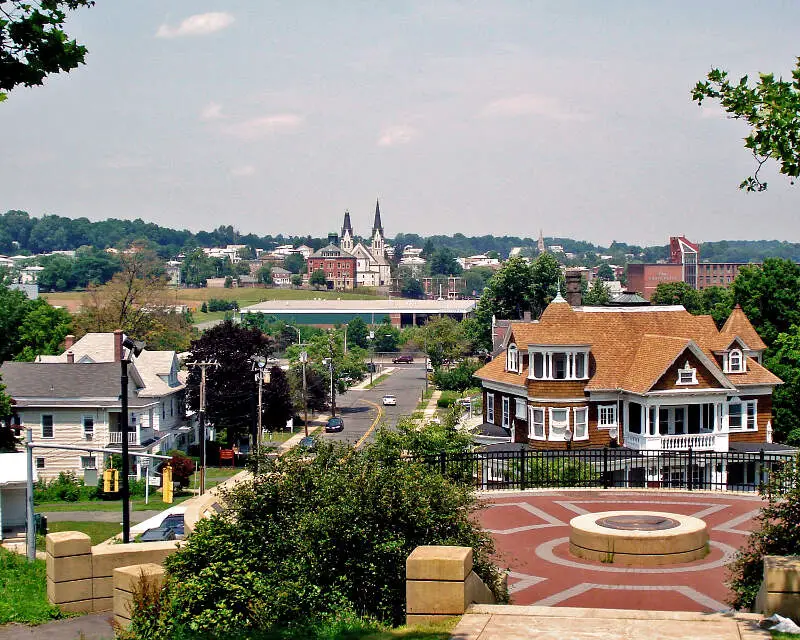 Located just southwest of Hartford, New Britain ranks as the eighth least expensive city in Connecticut.
Whether you're enjoying the rose garden in Walnut Hill Park or catching an exhibition at the Museum of American Art, you'll never be left wondering what to do with yourself on the weekend in New Britain. That's part of the reason we named it one of the best cities for singles in Connecticut. The fact that you can enjoy all this on a shoestring budget is just icing on the cake. New Britain has the third cheapest homes on the market in CT, with a median price tag of $160,800.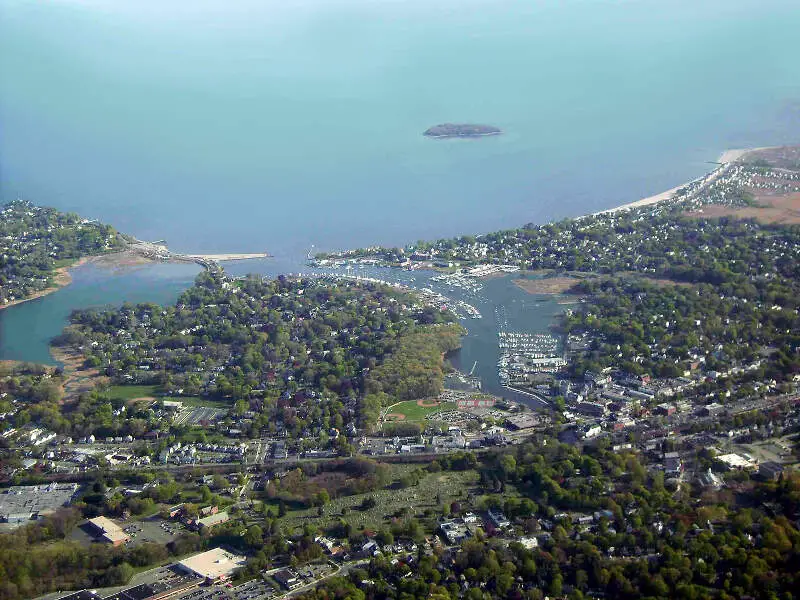 I know we were just giving kudos to West Haven beaches, but folks from Milford will tell you that their beaches are far superior. In any case, the two cities are right next to each other, so you can visit both and decide for yourself. Milford is a bit of an oddity on this list; it has the most expensive homes and most expensive rent on this list by a pretty hefty margin, after all. But when you take into consideration that Milford is also one of the richest places in Connecticut, things start to fall into place. Thanks to a high median income of $91,783, Milford is safely in the top ten for housing cost to income ratio for both buyers and renters.
Just make sure you get a lucrative job lined up, or else Milford's affordability might not be so evident.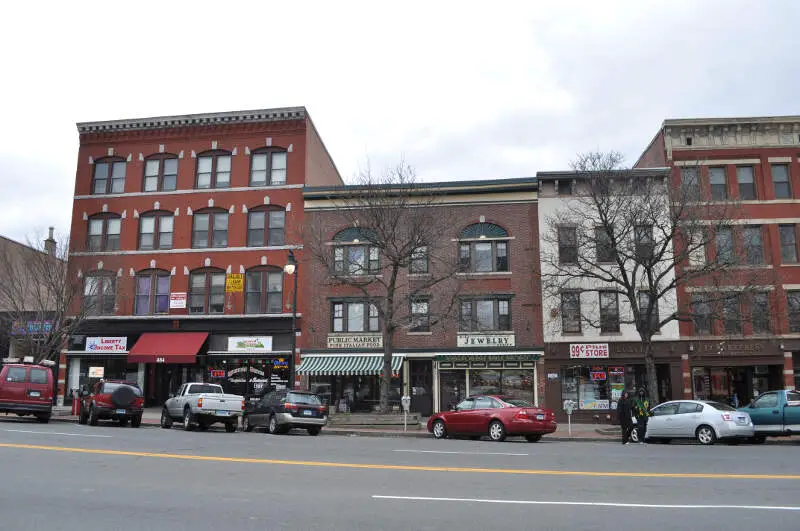 Middletown's housing prices are a bit steeper than cities higher up on this list, but thanks to a more affluent populace, the city remains one of the cheapest places to live in Connecticut, relatively speaking. Whether you're renting or buying, Middletown's housing price to income ratio is safely in the top ten statewide. Even with a seemingly high median rent of $1,133/month, Middletown still has far cheaper rent than the average rent in Connecticut. Middletown is also home to the renowned private liberal arts school Wesleyan University if you're looking to continue your education in an affordable setting.
Middletown is 15 miles south of Hartford.
How We Determined The Most Affordable Places To Live In The Constitution State For 2021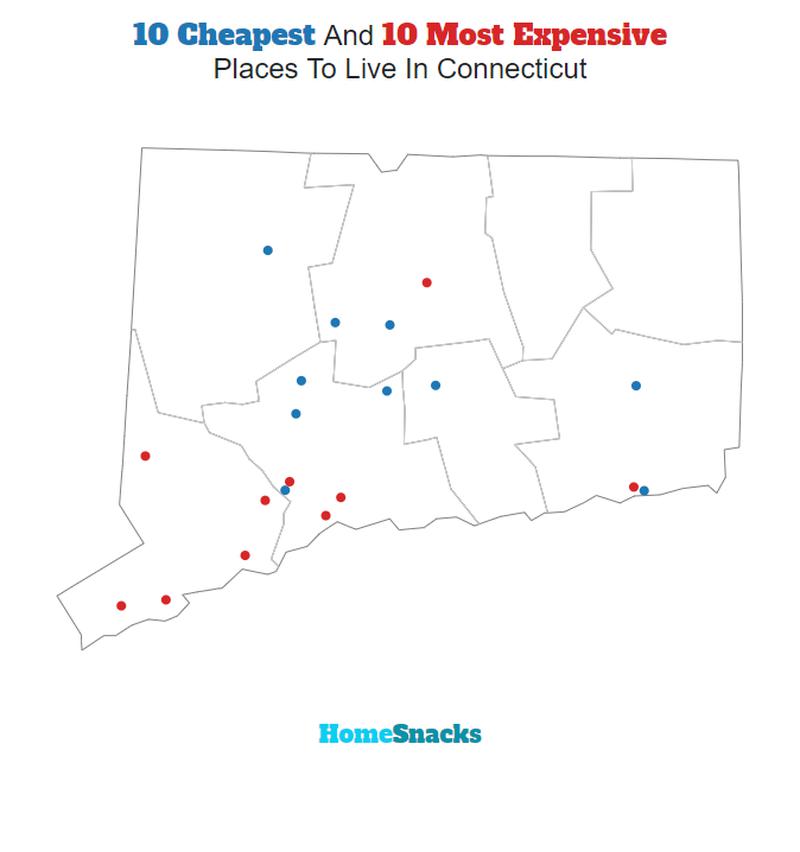 The two most important things to think about when it comes to being able to afford if you can live comes down to:
How much do money do I make?
How much do I have spend to live there?
You need to understand your costs in the context of how much money you make.
For example, if the median household earns $100,000 and spends $40,000 on housing it's actually cheaper to live there than a place with a median income of $50,000 and housing costs of $21,000. You might spend more on housing, but you have more money overall to play with.
With that example in mind, we derived several statistics from the latest Census American Community Survey 2015-2019 around incomes and costs. They are:
Median Home Price / Median Income (lower is better)
Median Income / Median Rent (Higher is better)
Median Home Price
We added simply median home price because high home prices generally correlate with higher expenses for all costs related to homes (heating, electricity, etc).
You can then compare these metrics in each of the places in Connecticut to figure out which is the least expensive.
What you are left with is a "Cost of Living Index" by taking the average rank of each of these metrics for each city.
So we used that cost of living index in order to rank all of the 21 places in Connecticut that have more than 9,000 people.
The place with the lowest cost of living in Connecticut according to the data is Torrington. You can download the data here.

There You Have It Mr. Or Mrs. Connecticut Cheapskate
If you're looking at the cost of living numbers in Connecticut, this is an accurate list of the most affordable places to live in Connecticut for 2021.
Here's a look at the most expensive cities in Connecticut according to the data:
Stamford
Norwalk
New Haven
For more Connecticut reading, check out:
The Most Affordable Places To Live In Connecticut