Article Table Of Contents   
(Skip to section)
Welcome to Connecticut, one of the most expensive and wealthiest states.
But assuming you have the cash to move to the Nutmeg State, you might be wondering what the best place to call home would be. So we did the math to help you understand why you should think about moving to Shelton. How do you pick the best places to live in what many agree is the best darn state in the nation? If you do a survey, you'll most likely get opinions based emotions.
That's why we use science — a mix of Census and FBI data on indicators of quality of life in Connecticut. After all, the data never lies. And after analyzing everything from weather and amenities to crime and education, we've come up with the following list as the best places to live in Connecticut. Read on below to see how we calculated the results and where your hometown ranked.
Hint: If you live in New Haven County, consider yourself lucky.
The 10 Best Places To Live In Connecticut For 2022
What's the best place to live in Connecticut? According to the most recent FBI and Census data, Shelton comes in first as the best place in Connecticut for 2022 based. Hope you can afford to make the move.
As you can see, there are plenty of amazing places to live in Connecticut, but these top ten cities undoubtedly take the cake.
Their low unemployment rates, low crime rates, high incomes, low household vacancy rates, and abundance of things to do make these ten places the best places to live in Connecticut for 2022.
If you're looking for something more national, check out the best states in America or the best places to live in America.
For more Connecticut reading, check out:
The 10 Best Places To Live In Connecticut For 2022
We begin our exploration of the best places to live in Connecticut for 2022 with Shelton, a city of 41,162 located between Bridgeport and New Haven. Shelton has an extremely successful economy, with the 2nd lowest poverty level and lowest unemployment rate in Connecticut, at 5.4% and 4.9% respectively. It's not like people are just scraping by here either. We named Shelton the richest place in Connecticut, with the highest household median income in the state at $98,873 year. Homes are also the 3rd most expensive statewide, with a median price tag of $345,200.
One thing to note is that at 48, Shelton has the oldest median age of anywhere we'll be covering on this list. If living in a more experienced and mature community is a priority for you, Shelton has you covered. Seeing as older folks with lots of cash don't have any reason to go around committing crimes, it makes sense that Shelton also has the lowest crime rate in CT, about 70% lower than the national average. And if you're looking for a school district that invests in its youth, Shelton spends roughly 10% more per student than the statewide average.
That's just one example of how Shelton spends its tax revenue in smart ways. Another example is the recent downtown revitalization project, which has been a huge hit. For those more interested in nature than high-end dining and gorgeous tree-lined streets, Indian Well State Park is a local favorite year-round.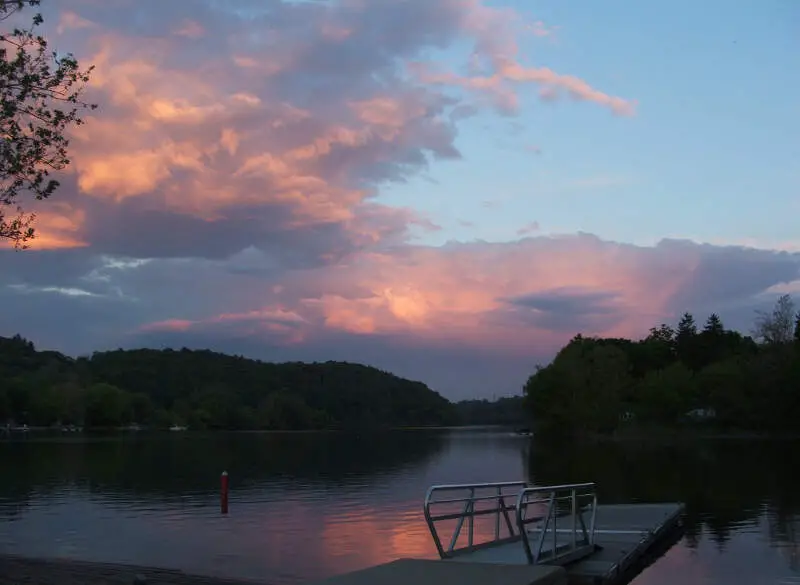 Milford is a city of 52,902 sandwiched between New Haven and Bridgeport on Long Island Sound. Milford's public schools have a student-teacher ratio of 11:1, beating out the statewide average of 13:1. All that extra one-on-one attention apparently does the trick, because students in Milford dropout of high school at the lowest rate in Connecticut.
Staying in school pays off big time and Milford showcases that wonderfully. Milford has a poverty level of just 4.1% and an unemployment rate of 4.9%, both of which rank at or near the top compared to other Connecticut cities. Homes in Milford are the 4th priciest in the state at $319,900. The median household income in Milford is $95,785/year, so you'll want to make sure you can pull in around that much if you want to live comfortably here.
As a non-statistical bonus, Milford's coastal location comes with obvious advantages for beach lovers. Silver Sands State Park is probably the most popular choice, but nearby Walnut Beach is also a great option.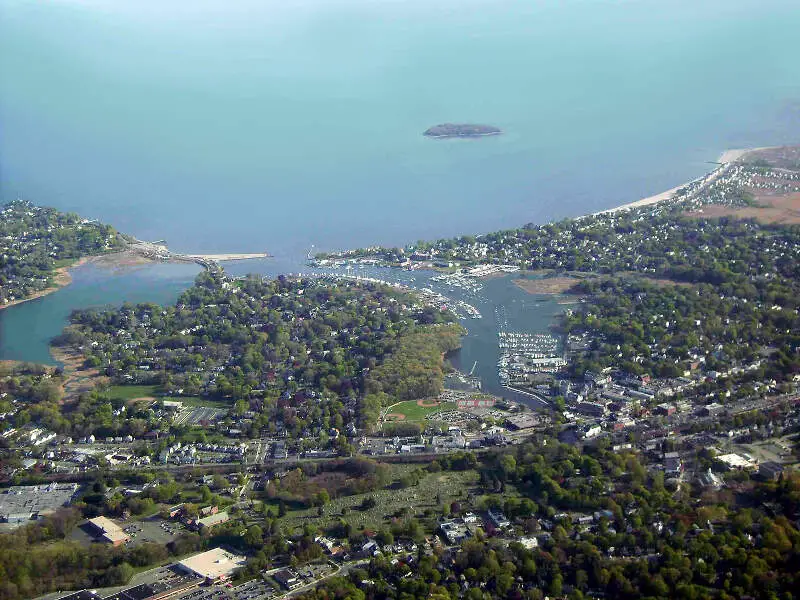 Coming as the 3rd best place to live in CT is Middletown, a city of 46,406 about 15 minutes southeast of New Britain. Middletown is home to the prestigious Wesleyan University, so you'll never have to look far to find intelligent conversation here. Neither will you have far to go to reach pristine natural beauty, what with Wadsworth Falls State Park right in your backyard.
Middletown enjoys the 4th lowest unemployment rate in Connecticut at 5.5%. All those employed people also get the benefit of having the 4th shortest average commute time in the state at 21 minutes. You have very little reason to fear being car-jacked on said commute either because Middletown has 6th lowest rate of criminal activity in Connecticut. If you do find yourself in a bad way medically, Middletown will have you feeling right as rain in no time, because 96.5% of residents have health insurance, the 3rd highest rate in CT.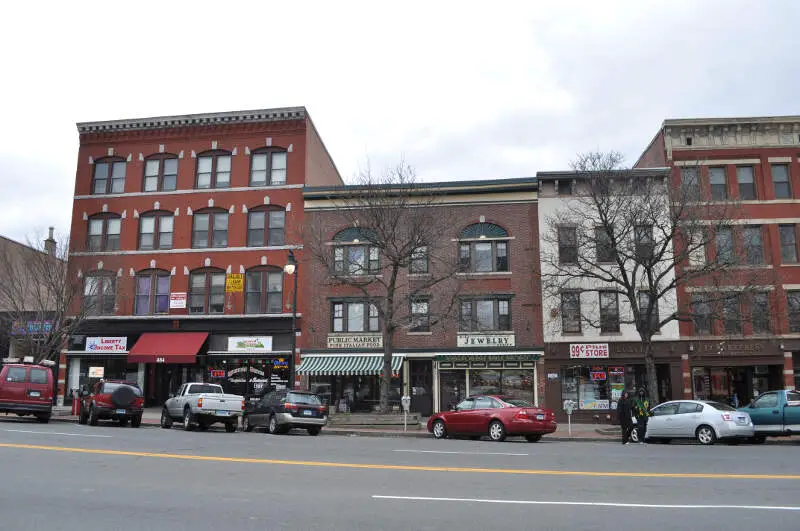 Next up on our tour of awesome places to live in Connecticut is Bristol, a city of 60,039 located north of Waterbury and west of New Britain. The cost of living in Bristol is about 10% lower than the Connecticut average, making it one of the most affordable places to live on this list. Residents enjoy low unemployment and poverty numbers as well, so everyone gets in on the savings in Bristol. And if safety is a big concern for you, Bristol had the 5th lowest rate of violent crime in the state.
One thing to note is that Bristol is also one of the most liberal cities in Connecticut, so keep that in mind if the political affiliation of your neighborhood is important to you.
As a Connecticut native, I believe that Bristol being home to Lake Compounce oughta bump it up a few spots on this list. It is hands-down the best amusement and water park in New England, in this writer's opinion.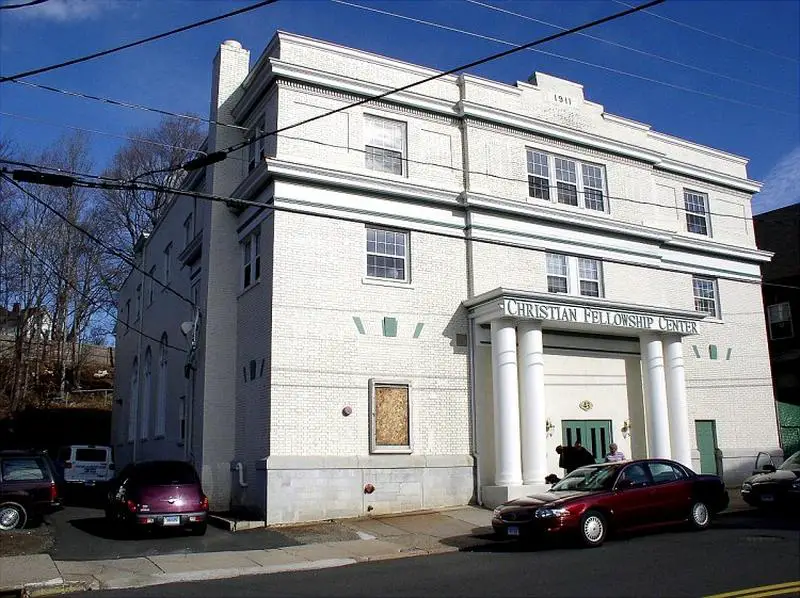 We're taking our first foray into eastern Connecticut to reach the 5th best place in the state, Groton. This is the youngest city we'll be covering on our list, with a median age of 34. Part of the reason Groton is so young is that its home to a naval submarine base. Even if you're not signing up for the Navy, you can learn more about Groton's historical ties to America's naval tradition at the Submarine Force Museum. Of course, Groton's coastal location also comes with tons of beaches and waterfront parks to choose from. And even though it's technically located in Mystic, I couldn't fail to include the nearby Mystic Aquarium here; seriously, every Connecticut kid will end up here on a field trip at some point and to this day it's one of the most impressive aquariums I've visited.
Perhaps having some armed forces around keeps people in check, because Groton's crime rate is roughly 20% lower than the CT average and ranks as the 4th lowest statewide. If you're not taking a submarine to work, your commute in Groton will take about 19 minutes, the 1st shortest commute in the state.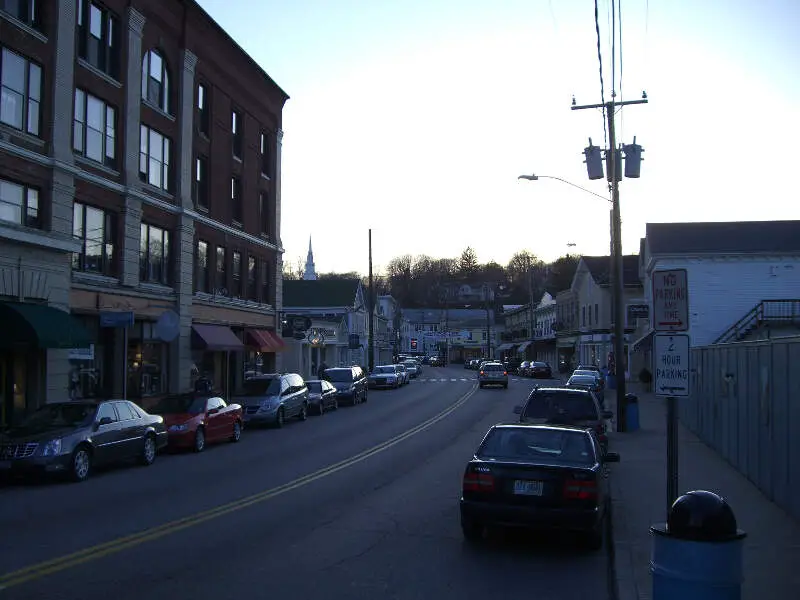 Source: Public domain
It's hard to know where to begin when covering a city as awesome as Stamford, the third biggest city in Connecticut. Stamford is home to eight Fortune 500 companies and is the largest financial district in the New York metropolitan area (besides NYC itself), so you know there's a solid economic base here. Stamford enjoys the 2nd highest median household income in the state at $96,885/year. The poverty level and unemployment rate are both among the top ten lowest in the state as well, meaning everyone gets in on the success story in Stamford.
The only downside of Stamford is how pricey it is. The cost of living in Stamford is about 60% higher than the national average, making it Connecticut's most expensive city. All that cash will buy you some super-smart neighbors because over 20% of residents have at least a master's degree.
It'll also buy you access to one of the most happening cities in CT. Between catching a show at The Palace Theatre and catching some sun at Cove Island Park, there's something for everyone in Stamford. Just be sure to move quickly, because Stamford is also the state's fastest-growing city, having added roughly 8,000 people to its ranks since 2010.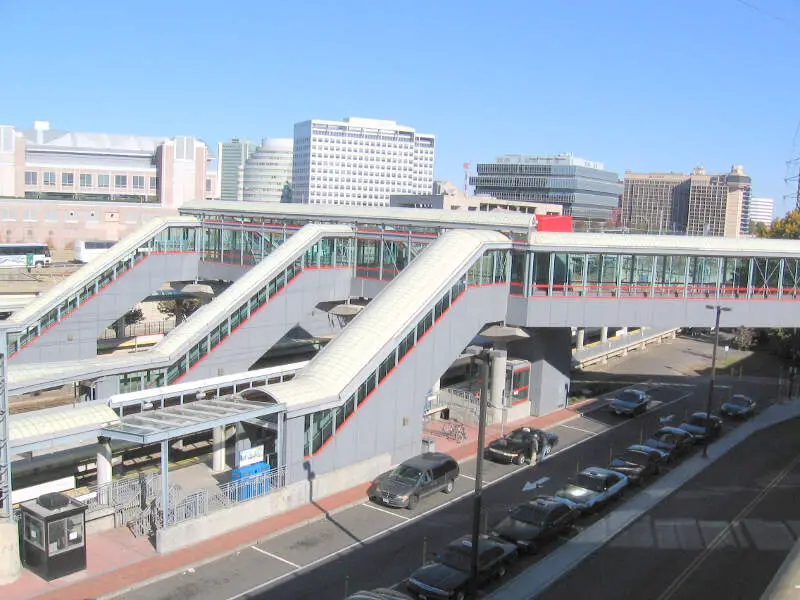 Source: Public domain
Located on the northern shore of Long Island Sound between Stamford and Bridgeport, Norwalk ranks as the 7th best place to call home in CT. Those looking for a fun day out will find exactly that at The Maritime Aquarium, but those who'd rather get on the water will probably prefer taking a boat trip to see the historic lighthouse on Sheffield Island.
Great schools, safe streets, and an economy that works for everyone all make Norwalk a great place to live. Norwalk has the 4th lowest poverty level in Connecticut, sitting at 9.1%. And while the median household income in Norwalk is the 4th highest in the state at $89,486/year, homes are also the 2nd most expensive. In fact, the cost of living is nearly 20% higher in Norwalk than the Connecticut average, making it one of the priciest places to live in the state.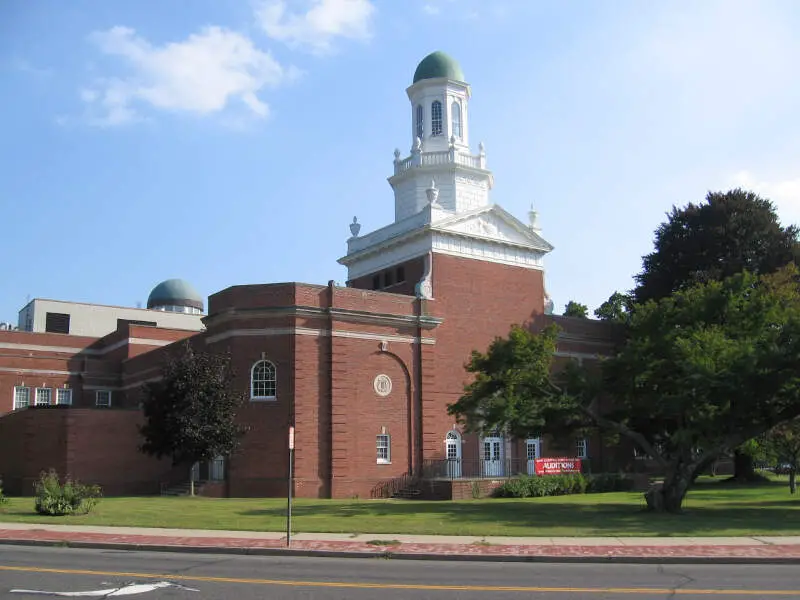 Located just south of Waterbury, Naugatuck comes in as the 8th best place to live in Connecticut for 2022. While there are many expensive places in Connecticut, Naugatuck isn't one of them. With a cost of living about 10% lower than the statewide average, Naugatuck is one of the cheapest places to settle down in. Combine that with the 5th highest median household income in CT at $77,967/year and you've got yourself a recipe for big savings.
Naugatuck also has the 9th lowest crime rate in Connecticut, so you won't have to worry about Amazon porch pirates here. And with the 3rd lowest poverty level in the state at 6.6, you don't have to worry about an economic downturn much either. If you want to get away from it all, we recommend visiting Naugatuck State Forest. Especially in fall, if you can manage to beat the NYC leaf-peepers there.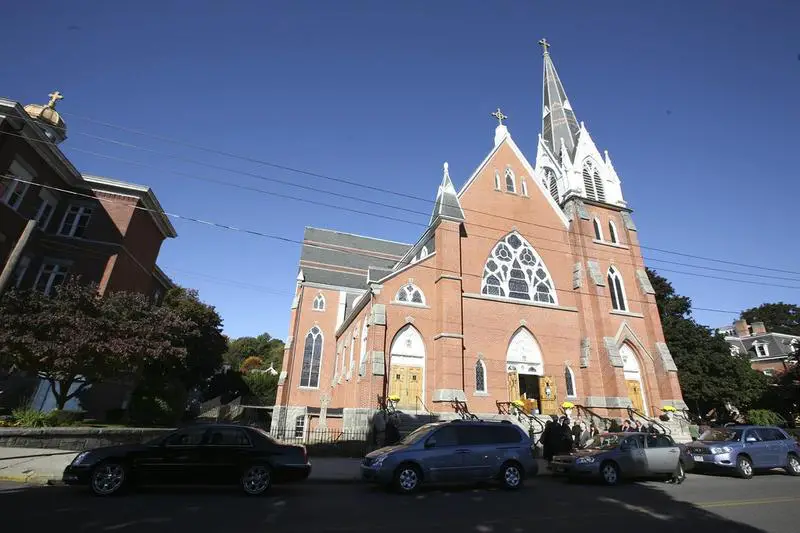 Wrapping up our list of the best places to live in Connecticut is Torrington, our sole representative of Litchfield County. We've already covered one of the most liberal cities on this list, so it's only fair we included Torrington, the most conservative city in CT as well. Greatness knows no political affiliation here at HomeSnacks. Republicans and Democrats alike appreciate a good deal, and that's just what you get in Torrington. The cost of living in Torrington is about 15% lower than your average Connecticut city and we named it the state's most affordable city for 2022. Part of that is the fact that at $153,800, Torrington has the cheapest homes for sale that you'll see on this list.
Torrington also has the 11th lowest levels of unemployment and poverty in CT, so everyone can take part in the good deals Torrington offers. And you never have to worry about crime ruining your good time here, because Torrington had the 3rd lowest crime rate in the state.
Torrington is also home to the Warner Theatre, a historic spot that puts on everything from operas to plays to big-name concerts. And if you'd rather spend the day outside, Burr Pond is the place to be.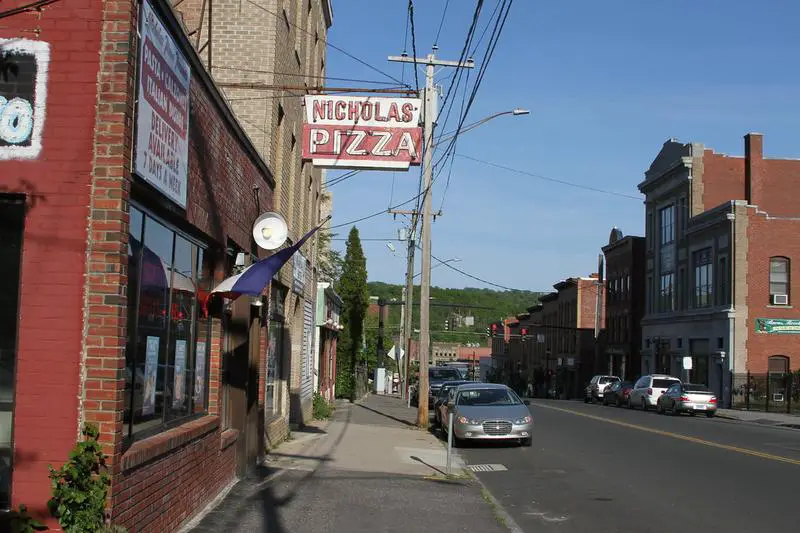 Danbury found its way onto our list of the best places to live in Connecticut this year, a distinction well deserved. The city has been improving over the years on many of the metrics we track including crime, home prices, and incomes. It now ranks 2nd for property crime and 6th for incomes. That means you don't have to worry about anyone in town taking your hard earned cash.
In terms of things to do, Danbury is the major draw in the area. Located in western Connecticut near the New York border, people come from surrounding areas to visit attractions like Bear Mountain Reservation and the Danbury Railway Museum. Some the major employers in town include Danbury Hospital and Praxair.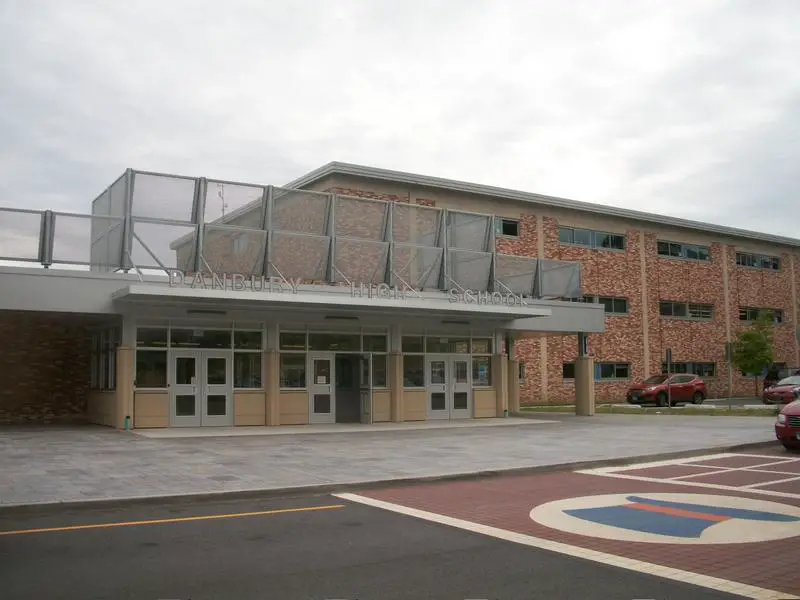 Mapping The Best And Worst Places To Live in Connecticut
The Pressing Question: Size
Before we even started to collect data, we had to answer a tough question: Is it fair to pit Hartford with a population of 122,549 against places with a population of 18?
We firmly decided no, that just isn't fair.
So to create our ranking, we broke places to live into three tiers:
Cities — Populations over 8,000
Towns — Populations between 1,000 and 8,000
Small Towns — Populations below 1,000
This left us with 21 cities, 67 towns, and 13 small towns.
We then decided, no matter how much anyone loves their town, the best cities to live in Connecticut have more of everything and therefore you need to have over 8,000 people to truly be 'the best'.
Now we also realize that city living might not be your cup of tea, so we ran the following analysis on towns and then again for small towns.
You can see those two top tens at the bottom of the post.
Methodology: How We Calculated The Best Cities To Live In Connecticut
Now that we had our set of cities, it was time to rank them.
We ranked each place in Connecticut across a number of criteria from one to 21, with one being the best.
We then took the average rank across all criteria, with the city posting the lowest overall score being crowned the winner of the title "Best Place To Live In Connecticut".
The criteria we looked at were:
Median Home Values
Median Income
Population Density (Higher better)
Unemployment Rate
Commute Time
Crime
Education Levels
Health Insurance Coverage
Poverty rates
Sources of criteria include the New Census Data and FBI Crime Data. You can download the data here.
After the dust settled, what was the best place to live in Connecticut? That would be Shelton.
If your city or town isn't among the top 10, jump down to the bottom of the post to see a detailed chart of the best places in Connecticut.
Otherwise, buckle up for a ride down good living lane with Shelton at the end of the cul-de-sac.

Summary: The Best Places When It Comes To Living In Connecticut
If you're looking at areas in Connecticut with the best economic situations, where there's lower than average crime, and a lot to do, this is an accurate list.
Shelton made a strong showing to take in the overall number one spot for the best place to live in Connecticut for 2022.
Best Towns To Live In Connecticut
Weatogue (Pop. 3,179)
Gales Ferry (Pop. 1,005)
West Simsbury (Pop. 2,354)
Mystic (Pop. 4,241)
Georgetown (Pop. 1,821)
Durham (Pop. 2,687)
Woodmont (Pop. 1,425)
Southport (Pop. 1,694)
Pemberwick (Pop. 4,286)
Guilford Center (Pop. 2,517)
Best Small Towns To Live In Connecticut
Terramuggus (Pop. 934)
Fenwick (Pop. 78)
Groton Long Point (Pop. 477)
New Preston (Pop. 996)
Wilton Center (Pop. 675)
Stonington (Pop. 973)
Mansfield Center (Pop. 969)
Falls Village (Pop. 490)
Lakeville (Pop. 903)
Brooklyn (Pop. 906)
If you're curious enough, here are the worst places to live in Connecticut according to the data:
Bridgeport (Pop. 145,014)
Waterbury (Pop. 107,841)
Hartford (Pop. 122,549)
For more Connecticut reading, check out:
Where Are The Best Places To Live In Connecticut?
| Rank | City | Population |
| --- | --- | --- |
| 1 | Shelton | 41,162 |
| 2 | Milford | 52,902 |
| 3 | Middletown | 46,406 |
| 4 | Bristol | 60,039 |
| 5 | Groton | 8,999 |
| 6 | Stamford | 130,057 |
| 7 | Norwalk | 88,755 |
| 8 | Naugatuck | 31,201 |
| 9 | Torrington | 34,259 |
| 10 | Danbury | 84,650 |
| 11 | West Haven | 54,666 |
| 12 | Ansonia | 18,709 |
| 13 | Norwich | 39,112 |
| 14 | Meriden | 59,512 |
| 15 | Derby | 12,420 |
| 16 | New London | 27,001 |
| 17 | New Britain | 72,543 |
| 18 | New Haven | 130,381 |
| 19 | Bridgeport | 145,014 |
| 20 | Waterbury | 107,841 |
| 21 | Hartford | 122,549 |
Editor's Note: We updated this article for 2022. This is our ninth time ranking the best places to live in Connecticut.