Minnesota is The Land of 11,000 Lakes, some pretty nice people, and super great, super affordable cities.
Word on the street is that Minnesotans don't know what unemployment is. Minnesota has one of the lowest unemployment rates in the nation.They actually have over 20 Fortune 500 companies. They are the home to Target (yes folks, Target), and we can thank Edina, MN for Caribou Coffee.
And if you know anything about economics, good jobs increase median incomes which translates to most people being able to afford to live in most Minnesota cities. That's a good thing because Minnesota has a lot to offer. They have hip millennial cities like Minneapolis, cool college cities like Saint Paul, and cities where you can escape life like Big Falls.
More importantly, affordability in the North Star State means that you can spend the extra change in your pocket on the fun things that Minnesota offers: like Minnesota Vikings tickets, a cabin on Leech Lake, or a staycation in one of Minnesota's big cities.
And if you're into that outdoor, middle of nowhere, Minnesota vibe, you're in luck. Most of our top ten most affordable cities in Minnesota are just that — based on Census data around cost of living.
So, crank some Purple Rain, grab some hot dish, and read on.
The 10 Most Affordable Places To Live In Minnesota
It's simple economics, people. The less you have to spend on bills, the more you will have to spend on things that matter: like your home, good food, and just overall good fun.
This economic formula for affordability is no different for the good people of Minnesota.
What does the most affordable place to live in Minnesota look like? Well, after crunching data from the US Census in terms of median housing costs, median income, and overall cost of living for cities with over 5,000 residents, Montevideo is the cheapest.
So, if you care about home values, cost of living, and great jobs, take a look at the list below to find the most affordable places in Minnesota: safe, affordable cities where your salary will let you live like a Minnesota Twin.
The rest of the country could learn a lot from the Gopher State.
And if you already knew these places were cheap, check out some more reading about Minnesota and the cheapest places in the country:
The 10 Cheapest Places To Live In Minnesota For 2022
You'd have a tough time believing you're living in one of the most expensive states in America when you're in Montevideo. Homes in Montevideo are the second cheapest in Minnesota, with a median price tag of $100,600. With residents earning a median income of $51,953, they pay the smallest proportion of their income toward homes of anywhere in the state. Rent is also quite cheap in Montevideo, but it's still more economical to buy.
Montevideo is located in the western part of the state, where the Minnesota and Chippewa Rivers converge.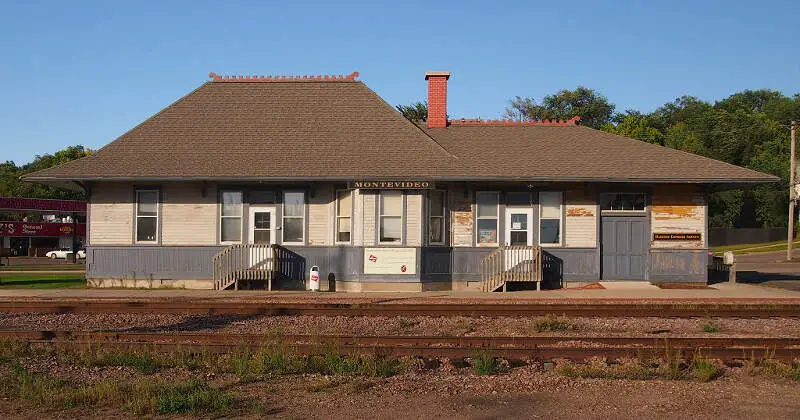 If you're trying to live the high life without breaking the bank, there's probably nowhere better in Minnesota than Hibbing, the second most affordable city overall statewide. Renters can rejoice at Hibbing's super low median rent of $580/month, the lowest price you'll see on this list. But what really moves Hibbing to the top spot is the affordability of its houses. With residents earning a median income of $47,030 and paying a median home price of $111,900, Hibbing is firmly in the top ten in Minnesota for home price to income ratio.
To learn a little more about the root of the riches that helped make Hibbing the affordable city it is today, definitely check out the Hull Rust Mine, one of the largest open-pit mines in the world. Admission is free, in keeping with the cheap theme.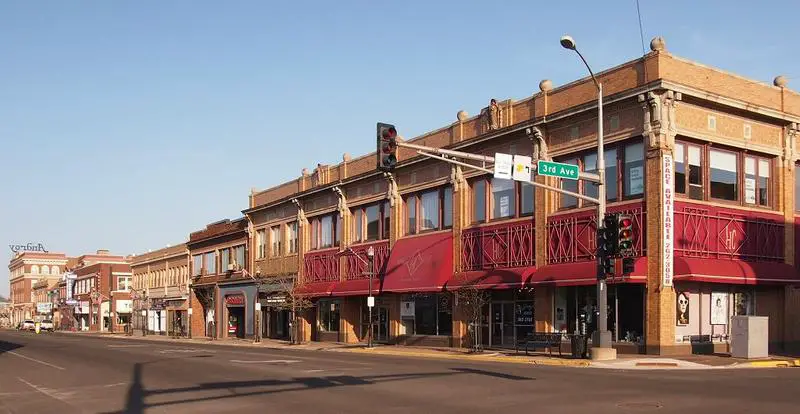 With a median home price substantially higher than the preceding cities on this list, you may wonder why Kasson ranks as the third cheapest city in Minnesota. While home prices in Kasson are a bit steep at $192,800, residents are paid correspondingly higher salaries, with a city-wide median income of $78,353. Where Kasson really shines, though, is the affordability of rent. For such a well-off populace, a median rent of $674/month is absurdly low. In fact, it's less than half of the average rent in Minnesota. Not to mention Kasson got an almost-perfect 9.5/10 on our overall Snackability score, so you know it's a great place to call home.
Kasson is located about 20 minutes west of Rochester.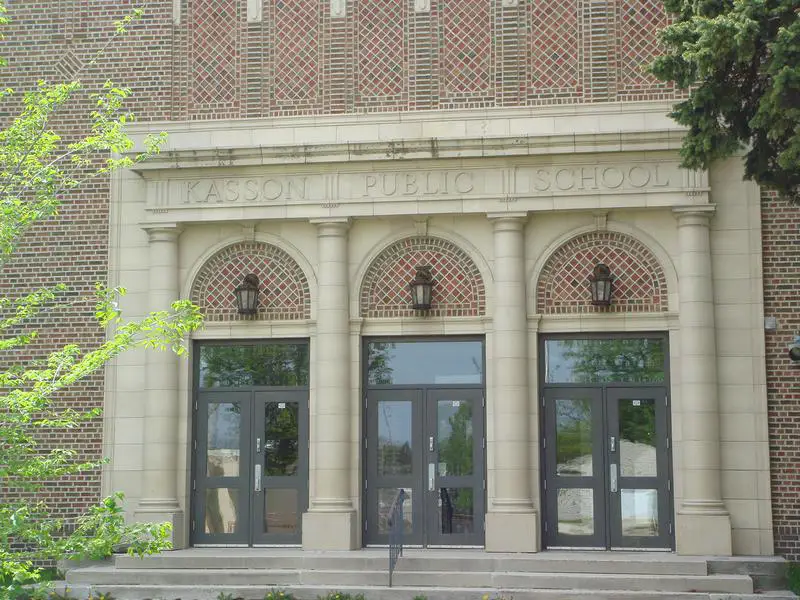 Source: Public domain
Stewartville is a city in Olmsted County, Minnesota, United States. The population was 5,916 at the 2010 census. Stewartville has experienced growth as a result of its location just south of Rochester.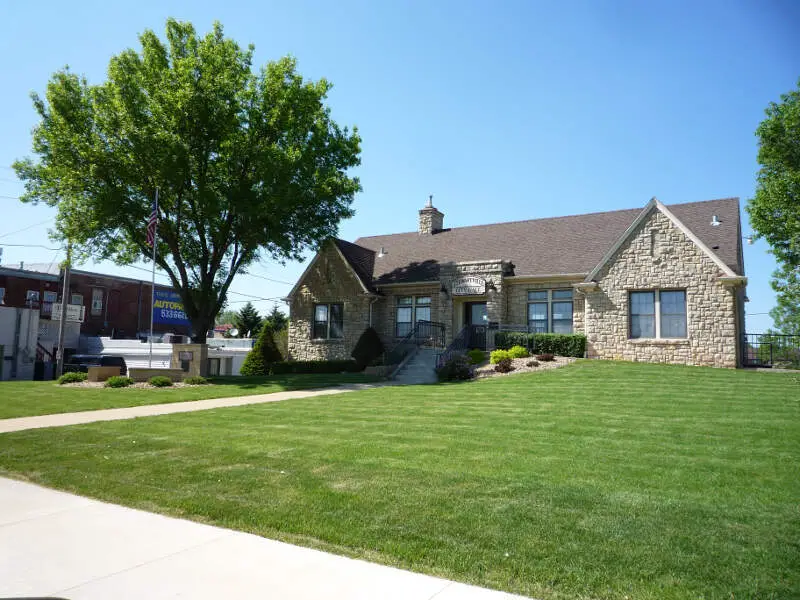 A suburb of St. Paul located about 15 miles southeast of St. Paul on the Mississippi River is our fifth cheapest place to live in minnesota, St. Paul Park. The city takes advantage of its location on the Mississippi to offer beautiful waterfront parks like Fort Snelling and plenty of downtown shopping.
Where St. Paul Park stands out in cost of living metrics housing costs, which are considerably less than the national average. St. Paul Park has the 49th cheapest homes and 47th cheapest rent anywhere in minnesota. The median home price in St. Paul Park is $204,800, while you can find a place to rent for just $891.
Located an hour south of Minneapolis, Owatonna places sixth on our list of cheapest places to live in Minnesota. Owatonna scored an 8.5/10 on our overall Snackability score, so you're not sacrificing quality for affordability living here. And between hiking trails at Mineral Springs Park and the canoeing at Rice Lake State Park, you'll never be left wondering what to do on a budget each weekend.
The median home price in Owatonna is $171,400 and the median income is $66,037.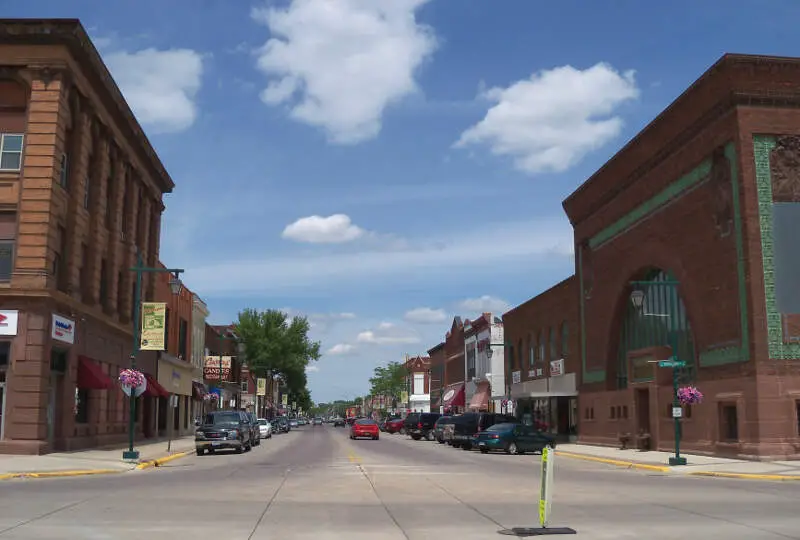 St. Joseph is a city in Stearns County, Minnesota, United States. The population was 6,534 at the 2010 census and according to 2015 census estimates is now 6,864. It is home to the College of Saint Benedict.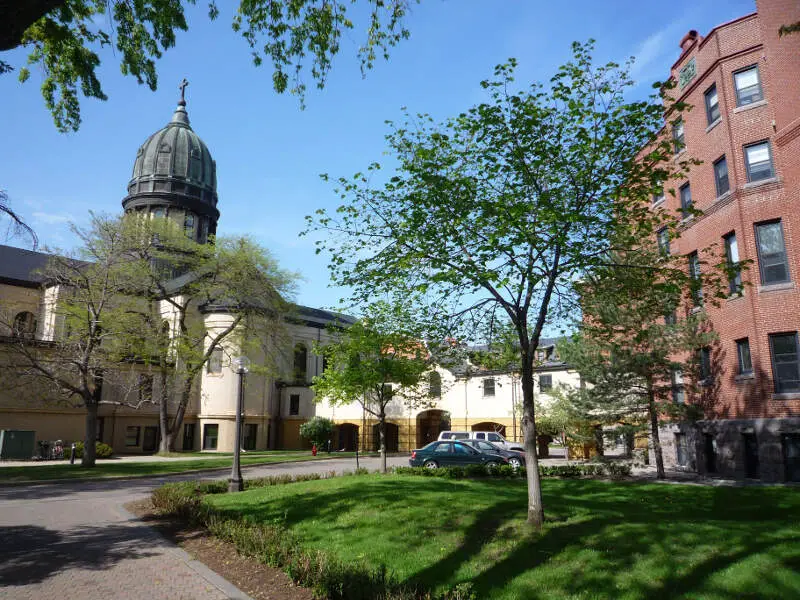 Located about 90 miles southwest of Minneapolis, New Ulm comes in as the eighth least expensive city in Minnesota. New Ulm is heavily influenced by its German heritage, as evidenced by the "Hermann the German" tower/monument downtown and Schell's Brewery/Mansion. New Ulm doesn't stint on important amenities to earn it's uber-affordability status; in fact, we named it the third best place to raise a family in Minnesota for 2022.
The median income in New Ulm is $58,839 and the median home price is $145,600, putting New Ulm in a comfortable position in terms of home price to income ratio. The city is about equally affordable for renters as it is for buyers.
Saving a few bucks can lose its appeal when it means missing out on the action, which is one compromise the people of North Branch do not have to make.
Residents can easily make their way to Minneapolis, which is roughly a 45-minute drive away, and take in all it has to offer while inwardly basking in the low cost of living that comes with residing in North Branch. A home in this community of 10,585 is relatively cheaper than in other parts of the country, with the area's median value coming in at $212,400. At $898, the median rent rate is also quite affordable.
The cherry on top of those modest prices is a solid income, and North Branch's median household income of $85,213 is just that. With all that extra cash in your pocket, you may just want to drive a few towns over and try your luck at the Grand Casino Hinckley.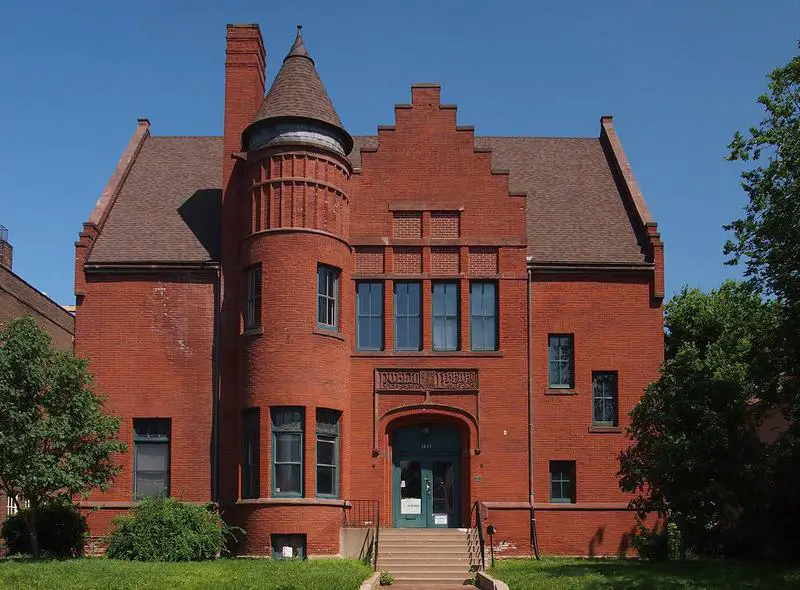 Located on the border of Canada, International Falls goes by the nickname "Icebox of the Nation." But if you can withstand the bitter cold, International Falls has some sweet deals for you. The fourth least expensive homes in Minnesota are in International Falls, where the median home price is $105,700. With residents earning a median income of $47,301, International Falls has one of the best home price to income ratios in the state.
As a budgeting bonus, admission to Smokey Bear Park is totally free. Just don't get spooked by the 26-foot bear when you drive in.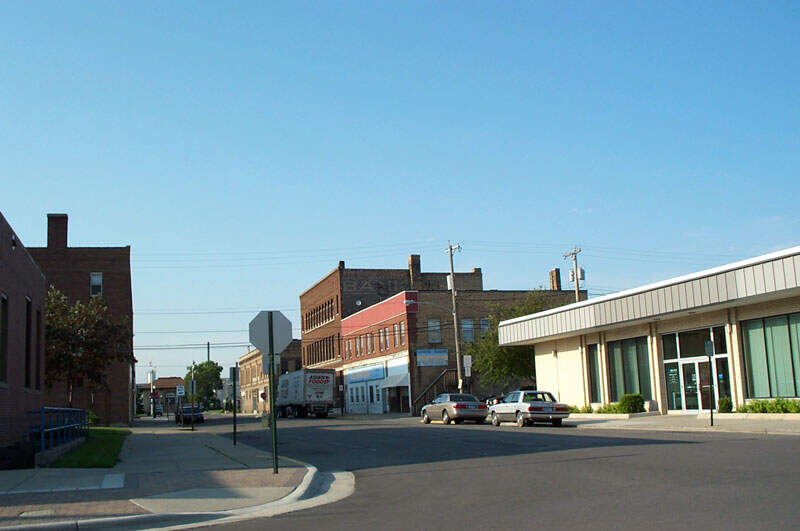 Cheapest Places To Live In Minnesota FAQs
The county in Minnesota with the lowest cost of living is Faribault County. The average living wage in Faribault County is $83,518 according to MIT data. Faribault County has the lowest cost of living because it has relatively less expensive childcare and housing costs compared to Minnesota as a whole. Childcare costs $12,417 a year in Faribault County for two children compared to the Minnesota average of $17,401. Housing costs, defined as a blend of the average rent and average mortgage payment, are $8,808 per year in Faribault County compared to $13,400 on average in Minnesota.
The cost of living in Minnesota is 5.2% higher than the US average. According to MIT, the required living wage for a family of four with two working parents in Minnesota is $94,430 vs the national average for a family of four with two working parents of $89,744. The median income of a Minnesota household is $73,382.
The cheapest housing market in Minnesota is Virginia. The average home value in Virginia is $90,800, the lowest in the state. The average home value in Minnesota is $235,700, almost 2.6 times higher than Virginia.
Methodology: How We Determined The Most Affordable Places To Live In The North Star State For 2022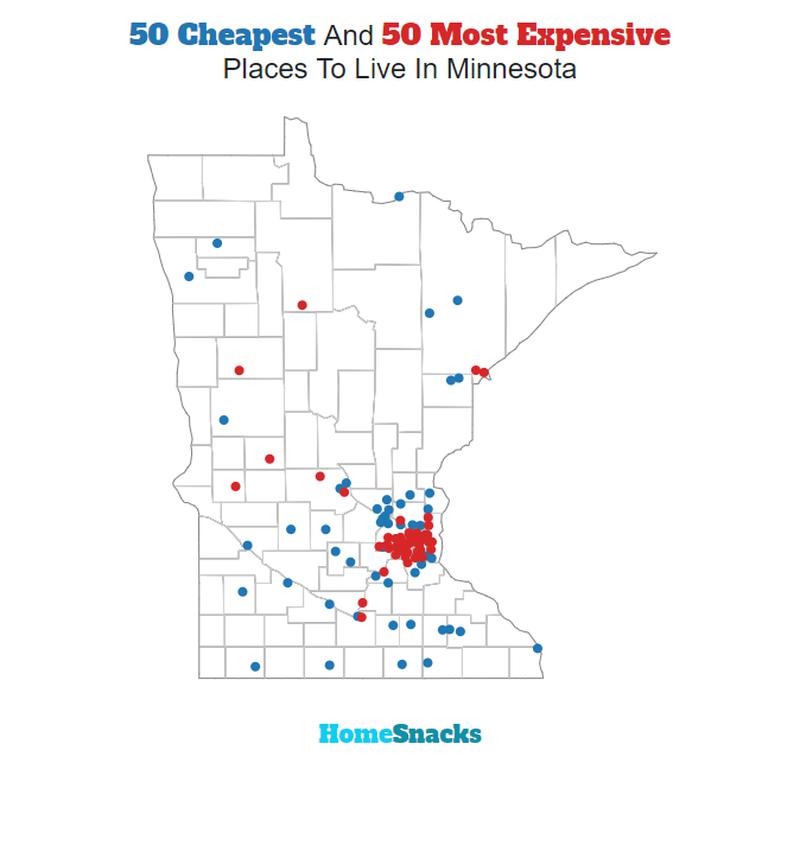 The two most important things to think about when it comes to being able to afford if you can live comes down to:
How much do money do I make?
How much do I have spend to live there?
You need to understand your costs in the context of how much money you make.
For example, if the median household earns $100,000 and spends $40,000 on housing it's actually cheaper to live there than a place with a median income of $50,000 and housing costs of $21,000. You might spend more on housing, but you have more money overall to play with.
With that example in mind, we derived several statistics from the latest Census American Community Survey 2016-2020 around incomes and costs. They are:
Median Home Price / Median Income (lower is better)
Median Income / Median Rent (Higher is better)
Median Home Price
We added simply median home price because high home prices generally correlate with higher expenses for all costs related to homes (heating, electricity, etc).
You can then compare these metrics in each of the places in Minnesota to figure out which is the least expensive.
What you are left with is a "Cost of Living Index" by taking the average rank of each of these metrics for each city.
So we used that cost of living index in order to rank all of the 146 places in Minnesota that have more than 5,000 people.
The place with the lowest cost of living in Minnesota according to the data is Montevideo. You can download the data here.

Summary: There You Have It Mr. Or Mrs. Minnesota Cheapskate
If you're looking at the cost of living numbers in Minnesota, this is an accurate list of the most affordable places to live in Minnesota for 2022.
Here's a look at the most expensive cities in Minnesota according to the data:
Hopkins
Little Canada
Minneapolis
For more Minnesota reading, check out:
The Most Affordable Places To Live In Minnesota
Editor's Note: We updated this article for 2022. This is our ninth time ranking the cheapest places to live in Minnesota.