Editor's Note: We updated this article for 2021. This is our seventh time ranking the best places to live in Minnesota.
Article Table Of Contents   
(Skip to section)
Minnesota is best known as the Land of 10,000 Lakes, but many are familiar with other fun Minnesota facts like the crazy amount of fun things to do and see.
Affordability, seasons, ice fishing, and their infamous 'hot dish,' are just a few of the reasons people flock to this northern destination. But if you're a true Minnesotan, you know that the real reason people move here is because the locals are so nice and their cities are truly the best.
Word on the street is that Minnesota is a great place to live if you're a millennial. We can't say for sure, but our stories safest states and best states to raise a family show that there really is something for everyone.
If you live in or around Minneapolis consider yourself lucky. You live in some of the best cities in the state. Not surprising, cities like Victoria, Rogers, and Maple Grove made our top ten best places to live in Minnesota list, but there can only be one star: congrats to Edina.
We analyzed over 142 cities in our research determining the best places to live in Minnesota for 2019; so if you don't see your hometown at the top, make sure you scroll down to see where your city ranked.
The 10 Best Places To Live In Minnesota For 2021
What city is the best place to live in Minnesota for 2021? Well according to the US Census and FBI data we crunched, Waconia is the best place to live in Minnesota if you care about home values, low crime, and a high quality of life.
Hennepin County produced a lot of our top ten winners. We were definitely not surprised that Waconia was at the top of the list. In true Minnesotan fashion, they scored off the charts in education, low crime, and great commute times.
If you are looking to live where people take pride in their state, where health insurance is attainable, and quality homes are affordable, look no further than our top ten best places to live in Minnesota for 2021 list.
If you're looking for something more national, check out the best states in America or the best places to live in America.
For more Minnesota reading, check out:
The 10 Best Places To Live In Minnesota For 2021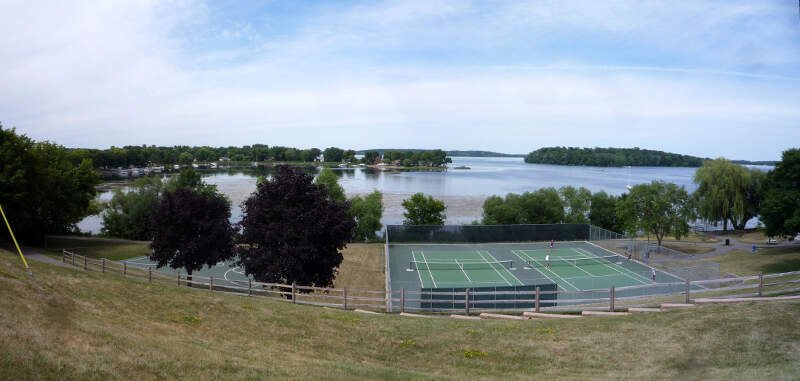 Located about 45 minutes west of Minneapolis, the city of Waconia comes in as the best place in Minnesota. Waconia really outshines the competition in terms of economic success. With a ridiculously low poverty level of 2.4% and an unemployment rate of 1.5%, you'd better believe that everyone gets in on the good times in Waconia. Of the places we'll be covering on this list, Waconia has the lowest cost of living, with an emphasis on affordable health care. Speaking of which, Waconia has the 20th highest rate of residents with health insurance in the state at 98.1%.
If you're an outdoorsman or woman, you'll also appreciate living beside Lake Waconia, which attracts visitors year-round for its renowned fishing. If that's too slow-paced for you, paddling your way over to Coney Island to spot some bald eagles might be your jam.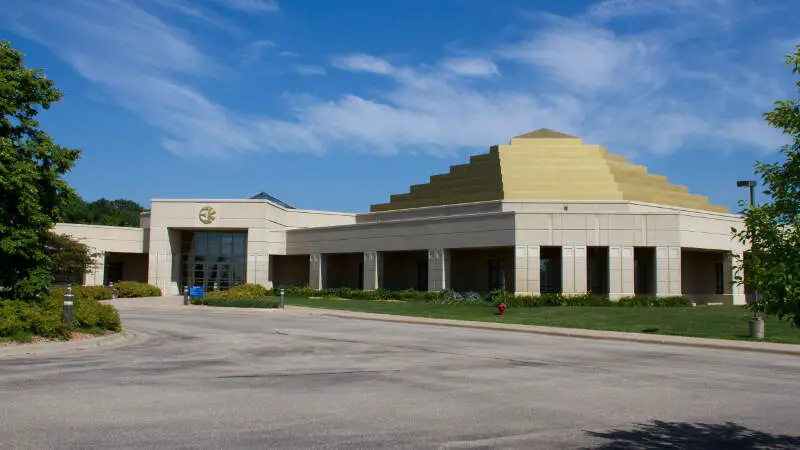 Chanhassen is a Carver County city of 25,657 located about a half-hour outside of Minneapolis. A low poverty level and low unemployment rate create a solid economic foundation for the city. Not to mention that both the median household income and median home price in Chanhassen are in the top ten statewide at $124,125/year and $381,300 respectively. Chanhassen also has the 4th lowest adult high school dropout rate in Minnesota, so the motto "stay in school" is certainly felt deeply here.
It's easy to stop and smell the flowers in a city as awesome as Chanhassen. Especially when you've got the Minnesota Landscape Arboretum right in your neighborhood.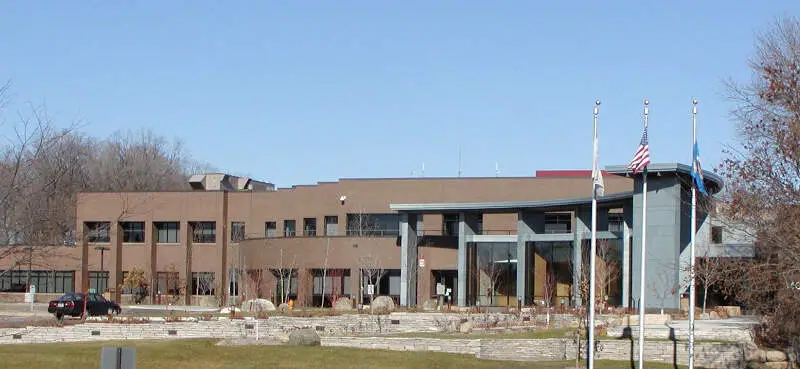 Source: Public domain
Plymouth is the largest Minneapolis-St. Paul suburb we'll be covering, with a population of 78,134. We don't hand out perfect 10/10 SnackAbility scores to just any place. Excellent public schools, low crime, and top-notch amenities all make Plymouth an enviable place to live. There's so much to do at the French Regional Park that I won't even try to list all the options, and Millenium Garden has been hailed as Plymouth's best kept secret.
The poverty level and unemployment rate in Plymouth are both substantially lower than the national average, sitting at 3.6% and 2.5% respectively. Folks are doing pretty well for themselves in Plymouth, with a median household income of $105,958/year.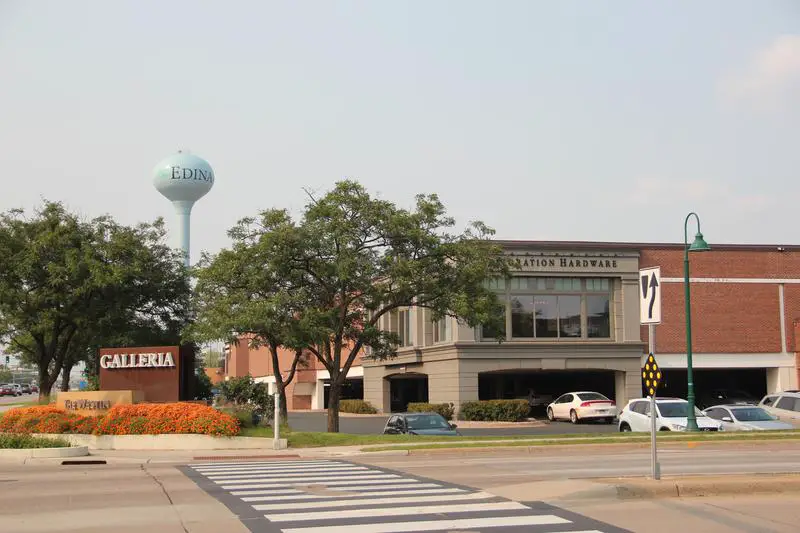 Source: Public domain
We begin our tour of Minnesota's best of the best with Edina, a suburb of the Twin Cities. Education is taken very seriously in this city of 51,746, with multiple Blue Ribbon award-winning elementary schools and a 7.5/10 average rating on GreatSchools. The graduation rate in Edina is more than 10% higher than the statewide average, so it's no surprise that the high school dropout rate is one of the lowest in Minnesota. It's not just the kiddos who love to learn in Edina either; over 30% of adults have at least a master's degree.
Edina is also the most densely populated city on this list, so you know you'll never be far from the action here. In fact, Edina residents enjoy the shortest commute of cities we're covering here at just 21 minutes. The median household income in Edina is $104,244/year and home prices are among the priciest in the state. Meaning you might want a lucrative job lined up before committing to a mortgage.
While Edina often gets overshadowed by the Twin Cities, there's plenty to do here as well. A local favorite is Centennial Lakes Park, complete with an 18-hole putting course, skating rink, amphitheater, and farmer's market.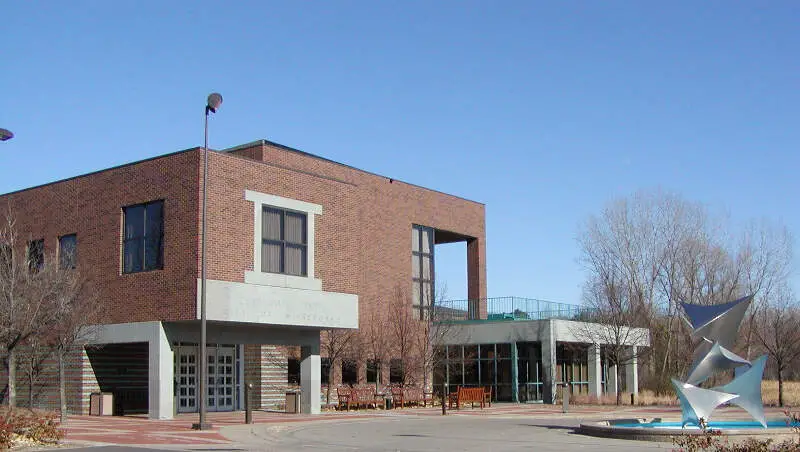 Source: Public domain
Wrapping up our list of best places to live in Minnesota is Minnetonka, a Twin Cities suburb of 53,025. Minnetonka's inclusion on this list means that more than half the best places to live in the state are located in Hennepin County. If you're looking for a more mature community, Minnetonka might be your best bet, because the median age here is 44, the highest on this list. But there's good news for young people as well because Minnetonka's school district has a student expenditure about 55% higher than the statewide average. That's part of the reason why we named Minnetonka one of the best cities for families in Minnesota. All the family-friendly activities available at Purgatory Park is another reason.
Now, at $95,630/year, Minnetonka has the lowest median household income on this list. Seeing as home prices are in the same ballpark as other cities listed here, it makes sense that we named Minnetonka one of the most expensive cities in Minnesota. Don't let that put you off though; we think Minnetonka is worth every penny.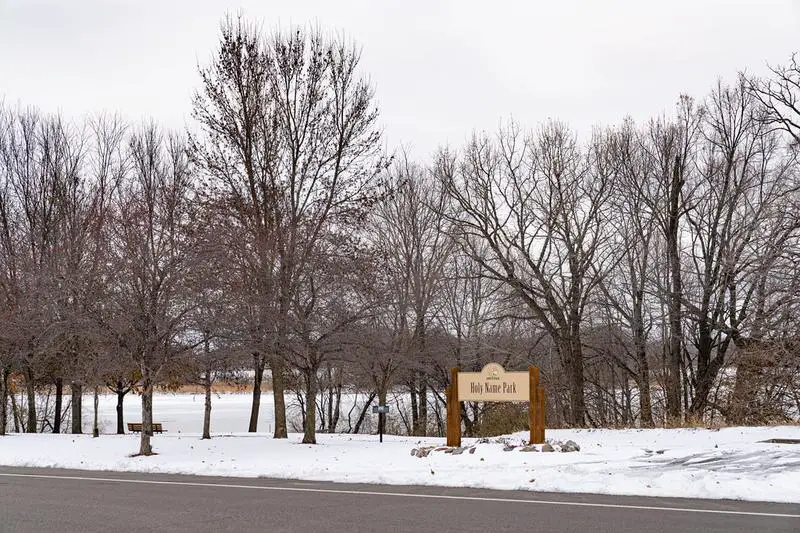 From the very big Plymouth, we turn to the very small Medina, a city of 6,380 and the 6th best place to live in Minnesota. Medina might not be so little for long, though, because it's added nearly 33% to its population since 2010, making it one of the fastest growing cities in Minnesota. And the newcomers seem to be well-educated because over 30% of Medina's population has a master's degree, PhD, or professional degree.
Folks don't seem to have much trouble getting work in Medina, where the unemployment rate is under 2%. And they're getting paid well for their time, seeing as Medina has the 5th highest median household income in Minnesota at $148,110/year. However, you pretty much need to be earning the big bucks to make it in Medina, because the cost of living here is roughly 45% higher than the national average and the highest of anywhere we're covering on this list.
Some other perks come along with Medina. Like having Baker Park Preserve in your neighborhood for everything from golf to camping to sledding. And you don't have to worry about getting jumped here, because Medina has the 2nd least amount of violent crime in the state. If you do get hurt though, it's probably no big deal, since 99.2% of residents have health insurance.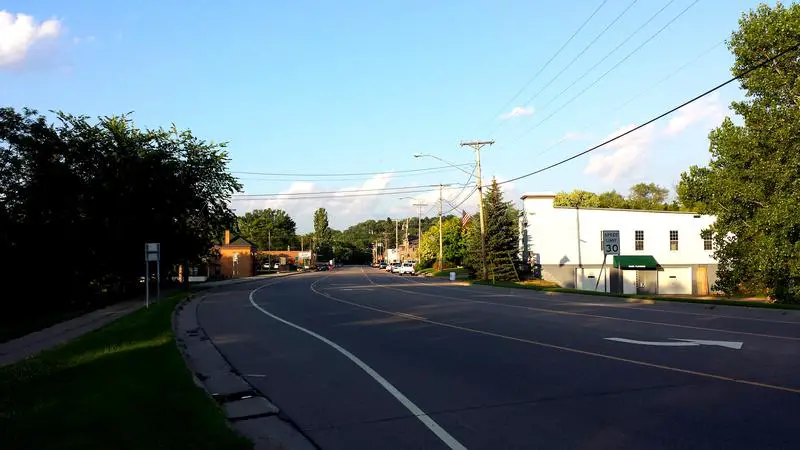 Mendota Heights, Minnesota, exists as a suburb of the Twin Cities of Minneapolis and St. Paul, part of the largest metro complex in the state. That might make the city of 11,289 inhabitants seem like a typical urban expanse. Nope. While it does have many of the amenities of a major metropolitan area, it holds a meaningful connection to nature as well. It also serves as the number 7 top community in Minnesota.
Mendota Heights sits along two major rivers, the Mississippi and the Minnesota. This provides excellent scenic vistas and outdoor activities, whether its hiking on Pike Island or a trip to Fort Snelling State Park.
Still, living in the area gives you an exciting city experience as well. It's 15 minutes to the center of Minneapolis. And, if you're looking to see the wider world, it's just over 5 minutes to the region's busiest airport.
Given its location, Mendota Heights provides an excellent home base for commuters. As such, you'll find many wealthy executives (and retired executives) living in the community. That leads to a relatively high median age of 51 and a hefty median income of $121,214.
All that cash floating around contributes to high home prices. The median home value sits at $392,600.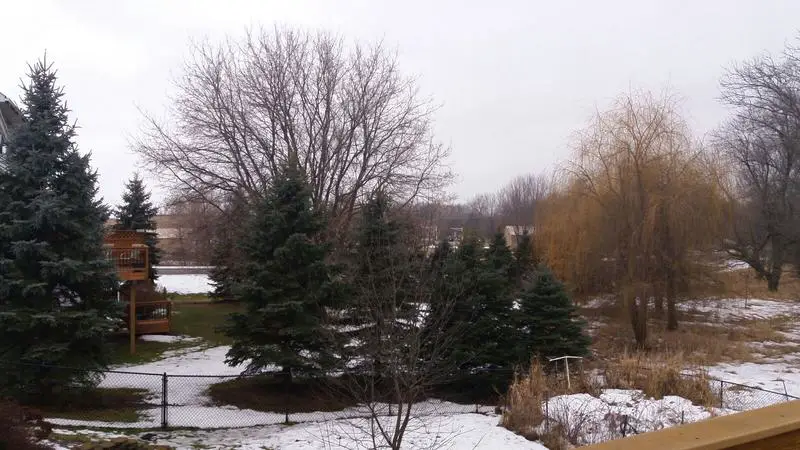 Source: Public domain
They call Minnesota the "Land of 10,000 Lakes." Well, Lino Lakes represents this motto in miniature. One of a series of suburbs surrounding the state's largest city, the community offers access to plenty of water activities as well. With this diverse array of amenities, it's no surprise that Lino Lakes ranks as one of the best spots to live in Minnesota.
Lino Lakes is located northeast of downtown Minneapolis, about a half hour from the city center. True to its name, though, the town also sits in the middle of several small lakes. This gives its residents easy access to a wide variety of outdoor adventures, like the Rice Creek Chain of Lakes Park Reserve.
Thanks to these draws, lots of a families have put down roots in Lino Lakes. The area has a median age of 39, with 40.34% of households in the area having kids. The median income sits at $115,368 and the median home value hovers at $293,100. Crime in the area is low, though the cost of living is nearly 20% above the national average.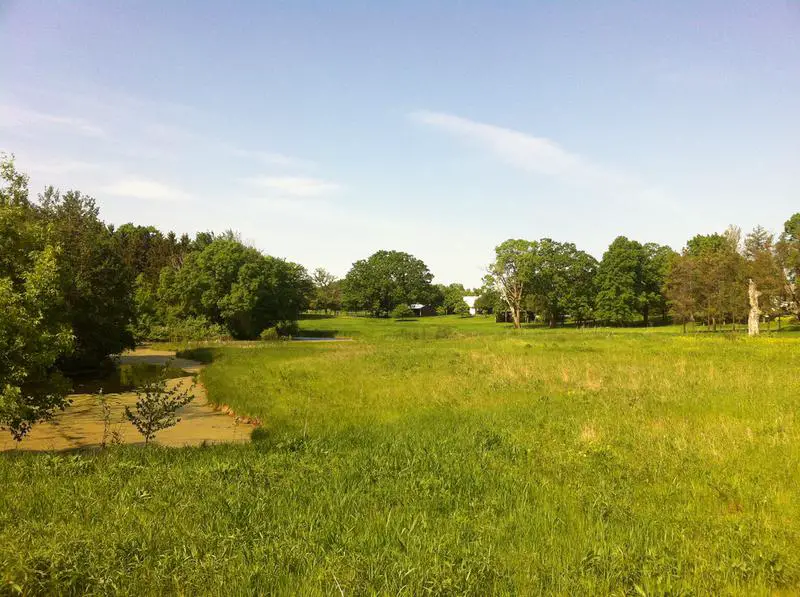 Another western Minneapolis suburb, Victoria ranks as the 9th best place to call home in Minnesota. The unemployment rate and poverty level in Victoria are absurdly low at 2.9% and 3.0% respectively, both of which are lower than half the national average. Unwelcome medical surprises are a little less devastating in Victoria as well, seeing as 98.9% of residents have health insurance, the 8th highest rate in Minnesota.
We just hope you're comfortable rubbing elbows with the elite, because we named Victoria the richest city in Minnesota, with a median household income of $152,137/year. Tax dollars go to the right places though, like the Lowry Nature Center, with hiking, winter sports gear rentals, and maple-syrup making workshops. The word is evidently out on how great Victoria is because the population has gone up by about 30% since 2010.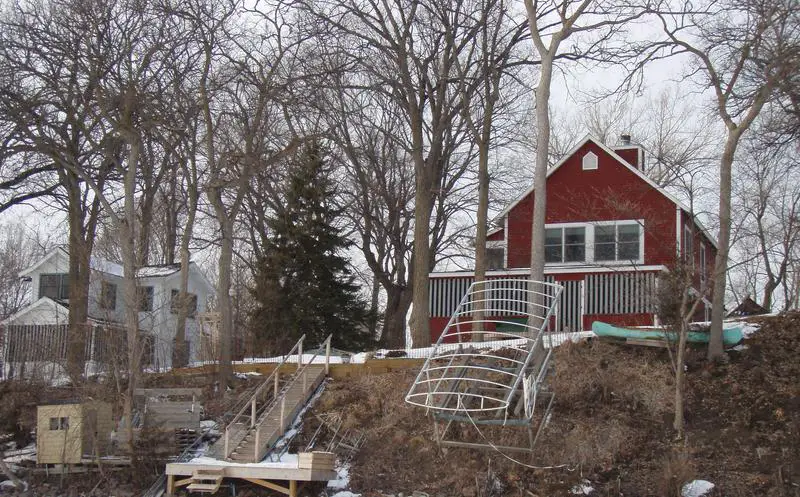 We're sticking around Hennepin County for our 10th best place in Minnesota, Minnetrista. Minnetrista's population has grown by about 25% since 2010, so people are starting to catch on to how great this city is. We named it one of the safest cities in Minnesota due its crime rate being about 65% lower than the national average. So you don't have to worry about someone stealing your ball when you're playing mini-golf at the Big Stone Mini-Golf and Sculpture Garden.
Homes in Minnetrista are the 5th most expensive in the state at $477,800. That's alright though because residents also enjoy the 2nd highest median household income in Minnesota at $171,786/year. Still, the cost of living here is about 35% higher than the national average, so keep that in mind before making the move. As a nice cherry on top, 99.5% of residents have health insurance, the 2nd highest rate in the state.
Mapping The Best And Worst Places To Live in Minnesota
The Pressing Question: Size
Before we even started to collect data, we had to answer a tough question: Is it fair to pit cities with populations over 100,000 against places with a population of 18?
We firmly decided no, that just isn't fair.
So to create our ranking, we broke places to live into three tiers:
Cities -- Populations over 5,000
Towns -- Populations between 1,000 and 5,000
Small Towns -- Populations below 1,000
This left us with 143 cities, 215 towns, and 509 small towns.
We then decided, no matter how much anyone loves their town, the best cities to live in Minnesota have more of everything and therefore you need to have over 5,000 people to truly be 'the best'.
Now we also realize that city living might not be your cup of tea, so we ran the following analysis on towns and then again for small towns.
You can see those two top tens at the bottom of the post.
How We Calculated The Best Cities To Live In Minnesota
Now that we had our set of cities, it was time to rank them.
We ranked each place in Minnesota across a number of criteria from one to 143, with one being the best.
We then took the average rank across all criteria, with the city posting the lowest overall score being crowned the winner of the title "Best Place To Live In Minnesota".
The criteria we looked at were:
Median Home Values
Median Income
Population Density (Higher better)
Unemployment Rate
Commute Time
Crime
Education Levels
Health Insurance Coverage
Poverty rates
Sources of criteria include the New Census Data and FBI Crime Data. You can download the data here.
After the dust settled, what was the best place to live in Minnesota? That would be Waconia.
If your city or town isn't among the top 10, jump down to the bottom of the post to see a detailed chart of the best places in Minnesota.
Otherwise, buckle up for a ride down good living lane with Waconia at the end of the cul-de-sac.

Wrapping Up The Best Places When It Comes To Living In Minnesota
If you're looking at areas in Minnesota with the best economic situations, where there's lower than average crime, and a lot to do, this is an accurate list.
Waconia made a strong showing to take in the overall number one spot for the best place to live in Minnesota for 2021.
Best Towns To Live In Minnesota
Deephaven (Pop. 3,786)
Oronoco (Pop. 1,532)
Elko New Market (Pop. 4,472)
Long Lake (Pop. 1,704)
Carver (Pop. 4,328)
North Oaks (Pop. 4,832)
Wayzata (Pop. 4,296)
Tonka Bay (Pop. 1,344)
Nicollet (Pop. 1,040)
Circle Pines (Pop. 4,947)
Best Small Towns To Live In Minnesota
Skyline (Pop. 301)
Minnetonka Beach (Pop. 586)
Sabin (Pop. 585)
Fish Lake (Pop. 96)
Woodland (Pop. 449)
Pine Springs (Pop. 429)
Loretto (Pop. 672)
Medicine Lake (Pop. 315)
Long Beach (Pop. 314)
Greenwood (Pop. 755)
If you're curious enough, here are the worst places to live in Minnesota according to the data:
Virginia (Pop. 8,484)
Bemidji (Pop. 15,132)
Waite Park (Pop. 7,692)
For more Minnesota reading, check out:
Where Are The Best Places To Live In Minnesota?
| Rank | City | Population |
| --- | --- | --- |
| 1 | Waconia | 12,131 |
| 2 | Chanhassen | 25,657 |
| 3 | Plymouth | 78,134 |
| 4 | Edina | 51,746 |
| 5 | Minnetonka | 53,025 |
| 6 | Medina | 6,380 |
| 7 | Mendota Heights | 11,289 |
| 8 | Lino Lakes | 21,404 |
| 9 | Victoria | 9,383 |
| 10 | Minnetrista | 7,621 |